Marantz SR6012
Design -

96%

Audio Quality -

94%

Inputs / Ports -

94%

OS, Apps and Features -

95%

Price / Quality -

87%
---
Cheapest Places to Buy :

---
Marantz… Now that's a brand on a league of it's own. They create great electronic devices, some of them offering top quality and performance but it's a name that does not have the brand power or recognition of Samsung, Sony or LG. This of course doesn't create any problems for the company to continue designing devices both for mainstream consumers but also for more experienced buyers that are looking for something more special than the standard. And so today we will be reviewing the Marantz SR6012 which is a middle tier AV receiver from their latest lineup.
The SR6012 is the most affordable 9.2 channels AV receiver in the current lineup and it offers a substantial improvement over the SR5012 model which is a 7.2 channels receiver and compared to it's bigger brother the SR7012 it lacks Auro 3D, some bigger amplification as well as a few extra ports but also costs around 700$ less which is a big difference for the extra features.
Is this new offering good enough to rise above the competition? Let's find out in our Marantz SR6012 review.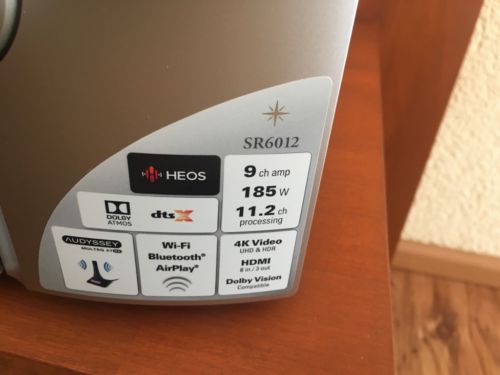 Design
One thing is sure. Marantz AV receivers have a very distinct design. It is probably the only AV receiver that I have seen with a round front display and this is a design that Marantz seems to keep for all each models the last few years. In the front you will only find 2 big turning knobs, one for the volume and one for the inputs. Under the inputs knob is the power button… and that's it.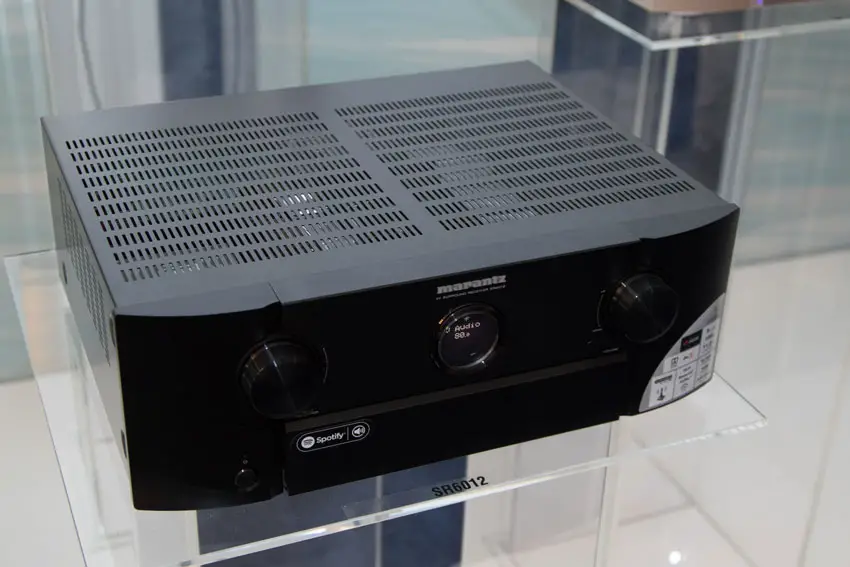 Everything else is placed under the center front door keeping everything hidden and the ports, inputs and buttons dust free. Most of these buttons you will very rarely use so it's good that Marantz keeps them hidden like this. After all nowadays most of the receiver functions are made through the remote and the setup menus. I cannot remember the last time when I extensively used the buttons on one of my AV receivers.
As with the external design Marantz is a company that puts extra attention in the creation of what makes these receivers tick. The choice of electronics and placement inside the SR6012 shows that Marantz know their game and want to create a device that will offer the best possible quality. Overall great quality as it should be for an AV receiver of this price range.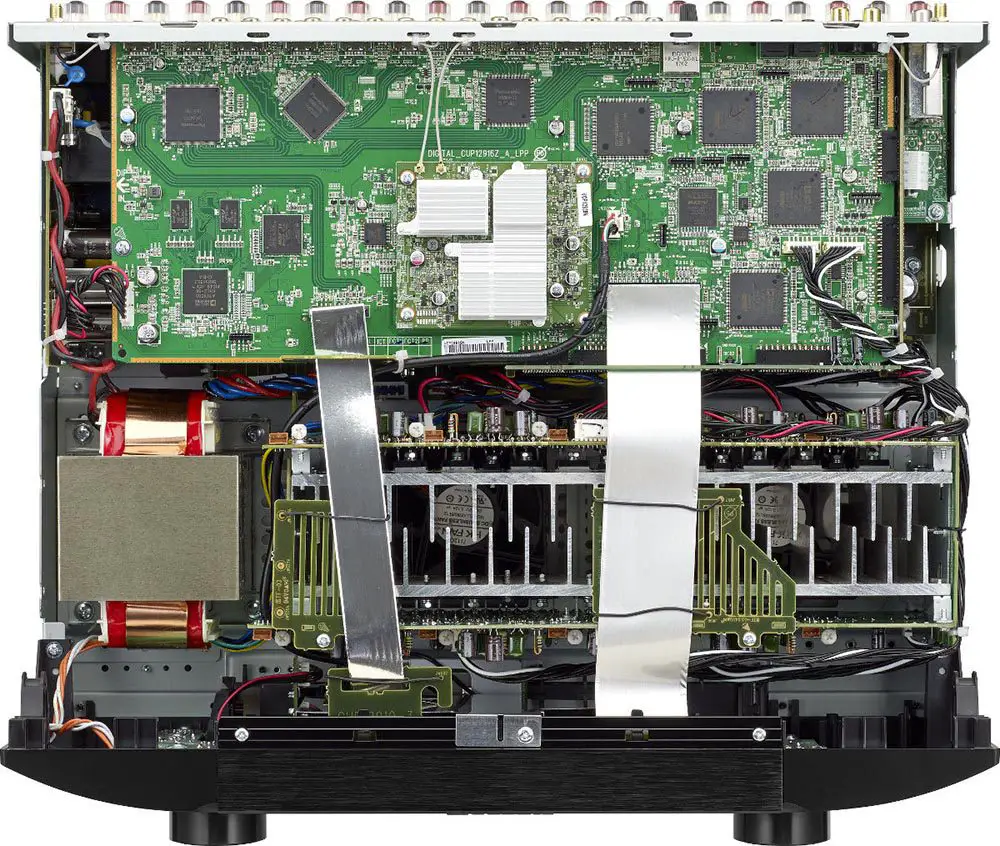 Without creating some crazy design the SR6012 looks very nice and it certainly distinguish itself from most other AV receivers I have tested. You can choose between black and silver colors and although it's entirely personal taste the silver makes it look more glamorous.
Audio Quality
The Marantz SR6012 can deliver 4K Ultra High-Definition (UHD) compatibility as well as the most recent DTS:X and Dolby Atmos formats right out of the box. Another plus is that except from HDR10 it also supports HLG and Dolby Vision pass-through.
As far as the quality is concerned, what you get is almost acoustic perfection and if you consider it's price range then it is clear we have a winner here. With the ability to drive 5.2.4 or 7.2.2 setups the SR6012 will take advantage of every last one of the speakers you will connect it with creating a soundfield with real depth and giving you a realistic sense of space and the environment around you. By adding an external amp you can up the number of speakers to 13 create the even more immersive 7.2.4 setup. Another noteworthy feature is the dual subwoofers capability creating a more dynamic and smooth bass reproduction.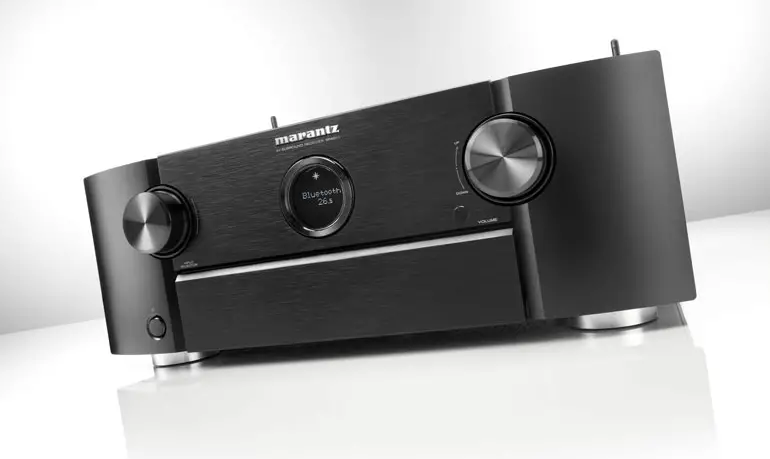 The receiver can masterfully handle both quiet scenes where you can hear even the most tiny sounds with great clarity and the environmental ambient sounds become the main attraction without interfering with the dialogue as well as the most bombastic action scenes where it feels like it punches you in the face from multiple directions and never let go until the action stops. A lot of receivers tend to create an uncontrollable cacophony when they are given a busy soundtrack not being able to handle very good the separation of sound layers, not here as the SR6012 passed the test with flying colors.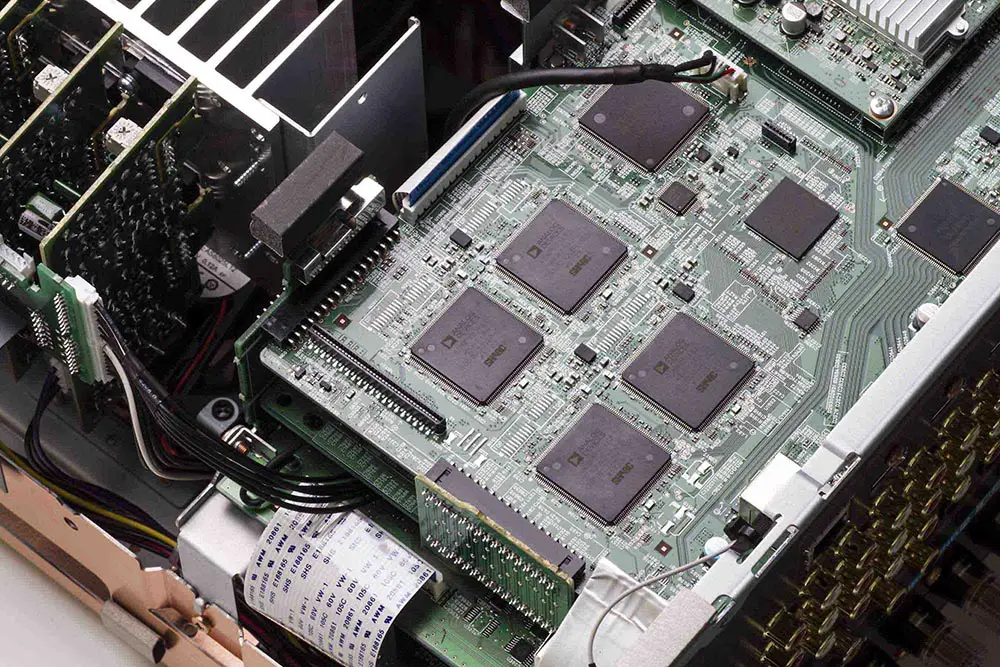 But not everything has to do with movie soundtracks because the Marantz SR6012 can also masterfully handle music reproduction. With Marantz HDAMs (Hyper Dynamic amplifier modules) to deliver high-resolution quality and smooth performance during playback the result is breathtaking and will definitely immerse you by delivering even the tiniest details of the sound track unaltered and in the clearest form possible.
The Marantz SR6012 is a receiver that will offer you stunning sound reproduction both for movies and for music without any compromises. and will surely satisfy even the most hardcore audiophiles.
Inputs / Ports
Marantz offers us a receiver that is full with inputs and ports and this could not make me any happier. Having so many options can only be good for the consumer. The back of the receiver as you can see in the photo below is literally jam packed with ports and inputs so let's analyze what is on offer.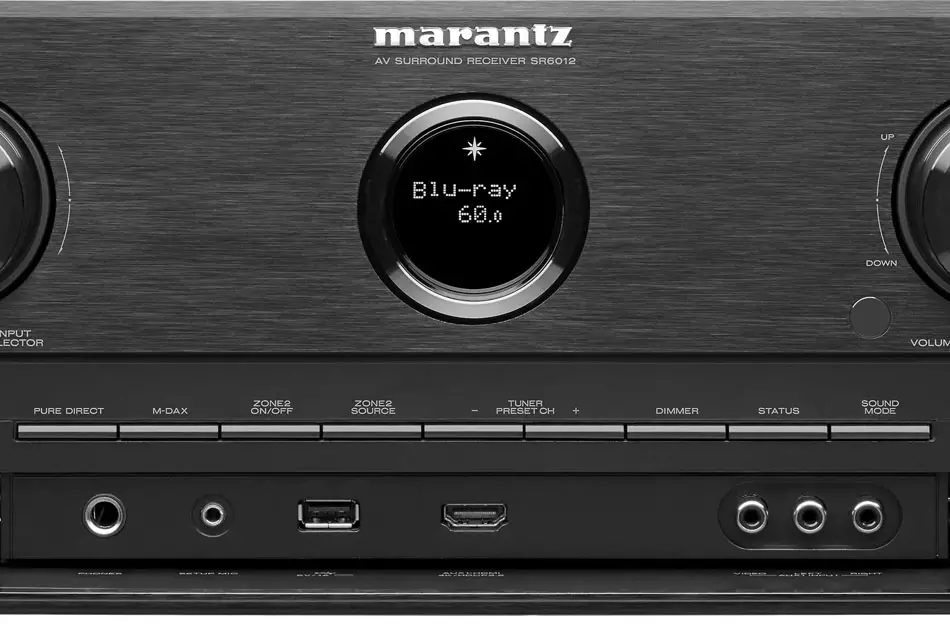 First of all in the front we get what is usual for today's receivers and that is a HEADPHONES jack, a port for connecting the sound calibration microphone, a USB port for connecting external storage, an HDMI port and analogue input connectors for camcorders and game consoles.
In the back now first of all as this is a 9.2 channels receiver you get all the speakers inputs you need to create different types of setups with the most usual to be 7.1.2 or a 5.1.4 variation. You can go for a 7.1.4 setup but for the extra 2 height speakers you will need an external amp to power them. We also get 7 HDMI inputs and 3 HDMI outputs all of them being 4K HDCP 2.2 supporting the latest protocol.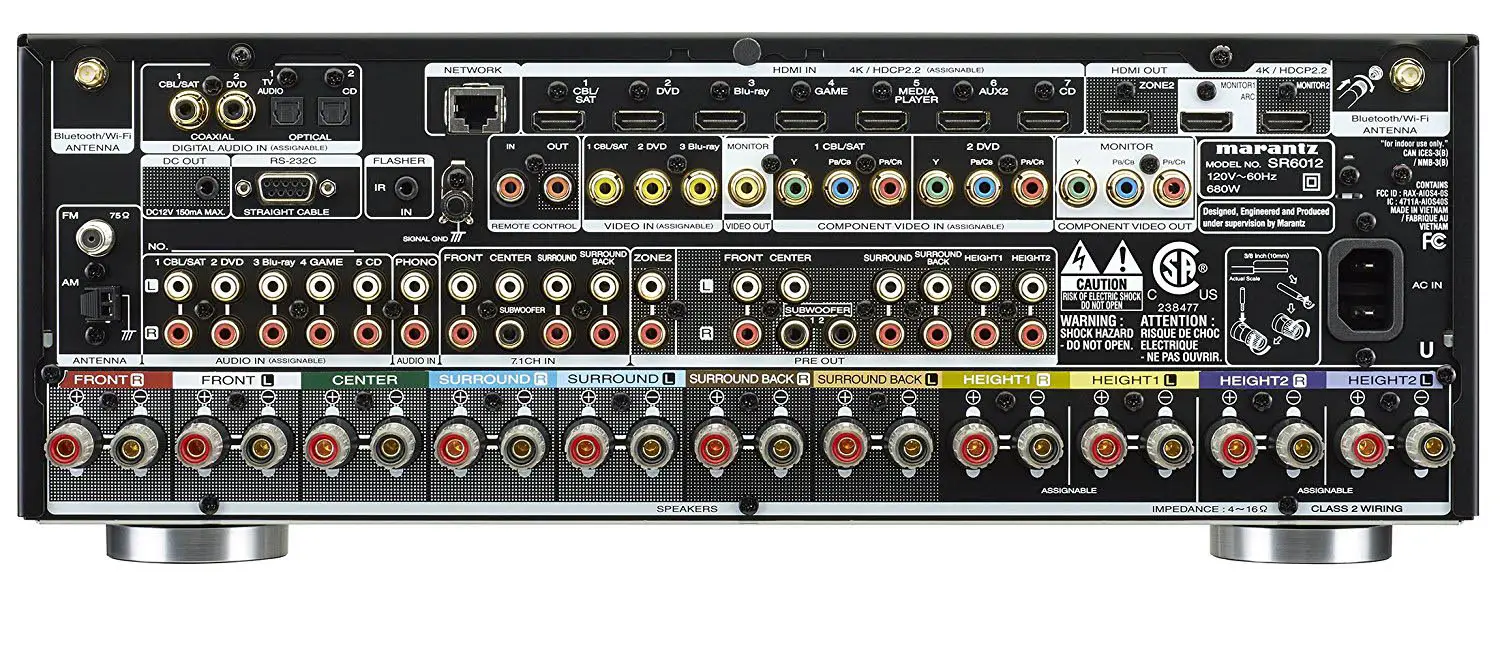 Other than these we get coaxial component video inputs and outputs, 6 analogue stereo inputs, 7.1 analogue inputs as well as PRE OUT analogue ports. We also get an RS-232 port, an Ethernet port for wired connection to the internet as well as dual coaxial and optical digital audio inputs. To wrap this up we get dual antennas for the Wi-Fi and ports for the radio antenna.
The Marantz SR6012 really offers you everything you would ever need and more making it ideal for any kind of home theater setup, either old or new. Amazing.
OS, Apps and Features
Marantz has done a great job at creating very thorough and easy to understand setup menus. The original setup wizard takes you through a series of questions in order to set up your system correctly. From number of speakers, distance, volume and position everything is clear and simple. Even if you make a mistake you can go back and correct your option.
If you prefer to skip the wizard to go straight to manual setup then you will find yourself with a fully packed customization menu. Usually most options you find almost in all AV receivers nowadays but the Marantz SR6012 goes one step further offering options that you don't usually find them elsewhere like setting mute level or video scaling settings. For all settings in the bottom of the screen there is some sort of explanation if you are unsure of what it does so this is a plus instead of having to look in the manual for it's function.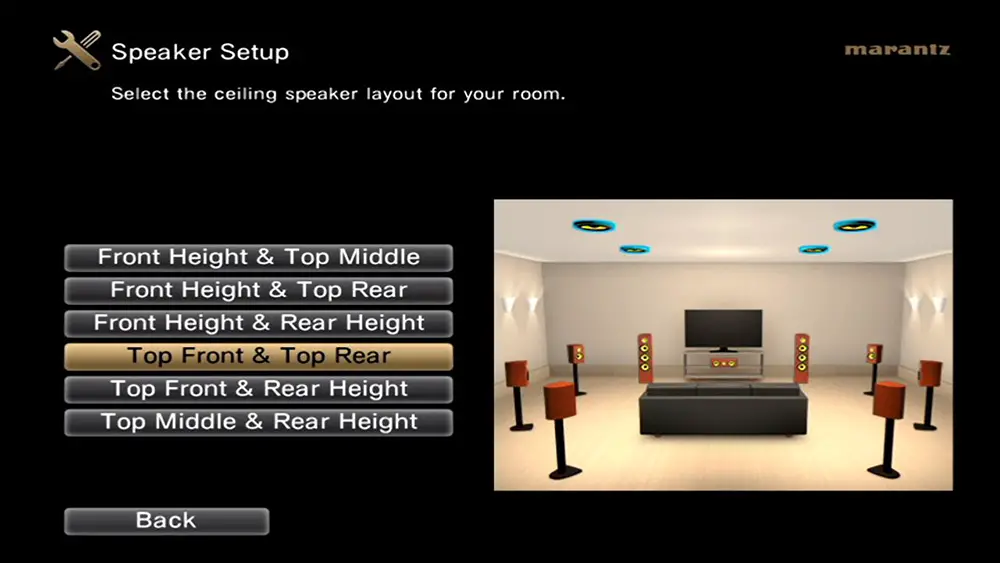 The SR6012 features Audyssey MultEQ XT32, with LFC, Sub EQ HT, Dynamic Volume, and Dynamic EQ which is the receiver's calibration utility. It also comes with the Audyssey mic and a cardboard stand in case you don't have a tripod to place it on. The stand was very easy to position correctly and I found it a welcome addition that you don't usually see in other brands.
You can run the Audyssey setup with two ways. One through the receiver's integrated setup or you can download the app into your smartphone and make all calibrations through there. Now there are some upsides and downsides doing it through the app. The good thing about it is that it offers some options that you will not find in the receivers setup UI like the ability to set an upper limit to Audyssey's filter frequency range, tweak Midrange Compensation as well as tweak target curves. These options may not be for the average consumer but for those that want to dive deep in their home theater calibration and are experienced in such thorough calibrations this is a pleasant addition. The downside to all this is that the app will cost you $19.99 to purchase. As I said the price is worth it only if you have experience in such calibrations. Otherwise the integrated setup UI will suffice.
HEOS multiroom audio technology is another supported feature and to use it you will need to download the appropriate app and set up an account. Also supported is Bluetooth and Spotify Connect capabilities and I found them very easy to setup and use them.
Lastly I found the remote very clean and organized. It offers the most basic keys and I prefer this than some other brands that offer remotes jam packed with buttons that most of the time you never use. Marantz tried to keep it simple and I applaud them for their decision. It took me less than 5 minutes to get accustomed with the buttons placement. The last thing I want when I have a new electronic device is to fight with the remote. The buttons are made out of rubber and are responsive and easy to press.
One last thing to mention is that during operation the thing runs damn hot. I don't know if this is normal for this unit but I suggest that you keep enough space around it for ventilation and under no circumstances place it in a closed space without any proper cooling.
UPDATED 17/5/2019
Marantz has added further functionality to the unit with yet another update and now the SR6012 supports DTS: Virtual X, Alexa support as well as Apple's Airplay 2 showing how Marantz keeps adding value not only on their latest releases but also from previous years. A nice move from Marantz indeed.
Final Thoughts
What can be said about the Marantz SR6012 that hasn't been said already? The receiver is ticking all the right boxes both in terms of audio quality, power, features as well as connectivity ports. With the addition of an external amp this could very well be one of the most affordable 11.2 AV receivers in the market considering the prices for native 11.2 receivers right now.
Marantz created a beast that does not necessarily destroy your pocket and for sure will be a future reference in it's price range for all other competing brands. In the end it's not the brand name that matters but what you get for what you pay and Marantz made sure to prove that this receiver is worth even the last penny you will give for it. My highest recommendation.
For more reviews you can check our dedicated 9 channels 4K AV Receiver reviews list or even look at our Product Reviews Table where you can find the brand and specific product you are looking for.
Also don't lose the chance to subscribe to our Newsletter and gain exclusive privileges.
---
Cheapest Places to Buy :

---
Specifications
9.2 channel AV Receiver with 110 W per channel (8 ohm, 20 Hz – 20 kHz, 0.08% 2ch Drive)
4K/60 Hz full-rate pass-through, 4:4:4 color resolution, HDR, BT.2020 , Dolby Vision and HLG (Hybrid Log Gamma) pass-through
8 HDMI inputs (incl. 1 front) with full HDCP 2.2 support; 3 HDMI outputs (inc Zone 2)
eARC (Enhanced Audio Return Channel) support via firmware update
Analog to HDMI conversion and SD to HD/4K Upscaling
Dolby Atmos (up to 7.1.4 with an external 2ch amplifier) and DTS:X™
Built-in Wi-Fi with 2.4GHz/5GHz dual band support
Built-in HEOS wireless multi-room audio technology
AirPlay, Bluetooth®, TuneIn Internet Radio, Pandora®, Spotify®, Amazon Prime Music, iHeartRadio, SiriusXM, SoundCloud®, Tidal, Napster or Deezer Network Audio Streaming
DSD (2.8/5.6MHz), FLAC, ALAC and WAV support
Audyssey MultEQ XT32, LFC, Sub EQ HT, Dynamic Volume and Dynamic EQ
Color-coded speaker terminals, Setup Assistant, Marantz 2016 AVR Remote App
Intelligent ECO mode with off/on/auto setting
Advanced multiroom options; 11.2-channel processing with pre-outs for all channels; RS232 Control; Crestron Connected
Control with Alexa voice commands this September.