Marantz SR7012
OS, Apps and Features
9.5/10
Pros
Amazing audio performance
Huge list of features
Plenty of connection ports
Great build quality
Cons
Needs external amp for 11.2 channels
Audyssey MultiEQ editing app has a charging fee
Auro-3D 10.1 takes up the 2nd subwoofer port
Voice control has certain limitations
---
Cheapest Places to Buy :

---
Going into 2019 we find Marantz having released a trio of new receivers in their SR series to keep them updated with new technologies and in line with the competition. As such last year's models have received very generous price cuts to bring them in line price-wise and we believe that now is a great opportunity to look into them as the latest X013 series don't offer so many differences and upgrades over last year. Also Marantz is known to support their products and as such some of the new features have also been added to the previous lineup through firmware updates.
So today we decided to review one of last year's models that offer excellent value compared to the new ones. The model we will be reviewing today is Marantz SR7012 which was second in line in last year's series behind the top SR8012. Marantz, since then, released SR7013 and positioned it between the two price-wise and as a result the SR7012 fell dramatically in price while specs are almost as good as the new SR7013. Is it worth it to go for this last year's model and how good it is compared to the existing models today? Continue reading our Marantz SR7012 review to find out.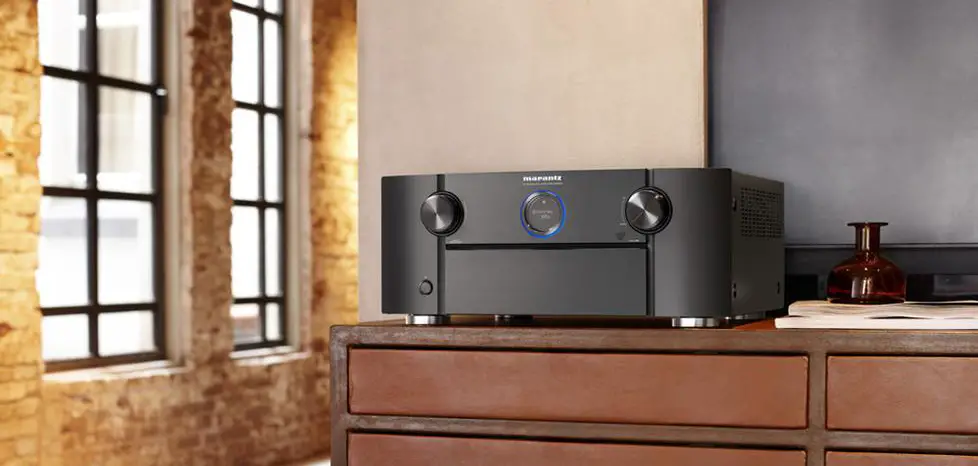 Design
The SR7012 is a real monster receiver measuring 17.3 x 16.2 x 7.3 in (440 x 411 x 185mm) and weighting 31.1 lbs (14.1 kgs) making it one serious piece of equipment so make sure you have enough space for it and if you are planning of placing it in a cabinet you need to have enough breathing space around it or use some kind of cooling solution in order to make sure you keep the temperature at low levels. Design wise there is no difference on how it looks compared to previous years so anyone familiar with the previous 70XX models know what to expect.
On the front we find the two big turning knobs for the volume and input selection, in the upper middle the characteristic round display, under it an opening hatch that hides more buttons and inputs while under the left knob there is the power button. When the hatch is closed the receiver has a very clean and minimalism look with the front edges having nice curved lines.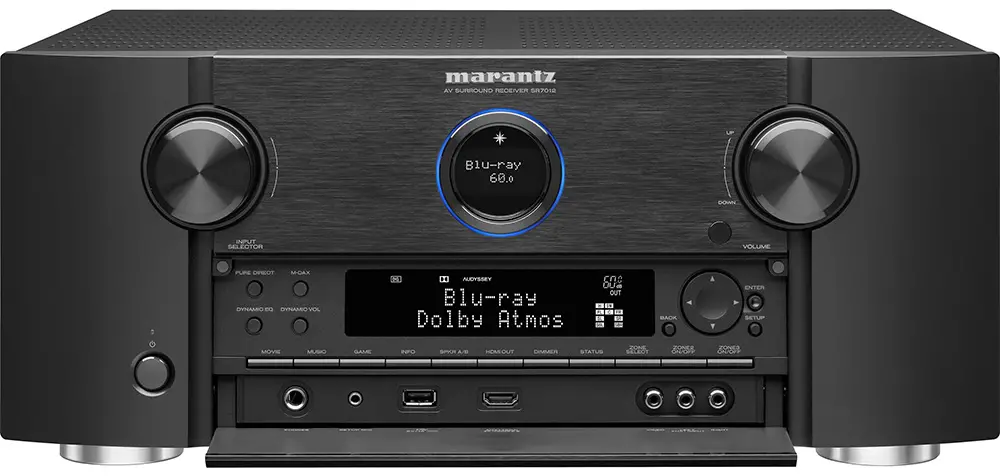 It's when you open the hatch that you will find a wealth of buttons and inputs that you will rarely use but manufacturers still like to provide. We are surprised to see that with the SR7012 Marantz has provided a second display screen that provide more detailed information concerning the various functions of the receiver. To the right and left of the screen you will find various buttons for pure direct, D_MAX, Dynamic volume and EQ as well as menu navigation buttons. Under the display we get a thin row of buttons that include zone control, info, status and dimmer among others. On the bottom is where we get all the frontal ports that include a headphones jack, the calibration microphone input, a USB port, an HDMI port, a composite video input and 1 analogue stereo input which cover all possible needs you will ever have.
As per Marantz fashion the SR7012 is equipped with high quality audio parts in order to provide the best possible audio performance. As such under the hood we get advanced reference-class 32-bit AKM D/A converters on all channels, multiple HDAM modules offering low noise performance and Current Feedback technology delivering superior fidelity with wideband audio sources.

The included remote has all the buttons that you will ever need but it feels a bit too crowded with buttons to be honest as we like remotes that lower the number of buttons needed to do most jobs. The buttons in the one provided are made out of rubber, have enough space between then although they feel a bit small to the touch. Thankfully there is a backlight function by pressing the button at the side of the remote. On the top we get mostly input selection buttons, under there is a group for menu and settings navigation buttons, below playback controls and at the bottom a numerical pad and smart selection buttons. In an age where TV makers are making their remotes more and more buttons free we would like to see this also with av receivers at some point in the future. But the remote is functional even if not very practical but it will do the job just fine.
Small to almost non existent changes on the design follow the SR7012. Marantz continue to offer superior quality both on their chassis as well as on the audio components showing how much attention to detail they put on another yearly release. The Marantz was an amazing receiver when it was released and even more so now that the price has fell dramatically.
Audio Quality
The SR7012 being the second in line in last year's lineup supports all known next generation audio tracks like Dolby Atmos and DTS:X as well as Auro-3D. It also supports up-mixing technologies like DTS Virtual:X and DTS Neural:X in order to produce surround and overhead sounds from virtual speakers. We have tried these up-mixing technologies many times in previous reviews and the results range from indifferent to very good and this depends very much on the audio source as well as the environment around your audio system. Nevertheless it's always good to try them for yourself to see if you find them satisfactory.
The receiver offers 9 channels of built-in amplification with 110 W of power per channel (8 Ohm, 20 Hz – 20 kHz, 0.08% 2ch Drive) plus 2 subwoofer ports and with these we can go for a variety of audio setups like 5.2 and 7.2 or use overhead speakers also to take advantage of the top layer and go for a 5.2.2, 5.2.4 or 7.2.2 channels audio setup. The SR7012 also offer the ability to connect an external amp in order to drive the additional 2 speakers and go for a full 7.2.4 setup. One small drawback is that if you want to go for a Auro-3D 10.1 audio setup you will need to use the 2nd subwoofer port and as such you will be able to use only 1 subwoofer, a minus drawback but one that we should mention for those that want to use this setup and like dual subwoofers. For our testing we went for a 5.1.4 setup with 1 subwoofer and 4 overhead Atmos speakers for the height layer.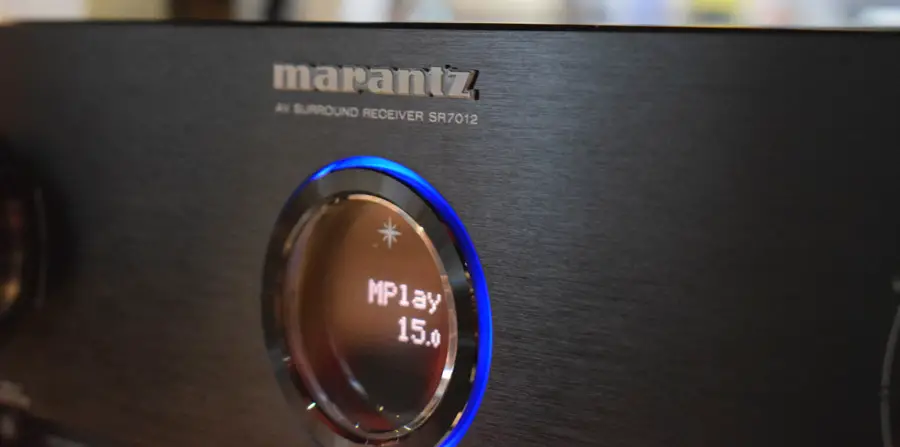 For this review we opted to try out various scenes from 2 different films. The first one we tried out was the 4K UHD version of the film Battleship that comes with an explosive DTS:X audio track that is just what we need to test this monster receiver.
The SR7012 felt exactly at home with this film. We skipped forward to the scene where the Navy Destroyers first meet the alien ship and a barrage of explosive pegs are launched towards one of them finally sinking it. During the scene the channels shifting was spot on while surround and overhead speakers provide the necessary depth and height to the soundstage. When the pegs hit the deck and finally explode the low frequencies make the walls shake recreating faithfully the mayhem on screen.
During the last act of the film where the USS Missuri confronts the alien shield ship the energy emission sent the front speakers into overdrive with it's characteristic energetic sound effect. We have tested this scene with various receivers and while most were producing the effect very faithfully the SR7012 gave us the best performance we have heard up to now keeping us on the edge of our seats up to the very end.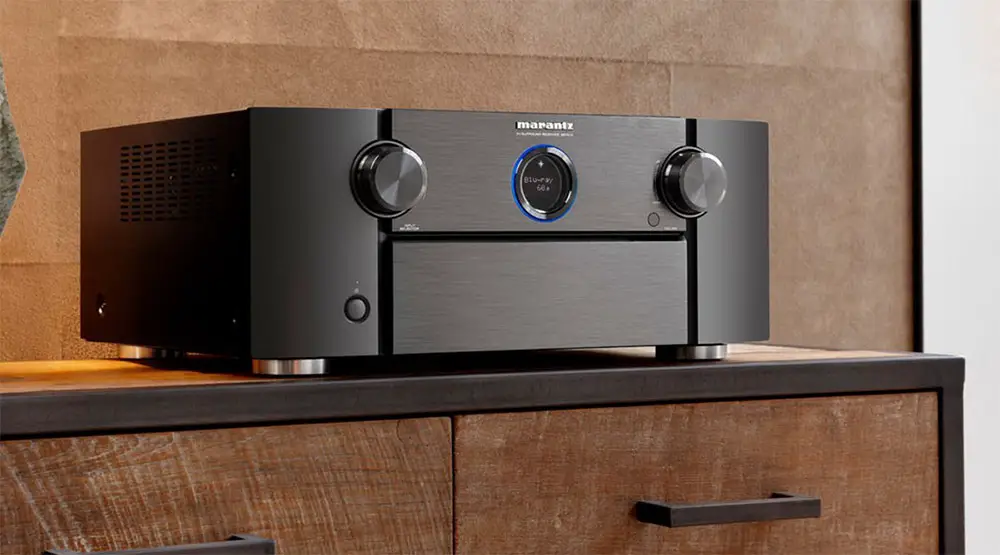 The next film we tried out was Lord of the Rings: The Fellowship of the Ring which provides a more orchestrated oriented audio track. Although the Blu-ray disc only provides a DTS-HD Master Audio track the performance we got from the SR7012 was truly amazing and the receiver was able to lift the immersion of the action tenfold. Separation between sound effects and orchestrated music was done masterfully with one never interfering with the other while dialogue was kept clear and distinct in the center channel at all times. Breathtaking performance and the best one we have yet experienced in a home theater.
Naturally a receiver of this caliber supports most known lossless and lossy audio formats that include MP3, WMA, AAC, FLAC, ALAC, WAV, FLAC HD 192/24 bit, WAV 192/24 bit, ALAC 192/24 bit as well as DSD streaming (both 2.8 and 5.6MHz). In order to test the receiver's music performance we used a selection of FLAC music tracks that we streamed through the front USB port.
Listening to music with the SR7012 proved to be an amazing experience. The receiver managed to produced crystal clear and amazingly defined sounds that was a real feast for the ears. Providing a deep and wide sound stage the receiver managed to provide terrific balance between bass, mid-range and high frequencies. Like a Maestro directing a fully-fledged orchestra you could feel the power and sense of control the SR7012 had at any single moment that was full of energy and precision. Amazing performance from an amazing receiver as words are too little to describe exactly our amazement. Just make sure to equip this amazing receiver with a good set of audio speakers in order for it to be really able to flex it's muscles.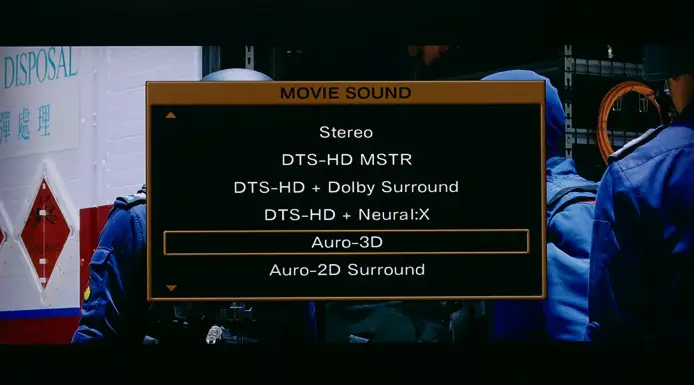 Inputs / Ports
As we move towards the top of the models ladder we are accustomed to the fact that manufacturers try to add as much as possible to justify the cost of these premium models. As such we had high expectations of what the SR7012 would offer when it comes to connectivity ports.
A little earlier we analyzed the front of the receiver where a few ports are also located under a turn able hatch with a headphones jack, a USB port, an HDMI port, the calibration microphone port and a trio of coaxial ports with a composite video input and analogue stereo audio inputs. Pretty standard layout we get here so let's go in the back to see what we have there.
At first glance we were impressed by the amount of ports we see that Marantz added to the SR7012 so let's analyze them all to see what we have. First of all. The receiver has 11 speaker terminals but only 9 of them have active amplification so if you want to use the last 2 you will have to use an external amp. Additionally we get a whopping 7 HDMI inputs and 3 HDMI outputs which are more than enough for any kind of audio system you will want to create while all of them support HDCP 2.2.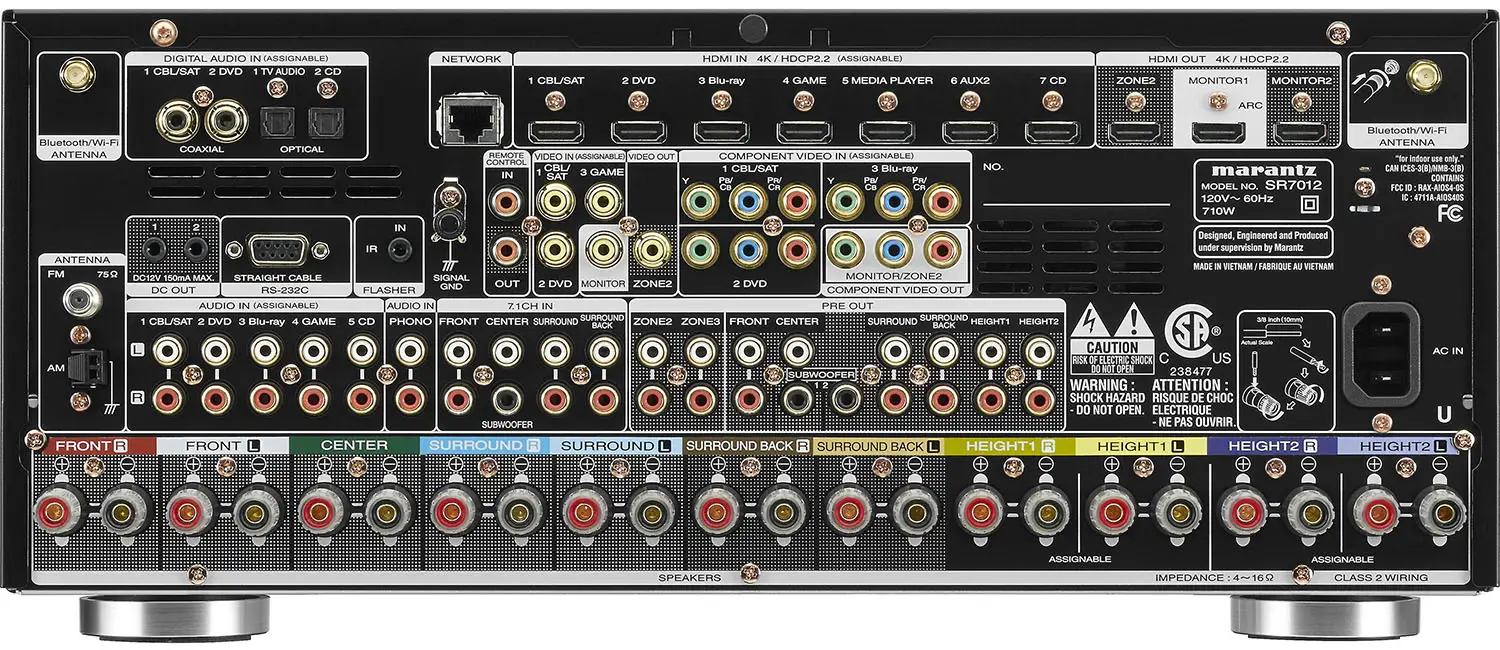 The SR7012 also offers a huge number of legacy ports for anyone that still uses them and what this one has is 5 analogue stereo inputs, 1 dedicated analogue input for PHONO, 3 composite video inputs and 2 outputs, 3 component video inputs and 1 output, 7.1 multichannel coaxial inputs, 11.2 multichannel Pre Outs, 2 digital coaxial audio inputs and 2 optical ones. As for everything else there is also an Ethernet port for wired connection to the Internet, 1 remote control input and 1 output, 1 IR flasher input, an RS-232C port, 2 12V trigger ports, FM and AM antennas ports as well as dual WiFi and Bluetooth antenna connectors.
The SR7012 really exceeded all our expectations by offering a huge amount of ports that are enough for any kind of audio setup we could think of. There is hardly anything missing here making the SR7012 the ideal receiver for all your needs. Excellent work from Marantz.
OS, Apps and Features
The SR7012 may be last year's model but specification wise it's not missing anything as far as it's HDMI ports is concerned. As such the SR7012 supports 4K/60Hz full-rate pass-through, 4:4:4 color resolution, HDR and BT.2020, plus Dolby Vision compatibility and Hybrid Log Gamma (HLG) that is used for broadcasting. As with most top of the line models we also get SD and HD upscaling to 4K resolution. Although this is not very important as most 4K TVs do very good upscaling by themselves it's nice to see this as an added feature.
Once again we find here Marantz's automatic calibration system suite called Audyssey MultEQ XT32. The system has been greatly updated compared to a few years back and it now provides a very detailed and precise calibration that is very practical especially if you are not very much into manual calibrations of such kind. Of course as always we recommend a manual tuning as it will always provide the best results but having tried the system itself provide very good results even if not very accurate some times.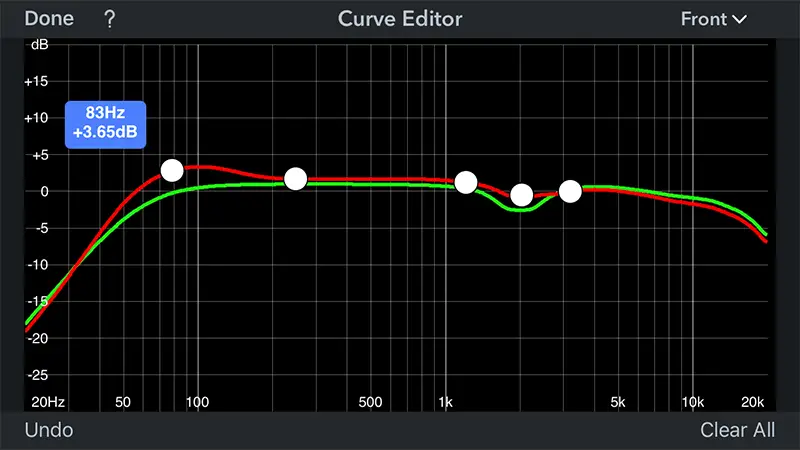 There are a few extra features included in the suite that all together provide even more control over your system behavior. One of them is called Dynamic EQ which helps to keep the dynamic levels and clarity even at low levels. Another one called Dynamic Volume balances sudden volume spikes between TV programs and commercials shifts. Lastly in the suite are included the LFC and Sub EQ HT calibration systems.
You have the option to calibrate the system either through the receiver's UI or from the Audyssey MultEQ Editor that supports both Android and iOS devices and can be downloaded from each store. Unfortunately it's not free and you will have to pay a certain fee for it which finds us completely against considering you buy such an expensive piece of hardware. But if you decide to get it the app provides a much better visual interface than the built-in editor as well as more options and settings giving you even more freedom over your audio system's calibration.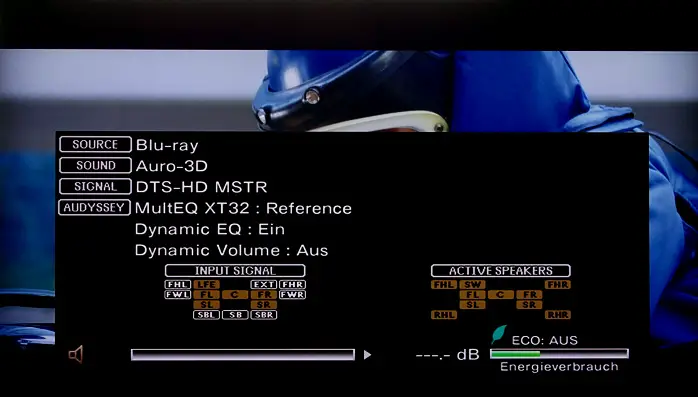 Except from the Audyssey app there is also the Marantz 2016 AVR app that you can download from the store and it lets you control the general functions of the receiver through your mobile device like smartphone or tablet. Thankfully this app is free of charge so you can download it and try it out to see if you like it.
The SR7012's UI has everything organized into categories making easy to find any setting of feature required. But what we have said before applies also here. Although the menus are simple and designed in a way that are simple to follow we would love to see a more advanced visually interface. Receivers are powerful enough nowadays to be able to support better graphics so we don't see any reason not to do so when we see that TVs have greatly advanced on this area.
The receiver naturally supports an ECO mode with Auto and Off options. If you use the Auto the receiver will manage it's power automatically in order to lower power consumption while having it in Off it will be able to provide full power at all times.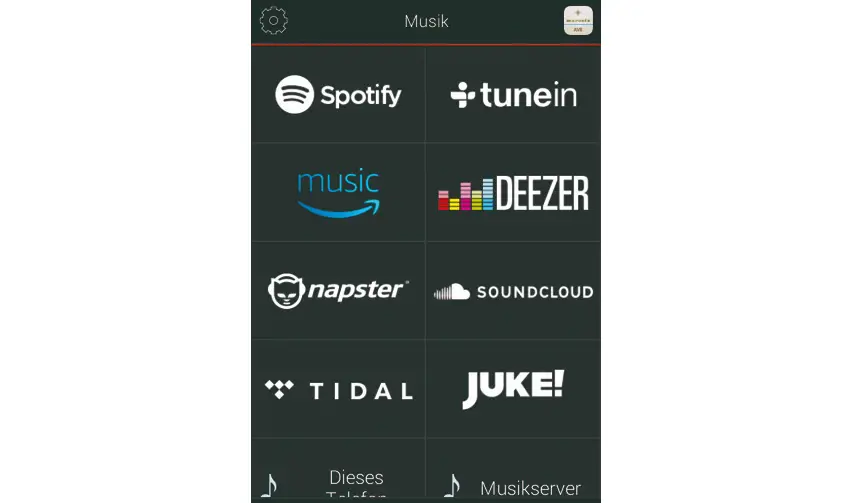 We also find a standard list of internet streaming services support that include Spotify, Napster, Deezer, Tidal and Sound Cloud as well as TuneIn internet radio or you can stream audio from a NAS server that may be connected in a local network.
Connectivity wise the receiver offers standard wireless connection through it's built-in WiFi that support dual band 2.4GHz/5GHz or through the included Ethernet port at the back. During our testing we used the wireless option without any connection loss but if you experience connectivity or streaming problems it is preferable to use a wired connection.
With the USB port that is included in the front you can use an external storage to stream audio that way also. The SR7012 also has Bluetooth support and you can use that to stream audio from a smartphone or tablet. Another streaming option is through Apple's Airplay. Such an advanced receiver should provide many streaming options and what we get here is the full set available.

HEOS multi-room audio technology is also found in this receiver and with it you can create your perfect multi-room environment with the use of wireless HEOS speakers that you can place around your house. But Marantz has equipped the SR7012 also with the new Airplay 2 from Apple which basically is similar to the HEOS feature and greatly expands the multi-room abilities of the receiver.
Another added feature is Amazon Alexa voice control through the HEOS Home Entertainment skill as well as Google Assistant support. If you have an Alexa enabled speaker like Amazon Echo you can issue basic commands to the receiver like volume control, input selections and streaming with voice commands and although we are not very fond of this system having tried it we can admit that it is very accurate and works nicely if you like this type of controlling your system. Marantz also added support for Josh.ai providing a lot of options when it comes to voice control.
Lastly the SR7012 can support the new eARC through it's HDMI port with a firmware update bringing it in line with the newer models.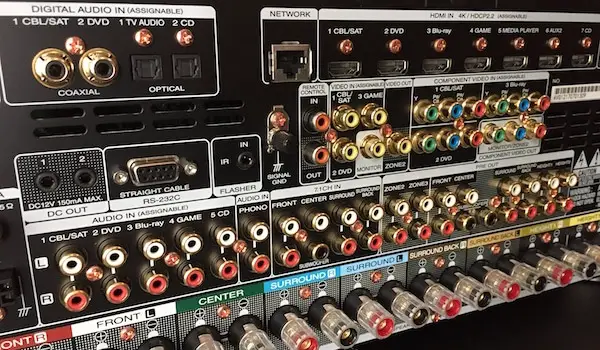 The amount of features found in the SR7012 is really amazing. And Marantz made sure to keep it feature complete by adding more functionality through upgrades keeping it relevant even with newer models rolling out showing really how good this receiver was when it came out but also now after some time from it's release.
Final Thoughts
What can be said about a receiver like the SR7012. It certainly is a receiver for the serious home theater fanatics offering so many features that is hard to find anything important missing. Even though Marantz has rolled out new models going into 2019 the SR7012 remains one of the best receivers we have tested due to offering so much.
Audio performance is some of the best we have heard with the SR7012 supporting all the important audio formats like Dolby Atmos, DTS:X, Auro:3D and DTS Virtual:X. The receiver offers also support for 4K/60Hz full-rate pass-through, Dolby Vision and HLG compatibility and a wealth of online and streaming services. Audyssey is there to help you calibrate your system as precise as possible while the amount of streaming and multi-room features available offer amazing flexibility. The amount of ports is really huge with the ability to change their initial function while Marantz makes sure to keep their devices up to date by providing firmware updates for new technologies making the SR7012 able to support eARC and DTS Virtual:X. Lastly using an external amp you can create a full 7.2.4 channels setup.
We are so enthusiastic about the SR7012 that is hard to provide any bad points for it. But if we had to really find some then one of them is that although it can support 11 channels of amplification you will need an external amp to drive the last 2 channels upping the cost. Also the Audyssey app is not free and although it has a one time charging fee we believe that buying such a premium receiver should grand you the ability to download it for free but this is not the case. Another minus is that if you want to use the Auro:3D 10.1 audio setup you will have to sacrifice the 2nd subwoofer port if you want to use a 2 subwoofers audio setup.
With the new models now in the market Marantz has lowered the price of the previous lineup to the point that have become a huge opportunity to get your hands on one if you are considering to make a new audio system. The changes are minor and with Marantz supporting their older models with updates keeps them more future proof than ever. The only real difference between this one and the newer SR7013 is that this year's model has added IMAX Enhanced functionality, which in all honesty doesn't mean a lot yet since there is no content released for that. The Marantz SR7012 is an amazing av receiver that can satisfy the needs of the most hardcore audio and home theater audiophiles. Marantz has created a masterpiece that will offer you the ultimate home theater immersion.
For more reviews you can check our dedicated 9 channels 4K AV Receiver reviews list or even look at our Product Reviews Table where you can find the brand and specific product you are looking for.
Also don't lose the chance to subscribe to our Newsletter and gain exclusive privileges.
---
Cheapest Places to Buy :

---
Specifications
9.2 channel AV Receiver with 200 W per channel
Dolby Atmos (up to 7.1.4 with an external 2ch amplifier), DTS:X, and Auro-3D built-in
DTS Virtual:X (via free-of-charge firmware update in 2018)
4K/60 Hz full-rate pass-through, 4:4:4 color resolution, HDR, BT.2020 , Dolby Vision and HLG (Hybrid Log Gamma) pass-through
8 HDMI inputs (incl. 1 front) with full HDCP 2.2 support; 3 HDMI outputs (incl. Zone 2)
eARC (Enhanced Audio Return Channel) support via firmware update
Analogue to HDMI conversion and SD to HD/4K Upscaling
Built-in Wi-Fi with 2.4GHz/5GHz dual band support
Built-in HEOS Wireless Multi-Room Audio Technology
AirPlay 2, Bluetooth, Internet Radio, Spotify Connect, TIDAL, Deezer and more
DSD (2.8/5.6MHz), FLAC, ALAC and WAV support
Audyssey MultEQ XT32, LFC, Sub EQ HT, Dynamic Volume and Dynamic EQ
Colour-coded speaker terminals, Setup Assistant, Marantz 2016 AVR Remote App
Intelligent ECO mode with off/on/auto setting
Advanced multiroom options; 11.2-channel processing with pre-outs for all channels; RS232 Control; Crestron Connected
Control with Amazon Alexa voice commands