MartinLogan Motion XT F100
Reviewed at $4,499.00 (pair)
Product Name: MartinLogan Motion XT F100
Product Description: Floor speaker
Design -

9.2/10

Movies Performance -

9.5/10

Music Performance -

9.5/10

Inputs and Features -

9.2/10

Price / Quality -

9/10
Summary
Reviewed at $4,499.00 (pair)
Pros
Amazing fidelity
Spacious sound
Attention to details
Satisfying bass
Cons
High end slightly intrusive
Jumpy upper bass
Some may dislike the cabinet design
Not the most cheap of speakers
---
Cheapest Places to Buy :
*We are a reader-supported website. When you buy through links on our site, we may earn a small affiliate commission at no extra cost to you. Home Media Entertainment does not accept money for reviews.*
---
You can call this review a little bit of a special one as it is our first concerning a MartinLogan speaker. And oh boy, did we start on the right foot as the speakers we tested today were nothing short of spectacular. In our MartinLogan Motion XT F100 review we will be talking about these recently released speakers and how do they stack up against competition.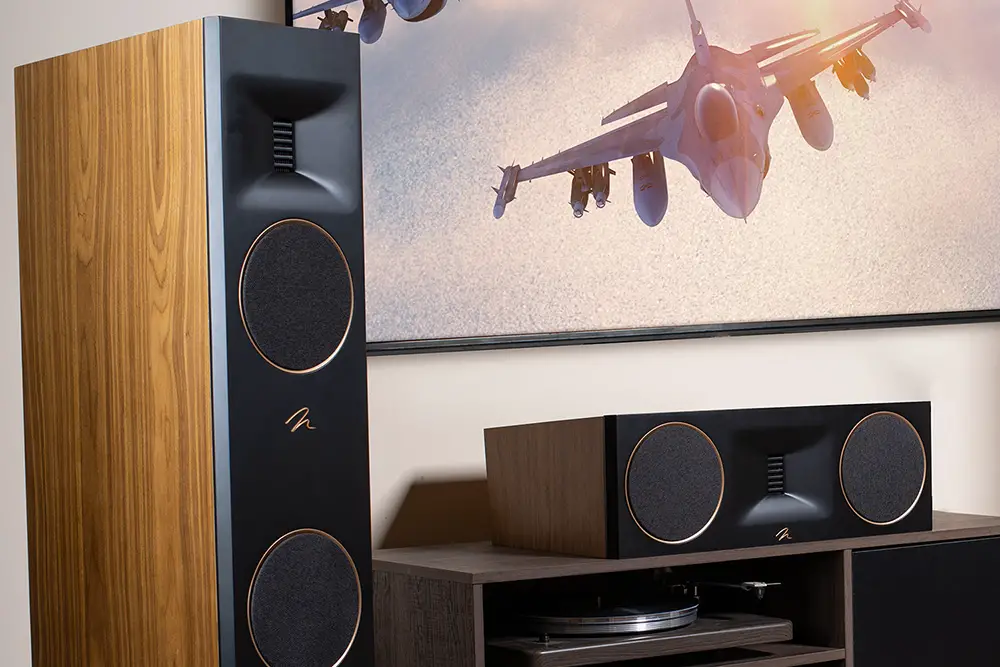 The Motion series have been on the market for a lot of years now, around 15 to be precise. So according to MartinLogan it was about time for a refresh…or upgrade if you like. The new lineup comprised of the Motion and Motion XT series includes a little bit for everyone. This surely allows for great flexibility in terms of creating the setup you want. Either this is meant for music, movies or even both.
But what about the Motion XT F100 in particular? This is a 3-way floorstanding speaker that has no relation to its predecessor. The new release includes an all new Folded Motion XT tweeter, 6.5″ drivers and comes with a new design, as MartinLogan has left no detail unattended.
Surely the Motion XT F100 is not a budget speaker. But for a high fidelity speaker its $4,499 price for a pair is surely an intriguing one. If you consider how much more expensive premium speakers can get then surely the F100 can be considered borderline affordable. Did MartinLogan managed to amaze us? And how does the new F100 shape the high end speaker market? Keep reading to find out.
Design, Inputs and Features
Exterior design & Dimensions
Visually the new Motion XT underwent a major overhaul and do not resemble the Motion series of the past at all. We have read both positive and negative comments about the new look. But to be honest this is a totally personal matter and in our option the new Motion XT looks magnificent.
As for its size, we measured the Motion XT F100 47-3/4" x 12-1/2" x 15" (121.3 cm x 31.75 cm x 38.1 cm) and with a weight of 76 lbs (34.5 kg) each. These numbers are definitely on the high side. Especially if you consider this is not the biggest floorstander in the series.
We love how MartinLogan combined simplicity and premium aesthetics. This balanced mixture make the F100 look elegant and up to date without being overly complex. And this is very obvious if you take a look at the previous Motion series compared to the new one.
In terms of colors MartinLogan offers these in three variations. Gloss Black, Walnut, and Satin White colors with the white and black having a more casual presentation while the walnut has a more retro look to it.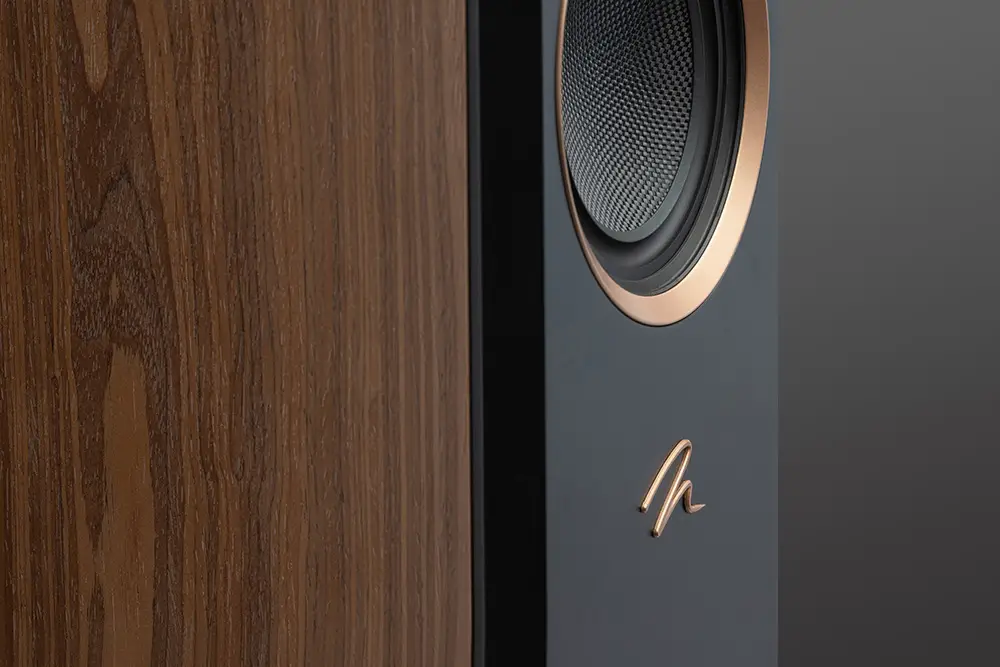 Cabinet
The cabinet of the Motion XT F100 has been redesigned in order to incorporate all the changes MartinLogan planned for this new speaker. And one of the most notable changes was to move the air ports from the back of the cabinet to the bottom.
Rear ported tower speaker designs need 'room to breathe,' which can conflict with a room's layout or decor as they require ample spacing from a wall or cabinet. A down ported design doesn't have this limitation and this was the reason for the change.
But the cabinet itself feels also different. MartinLogan claims that, when designing the new Motion XT cabinet, they took into consideration a constant found in all listening rooms, the presence of a floor.
By incorporating the effects the floor has on reflected sound during their tuning process they were able to achieve a more consistent, natural, and accurate sound than conventional designs.
These words sound nice, when it comes to promotional material. But real world performance is what matters the most. So we will see if MartinLogan's claims have an substance.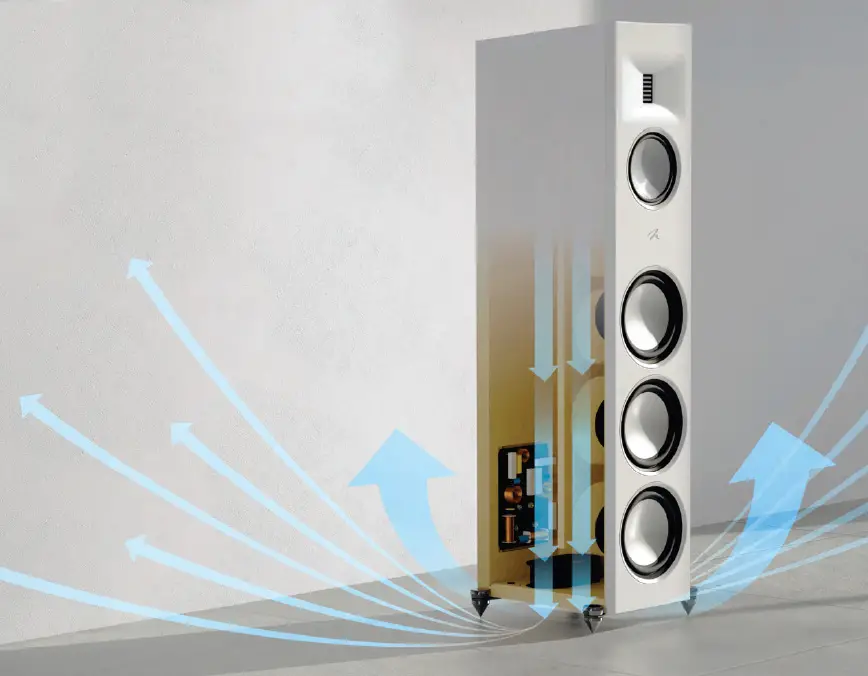 Cannon Bass Ports
As we mentioned above the new speaker uses down-facing ports.
Motion XT's 'Twin Cannon' bass ports provide deep, clean, and powerful bass without any restriction in placement. This surely gives you far more flexibility when placing them in your room.
Grilles
We have seen many different designs for grilles, some better than others. But most of them had the same design principle. To cover the entire, or part, of the front baffle hiding many of the details the cabinet has.
MartinLogan is the first speakers brand we see to go an entirely different route. Instead of a single grille covering the front face they use separate grilles for each driver.
Stealth mounting tabs provide a secure hold for the grilles, allowing you to customize the appearance of each speaker for maximum aesthetic control.
This way you can create a unique look by leaving specific grilles on, off, or even rotate them to change the grain of the fabric. Surely an impressive design for something as simple as a speakers grille.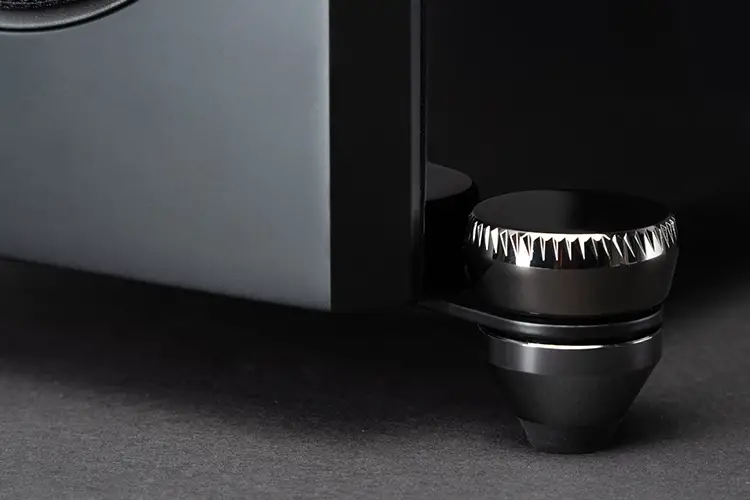 Stand
With the bass ports looking downwards it means that the feet would need to be designed in such a way that would allow easy adjustement. And MartinLogan thought of that also. These are designed with tool-less height adjustability in mind, using the included rubber feet or spikes, which enables you to effortlessly level the speaker for optimal stability on any floor.
Additionally, the feet have built-in anti-vibration properties in order to reduce the transfer of energy from the speaker to the floor. As a result you get lower distortion and coloration, providing a more accurate and detailed sound.
These proprietary outrigger feet allow you to effortlessly adjust your speaker's height by just turning the knurled caps. Whether you want to raise or lower the spike or pad, it's as easy as turning the caps. It couldn't be any easier than this.
Drivers Design
MartinLogan went in great lengths to create a premium quality cabinet. But this would be for nothing if they hadn't include the necessary audio components that would match the new Motion XT's high fidelity signature.
And for the new speakers they went for a 3-way design with a redesigned Folded Motion tweeter, a single 6.5″ Kevlar-based mid-range cone and three 6.5″ aluminum bass drivers.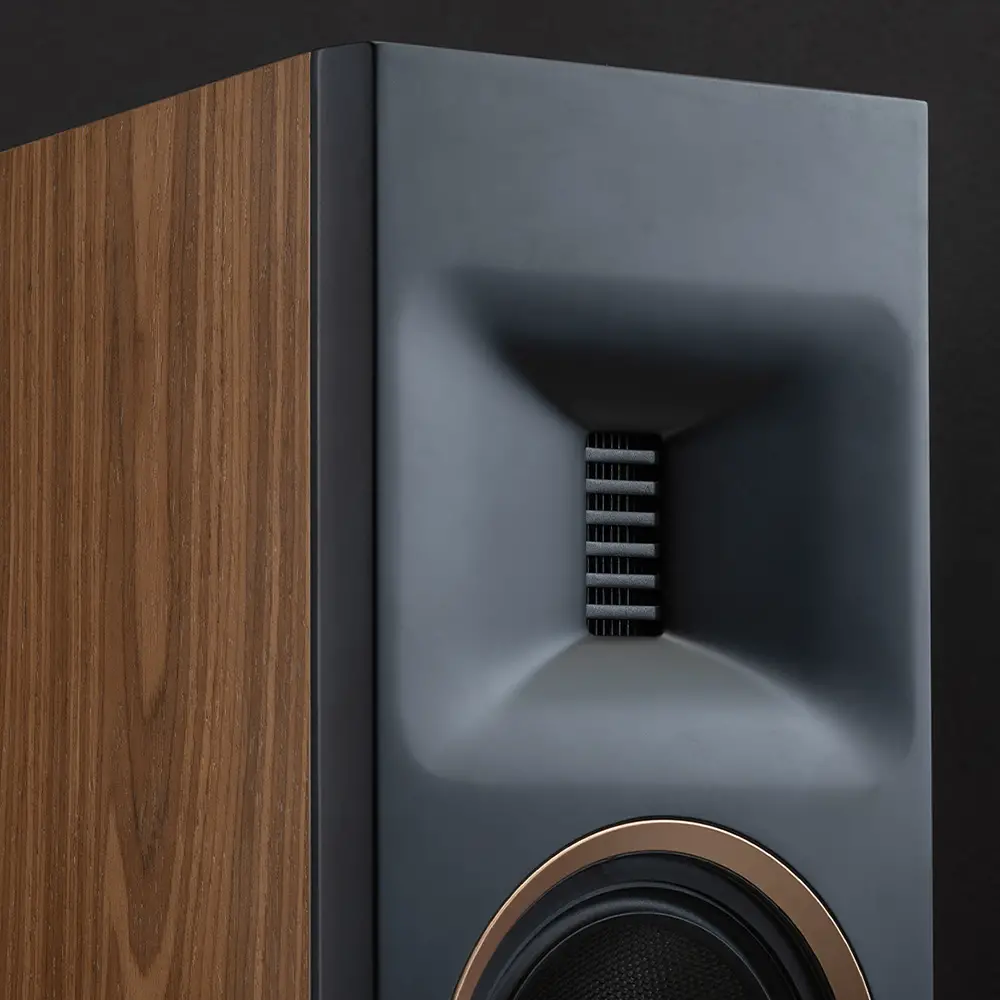 Motion XT Tweeter
We will start with the tweeter as MartinLogan used the 2nd Generation of their signature Folded Motion Tweeter technology. This uses a folded diaphragm to compress and expand air creating a large surface area for detailed high frequency reproduction. This has been upgraded with a larger motor structure providing higher output and lower distortion than before.
This new Motion XT series feature the latest in thin film technology and the Gen2 internal improvements elevate performance to almost similar levels to their legendary Electrostatic speakers. Really bold claims to be honest.
This was paired with their Folded Motion Waveguide profile which was chosen to align the tweeters output with the dispersion of the midrange drivers. The waveguide also enhances the Controlled Dispersion output of the tweeter, offering wider coverage while minimizing unwanted room reflections.
Kevlar Mid-Range Cones
Moving on to mid range we find a 6.5″ Nomex-Reinforced Kevlar midrange cone. This material has excellent anti-resonance and anti-ringing properties without sacrificing any of its strength or lightweight characteristics.
Although Kevlar is not used very often in speaker cones, this is not the first time we have seen this being used for sound reproduction. Usually more premium speakers have it as it is relatively expensive compared to other, more standard, cone materials.
This is also evident from the fact that in the cheaper Motion series they go for woven fiberglass for the midrange instead.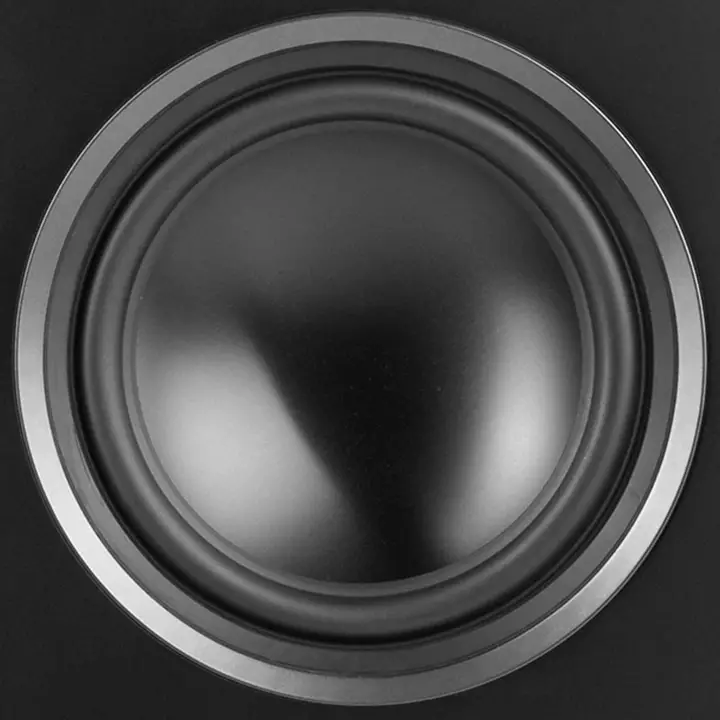 Aluminum Bass Drivers
As for the bass drivers the F100 comes with three 6.5″ aluminum cones. Aluminum is a more frequently used cone material as it has exceptional characteristics, ideal for bass drivers.
They feature a unibody cone construction and come with cast aluminum baskets.
McCracken-Vojtko Crossover
Having all the parts in place is one thing, combining them into one requires a whole other level of expertise. And here MartinLogan did not disappoint. For the F100 they adjusted the crossovers using proprietary measurement and simulation software. After the results were fine-tuned and evaluated using double-blind listening tests.
As a result the McCracken-Vojtko crossover, named by its engineers, is what binds everything in place and gives the F100 its exceptional output across the entire frequency range.
Drivers Specifications
The combination of the Motion XT tweeter with the 6.5″ Kevlar cone and the three 6.5″ aluminum cones give the Motion XT F100 the following characteristics. A frequency response of 31Hz – 25kHz, 4 ohms of impedance and 92 dB sensitivity.
The crossover frequencies are set at 280 Hz for the LF/MF range and 2.6 kHz for the MF/HF range. As for the power range, MartinLogan recommends a power amplifier in the 20 – 450W range. This shows that the F100 can be combined with a huge range of AV receivers and amplifiers.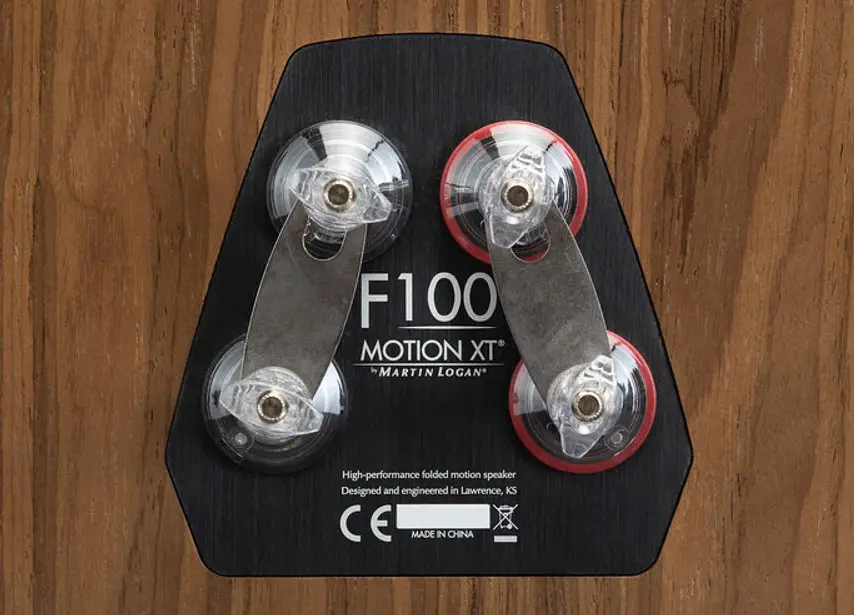 Connectivity
The Motion XT F100 use custom bi-amp/bi-wire capable 5-way binding posts. If you prefer a single wire connection there are external jumper clips as most speakers have with dual binding posts.
As for the actual connection you have a lot of flexibility. You can go for bare wires or various plugs. These include spades or banana plugs if that is your preference.
In general the terminals are of good quality, nothing more to add here.
Positioning & Setup
Unpacking of the F100 required special handling as the weight of each speaker needs you to be extra careful. Ideally a second pair of hands would be best to help you unpack them.
Inside the box a small package includes the stand legs that you have to attach at the bottom of each cabinet. The whole process is easy but you need to be delicate with these speakers as much as possible.
In the manual MartinLogan included a lot of details concerning the assembly and setup distances. There are bi-amp and bi-wire diagrams along with specific distances that the speakers should be placed in the room. Obviously these are general guidelines and give you an idea of normal positioning. But as always you need to experiment to find how they sound best to you and make changes accordingly.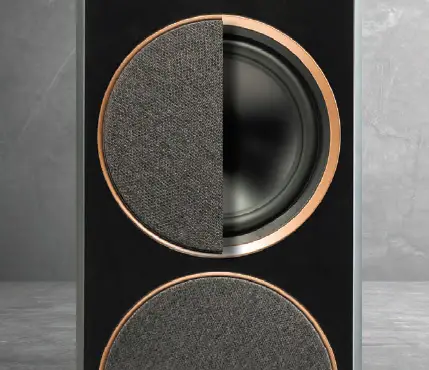 For this review we left around 2 feet from the back wall in order to give them slightly more breathing space. Keep in mind that placing the speakers near a wall will increase its bass output. But this will be at the cost of overall definition so finding the best balance is always crucial. Although the F100 are not affected much by this, since they use down-facing bass ports, the proximity to the wall can still affect the sound output.
Distance between the two speakers was, as usual, around 9 feet. We also like to toe-in them a little towards our viewing position for better sound imaging.
Running Hours
The F100 we got for review were very new, with very few hours of use. As such they hadn't reached their break-in period yet. After a few good hours they would definitely behave even better. Unfortunately our time with them was limited so no time to flex them as much as we would like.
Most manufacturers do suggest to give them certain time to reach their peak performance. This usually comes at about 100 hours on average for most brands. MartinLogan specifically mentions 72 hours of break-in at 90 dB. So always keep this in mind when you hear a completely new set of speakers that doesn't sound as good as you would expect.
There is one last thing to mention here. In our movies testing we tend to strictly use a 4.0 channels surround system. A full surround system can sometimes cover some weaknesses many speakers have.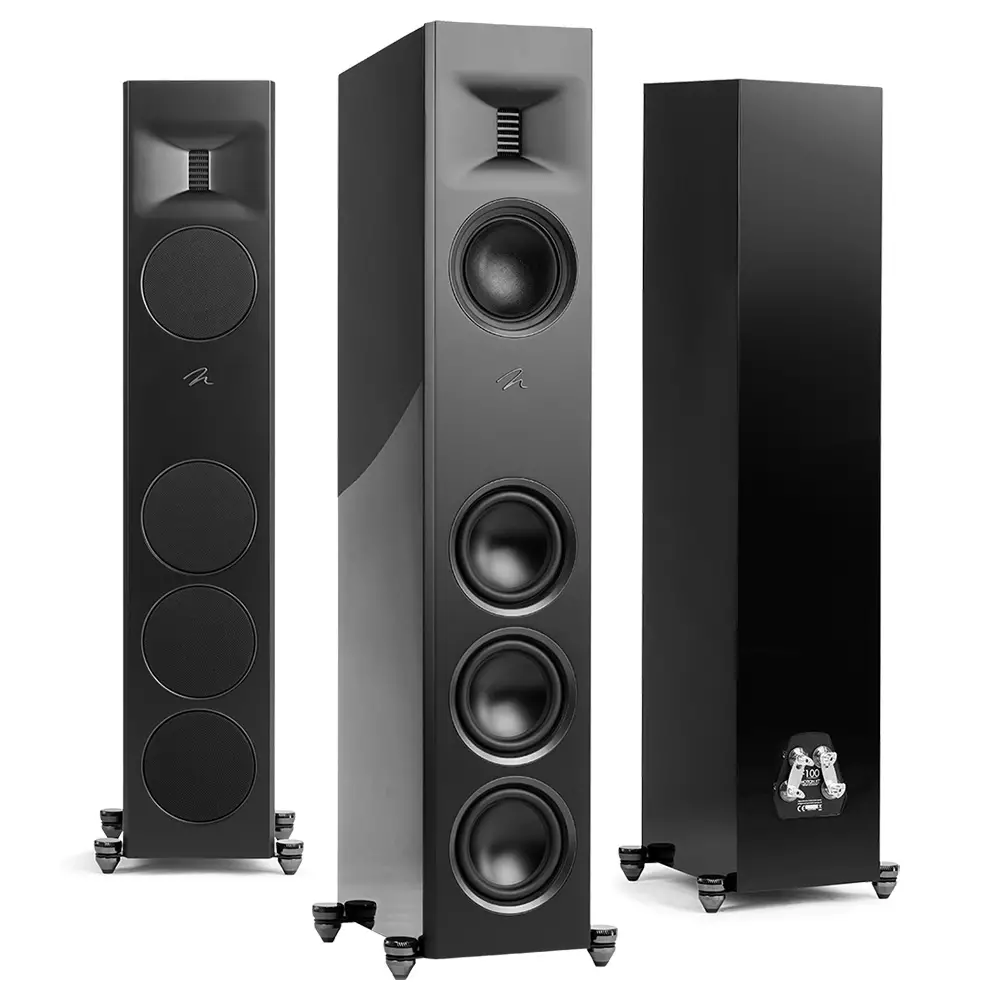 But with our half baked system it is easier to determine how they can perform. Obviously if you add a subwoofer along with a center speaker the overall immersion will increase tenfold. So keep this in mind when you read our reviews.
As for our music testing we always switch to a standard 2.0 channels audio setup that most music purists tend to go with. Obviously since we are more into movies we will use an AV receiver instead of separates. But as you can imagine a dedicate music setup will do even better in this regard.
So without further delay, and after finishing the necessary audio calibrations with our Marantz AV receiver, we moved on with our tests.
Movies
2012
For this review we decided to try out 2012 in 4K UHD which comes with an explosive Dolby Atmos mix that really is what we needed to push these speakers to their limits.
2012 is a film that lives or dies by its action scenes and surely it delivers. The Dolby Atmos mix does not try to be delicate. This is pure popcorn enthusiast performance from the bottom end all the way to the very top. And you really need speakers that can handle this kind of cinematic cacophony.
Did the XT F110 manage to deliver? They surely did, but honestly this is the understatement of the century. These speakers were not only able to deliver absolute clarity, high end dynamics, breakthrough transparency and noteworthy extension. But did all that with a kind of control that surely makes you wonder if the price these have is right or they are in some short of discount.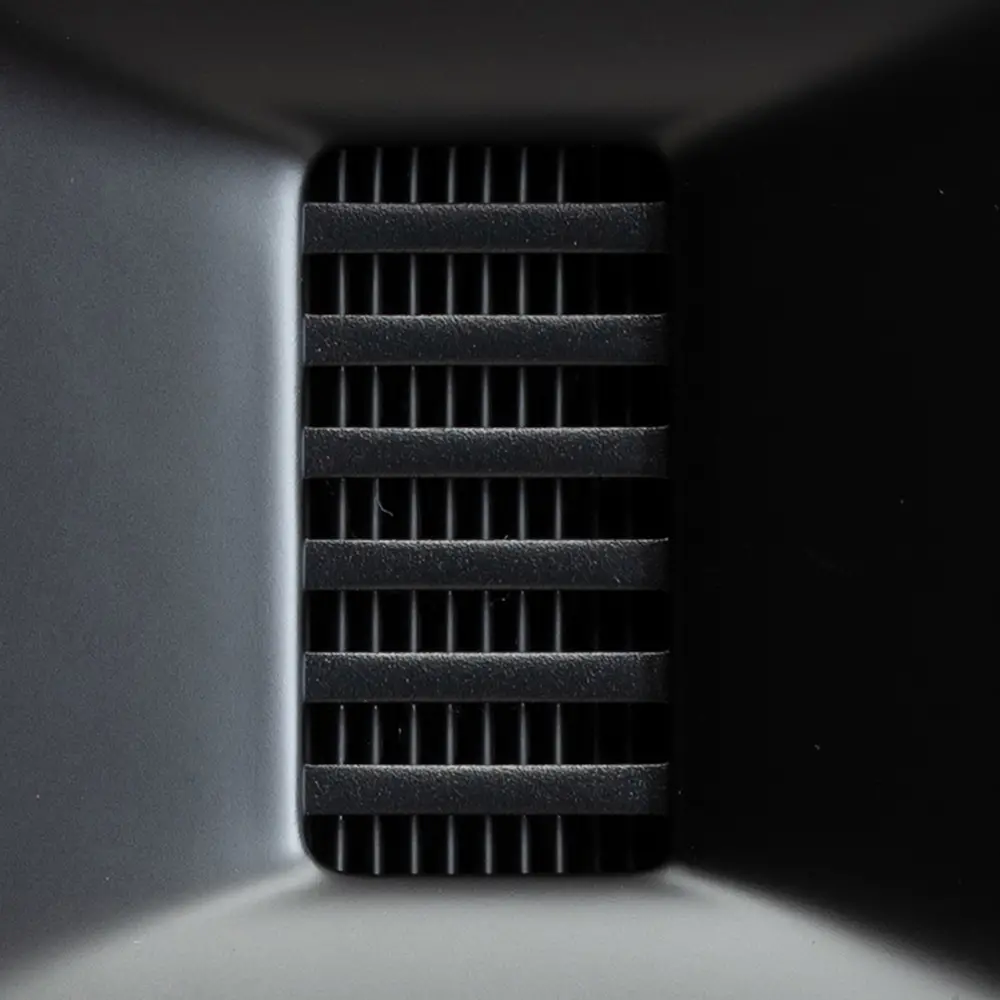 The front sound wall was powerful and full of energy without leaving a single spot empty of action. Low end action would push the speakers to dive deep and gave us a pretty satisfying bass, considering there was no subwoofer present.
These speakers proved to be very neutral and linear and the slight jumps in the upper bass area didn't prove enough to change the F100's overall posture.
Dialog & Bass Performance
Dialog was distinct and crystal clear, even through all the action on screen. To be honest we never felt that we needed a center speaker as the F100s did an absolute amazing job at covering this omission and filling that center space. Obviously if we could add a center channel it would certainly add a bit more volume and depth at the center point. But as is it we were perfectly fine without one.
As for the low end, 2012 is all about explosions and destruction and the F100s were happy to deliver. Bass was very controlled and it never tried to push to territories that its drivers cannot handle.
Yes, obviously a dedicated subwoofer can hit you and slap you in the face more than you can ask for, no question about it. But for a floorstanding speaker the F100 has enough low end prowess to satisfy a vast majority of users.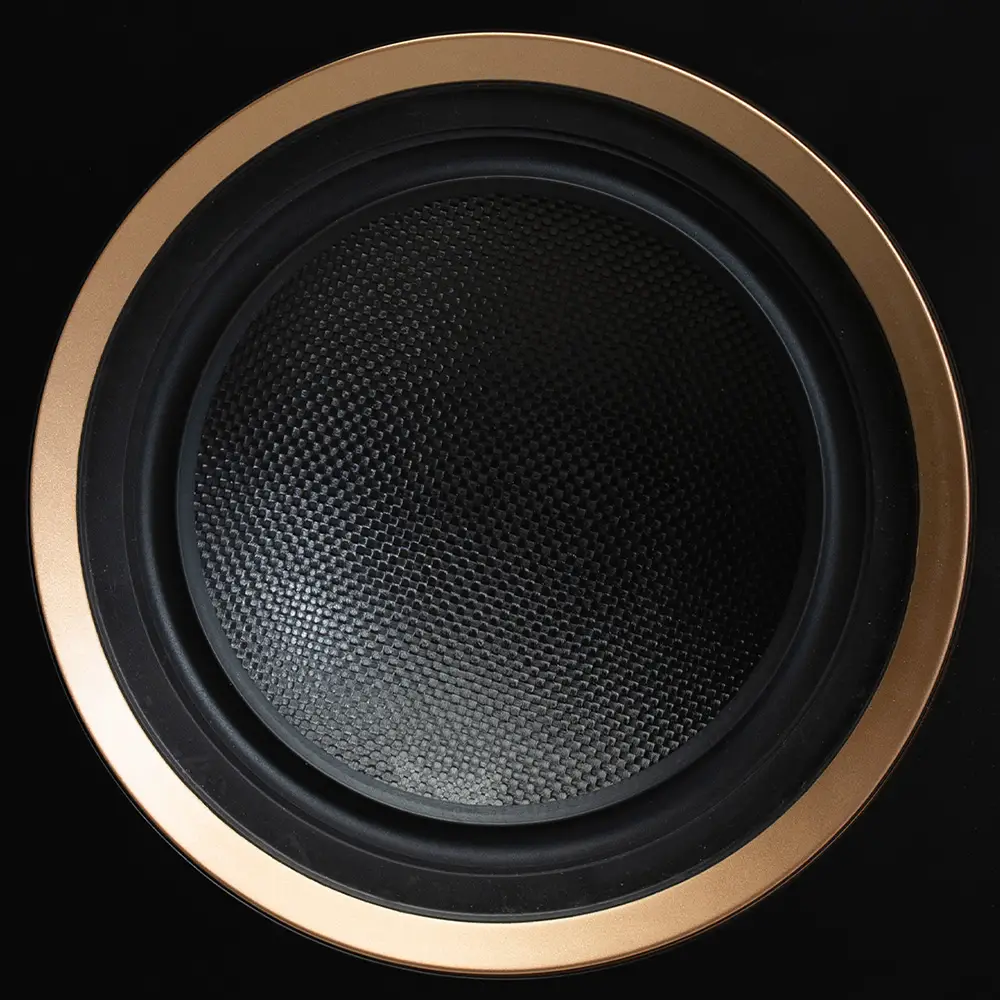 Alita: Battle Angel
We then changed scenery and went with Alita: Battle Angel. Another 4K UHD with a reference quality Dolby Atmos mix.
This film offers a bit of a different setting. Its mix is more subtle and offers more variety in terms of output. Alita is a newer film and this is very evident during the entire running time.
The distant future utopia is amazingly rendered with Iron City's crowded streets being full of active sonic elements. The F100s kept great control of all sources and managed to extend the scenery across the entire front section of our testing room.
Panning sounds would travel across the room as people and vehicles would move across the screen with pinpoint accuracy and extremely high definition.
Again dialog was very distinct and clear. The F100s were particularly proficient at handling all voices of all human and cybernetic entities.
The speakers were excellent at giving us a sense of directionality that we do not often experience. And they did that without losing any of their focus or clarity. The Motorball sequency is obviously the highlight of this film. And although we could sense sounds from all around us, largely due to the help of the surround speakers of course, we never felt that we missed any fidelity or extra detail.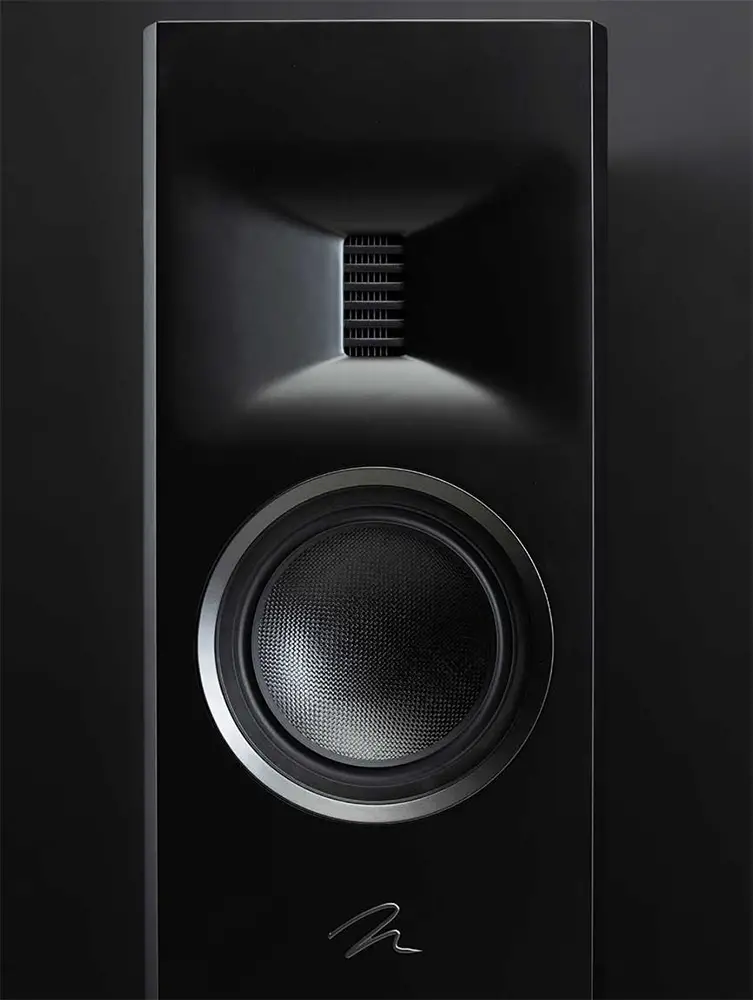 Closing Remarks
One can write whole pages about how good these speakers are but in the end nothing can substitute a real world experience with them. Take our word when we say that the F100s will totally drop your jaw on the floor in a properly calibrated home theater system.
They have the power, clarity, extension and noteworthy control that can bring any performance to new heights. Could we ask for anything better in this price? We do not think so.
Music
Next, we switched to a pure 2.0 channels audio setup with only the two front speakers connected and we streamed a selection of FLAC music tracks through the front USB port of our Marantz receiver.
Fidelity & Overall Quality
There is not much more we can say when it comes to music that we haven't already said above. During our films testing the F100s showcased what they are capable of and most of these qualities were present during music.
It may feel like we will repeat ourselves here, but to be honest these speakers are so good with anything you throw at them that they simply do not care. Either it is some cacophony extravaganza from a high budget action film or some delicate orchestrated music the speakers deliver.

The front sound stage had nice expansion. And although it was not the most wide we have experienced, it was far above the average. Precision and focused directionality were through the roof with the F100s being very transparent speakers overall.
Delicate performances were given the appropriate attention without trying to alter the outcome to meet the speaker's characteristics. They would give you exactly what the performance asks for with minimal manipulation.
Again the speaker's main characteristic was how linear they were across the entire frequency range. Their high end may be the only area where we can see some people disliking the F100s for. But to be honest, during our testing we never felt any ear fatigue. Yes, maybe we would like the high end to be a notch more subtle but this was a small nuisance and it didn't bother us at all when looking at their performance as a whole.
Bass
The speakers had no problem pushing the low end under the 30Hz mark with ease. Again the upper bass was a bit more exciting than the rest of the sub-200Hz section but this gave the F100s a very playful tone and punchy bit.
Different Content
If you try to find content that will not play nice with these speakers, don't. You will simply lose your time as no matter what you throw at them, the F100s will adapt and render everything to excellence.
As we have mentioned a lot of times in our reviews, we are more movie lovers than music audiophiles but even we can appreciate the music qualities of a high fidelity speaker. And the F100 has everything a speaker needs to satisfy even the most hardcore of users.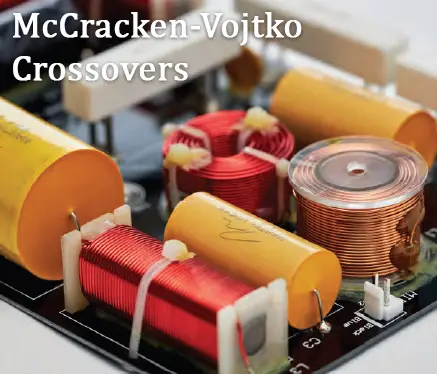 Final Thoughts
MartinLogan is a very respectable brand in the speakers industry. They may not have the brand prowess and name recognition some of the other players in this market have. But this hasn't stopped MartinLogan from creating an absolutely amazing series.
The speakers really has everything a high profile speaker must have. Its build quality is unquestionable and this has obvious results concerning its output. The F100s can render sounds with unimaginable fidelity and clarity. Resolution was through the roof and the speakers will give special attention to detail either it is a film or music they have to work with. The F100 provided nice, spacious sound while their neutral output is ideal for almost all kinds of content.
As for its downsides, it is really hard to find anything to put a dent into such excellence. If we had to nitpick then the high end may be a bit too much for some. The upper bass is a bit more jumpy than the rest. And their overall design, although we definitely like what MartinLogan came up with, we do get that some people will dislike the new approach.
Closing our review we will say only this. If your budget allows for it and you look for a high fidelity speaker for either movies or music then the MartinLogan Motion XT F100 is a bit of a no brainer. It is an investment worth every penny. And it cannot get much better than that in this price.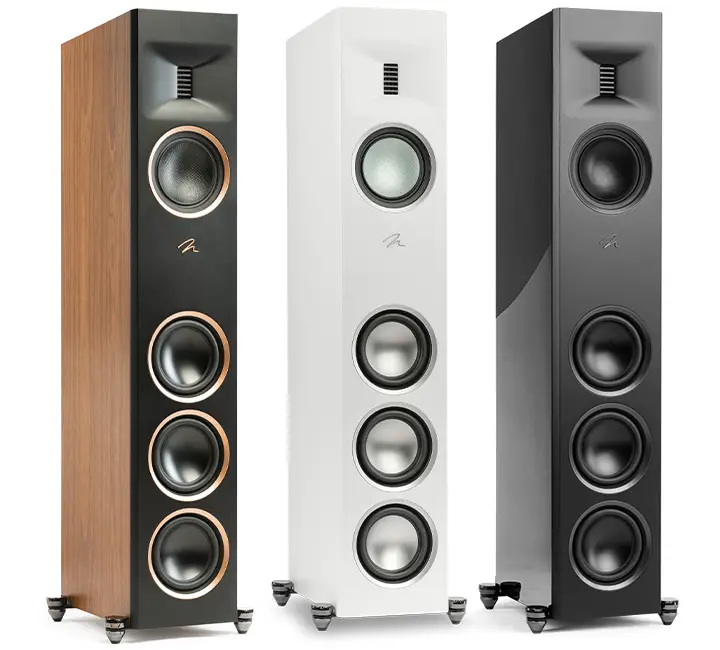 For more reviews you can check our dedicated Floorstanding Speaker reviews list or even look at our Product Reviews Table where you can find the brand and specific product you are looking for.
---
Cheapest Places to Buy :
*We are a reader-supported website. When you buy through links on our site, we may earn a small affiliate commission at no extra cost to you. Home Media Entertainment does not accept money for reviews.*
---
MartinLogan Motion XT F100 Specifications