Monitor Audio Bronze W10
Movies Performance
9.0/10
Inputs and Features
8.8/10
Pros
Great design and build quality
Thunderous low end
Good and tight control
Nice dual color combinations
Cons
Cannot go extreme low
Only suitable for relatively small areas
Slightly expensive
---
Cheapest Places to Buy :
---
There is no better experience than getting this chest pumping feeling in your home theater that will hold you glued on the screen and at the edge of your toes every time the low end becomes active. And while when we talk about dedicated home theater subwoofers there are a couple of brands that certainly have the lions head in the market there are tons of others out there that may not be destined to take the performance crown but still manage to offer an amazing and unforgettable performance. In our Monitor Audio Bronze W10 review we will be looking at such a subwoofer from a manufacturer that is no stranger to home audio speakers.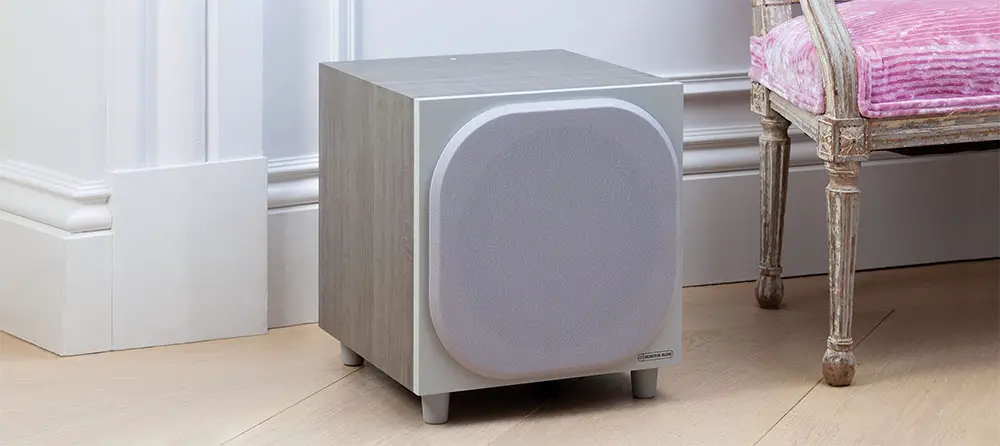 Monitor Audio has created different series with complete lineup of speakers aiming for either the high end, middle tier or lower end categories and for each of them they have specific subwoofer models to complement them. The same applies for the W10. Part of the 6th generation of the Bronze series the Bronze W10 subwoofer has been redesigned to include certain technologies that brings it up to par with the rest of the Bronze family.
This 220 watts subwoofer features a sealed design and uses a 10″ front firing driver which may not be anything out of the ordinary but looking deeper into the specs you understand that there is more to it than meets the eye. The C-CAM cone is complemented by a 10″ flat panel ABR and with its powerful Class-D amplifier and DSP processing it promises to render every rumble, shudder and judder of a movie soundtrack in the most convincing and realistic way. But with such extreme competition in this category does the W10 manages to offer anything more or it gets lost in a sea of good performing contenders? Let's find out.
Design, Inputs and Features
Exterior
Design wise the W10 follows very closely the rest of the Bronze series, both in looks and color combinations, in order to fit ideally with the rest of the speakers in case you decide to go for the whole series. The W10 is certainly a compact subwoofer even with it's cubic sealed design and this helps making it ideal if you are in need of a good performing subwoofer with a small footprint. Measuring 147/16 x 125/8 x 145/16" (366.5 x 321 x 364 mm) including the grille and feet and with a weight of just 29 lb 9 oz (13.4 kg) you can move this one relatively easy until you find its sweet spot.
Moving on to the cabinet quality, the Bronze series may belong to the lower end of Monitor Audio speakers lineup but they still meet certain quality standards that Monitor Audio is very famous of. The Bronze 6G W10 subwoofer uses a 18 mm M.D.F. internally braced cabinet which feels very sturdy and will certainly keep those vibrations to a minimum. The front firing driver is covered by a grille that comes with rounded corners and uses a pin/cup retention system to keep it steady. Other than that the Monitor Audio logo is found on the lower right corner with it being very subtle and not intrusive at all.
Taking out the grille we are gritted by a 10″ steel-grey C-CAM driver cone which was necessary in order to keep parity with the rest of the Bronze series. At the bottom of the cabinet, hidden from plain sight, there is a 10″ flat panel ABR (Auxiliary Bass Radiator) which helps to strengthen the bass still further.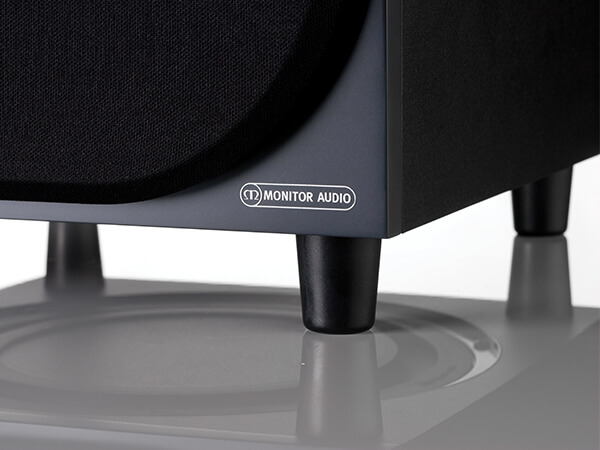 The back of the subwoofer incorporates various connections and controls and we will talk about these in their appropriate sections. The W10 comes with long rubber feet, in fact longer than what you would expect from a front firing subwoofer and this has to do with the 10″ ABR at the bottom.
As for available colors the subwoofer comes in four dual color combinations with Black, White, Walnut and Urban Grey the ones available. The Black and Walnut finishes come with black grilles while the rest with a white variant. We liked very much what Monitor Audio did with the colors as the dual coloring makes these subwoofers look nicer and more premium and the colors selections fit nicely together.
In total the W10 is the kind of subwoofer that complements the Bronze series and fits exactly with the rest of its family. But even if you plan on pairing it with some other speakers this one has the design and size to be a perfect fit no matter the design, colors or area you will place it in. It looks nice, it's cabinet quality is characteristic of Monitor Audio and the plenty of color combinations certainly help to find the one that will suit you the most.
Internal Hardware
As we already mentioned above the W10 uses an ultra long throw 250 mm (10″) 'dished' C-CAM subwoofer driver with a 2″ voice coil in combination with a 10″ flat panel ABR (Auxiliary Bass Radiator) placed at the bottom of the cabinet in order to strengthen the low frequencies even more and provide better power handling. This combination may not be unheard of as many other subwoofers seem to utilize something similar but certainly is not one that we see every day and it's an interesting engineering decision from Monitor Audio.
The seamless, aluminium construction is light and rigid making it less prone to break-up when the subwoofer is pushed to its limits while an increased magnet motor size results in better power handling and wider lower frequency extension.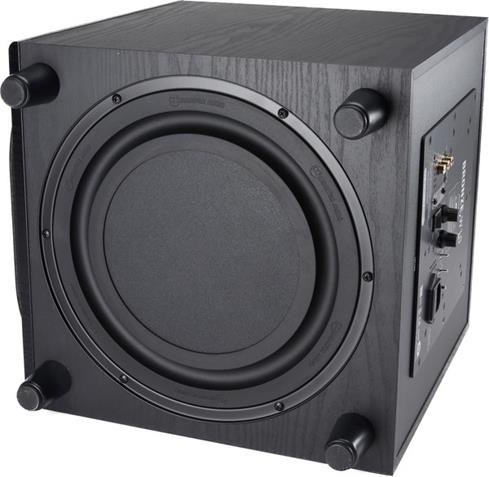 As for the 10″ passive ABR (Auxcillary Bass Radiator) Monitor Audio decided to place this at the base which has certain advantages compared to placing it horizontally. The combination of the front driver along with the ABR offers the W10 6dB greater SPL at 40Hz compared to its predecessor which sounds quite amazing.
But these drivers would be nothing without the appropriate amplifier that would have the necessary power to show what they can really do. As such the W10 comes with a 220 watts high current (SMPSU) Class-D amplifier. The W10 is also DSP controlled and comes with 3 pre-set modes: Music, Movie and Impact.
At 220 watts this is not the most powerful subwoofer we have seen in this class but keep in mind that this is supposed to be a relatively compact design and is certainly not meant for big spaces where bigger models with bigger cones can fare much better.
Connectivity
When it comes to the available connection ports the W10 provides a more or less standard setup for its category. This means that we get the usual LFE unbalanced input RCA that most people will be using along with a stereo unbalanced inputs RCA below that in case you want to connect it to a stereo amplifier system. The W10 also features a 3.5 mm mono mini-jack 12V trigger with a 6V threshold that is not usual to see in a subwoofer but it can be handy as if you connect your AV receiver/amplifier to this it can provide the subwoofer a more accurate controlled on/off function. A nice touch is also the detachable power cable making cable management far easier.
Obviously the single RCA port is the one most people will ever need but it's always nice to see more options provided for those few that want to have these extra connection options.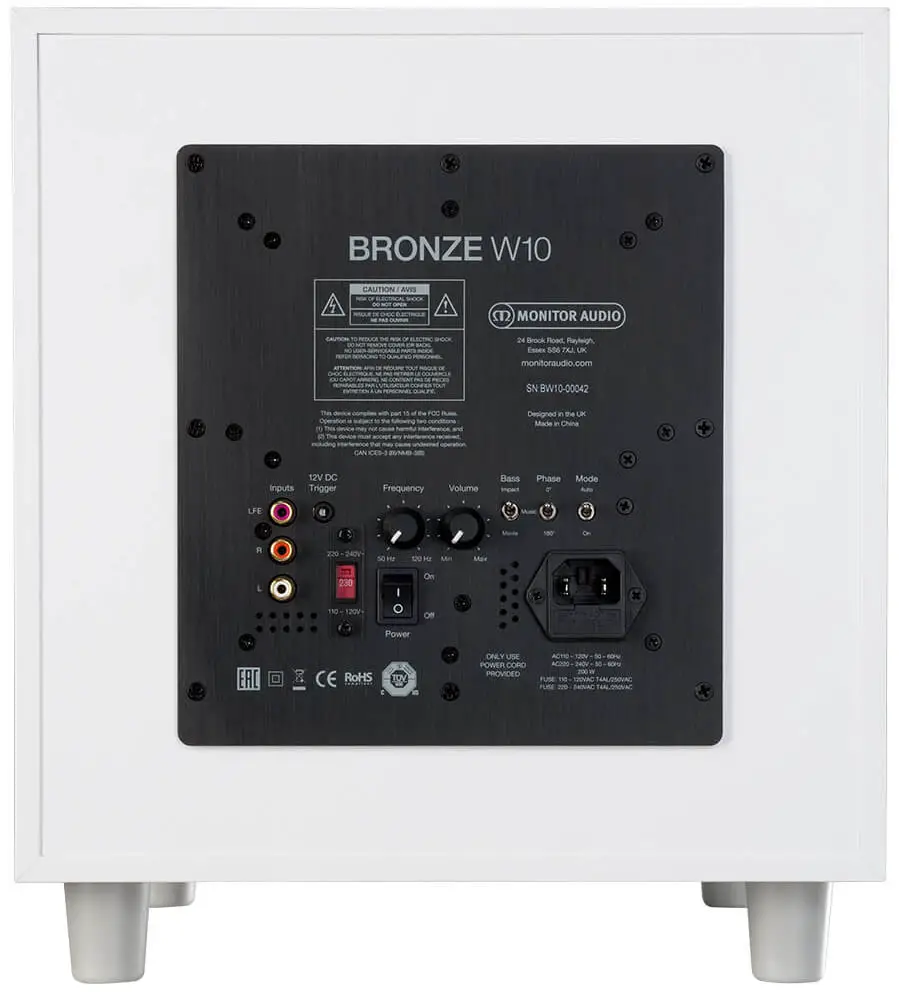 Controls
Along with the available ports the back of the W10 comes with plenty of control knobs and switches for a subwoofer. Next to the stereo RCA we find the mains input voltage switch along with the main power switch and above them two turning knobs for the Low Pass Filter (LPF) that has a range of 50 Hz to 120 Hz and the volume control next to it.
On the right and just above the power connector there are three switches, the first offering the three available pre-set modes for Music, Movie or Impact, a zero or 180 degrees pure invert switch and a Mode switch. Now as for the bass modes the Movie position offers a flat response down to 35Hz, the Music mode comes less at -2dB but can go lower at 30Hz while Impact mode offers +3dB compared to the Movie mode but only goes down to 40Hz. It's nice to have options to choose from and certainly this will find may supporters as different people would like this different response depending on its use.
Except from the pre-set bass modes everything else is more or less what you would expect to find in a subwoofer of this category so nothing major to note here.
Extra Features
As per usual with all active subwoofers the W10 has an auto/standby feature that kicks in after 20 minutes of inactivity and draws only 0.5 watts when in that state making it very power efficient. It's Line Auto Sensing Level has been set at >3mV.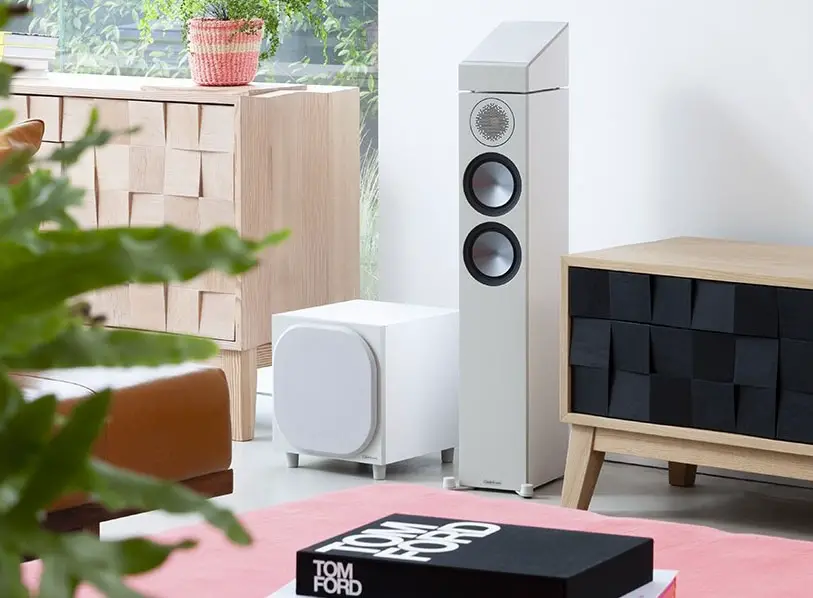 Performance
The general consensus is that sealed subwoofers fare better with music while ported ones are slightly better with movies. This has to do with the fact that a sealed design can offer more tight control which is crucial in music while an available port can boost the low end that can offer greater immersion with movies. In theory the W10s sealed design means that it favors music over movies but we will be looking at that shortly.
Placing the subwoofer is always a result of experimentation but keep in mind that usually if you place it near walls or corners what you gain in power you loose in accuracy. If you like to go all out loud then the closer to a wall the better. But if you prefer more resolution and accuracy then you should leave certain breathing space around it. There is no right or wrong placement of the subwoofer and it's all a matter of what you prefer the most so you will need to spend certain time experimenting with its placement if you want to get exactly the sound output you are looking for.
For this test we used a 5.1.2 Dolby Atmos system with two overhead speakers and a single W10 subwoofer that was placed on the front left corner of our testing area. We connected the W10 to our Onkyo AV receiver through a single RCA cable and made the necessary audio calibrations before proceeding.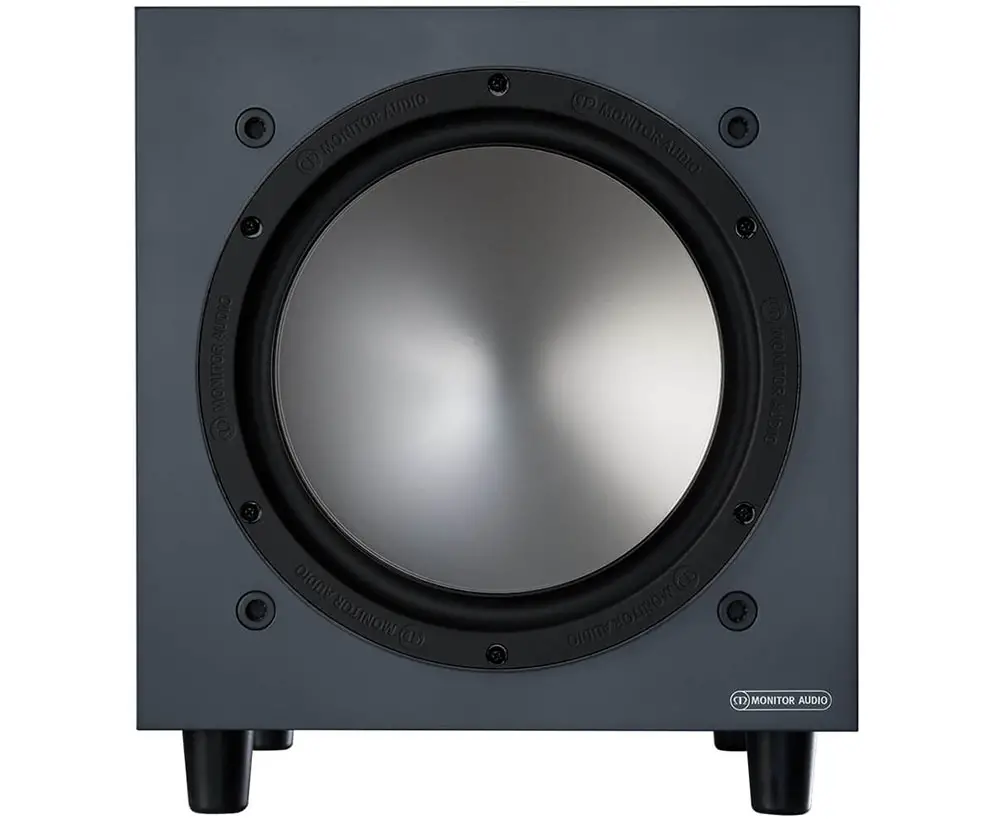 Movies
For our first film we decided to go out loud so we popped in the 4K UHD disc of Godzilla: King of the Monsters. The sequel may not be as highly regarded as the 2014 film but certainly is not lacking in the audio department. The included Dolby Atmos track is every bit as amazing as in the first film and even some as there as so much low end activity here that it's a constant shake up.
Our main focus is the bass here so we skip forward to parts of the film where the titans duke it out on one another offering a complete mayhem over our planet. The W10 is not afraid to go loud here and it's surprising that such a small cabinet can create so much noise. But what was even more important was that all this noise didn't come at the expense of bass quality. The subwoofer could go loud and down enough without feeling the bass getting boomy or overall muffled.
The lower frequencies had the necessary punch whenever the occasion asked for it with the W10 never trying to go crazy just for the shake of providing more noise. It has a certain control over its output that was very nice and created a very nice balance between the bass and the rest of the frequency spectrum.
We cannot say that we felt like the W10 missing any critical points. Every Godzilla step had the necessary weight that made you feel his grand size while his growl came out with a raw and natural tone.  It's as if the W10 knew when it had to be more subtle with its low end output and when to go all out. When the fight between Godzilla and King Ghidorah begins the subwoofer will provide all the shaking you will ever need and keep slapping you left and right.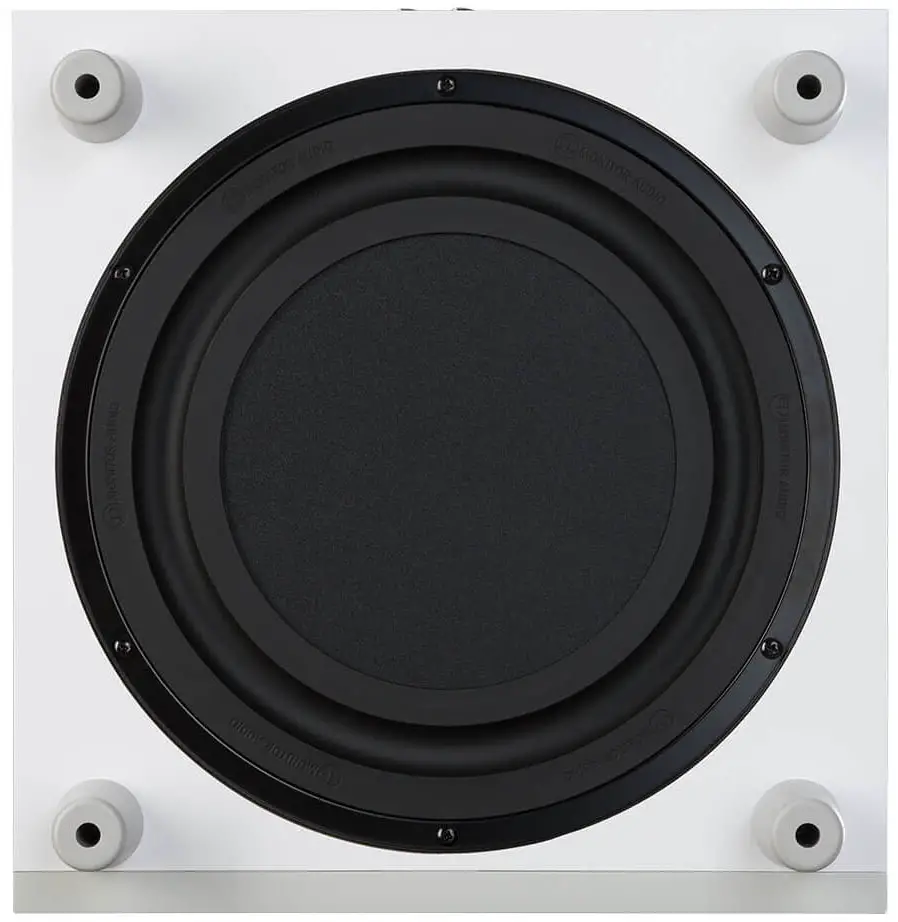 Next in line we tried out the 4K UHD version of Battleship. Another so and so film but with an excellent DTS:X mix that has plenty of action and low end activity making it ideal for our W10 testing.
Once again the subwoofer was in total control of the lower frequencies. When the alien ship shoots the pegs on the destroyer and explodes into pieces with debris falling all around the W10 was able to render everything realistically with a nice and chest pumping shockwave emitting throughout our testing area.
During the last section where the USS Missouri throws all its ordnance to the alien mothership the subwoofer kept all the low end in good control as each cannon fire had enough punch and depth needed to feel the realistic weight of the ballistics involved.
But the W10 was not only good with explosions. A film like Battleship has a lot of low end activity and we never felt that it was lacking in power or low end extension and thus provided the necessary bass elevating the overall immersion of such a film tenfold.
The Monitor Audio W10 may be a sealed design but we never felt that it was lacking in overall power for such demanding films. Yes, a ported design may have gone even louder and deeper but there was nothing in its performance that made us feel it was a lackluster experience. It had good power, nice low end extension and good control. It rendered everything nicely and even in demanding scenes we never felt the bass loosing in resolution or feeling muffled. If you are looking for a nice subwoofer to provide your viewing experience with the necessary low end upgrade the W10 can be an excellent choice.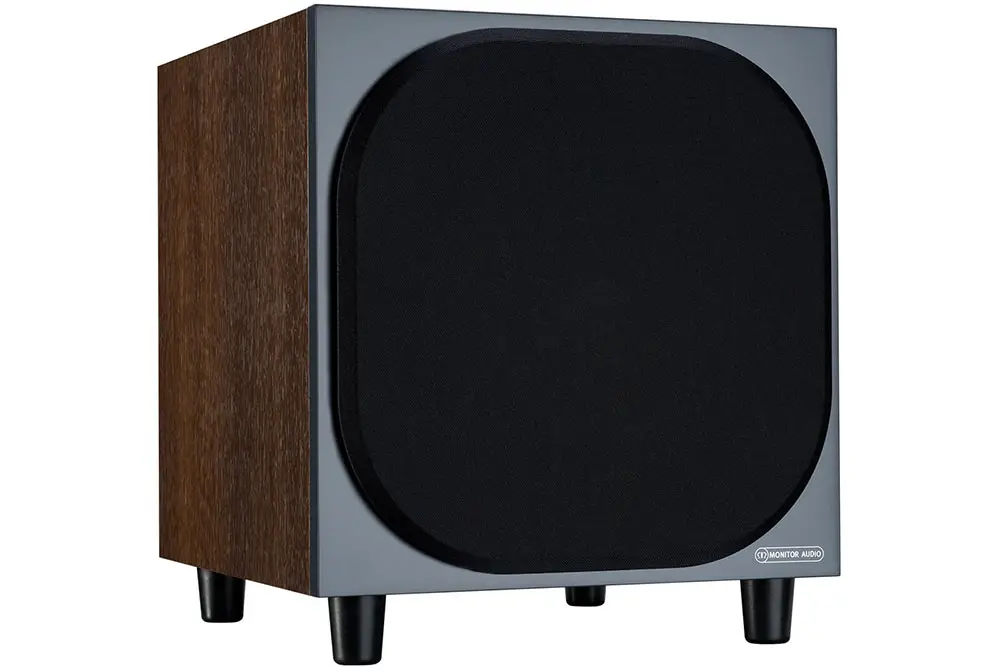 Music
Next in our review is our music tests and for this we switched to a 2.1 channels system with just the front channels and the W10 connected to our Onkyo receiver. As we always do here we selected a few FLAC music files that we streamed through the Onkyo's front USB port for the best quality possible.
If the Monitor Audio W10 was good in our movies testing it certainly did even better with music. The subwoofer was great at providing the necessary bass that would be otherwise missing if we only had a 2.0 channels setup. And not only provided this much needed bass but had the flexibility to act accordingly. Would you like to go out louder? The subwoofer did just that with a very linear, progressive way. Or you prefer a more subtle output? The W10 has no problem with that either.
Also it's sealed cabinet allowed it to have a very tight and timed control over its output which is very crucial with music. We did try a few more demanding songs on the low end with extremely quick rhythms but the W10 never felt like lagging behind or left for breath. It was always there keeping the pace accordingly, hitting the lows with a punchy and natural tone and giving each song the necessary depth it needed.
If you are on the lookout for a good subwoofer for your music needs the Monitor Audio Bronze W10 6G is a great contender and will offer you countless hours of musical bliss.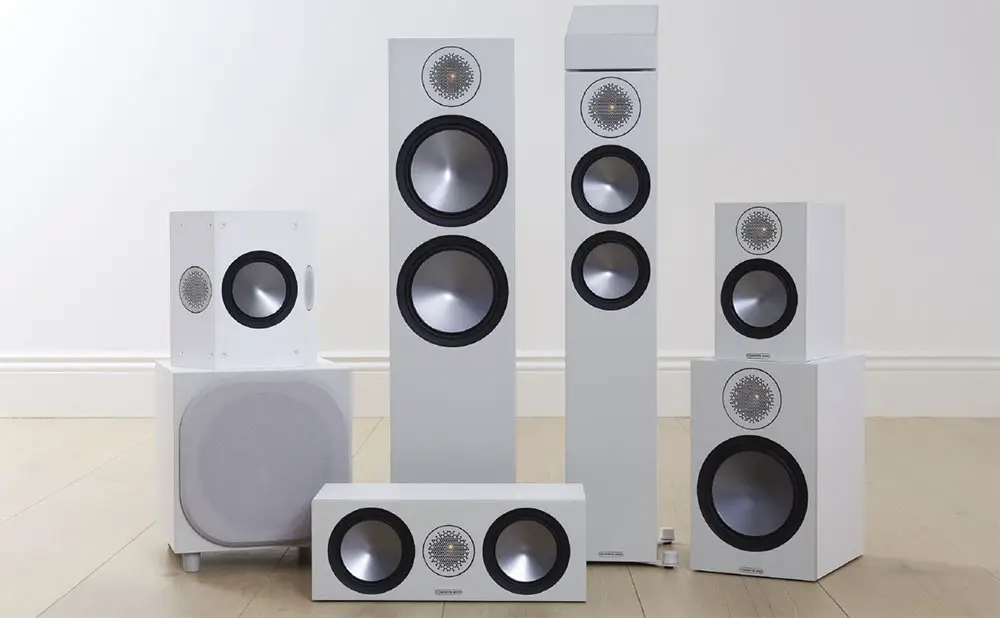 Final Thoughts
The W10 is an amazing piece of audio equipment. It may not be the kind of subwoofer that demanding audiophiles would turn to like SVS or Monolith are for example but Monitor Audio's aim was not that. They made the W10 to complement the rest of the Bronze series and give you the necessary quality on the low end that would make its price worth it. And with the price it comes it should be able to offer something special as there are so many other cheaper subwoofers out there that can offer a respectable performance that will certainly make a lot of potential buyers think twice if the higher price is worth it.
But what was immediately apparent from our testing was that the W10 is not only ideal to match with the Bronze series. It's pretty flexible with the kind of speakers you can pair it with making its choice such an easier one. The W10 comes with everything you would expect from a Monitor Audio model. It has a very good cabinet design and quality of materials with the dual color combinations being a rather nice artistic touch. It's size and footprint makes it ideal for small to medium sized rooms while it's performance was far better than what we originally expected.
If you want some deep bass and a house shaking experience the W10 can do just that without a fuss. It may not go as deep as some SVS subwoofers can but we would suggest you not to look at the numbers only. Your ears is a far better judge than any number can give you and we assure you that the W10 can provide a thunderous low end with good resolution and tight control. It's sealed design favors music slightly more but make no mistake. It is a real powerhouse with movies and will slam you around your seat as it hits the lower end to an amazing chest pumping sensation.
Are there any downsides to it. Well, not much. Hardcore users will look elsewhere as it cannot dive as deep as some other brands while it is only suitable for relatively small spaces due to its compact footprint. Also its price is a bit on the high side for what you get and there is fierce competition where it stands now.
Closing the Monitor Audio Bronze W10 6G subwoofer can be a great addition to any home theater system either you use it with other Bronze speakers or with completely different brands. It looks good and sounds great making it a serious contender even with its high price. If you can find it with some nice discount it's a no brainer but even with its original price it deserves at least an audition.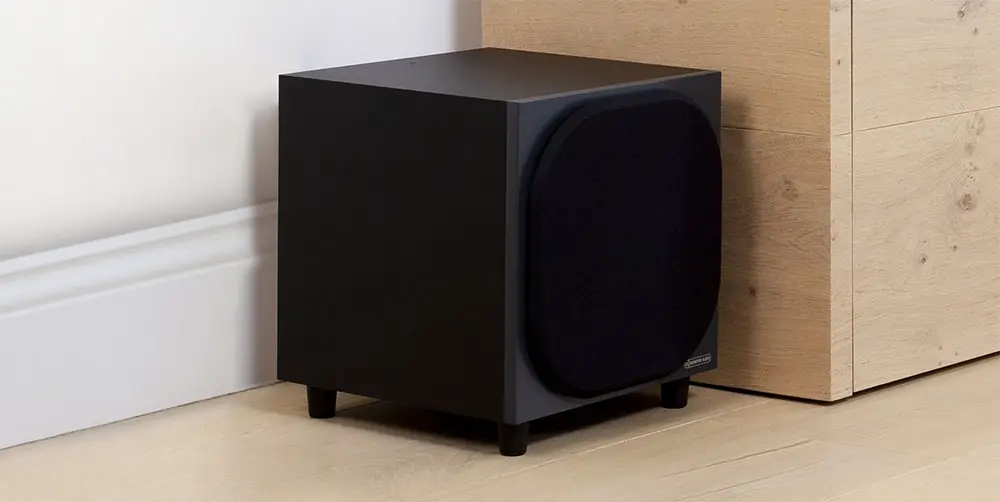 For more reviews you can check our dedicated Subwoofer reviews list or even look at our Product Reviews Table where you can find the brand and specific product you are looking for.
Also don't lose the chance to subscribe to our Newsletter and gain exclusive privileges.
---
Cheapest Places to Buy :
---
Monitor Audio Bronze W10 Specifications