Monitor Audio Silver 200
Movies performance
9.0/10
Inputs and Features
9.5/10
Pros
Great cabinet quality and design
Very good mid-range
High clarity on the high end
Many colors to choose from
Cons
Not the most bass heavy speakers
Slightly "boxy" sound
A bit expensive for their size
---
Cheapest Places to Buy :
---
Today we have the pleasure to test some floorstanding speakers from another highly respectable company that is no other than Monitor Audio. Over the years the British company has manufactured some pretty impressive models and today they have an extensive lineup of speakers available that ranges from their top premium Platinum II series all the way down to their budget friendly Monitor lineup. In our Monitor Audio Silver 200 review we will be looking at one of the speakers that belong in the Silver series which is considered a middle tier series in Monitor Audio's catalog.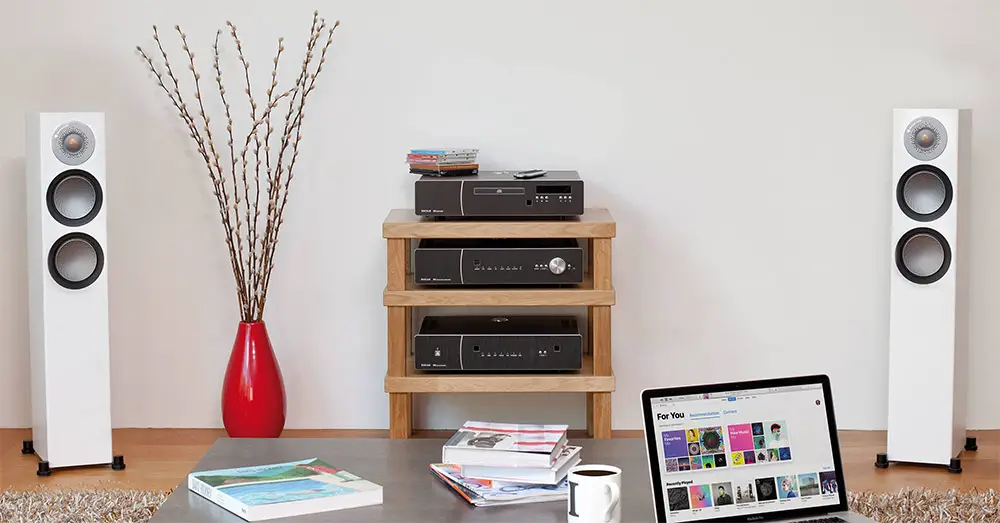 Having reached it's 6th generation, the Silver series seems to have been extremely popular as they managed to combine great looks with advanced technologies at a very respectable price and if you take into account the number of speakers that this series includes along with the color variations available there is surely something for everyone. Having three floorstanders, two bookshelf speakers, two center speakers, one surround speaker along with a subwoofer unit you can get the whole deal out of this lineup.
As for the Silver 200 these are the smallest floorstanders in this series and combining their small size with advanced technologies they borrow from Monitor Audio's top lineup they are set to deliver the kind of performance that you would not usually get from such a small sized cabinet. Do they manage to do that or in the end size truly matters when it comes to floostanding speakers? Let's put them to the test to find out.
Design, Inputs and Features
Exterior
Now upon first look you will be amazed how small these speakers really are and in the same time how much design effort has gone into them in order to perform much better than what their size would let you believe. With a size of 36 1/8 x 9 1/8 x 12 1/16" (918 x 232 x 307 mm) and weighting just 32 lb 2 oz (14.6 kg) the Silver 200 are the kind of speakers that are perfect for your room if you are extremely tight on space but can also work just fine in more open medium sized rooms if you are not very demanding. With dual ports on the back these will surely perform according to how close you place them near walls but in general their size make them far more manageable than some other bigger floorstanders.
Now when it comes to it's general design and looks we found it very strange that while the cabinet is very simple overall featuring a completely boxy design and clean look, we definitely liked it far more than some other more "interesting" designs out there. The Silver 200 doesn't go for anything out of the ordinary. Simplicity seems to be it's main strength and in the end it really works and when you look at it, it gives you a sense of quality. It may be the good cabinet quality, the unique drivers look or the magnetic grilles being used but to be honest we were not expecting to like so much such a simple design.
The Silver 200 is one of the few floorstanders that we have seen being offered in no less than six color variations giving you a a lot of freedom when it comes to choosing the one that fits your space the best. Premium quality wood veneers include Black Oak, Walnut, Rosenut and Natural Oak as they call them while there is also a High Gloss Black that is hand-worked to a mirror finish with over 10 coats of lacquer and a Satin White finish for a truly contemporary matte appearance.
Now, as always a speaker may look good but it's the technology that goes into it that will make it perform accordingly. And when it comes to the Silver 200, Monitor Audio went through a lot of research and design efforts in order to create a cabinet that can have the necessary HiFi quality to it but on a more constraint scale.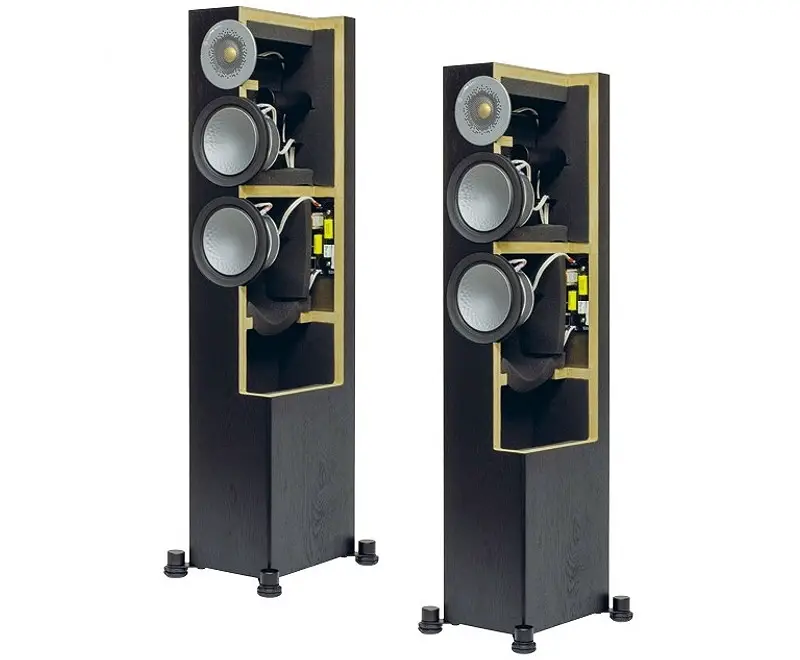 For this reason Monitor Audio asked the help of National Physical Laboratory in order to use their precision laser scanning in order to create a cabinet with the best internal bracing possible that ensures rigidity and minimize vibrations. Building a very good braced cabinet is crucial in getting the best audio quality from your speaker so this was a very integral part of the design process. This along with Monitor Audio's unique bolt-through technology with each bolt acting as a rigid brace, but also removing the need for conventional driver fixings as well, effectively decouples the driver and front baffle and provides a cleaner sound with much lower coloration by eliminating a further source of resonance.
All the floorstanders in the Silver Series, the Silver 200 included, employ 'outrigger' feet, constructed from solid metal components to provide a stable platform. Their quality seems very good and fit the rest of the design although they make the speaker's footprint just a little bit larger than usual but with such a small overall design this shouldn't be a huge problem. The feet are already assembled for use in hard floors and you only need to attach them at the bottom of the cabinet but you can also use the included spikes that are ideal for carpets and other soft surfaces.
The slimline grilles of the Silver 200 have concealed magnetics for clean-looking baffles something that surely many will appreciate and gives the overall cabinet a more premium look by having this clean, without holes front face. The grilles have a unique design to them with highly rounded top and bottom edges while they cover only about half the front baffle where the drivers are positioned. Lastly the Monitor Audio logo is the only thing that sits on the bottom of the grille. While we can admit that we still prefer these speakers without the grilles it's one of these rares times when we can say that even with them on we definitely liked how these ones looked.
At the back of the cabinet we get dual sound ports featuring Monitor Audio's unique HiVe II technology as they call it. This is a special straight-rifled design that was created in order to accelerate airflow and reduce turbulence, moving air much faster than other simpler port types. In theory this was made in order to get noticeable quick bass with more power and weight. We will see how all this translates in our testing soon.

At the very bottom we find the wire connectors that we will talk about in the appropriate section.
The Monitor Audio 200 are remarkably nice little speakers. They have the looks, finish quality and internal cabinet technology that really make them an interesting proposal. Monitor Audio really did a fine job in this regard.
Internal Hardware
If cabinet quality and construction is one part of the equation then the actual hardware used inside is definitely the other. For the Silver series the British company has created drivers specifically for this series by themselves and come with some really advanced tech.
The Silver 200 features a 2,5 way design and at the top incorporates a single 1" (25 mm) C-CAM (Ceramic-Coated Aluminium Magnesium) gold dome tweeter. It's construction was made in such a way in order to provide exquisite treble with crystal-clear highs that are smooth and without harshness and has the lowest distortion possible.
Below that we get two 5 1/4" (130mm) C-CAM RST drivers with the upper one acting as a mid/bass driver while the lower one focuses on bass frequencies. Monitor Audio's signature C-CAM RST 'dished' cones (created from a single piece of unique Aluminium Magnesium alloy and formed into a dish profile) ensure pure, undistorted sound across the bass and mid-range. The cone has been developed and perfected using sophisticated computer modelling (Finite Element Analysis) which enables the use of thinner and lighter C-CAM. The internal magnets and voice coils promise a clean sound, even at the high levels.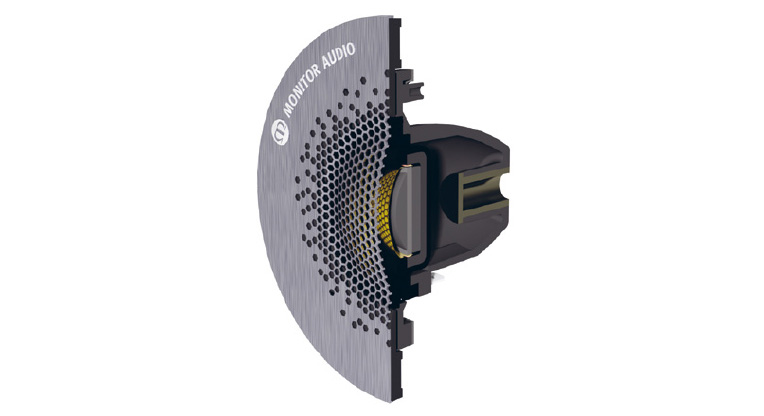 But Monitor Audio didn't stop there as they used top quality electronics for the crossover network with polypropylene film capacitors, air core and laminated steel-core inductors being employed in order to preserve the best possible signal integrity and ensure that the various drive units work together seamlessly to create a more unified sound.
The combination of the 1″ gold dome tweeter and dual 5,25″ C-CAM drivers give the Silver 200 a frequency range of 38 Hz – 35 kHz with 89dB of sensitivity and 8 ohm of impedance. Monitor Audio has set the low crossover frequency at 700 Hz while the MF/HF crossover frequency is set at 2.9 kHz.
Connectivity
The Silver 200 comes with high quality HF and LF binding posts that you can bi-wire or bi-amp and it's really great to get these as there are many that prefer one or the other compared to the traditional speaker terminals we usually get in lower tier speakers. The terminals can connect by using either bare wire or special plugs. We are extremely pleased with these and their quality is on par with the rest of the cabinet.
Performance
Usually when placing your speakers there is no perfect position as each room has different acoustics to work with. But there are a few general guidelines to help with proper placement. When dealing with small rooms with limited space, as the Silver 200 are intended for, placing them near walls is very common. But this can result in more heavy bass than what you may like so moving the loudspeakers slightly further away from the wall is the ideal option. If this is not possible Monitor Audio has included special port bungs to use in the rear ports that can have a similar outcome.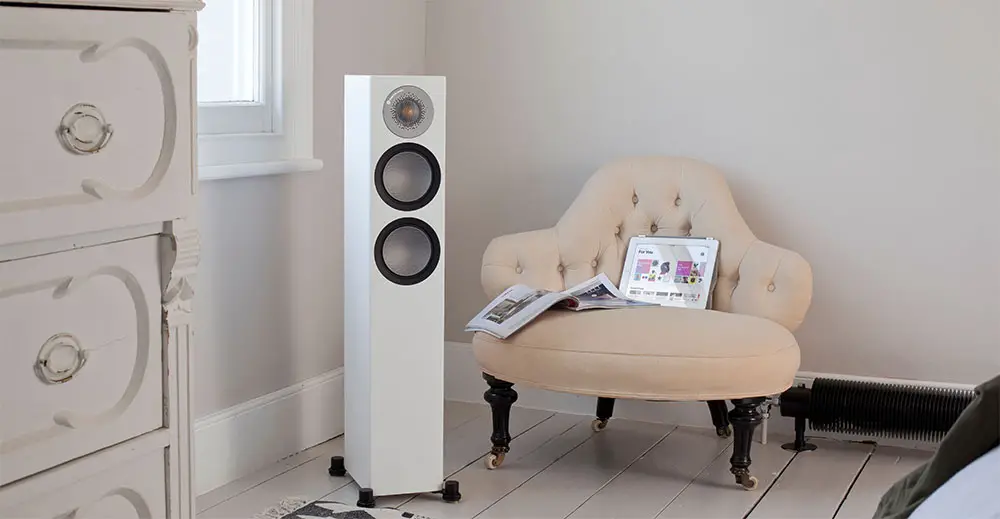 As with all our speakers testings we placed the speakers at a distance of 2 feet between them and the back wall while the distance between them was about 9 feet. Some toe-in was also necessary but this very much relies on actual testing and determining how you like them best after some listening time. Lastly keep in mind that if your Silver 200 are new then a certain amount of break-in period is necessary for them to reach their peak performance. Monitor Audio suggests around 50 to 70 hours of break-in time but you should give them around 100 hours in our opinion before you are sure of how their sound signature will be like.
Since we wanted to test how these would fare in a home theater setup we opted for a 4.0 channels setup. This way we would be able to determine not only how the two front channels would cope with the missing center channel but also how they would perform on the low end without the help of a subwoofer that will most likely be present on a complete home theater setup. After going through the necessary audio calibration of our Onkyo AV Receiver we went ahead with our movies testing.
Movies
For our first testing we chose to try out the 4K UHD version of Jurassic World with it's amazing DTS:X mix. Obviously with the setup we have we wouldn't have any of the object-oriented magic but our goal here was not that. We are here to see how good the Silver 200 can do with a half baked system in order to understand how the front speakers can cover the missing center channel as well as the subwoofer.
Now the first thing that we did notice trying out several scenes of this film is how punchy these can be for their size. Don't forget that these are very small floorstanders we have here but nevertheless the kind of sound they can output rival some other bigger speakers we tried before.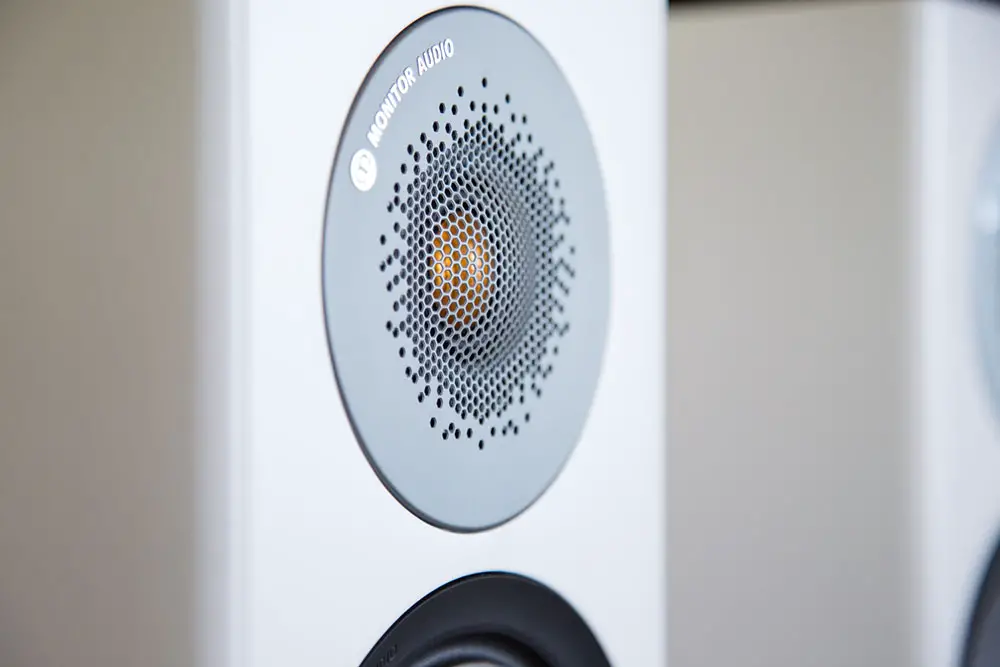 Another characteristic that we noticed was how clear the sound reached our ears. You do get a lot of resolution with these and there are amazing details in the mix that come forth due to the incredible clarity of the Silver 200. We also liked the texturing of the audio and the speakers do have a very distinct audio signature compared to some other speakers he had heard lately. Sound dispersion was also great for such a small size and they could really create a vivid and expansive front sound wall.
Another impressive fact was that even without a center channel the two Silver 200 were able to reproduce dialogue that was clear and distinct and really gave you the sense that audio was coming from a dedicated center channel. The effect was not 100% as having a center speaker but it was so damn close that we wouldn't mind not having one and still enjoy our viewing the same. So good it felt.
On the low end the speakers did perform nicely and will certainly surprise a few on how dynamic they can be for their size but obviously you cannot expect the chest pumping experience a dedicated subwoofer can offer. They can create some shaking but not to the point of taking your viewing experience to the next level. Don't forget that these speakers only utilize 5 1/4" (130mm) drivers so there is so much you can do in this size. Placing the speakers more close to a wall will certainly give you a bit more in this regard but you will loose some fine details and overall resolution.
Mid-range felt very tight and controlled and seemed like the speakers never lost focus while on the high end things were pretty exciting but we would say that it was not to the point of creating the kind of ear fatigue that we had experienced with other speakers. Maybe the word exciting is not the best but they felt very pleasant to the ear and we would certainly characterize them above the average for their class.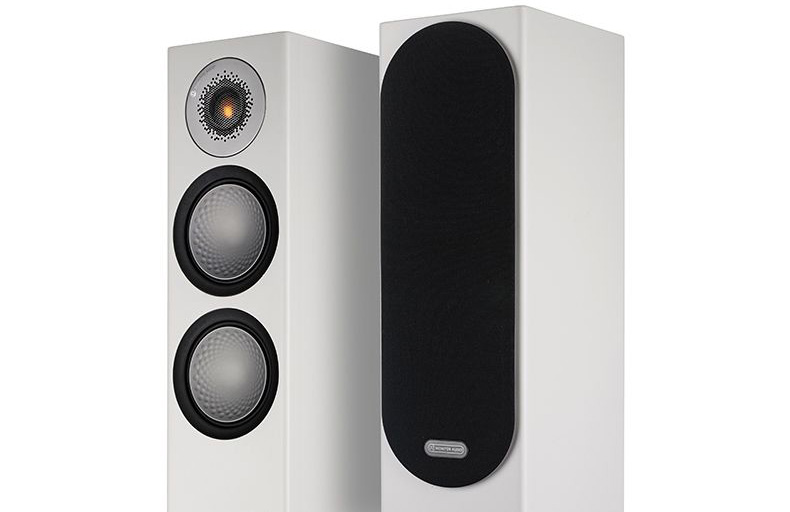 A film like Jurassic World uses a lot of it's environmental effects to immerse the viewer even more and we can say that the Silver 200 felt right at home. These are the kind of speakers that are not afraid of fine details and finesse and creates amazing ambient noises at the front side. From bugs flying in the air, vegetation movements, water running down a stream or simply the wind, everything were rendered with precision and fine directionality.
The Silver 200 mixed nicely with our surrounds and really gave us a very good performance considering the missing parts in our audio setup. And if the Silver 200 were able to perform so admirably we can only image how much better they will do without the need to cover for the missing speakers in our setup. Dinosaurs roars, environmental effects, dialogue, explosions and panning effects all translated nicely and we could not find anything major to gripe about during our test.
The only thing we could really say is that the Silver 200 do have a slightly boxy sound to them. When you just hear them you will certainly not understand it as it is very subtle but if you have some other speakers to compare with as we did during our testing the difference is obvious. This could very well be due to the small size of the cabinet and after a while your ear will not even pay attention to it but it's certainly something that needs mentioning.
For our second testing we wouldn't be able to do without some taste of our favorite Lord of the Ring films. For this one we chose to try the Fellowship of the Ring with it's totally amazing DTS-HD Master Audio mix. We skip forward to the Mines of Moria and the subsequent confrontation between Gandalf and the Balrog.
In the Mines of Moria the Silver 200 were able to widen the scene realistically giving great magnitude to the audio in order to realistically portray the size of the mines. Echoes felt alive and vivid as they traveled across space while even the tinniest of sound were audible with the speakers not leaving anything unattended.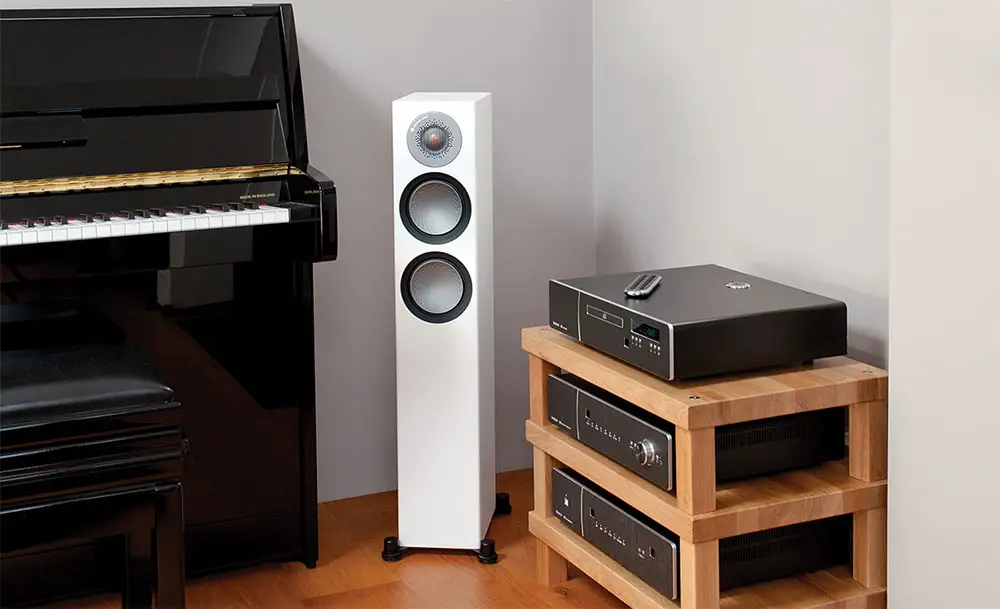 When Balrog appears and things go overall crazy the Silver 200 kept a really straight face as the growl of Balrog felt really menacing and with an excellent texture. As our heroes run for the Bridge of Khazad-dûm and the beautiful orchestrated audio give the scene the necessary epic proportions the front speakers were able to keep all sound elements really distinct without overlapping each other. Excellent performance and really surprising how good such small speakers can do with such a demanding scene.
Closing this part of our review what we can say is that the Silver 200 can really do justice for just about any kind of home cinema setup you may have. They have remarkable power for such small size, they have excellent clarity and resolution, they like fine details and can reproduce all audio with very precise directionality while they did great across the whole frequency spectrum. On the low end they lack the necessary punch but this was natural with such small cabinet and drivers size and we would be surprised if otherwise while the slightly boxy sound signature takes a bit of time getting used to it. But as an overall experience we could not be more than happy from what we heard.
Music
Next in line is our music testing and for this part as we always do we selected a few FLAC files that we streamed through our Onkyo AV receiver in order to get the best audio quality possible. For this test we changed our audio setup to a pure 2.0 channels one as this is what most people like to use when listening to music so after the necessary calibrations we went forward with our testing.
The speakers do have the necessary HiFi quality that many will be looking in this price range from their speakers and the Silver 200 do handle everything you throw at it amazingly. Once again we liked how much clarity you get out of these with each music instrument being heard with the kind of detail and resolution that we usually get from bigger speakers.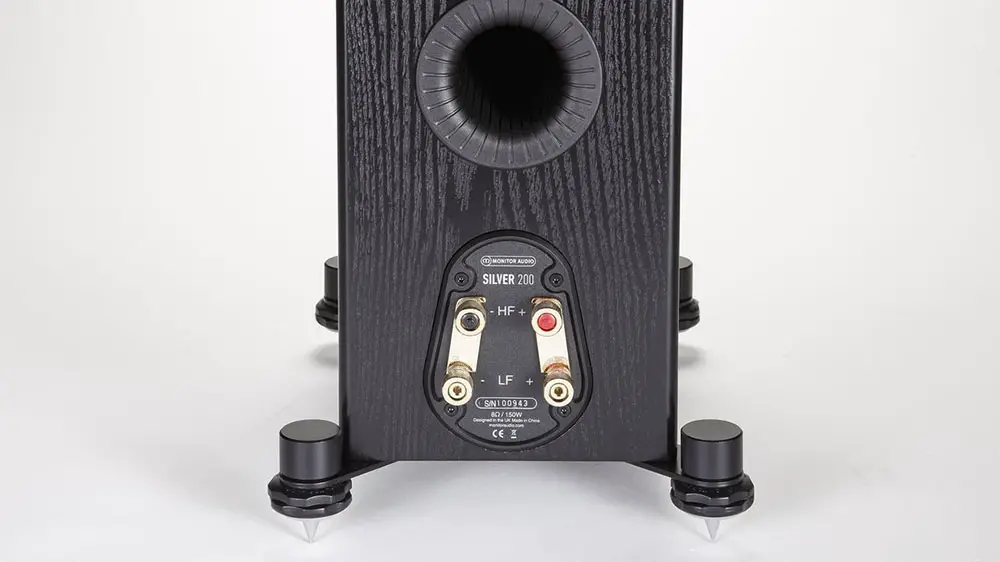 Sound imaging was very good and you could easily pinpoint their origin in space as the front soundstage expanded in front of us. Panning effects from left to right and opposite felt very precise and accurate while the speakers do manage to push audio to higher than usual volumes without much stressing on the cabinet.
Mid-range once again felt like it was the bread and butter of these speakers with masterful control while the highs gave us a very pleasant feeling. Once again not exciting to the point of ear fatigue but they had so much resolution and finer details that you will want to close your eyes and appreciate the speaker's venturing into the high end.
Bass was very tight and while these cannot dig extremely low sound never felt muddy. Also even with more demanding rhythms and tunes the low end followed accordingly with amazing precision giving you a very cohesive sound outcome.
Whether you like jazz, electronic, rock or classical music the Silver 200 seem to accept them all and give you a really great experience. Anything from cymbals to synthesizer audio or guitar strings the Silver 200 were able to reproduce with great texturing, fine details and excellent color. If you take your music seriously then the Silver 200 deserve an audition.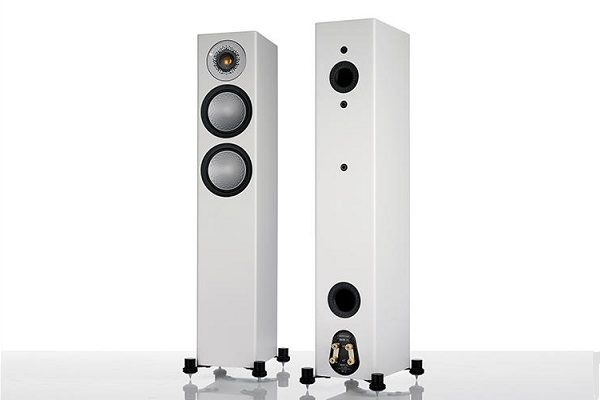 Final Thoughts
This is the end of our review and what we can say about the Silver 200 is that Monitor Audio may have created a small sized floorstanding speaker but it certainly has qualities that only bigger speakers would be able to have. A mixture of great quality components with very careful design and premium materials gave the Silver 200 the necessary tools for this kind of acoustic result.
For some reason we really liked the design of the Silver 200. And this as simple a design as it gets but it seems that small details like the premium color finish, nice grille with magnetic attachment, good quality rigger feet and excellent binding posts all contribute in giving these speakers a feeling of high quality. Without the grilles the C-CAM drivers design also help with the Silver 200's unique look making them even better. And let's not forget their compact size making them ideal for practically all small areas with extremely tight space.
As far as their performance the speakers did manage to impress us with their clarity, excellent resolution, attention to details while they can go pretty loud, offer good sound directionality and be pretty punchy for their small size. Mid-range was very balanced while the high end left us with a very pleasant feeling.
On the downsides there are not really many things to say. These are not very bass heavy speakers but this was to be expected as their cabinet and drivers size wouldn't allow for much more than what we got. Also the slight "boxy" sound takes a little time to get used to but overall this is very subtle and certainly nothing to get you worried about. After a few minutes of listening we didn't even pay attention to it. Lastly these speakers are not what we would call budget friendly. Obviously these are medium tier speakers and their price follows accordingly but for their size you may find their cost a bit spicy.
Overall if you are looking for a set of floorstanding speakers that can give you a bit more that the basic experience that most low budget speakers can offer and also you are extremely tight on space we cannot think of a better option than the Monitor Audio Silver 200. It has the looks, the quality and the performance all crammed inside a little cabinet. At first glance they may not look much but once you hear them they will most certainly change your mind. Highly recommended.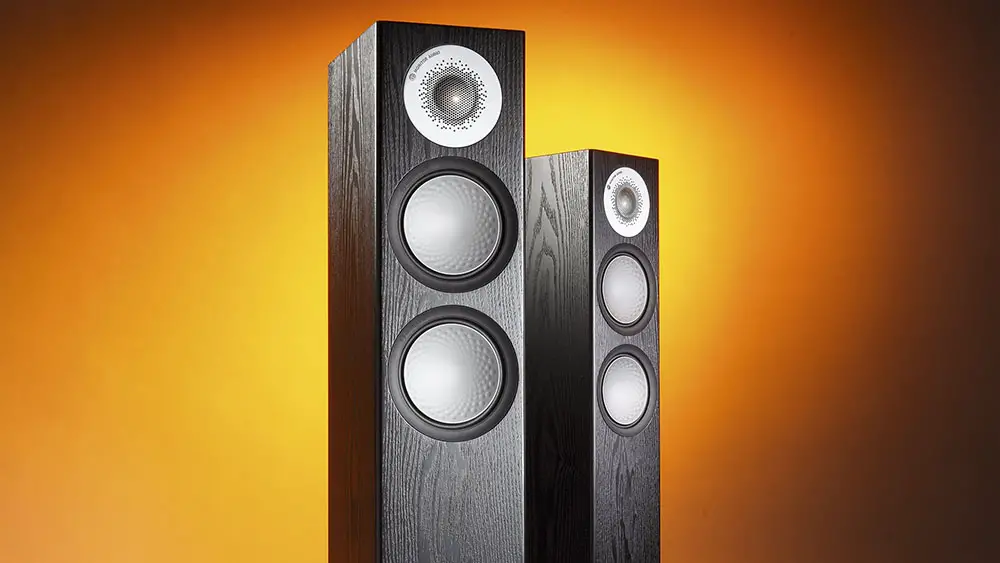 For more reviews you can check our dedicated Floorstanding Speaker reviews list or even look at our Product Reviews Table where you can find the brand and specific product you are looking for.
Also don't lose the chance to subscribe to our Newsletter and gain exclusive privileges.
---
Cheapest Places to Buy :
---
Monitor Audio Silver 200 Specifications