Neeo Remote
Design -

98%

Setup -

92%

Interface -

90%

Everyday use -

92%

Price / Quality -

88%
---
Cheapest Places to Buy :
---
Having an entertainment system is always a pleasure, to be able to put your favorite movie, turn the volume up on your latest Dolby Atmos surround system and lower the lights for full enjoyment. What can be wrong with that picture you can ask yourself. Nothing except for a small flock of remotes that you will need to have close to you to control all your equipment.
In the best case scenario you will need one remote for the TV, one for your AV receiver and one for your source (Blu-ray player) with a couple of more hidden if you use separate Blu-ray player, media player and streaming device. So in total we are talking about 3-6 remotes that you will have to handle. Now if you have a combo room with TV and projector you can add a few more in the mix and you quickly understand what a mess the whole thing can become.
This problem seems to have been solved by universal remotes that do the dirty work of combining everything into a single device. The universal smart remote market is not a very crowded one and the first name that comes to mind is Logitech Harmony as Logitech has cemented their presence in this segment for many years now with their Harmony lineup of remotes. But now a new name appeared in the market and it's not a known brand that would make the most sense. It's name is NEEO and it started as a kickstarter project a few years back only to find tremendous support and becoming mainstream a few years later.
So here we are in 2018 and while Logitech has a very strong presence with their Harmony remotes, NEEO smart remote starts to find it's audience among home theater users and fans making us want to try it out and see if what the developers were promising holds true. So without any further delay let's start our Neeo remote review.
Design
If you thought that your Logitech Harmony Elite is a nice and good looking remote then you definitely need to check out the Neeo one and you will definitely change your mind. The Neeo smart remote is by far the most sexy remote you have ever seen to date and it seems that the developers have put a lot of thought into the design of this thing. The whole package includes the remote, the charging station and the Brain so we will analyze each one of them separately.
First of all the main attraction is the remote. It's design is one that will definitely turn a few eyes and it gives the sense of being very high tech. The developers went for a slim and minimalism design with very few buttons as most of the work is being done by the 3″ touchscreen that has a 480-by-800-pixel resolution and a 291 pixels per inch density and is allocated at the top of the remote. The main body is aluminum based and when you hold it, it gives you a very sturdy feeling.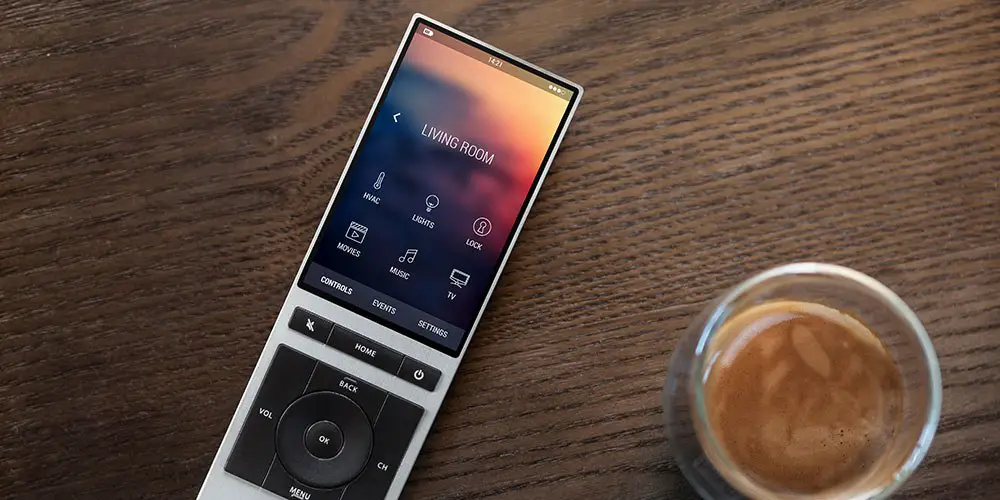 Under the touchscreen there is a single row of buttons including mute, home and power options. Under these we find menu navigation buttons as well as volume, channels, menu and back buttons…and that's it. Everything else you will need has to be controlled through the on-screen menus keeping everything simple and tidy.
Next we have the charging station which is a circular base where the Neeo is standing upright in order to charge it's battery. Keeping the same minimalism and stylish design it has an aluminum body to match the remote and a relatively small footprint so you won't have problem to position it even in tight spaces. For it's size we found the charger to be heavy enough something that is definitely good in order for the remote to be stable when charging.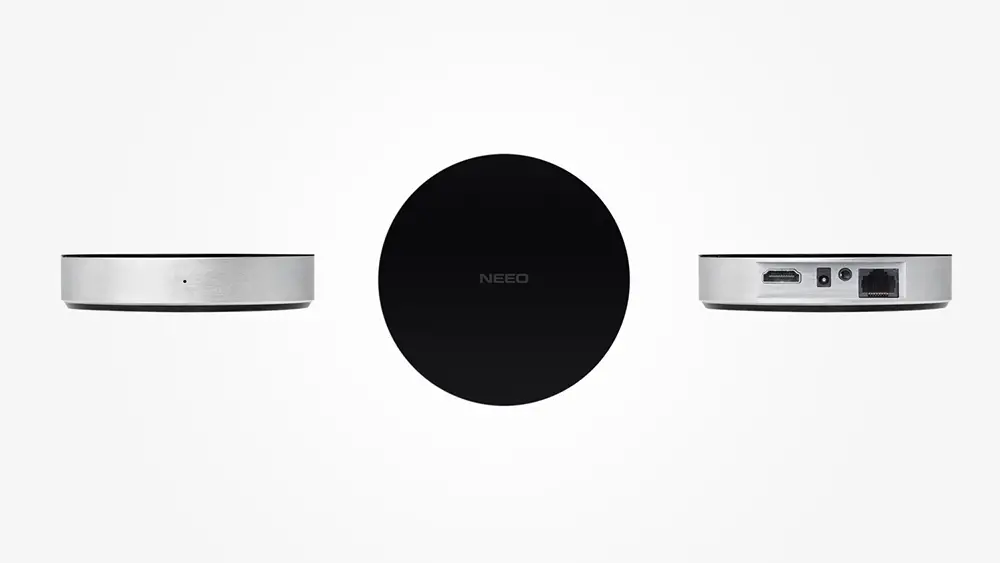 For last we left the Brain which is where most of the work is being done and is the device that commands all of your equipment. What happens basically is that when you issue a command with your remote, it communicates with the Brain and the Brain is the one that relays the command to the appropriate device. The developers claim that the Brain support more than 60,000 devices and if your equipment was made the last 10 years chances are that it is supported. Being able to communicate through IR, WiFi, Bluetooth, Z-wave, ZigBee & 6LowPAN the flexibility of the device is limitless.
As far as IR the Brain is equipped with a 360 degrees blaster for better transmission and if you add to that that there is an extra 360 degrees blaster provided in the package you shouldn't have problems covering all of your equipment even the ones in closed cabinets. There is also an HDMI port provided in order to add extra functionality.
Setup and Interface
One of the main characteristics of the Neeo is how easy the setup progress is and it seems that the Neeo team has invested a considerable amount of time in order to create an environment that is both functional and easy to navigate. If you have ever used a smartphone before then controlling the remote through the touchscreen will feel right at home.
After installing the app in your smartphone and connect the Brain to the internet through the Ethernet port you power it up and both of them will pair almost immediately. After which you can connect the Brain to the internet through WiFi, create a new free account and unplug the cable in order to place it wherever you want. The next step is to pair the Brain with the smart remote and here all you have to do is power up the remote and follow the on-screen instructions to finish the process. Easy, fast and effortless.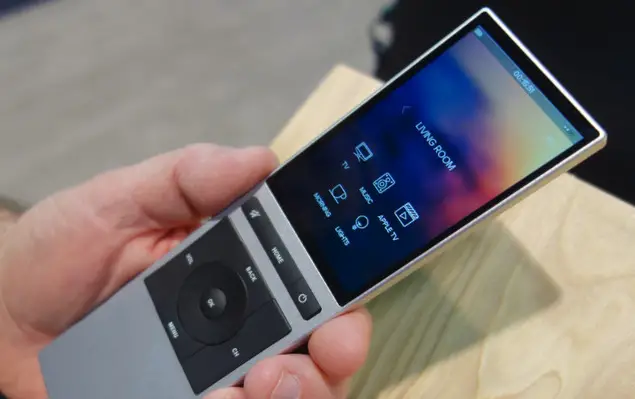 The first thing you will want to do is to add your devices so you can control them individually through the NEEO remote. The process is as easy as typing the model number of your device and Neeo will give you a list of the most approximate codes so you can choose accordingly. The on-screen instruction are so clear and easy to follow that even those that are not very tech savvy will have no problem following. When you choose the corresponding model number it gives you a test page in order to test if your device is working properly.
My favorite feature is what Neeo calls Recipes and what basically this does is create a chain of commands grouped in one key function. This is exactly the same as "Activities" in the Logitech Harmony Elite remote. When you choose to create a new chain Neeo gives you so many options to choose from that you have total control of your devices and how you control them. You can change the order of the steps in your chain or even add pause between them if you like. What we found impressive is that although there is a huge amount of options that you can choose from at no time did we felt like we were lost or didn't know what to do as the instructions are so clear that you feel like it takes you from the hand and guides you all the way to end with safety.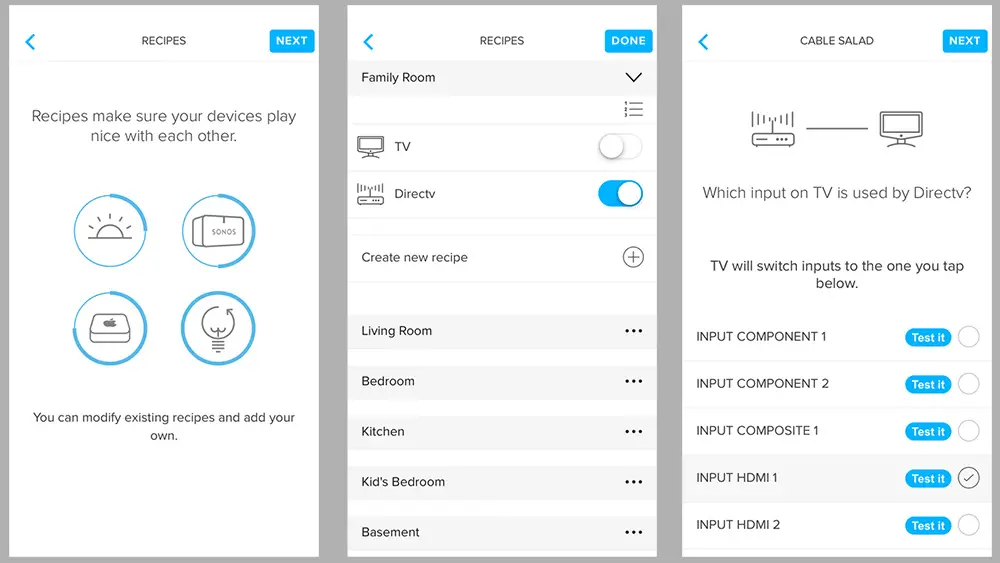 Another nice feature is Shortcuts. Since the remote is equipped only with basic function buttons most of the work has to be done with the screen. But with so many menus and options it can be a bit time consuming to access the appropriate device and choose a specific function you want. This is why Neeo gives you the ability to add function shortcuts that the main UI does not provide. Quick access commands could not be easier with the use of Shortcuts.
Neeo also gives you the ability to add channels favorites. Again by following the on-screen commands the process is straightforward but with one small catch. Neeo cannot pull the channel numbers so you will have to enter the channel number manually each time.
Being a kickstarter project Neeo had to distinguish itself by claiming features that will set it apart from the competition but this hides a major downfall. Some of these features are not ready and there is no clear roadmap when they will be. Naturally the hardware to support them is there but the software is still in development and it is a bit strange to advertise features that are still work in progress. Such features includes hand-print recognition with which the remote will recognize who is holding it and create specific profiles for that person something very practical if you want to control what your children watch. Another marketed feature is SOS alert which is a function that let you find the remote by a beeping sound in case you loose it.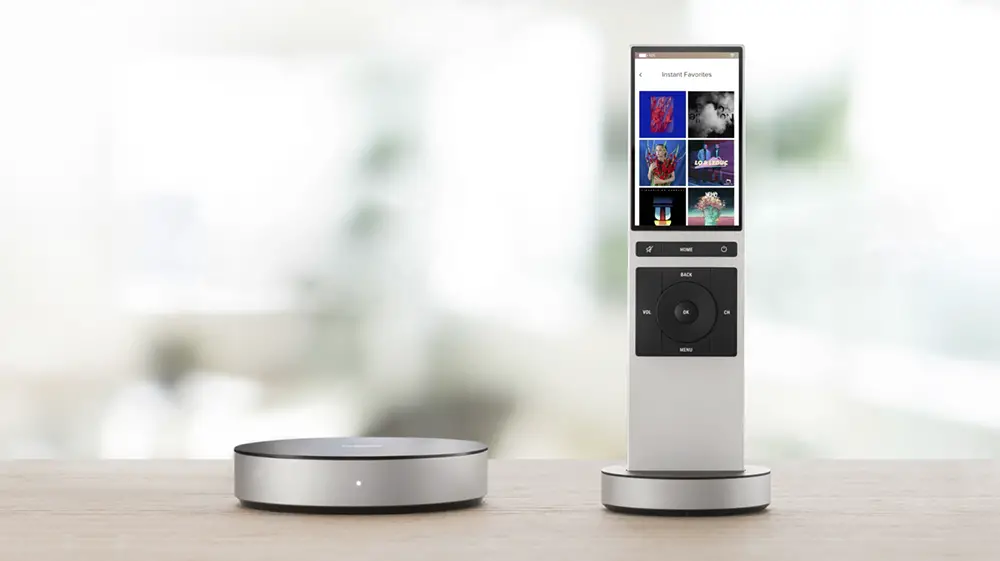 Everyday use
One main issue these kind of remotes have is battery life and for this the developers claimed that Neeo's battery can hold for months something that is far from truth in a real case scenario but from our testing it still fared much better than we expected. First we tried to leave it alone during the night only to find the same level of battery in the morning meaning that during stand by very little power is used. During normal use from some tests we did we saw that the battery fell around 2% for every hour we used it. Of course this can fluctuate a lot depending on your kind of use but at least this can be a bit indicative of how long it can last.

Neeo works seamlessly with a wide range of your electronic equipment including TVs, cable boxes, soundbars, game consoles, dedicated audio systems, streaming devices, smart lights and smart home sensors among others. It can really become the center of your smart home but in our case we were able to test it only with our media equipment so we cannot judge it's functionality with all these devices.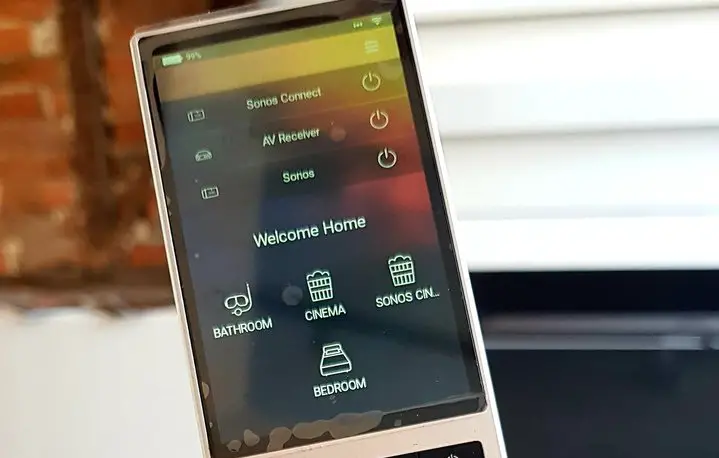 Neeo team has also added support for Amazon Alexa as well as Direct TV and future updates promise to add even more support. And speaking about updates it seems that developers are really active on this front trying to hold on to the promises they gave when they first revealed this project as well as add many new functions and features. Updating is done very easy and although in the beginning you needed the app in your smartphone in order to do the firmware update since then the developers have improved this also so now you can update only using the smart remote which is much faster and effortless.
Good and bad points
There are so many things to like in the Neeo remote that is hard to put them all together in a few words. The design is definitely the highlight with the huge screen in the remote and the nice aluminum casing making this remote the best looking one we have seen the last few years. The hardware in both the remote and the Brain is very well thought and can support all the current and future features promised by the developers.
The touchscreen is a step up from all the other smart remote screens and the UI has been designed with simplicity in mind in order for even those that have no idea how to calibrate such a device to do it. Developers seem very active with their updates and with responding to people's requests showing that they care about the consumers which is a definite plus.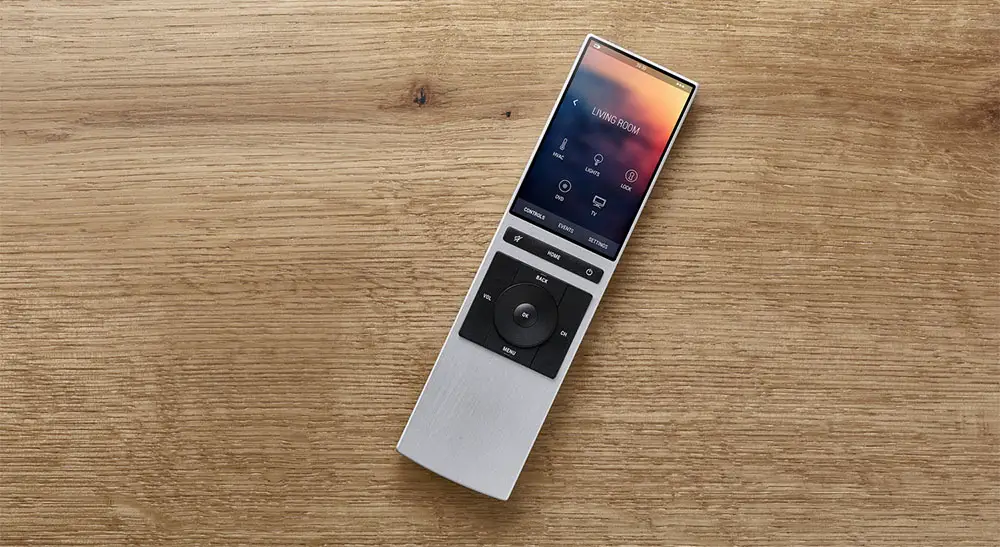 But there are also a few downsides with such a project. The biggest weakness of the Neeo is with it's software. It still needs work in order not only to become stable enough but also in order to offer all the features promised by the developers. The software has improved dramatically this year with frequent updates but still needs work in order to reach Neeo's full potential. Another major problem is it's very high price. We get that the Neeo is not a simple remote but at the end of the day, no matter how you see it, it is still a remote. And to get the full bundle that includes both the remote and the brain it will cost you $389 which is not a small amount.
The last thing is that Neeo is a new company which means that if the company goes under you will have trouble fixing it or using the warranty. It seems that Neeo is having big success so far so there doesn't seem to be such a problem but there will always be some risk as you will not feel the security a big company like Logitech for example provides.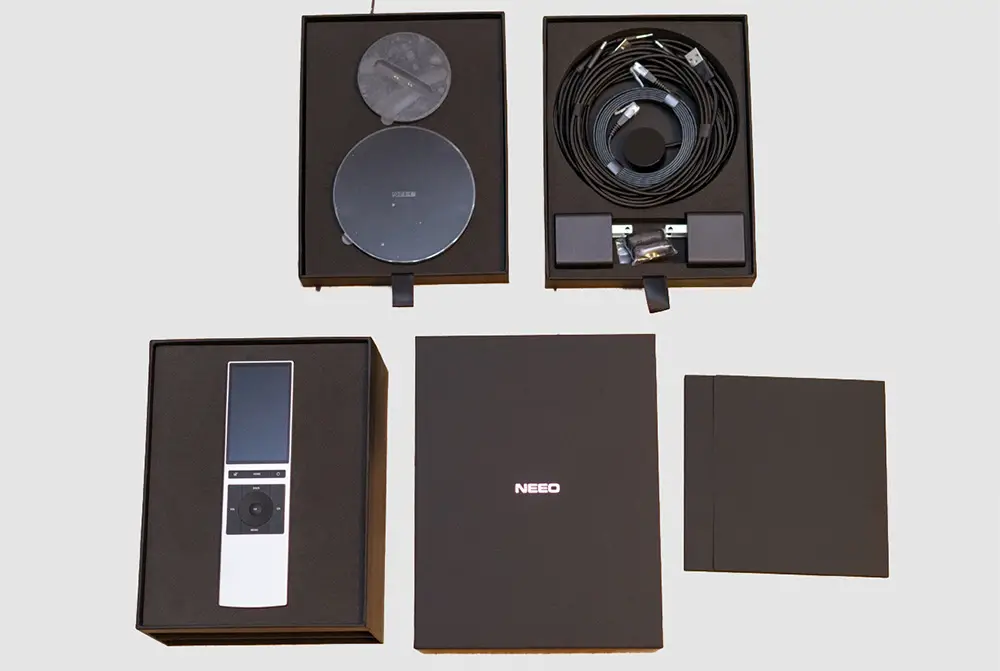 Final Thoughts
Neeo smart remote is a device you will definitely love. It has all the potential to be the best smart remote in the market so far and the only thing that is really holding it back is the software. Developers have worked hard to mature it and this definitely shows but there is still a long way to go until we can claim they have fully reached their goal.
Logitech for the first time has a real competitor with the potential to take the lead and it only remains to be seen if they will take action after this. Price can be high for many but if the developers manage to include all the features they have claimed to be working on then it will really worth it. With this in mind Neeo smart remote is a device we definitely recommend.

For more reviews you can check our dedicated Universal/ Smart Remote reviews list or even look at our Product Reviews Table where you can find the brand and specific product you are looking for.
Also don't lose the chance to subscribe to our Newsletter and gain exclusive privileges.
---
Cheapest Places to Buy :
---
Specifications
Remote

System : ARM® Cortex® M4 single-core @ 168MHz, Running extremely efficient NEEO OS, Intelligent power management, 32MB RAM
Display : Ultra-thin bezel display, 3 inches (diagonal) LED-backlit widescreen multi-touch display with IPS technology, 480-by-800-pixel resolution at very high density of 291 ppi, Fingerprint-resistant coating, Fully laminated display, Unique NEEO multilayer design for thin bezels
Ports & Interfaces : Wi-Fi (802.11b/g/n), IEEE 802.15.4 dual antenna (6LowPAN and ready for Thread, ZigBee), Accelerometer, Capacitive sensors, Charging connector (gold plated)
Power : 1200mAH Li-Ion battery (replaceable), External 10W charger (included), Charging via NEEO Docking Station (included)
System requirements : 10/100BASE-T Ethernet network for initial setup, Wi-Fi (802.11 b, g, or n) wireless network (to operate device wirelessly), Min. iOS 8 or Android 4+ for the NEEO App, 1 or more NEEO Brains, NEEO Account (free)
Compatibility : TV, Sonos®, Apple® TV, Roku®, and Philips® Hue support, Supports cable boxes – including Cablevision®, Verizon®, Time Warner®, and Comcast®, Supports satellite systems from Dish® and DirectTV®, over 60,000 supported devices
Size & weight (H x W x D) : 182mm x 48mm x 9.2mm / 7.1 x 1.9 x 0.36 (inches) – 80g / 0.17 pound

Brain

System : 1,2Ghz dual-core ARM A7, 4GB flash storage, 1GB RAM, Fan-less, low power design
Ports & Interfaces : Wi-Fi (802.11b/g/n), Bluetooth 4.0, Z-Wave Plus (500 series / US, EU Version), IEEE 802.15.4 dual antenna (6LowPAN and ready for Thread, ZigBee), 10/100BASE-T Ethernet, Built-in IR receiver (learning mode), Unique internal 360° IR blaster design (just works), 3.5mm jack IR output (for included 360° extender, allows operation of devices inside and outside cabinets), HDMI CEC
Power : External 10W power supply (included)
Size & weight (H x D) : 24mm x 106mm / 0.9 x 4.1 (inches) – 95g / 0.2 pound