Onkyo SKSHT588
Design -

88%

Movies Performance -

90%

Music Performance -

90%

Inputs and Features -

86%

Price / Quality -

92%
---
Cheapest Places to Buy :
---
Every part of a home entertainment system is crucial in order to create the viewing experience that will satisfy your needs. One thing that you need to understand is that there is no perfect Home Entertainment System. There are some rules you need to follow in order to create what I want to call an acceptable setup but other than that everyone has different tastes and opinions on what is good or bad. The same applies with speaker setups and speaker options.
There are so many brands out there at the moment from very cheap to crazy expensive and a lot of questions that i get from people are what are the best speakers to buy for a Home Cinema system. Let's make it clear right now. There is no such a thing as best speakers so don't loose your sleep over it. If you are in the mainstream category as most people are then probably you are tight on budget and although you want to have a quality speaker setup you don't want to pay an extreme amount of money to have it.
Home cinema speaker systems can be distinguished in 2 categories. The first category is the one that you buy each speaker individually and build your speaker system by yourself. In this category are people that are already experienced with audio systems and know exactly what they are looking for. There are a lot of speakers to choose from so you have a lot of flexibility in this situation. Almost all speaker brands offer individual speakers so you can choose from a wide collection of speakers of different sizes and specifications.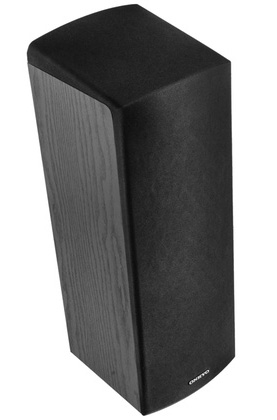 In the second category belong the speakers that are already in set with everything you need. The most basic setups are the 5.1 that include a center dialogue speaker, 2 front main speakers and 2 rear surround speakers. All these are accompanied by a subwoofer for the low frequency sounds. There are also 7.1 sets that include another 2 surround speakers for AV receivers that support the extra speakers. This is a great category for newcomers and people that don't want to spend a lot of time searching on what they should buy as these speakers usually offer good quality without being very expensive in comparison to buying individual parts. Also because these speakers are made to be in a set they offer the same quality and create a more balanced experience. In the contrary when you buy individual speakers you need to be experienced in this field in order to buy parts that offer the same quality in order to have a balanced acoustic result.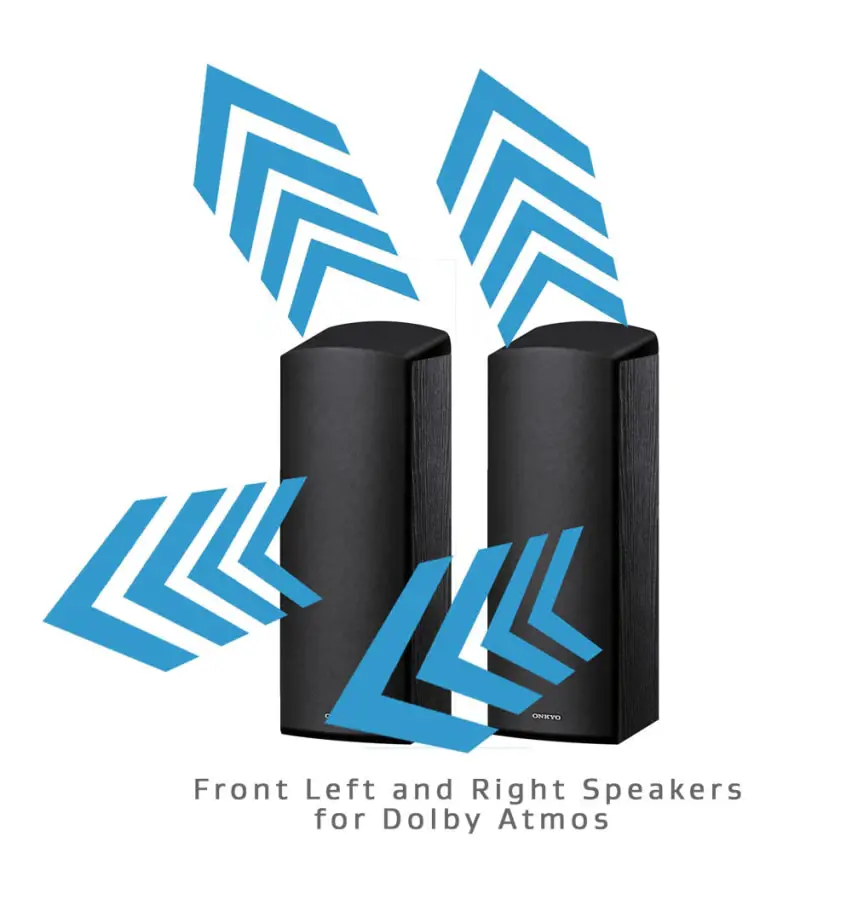 With the arrival of 4K UHD things became even more complicated as the new format brought also new audio formats called Dolby Atmos and DTS:X that support extra height speakers in order to create a completely 3d acoustic environment. So now we have 5.1.2 or 5.1.4 setups with the extra speakers called ceiling speakers as their job is to produce sounds that are overhead. You can read more about the new audio formats and how to place the speakers in the article I wrote HERE. So what we will be reviewing here today is the Onkyo SKSHT588 5.1.2 Dolby Atmos Ready Speakers.
The Onkyo SKSHT588 is a 5.1.2 audio system that include 2 front overhead speakers. This is the absolute minimum that is required in order for Dolby Atmos to work as it should. Now what I like about this setup is that the 2 overhead speakers are not separate ones but they are integrated in the front speakers and look upwards. This way the sound from these speakers bounce on the ceiling and come down to the viewer creating the illusion that the sounds are coming from the top. This is a setup that I see a lot these days and I can tell you that this can save you from a lot of trouble of having to actually place some speakers on the ceiling. The final result of course cannot be exactly the same but in my opinion the money saved and trouble you avoid is worth it.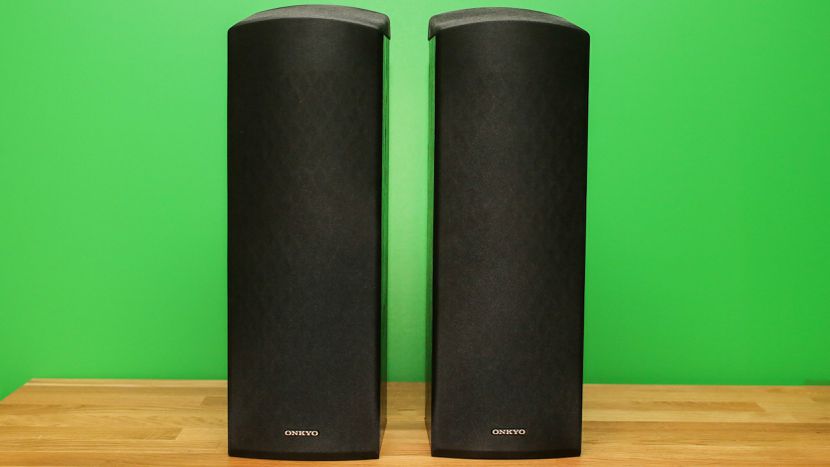 When I was first looking at the photos of this setup the main speakers didn't seem to me to be very big. But when I finally unpacked them i saw that the main speakers are quite big so this was a big relief. The main speakers include 12cm cone woofers plus 2.5cm balanced-dome tweeters. For the height speakers we have 8cm cones that require separate cables. So each of the front speakers needs 2 cables to be driven to the AV receiver. One cable for the front and one for the height woofer. The speakers have a certain weight to them and they can be either wall mounted or be placed on speaker stands. I wouldn't recommend leaving them on the floor as they are not so big and we want to have them on a certain height for best results. Their theoretical input power is 130W.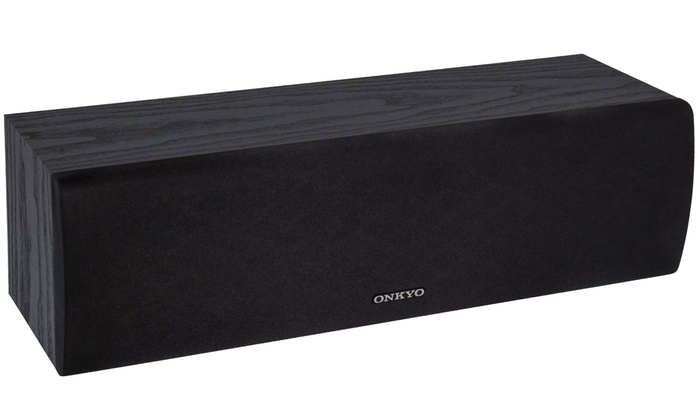 The center speaker includes dual 8cm woofers plus a 2.5cm tweeter. It also has theoretical power of 130W. I like the size of this speaker. I had in the past a few oversized center speakers that looked really huge. This one i would say is almost at perfect size for a medium sized Home Entertainment System. I would like it to be just a bit bigger but I have no problem as it is as it has enough power to give you clear sound even at a distance.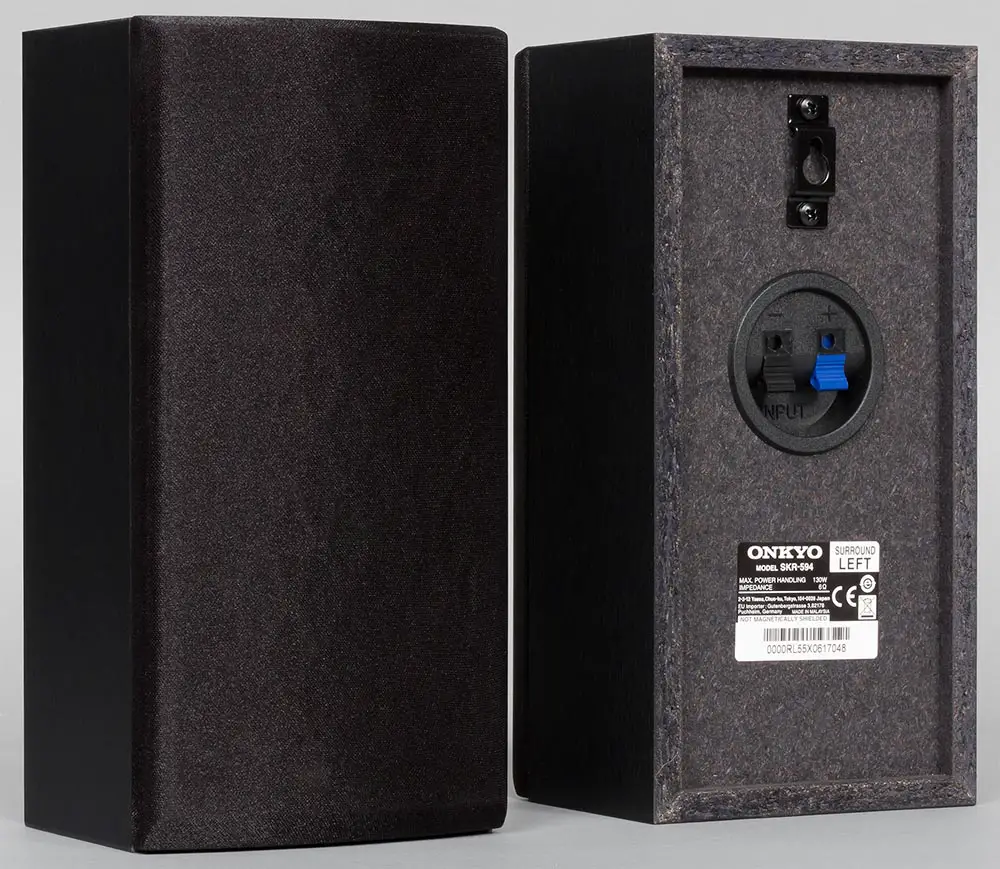 The surround speakers offer single 8cm cones each, with theoretical power of 130W. These speakers really are very light and you should be careful where you place them because it is very easy to fall over since they can either be mounted on a base or on the wall.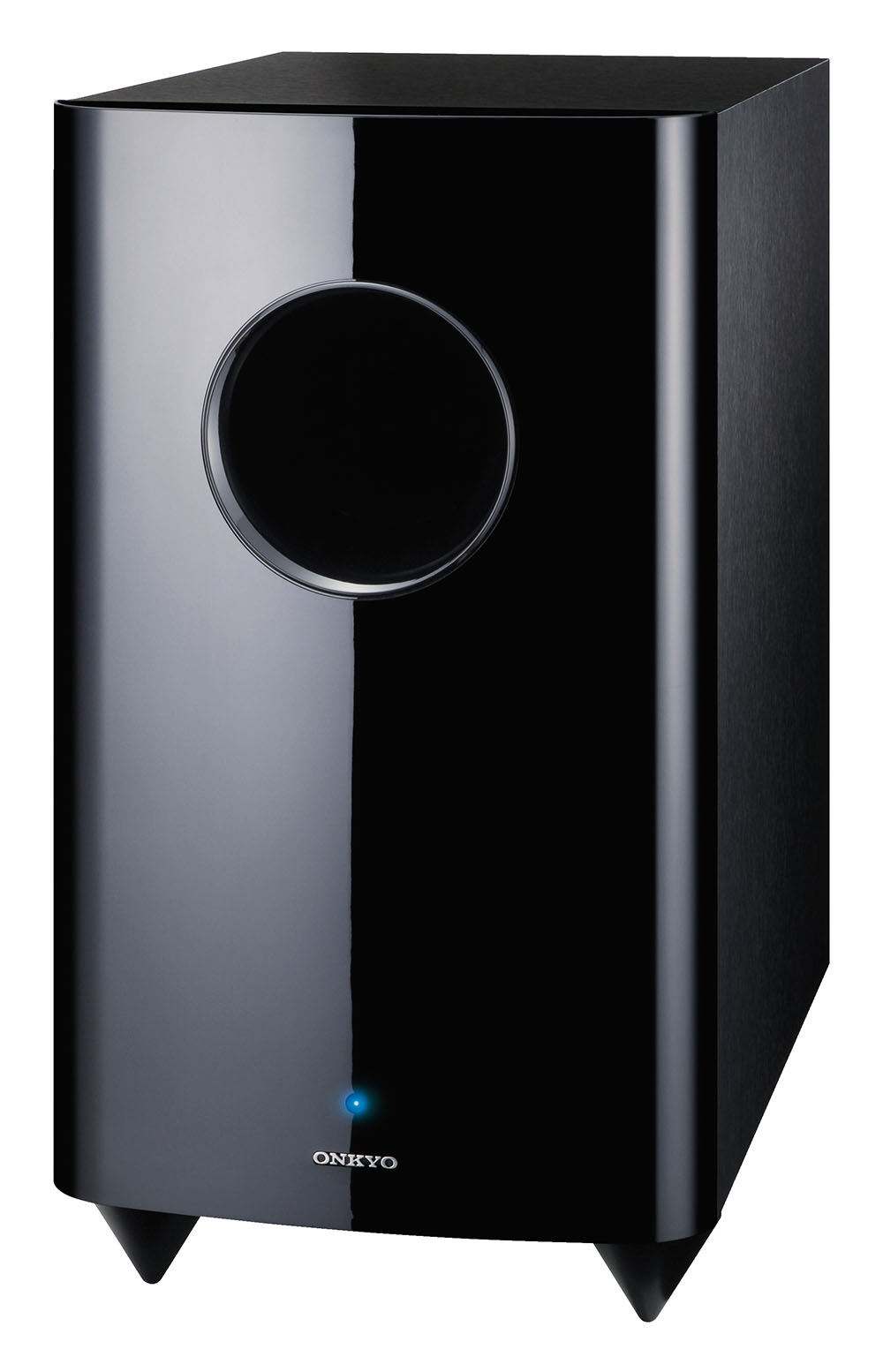 Lastly the subwoofer offered is a down firing design meaning the woofer is looking towards the floor. It has a 20cm cone rated at 80W that is more than enough for the bass sounds. It also includes an energy saving amplifier in order not to use any electricity when the subwoofer is not in use.
Connecting everything was very easy even if you don't have a lot of knowledge on speaker connections. Each speaker has stickers on the back showing where to place each one and where they need to be connected. Sound was clear with no audible distortions even when increasing the volume high. The front height speakers were giving you the illusion that the sounds were coming overhead but this depended mostly on the movie and if they had decided to make the height channels active in the mixing stage. In some movies it was very obvious while in others it was very subtle to almost silent. So don't expect in every movie to hear these extra woofers working.
Specifications :
SKF-2800 Dolby Atmos®-Enabled Integrated Front & Height Speakers
12 cm Cone Woofer
2.5 cm Balanced-Dome Tweeter
8 cm Cone (Separately Powered By Height Channel)
Max. Input Power: 130 W
Wall-Mounting Capability
SKC-594 2-Way Bass Reflex Center Speaker
8 cm Cone Woofer x 2
2.5 cm Balanced-Dome Tweeter
Max. Input Power: 130 W
Wall-Mounting Capability
SKR-594 Full-Range Acoustic-Suspension Surround Speakers
8 cm Cone
Max. Input Power: 130 W
Wall-Mounting Capability
SKW-658 Bass Reflex Powered Subwoofer
20 cm Cone
Rated Output Power: 80 W (Minimum Continuous Power, 4 Ω, 100 Hz, 1%, IEC)
Energy-Saving High Power Amplifier
Down-Firing Design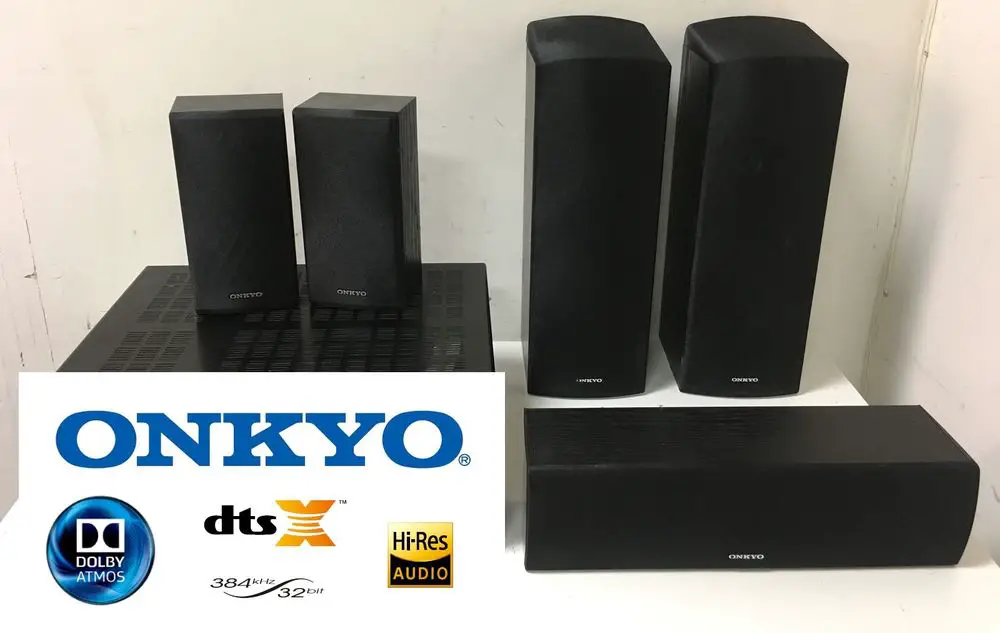 All in all this is a very good setup if you are looking to buy a next generation Dolby Atmos Home Cinema speaker setup without breaking the bank and without the trouble of having to place the extra speakers on the ceiling of your house. It may not be the best speakers money can buy but for what it was made for it offers everything you need and more. You can find these speakers in the links below in set with an AV receiver or only the speakers so you can decide what you want best. Highly recommended. If you liked this review, would like to add something or have any questions you can write in the comments below.
For more reviews you can check our dedicated Complete Home Cinema Speakers reviews list or even look at our Product Reviews Table where you can find the brand and specific product you are looking for.
Also don't lose the chance to subscribe to our Newsletter and gain exclusive privileges.
---
Cheapest Places to Buy :