Onkyo TX-RZ840
OS, Apps and Features
8.6/10
Pros
Great build quality
THX and IMAX Enhanced certified
Amazing performance
Plenty of features and connectivity options
Cons
No Auro-3D or DTS Virtual:X
No Amazon Alexa support
Less ports than competing brands
Simple and cheap looking remote
---
Cheapest Places to Buy :
---
There are a few known and well recognized brands in the AV receivers category and one of them is definitely Onkyo as over the years they have created some extremely amazing models and although they had their fare share of misfires in general they have offered quality products for the home cinema room. With their AV receivers being split into three categories with SR receivers being their entry level lineup, the NR including their middle range models and the RZ gathering all the premium high-end units Onkyo has created a product lineup that has something for everyone.
Today in our Onkyo TX-RZ840 review we will be looking into a new 2019 entry as this is one of the two new models that have been announced with the TX-RZ740 being the other one. It seems that Onkyo is not replacing their whole lineup every year something that started from 2017 as they are replacing only the units they deem necessary. A smart marketing and production move to be honest and with new features to include every year this starts to become somewhat of a necessity.
As for the TX-RZ840 that we will be looking today, what we get is a THX and IMAX Enhanced certified 9.2 channels AV receiver that has the ability to expand to 11.2 channels with an external amp, can output 120 watts of power per channel, supports Dolby Atmos and DTS:X along with Dolby Surround and DTS Neural:X up-mixing technologies, comes with Dolby Atmos Height Virtualizer and has a huge list of extra features like High Resolution Audio, WiFi and Bluetooth, AccuEQ Advance audio calibration system, Google Assistant and a complete list of streaming services and apps like ChromeCast, FlareConnect, DTS Play-Fi, Airplay 2 and Works with Sonos.
The TX-RZ840 is really a powerhouse on paper but we are here to determine if all these really translate into such a great audio experience as Onkyo promises it to be. Let's start our in-depth analysis then to find out if we got another solid high-end unit this year as it seems.
Design
Design wise things are exactly the same as the 2018 TX-RZ830 unit and this was something to be expected as we are used to see exactly the same designs on yearly releases. With a measuring size of 17 1/8″ x 7 15 /16″ x 15 11/16″ (435 x 201.5 x 398 mm) and a weight of 23.8 lbs (10.8 kg) this unit is fairly large although we have seen a few bigger and heavier models in this category. As we mention in all of our reviews for all these fairly large units it's always advisable to have some breathing space around the unit for better cooling and airflow.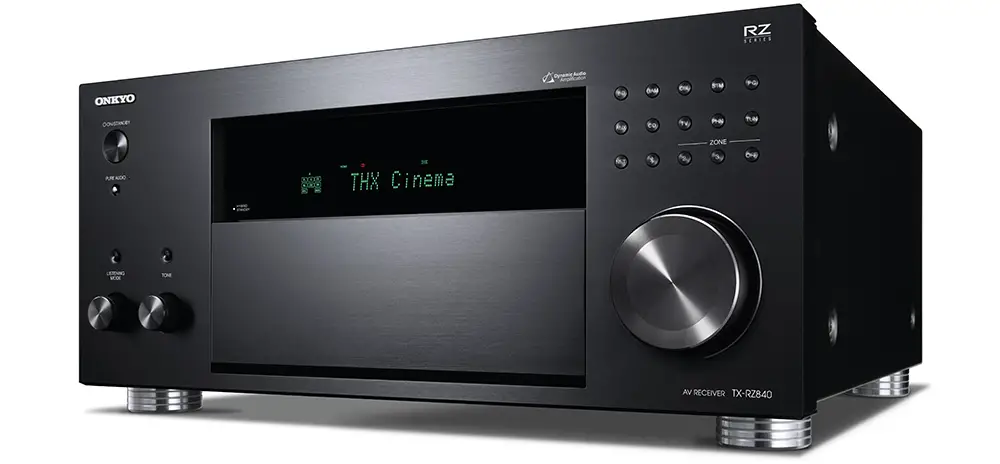 Let's see now what the front face offers. Unlike most other AV receivers it seems that Onkyo still refuses to use a turning knob for the input selections and instead prefer to go for dedicated buttons for all their inputs. And this is something we see them doing in their entire lineup making this a characteristic of their designs. As such in the right side we find a big turning knob for the volume while above there are 15 small circular buttons for the inputs as well as for streaming, Bluetooth and Zone 2/3 functionality.
On the left side we get the obvious power button with the Pure Direct button under it while below we get controls for Listening Mode and Tone. In the upper middle side the display is responsible for showing all important functions of the receiver while the flip door below is housing more buttons and a few frontal ports. Buttons include navigation controls as well as various sound functions while below there is a headphones jack, a HDMI input as well as the calibration microphone port. All other ports are located at the back and we will talk about them a bit further down our review.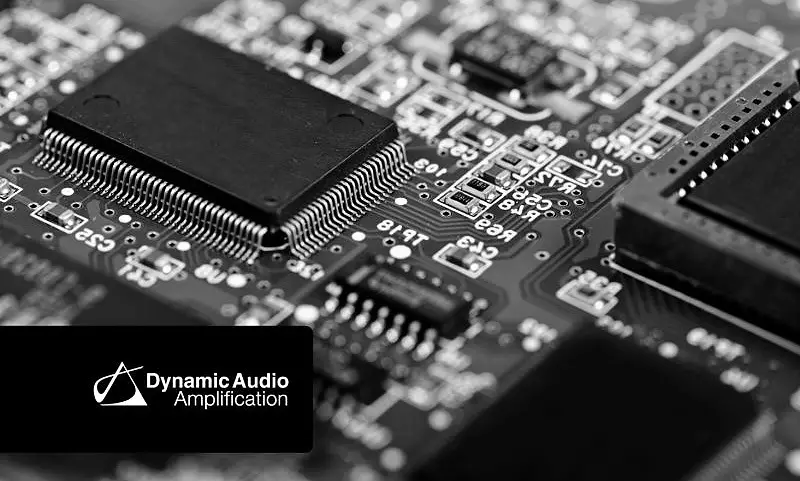 Onkyo is paying a lot of attention in their high-end units with the TX-RZ series packing some serious hardware under the hood. Using Onkyo's Dynamic Audio Amplification that includes a high current low-noise power transformer as well as custom 15,000 μF high-current smoothing capacitors that deliver instant power while non-phase-shift amps capture a 5 Hz–100 kHz frequency response. To keep them cool, an extruded aluminum heat-sink with black anodized paint controls resonance frequencies while more effectively cutting thermal distortion.
The SoC board is isolated to reduce interference noise while the power-supply line is reinforced in pursuit of smooth power delivery. Non-phase-shift amp topology with discrete output stage, VLSC (Vector Linear Shaping Circuitry) noise filtering and PLL (Phase Locked Loop) anti-jitter technology for SPDIF audio make sure to deliver the best acoustic result possible while multichannel D/A conversion is handled by AKM (AK4458) 384 kHz/32-bit DACs.

And while the main unit remains completely unchanged on the outside Onkyo seems to have decided to provide a new remote with the TX-RZ840. The new one although we cannot say it looks any better than the old, on the contrary we would say it has a more cheap look, it comes with more buttons adding more functionality controls to it. We are not very fond of remotes cluttered with buttons but for some reason Onkyo deemed it necessary to warrant a remake.
The top includes all the input and playback buttons needed, in the middle we get the usual navigation buttons while at the bottom there are various audio functionality ones. The buttons are fairly large and have the familiar rubber feel to them. Unfortunately there is no backlight included which makes it harder to handle it in the dark.
In general build quality is excellent for the main unit and this was to be expected for a unit belonging in the TX-RZ high end series. Onkyo knows how to build these things and this one we have here really do mean business. If only there was a better looking remote to accompany the premium quality of the main unit but this could be said to be the only minus we see in this model.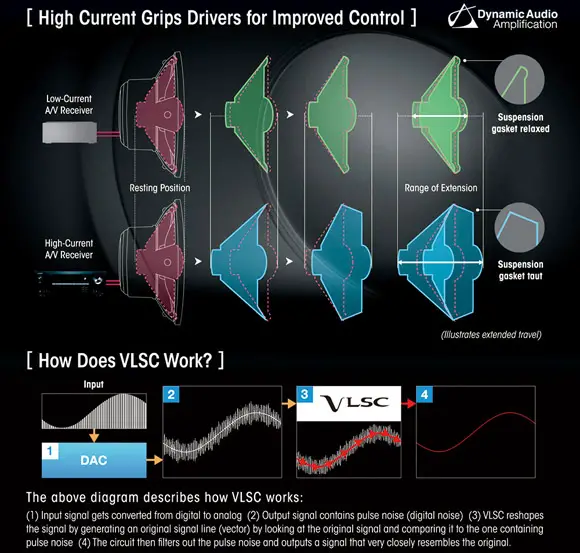 Audio Quality
The receiver supports all the latest object-oriented audio tracks like Dolby Atmos and DTS:X but unfortunately there is no Auro-3D which will definitely be a disappointment to some home theater fans even if it is not as popular among the casual consumers.  There is also support for Dolby Surround as well as DTS Neural:X up-mixing technologies that can create multichannel audio from legacy stereo mixes or up-mix audio to fit your audio system specifically.
Lastly the receiver supports the relatively new Dolby Atmos Height Virtualizer which can create a virtual setup and give you the illusion of audio from places where there are no real physical speakers. Unfortunately there is no DTS Virtual:X which is a similar technology for DTS tracks specifically. But the good thing about the new Dolby Atmos Height Virtualizer is that unlike DTS Virtual:X that works exclusively with DTS tracks Dolby's solution can work for both Dolby Digital and DTS mixes making the omission of DTS Virtual:X not such a big deal.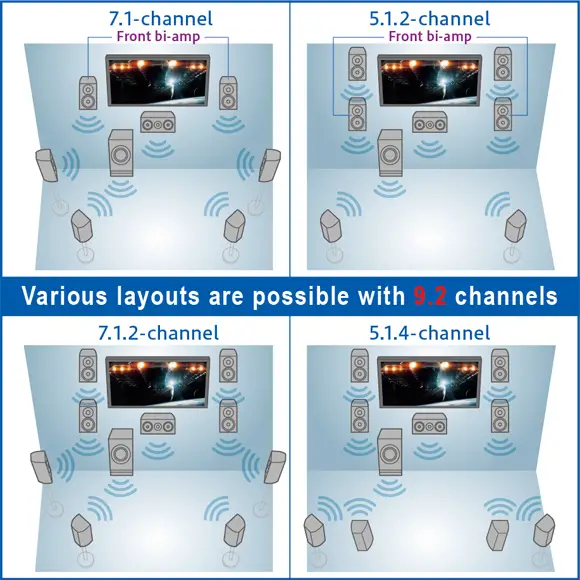 Onkyo TX-RZ840 is a 9 channels AV receiver with 120 watts per channel (8 Ω, 20 Hz – 20 kHz, 2 channel driven) but keep in mind that the true number is much lower as this only refers to a 2 channel setup but it's common for manufacturers to confuse consumers with such numbers. With it's built-in amplification the RZ840 can go for either a 7.2.2 or a 5.2.4 Dolby Atmos system and has enough power for any kind of medium to large sized media room or home theater. But the unit also has the ability to go all the way for a 11.2 channels setup by connecting the last two channels with an external amp. But for our testing we will limit ourselves to a 5.1.4 setup with 4 overhead Dolby Atmos speakers and a single subwoofer.
When we want to go loud one of our first choices is the 4K UHD version of Transformers: The Last Knight with its amazing Dolby Atmos track. It's not the first time we use this film for a receiver testing but it never stops to amaze us with the qualities this one has. You may say anything you want about the quality of Michael Bay's last effort with these metal giants but technically the film is at the top of it's game and certainly provides the perfect content to test a high end receiver like the RZ840.
In all honesty even from the first seconds we understood where we were getting into. The Onkyo is not holding anything back and makes sure to show it's qualities from the first moments things start to fly around and explosions start to shake our room. This is the kind of performance that you expect from such models and this one certainly didn't disappoint. The kind of precision we experienced was one of a kind while channels separation and shifting was spot on. Dialogue felt clear and distinguishable in the center channel while the punchy bass had excellent resolution without overshadowing the rest of the frequencies.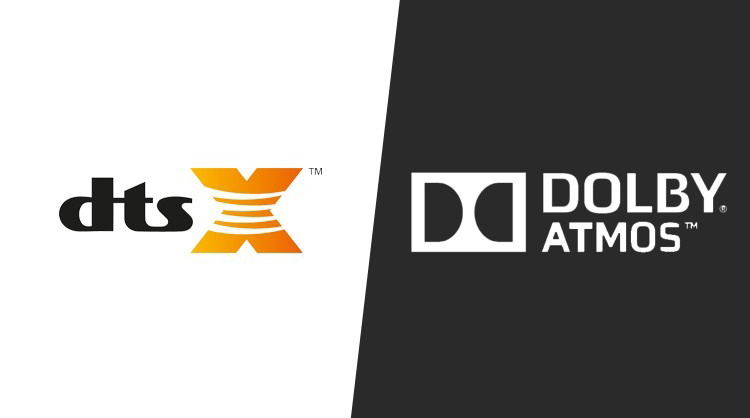 Overhead as well as surround activity was very alive with the action taking place above and behind our heads making us turn our heads more than once trying to find the source of the sounds. Even with so many effects in this film like laser fire, projectiles, explosions, jets flying above, roaring engine cars and bullets hitting you from every corner the RZ840 managed to render everything with such a finesse and control that is characteristic of Onkyo's high end series. Pure excellence is how we would describe it.
But going out loud with explosions is not our only thing so next we went for something more orchestrated and what better film to try than Lord of the Rings: The Return of the King. Unfortunately there is no UHD version yet so we have to settle for the Blu-ray version but the included DTS-HD Master Audio track is one of the best non Dolby Atmos tracks we have ever heard so this says something. The one scene we like to watch over and over again is no other than the ride of the Rohirim against the Sauron army during the Minas Tirith siege.
We know that describing this scene is not making it justice so we will just say that if you are thinking of getting the RZ840 then please make sure to provide it with a good set of speakers because scenes like the ride of the Rohirim will almost make you cry from excitement. It felt that good! Everything came to place as all the sound effects were enveloped by the amazing orchestrated music in order to deliver a performance that was almost flawless.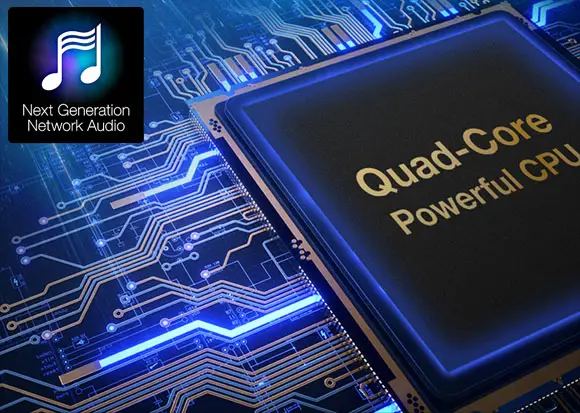 High Resolution Audio couldn't be missing from such a high end receiver and as such the RZ840 supports a wide range of audio files that include DSD Direct up to 11.2 MHz, DSD 11.2 MHz/5.6 MHz/2.8 MHz (PCM conversion), FLAC, WAV [RIFF], AIFF, and ALAC up to 192 kHz/24-bit. These files can be streamed either from the USB port or from your local network. In our case we used a flash drive with a few selected FLAC music tracks that we streamed through the USB port and let the receiver do its magic.
Being impressed by a film mix is one thing but being able to deliver a similar level of quality with its music performance is another. As we usually say with music the surround and overhead speakers don't play such a huge role as in a surround driven film so we mostly look for other details during our tests. Here the Onkyo receiver was very subtle with the details as it was handling most frequencies with a certain degree of balance that would give an overall very smooth and memorable experience. Very good spatial awareness as it was easy to distinguish from where in space each musical instrument was playing.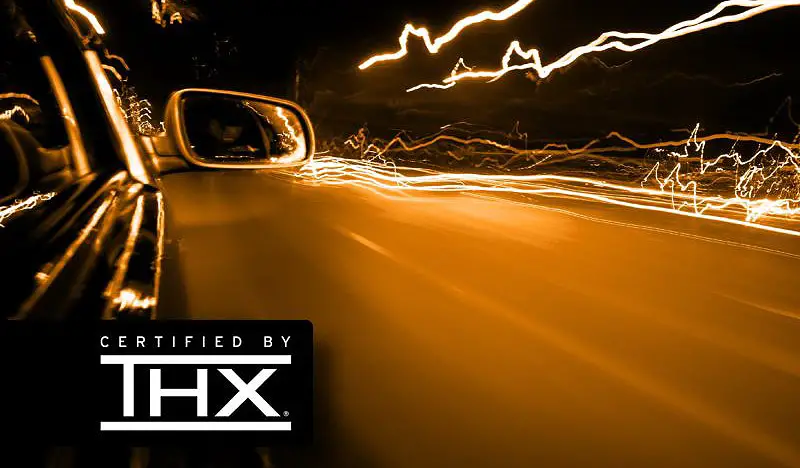 Mid-range provided the basis for the exciting highs and ominous bass to overlap with a very fine and controllable way. At no point did we feel that the unit was lacking specifically in any area or it tried to push certain notes above others making the RZ840's overall performance leave us with the best of impressions. If you are a music lover rest assured that this unit will satisfy you completely.
The Onkyo TX-RZ840 is meant to be a premium high end AV receiver and it certainly behaves as one. It's power, precision and clarity is top notch and Onkyo has created a THX certified unit that will keep happy even the most demanding of users.
Ports and Connectivity
The ports that are facilitated on the back of the unit have a fairly similar configuration with 2018s' TZ-RZ830 with a couple of omissions that we will talk about. The TX-RZ840 sits exactly in the middle of Onkyo's premium lineup so usual in these categories we get a plethora of ports without going crazy with what is being offered as we see in some flagship units.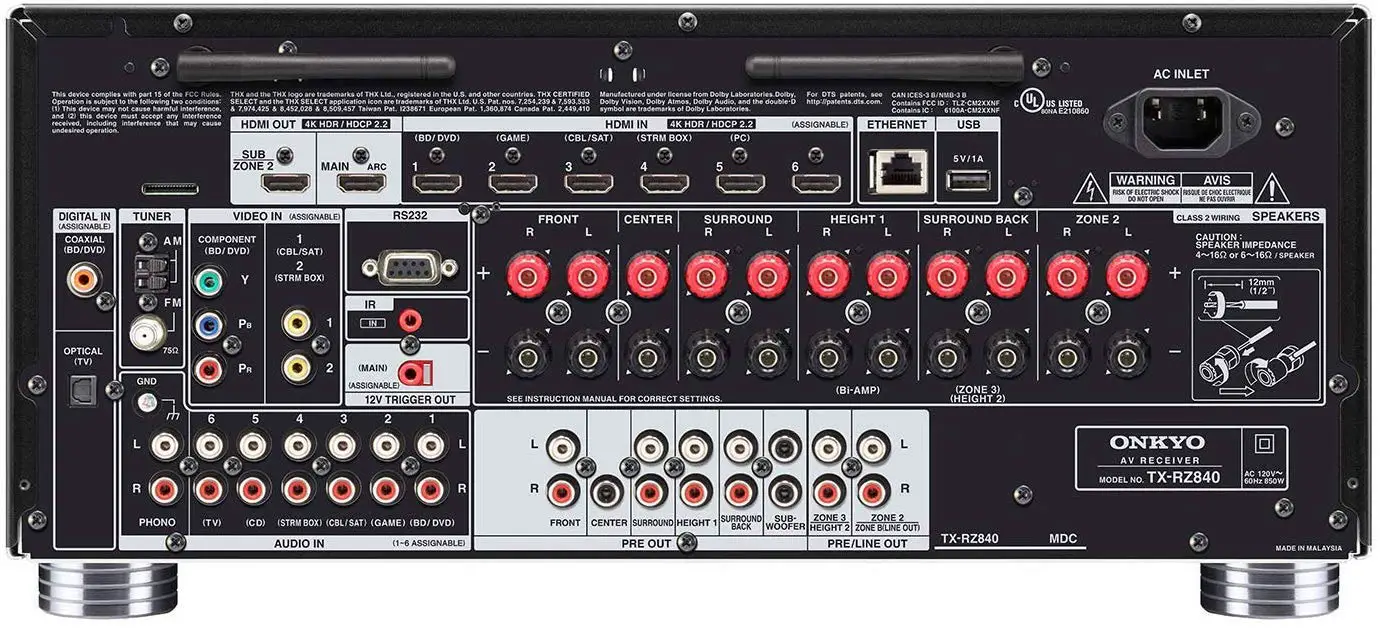 First and foremost we should mention the 11 speaker terminals from which only 9 of them can be used by the built-in amplification. The last two will need you to connect an external amp in order to use them in case you want to go for a full 11.2 channels audio setup. The second most important connections are the HDMI inputs with the RZ840 having 6 of them with one more at the front as we mentioned before. There are also 2 HDMI outputs with one of them having ARC/eARC support also.
As for the rest of the connections we get a USB port and an Ethernet port for wired connection to the internet, 6 analogue stereo ports with one more with built-in low-noise MM equalizer for turntable, 2 composite video inputs, 1 component video input, 1 coaxial and 1 optical digital audio input, an RS-232C port, a 12V trigger, an IR input, 2 analogue multi-room outputs and 11.2 channels multi-channel pre-outs. Lastly there are the usual FM/AM antenna as well as WiFi/Bluetooth connectors.
First of all we should mention that the HDMI ports are all HDCP 2.2 which means they support 4K/60p, HDR (Dolby Vision, HDR10, HLG), BT.2020, 4:4:4 color sub-sampling, 24-bit color, 3D Video, DeepColor, x.v.Color, and LipSync via HDMI. And although there is eARC support these are not HDMI 2.1 as manufacturers haven't still embraced the new protocol. We will need a couple more years before we see most equipment have this as a standard.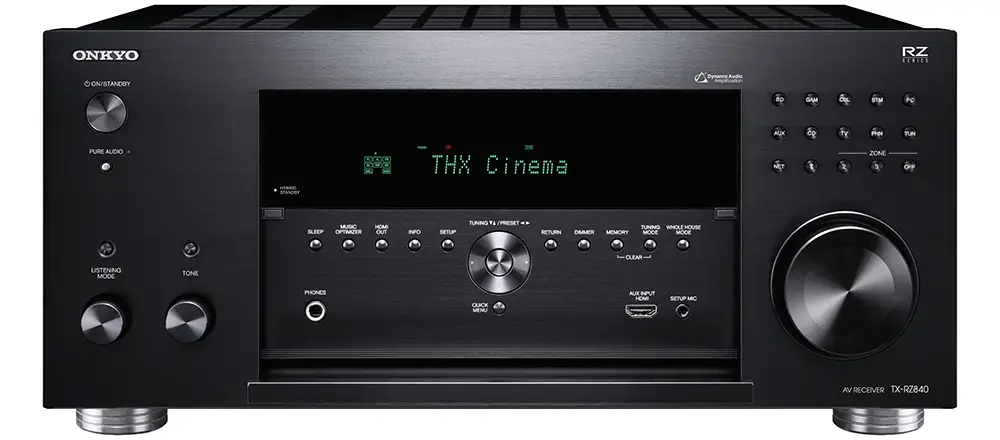 Lastly we should mention that this year we actually get less ports as it seems that we are loosing a component video input as well as one of the optical digital audio inputs. We don't know why Onkyo decided to take these out and we don't think this will greatly affect your decision regarding this unit but nevertheless seeing such a reduction even if a minor one is not a good thing.
OS, Apps and Features
The TX-RZ840 comes with Onkyo's proprietary audio calibration system and as with all receivers the Onkyo ones come with different versions of it depending on the category they belong. As such the one we find here is the AccuEQ Advance 9-point calibration with AccuReflex system. The receiver analyzes data and calibrates audio response to optimize speaker performance while it fine-tunes every speaker in your home theater, even if they are not symmetrically placed in order to create a more seamless and immersive soundstage.
The advance version of AccuEQ expands the functionality of Onkyo's system and in addition to speaker presence, distance, SP levels, and crossover it supports multipoint microphone measurement to detect the presence of standing waves, and sophisticated equalization technology to remove them from your room. In addition the AccuReflex technology optimizes the reproduction quality of object-based audio soundtracks played through Dolby Atmos-enabled front speakers, Dolby Atmos-enabled upward-firing modules, or in-ceiling speakers by calibrating the phase of sounds originating from Dolby Atmos-enabled speakers so they integrate with your floor speakers.
The calibration procedure is relatively easy as the on-screen instructions let you know what you need to do so even if you are not very experienced in such calibrations you shouldn't have trouble following the step by step wizard. And to be honest for those that are not in general very much into all this the AccuEQ system is your best bet in order to achieve the best result possible even if a manual calibration is still the best way to go. We get that not all like to fiddle with countless settings and frankly these systems are created to make your life easier.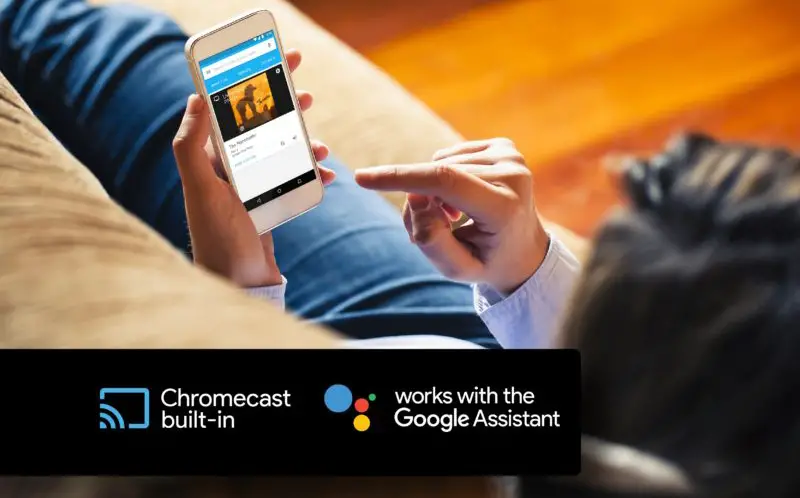 Providing multiple ways of controlling the receiver is a must nowadays as the use of the traditional remote doesn't cut it anymore and as such Onkyo made sure to keep the TX-RZ840 in line with today's various control methods. So except from the remote you can also download the Onkyo Controller App that is free for both Android and iOS and provide all the options and menus you will ever need both for the basic functions but also if you want to stream music from the receiver. The app is pretty good and since it's free we suggest you give it a go as you may find it practical to use.
But any new receiver couldn't be without some form of voice control support. As such the unit supports Google Assistant but you will need an external device for that to work or if you are an Apple guy mostly you can use Siri through the Airplay app. If there is one thing missing that is Amazon's Alexa and with most new receivers supporting all major voice control options we consider this as a minus on Onkyo's behalf.
But if all these are too high tech for you and you still prefer to have a remote in your hand Onkyo has provided the unit with HDMI-CEC so you can use your TV's remote in order to control the receiver and this way you can reduce the amount of remotes you have to use at once. A very practical feature for all home theater users indeed.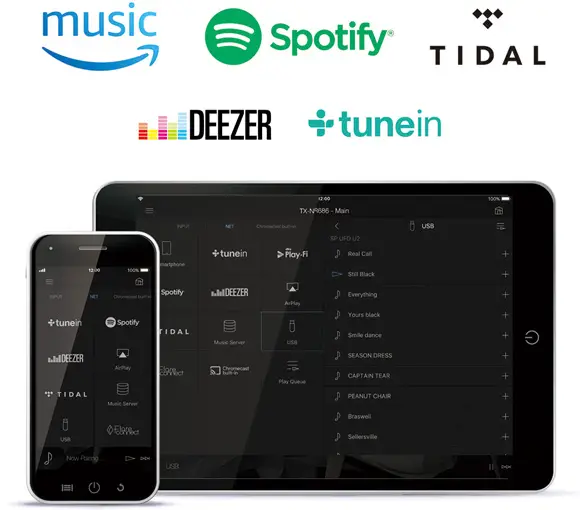 The user interface is rather simple and there is not much to talk about. Although everything is very nicely categorized with different sections in the main menu separating all the major functions we would like to have a more visually pleasing UI. Visuals are a major thing now with all kinds of electronics but AV receivers seem like they are stuck in the past. But even as such we didn't have any problem finding whatever setting we wanted so at least as far as functionality is concerned we found the one available very user friendly.
The TX-RZ840 comes with support for various streaming services that include Amazon Music, Spotify, TIDAL, Deezer, and TuneIn internet radio. In addition you can also stream music locally if you have a network hard drive or NAS server connected to your local network.
Having such streaming capabilities means that the TX-RZ840 also supports both wired and wireless connections. It features a Quad-core SoC that supports high-speed 802.11ac (2×2 MIMO) Wi-Fi while it also comes with built-in Bluetooth wireless technology with Wake on Play Standby. But if it happens you to have problems with the connection the Ethernet port can provide a more stable way that you can choose for streaming.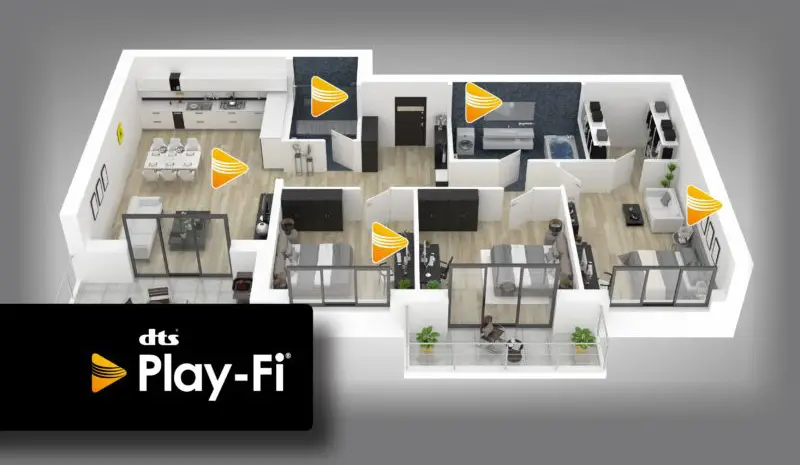 You can also stream music by connecting an external hard drive on the rear USB port although we would definitely prefer to have this at the front as it makes things extremely difficult having this at the back and as a result most people have to rely on some kind of USB extender for easy access. Additionally you can stream music through a Bluetooth connection from any kind of appropriate mobile device while if you are using Apple devices you can do the same by using the Airplay app and stream music from all kinds of Apple devices.
If their is one thing that this receiver is particularly strong at that is definitely at it's multi-room capabilities. The TX-RZ840 supports not only the usual ChromeCast app that allows you to connect other Chromecast enabled speakers in your house to the receiver but also FlareConnect, DTS Play-Fi, Airplay 2 if you are mostly using Apple devices while it even has Works with Sonos integration. And adding to all this you will find support for 3 multi-zones (Zone 2/3, Zone B) making this unit one of the most fully featured multi-room receivers we have ever reviewed.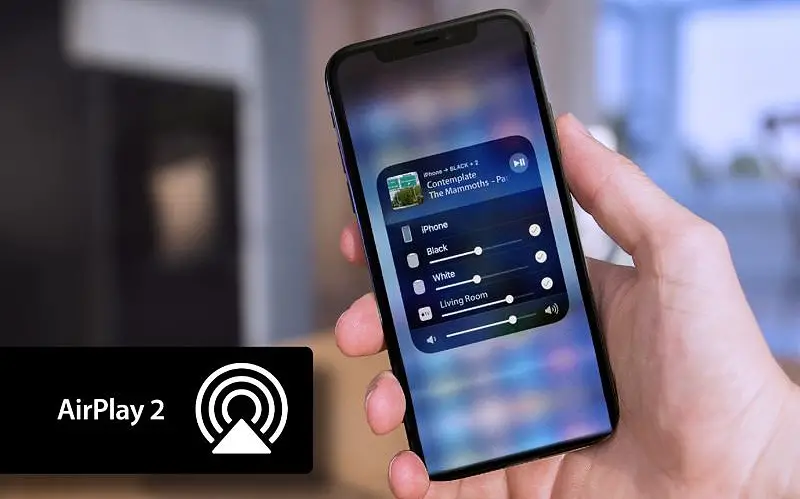 Finishing this part we need to mention a few more features we find in this unit including HDMI to HDMI up-scaling and Bi-Amp capabilities while the TX-RZ840 comes with both the THX and IMAX Enhanced certifications. This means that this unit has passed the rigorous THX testing certification in order to provide the kind of quality that has been set for all THX certified products. On the other hand being IMAX Enhanced ready it means that when appropriate content becomes widely available this unit is ready to support it…something that we really are anxious to try out and see what this is all about.
Belonging on the high end category the TX-RZ840 is a really impressive receiver when it comes to it's features. If there is something missing that would probably be Amazon's Alexa integration and we are a bit puzzled why Onkyo hasn't included it as well as a few missing streaming services like Napster and SiriusXM. Are these serious omissions? Not really but with this receiver being a premium model we would expect such things to be a given in this day and age and certainly when the competition include these in even lower priced units.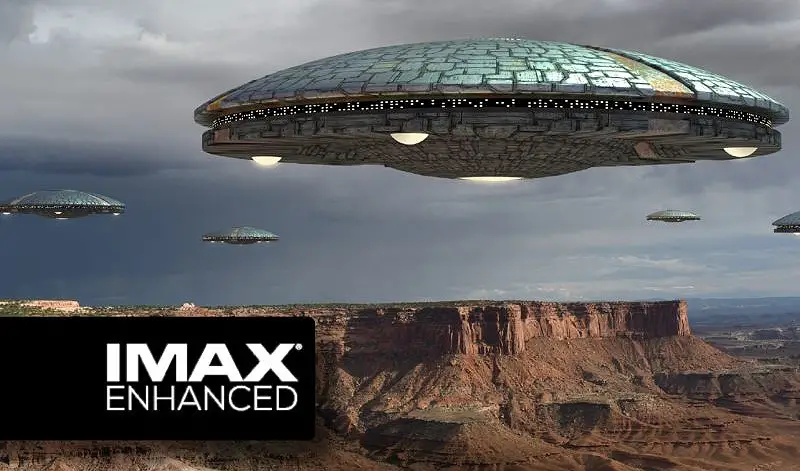 Final Thoughts
There are so many things to like in this receiver and as we need finish our article we need to summarize the key points we found in this one. The TX-RZ840 with its 9.2 channels and 120 watts of power is the kind of receiver that performance wise it reaches very high standards while we were particularly impressed by how many multi-room features it packs making it the ideal AV receiver if you like to have many wireless speakers around your house.
Onkyo's RZ series is famous for its quality and the TX-RZ840 makes the best out of it as under the rather uninspiring design we get some very impressive hardware that results in this receiver's amazing and authoritative performance while it's THX stamp of approval certainly gives this unit more value as only the most premium of audio equipment do get this certification.
On the downsides there is no Auro-3D support or DTS Virtual:X but with Dolby Atmos Height Virtualizer that can also do DTS tracks the later is not such a huge omission. Also there is no Amazon Alexa support which is a bit puzzling as most other competitors are supporting at least both Alexa and Google Assistant so the Onkyo is left a bit behind on this.
Another thing that we didn't like was a few missing ports compared to last year. Obviously missing an optical port and a component input may not be a huge thing but when you take something out, even if it's legacy ports we are talking about, and don't replace it with something else then this bounds to lower it's value. Lastly the new redesigned remote fails to offer anything different than the previous one and with it's cheap look we fail to understand the reasoning behind this new look.
Closing we will just say that the Onkyo TX-RZ840 is an amazing AV receiver when it comes to pure audio performance while we are extremely impressed by it's multi-room capabilities which is some of the most feature complete we have seen. It may be missing a couple of features that hurts it a little bit but if you look it as a whole Onkyo has created an amazing unit that rightfully belongs to the high end RZ series.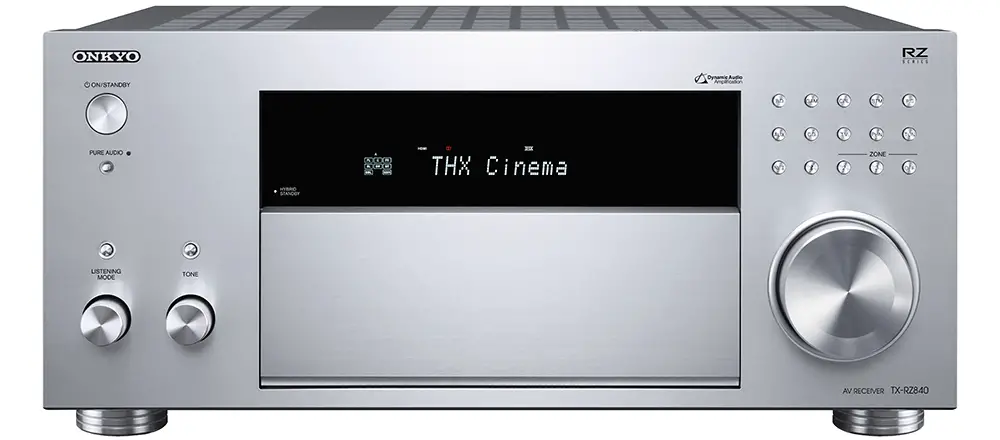 For more reviews you can check our dedicated 9 channels 4K AV Receiver reviews list or even look at our Product Reviews Table where you can find the brand and specific product you are looking for.
Also don't lose the chance to subscribe to our Newsletter and gain exclusive privileges.
---
Cheapest Places to Buy :
---
Onkyo TX-RZ840 Specifications