Optoma CinemaX P2
Ports & Connectivity
9.4/10
OS, Apps and Features
8.8/10
Pros
Great out of the box performance
Nice colors and satisfying black levels
Very good on-board audio system
Attractive price
Cons
Input lag still a bit high
Less than stellar Android experience
Very basic remote design
---
Cheapest Places to Buy :
---
UST (Ultra short throw) projectors have come a long way lately as more and more new models appear on the market and thus giving the consumers more options to choose from. One of the most known releases was last year's Optoma CinemaX P1 which we unfortunately didn't have the chance to review ourselves but it did get praising comments from consumers but not without having certain problems that needed to be addressed. And it seems that Optoma listened as this year they come back with a new offering and in our Optoma CinemaX P2 review we will be looking at this UST projector and what upgrades it brings to the table.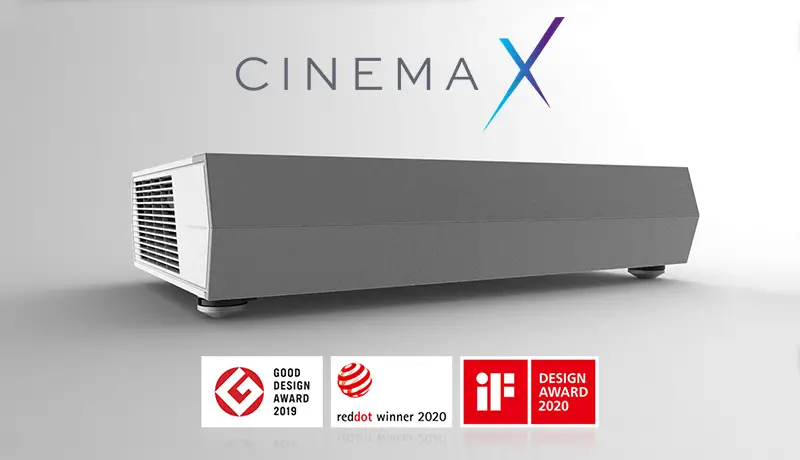 Ultra Short Throw projectors is not a new thing and certainly not anything out of the ordinary. But the market was always more limited and that's the reason why their development was not as dynamic as traditional projecting systems. But this seems to be changing lately and more people are looking at Ultra Short Throw projectors that promise to offer a similar experience of a traditional projector but without the need of the long distance it is needed to project a big image on the screen. Optoma seems to have noticed all the critics the P1 had and there seem to be certain improvements across many areas that were deemed necessary.
But before we start our analysis let's see what we have here. The Optoma CinemaX P2 is a Ultra Short Throw 4K laser based projector with a theoretical 3,000 lumens brightness and 2,000,000:1 rated dynamic contrast ratio, it supports both HDR10 and HLG, can also playback 3D content, comes with an integrated 40W Dolby Digital 2.0 soundbar and includes many smart features as it uses Android 8.0 with customizable launcher, Smart+ technology with Alexa, Google Action & IFTTT integration and also an integrated USB media player. And all these you get at a price of about $3,300 at the time of writing which is actually about $500 less than what the P1 had originally retailed making it an extremely interesting offering.
Now on paper the CinemaX P2 looks rather impressive and with the certain upgrades Optoma made to rectify some of the problems in the first generation it seems that the P2 is the way to go for anyone looking at a UST projector. So without further delay let's see the projector in more detail…
Design
Before we analyze its design we should mention that the projector comes under the same name across all markets which is how it should be for all projectors but for some reason it ain't.
As for its design the CinemaX P2 is certainly unique as being an Ultra Short Throw projector means a few drastic changes in design and looks. When you first look on the P2 you will think that this is a bulky small soundbar rather than a UST projector. The absence of a frontal lenses along with the cloth grille that covers the whole front and slightly upper side really fakes its actual functionality.
But Optoma did a really nice job at creating a simple yet effective design that gives you a sense of modern design that has a lot of technology inside it. As for its size things are more or less what to expect as you shouldn't forget we are talking about a 4K projector with everything this brings in terms of bulkiness. Measuring 22.1" x 5.1" x 15" (576 x 129.7 x 383 mm) and with a weight of 24.25 lbs (10.5kg) the CinemaX P2 is the kind of projector that you place it and leave it although it has certain portability merits.
White is the main color here and this is a drastic change compared to the black shell that Optoma used in the P1. But other than the color of the shell nothing major has changed in terms of looks. Plastic is the main material used but it feels of good quality while the surface has a subtle matte texture which we vastly prefer to glossy surfaces as they can be huge fingerprint magnets. Lastly, in case you are wondering, the projector has an IR sensor but is hidden behind the front light grey cloth grille to keep it out of sight.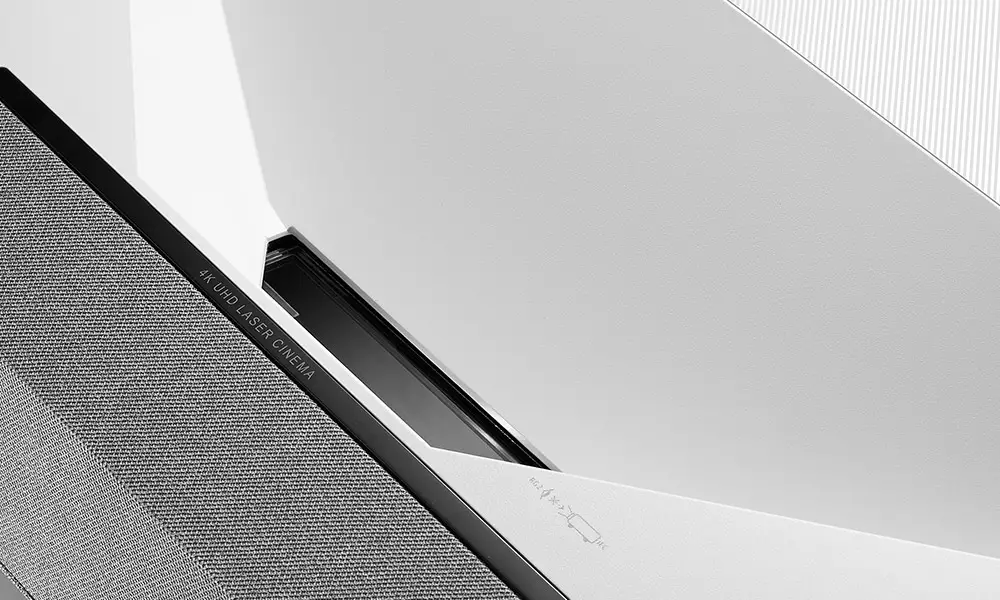 Ventilation looks sufficient as there is a big air inlet at the back of the unit exactly under the connection ports while two air outlets blow hot air from both sides of the projector. Just keep in mind not to place it anywhere between objects and leave enough breathing space on both sides to keep the temperature low enough.
Usually all projectors use a fairly standard layout with the top being the place where we get a number of built-in buttons. But due to the CinemaX P2 different design things are pretty different this time. Optoma opted to include only a single button situated on the top face and this is placed at the front right corner on top of the cloth grille that is hiding the front soundbar. To the left of the power button a trio of function LEDs indicate lamp status, temperature and Bluetooth functionality. The top side is also where the lens are situated, thus the UST design but we will talk about it shortly.
Turning the projector around we find a special inset with all the connection ports grouped together, including the power connector which is a huge plus in terms of cable management. The P2 is also using tilt adjusted feet at the front in order to calibrate it easier when placed on a furniture.
Let's look at the lens in a bit more detail now. The CinemaX P2 is using high-performance glass optics and its ultra short throw ratio projects 120-inch images from only inches away with incredible details. A throw ratio of 0.25:1 is not the best you can get in a UST projector and it basically means that for a 100″ screen you will have to place the projector slightly more than 9 inches from the wall.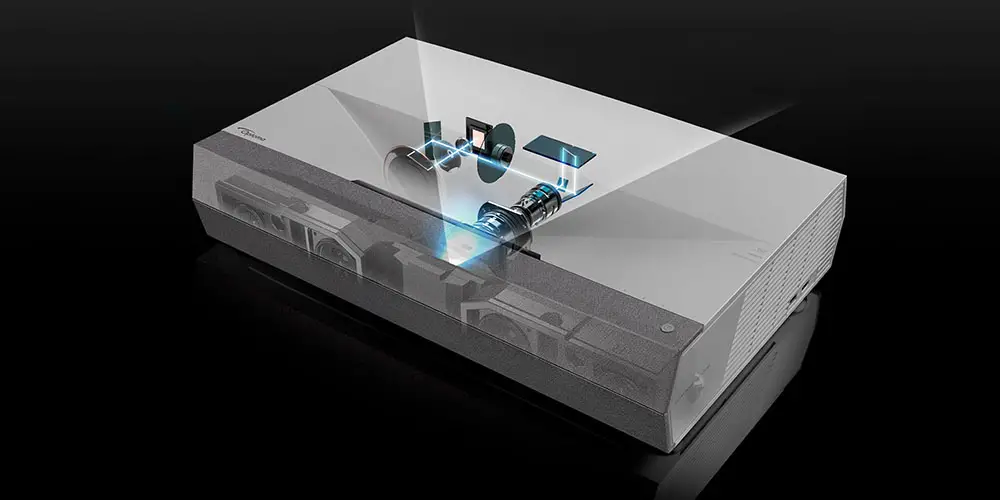 In terms of image calibration we get an offset of 124% +6%/-2.5% along with keystone correction with +5/-10 vertical, ±5° horizontal. Optoma has also included their SmartFIT image alignment system which basically uses an app in your smartphone in order to align the screen properly. This is a rather unique and clever way to make calibration but as always all these geometry correction systems should be used only when absolutely necessary in order to maintain image quality and low input lag.
When it comes to noise the CinemaX P2 is rated by Optoma at 24dB but this is in theory and in reality it goes slightly higher than that. In general Optoma created a pretty silent design and during normal viewing you are not going to hear it at all. Only at moments of complete silence you can hear the fans spinning but it was at no point bothering to us during testing from a distance of about 9 feet. Usually when changing the lamp modes of a projector the noise fluctuates accordingly but the CinemaX P2 seems to keep a pretty stable noise level across its different options.
As for lamp life, since this is a laser projector we are talking about, the CinemaX P2 can offer as much as 20,000 hours in Normal mode and even 30,000 hours in ECO mode which is far more than any typical DLP projector can offer and this is another aspect where laser projectors have a major advantage over other types.
And for last we left the included remote which may not offer anything fancy in terms of looks but is remarkable what such a simple looking remote has to offer in terms of functionality. First of all it's pretty surprising that while Optoma opted for a white color for their projector they left the remote with its black color as it was used in the P1. It may be a small detail but it feels slightly out of place and a similar color to the projector would be preferable. But other than that the remote is exactly the same one both in design and buttons layout.
Now the remote can use both IR signals as well as Bluetooth in order to communicate with the projector. Another major plus is the inclusion of a backlight function which is so useful and can save from a lot of frustration when using it in a dark environment. Lastly, and this one is certainly unique in the projector world, the remote can either be used in the traditional way through the navigation buttons or as an air mouse which can be of major help in a browser or if you want to navigate through various apps.
The actual button layout is fairly light with a LED indicator at the very top and a row of three circular buttons below that for power, speaker mode and projector menu. A big round navigation control setup is placed below them while another three buttons below that are used for return, Home and Air Mouse function and Android App settings. And last we get a long button for volume control and that's all.
Overall in terms of actual design and quality the CinemaX P2 is fairly similar to the P1. We slightly prefer the light color of the P2 but this is certainly a personal preference. Other than that the projector is pretty high on quality while it's looks are never intrusive and will keep a very low profile in your entertainment area.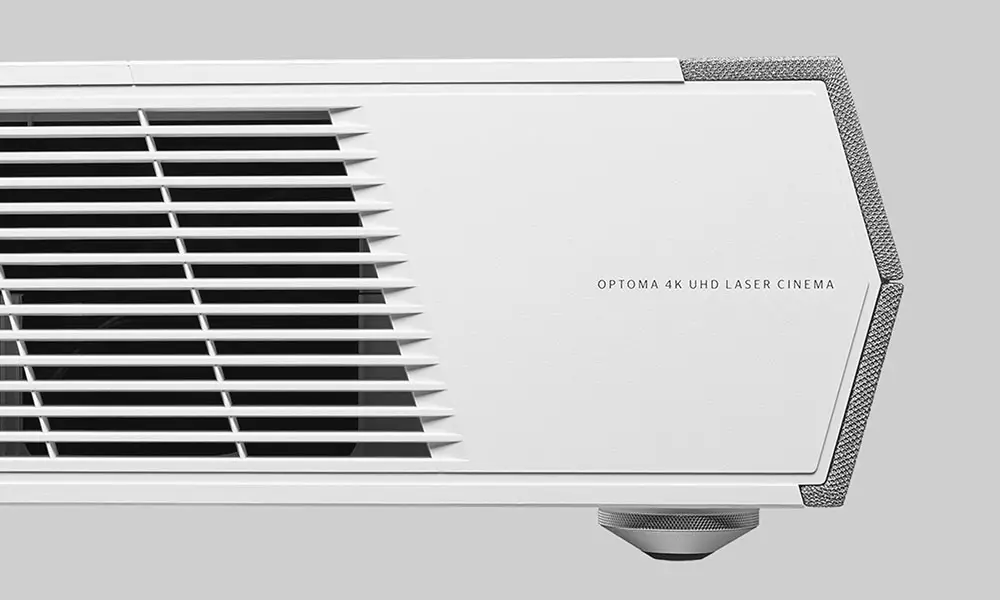 Video Quality
Technology used
Let's see now what makes this projector tick. The Optoma CinemaX P2 is using a single 0.47" 4K UHD ECD DMD chip from Texas Instruments but unlike any other typical DLP projector the chip inside the P2 is paired to a laser light engine. As a result the CinemaX P2 has much better black levels, contrast is improved, lamp hours are far better than any DLP projector while it has no problems with image alignment that is so usual in laser projectors that use three chips.
4K UHD / HDR Content
For our 4K/HDR testing the movie we usually like to try out is no other than Aquaman. A superb film in every respect and a particularly demanding one when it comes to overall brightness and color reproduction. The CinemaX P2 did an excellent job at rendering every small detail on screen with clarity and sharpness that gave the image an almost three dimensional look. The scenes on the depths of the ocean were full of details and you will catch yourself marveling the amazing CGI environment more than you should. Textures, skin imperfections, surfaces composition were all high on resolution and details.
But the P2 didn't only impress with that as it did an overall good job with colors and brightness output. This is not the brightest of projectors but it fares pretty high on the performance ladder and this shows on screen. Aquaman is a film with many bright highlights almost all across its running time and the projector fared pretty well all things considered. The same can be said about the colors which were very vivid with good out-of-the-box accuracy and lovely gradients.
When you are watching HDR content the projector will switch to the appropriate HDR display mode and from there you can decide which HDR picture mode you like the most. Optoma offers four different modes with Detail, Film, Standard and Bright the ones available.
Lastly we should mention about the projector's HDR protocols support which is pretty standard among most projectors nowadays either cheap or expensive. As such we get the HDR10 which is the basis for 4K UHD playback along with HLG which is used for broadcasting. No Dolby Vision or HDR10+ here but with most projectors having limited brightness capabilities there is not much to be missed by these two.
Full HD / SDR / 3D Content
Obviously when talking about a 4K projector you want first and foremost to know how it fares with 4K content. But there is still a vast number of films that haven't made the transition yet so having good Full HD/SDR capabilities is a must to any respectable brand. As for the CinemaX P2 we tested the Blu-ray version of Oblivion which has a very sharp image for the aging format with plenty of details that is helped by its unique design.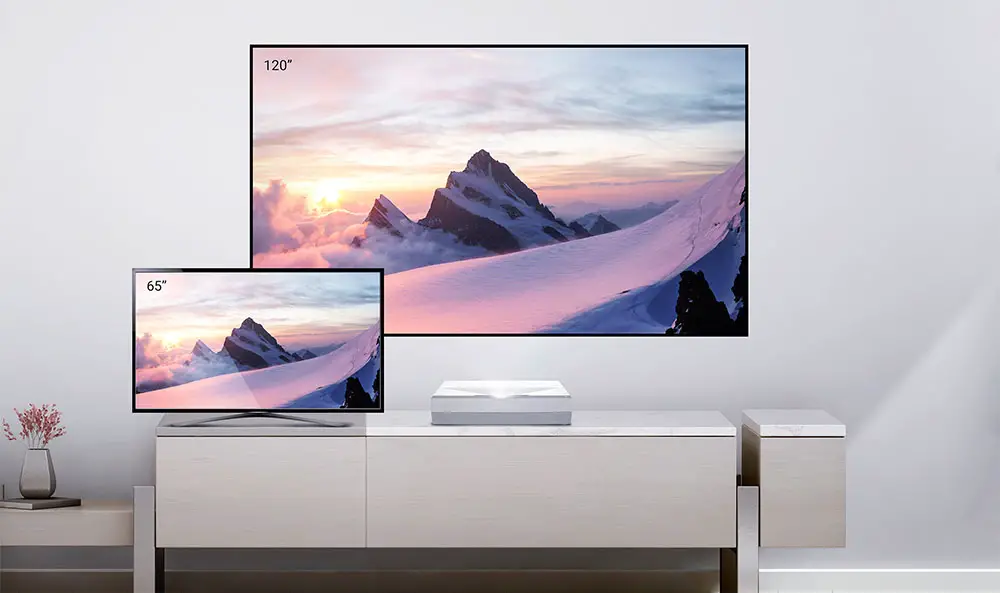 The image was full of details with excellent sharpness and plenty of information on each frame even for a 1080p source. Details on the characters, their uniforms and skin details were translated very smoothly while colors had a very natural and precise tone to them. Black levels and shadow details were very satisfying although the film is not full of such scenes. But when was needed the P2 went very black without sacrificing on the details.
We did try various settings for BrilliantColor and we would recommend a medium setting if you prefer to use it in a dark room as higher values are mostly suited only for rooms that have excessive light. In general the CinemaX P2 did a very solid work on the 1080p content. Is there room for improvement? Certainly but for the price asked the P2 has managed to offer improvements at a lower cost and this means a lot.
Lastly we should not forget to mention that the projector also supports 3D. This may be a dead format for TVs but it has certainly found its home with projectors. The CinemaX P2 had no problem with 3D content and when the appropriate signal is detected the projector will switch automatically to the available 3D mode. We didn't observe any major artifacts or crosstalk but brightness, as with all 3D content, takes a major hit. At least the projector is bright enough to somewhat compensate on the lower brightness which is important. To view 3D content you will need to use DLP Link active shutter 3D glasses that unfortunately are not included with the projector.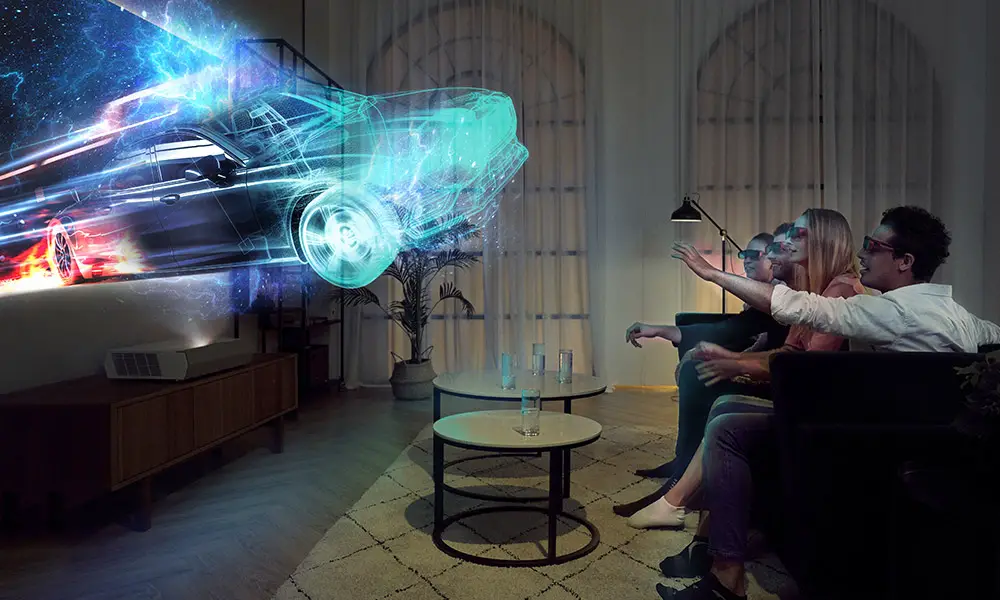 Color Coverage
In terms of color performance the CinemaX P2 is using a 6 segment RGBRGB color wheel with two sets of red, green and blue segments that is fed by a single blue laser going through a yellow phosphor wheel which is slightly different from what it was used in the P1 as that one had two yellow segments in its color wheel also. Optoma managed to keep the brightness at similar levels but without the yellow segments this time and thus improve color reproduction slightly.
In the next section of our review we will mention all the available modes but in terms of color performance and accuracy the best out-of-the-box mode is definitely Reference but on the other hand produces the least brightness from all the available modes. The next best one is Cinema with obviously more brightness output at the expense of slightly less color accuracy.
So in case you are looking for the best out-of-the-box settings and you don't want to fiddle much with image calibration and settings we would suggest you to use the Reference mode in case you will be using the P2 in a very dark environment or the Cinema mode if there will be some light in the room.
Lastly we shouldn't forget to mention that since the projector is using a color wheel you may see what is known as a rainbow effect. This doesn't affect all people and certainly it's not as obvious as in some other projectors but it is there so if you don't know if you have a problem with this or not we would suggest you to give it a try in some local store before deciding. Personally I don't see them but this does not apply to everyone.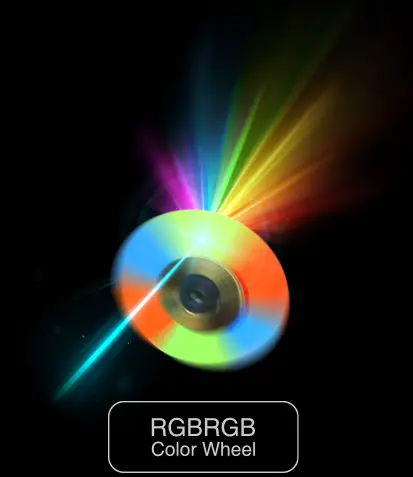 Brightness
Our next test is focused on the brightness of the P2 as Optoma has rated it at 3,000 ANSI lumens which is exactly the same as the P1 was. One of the major weaknesses of projectors is brightness output and they are very far for being able to display HDR the way flagship TVs can do nowadays. So it will be interesting to see how bright the P2 can be.
Keep in mind that there are many factors that can affect brightness on a projector so the numbers we give are only for giving you a general idea of the projector's capabilities and yours may differ in the end. When watching SDR content the available modes include Bright, Cinema, HDR Sim (for simulating an HDR effect with SDR), Game, Reference and a User defined. The other modes like 3D, HDR and HLG are used automatically if the appropriate signal is detected.
The Bright mode was the one that gave us the most brightness output at 2,732 lumens but as usual it is slightly on the green side. Next was Game mode at 1,895 lumens while Cinema came in third with 1,703 lumens. Reference was the most accurate in terms of colors but also produced the least brightness at 1,190 lumens.
Black Levels / Contrast
In terms of contrast Optoma has managed to improve upon what was offered in the P1 and now we get a 2,000,000:1 ratio with Dynamic Black enabled. Dynamic Black is Optoma's feature that works like an auto iris but obviously it has certain disadvantages compared to a real one. Dynamic black cannot make quick changes to the light output and the end result is not as obvious as an iris can do. But nevertheless the result is truly great with very satisfying deep blacks and shadow details for even more demanding than usual scenes.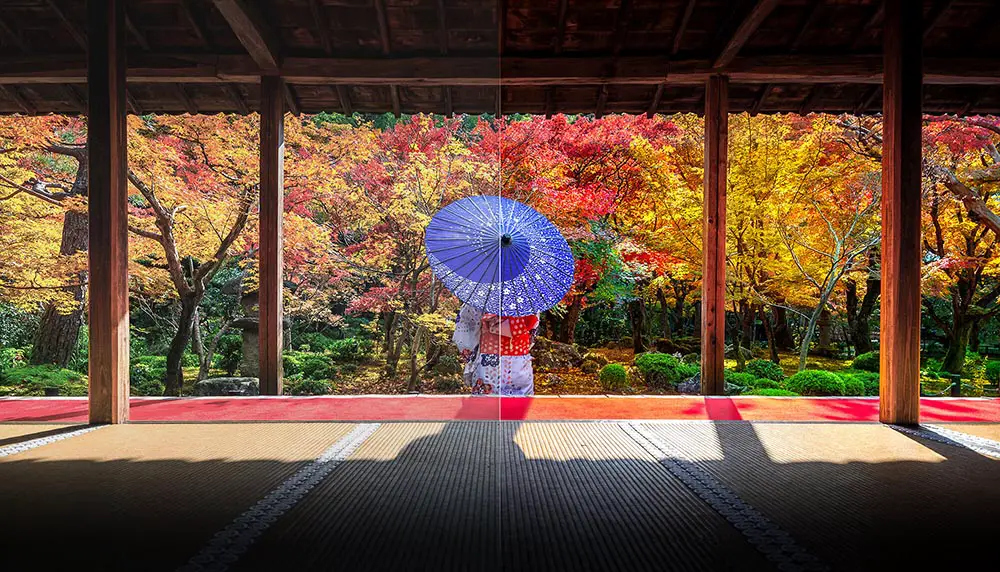 In general you will not have a problem with how the projector performs in black levels either in a completely dark or well lit environment. Obviously there are other projectors that can offer deeper blacks but for its category the CinemaX P2 did an amazing job that will certainly leave you satisfied with the result even if they are not the best you can get.
Input Lag
One of the areas where Optoma had some work to do with the original P1 projector was in its input lag as many complaint about the high numbers they were getting. It seems that Optoma rectified this and the P2 seems greatly improved over its predecessor. In general projectors are still far from reaching the crazy low numbers we see in today's even low tier TVs but anything that is close to the 50ms mark we consider adequate for a projector.
For the P2 specifically we were able to measure the input lag averaging at 67.2ms for both 1080p and 4K resolutions which is vastly improved over the P1 but still a bit high for any hardcore gamer. Now if you are a casual gamer and you just spend some time gaming without the need for the absolute lowest input lag or you prefer to play offline games 67.2ms is just fine and you will have no problem whatsoever enjoying it to the maximum. We just mention this in case you are worried. This may not be a gaming projector but can still do fine with these numbers.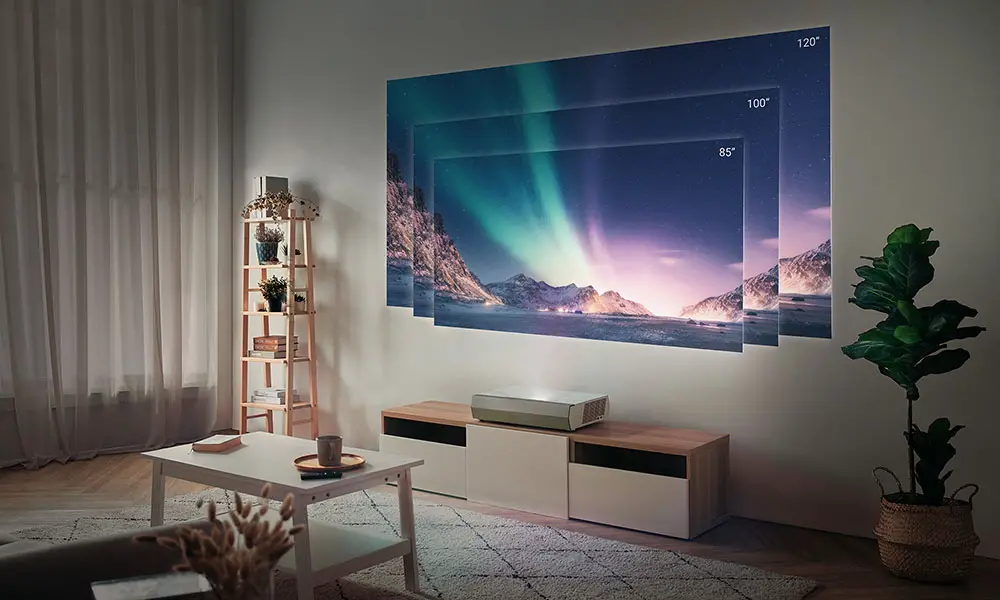 One thing that we should mention is that in order to achieve this low input lag we used Gaming Mode enabled. In this mode both SmartFIT and PureMotion interpolation features are disabled which should be obvious in order to achieve higher refresh rates. This is usual in all projectors as they turn off most internal processing when in Game mode in order to improve their input lag numbers.
We next connected our PS4 and went for a few laps in F1 2019 in order to see how all this translates into a real world situation. To be honest even with the slightly higher than what we would like input lag the CinemaX P2 did an excellent job and we didn't feel any noticeable delays during our testing. Even with a game as F1 2019 that asks for accurate inputs and fast reactions we were able to adapt very fast to its response time and we don't consider ourselves hardcore gamers. So unless you ask for the absolute best the P2 will suit you just fine.
Motion Performance
The CinemaX P2 is using Optoma's PureMotion technology to make video filmed in 24fps to be more smooth and to compensate for motion blur. By using advanced motion control processing it eliminates motion blurring or image judder, even in high-speed action sequences.
The projector has three settings that you can use with 1, 2, 3 being the available ones along with off for turning it off completely. Even at the first and lowest setting the projector did manage to reduce noticeable judder from fast panning camera movements but we can say that it was not so effective with blurring, at least from the scenes we did try out. Obviously the interpolation technique used will make the soap opera effect (SOE) to appear so it is really a personal preference if you want to use this or not.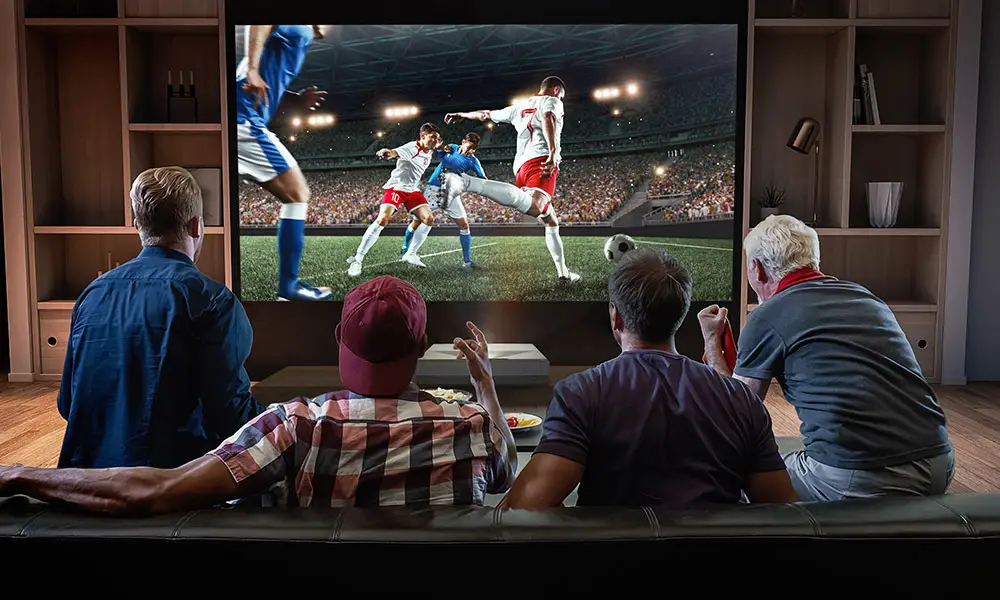 Keep in mind that if you turn the Game mode on then the PureMotion interpolation is disabled and the settings are greyed out so you cannot use both of them at the same time. In general we would say that the CinemaX P2 did very good in our motion tests and while the frame interpolation used was not very effective with motion blur, it did a pretty decent job with judder. Now if you are fond of Frame Interpolation in general or not is up to you but in our case we prefer to keep it off most of the times and with the CinemaX P2 being rather obvious even in its most low setting we didn't use it much more than we needed to.
Ports & Connectivity
Next we will be looking at the connections being offered in the P2 and the CinemaX P2 must be one of the few projectors that actually has split its ports into two groups. As usual most of them are located at the back in a special inset towards the left side while there are a couple more located at the right side of the projector as you look at it from the front for easier access.
First on the ones at the back and starting from the left side we get a USB 2.0 that is used for connecting external storage and used for media streaming, two HDMI inputs, a S/PDIF optical digital audio output, an Ethernet port for wired connection to your local network, an analogue audio output and another USB 2.0 port that is used only for service. On the side we find another HDMI input along with a third USB port (5V, 1.5A) that can be used to power or recharge certain devices.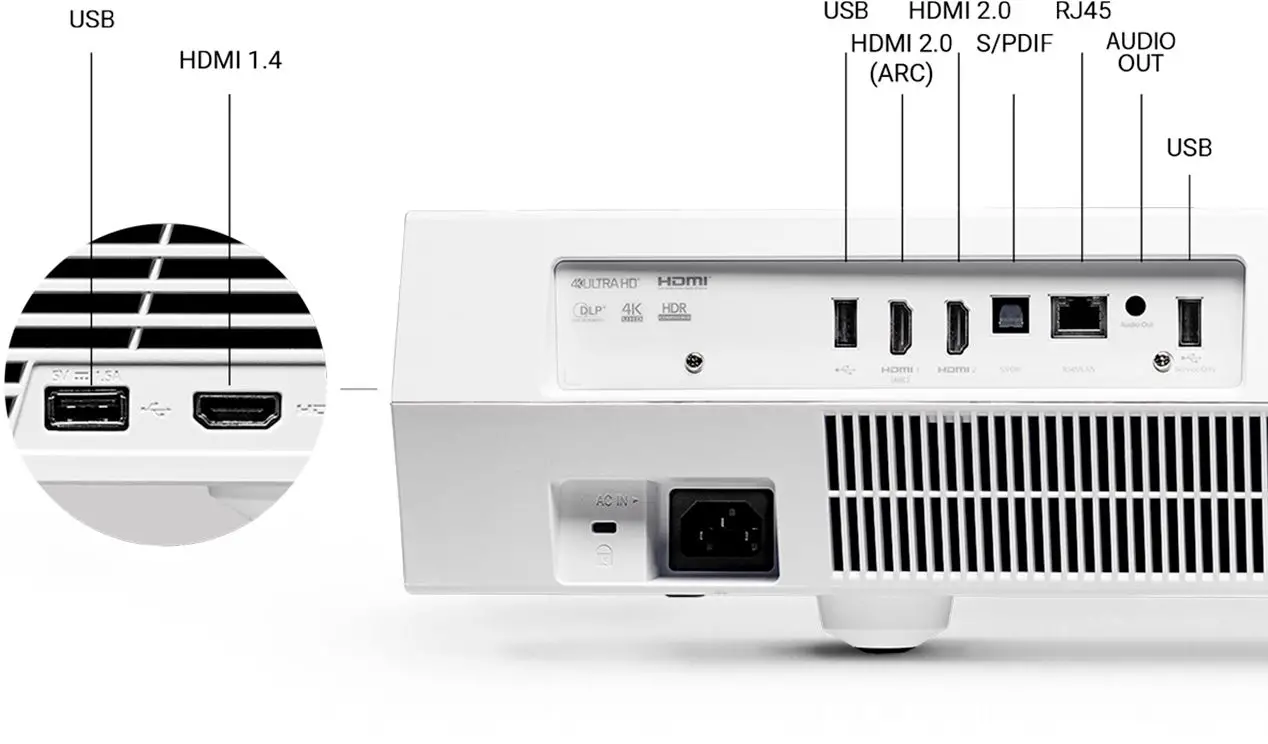 The two HDMI ports at the back seem to be HDMI 2.0 with the one on the left also getting ARC functionality. This means that both of them can support up to 4K@60Hz. On the other hand the side HDMI port seems to be the older v1.4 and thus has more limited functionality as it can only support 4K@30Hz. All USB ports are the older 2.0 which may be a bit limiting in terms of streaming content in high resolution.
Everything else seems to be the usual affair and we like that Optoma has included a bit of everything. We would like to have a HDMI 2.1 as these become the standard slowly but it seems we are not at that point yet where a HDMI 2.1 is a must. Well, maybe on their next release.
OS, Apps and Features
Last but not least is the section where we will go through the OS and all the extra features available on the projector. The unit seems to be using Android 8.0 along with a customizable launcher powered by Optoma's InfoWall app which gives you the ability to customize your own home screen. It's functionality is a bit off to be honest but at least you get the option to do so instead of not having it at all.
The projector comes with two sets of settings. The first is the usual Projector Settings Menu (OSD) which you can see by pressing the three lines button on the remote and will reveal a row of six categories including Image Settings, Display, 3D, Audio, Setup and Information. All these tabs include all the image and function settings of the projector separated into their appropriate categories for easy finding. The second group is called the System Settings menu and includes Personalize, Network, Bluetooth, System, Power and Control.
Overall the user interface is nice without being very complicated and visually it's much more pleasing than what we see in most projectors even today. Obviously this has to do with the fact that the P2 is basically a smart projector and that's why we see it using a more advanced menu. But at some point manufacturers have to do something similar to their whole range of projectors.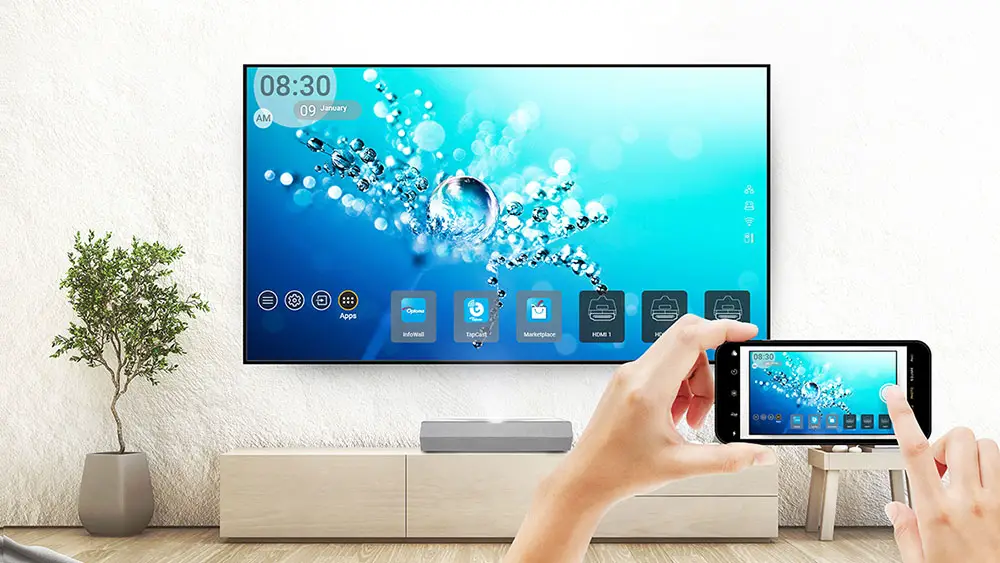 The projector is using Optoma Marketplace from which you can download various streaming apps and place them directly on the Home screen. The list of supported apps include YouTube 4K, Netflix (480p), CNBC, TED TV, NBA TV, CNBC, BBC and more. You have the ability to organize the available apps any way you want which can be very useful in case you are using many of them. And since we are talking about streaming apps what we would like to point out is that although it's nice to have such a large selection of apps to use they are not so efficient or advanced as you would find in a smart TV nowadays.
Some apps run slow, others can only stream in lower resolutions and in general it feels like it's just an afterthought than a really functional feature. If you are really serious about your streaming apps you should better get a dedicated streaming player. They are so cheap nowadays and can offer you much more than what you will find in the CinemaX P2.
But the projector is not only limited to streaming apps as it also supports what Optoma calls Smart+ technology and this includes Alexa, Google Action & IFTTT integration which adds voice control along with automation options and cooperation with other smart devices.
But while online streaming may not be the strongest point of the P2 it also includes a built-in media player which we can say is much more capable than what we were expecting to find. The list of supported codecs and media is extensive including MPEG1/2, MPEG4, H264 and H265 along with AVS and VC1 for video while the list extends to various audio files and images. There is even the ability to view PDF and Microsoft Office files which can be useful if you want to use the projector for presentations.
Included in the apps you will also find TapCast. You can use your mobile device with the TapCast companion app to easily cast images, documents and screen share from supported mobile devices. This works similarly to screen sharing on smart TVs and it can be pretty useful in certain situations.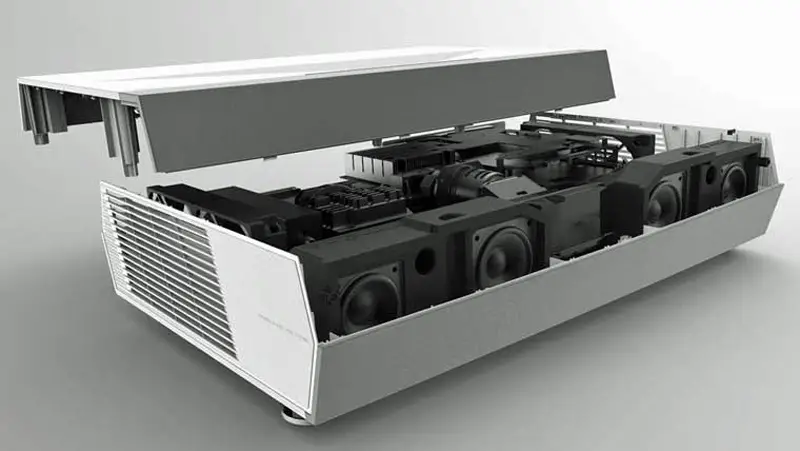 Lastly we shouldn't forget to mention the inclusion of FRAMED digital art platform. When the projector's screensaver activates it can display a selection of curated artworks from renowned digital artists by FRAMED. The exhibition features 12 radically different creations, launched individually over the curation period. This somewhat reminds us of Ambient mode that is included in Samsung TVs but in a more basic form.
And while we talked about all the software features that are included in the CinemaX P2 there is one more that we left for the end as it has to do more with its hardware than its software and this is no other than the on-board audio system that Optoma has included in the P2. Basically Optoma has merged a small soundbar in the projector and under the front cloth grille we find a Dolby Digital 2.0 channels audio system with two 2-inch full range aluminum cone drivers and two 2.75-inch paper cone woofers with ported chambers. The total output power is rated at 40 watts which is not bad at all.
In general we were satisfied with how the audio was rendered by the P2 taking into account the limitations of the system. Sound was rendered clear, dynamic range was good but the audio was obviously lacking in punch while the low end felt flat and uninspiring. Obviously this is not meant to be a system to replace your home theater but in comparison to all other built-in audio systems we have seen in projectors so far this is the best one yet.
Optoma really tried to include a wide variety of features and smart functionality in order to make their offering a true smart projector and we believe they did a pretty good job. Yes the streaming services may be lacking a bit and the Android platform that is included is not the most efficient to work with but overall we have more positive than negative feelings towards it.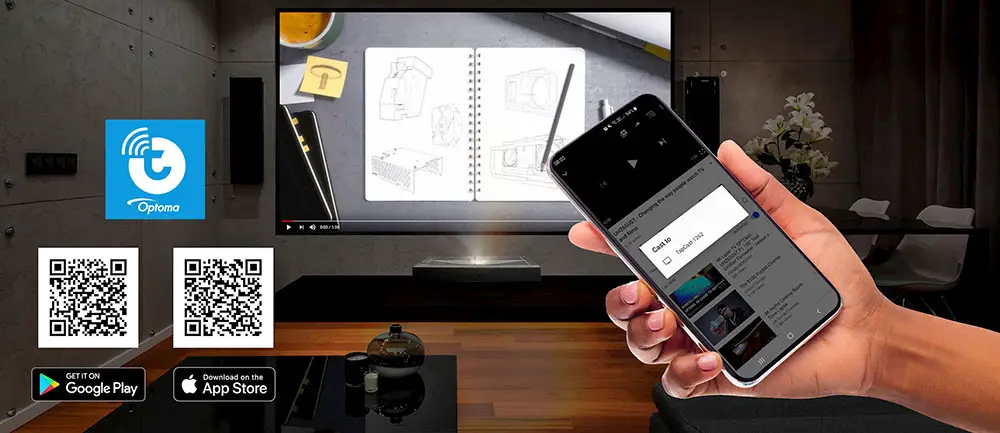 Final Thoughts
Ultra short throw projectors may not be as widespread as normal forward projecting systems but they are starting to catch up. When the CinemaX P1 was first introduced it was a real breakthrough from Optoma and set the standard for all future releases. Now Optoma managed to take what was good on their first release and improve it in many ways while offering it at a reduced price which is an amazing feat.
The CinemaX P2 can display amazing images with great resolution, details, colors and black levels either it be 1080p/SDR or 4K/HDR content. It's out of the box performance was exceptionally good although there is room for further improvement if you fiddle deeper into the image settings menus while Optoma has managed to improve the contrast ratio and black levels to a noticeable degree.
Input lag that was heavily criticized on the P1 has been improved significantly while the projector comes with a satisfying feature list including plenty of streaming services and smart functions. The on-board sound is much better than any other projector we have heard to date while the remote, although simple in looks, offers Bluetooth connectivity, a backlight function and can operate as an air mouse. And more impressive is the fact that all the above come at a $500 reduced price compared to the original P1 when was released.
Is there anything bad to say? Well, the input lag although has greatly improved still remains above the 50ms mark which we consider the threshold and to achieve it you have to turn Game mode on which means you loose both SmartFIT and PureMotion interpolation features which are disabled. Also the Android smart features need improvement and while they can offer the basic experience some apps are lacking greatly in comparison to what we get in dedicated streamers or even some smart TVs. Lastly the remote could use a better design and a color that fits the actual unit.
If you are looking for an Ultra Short Throw projector but you were not sure about the P1 one year is enough to make up your mind as the Optoma CinemaX P2 took everything good its predecessor had, made small improvements across the board and is offered at a considerable lower price. Yes, Optoma faces more competition now and that's why the lower price but unlike some other yearly releases the P2 may not be a revolution but certainly is an evolution.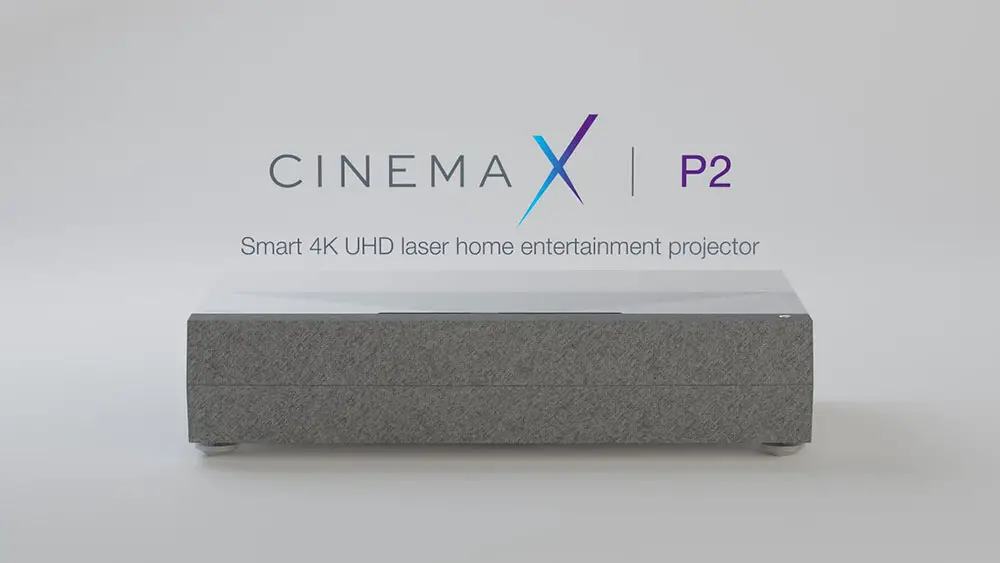 For more reviews you can check our dedicated Ultra Short Throw (UST) Projector reviews list or even look at our Product Reviews Table where you can find the brand and specific product you are looking for.
Also don't lose the chance to subscribe to our Newsletter and gain exclusive privileges.
---
Cheapest Places to Buy :
---
Optoma CinemaX P2 Specifications