Optoma GT1080Darbee
Design -

90%

Video Quality -

88%

Inputs / Ports -

90%

OS, Apps and Features -

88%

Price / Quality -

90%
---
Cheapest Places to Buy :
---
Projectors were always considered one of the best means to create a cinematic viewing experience considering you have the appropriate space to use one. As good as TVs are they still cannot reach the viewing sizes that projectors can offer and that's why a lot of people prefer them over a TV. On the opposite side are the gamers who like to play their favorite video games and especially for those playing online games input lag is a very essential feature, that force them to go for a TV or monitor over a projector because of the lower input lag they offer.
Optoma being famous for the high quality and features of it's projectors wants to change this as there are very few projectors in the market that are gaming oriented. That's the reason the GT1080Darbee projector was created. But has Optoma succeeded in delivering a projector that gamers will truly appreciate and convince them that projection technology has improved enough to make their gaming sessions just as pleasant as a good TV set or monitor would? Read our Optoma GT1080Darbee review to find out.
Design
Having tested some 4K ready projectors lately I got used to big sized projectors so with the GT1080Darbee size being W315mm x D224mm x H114mm it was a pleasant change to see the smaller footprint this one has. It is also very light weighting only 2.66 Kg meaning you can easily move it around.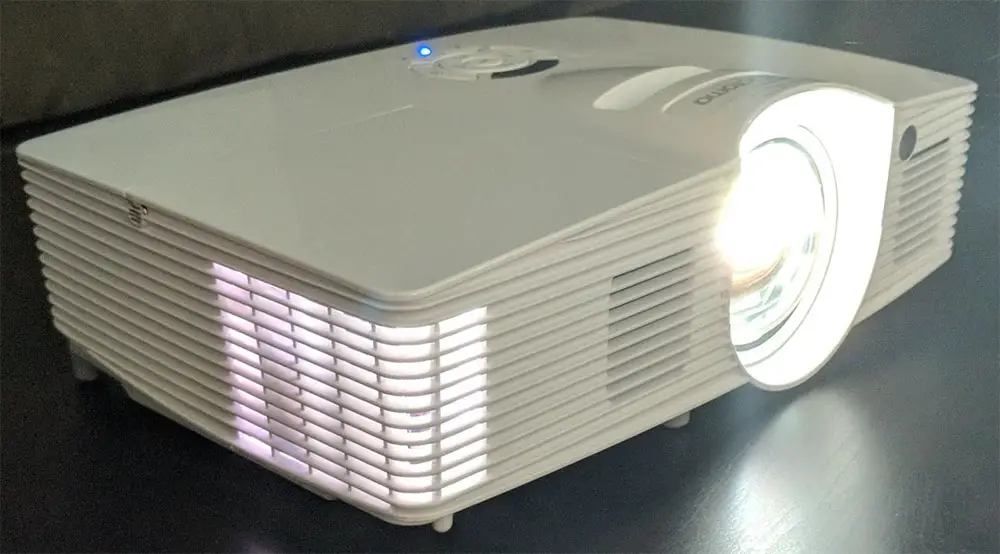 The projector comes in a white finish, plastic cover and although it may feel a bit cheap it looks pretty good and stylish. In the front you will find the lens while on the top we get a focus slider above the lens as well as the control buttons in a circular grouped shape for the settings and menus. All ports are placed on the left side of the projector as you look it from behind and this is a change compared to most projectors that prefer to have all ports in the back.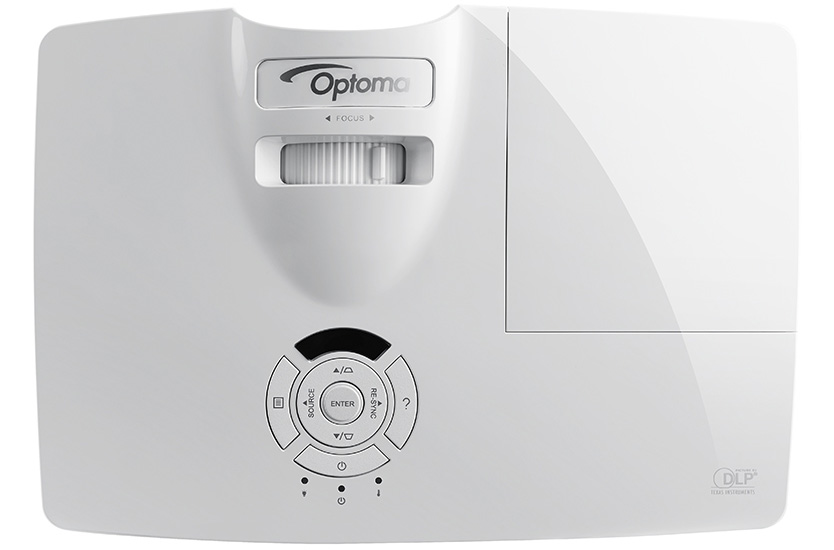 There are air vents on the front as well as in both sides so cooling is pretty good. Noise levels are relatively low measured at 26dB in Eco mode but depending on the settings as well as ambient temperature this can vary a lot but in my case I never experienced any problems with the projector temperature or noise.
In general we are pleased with the design and how Optoma has placed everything. For a projector in this price range you cannot expect much more but in all truth the end result is very good.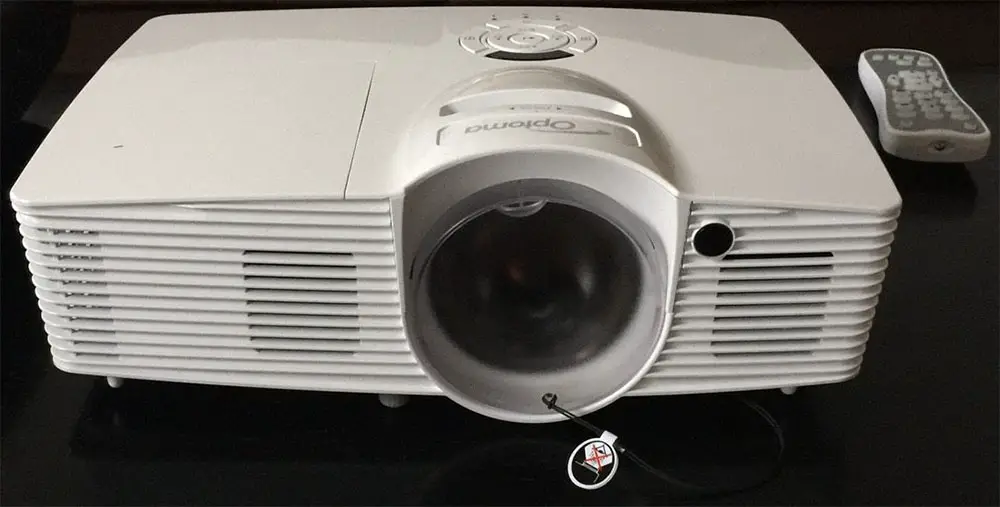 Video Quality
The Optoma GT1080Darbee is a native Full HD 1080p projector and while 4K UHD is hot right now with most manufacturers trying to push the new format into mainstream, 1080p resolution can be more than enough for a lot of people. And if you consider that this projector is mostly targeting an audience that will be using it primarily for gaming but also for viewing movies then it becomes apparent that the intention was not to offer the maximum resolution possible but to create a projector that can fill specific needs.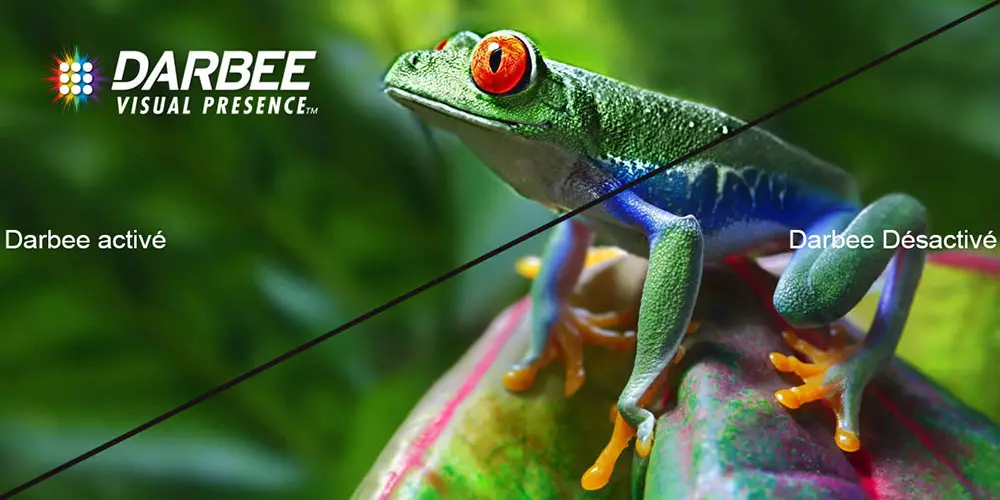 With a theoretical brightness of 3000 Lumens this projector may not be the brightest we have seen but definitely is one of the brighter ones and although it will be definitely better if you are using it in a low light environment it will have no problem using it during the day or with the lights on. It also sports a very good 28,000:1 contrast ratio.
The projector has different modes you can use depending on the situation but from our testing there are two you should be using the most and these are the Reference and Game modes. These two modes give you the most balanced settings in order to achieve the best possible outcome between brightness, image quality, color presentation and input lag. In both cases the projector has a feature called Dynamic Black and this should always be turned on in order for the image not to loose detail where dark colors and shadows are as the projector continually adjusts lamp output depending on the needs of the image being shown.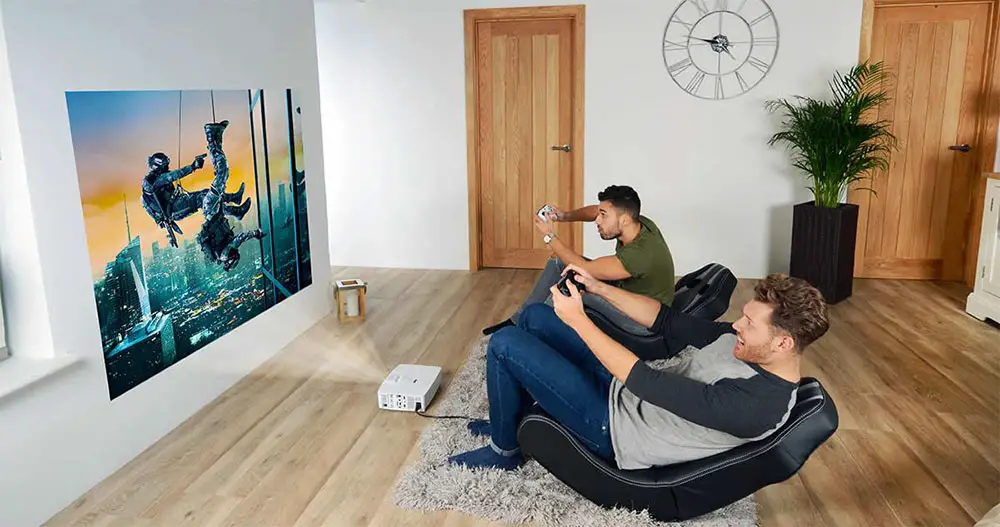 The Reference mode is trying to create accurate color reproduction in order to present the image as it should be. This is good mostly for movies while for your gaming sessions we would suggest the Game mode that boosts contrast and colors while delivering a very low input lag measured around 16ms that is ideal for playing video games online.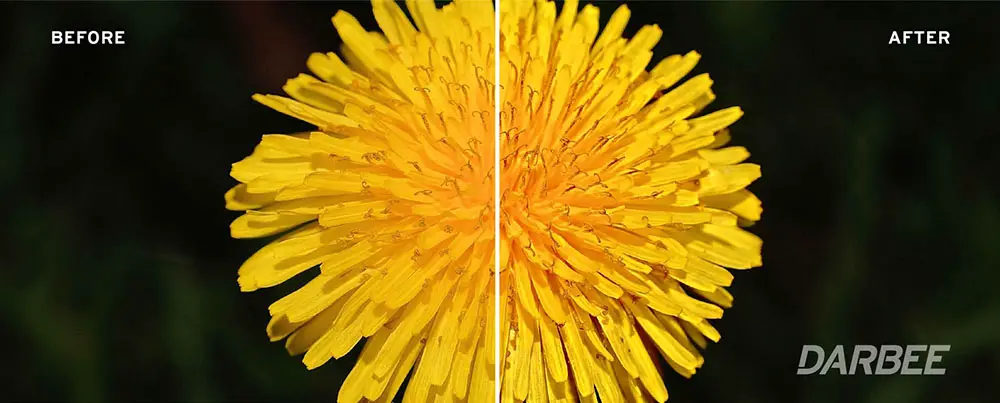 In total I would have to say that the image quality being offered is very good for the price the projector is selling. Offering two different modes among a few others that boost different strengths of the projector is a plus with Game and Reference modes being the ones we used the most offering good color reproduction, good detail and enough brightness for movies while also offering low input lag that is a must for most gamers.
Inputs
Optoma has equipped the GT1080Darbee with all the essential connections needed so let's see what is on offer. There are two HDMI ports here with both of them being version 1.4a. As there is no 4K resolution there is no need for HDMI 2.0 here so 1.4 is more than enough to support FullHD 1080p resolution with 3D support. One of the HDMI ports also supports MHL meaning you can connect other MHL enabled devices to this port.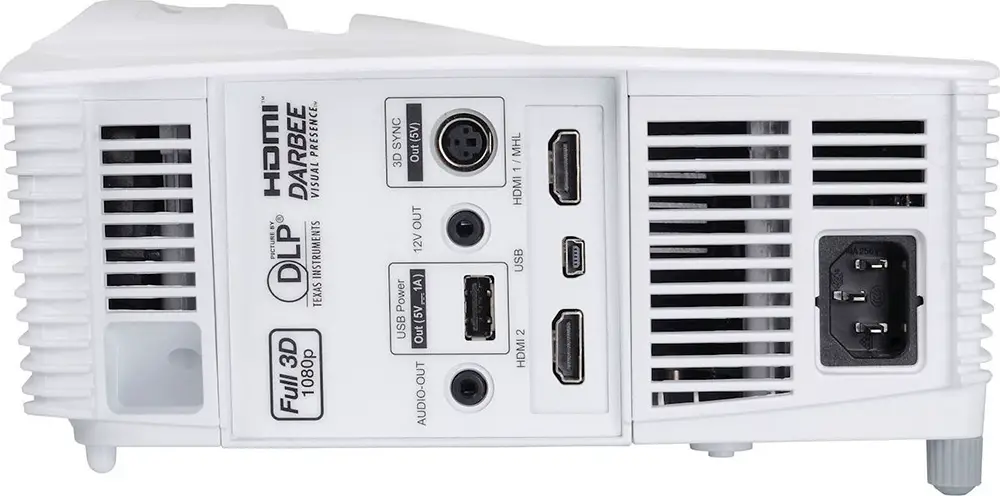 As for the rest we get two USB ports, one standard and one mini-USB. The standard one is only to provide power to devices like streaming sticks while the mini-USB you can use to connect external storage like hard drives and memory sticks. The decision to use a mini-USB instead of a classic one is a bit puzzling but with a simple adapter you can connect any kind of external storage you want.
Being a 3D projector there is also a 3D sync port where you can connect your active 3D glasses if this is your preferred 3D method used. Also you will find a 3.5mm analogue stereo port as well as a 12V output. And that's all for the connections. You may not be getting lots and lots of ports but you get what is essential and that is what matters.
OS, Apps and Features
The projector is equipped with a short throw lens which means that you can place it near the projection wall and still get a big projection image. The short throw ratio is at 0.49:1 meaning that if you place the projector 0.49 meters away from the wall you get a one meter image from corner to corner. Being a gaming projector this is very good as you don't need large space in order to get a good sizable image.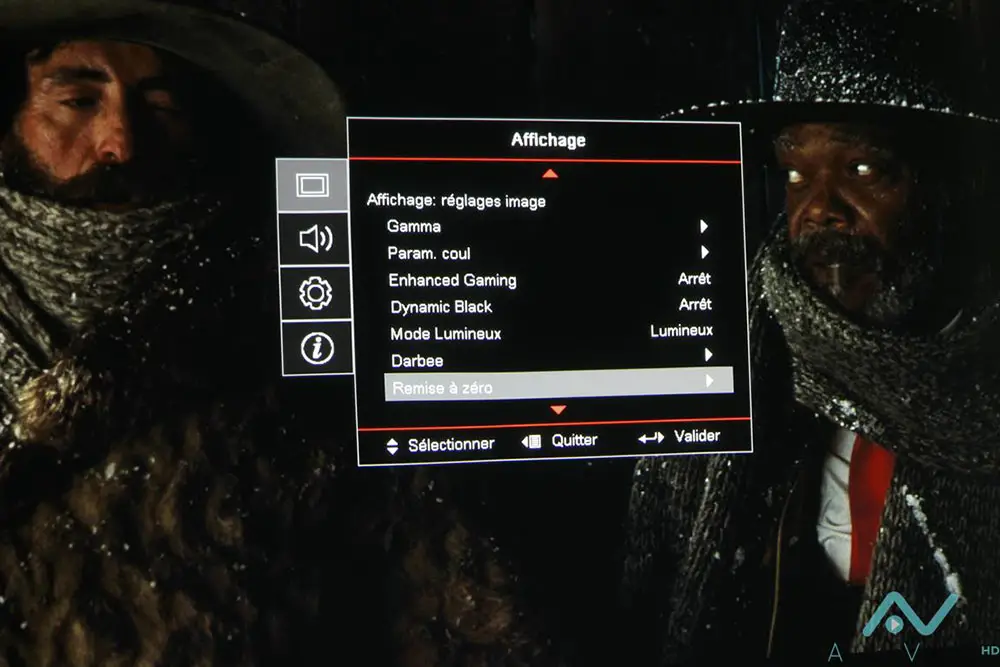 Another feature that Optoma is marketing very much with this projector is it's Darbee processing. The marketing mumbling can be very confusing for most but in plain words what it does is to sharpen the image and boost the contrast. As a result it makes the images more vivid and like having more depth. In some situations the result was very good while in others not so much. In the end it is up to you to decide if you like the processing that is being done and if you want to use it but in most cases it definitely improves the image.
The GT1080Darbee is also equipped with a lot of settings for color management as well as gamma options and this will please a lot those that are more experienced and want to dive deeper into it's calibration.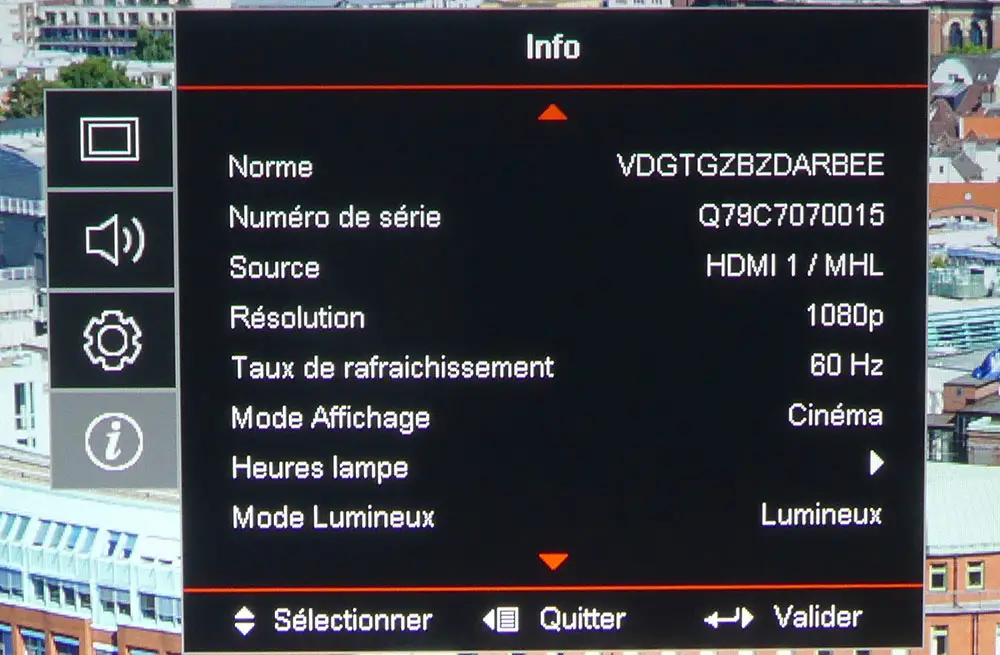 Unfortunately one feature missing is optical zoom and as a result in order to change the image size it means you have to move the projector closer or further away from the wall. As for physical aids what we get is a focus slider on top of the projector as well as screw legs in each corner in order to calibrate the viewing angle.
As for the sound you have two options. You can either use the audio out port to drive the sound to an external system or use the built in 16W speaker. Don't expect this speaker to offer much of a performance so if you are serious about the sound reproduction then we would suggest to use a dedicated sound system for that.

As for the remote of the projector what is on offer is pretty good and although it may not impress you it gets the job done by good button placement and ease of use. The addition of backlight buttons is definitely a plus and it is a pleasant addition for a projector in this price range. Backlight can definitely help when you are in the low light room and struggle to find the correct button to push.
Final Thoughts
The Optoma GT1080Darbee is a lovely projector that offers a lot without asking for much. Having good color reproduction and offering a very good overall image quality in addition to low input lag for a projector, is it's biggest strength. In addition to it's short throw lens that enables it to be placed even in small rooms with limited space near the projection wall and adequate number of ports, the projector offers everything you will need for your viewing pleasure. Add to this the very good price and we have a winner here.
But what about it's low points? The most obvious one is that there is no support for 4K resolution limiting a little how much it can last in the future now that publishers are aggressively pushing more and more 4K content. Also black levels could be better although in this price range you cannot ask for much more. Lastly it lacks optical zoom or optical image-shifting capabilities meaning you have to move the projector relatively to the screen to adjust the image size.
If 4K is of no concern to you and you would like to have a projector both for movies and video games then the Optoma GT1080Darbee is one of the best projectors you can go for. Optoma has given the projector a price that is certainly tempting and in the end this is what matters. Good capabilities with good price is what everyone is looking for and the Optoma one is delivering on that.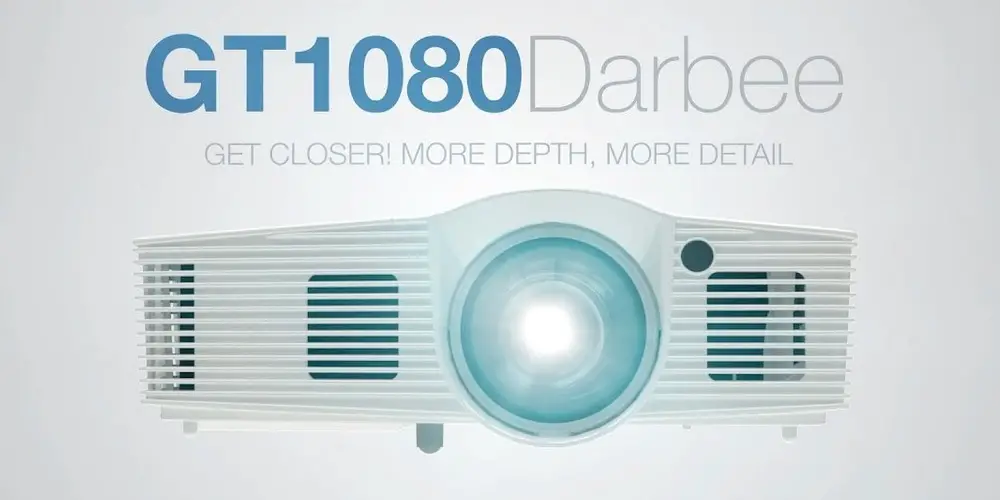 For more reviews you can check our dedicated Full HD Projector reviews list or even look at our Product Reviews Table where you can find the brand and specific product you are looking for.
Also don't lose the chance to subscribe to our Newsletter and gain exclusive privileges.
---
Cheapest Places to Buy :
---
Specifications
Projection System:

Single 0.65" DarkChip 3 1080p DLP® Technology by Texas Instruments

Brightness (Bright mode):

3000 ANSI Lumens

Aspect Ratio:

16:9 Native, 4:3 Compatible



Native Resolution:

1080p 1920 x 1080

, Projected Output: SD, HD, 2D, 3D, 1080p
Video Compatibility:

480i/p, 576i/p, 720p(50/60Hz), 1080i(50/60Hz), 1080p(50/60Hz)



Computer Compatibility:

UXGA, SXGA, WXGA, HD, XGA, SVGA, VGA, Mac

Displayable Colors:

1073.4 Million



Lamp Type:

195W



Lamp Life:

8000 (Dynamic) /6000 (Eco) /5000 (Bright) (hrs)



Throw Ratio Range:

0.49:1



Size – projected distance:

1.15 – 7.67m (45.3″ – 300″) Diagonal 16:9



Keystone Correction:

± 40° Vertical



Contrast Ratio:

28,000:1

Zoom Type: Fixed
Uniformity:

80%



Projection Lens:

F/2.8; f=7.42mm



3D Compatibility:

Side-by-Side:1080i50 / 60, 720p50 / 60

Frame-pack: 1080p24, 720p50 / 60

Over-Under: 1080p24, 720p50 / 60

Input Lag:

16

ms

Horizontal Scan Rate

:

15.375~91.146 KHz

Vertical Scan Rate

:

24 ~ 85Hz (120Hz for 3D)

Dimensions (W x D x H)

:

315mm x 224mm x 114mm

Weight:

2.66

Kg


Noise Level (Eco mode)

: 26dB
Security:

Security bar, Kensington lock, password protection



Operating Temperature:

5°C – 40°C, Max. Humidity 85%, Max. Altitude 3000m




Power Consumption

:

225W Bright mode / 187W Eco mode (< 0.5W Standby)

I/O Connectors:

2 x HDMI (1.4a 3D support) + MHL v1.2, Audio Out 3.5mm, 12V trigger, 3D-Sync, USB-A Power (1A), USB service