---
Cheapest Places to Buy :
---
With 4K UHD it seemed that projectors were late to the party as it took a while to get some of them that could actually display 4K resolution with HDR. But even when they appeared their prices were far beyond what most people could afford. With more and more models coming out to support the new format prices are going down and nowadays some of them have seen their prices to be on par with 4K TVs.
Optoma is a traditional brand in projectors and as such could not stay away from introducing models that would support the new format. Today we will be reviewing one of them and more specific the Optoma UHD60. Are you considering a new projector for your home theater? Then read on to find out if this is worth it.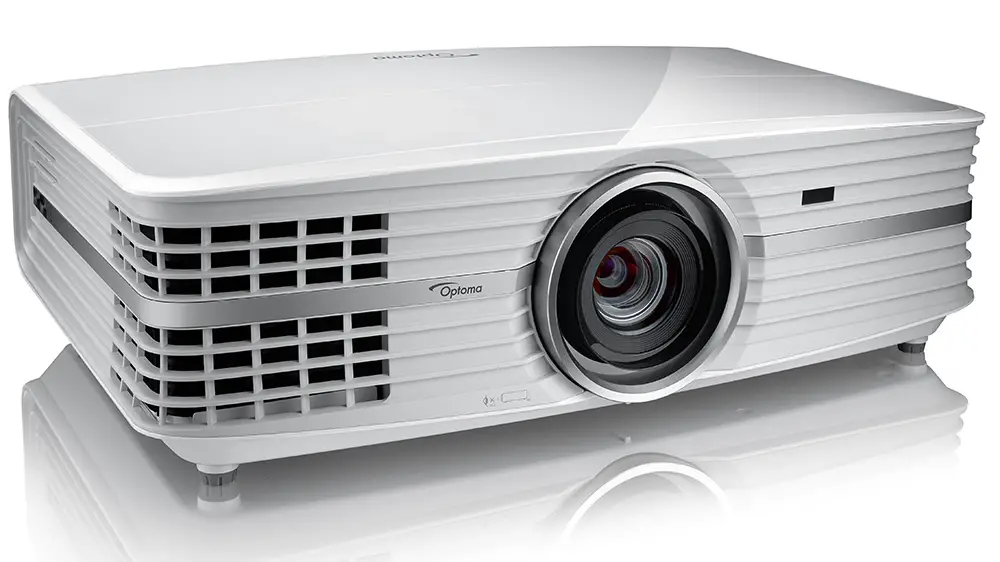 Design
The Optoma UHD60 measures at W490 x H141 x D331mm making it a relatively large projector compared to the average size of home theater projectors. I guess that if you are considering a projector this means you have a rather large room but nevertheless the projector takes a lot of space and looks rather bulky, something you should be aware of.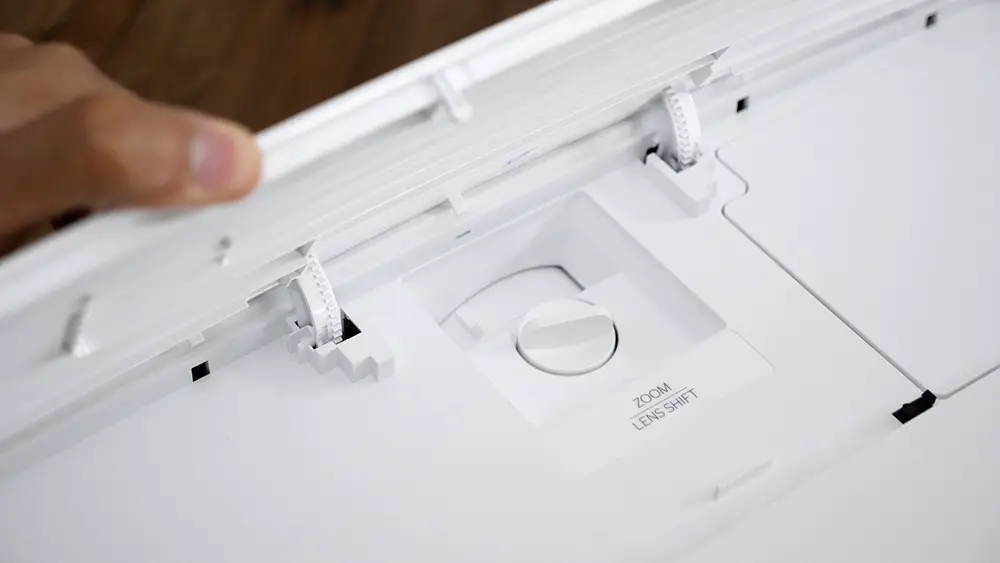 It's lens is positioned at the center and this gives it a certain symmetry that I like. Everything else is pretty much standard with some nice touches as the silver trim that makes it look good. All the connections are in the back and we get some control buttons on one side. The cover is in white plastic and although it looks good quality it could be a bit better but I don't have any big complaints.
In all I like how this projector looks. What it looses in size gains in looks without offering something spectacular. If they could reduce the size it would be perfect but I guess building a 4K projector in smaller size is a challenge for the moment. Hopefully in the future we will see reduced sizes with the same specifications.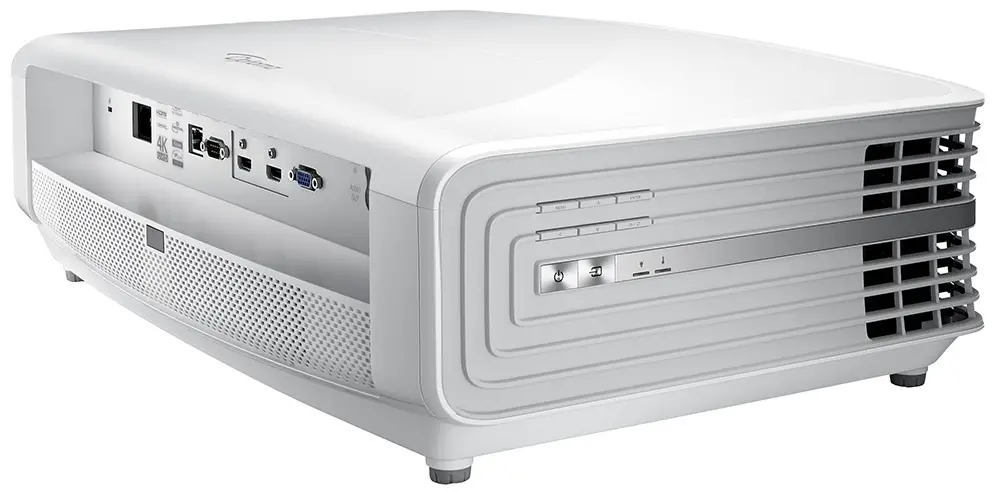 Video Quality
The projector's key features are it's 4K resolution capability, it's support for HDR plus it's high brightness of 3000 ANSI Lumens and all these offered in an aggressively low price. If you add to these the claimed dynamic contrast ration of 1,000,000:1 then you understand that Optoma is taking the HDR capabilities of the UHD60 very seriously. Of course these measurements are all in theory and can never be reached in real world situations but they give you an indication of the capabilities of such a low priced 4K projector. As for the HDR format the projector only supports the HDR10 standard. No Dolby Vision or HLG support but given the price any kind of HDR is more than welcome.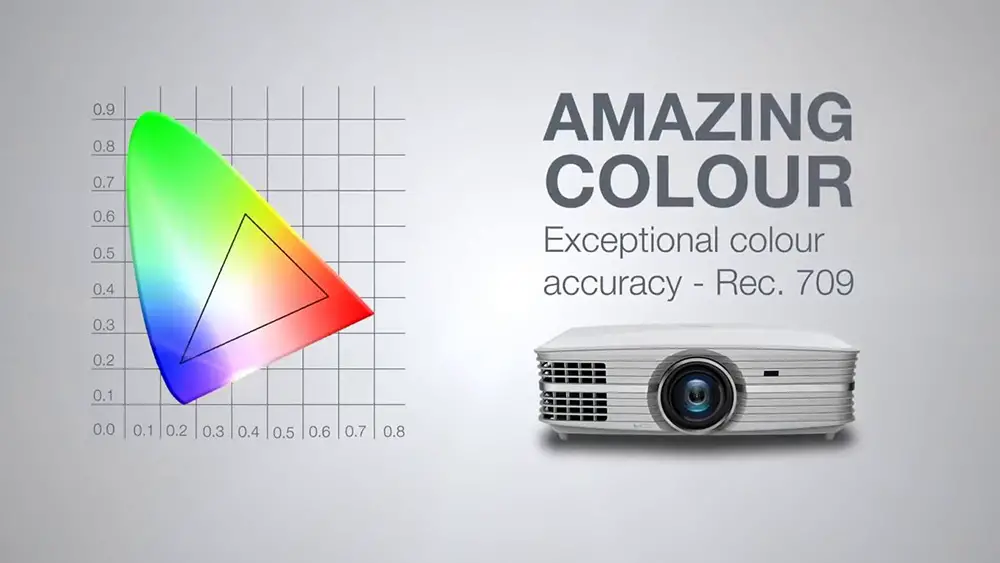 The projector is equipped with a single 0.66″ DLP chip from Texas Instruments and although in theory it's not pure 4K resolution with 3840 X 2160 count of pixels, by using a combination of advanced processing and fast switching speed of DLP's Digital Mirror Device does the trick of offering a 4K picture. But don't be alarmed by this as the projector's output certainly looks like 4K and this approach has also been certified as the real deal by the independent Consumer Technology Association (CTA).
By testing a 4K UHD Blu Ray what immediately hits you is the incredible sharpness and clarity of the picture that really looks like a true 4K image. The amount of detail and pixel count is higher than anything you would see on a standard Full HD 1080p projector as well as some pseudo 4K projectors. I can say with certainty that the quality is up there with some Sony 4K projectors and this means a lot considering we are talking about a $2,ooo projector.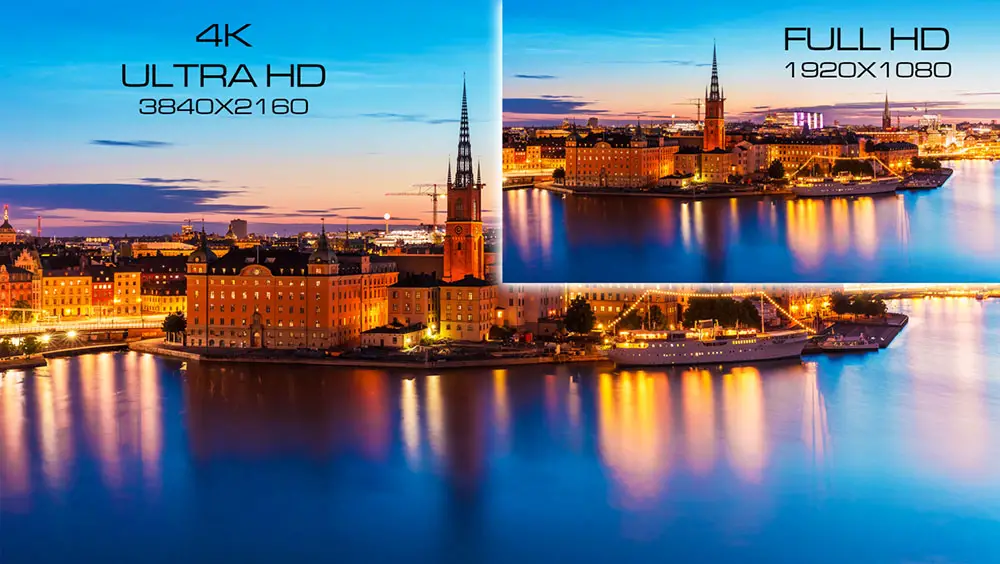 After the exceptional sharpness the next thing you pay attention to is the great HDR it produces giving the image a natural almost 3 dimensional feel. But even if Optoma is claiming 3000 Lumens this is not enough to produce the same dynamic effect some of the high end TV sets are producing. And also consider that this is a theoretical number that is never achieved in real. But nevertheless colors are vibrant and rich in saturation giving a beautiful result.
The projector also claims to offer SDR to HDR conversion which in all honesty is not very good and should be avoided. Color saturation goes over the roof and dark scenes loose all of their fine detail resulting in an ugly image. It's good that they offer such a feature but the result is disappointing. Another feature is HD to 4K upscaling and here the projector is doing a great job in adding the extra detail needed without creating any major color errors or distracting noise. Lastly input lag is measured around 50ms using the Game preset which is good but if you are a serious gamer it can be a bit of a problem.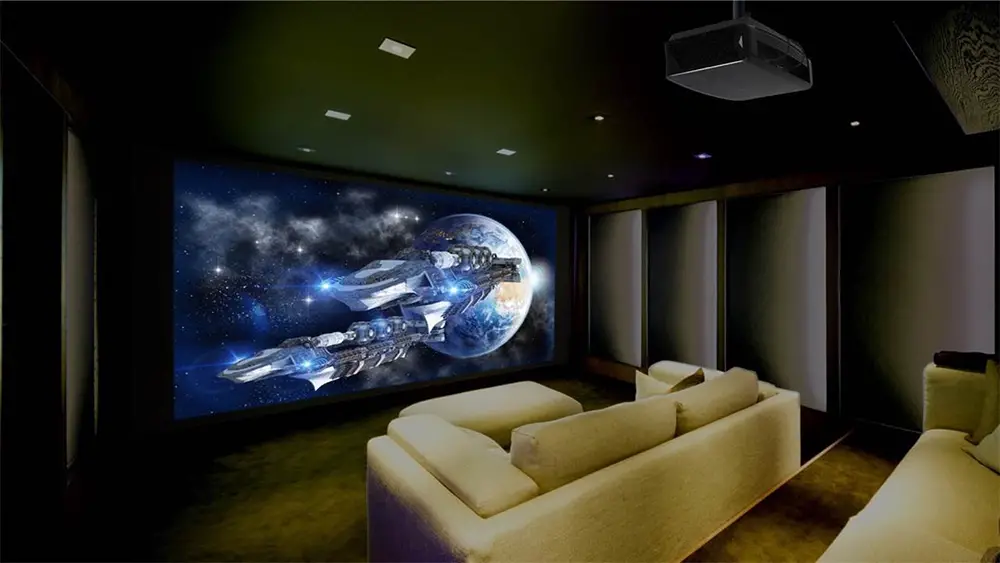 UHD60's capabilities may not be the best of the best but when you consider it's price and start looking what else is there at this level then you realise it's difficult to find anything else so good with the same specifications. Optoma has really created a bargain projector and one you should really pay attention to if you want a good quality projector but you are on a limited budget.
Inputs
You get a fairly decent amount of connections all positioned in the back of the projector. You get 2 HDMI inputs, one HDMI 2.0 and one HDMI 1.4 so for 4K you can use only one of them. You also get a VGA port for pc connection, and audio out minijack if you want to use the projector's audio system plus an audio in minijack, an Ethernet port for wired internet connection, an RS232 port, dual USB ports for connecting external storage, a 12V trigger port and last but not least a digital output port.
In general I would say that the Optoma UHD60 offers a good amount of connections that would leave most people satisfied.

OS, Apps and Features
The projector offers a wide variety of both physical and menu aids to help the user adjust the image to their needs. As far as the menu is concerned it offers everything from color and white balance to gamma presets. Dynamic Black helps keep the contrast performance at good levels. The Bright Lamp setting should be active with HDR while the Ultra Detail sharpness booster shoold be kept to as low as possible to avoid excess image noise. Make sure you use the HDR setting to be auto activated with HDR content and better use the cinema preset for SDR. Also the projector has an Eco mode but it is advisable to avoid it as it makes the image luminance unstable.
As for physical aids the Optoma UHD60 offers a wheel for optically shifting the image vertically which is hidden under a lift up panel. Also under the panel you will find a zoom ring for controlling the 1.6X zoom the projector offers. Finally there is a focus ring in the front of the lens.

The projector has a fairly simple remote control with all the basic functions plus a backlight. Although I find the backlight feature a must for today's remote controls this one was a bit too bright for my liking and I could admit it is borderline blinding especially if you are sitting in a completely dark room. The buttons on the other hand are big enough with enough space between them and you can find everything you will need.
The projector is fairly quiet with the exhaust port and heat dissipation not being a major problem which gives you the ability to place it on a low table between the viewing seats, but make sure you leave enough space around it to breath freely. In this case always remember that the lower part of the image will be at the height of the projector lens so if you aim for a 120″ image you don't want to place it too high.
Final Thoughts
The Optoma UHD60 signals the beginning of a new generation of DLP projectors that offer both 4K resolution with HDR and also being affordable in price. If you are a home cinema fan and would love to get a future proof projector right now then I cannot suggest anything better than this, in this price range.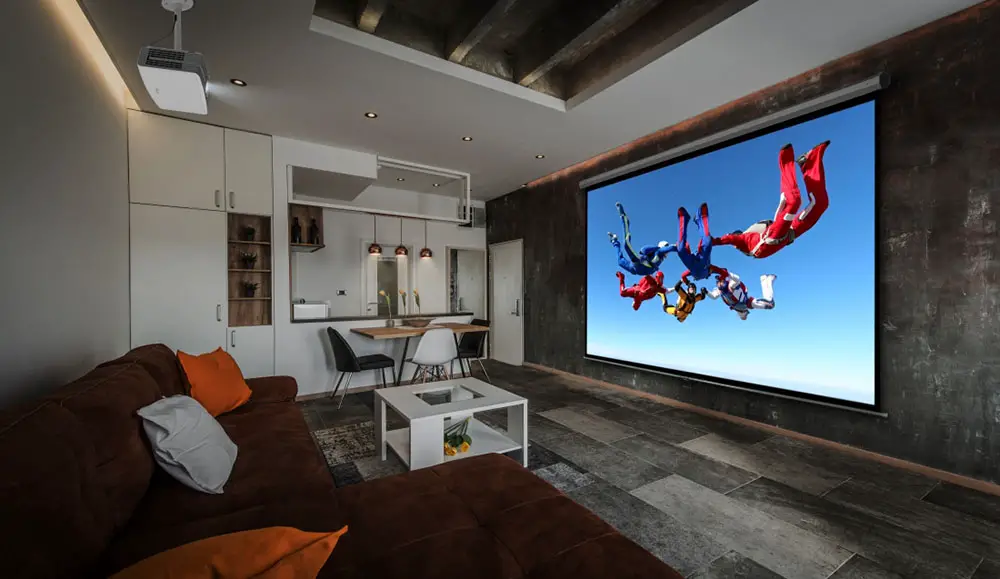 There are better projectors truth to be told but their price is far beyond what you need to give for the Optoma. Up until now there was no projector that could offer the whole package and be affordable in price. The Optoma UHD60 came to change all this and for that I could not be more happy and excited. Amazing times are ahead of us and what we will be seeing in the future. Until then the Optoma UHD60 is here to stay. Highly recommended.
For more reviews you can check our dedicated 4K Projector reviews list or even look at our Product Reviews Table where you can find the brand and specific product you are looking for.
Also don't lose the chance to subscribe to our Newsletter and gain exclusive privileges.
---
Cheapest Places to Buy :
---
Specifications
Native resolution: 4K
Discrete pixels on chip: 2,716×1,528
HDR-compatible: Yes
Lumens spec: 3,000
Zoom: Manual (1.6x)
Lens shift: Vertical
3D-compatible: No
Lamp life (Bright mode): 4,000 hours
INPUTS : HDMI X2, PC input, USB X2, Audio input and output, Digital audio output, LAN port, 12v trigger, RS-232 remote port
MHL: Yes
Remote: Backlit