---
Cheapest Places to Buy :
---
Hours before the D-day landing a small group of American paratroopers are dropped behind enemy lines to carry out a crucial mission only to find that Nazis is not the worst thing they could expect.
Plot
*Be aware of spoilers*
A group of American paratroopers is dropped behind enemy lines hours before D-day with a mission to destroy a radio tower in a small French village that is used for communication between the Normandy beaches and Berlin. During the operation a lot of airplanes are shot down and many soldiers die either by intense anti-aircraft fire or from the Nazi patrols when they land.
With a small group of soldiers surviving the landing consisting of Corporal Ford, sniper Tibbet, war photographer Chase and Privates Dawson and Boyce they proceed to the village in order to complete their mission where they meet Chloe, a villager that helps them get to the tower.
Things get complicated when private Boyce gets into the catacombs below the radio tower, by accident, only to find that the Nazis conduct experiments with human beings that could turn the tide of the war for the Germans. Now as time is running out in order to complete their mission before the Normandy landings, the small band of soldiers not only have to fight the German soldiers but also the results of their experiments in order to turn the place into ruins and stop Nazis plans for world domination.
Directed by
Julius Avery
Produced by
J. J. Abrams
Lindsey Weber
Screenplay by
Billy Ray
Mark L. Smith
Story by
Billy Ray
Production Company
Paramount Pictures
Bad Robot Productions
Distributed by
Paramount Pictures
Starring
Jovan Adepo
Wyatt Russell
Mathilde Ollivier
John Magaro
Gianny Taufer
Pilou Asbæk
Bokeem Woodbine
Running time
110 minutes
Author's review
Hollywood usually plays it safe when it comes to specific genres by either producing sequels of already successful franchises or making films that follow specific successful patterns. This has resulted in a stagnation of new ideas as we are bombarded with specific content with studios playing it more safe than ever. And as good as the next Marvel film may be, who is not tired of seeing the world being saved over and over again by superheroes and after 20 features film, although the quality of each one of them remains at all times high, we are accustomed in seeing similarly themed films repeating themselves.
Here comes J.J. Abrams, the mastermind behind the successful restart of franchises like Mission Impossible, Star trek and Star Wars as well as the creator of the series Lost, with his war-themed "Overlord". But on the contrary to most war films this one comes with a twist, and what a twist it is. The film may appear as war-themed evolving around the events before the D-day landing with the drop of several thousand paratroopers behind enemy lines that would help with the beach invasion but this seems to only be the vehicle that drives the real story behind it.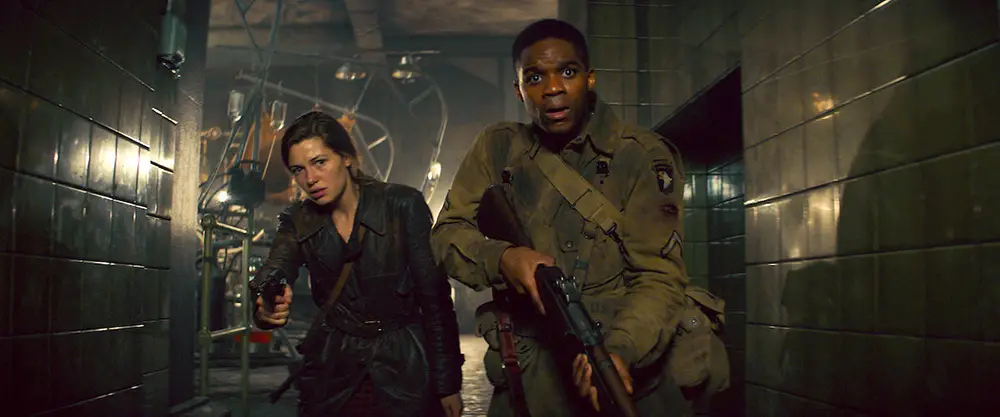 J.J. Abrams is an expert when it comes to creating intriguing stories and as such he used a real historical event to tell his fictional story. And although this is not the first time we see something similar as another war-themed filmed namely Saving Private Ryan used the same technique it's the first time we see such a film featuring a post-apocalyptic, zombie-themed story. World War 2 with zombies and Nazi experiments sounds like a story that came straight out of a comic book or a video game and although this marriage of completely different set pieces is something you would expect to see in a straight-to-video film, J.J. Abrams created a first rate feature film production.
What we liked in this film is that Overlord doesn't try to change historical events. In reality it presents a story that could very well be true as the general setting is very confined and it ends in a way that doesn't interfere with the real events during the landing of the allied forces. This way the film makers created a story that although completely fictional, due to it's core elements, could remain a real possibility making it even more interesting resulting in a "what if" scenario.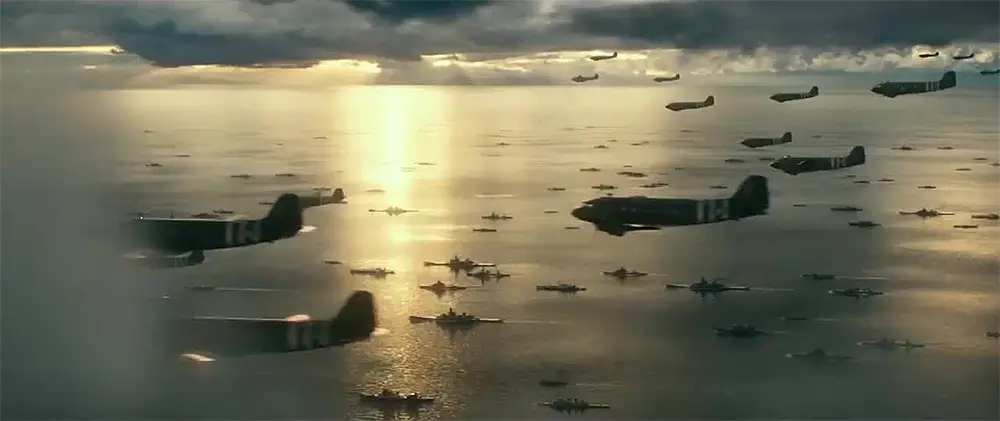 Merging 2 different genres is not an easy thing and could result in very unsatisfactory results. Creating a World War 2 era film that includes zombies is very well a recipe for disaster or the very least, disappointment. But Abrams managed to create a story that really brings everything together nicely and fits nicely in the grand scheme of things. And while the film was directed by the relatively unknown Julius Avery, he managed to give the film a very visual and visceral look.
The film may take place in a confined area, as the story takes place in a small Nazi occupied village and it's surroundings, but production values remain high. Of course the opening scene with the paratroopers landing remain the highlight of the film with all the mayhem that happens until the soldiers touch the ground but as the story progresses we were pleased to see a certain attention to detail that elevates the quality of such a film. Soldier's uniforms looked realistic, weaponry the same, the settings in and around the village as well as in the underground catacombs were very detailed and in general every frame was thoroughly detailed in order to give a very believable result.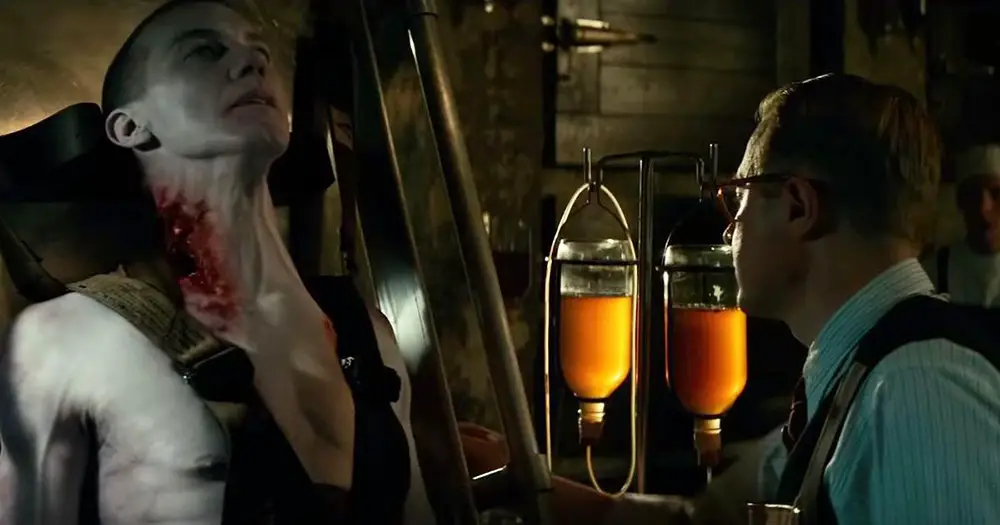 Acting was more or less good with the actors making good use of the lines they had to work with. And although the film was not featuring any particularly known actor as the lead we believe the ones chosen to represent the small band of soldiers fit their roles perfectly.
Running just a few minutes under 2 hours Overlord has it's ups and downs when it comes to how the action and story unfolds. Obviously with the initial paratroopers landing the film start with a bang but as soon as this ends scenes move at a much slower speed until we are introduced to the real meat of the story. There are a few scenes that really drag for too long making the film slow down a lot and should be avoided as they offer nothing in return but once the action starts we gain interest immediately.
Technically we found Overlord to tick all the right boxes. Obviously such a film would make use of both practical and CGI effects but transition between the two is done seamlessly with the computer generated effects being rather good and realistic while it's desaturated look with greens, browns and greys taking center stage and provide the image with the necessary distinctive look of that era.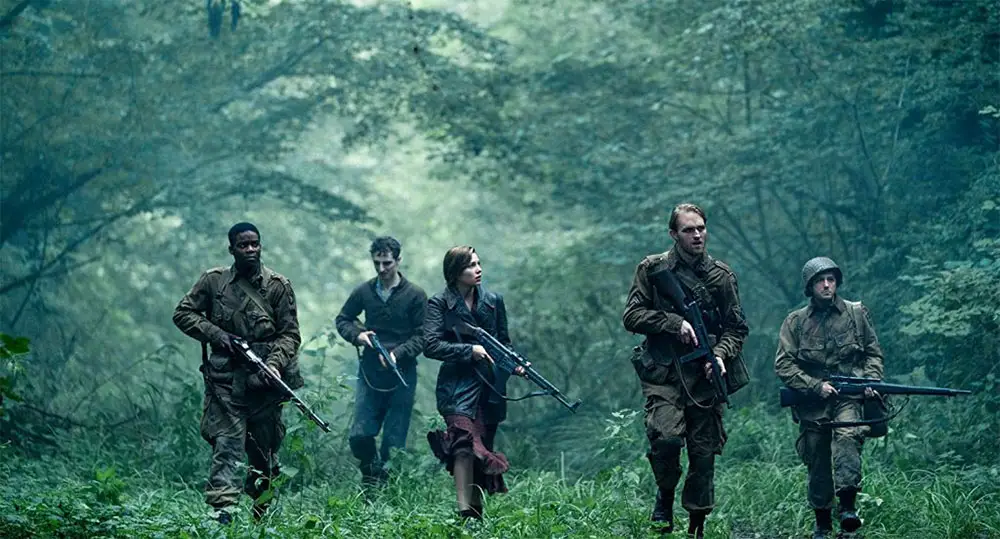 The accompanying audio track is an excellent blend of sound effects, ambient environmental sounds, dialogue and music that really elevates the essence of what we see on screen and makes the impact even more intense. During the opening scene you could hear every small metal crackling and engine humming while soldiers are talking trying to relieve the pressure while during the catacombs scenes eerie sounds and ambient screams create a nightmarish scenery.
Closing we have to admit that we were pleasantly surprised by what Avery and J.J. Abrams created. The film may not be destined for the Academy Awards but everything, from production values, settings, acting, attention to detail, visual effects, CGI, audio and story come together nicely creating an overall visceral and interesting experience that is very characteristic of J.J. Abrams style making Overlord an interesting experience that can offer 2 hours of cinematic entertainment.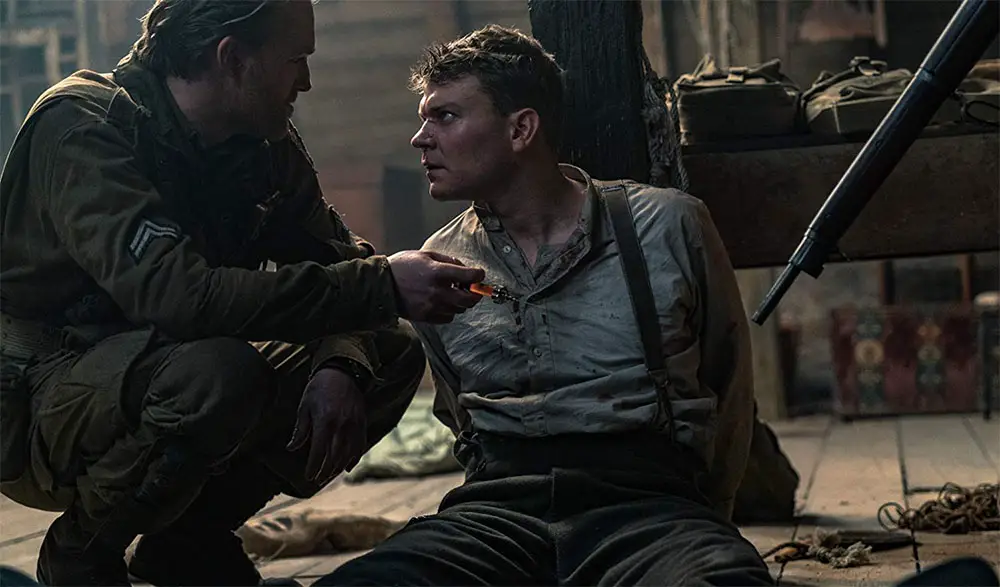 Overlord bites into 4K UHD home media with a 2160p resolution, HEVC / H.265 encode coming from Paramount Pictures having a 2.40:1 aspect ratio and coming with not only HDR10 but also Dolby Vision. Several sources indicate that the film was shot in sub-4K resolutions which means that this UHD release is probably a 4K upscale but a good one we can admit. The film in general is dark while the color palette used is mostly comprised of green, brown and grey variations giving an intentional monotonous feeling very suitable of that era. The 4K transfer offer very good sharpness and as a result details on soldiers uniforms with clothes textures and wounds become more clear.
As we said the film may be dark and use a limited color variation but HDR helps to enhance certain elements in order to provide a more dynamic and 3 dimensional picture. Highlights from the soldiers flashlights become more intense while blood has a very intense red color that breaks the monotony of browns and greens. When Chloe is using the flamethrower the splashes of fire provide an intense mixture of red and yellows that really pop giving it more volume.
The UHD release comes with a Dolby Atmos track that is energetic and dynamic that fits exactly the style and mood of such a film. The opening sequence with the paratroopers landing is probably one of the most impressive war scenes we have seen so far. From the opening with the paratroopers sitting inside the plane with metal crackling and motor engines humming to the moment that anti-air fire rips the plane in two and Flak explosions create a death scene with burning airplanes and bodies falling of the sky the Atmos track grabs you from the face and doesn't let you until it's all over. On the ground we get very good surround effects both in the forest and during the catacombs scenes with ample of ambient sounds creating an eerie atmosphere. The height speakers don't get very much into action but they also help to create a more expansive and immersive bubble all around us.
In total the 4K UHD release has a very nice picture with good sharpness, nice even if limited colors, great HDR that really elevates the overall quality and a Dolby Atmos track that is impressive following the actual events on screen. Improvements over the Blu-ray version are visible even if not huge so if you are looking for the best version of the film then the 4K disc is the way to go.
Movie Rating :





4K UHD Rating :





If you liked this review you can check more of our movies reviews in our dedicated section. Also don't lose the chance to subscribe to our Newsletter and gain exclusive privileges.
---
Photos
---
Cheapest Places to Buy :