Paradigm Monitor SE 6000F
Design -

89%

Movies Performance -

92%

Music Performance -

92%

Inputs and Features -

95%

Price / Quality -

95%
---
Cheapest Places to Buy :

---
Finding some good quality floortanding speakers without braking the bank seems to be an aim for many home theater fans that want to build a good quality audio system while keeping their budget at logical levels. We are seeing a lot of floorstanders lately being offered at crazy low prices and while they may not be able to offer exactly the same quality as some more premium models they put a lot of pressure on manufacturers to offer quality at lower prices.
It seems that for many consumers the sweet spot is between $1K and $2K that's why we see a lot of models appearing in this range as manufacturers are able to offer good performance at very affordable prices making competition very fierce which is only good for the consumer. Today we have the pleasure to test a pair of speakers from Paradigm, the Canadian company that is well established in the home theater speakers segment and known among music and home theater audiophiles for their excellent performing speakers over the years.
The Monitors SE 6000F are sub $1K speakers with each pair currently costing $899 which makes them extremely affordable so what remains to be seen is if at this price the Monitors can offer the kind of performance that Paradigm is so famous of. With the 6000F being at the top of their entry-level series expectations are high so without further delay we start our Paradigm Monitor SE 6000F review to find out what these lovely looking speakers can do.

Design, Inputs and Features
Exterior
The Paradigm Monitor SE 6000F cabinet measures 41.25" x 9" x 14.125" (105cm x 23cm x 36cm) and has a weight of 44lb (19.9kg) while it comes with pre-attached plastic feet which accommodate the screw-type spikes as well as rubber pads. And while the feet provide the necessary stability we would prefer some sort of metal or aluminium type stand to make it look more premium as we have seen many speakers in this range to do that. At least the screw-type spikes give you the necessary freedom to balance the speakers correctly.
Coming in only two colors with matte black and gloss white available the Monitors are some lovely looking speakers with the front face almost completely covered by the grille that is attached to sockets at the front baffle. We would like some magnetic grilles as most likely you will want to use the speakers without them making the sockets visible but we cannot complain much in this price. At the bottom of the grille the Paradigm logo appears prominent while the rest of the design features sharp lines that give them an nice overall look.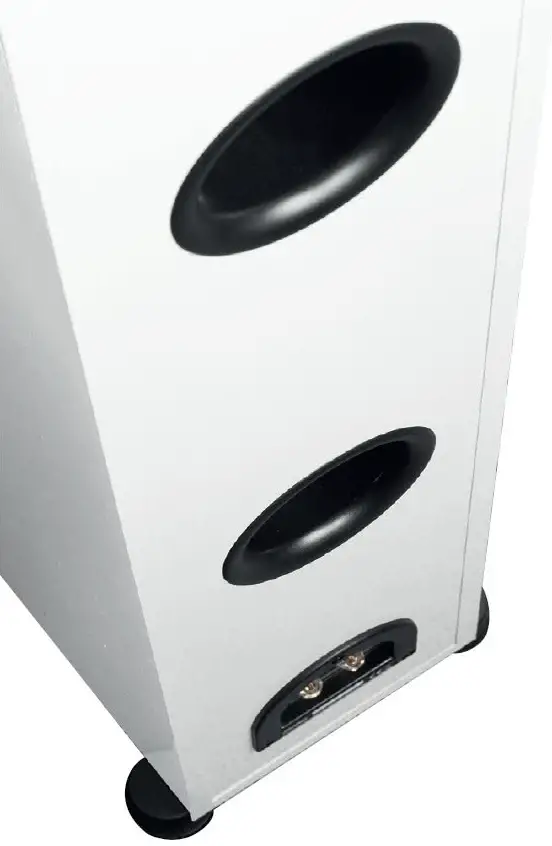 At the back of the cabinet we find dual bass ports while an inset at the very bottom provide the necessary wire connectors. In total we like how the speakers look. Their sharp corners and strong lines give them a strong stature while build quality is very good even for their price. We have a small objection about the plastic feet but we can live with that.
Internal Hardware
These are 3-way, bass reflex speakers and removing the full frontal grille we are greeted by a total of five drivers which is a rather impressive sight. These include one 5.5" (140mm) mid-range driver which is accompanied by another three 5.5" (140mm) bass drivers with all of them featuring mineral-filled polypropylene cones, inverted dust caps and downroll surrounds which give them a low-profile look.
As for the tweeter the 6000F is equipped with a 1" (25mm) high frequency driver that uses Paradigm's X-PAL Pure-Aluminum, ferro-fluid damped and cooled dome that sits behind a perforated phase-aligning (PPA) lens which is serious stuff in this price.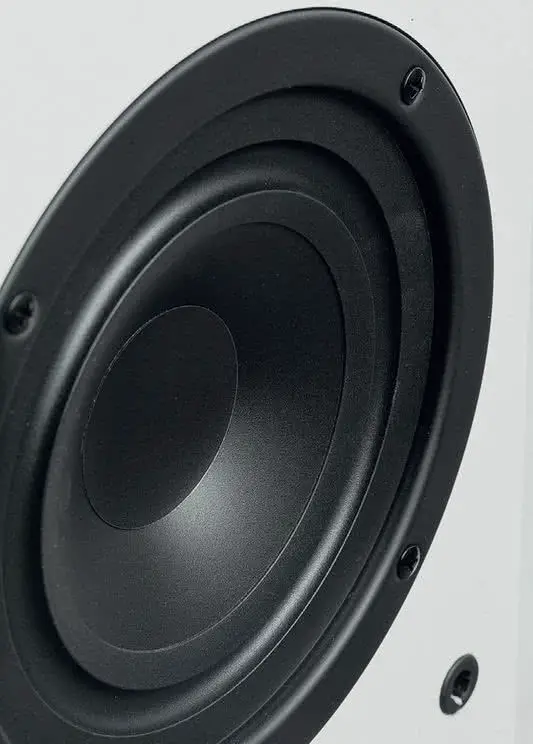 With this five driver setup crossover between mid-range and tweeter drivers is set at 3.0 kHz while between the woofers and the mid-range driver at 800 Hz. The combination of the five drivers setup give the Monitors a frequency range of 53Hz – 21kHz on axis, a rocking 93 dB of sensitivity and 8 ohms of impedance.
Considering the price Paradigm seems to have done a great job with providing the Monitors with the necessary drivers to able to deliver accordingly so it only remains to be seen if they can deliver as good as they look.
Connectivity
As we mentioned above at the bottom end of the back face we find a special inset that house the wire connectors with a pair of five-way binding posts that you can connect either bare wires or special banana plugs. These are gold plated with good quality plastic for tight connections.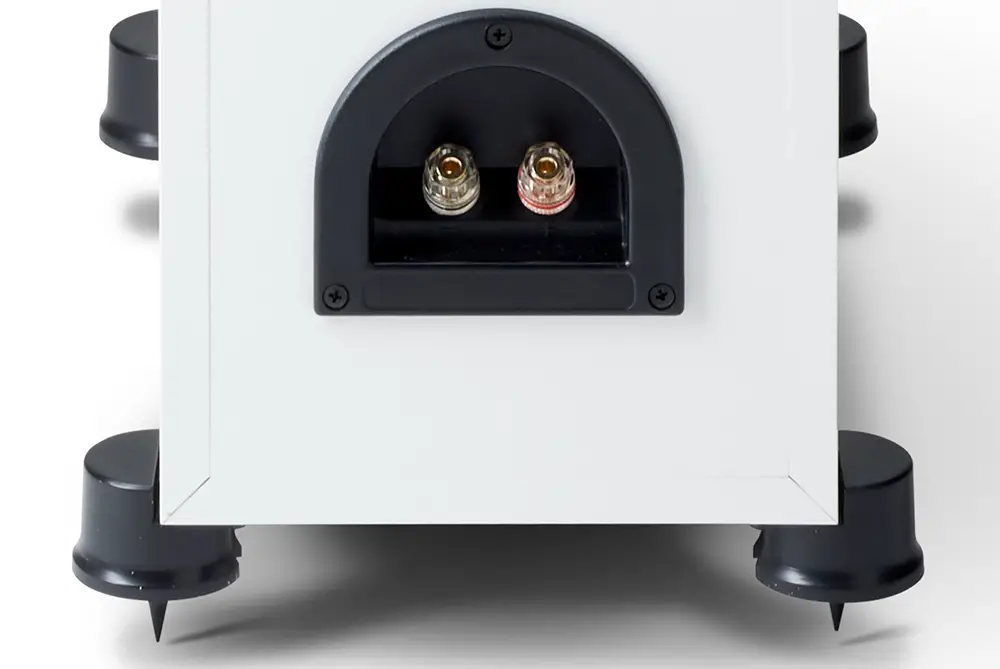 Performance
Paradigm suggests to place the speakers a minimum distance of 20 cm from the back wall in order to improve the overall bass performance since bass ports are rear facing. As we usually do with most of our floorstander tests we placed them 30cm away from the wall while we also let them run for a few good hours as all new speakers need a certain break-in period in order to perform better.
Speaker placement is not as crystal clear so you always have to move them a bit around until you get an acoustic result that satisfy you personally. After making all necessary connections to our AV receiver and balance calibrations we were ready to proceed with our tests.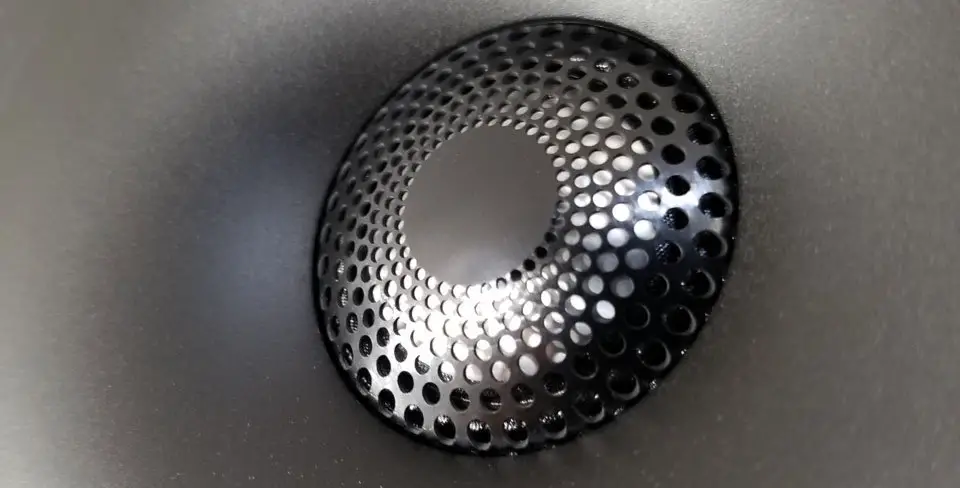 Movies
When it comes to testing home theater speakers we usually pick two specific titles that we enjoy very much trying out. The first one is the 4K UHD version of Saving Private Ryan with it's amazing Dolby Atmos track. We have two key scenes that we usually try with the opening scene with the landing on Omaha beach and the finale with the battle of Ramelle being two of the most iconic world war 2 scenes in cinema.
With the Omaha beach first the Monitors were able to show us from the first moment how much punch they pack as the German artillery in the distance had the necessary weight and feel. Various environmental effects like the water splashes or the marine boat engine sounds had a very natural tone with good dimensionality.
When the boats reach the beach and the doors open the soldiers are greeted by a rain of German machine gun fire that rip them apart and the Monitors were really able to pass this sense of fear and mayhem happening that moment while explosions from the German artillery really made us feel uncomfortable by their roughness and power. And through all this craziness we were pleasantly surprised by the clarity of the dialogue and how distinct it was compared to the rest of the effects. Obviously in a movie oriented audio system a center channel is a must for the best possible outcome but even without one the Monitors held their ground with very respectable results.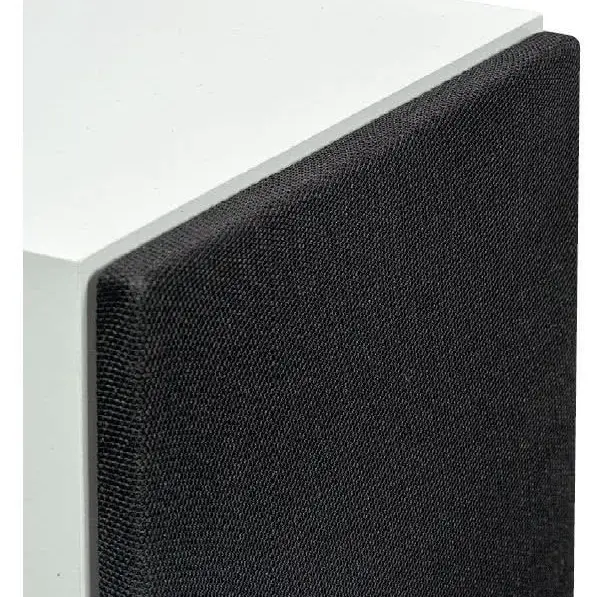 Skipping to the last scene with the battle of Ramelle the Monitors continued to give a very stellar performance. Tank fire from the tiger tank felt real with good volume in space while the ominous sound of the German armor approaching the village were reproduced remarkably and with the necessary dynamism. When the main battle begins everything from small arms fire, explosions, debris and tank movements that were accompanied by a miriad of environmental effects were very faithfully reproduced.
For our second movie test we go for something a bit different as we chose the 4K UHD of Jurassic World which comes with a bombastic DTS:X mix that has a very different tone than Saving Private Ryan which had a much more rough mix that was perfect for the tone of the film. Here instead we get a more smooth and balanced soundtrack that although packs the necessary oomph it also has many diverse scenes that can give us a better overall idea of the speaker's performance.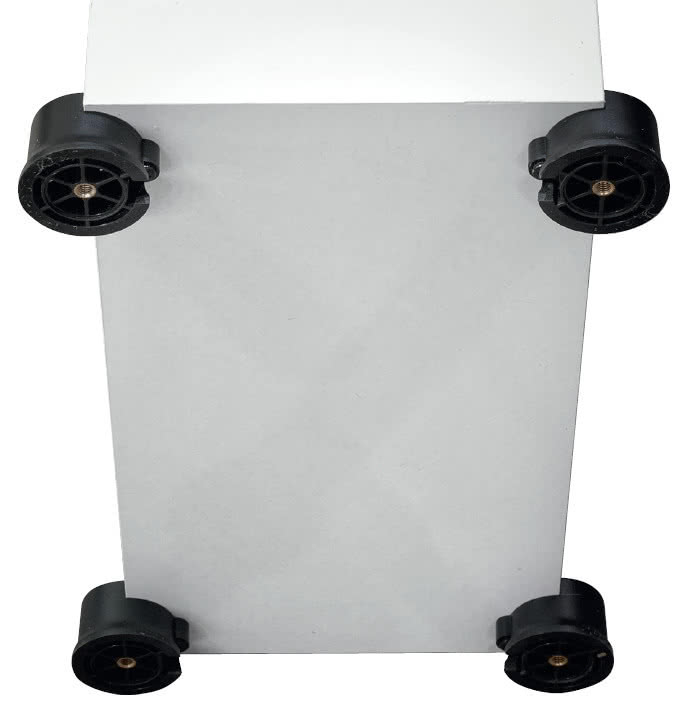 Here the Monitors were also able to perform very well. The film may not be so much to the face but with dinosaurs wreak havoc on the island the speakers were able reproduce effects like roars and feet rumble with a kind of smoothness and naturalness immersing you even more into the action.
Ambient sounds are very prominent in this film during the jungle scenes with the speakers being able to provide the necessary expansion to the soundstage. Again we will say the same thing. While we had no problem watching a film in a single 2.0 system as the Monitors did the best they could to provide us with the full experience, adding a center channel as well as subwoofer will greatly elevate the kind of quality these speakers can achieve.
We did push the speakers at higher than what we would like levels in order to check their integrity and we didn't hear any audible distortion. The Monitors were able to pass with flying colors.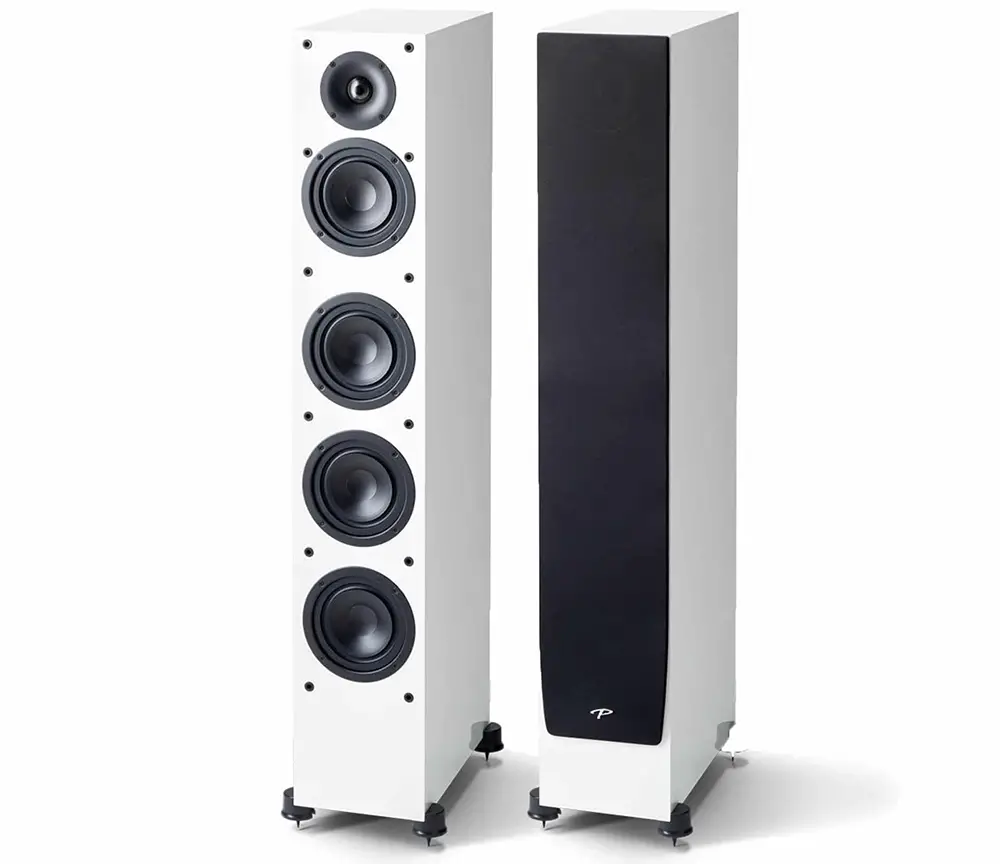 Music
Of course from our review couldn't be missing our music tests so we picked a selection of FLAC music tracks that we streamed through our AV receiver. The Monitors SE 6000F were able to give a very balanced performance without any obvious exaggerations but also we didn't feel that they were missing anything of great importance. Bass, at least for the tracks we did test, felt full and consistent and while we are sure a subwoofer would improve things the speakers did just fine even without one at least for music that is not extremely demanding on it. When bass goes deep the speakers keep a straight face even if they don't have the necessary "bass power" mentality.
There was also great dimensionality which made the musical instruments very distinguishable through space while there was very good separation of the two channels. Vocals felt clear with high frequencies binding nicely with the mid-range while the lows provide the necessary weight to the overall performance.
The Monitors can provide a very solid performance across the whole dynamic range without them loosing focus even when things go wild which was definitely a nice characteristic. If you are a music lover and you want a set of speakers that can provide an admirable performance the 6000F should definitely be added to your list.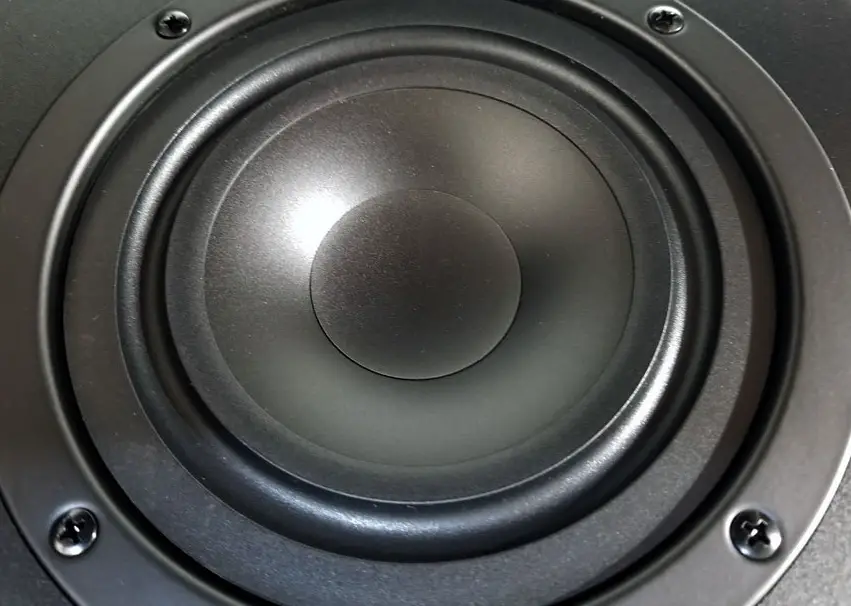 Final Thoughts
Paradigm proved us that you don't need to spend a fortune in order to get a pair of good quality floorstanding speakers. Costing close to the $1K per pair mark the Monitors SE 6000F are the kind of speakers that will be able to offer an amazing experience to anyone on a budget but also to those that take their audio standards rather seriously.
The Monitors can be surprisingly loud without loosing focus while keeping a very energetic mid-range and bright highs. When it comes to bass performance we cannot say that they floored us with their performance but they can definitely hold their own. And because of this the speakers can work great either in a 2.0 channels music setup or a full surround system that will include a subwoofer and surround speakers. Obviously using a subwoofer will elevate their performance even more and if you are considering these mostly for movies then one is recommended even if not entirely necessary.
Cabinet quality is very good but the plastic feet show a little cheap. Also in this price range there are many other models available making the competition even more fierce. And while the Monitors performed very well we cannot say they offered anything amazingly different that will distinguish them from the rest of the same class. Does this make them bad? No, not by far. On the contrary we are extremely happy to see speakers with this price performing so good. The Paradigm Monitor SE 6000F is the kind of speakers that can really offer acoustic quality even to those that cannot afford to spend a lot for their movies/music passion. And just for this we definitely recommend them.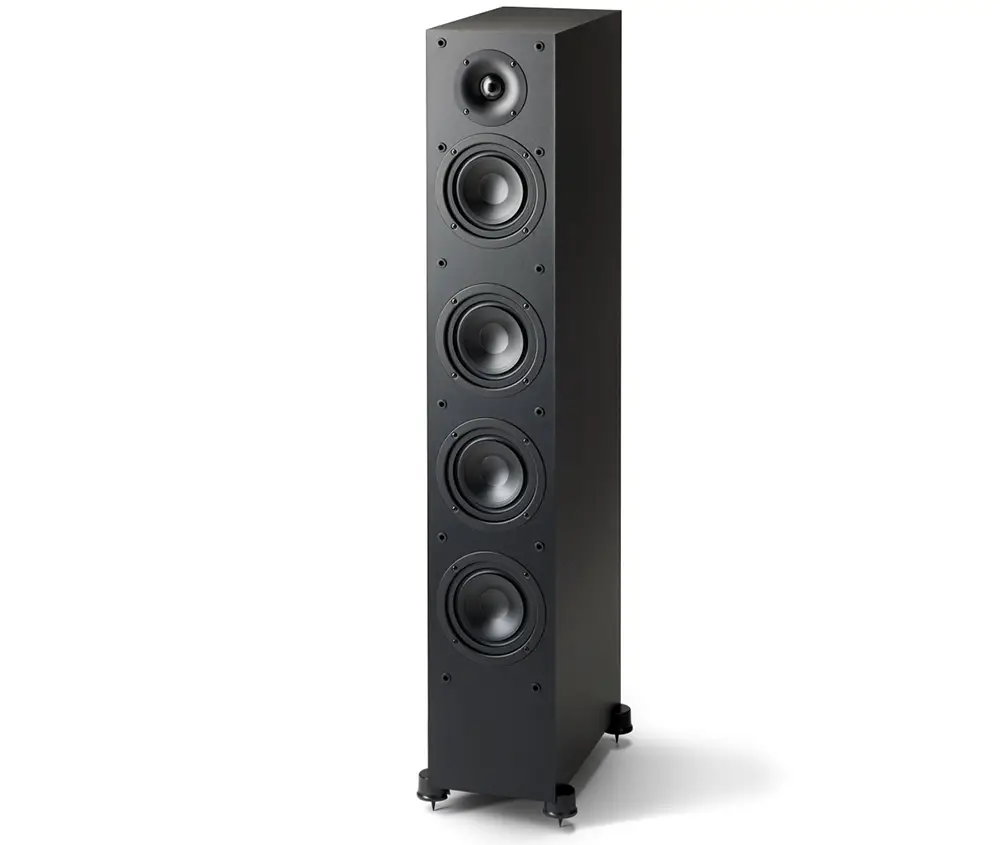 For more reviews you can check our dedicated Floorstanding Speaker reviews list or even look at our Product Reviews Table where you can find the brand and specific product you are looking for.
Also don't lose the chance to subscribe to our Newsletter and gain exclusive privileges.
---
Cheapest Places to Buy :

---
Paradigm Monitor SE 6000F Specifications