Paradigm Premier 800F
Reviewed at $2,000.00 (pair)
Movies Performance
9.1/10
Inputs and Features
9.3/10
Pros
Good quality cabinet
Natural and warm sound
Solid bass
Slim with small footprint
Cons
Appearance is not for everyone
It never tries to surprise you
Can loose focus on extremely high volumes
We would love a few more color variations
---
Cheapest Places to Buy :
N/A
---
It's been a while since the last time we had the chance to try out some speakers from Paradigm so it seems that this time has finally come. And today in our Paradigm Premier 800F review we will be looking at one of the floorstanders that belong in their middle class Premier series that was released in 2018 and got some pretty favorable comments from users and reviewers alike.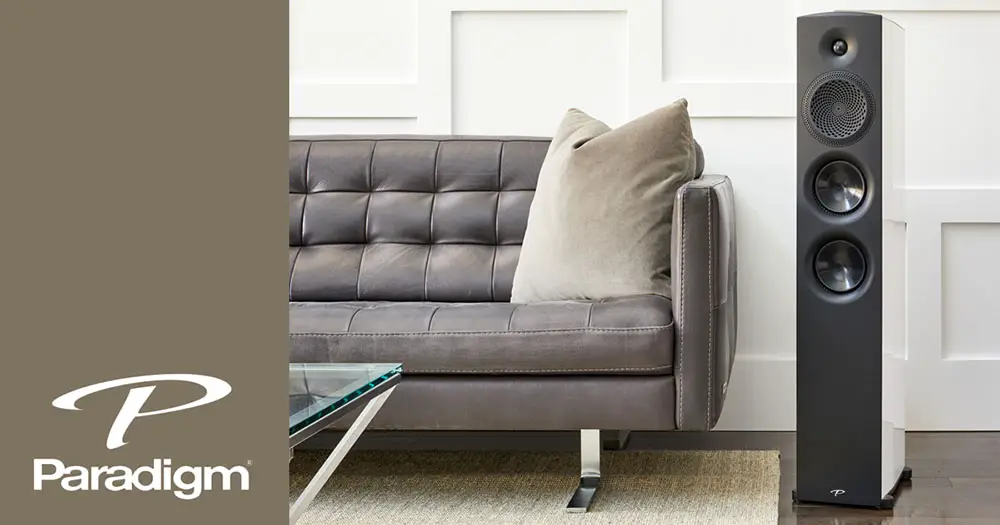 Before release, Paradigm had a huge gap between their high quality Prestige series and their more budget friendly Monitor SE lineup. And this is where the Premier speakers fits in. Priced above the Monitor SE and below the Prestige, the Premier speakers are trying to strike the perfect balance between affordable price with more high end quality as they borrow certain technologies from the higher up releases.
With a complete lineup consisting of 2 floorstanders, the 800F and 700F, two bookshelves, the 200B and 100B and two center speakers, the 500C and 600C there is something for everyone to go around. As for the Paradigm Premier 800F that we will be looking here today, being the bigger floorstander in the series tends to up the expectations because this is a speaker that has more to go for than simply fill in the gap that existed in Paradigms portfolio.
Featuring technologies like Perforated Phase-Aligning (PPA) lens, X-PAL tweeter, Active Ridge Technology (ART) and a tapered cabinet design we were curious to see how all these would translate into the real world and if Paradigm had managed once again to create a series that asks little but gives so much more in return.
Design, Inputs and Features
Exterior
The Paradigm Premier 800F has a very characteristic design and this stems from the fact that it uses certain technologies that make its look unique. But first things first, the 800F is the bigger speaker in the series measuring 41-1/2" x 9-1/8" x 13-3/4" (1053 x 230 x 350 mm) and with a weight of 53.4 lbs (24.2 kg) these may not be the biggest floorstanders we have seen to this day but they certainly have the mass that its class dictates and are certainly not meant for very small and tight spaces as if you take into account the rear air port also then you have to give them some breathing space to perform accordingly.
The Premier series look very different from both the Monitor SE and the Prestige lineups and is borrowing some design elements mostly from their top Persona speakers. At first glance, and especially if you see them with the grilles on these are the usually boxy, monotonous speakers that will not attract any attention and you could very well think that they are made from some no-name manufacturer. But taking the grilles off is when things get more interesting and really show what these speakers are all about.
First of all let's talk about the cabinet itself. As we said the Premier lineup get many design touches from the Persona lineup and one of them is the slight curvy sides, made of  0.75" thick MDF, that result in a narrow backside compared to the front baffle. The front side uses 1" thick MDF that is covered on top with plastic while its Tapered Cabinet Design with "optimally placed" internal braces eliminates internal resonances, improves bass intensity, and adds to the elegance of the enclosure profile. Also worthy of mention is the fact that the tweeter and mid-range drivers are placed into their own enclosures inside the cabinet. This way they are kept isolated from the bass drivers that could affect their performance.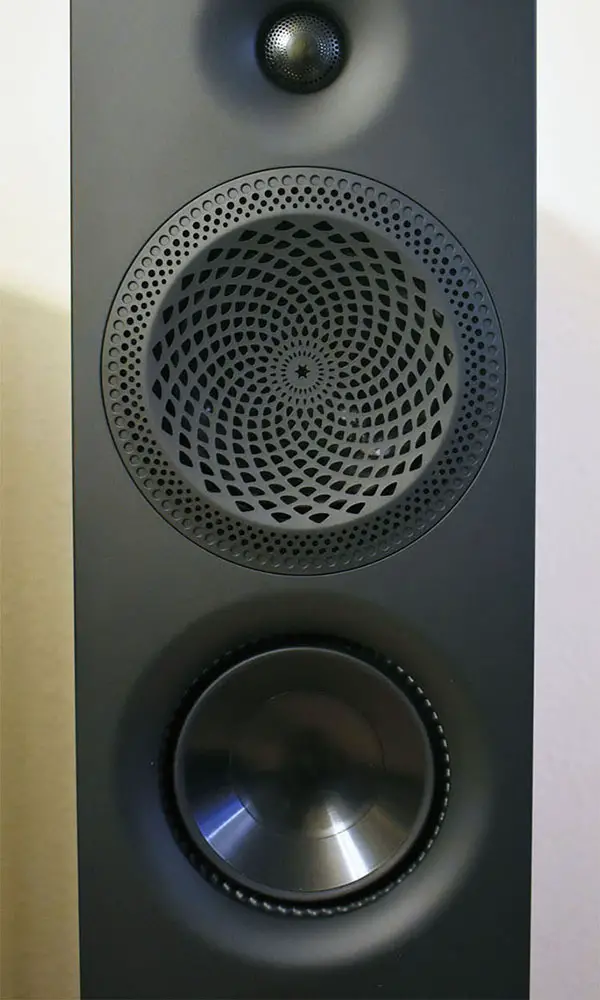 The Premier 800F comes in three different color variations with all of them retaining the matte-black front panel while changing only the side and back sides. The colors that Paradigm is offering are Gloss Black, Gloss White and Espresso Grain finishes.
The grilles cover the entire front baffle and they are magnetically attached which is good as with them on the speakers are nothing special and look like they are trying to hide more of their ugliness than showcase their design with proud. They are made from a plastic grid which offers slightly more protection while the fabric is wrapped around it.
There is a small cutaway on the height of the tweeter and this was probably done in order to be able to breathe better under the fabric and not affect its performance. But taking them off is the best and with no holes for the grilles to hold on we get a very interesting, but certainly not suited for all, design.
The first thing that obviously catches the attention is the Perforated Phase-Aligning (PPA) Lens that covers the mid-range driver but on close inspection is also used for the tweeter above. Below, two 6.5" (165mm) midrange/bass woofers with special Active Ridge Technology (ART) surrounds give the Premier 800F a unique overall look that many will like but for sure some will hate. The front side features an otherwise clean look and only the Paradigm logo sits prominently at the very bottom of the speaker.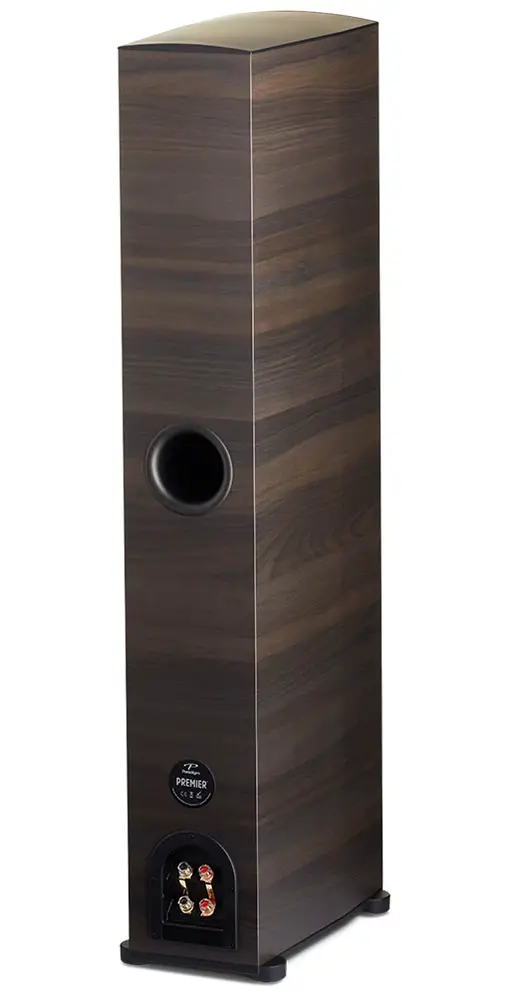 Turning the speakers around we find a large 3″ flared port placed exactly at middle height while at the bottom a small inset is housing the dual binding posts.
As for the stand, the Premier 800F is using some built-in feet and there is no need for any assembly. We like how the round feet have a very subtle design and they don't extend much keeping the footprint of the cabinet as small as possible. We have seen cabinets that while they have a slimline design their plinths extend a lot which at the end creates a much bigger needed space, not so much with the 800F. Paradigm also provides special rubber caps for hard floors or spikes for carpets that they are screwed onto the feet for easy balancing.
The entire Premier series, and specifically the 800F we have here, are certainly not for all. The design you will either like it or hate it but no matter what your opinion is on their looks no one can deny that Paradigm has created a very high quality cabinet with nice colors, good materials and plenty of technologies that would help it perform at its best.
Internal Hardware
Paradigm has equipped the 800F with a 4-driver, 3-way bass reflex design with the high frequency tweeter sitting at the top, the mid-range driver at the middle and the dual mid-range/bass woofers at the bottom.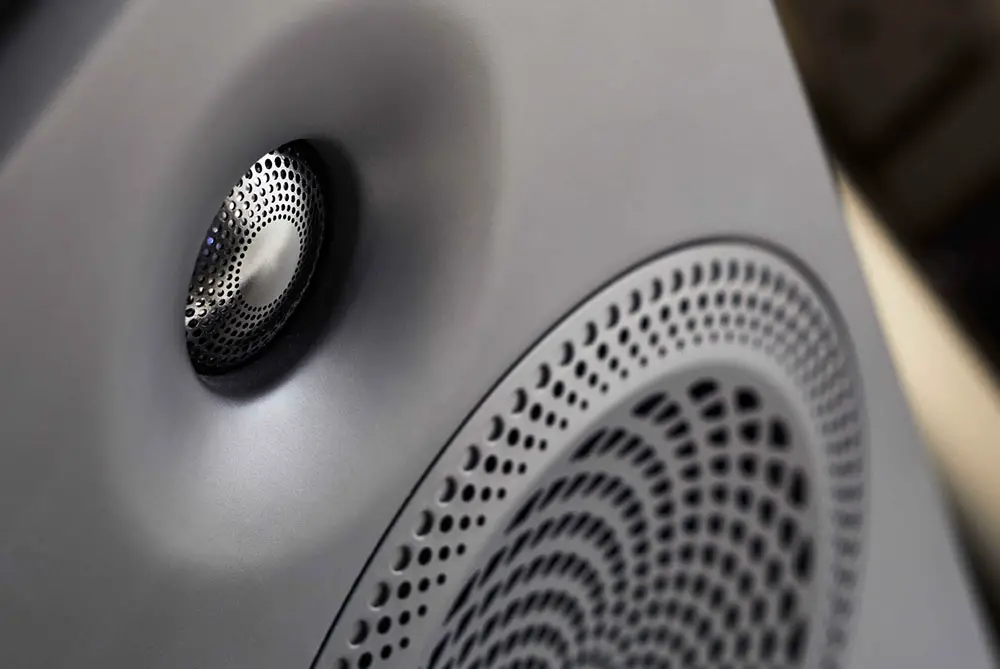 The 1" (25mm) X-PAL tweeter being used comes with a pure aluminum dome and a neodymium magnet, while it is damped and cooled with ferrofluid. It is placed on a shallow waveguide offering better efficiency while also handles dispersion better. The tweeter is using Paradigm's Perforated Phase-Aligning (PPA) Lens, that protects the delicate pure-aluminum tweeter dome and acts as the Phase Plug, blocking out-of phase frequencies for smoother, extended high frequencies with incredible detail and higher output.
This PPA technology is also used on the 6.5" (165mm) midrange driver while both the mid-range and dual 6.5" (165mm) mid-range/bass woofers use Paradimg's Active Ridge Technology (ART) surrounds. These are made in-house and overmolded directly onto each woofer and midrange cone. This design achieves greater excursion, for a 3dB gain in output and 50% reduction in distortion. Crafted from injection-molded thermoplastic elastomer, ART surrounds are more durable and more reliable, ensuring a lifetime of superior sound.
Both the mid-range driver and bass woofers are made from Carbon-Infused polypropylene cones while they feature super-strong die-cast baskets with integrated heat sinks for higher power handling, better bass, better dynamics, and less power compression. Lastly lightweight, extremely durable high-excursion Nomex spider design delivers a longer life of flexibility and performance. Nomex is 10-times stronger than industry-standard cotton-based spider material.
The combination of the X-PAL tweeter along with the single 6.5″ mid-range driver and the dual 6.5″ mid-range/bass woofers give the 800F a frequency response of 43 Hz–25 kHz (+/-3dB) on axis with 8 ohms of nominal impedance, a very nice 92 dB of sensitivity while its second-order, electro-acoustic crossover frequencies are set at 700Hz and 2.5kHz.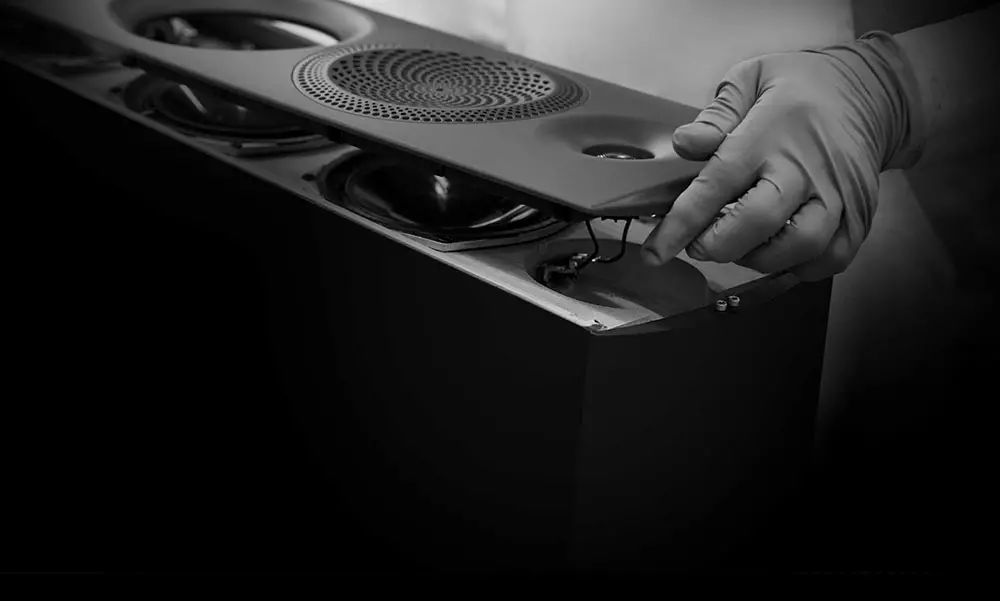 Connectivity
The Premier 800F come with dual 5-way binding posts so you can bi-wire or bi-amp them for a custom, high-performance experience. The terminals connect externally with the use of high quality bridges that you can either attach or take out depending on how you plan to connect them. With the available terminals you can either use bare wires or various plugs including spades or banana plugs if that is your preference but for these you will have to remove the seals that almost all speakers come with lately.
Performance
Unpacking was very straightforward and the 800F are very nicely wrapped and protected. They are slightly heavy so you have to be careful when you are taking them out of their boxes. There is no assembly needed other than the rubber feet or spikes depending on the floor you have and obviously the leveling they need.
Now as far as positioning the manual that is in the box has very detailed information from Paradigm for those not knowing how to place their speakers properly but as always these are general guidelines and each room has its own acoustics so it really depends heavily on you to try out different positions and see what you like the most. There are also diagrams on how to bi-amp or bi-wire the speakers with very easy to understand descriptions.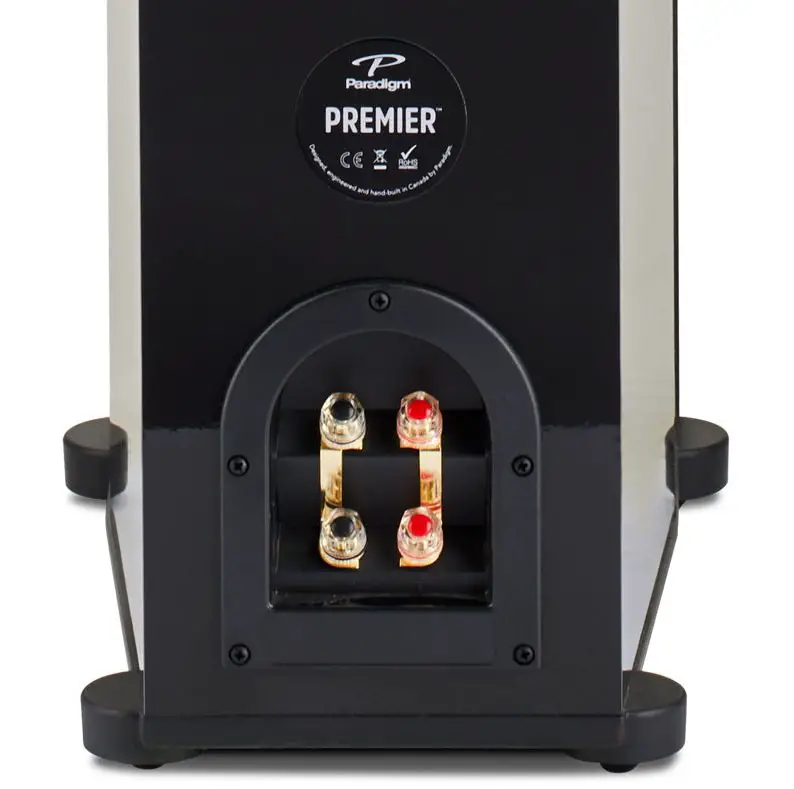 Due to the nature of our testing, as we always do we left about 2 feet from the back wall in order to give them slightly more breathing space. Distance between the two speakers was around 9 feet while we like to toe-in them to our viewing position for better sound imaging. Keep in mind that placing the speakers near a wall will increase its bass output while lowering its overall definition so finding the best balance is always crucial.
The Premier 800F we tried had a good few hours of operation but we could not verify if they were past their break-in period. Most manufacturers do suggest between 50-70 hours of break-in time before speakers can reach their peak performance but we always suggest to wait until around 100 hours to be completely sure if what you hear is what the speakers can ultimately give you.
Now as far as our testing is concerned, for our movies we like to use a simple 4.0 channels surround system with only two front channels and a couple of surrounds and the reason for this is because we can easier determine how the front speakers can cover the omissions of a center speaker and a subwoofer. Weaknesses become more pronounced and although this would not apply to any real home theater system as almost all of them would have both a center speaker and a subwoofer we are here to determine specifically the characteristics of the two front channels and at least for us this is the best way to do so.
On the other hand when it comes to our music testing we like to go for a pure 2.0 channels system with only the two front channels as this is the way that most music purists tend to go with. Now after all necessary connections and calibrations with our Onkyo AV receiver we were ready to begin.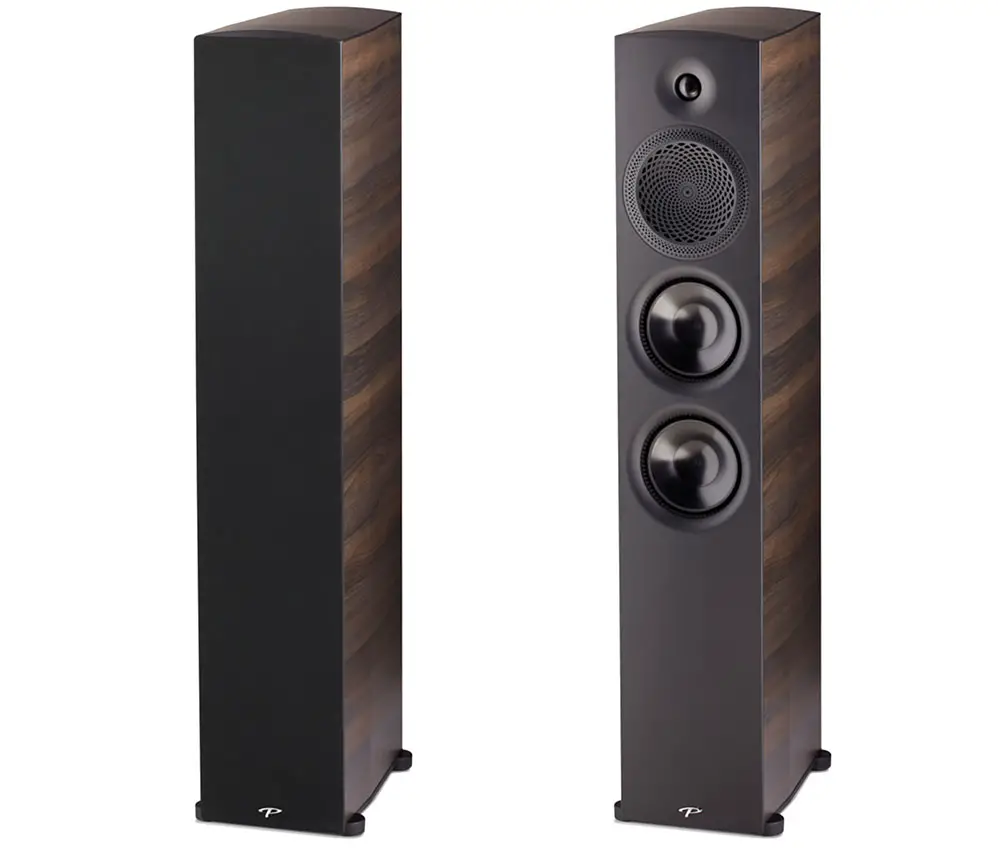 Movies
For the first test of the day we chose to go with a big bang as we took out our 4K UHD disc of Battleship with its Earth shuttering DTS:X mix. You can say anything you like about the quality of the movie but no one can deny its technical merits both visually and acoustically.
So we start by skipping forwards towards the first encounter between the navy battleships and the alien ship. The film is full of high pitched electronic sounds, panning effects, explosions and low end action and there is certainly a lot going on when the actual action starts.
The Premier 800F were every bit as good as we were hoping them to be. The front stage was bold and alive with very nice dynamics and good dispersion of sound even though we felt that the front sound wall was not as expansive as some other speakers of the same class. The 800F were able to render every small detail and sound effect these strange alien mechanical ships were making while destruction was reproduced faithfully as debris were flying all over the water when the explosive pegs cut one of the destroyers in half.
The dialogue was very nicely centered even without a dedicated center speaker and the Premier 800F were able to seamlessly bind the dialogue with the rest of the effects without overlapping one another. Dialogue lacked a bit of depth and we would like it to have slightly more volume but the end result was more than satisfactory and even during very heavy action scenes we had no problem understanding or making out what the actors were saying.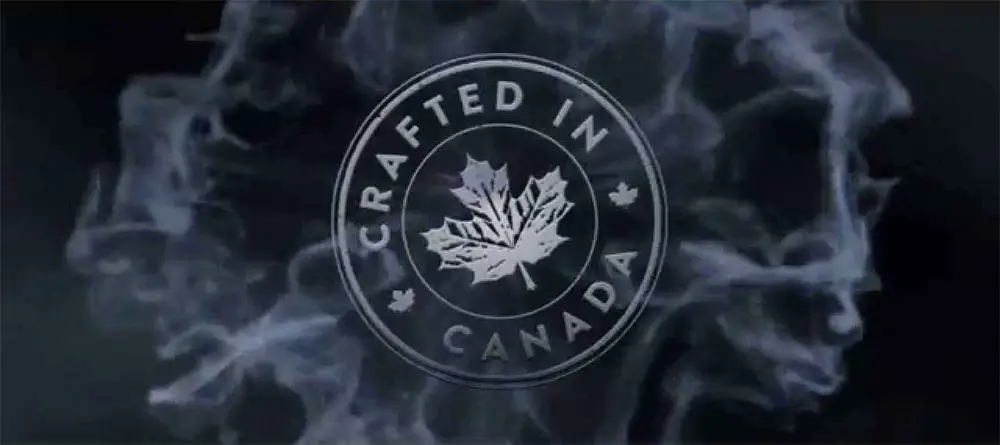 The speakers were very nicely cooperating with our surrounds and with the film's fare share of panning effects the 800F were precise and very accurate with their transitions. Panning effects from left to right and opposite were done smoothly and without any visible delays.
On the low end the Premiers had good thumping and gave good weight to the action on screen. Especially during the last battle where the USS Missouri throw all its ordnance to the alien mothership the Premier 800F were hitting the lows with nice volume and without loosing its focus due to the demanding tempo. But while overall bass was good enough we felt that they could do better as it was not the thunderous performance we were hoping for.
We also tried to push the floorstanders to extremely high volumes to see how they behave. It seemed that the 800Fs were very stable and didn't sensed any distortion either from the cabinet or the rear air port but we felt that when pushed too much the speakers had some problems with deep bass loosing some of its clarity. It seem that with extremely demanding low end scenes and at very high volumes the bass drivers cannot cope very much with what it is asked of them. But keep in mind that this is a scenario that is very rare to happen as in a home theater it's almost certain that a subwoofer will take most of this burden out of the main speakers.
Next in line we opted to try out for the first time the 4k UHD version of Lord of the Rings: The Fellowship of the Ring. The film is every bit as good as before and then some as the included Atmos track kept all the qualities that made the previous DTS-HD Master Audio mix such reference material and added some necessary depth and extension towards the upper layer and thus upping the immersion even more.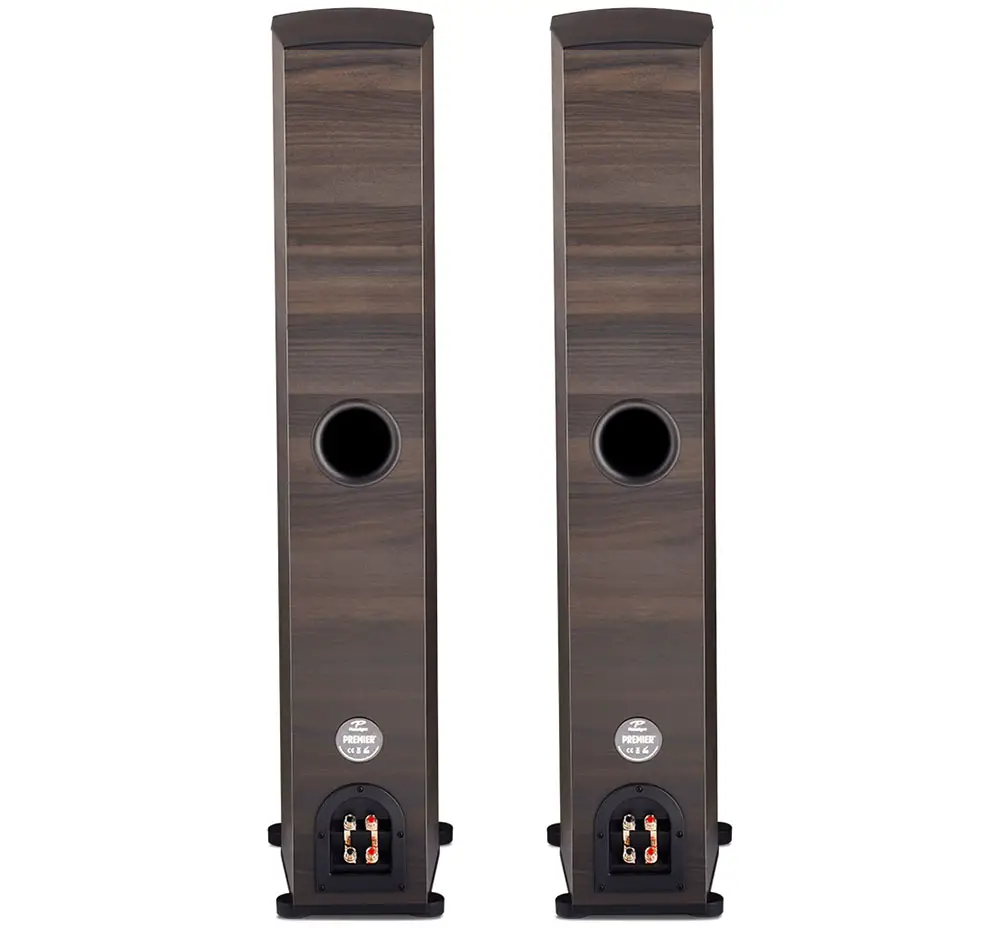 Now such a film, in contrast to what we saw in Battleship, relies more on atmospherics and environmental immersion in order to give you a sense of grander scope certain scenes have. We always like to test the Mines of Moria so we skipped forward to that scene and we were immediately surprised how the echoes in the Mines were bouncing left and right and the panning effects were very seamless and with smooth transitions.
It is a particularly quiet scene, at least in its first part and the Premiers were very capable at reproducing all the small details the mix had. From their footsteps, small noise of their armors and fabrics while the dialogue was very pronounced and kept front and center. When the action starts and the cave troll makes its appearance the speakers followed accordingly with good energy and resolution across the entire frequency spectrum. Metal clashes, shields breaking, stone shuttering, everything had a nice warm and natural tone to it that was never felt exaggerated or over the top.
When we reached the last part of the scene where the Balrog appears the 800Fs try to faithfully reproduce the size and weight of this ancient beast but we felt like they slightly were missing the mark. It's not that the bass was bad, not at all. It had good weight and nice volume but we would like it to be with a bit more energy and punch. It was like it was playing it safe and never tried to do something to impress you more.
When we reached the Bridge of Khazad Dum the Premiers nicely bound all sound elements together from the roar of Balrog, the talking of Gandalf, the sound effects and the epic orchestral music without loosing their cohesion or sense of control and thus brought this test to its end and us very satisfied overall from what we heard them being capable of.
The Paradigm Premier 800F are the kind of speakers that may not drop your jaw on the floor and they certainly have some minor weaknesses especially in the deep bass and during extremely high volumes but in a home theater setup and with a subwoofer at hand they have a lot of merits to unfold and will really please you with the masterful handling of all material given.
Music
Last test for the day is all about music so we switched to a pure 2.0 channels audio setup with only the two front 800Fs connected and we streamed a selection of FLAC music tracks through the front USB port of our Onkyo receiver.
The front soundstage immediately felt so vivid and authentic. It was not as expansive as we were expecting but that mattered not as in the area they did perform the speakers managed to bring the whole performance to life with exceptional clarity and precision. Vocals were nicely reproduced with good energy and good tonality while mid-range was the bread and butter of the 800F as it felt tight and controlled bringing together the rest of the spectrum.
Stereo panning effects were nicely transitioning from one channel to the other with a nice tempo and without any audible lagging making the whole experience very impressive. These are not the most transparent speakers you can get but nevertheless stereo imaging was nice with good accuracy in space making it easy to discern the position of each sound source.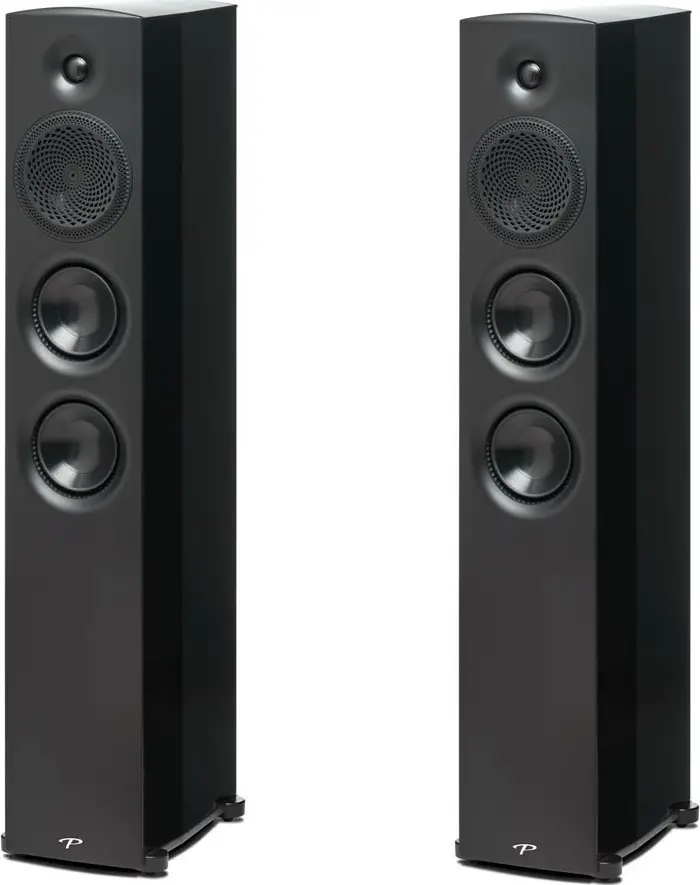 The bass was surprisingly good and satisfying as the Premiers were able to keep the tempo and rhythms of even very demanding, bass driven songs. You may not get a chest-punching experience out of them as you would with a dedicated subwoofer but make no mistake that the 800Fs can bring any low end task to a very satisfying completion.
We did try various types of music like rock, pop, jazz, classical music and heavy metal and the Premier 800Fs did manage to pass with flying colors making them an excellent all around choice if you happen to listen various types of music. It was only when they were pushed to extremely high volumes and with excessive low end driven music when we felt that the speakers were loosing their focus a bit and can stumble here and there but these occasion were few and far between and we cannot say that this is a problem that plagues their overall quality.
Closing, the Paradigm Premier 800F are nice performing speakers in case you are looking for a pair for your music pleasure. They play it safe most of the times but this doesn't mean that they don't have the necessary quality for a HiFi performance and will certainly satisfy you with their warm and natural sound, playful high end and solid bass.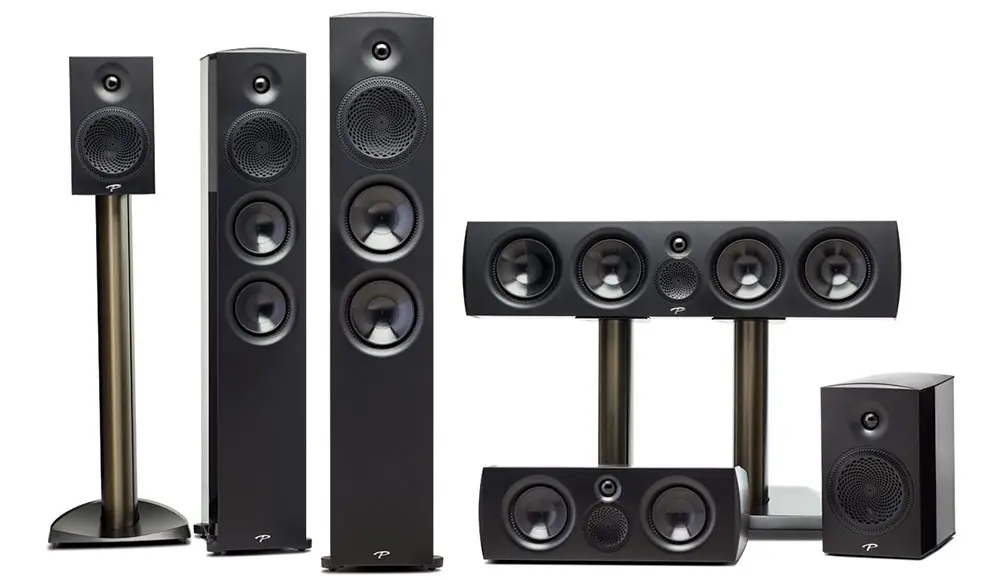 Final Thoughts
Paradigm may not be as widespread known as Klipsch for example. But they still remain a very respectable manufacturer in the field with some amazing releases over the years. The Premier series was exactly what Paradigm needed as the huge price difference between their more affordable Monitor SE and more premium Prestige series had created a very notable gap that couldn't be left unattended. And so with the arrival of the Premier series Paradigm has addressed a problem aiming for a pretty big chuck of the speakers market.
The Premier 800F is a great speaker to be honest. High quality and good construction of the cabinet are very evident and we like that many of the technologies used in their top tier series found their way into this excellent floorstander. These include the Active Ridge Technology (ART), the X-PAL tweeter and the Perforated Phase-Aligning (PPA) technology. As a result the 800F managed to give us a great mid-range with good details and warm textures while the low end was satisfactory in most cases and was able to provide a nice bass for every respective performance.
When it comes to their weaknesses what we could say is that these are not the most expansive of speakers from those we have tested and they will certainly need good calibration to find their sweet spot. Also we felt that they lacked some transparency but this was very subtle and certainly didn't bother us too much. Lastly while the bass was very satisfactory at normal levels when we pushed the speakers to their limits it felt like some of their balance was lost as they tried to keep the pace with very deep bass material. But we need to note that if you take their price range into account all the above are just us nitpicking and these minuses were just there to remind us that no speakers are perfect.
Closing this review we felt very satisfied with what we heard from these great speakers. The Paradigm Premier 800F are the kind of floorstanders that can be used in any environment and for any kind of material and will make sure to bring you the acoustic quality that Prestige have been known for over the years on a price that is fair, reasonable and above all affordable for a big chunk of the consumer market in order to enjoy HiFi sound on a good price.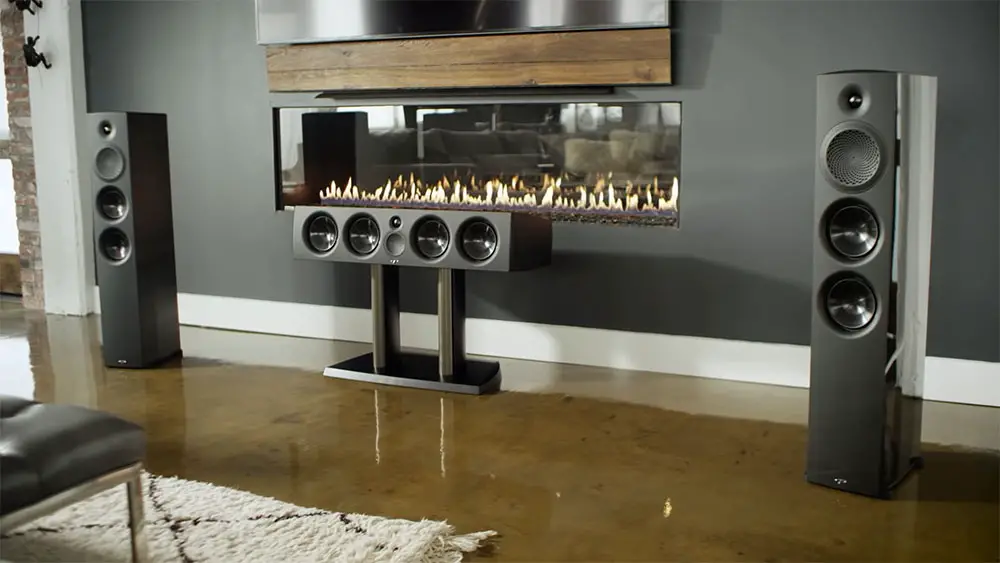 For more reviews you can check our dedicated Floorstanding Speaker reviews list or even look at our Product Reviews Table where you can find the brand and specific product you are looking for.
Also don't lose the chance to subscribe to our Newsletter and gain exclusive privileges.
---
Cheapest Places to Buy :
N/A
---
Paradigm Premier 800F Specifications