Polk Audio Command Bar
Design -

80%

Movies Performance -

84%

Music Performance -

84%

Inputs and Features -

87%

Price / Quality -

92%
---
Cheapest Places to Buy :
---
Soundbars have come a long way in recent years. In trying to offer a good alternative to a full blown surround audio setup soundbars manufacturers have tried to include various technologies that would allow these mostly forward firing speakers to offer a fully immersive experience. And although improvements have been made the last few years to improve the audio performance of these devices there was one thing that felt like it was missing.
We are now living in an age where hands-free voice control is considered a standard feature and we see more and more devices support platforms like Amazon Alexa and Google Assistant with most TVs and AV receivers having at least one of them built-in. In this regard soundbars felt like they were left behind with only a handful of models offering voice control and certainly this is one area that manufacturers still have to do a bit catch up.
Polk Audio, a company that has their name connected with quality audio speakers and devices, seems to have seen this and thus created a soundbar that would offer good sound quality with the practicality of a built-in voice control system and all this at an unbeatable price. But does the low price has a negative impact on it's overall performance and features or Polk Audio managed to create another strong competitor in this price range? Read our Polk Audio Command Bar review to find out.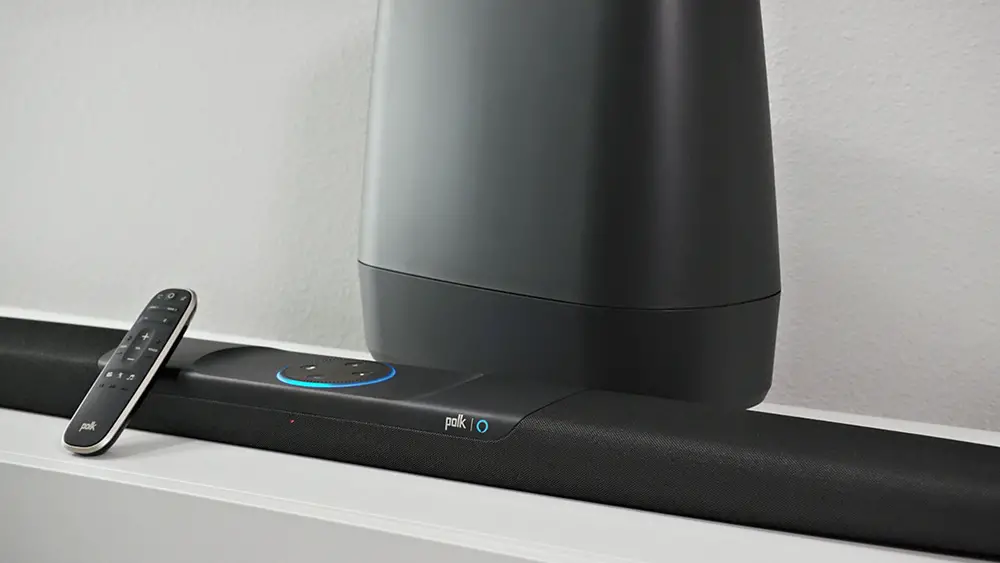 Design, Inputs and Features
The Command Bar is a 2.1 channels soundbar that consists of the main 160 watts, 2.0 channels soundbar that works in parallel to a 100 watts, wireless subwoofer for a total of 260 watts of power. The main soundbar's design is nothing special to talk about and certainly we shouldn't wait for any fancy looking design at this price. Measuring 2″ (5.08 cm) X 42.95″ (109.09 cm) X 4″ (10.16 cm) and with a weight of 4.95 lbs (2.25 kg) the Command Bar is long enough to sit comfortably under large TV screens without looking odd or out of place.
The outside is covered mostly by a black fabric while the rest consists of plastic with a matte black finish. It looks a bit monotonous and cheap being covered only in plastic but we cannot ask for more in this price. At the center top of the unit Polk Audio have placed what seems incredibly similar to an Echo Dot with four buttons in a similar configuration with a circular LED light around them and a microphone array used for voice inputs.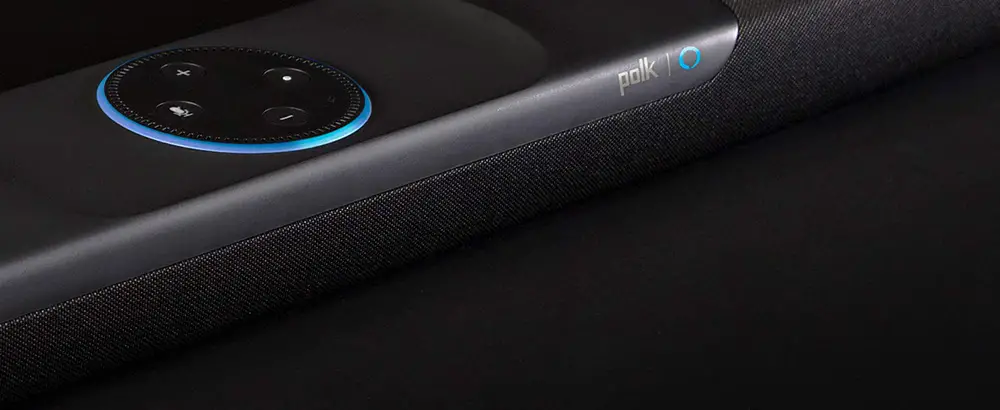 The four buttons include volume control, power, Alexa and mute while the circular LED light can indicate many functions including sound volume, updates progress or Alexa activation. With no display available having some indication of the soundbar activity is definitely welcome.
And while placing it in front of your TV may look good due to it's low profile the soundbar design makes it a bit awkward if you want to wall mount it because the keyhole ports are located at the back so it will have to lie flat horizontally. We have seen some other soundbars that offer different wall mounting positions in order to look better on the wall instead of placing it like you would on a furniture but unfortunately not in this one.

Under the dark colored fabric we get a 2 channels, front-firing speaker configuration with each channel consisting of an oval midrange woofer measuring 1.25 inches high and 3.25 inches wide and accompanied by a 1-inch tweeter. Each channel comes with 80 watts of class D amplification for a total of 160 watts for both channels. Each channel is placed towards each end of the soundbar in order not to interfere with the built-in microphone array that is placed in the center of the unit while at each end of the soundbar we find acoustically tuned vents for enhanced bass output.
At the back of the unit we find all connection ports with 2 HDMI 2.0a input ports that support 4K/60p, wide color gamut and HDR (including Dolby Vision) pass-through. Getting dual HDMI ports in such a cheap unit is a bit surprising but it can be very useful in some situations. There is also a HDMI 2.0a output that supports ARC. We also get a USB port for connecting streaming devices and an Optical Digital input. Between the ports you can also find a button for syncing your subwoofer although the main unit and the sub are most probably factory synced already.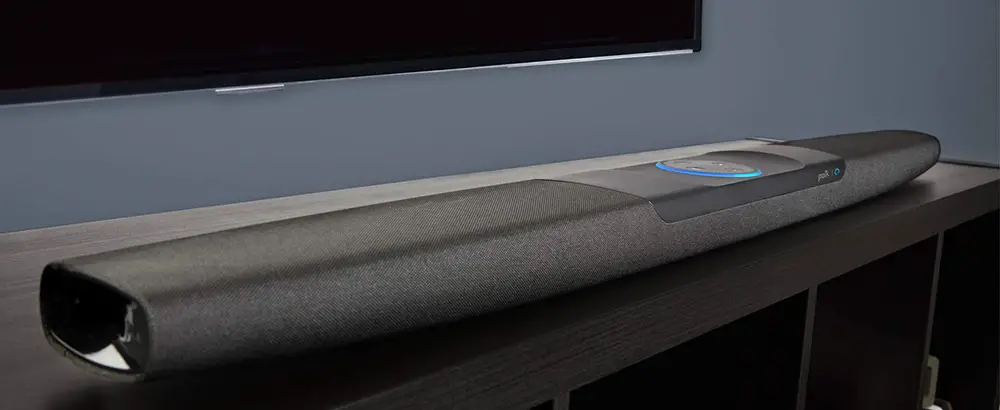 The Command Bar supports wireless connections either through it's built-in WiFi or with the use of Bluetooth. We admit that we were not expecting to find so many connectivity options in such a low priced unit but Polk Audio managed to surprise us pleasantly making this one of the soundbar's strong points.
And while the main unit looks a bit uninteresting the included active subwoofer is definitely one with a weird design. First of all the inclusion of a subwoofer in such a budget friendly unit makes this model so much more attractive as we got used to seeing soundbars at this price but without any subwoofer included which ultimately has a negative impact on the sound quality we get.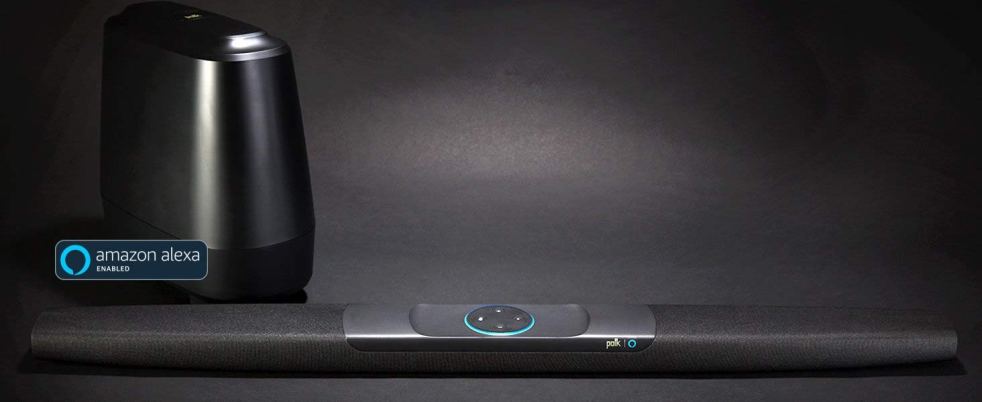 Secondly most subwoofers tend to have the usual box-type design but the one we got here is nothing of the same. It looks more like a submarine's conning tower than a traditional subwoofer which definitely make it more interesting visually.
Measuring 14.43″ (36.65 cm) X 7.4″ (18.8 cm) X 14.5″ (36.83 cm) and with a weight of 8.65 lbs (3.92 kg) this interesting looking subwoofer packs 100 watts of power which may not be the most powerful we have seen but it is definitely enough for the price asked and we will talk in more detail about it's performance a bit later in our performance section.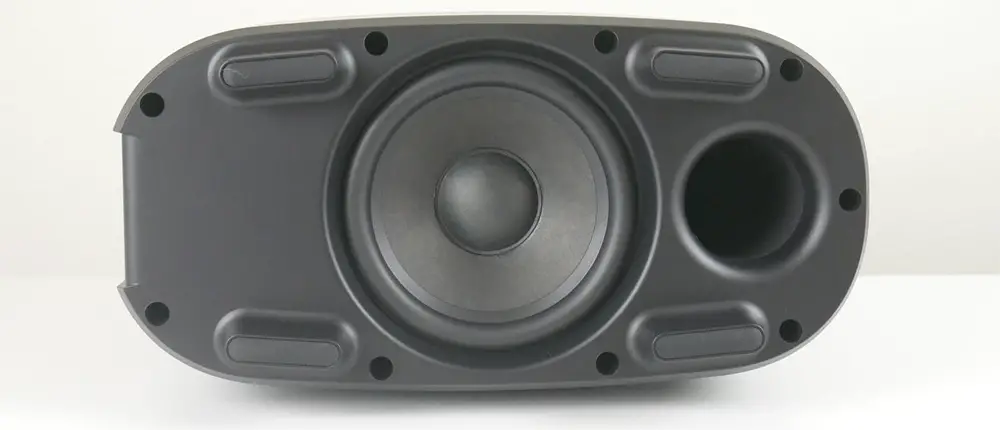 Under it's dark colored plastic case we get a 6.5″, ported down-firing driver that delivers all the low frequency sounds improving the immersion greatly compared to soundbars that have no subwoofer included. We also loved that the sub is wireless and comes synced with the soundbar from the factory although you can resync them with a press of a button if needed.
Control can be achieved with 3 different ways. Obviously the buttons on the soundbar allow only for very basic functions but there is also a remote included that you can use. The one that comes with the Command Bar is black and has a silver trim that gives it a bit of style. The top has a rubber surface while the buttons are hidden under the surface with none of them extrude to the top.

The remote includes all the functions you will need like volume, input selection, center channel and subwoofer volumes, Bluetooth playback, Alexa activation and 4 EQ modes that include Movie, Sports, Music and Night. We found the remote an adequate one and although it doesn't offer anything fancy like backlight it will get the job done.
The third way to control the soundbar is through the Alexa function. And although Polk Audio and Amazon would like you to think that you get a real Echo Dot embedded in the Command Bar the truth is a bit different. Obviously you can issue commands to control the soundbar like volume calibration and input selections but control extends far beyond by being able to control various smart devices in your house.

But here is the main different from a real Echo Dot. While you can use Alexa through the Command Bar to control your lights and thermostats there are some functions that it cannot do like make calls, support named timers or reminders or drop-in on other Echo devices and thus limiting a bit it's worth as a real Echo Dot device.
Command Bar supports the usual Dolby Digital and DTS formats but since there is no upfiring speakers it does not support the latest Dolby Atmos or DTS:X. Also it's a bit disappointing that there is no virtual surround features support and while having tried these in some other soundbars with mixed results having no real surround speakers such a feature could be useful in some situations.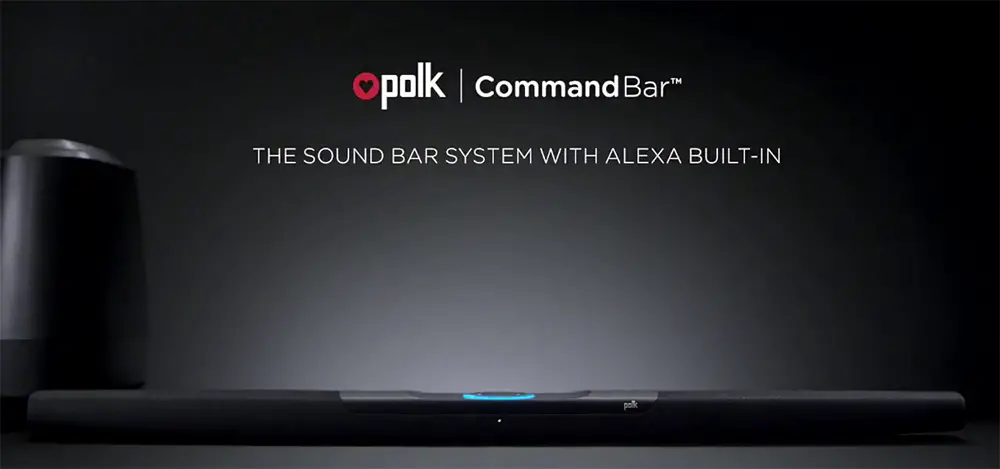 There is also support for Amazon's Multi-Room Music platform that will let you control audio and music across multiple Amazon devices as well as stream your favorite music. This was a feature missing when the soundbar first released but it seems that Polk Audio and Amazon worked on fixing it so now it supports it.
Lastly if you have the soundbar connected through the HDMI port and your TV supports CEC then you can use your TV's remote to control the soundbar and thus lower the number of remotes you will need to use, making this another practical feature.
Performance
Initial setup of the Command Bar could not be any easier as you only need to decide if you will place the soundbar under your TV or wall mount it and find some comfortable place for the funny looking subwoofer. The soundbar and subwoofer should come paired already as they communicate wirelessly.
Polk Audio has created a nice application that you can download on your mobile device that will get you through the initial setup. First it will help you connect the soundbar to your local network as well as setup Alexa for use. After that you are ready to go.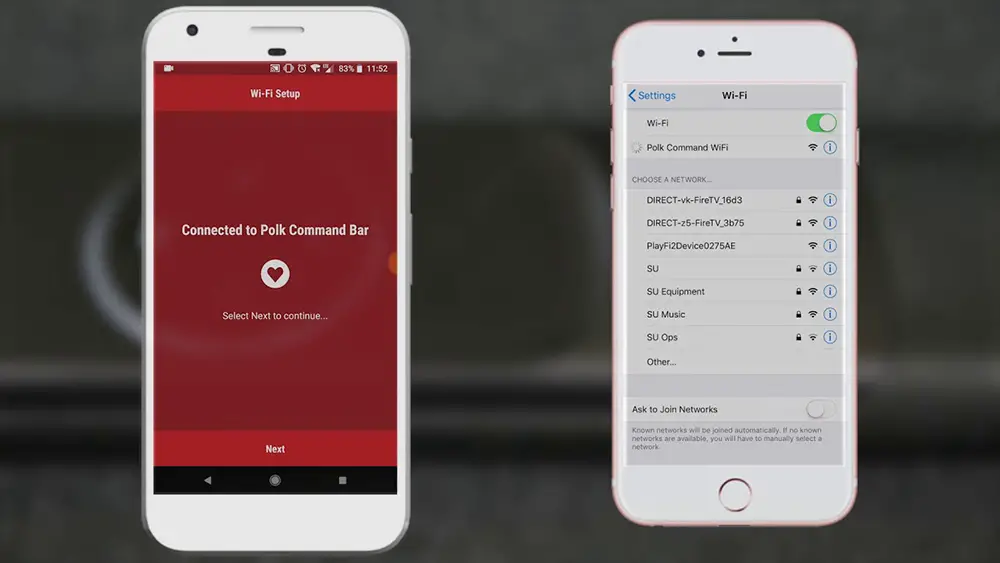 The Command Bar supports 4 different sound modes with Movie, Sports, Music and Night available. The Night mode reduces the bass and the dynamic range in total making it ideal for some night watching when children are sleeping. The Sports mode seemed to be enhancing the dialogue making it more ideal for news broadcasting, talk shows and sports in general.
The Movie mode seams to boost the bass mainly while also trying to widen the soundstage and thus making movies soundtracks feel more dramatic. We felt that this mode boosted the bass a bit more than what we would like but this comes down to personal taste. The Music mode on the other hand felt like offering the most balance from all the available modes and thus making it the one we used the most during our time with it.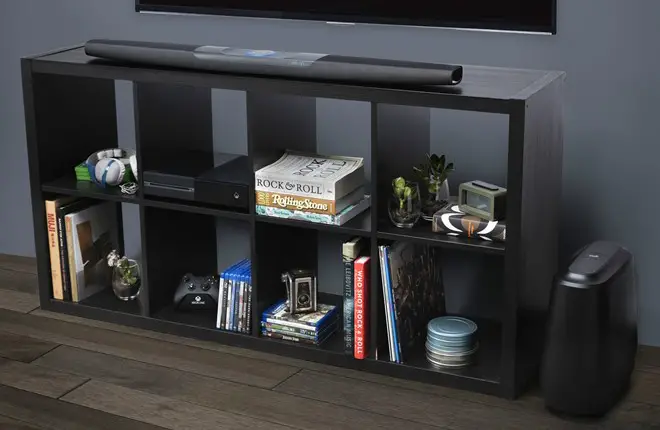 Of course having these preset sound modes doesn't mean that you cannot adjust the sound to your liking. By simply using the remote you can adjust the bass and dialogue volume in order to create a balance that you find preferable to your tastes. And while on some systems you have to enter settings after settings to make such adjustments here can be done with the press of a button on the remote. This couldn't be any more easier.
Movies
The film we decided to try with the Command Bar is the excellent transfer of Saving Private Ryan in 4K UHD which comes with a spectacular Dolby Atmos track. And while the soundbar wouldn't be able to deliver the new format we were curious to see how faithfully it would be able to deliver such a dynamic and encompassing track especially when you consider that we are lacking any kind of surround support.
Being a 2.1 channels system the Command Bar is lacking a dedicated dialogues channel but from the first moments of watching the film we were surprised how clear and well defined the dialogue was. We were a bit afraid that missing a dedicated channel for the vocals would make the dialogue a bit lost behind the rest of the effects but this is not the case with the Command Bar being able to provide crystal clear dialogue. The Music mode delivered a good balance so we didn't find the need to make any adjustments here.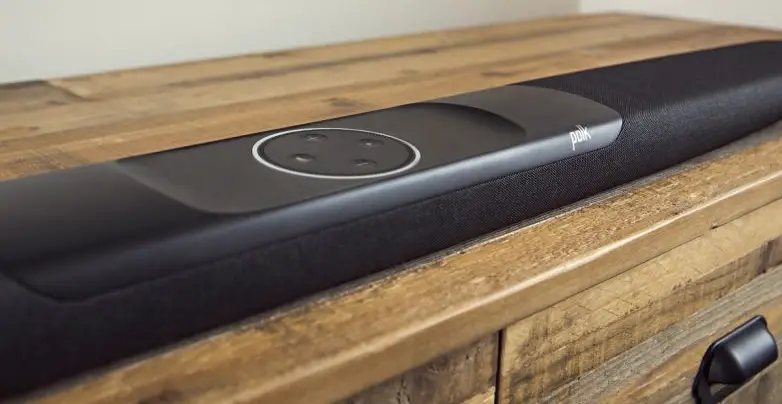 The 2 front channels created a nice and wide soundstage on the front while channel shifting was done with precision. The landing on Omaha beach provides a lot of opportunities to hear this as flying bullets travel from one side to the other and the soundbar was delivering the effect very faithfully.
Unfortunately while the front soundstage felt satisfactory and "full" this was not the case with the surround as the Command Bar failed to offer us any kind of surround effects immersion as it was clear to us that all sound was coming from the front. Missing on both actual surround speakers and any kind of virtual surround tech is really hurting the surround capabilities of the soundbar and while the immersion bubble is far greater than any TV audio system can offer it still feels a bit underwhelming especially if you are expecting to hear sound travel from the front but also from the back.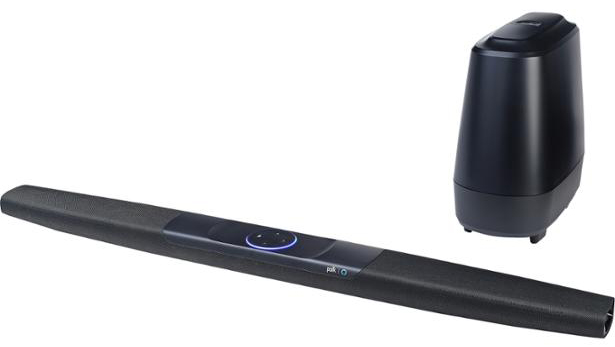 And while surround sound felt like the weak point of the soundbar we cannot but feel satisfied by the included subwoofer. The bass that the 100 watts subwoofer can provide is enough to make you feel the vibrations from the artillery shells exploding and while it may not provide the power some dedicated subwoofers can we cannot ask for anything more if you consider the price you are getting it. With a film like Saving Private Ryan a subwoofer is a must and in this case the Command Bar was able to deliver a very good performance with all the low frequency sounds such an audio track has.
Music
The Command Bar may offered good movie performance but it didn't fail in it's music capabilities either. Trying various music tracks and by using the more balanced Music mode the sound came very clear and distinct. Musical instruments were well defined and the front soundstage was fulfilling and wide. Vocals were very clearly separated from the rest of the sounds and at no point did it feel like they were being lost behind the rest of the sounds. The subwoofer added the necessary oomph wherever needed with the bass feeling adequately delivered.
It's not a performance that will leave you breathless but at this price it definitely left us satisfied and without any major complaints. Good work from Polk Audio in this regard.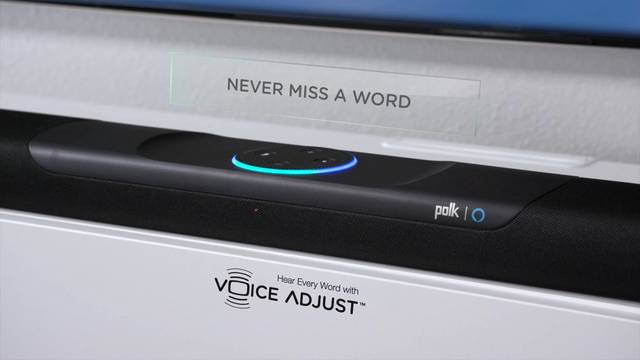 Final Thoughts
The Command Bar may not be the most feature rich soundbar we have tested or may not offer the best and most immersive performance in a soundbar but if you look at what it offers in comparison to it's price it's difficult to find a direct competitor. Polk Audio managed to create a soundbar that offers enough in both features and performance but with a price that makes it a very good contender for anyone that wants to elevate their audio experience well above anything a simple TV audio system can.
The Command Bar is the definition of a smart, budget-friendly soundbar by offering good performance, a lot of connectivity options, built-in Alexa support and all these at an unbeatable price. And while the inclusion of a subwoofer definitely elevates the audio outcome especially when it comes to action oriented movies the Command Bar failed to offer any kind of surround immersion as there is no option to add surround speakers nor there is any kind of virtual surround tech that could help a little to expand the soundstage towards the back.
If you want to improve your TV's audio but you cannot afford a fully dedicated surround system or you are worried about the price you have to pay then the Polk Audio Command Bar is an excellent choice as it can do far beyond any flat TV can do today and with it's extra features makes it the most affordable, feature-rich soundbar we have seen so far.
For more reviews you can check our dedicated Soundbar-subwoofer combo reviews list or even look at our Product Reviews Table where you can find the brand and specific product you are looking for.
Also don't lose the chance to subscribe to our Newsletter and gain exclusive privileges.
---
Cheapest Places to Buy :
---
Specifications
Sound Bar
Front Array Driver Enclosure Type : Acoustically Tuned Vent
Front Array Driver Complement :

(2)  1.25″ (3.18 cm) h x 3.25″ (8.26 cm) w (Oval) – Mid/Woofer
(2)  1″ (2.54 cm) d (Round) – Tweeter

Power : 160 watts
Amplifier Class : Class D
Total Frequency Response : 40 Hz → 22,000 Hz (with subwoofer)
Total Power : 260 watts
Wireless Connectivity : 802.11a/b/g/n/AC – 2.4GHz & 5Ghz, Bluetooth
Connectors : 1 X HDMI 2.0a IN, 1 X HDMI 2.0a OUT, 1 X Optical IN, 1 X USB
Voice Control : Amazon Alexa Voice Services
Dimensions (H X W X D) : 2″ (5.08 cm) X 42.95″ (109.09 cm) X 4″ (10.16 cm)
Weight : 4.95 lbs (2.25 kg)
Sub Woofer
Front Array Driver Enclosure Type : Ported
Front Array Driver Complement : (1)  6.5″ (16.51 cm) d (Round) – Subwoofer
Power : 100 watts
Amplifier Class : Class D
Dimensions (H X W X D) : 14.43″ (36.65 cm) X 7.4″ (18.8 cm) X 14.5″ (36.83 cm)
Weight : 8.65 lbs (3.92 kg)