Polk Audio LSiM707
Movies Performance
9.8/10
Inputs and Features
9.5/10
Pros
Jaw dropping performance
Amazing cabinet quality
Can go pretty low
Perform like more expensive speakers
Cons
Are only meant for large areas
Design may not be for everyone
Price is out of range for many
Comes only in two colors
---
Cheapest Places to Buy :
---
Many people consider Polk Audio an affordable brand in the floorstanding speakers segment as they have designed many different models over the years at a very affordable cost. And while this mostly holds some truth this doesn't mean that they don't have a premium series in their arsenal. Today we give you our Polk Audio LSiM707 review with the 707s being part of their premium LSiM series of floorstanding speakers that come packed with some serious technology in order to offer the best acoustic performance either in a home theater or a dedicated stereo system.
Belonging in the premium category and packing all this serious tech naturally comes at a heavy cost. With a price tag of $2k each, these speakers really mean business and certainly are not for everyone. Forking out $4,000 for a pair is not something that the casual listener can call affordable but these speakers are not meant to be for everyone. But we have seen Polk Audio offering them with a 50% discount meaning you can get a pair for an amazing $2,000 which makes the deal extremely interesting. At the moment of writing this review Polk Audio offers them at this half price discount so if you are thinking of getting them now could not be a better moment.
Getting a premium set of speakers will always be the holy grail for home theater and music lovers but price remains the number one reason to make many consumers turn away. Are the Polk Audio LSiM really worthy to bear the title of "Premium" and how much better a deal these are with Polk Audio's heavy discount? Keep reading our in-depth analysis to find out.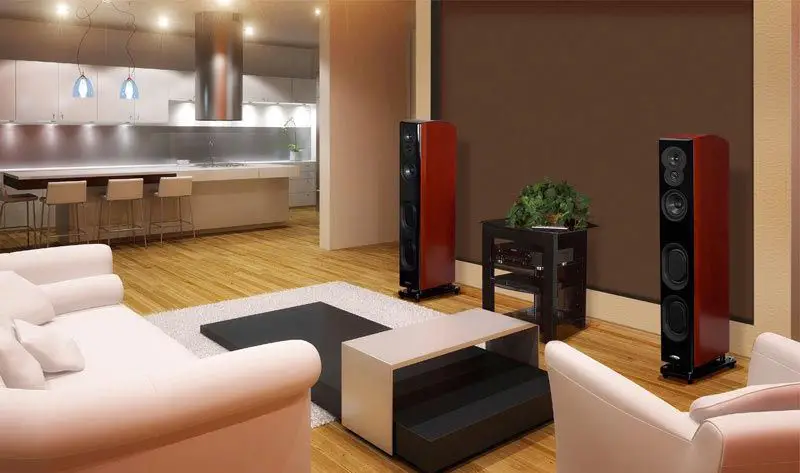 Design, Inputs and Features
Exterior
The speakers cabinet comes at a size of 9 1/2″ x 50 13/16″ x 18 7/16″ (24.1 cm x 129.1 cm x 46.8 cm) and a weight of 99.2 lbs (45 kg) each and as you can understand from this the 707s have some serious size and weight. Also keep in mind that the base they stand on measures 10 1/2″ x 20 5/16″ (26.7 cm x 51.6 cm) making them one of the biggest floorstanding speakers we have tested till now. The base can be fitted with Hex-Head floor spikes or rubber feet depending the surface you will place them while the Hex-Head screws provide an easy way to level your speakers without much trouble.
As for the cabinet itself Polk Audio has gone in great lengths to create a design as sophisticated as the one in the LSiM series. For the sides Polk Audio used 1″ MDF while the back and bottom uses 3/4″ MDF with wide-radius baffles of robust 1 1/4″ MDF. The cabinets also features substantial internal bracing while each driver is placed in each own separate non-parallel chamber in order to minimize internal resonance. Lastly the wide baffles help the 707s to give a more defined and smooth performance.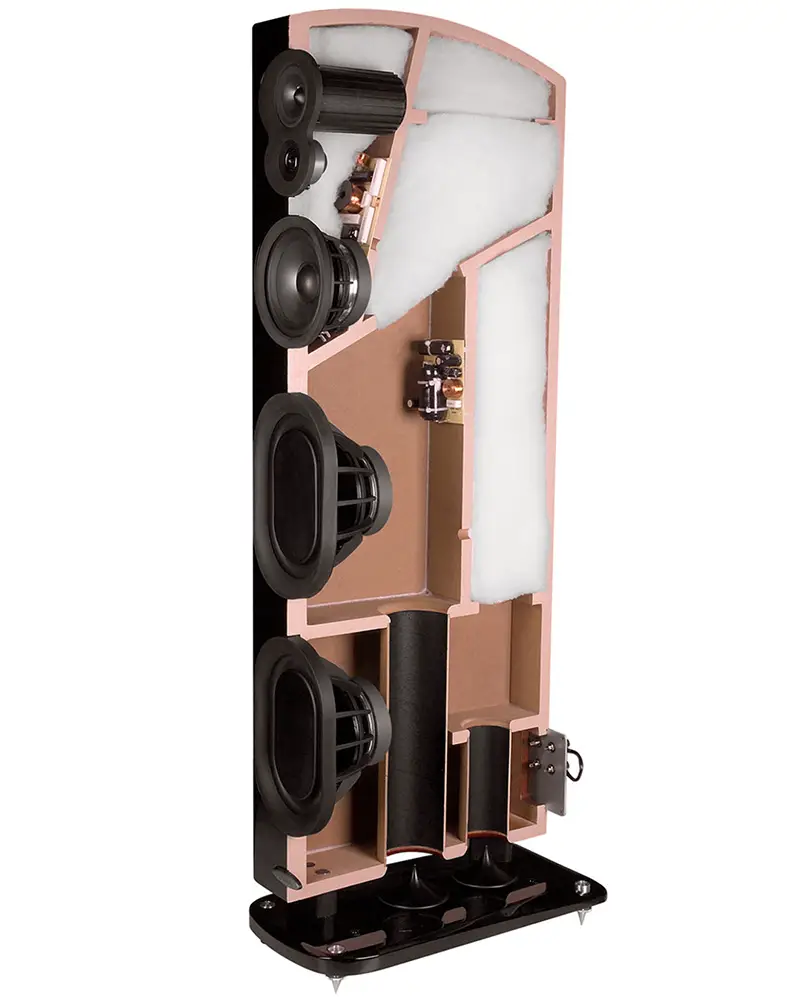 The LSiM707s come with full frontal, zero-diffraction magnetic grilles that have a thickness of 1mm making them have no real effect on the speaker's response while having the ability to lock magnetically make the speakers definitely more stylish and good looking without the grilles on. At the bottom of the front face we get only the Polk Audio logo which shows on the cabinet with or without the grilles attached.
At the back of the speakers we get the wire connectors while what certainly will make an impression is the base that the cabinet stands on. The speaker features dual down-facing PowerPort bass venting for it's subwoofers which certainly is not a usual thing to see but definitely helps a lot when placing the speakers around a room as positioning them near a wall will not affect the resulting sound as in some other speakers with back facing bass ports.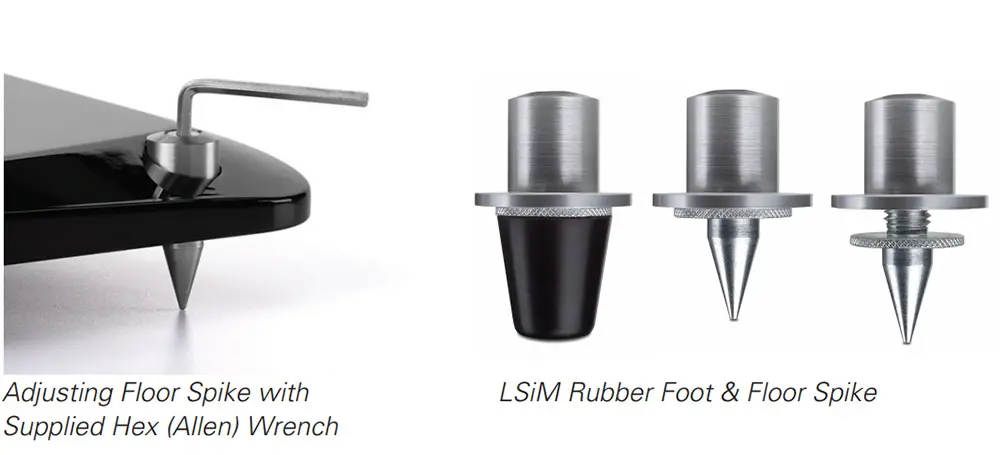 Polk Audio offers the LSiM707 in two different colors with the more average looking "Midnight Mahogany" practically having a glossy black color while the "Mount Vernon Cherry" having a glossy wood surface. Design is certainly unique and menacing compared to the usual rectangular box shape we see in most floorstanders. There may not be a big variation in colors but the two that Polk Audio makes have both good qualities for different situations.
Internal Hardware
If you are impressed by the LSiM707 external cabinet look then the hardware that comes with it will certainly make you look in awe. But let's talk about them one at a time.
The LSiM series features, what Polk Audio calls, a "Dynamic Sonic Engine" which basically is an enclosure that features a 1″ (2.54 cm) round enhanced ring radiator tweeter as well as a 3.25″ (8.26 cm) round super cell aerated polypropylene midrange driver molded together into one rigid piece. According to Polk Audio the "Dynamic Sonic Engine" was created to handle the 200 Hz and 2 kHz frequency range in order to provide a better off-axis response and improved frequency dispersion.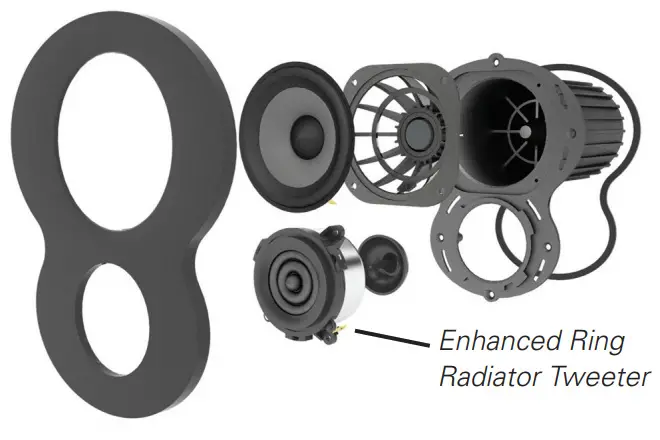 Next in line we find a 6.5″ (16.51 cm) round) super cell aerated polypropylene midbass/woofer that features a lightweight, splayed-strut design basket in order to provide low distortion and resonance while it's open design provides the necessary venting to it's linear movement.
Finishing we get two 6″ (15.24 cm) x 9″ (22.86 cm) Cassini oval, super cell aerated polypropylene subwoofer drivers which allow for a narrower baffle design while at the same time the increased surface area provide better low frequency response and deeper bass.
The LSiM mid-range and mid-woofer drivers feature "Extended Linear Motion Voice Coils" in order to allow better movement and extend their high-frequency response while the subwoofers use overhung coils for better power handling. All drivers feature butyl rubber surrounds to minimize cone resonance and have better durability over time.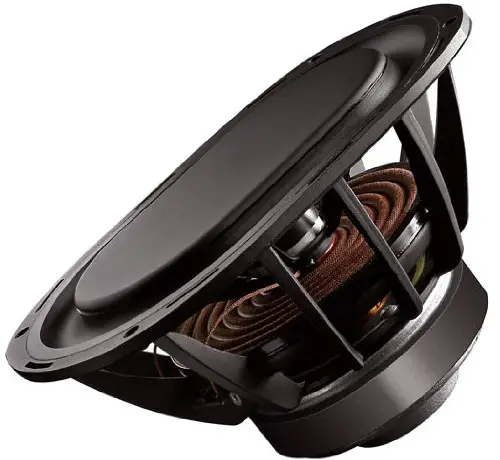 The Orth Crossover for the Tweeter/Midrange frequency is set at 3.0 kHz, for the Midrange/Midbass frequency at 300 Hz and for the Midbass/Woofer frequency at 100 Hz. The five drivers setup give the LSiM707 a total frequency response of 20 Hz – 40 kHz, 88db of sensitivity and 8 ohm impedance.
Polk Audio has really outdone themselves with the LSiM series and the hardware seems at least on paper to provide a thunderous performance which is what a premium series like is all about.
Connectivity
At the lower back of the speaker we find two pairs of gold plated binding posts that you can connect bare wires or special banana plugs. Having bi-wire capabilities is a nice addition with Polk providing a set of jumpers also showing how much attention to detail Polk Audio put into the series.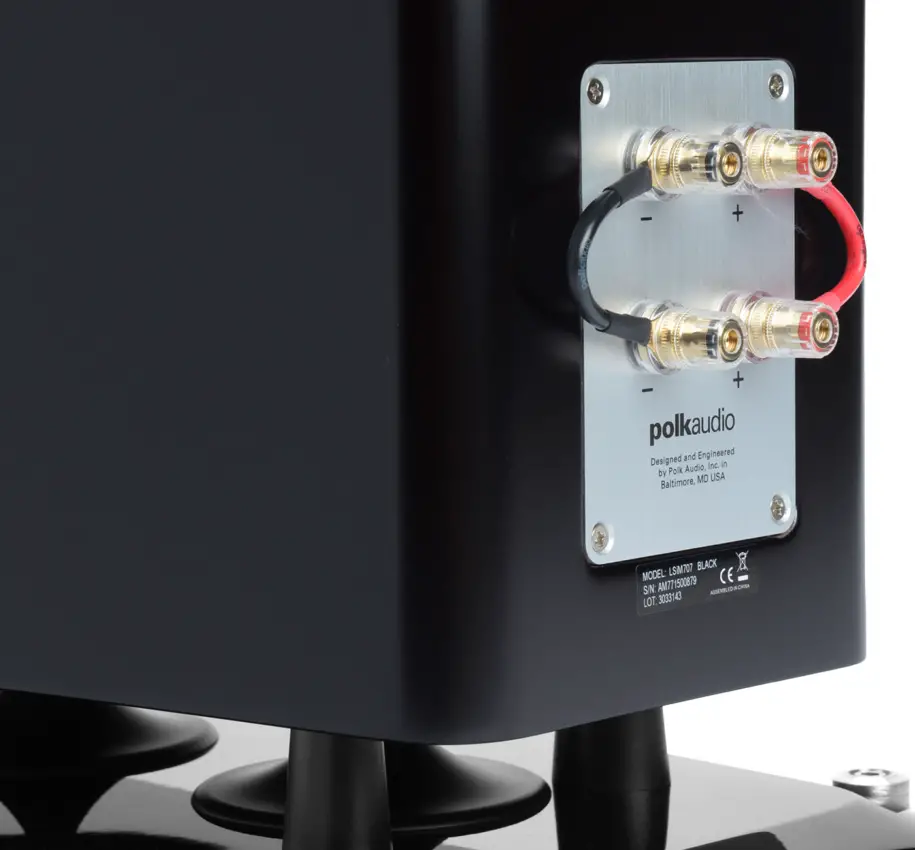 Performance
Having a sealed enclosure with down-facing subwoofer ports make the  Polk Audio LSiM707 easier to place than what you would think. Placing them near or far from a wall doesn't have any impact as a back facing ported speaker would. We placed the LSiM707 almost 30cm from the wall and let them run a few good hours for their necessary break-in period as in the beginning they may give you a bit of a stiff sound. Also we experimented with various angles as a bit of toe-in was required to get better results.
In general we cannot say that they need any special treatment when being placed in your room. Obviously perfectionists will spend some time to get the absolute best result but even with little effort the speakers will provide you a very special acoustic result.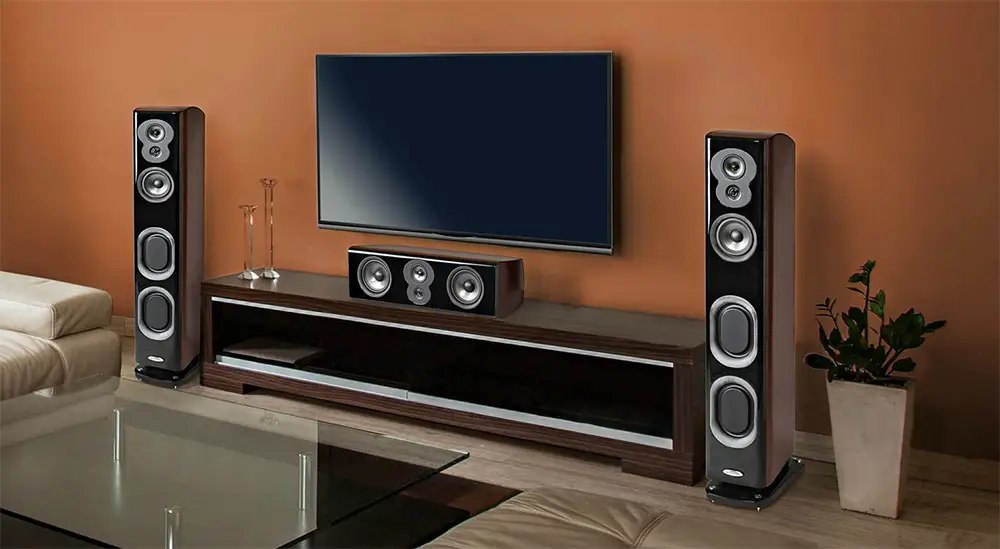 Movies
Usually we start our testing by trying out how the speakers perform in a home theater setup and as such we chose a couple of films with the 4K UHD version of Saving Private Ryan being the first one which comes with a spectacular Dolby Atmos track. Usually we try a couple of key scenes with the opening landing on Omaha beach as well as the last featuring the battle of Ramelle but for this test we tried also the scene during the Neuville battle which has some nice ambient and environmental effects with the rain falling in a somewhat silent scenery.
Let's start with the Omaha beach landing. Oh boy, what a difference these speakers make just from the very beginning. It's like a whole new world opens right in front of you. From the moment we see the Allied soldiers on the boats approaching the foggy beach the soundstage becomes alive and three dimensional. Every small detail and sound is being reproduced faithfully here. Water splashes, marine boat engines roaring, German artillery echoing menacing at the distance and an eerie silence as the soldiers wait to set foot on the European theater of war.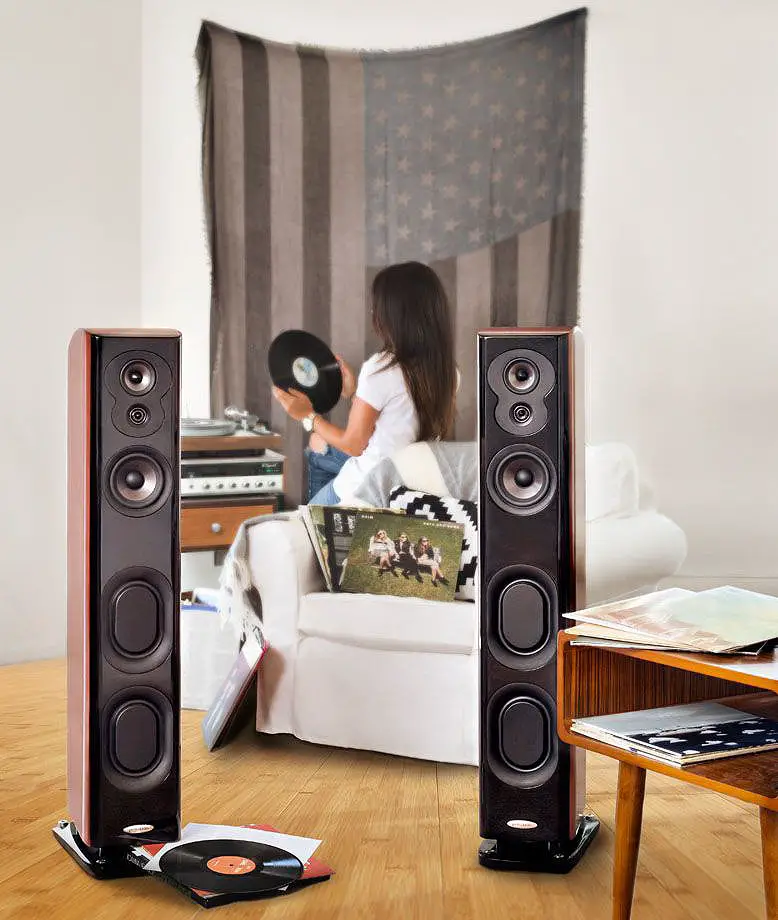 Make no mistake, the LSiM707 means serious business and will draw you in the action for good. When the soldiers reach the beach and the doors open the speakers throw all the action at you and never break a sweat. The film has a lot of action in the lower frequencies and while for movies you certainly need a subwoofer even without it the speakers manage to perform admirably even in such a demanding mix. The audio track has a deliberately harsh texture and the 707s manage to show this in the most emphatic way. Machine guns, artillery explosions, grenades and projectiles flying around all sound very natural and coherent.
During the Neuville scene the rain falling sounded more realistic than ever and even though the sound was coming from the front it felt like the soundstage was more wide and deep than what we expected. Fast forward to the last scene during the Ramelle battle and the menacing sound of the Tiger and Panzer tanks approaching made our jaw literally drop on the floor. The speakers didn't let anything go missing as they reproduced every small detail, every little information of the audio mix with amazing authority. Clanking rifles, tank cannon fire and rubble falling from the explosions were all sounded as you would expect from the real thing.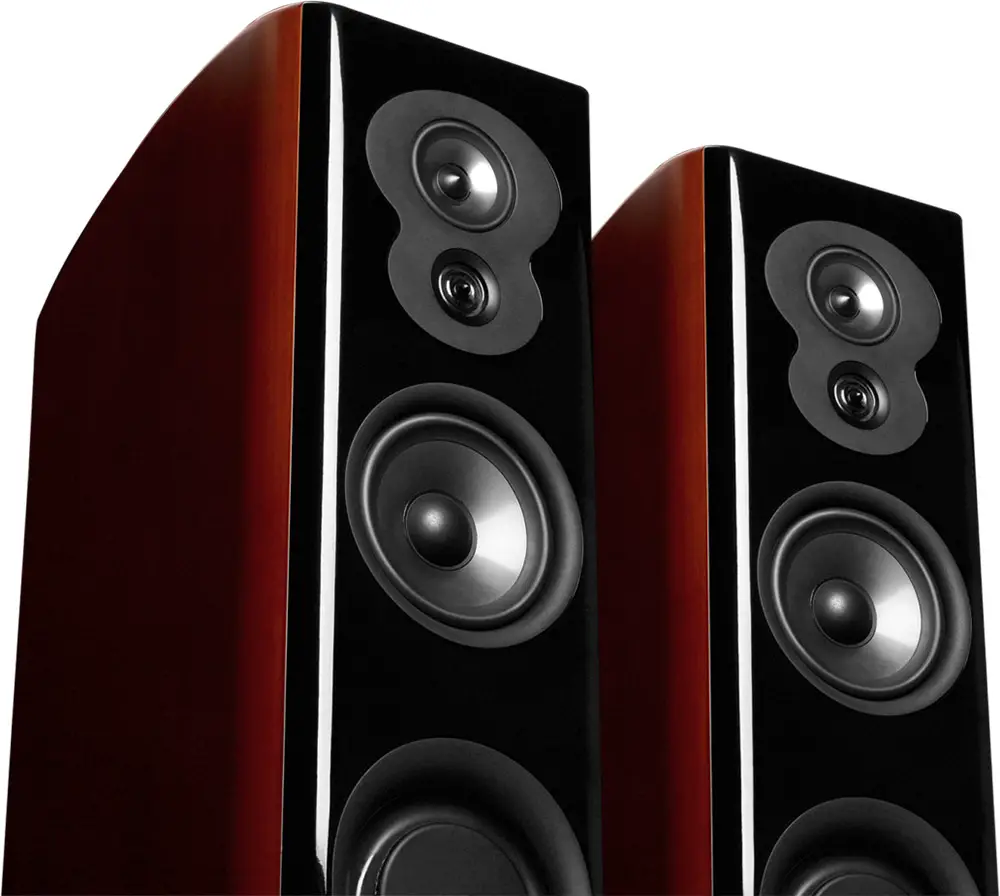 After such an epic experience we chose to try something a bit different so we picked Valerian and the City of a Thousand Planets in 4K UHD that also has a very nice Dolby Atmos track. This audio mix has a completely different feel in comparison to Saving Private Ryan that had a very harsh sound as it seems to give a high priority to environmental sounds and effects something that the 707s really favored.
Spaceships, laser fire and explosions had the necessary weight and clarity while in certain scenes the 707s made the soundstage feel so fulfilling. When visiting certain alien planets the various sounds had a very soft, warm inviting sounding while powerful bass-lines would take front-stage every time they were needed. Amazing silky smooth highs and dead-on midrange would accompany the bombastic lows for a exceptional overall performance. The kind of imaging and timbre coming out of these speakers is really unbelievable and certainly make these speakers feel like they cost much more than they actually do.
We even pushed the 707s to the point that they started becoming bothering for our ears but they didn't seem to buckle under the pressure not one inch. On the contrary it almost felt like they were laughing at us with our human limitation to go even higher.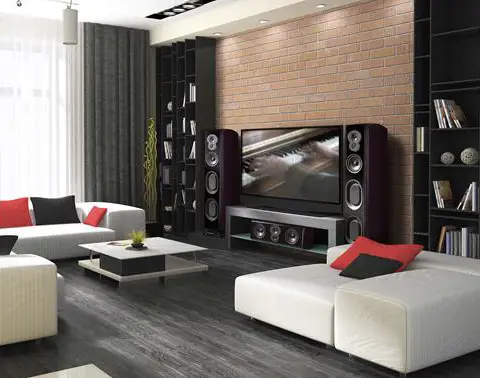 Music
Of course the Polk Audio LSiM707 is not only meant for large home theaters but are meant to be used in stereo music systems also. As such we picked a selection of FLAC music files that we streamed through our AV receiver and let the 707s to surround us with their amazing musical fidelity. The Polks get so much right that makes it really difficult to find any shortcomings. Spatial awareness was very clear as each musical instrument was very distinguishable through space while channel separation was very precise and accurate.
Sound was very coherent that is the result of excellent design of the crossover network from top to bottom that is not easy to find even at this price. Powerful bass kept hitting us as the speakers had no problem to go very low while the high frequencies were smooth and grain-free accompanied by a very refined midrange that masterfully bridged the two ends.
In total the LSiM707 is capable of performing amazingly across the whole dynamic range and we can really say that they are not falling behind in any particular area. The speakers will offer you such an unforgettable experience and you will for sure feel the emotion that it's marvelous and extremely evocative sound will bring out of you.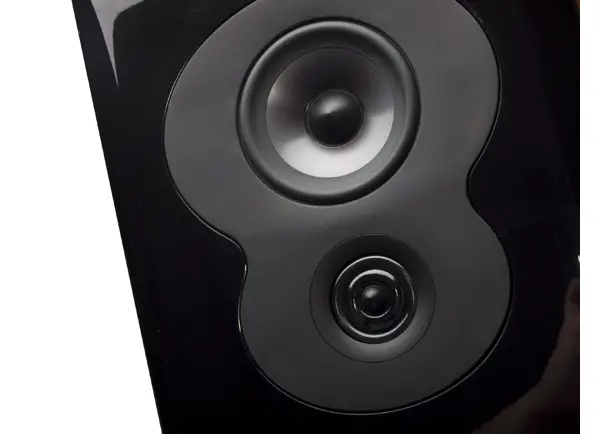 Final Thoughts
Polk Audio managed to create a series that deserve to bear the "flagship" tagline. The LSiM707 is the kind of speakers that speaks and breaths premium quality and come at a price that while may not be affordable to many they are meant to offer much more than their cost. The initial price may be around the $4,000 mark for a pair but certainly will offer you an experience comparable to that of other, even higher costing speakers.
There is so much attention to the design for both the cabinet and the internal hardware that the end performance really show this. The 707s not only look good by having a rather interesting design but also perform admirably due to carefully selected materials and internal design. Powerful bass, smooth highs and a very accurate midrange create a very smooth, warm and natural result that is hard not to enjoy.
Closing we will just say that our time with the LSiM707 was one of the best experiences we had recently as you could close your eyes and let the speakers disappear in space as they draw you into their own melodic world. Excellent work by Polk with their flagship series making us give the Polk Audio LSiM707 our highest recommendation. If you are interested in them then look for the 50% discount that Polk is offering them from time to time. As getting them at $1,000 each is an offer that you wouldn't want to miss.
For more reviews you can check our dedicated Floorstanding Speaker reviews list or even look at our Product Reviews Table where you can find the brand and specific product you are looking for.
Also don't lose the chance to subscribe to our Newsletter and gain exclusive privileges.
---
Cheapest Places to Buy :
---
Polk Audio LSiM707 Specifications