MagniFi Max AX
Reviewed at $799.00
Movies Performance
9.0/10
Inputs and Features
9.1/10
Pros
Very good performance
Dolby Atmos and DTS:X support
Multiple HDMI inputs
Can be expanded with optional rear speakers kit
Cons
No auto calibration system
No EQ controls
Missing USB playback
No 4K@120Hz support
---
Cheapest Places to Buy :
---
Polk Audio is no stranger when it comes to soundbars but to be honest their brand is mostly associated with low cost, budget friendly models as their Signa series has been the highlight of their soundbar lineup for some time now. But the Signa series is not the only only they have and today in our Polk Audio MagniFi Max AX review we will be looking at their latest offering that came to the market a few months ago.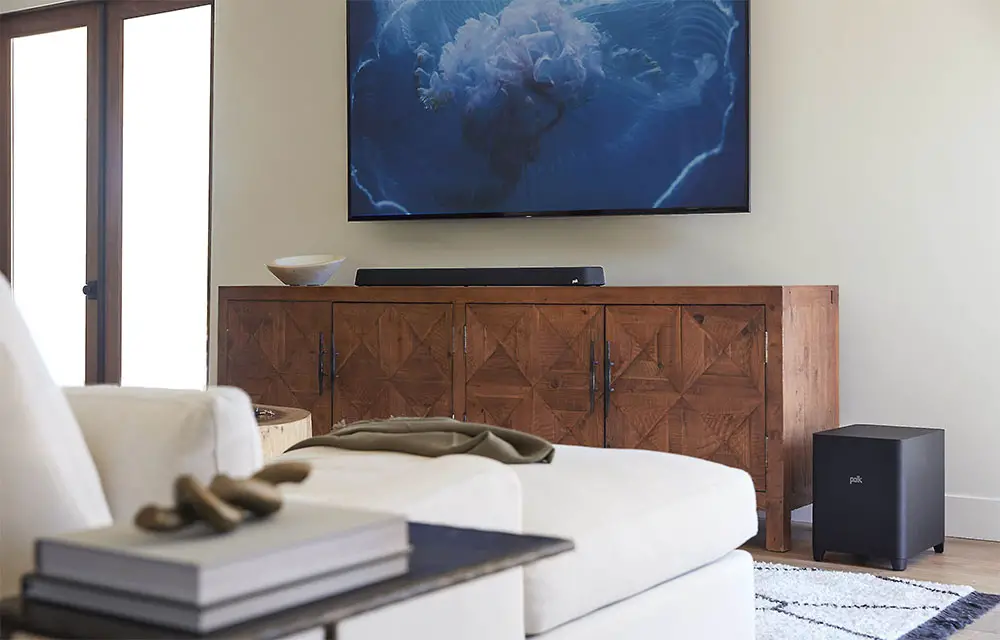 The MagniFi Max series is the continuation of their previous MagniFi Mini series but that one only included very small and compact models. On the other hand the MagniFi Max goes for size in order to offer a more premium and top tier experience that was missing from Polk's soundbar lineup. Although their latest Polk Audio Signa S4 had Dolby Atmos capabilities, it was never considered a premium model. And this is where the MagniFi Max AX comes into play.
Going over the specs real quick we see that this soundbar is practically a 5.1.2 channels soundbar/subwoofer combo system. It supports both Dolby Atmos and DTS:X, comes with Polk's SDA and VoiceAdjust technologies, uses both WiFi and Bluetooth functionality and can be upgraded by adding a pair of optional SR2 rear speakers.
It's not everyday that we see a Polk Audio soundbar costing in the $800 range and this shows that the brand wants to enter this more premium territory. The MagniFi Max AX may not be equipped with the most exotic hardware we have seen but even as such it will be interesting to see how it can perform in this extremely competitive category. So without further delay let's start our analysis.
Design, Inputs and Features
Exterior
The new MagniFi Max AX is not using any previously seen design and instead borrows certain design cues from the MagniFi Mini soundbars but on a bigger scale.
In terms of size the main unit measures 4.6 × 45 × 2.8in (118 × 1143 × 72mm) with a weight of 12.85 lb (5.83 kg) making it a relatively big unit, even though we have seen even bigger than this one in the past.
Just keep in mind that if you plan on placing it in front of your TV the soundbar, although it has a low profile design that can fit under many TV models, doesn't have any IR repeaters, so if your TV's IR sensor is extremely low then it may obstruct the signal, so you better measure first just to be on the safe side. Most TVs do have a gap of around 2.5″ below the panel but there are a few ones we have seen that leave less space, the Sony A95K comes quickly into mind, and considering that the unit stands at 2.8″ height you may run into a unforeseen problem. So always measure to be on the safe side.
Design wise, Polk offers us something new as the MagniFi Max AX has angled sides, something that we don't usually in soundbars of any category. Most of the unit is covered by a dark cloth fabric grille which is not removable and hides all the drivers along with the front functions display. The rest of the body is made out of the usual plastic but we found it of good quality and sturdy enough.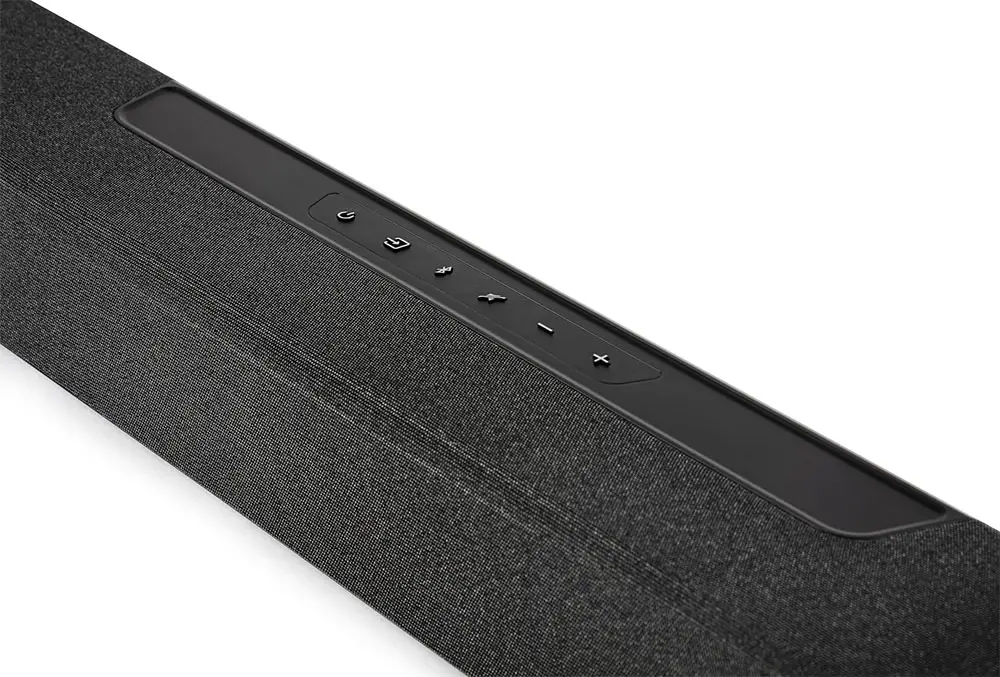 At the top face we get the built-in buttons with Polk using physical buttons in the shape of their functionality. To be honest we like these much more that the touch sensitive ones that some brands are using as these are much less prone to fail or accidental input. There is nothing else visible at the top as the up-firing drivers are hidden under the cloth grille keeping a very minimalistic look.
One thing that we are always very critical about, when it comes to soundbar designs, is the use of a front display that shows various functions of the unit. Some soundbars lack a fully working display making it very hard for the user to know what the soundbar is doing.
Thankfully the MagniFi MAX AX comes with a fully working LCD display that Polk placed at the left side of the center front driver. This display can show you various information like input source and volume among others and is relatively big to fit a few characters for easy reading.
At the back we find a single inset directly at the center that houses all the available connection ports. Thankfully the power port has been placed with all the rest so grouping all cables together is much easier with this one.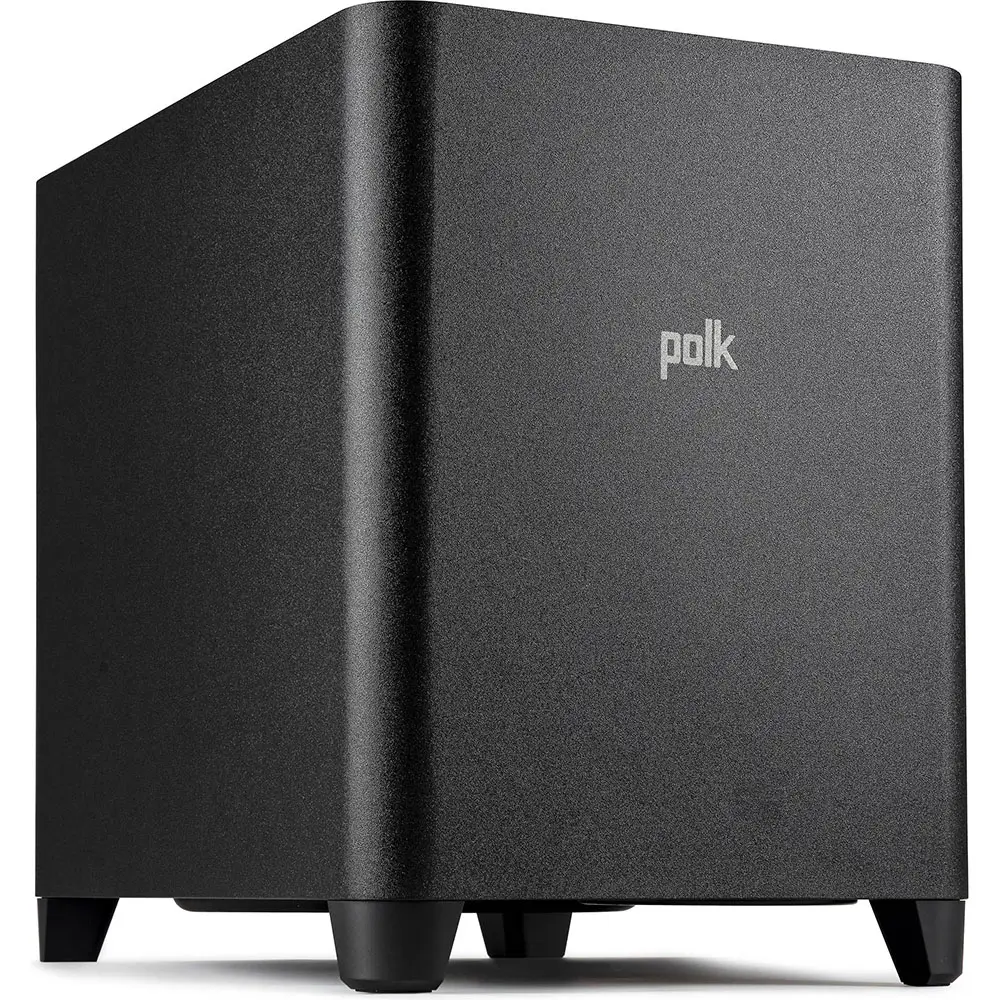 As for the subwoofer the one that comes with the soundbar is a bass reflex design with both the driver and the port located at the bottom. The subwoofer, as is the case with most soundbars, is made of some kind of MDF or wood and features a rather cubic design with curved corners. It's so simple in design that it can be very well mixed for a small table or something like that.
The subwoofer is wireless connected to the main unit but it still has a power cord and a pairing button and LED at the back while we measured it at 16 × 11.9 × 15.7in (407 × 302 × 399mm) and with a weight of 26.3 lb (11.9 kg).
The soundbar does not have any rear speakers in the box although Polk does offer a bundle of this model with the rear speakers included. Unfortunately the one we have for testing does not have these.
Internal Hardware
As we mentioned above, the MagniFi MAX AX is a 5.1.2 channels soundbar with an 11-speaker array for the main unit along with the subwoofer.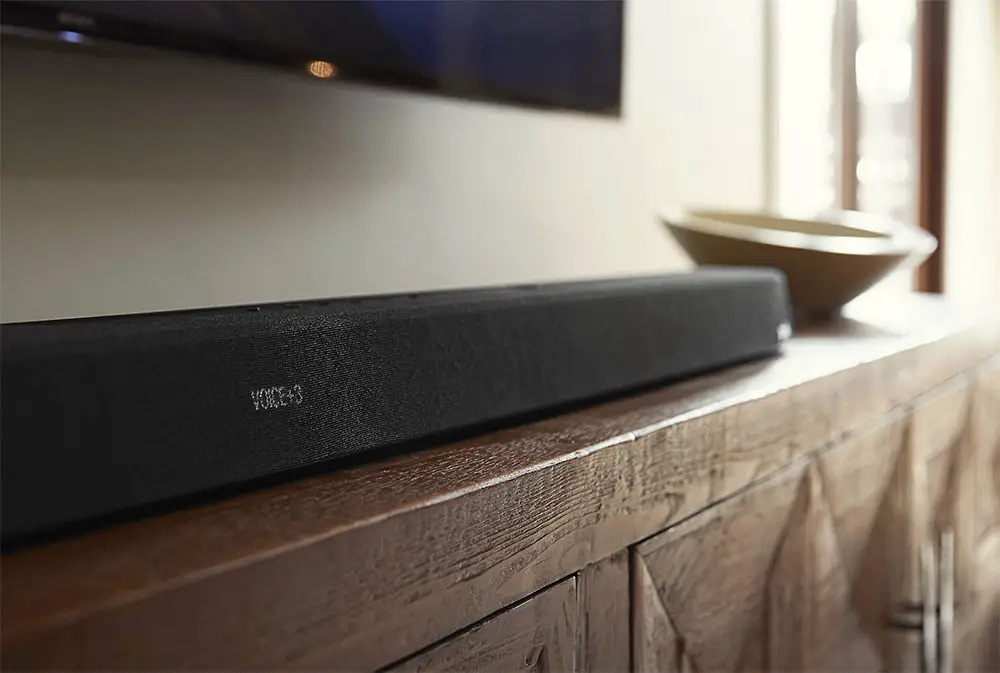 The main bar incorporates 7 channels in total with the left and right channels utilizing four 3″ (25mm x 76mm) racetrack mid-woofer drivers and two 0.75″ (19mm) soft dome tweeters. On the other hand the center channel uses two 2.5″ (25mm x 64mm) racetrack mid-woofer drivers and a single 0.75″ (19mm) soft dome tweeter. Lastly we get two more 2.6″ (66mm) round mid-woofer drivers in an up-firing position for the Atmos effects.
As for the subwoofer, it comes with a single, down-firing 10″ bass driver which is one of the biggest we have seen in this category of soundbars.
Again, as we mentioned above you also have the option to add the Polk SR2 Wireless Rear Surround Speakers but these were not included in the package we have. There is also the MagniFi Max AX SR variant that is exactly the same but this includes the surround speakers also.
Polk Audio does not provide any further information regarding the hardware so we have no clue of the soundbar's power rating or frequency response.
Overall things look good here and while this may not be an array that escapes the normal standards we have seen in many Dolby Atmos soundbars, it shows that Polk did their homework when deciding what to use.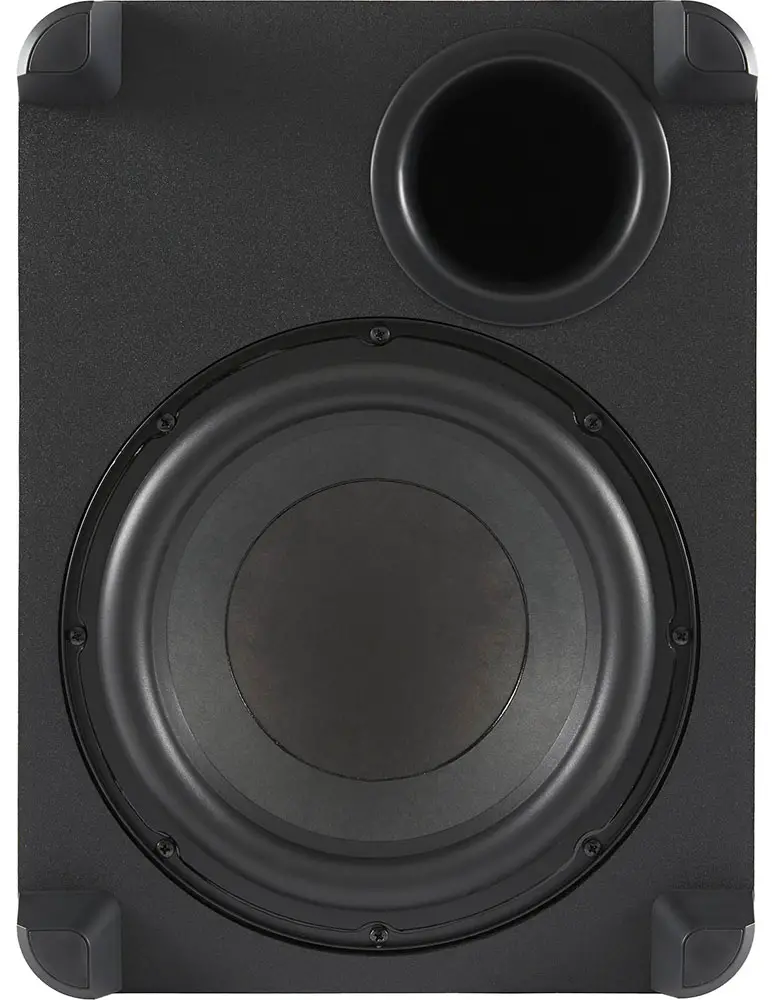 Connectivity
A problem we constantly face, even with premium soundbars, is the extremely low number of HDMI ports included which results in users having to rely on 3rd party accessories to connect all their equipment together.
Thankfully Polk seems to have taken notice and offered three HDMI inputs which should be enough in most cases. Along with them there is an HDMI output, a digital optical audio input and a USB port.
One thing that needs to be mentioned is that all the HDMI ports are the older HDMI 2.0 and as a result they do not support 4K@120Hz. This means that if you want to connect your gaming console in the soundbar for high frame rate gaming you are out of luck. In such a case your only options is to use the eARC and connect your console to the TV and from there to the soundbar itself.
According to Polk the HDMI inputs support up to 4K@60Hz signals with HDR or Dolby Vision pass-through which is perfect for any non gaming source. And with three of these ports available you should in theory be ok. We should also note that the included USB port can only be used for firmware updates as the soundbar lacks any USB streaming capabilities.
Also we shouldn't forget to mention the unit's wireless capabilities as it features built-in WiFi (802.11a/b/g/n/ac) along with Bluetooth v5.0 which ensures better and more stable connections.
The HDMI is the prevalent way of connecting most devices nowadays and soundbars, even some pretty premium ones, don't have many of them in order to connect all your sources through it. The MagniFi Max AX on the other hand is one of the few models that offer three of them. Yes, we would love them to be HDMI 2.1 in order to be able to have these juicy gaming features but we cannot have it all, at least not yet anyway.
Control Options
Next we will be looking at all the ways that you can control this system.
First and foremost the remote, and here we were a bit surprised as the one we found in the MagniFi Max AX is completely different from all the other Polk remotes in the past.
The remote retains its simplistic characteristics of all its predecessors but the design is different with a more curvy look while the buttons have a slightly different layout. We cannot say we like this one more or less, it just feels a bit different but practically it behaves the same.

Also all functions are available through the included buttons, something we definitely like in comparison to some other brands that force you to use their mobile app for some more specialized features.
We previously mentioned about the built-in buttons placed at the top of the main bar and these include a power button, an input selection button, Bluetooth, Mute and volume controls.
Another way of controlling the soundbar is through your TV's remote. If you have used the HDMI connection and your TV also supports HDMI-CEC then you can use one remote for both the TV and the soundbar. Obviously some functions will not work but for everyday use this can be ideal as you will not have a small flock of remotes around you.
But even if your TV does not support CEC the MagniFi Max AX gives you the ability to teach your IR (infrared) remote to control volume, mute and other functions (such as source selection or bass volume) on your soundbar. Detailed instructions on how to do this are included in the manual and they are very easy to follow.
The soundbar also supports voice control but this feels a bit of an afterthought here. There is support only for Amazon Alexa (no Google Assistant unfortunately) and this is not built-in either. You will have to use an external Alexa device in order to issue commands to the soundbar itself. Well, better than nothing but for an $800 soundbar we were expecting a bit more on this front.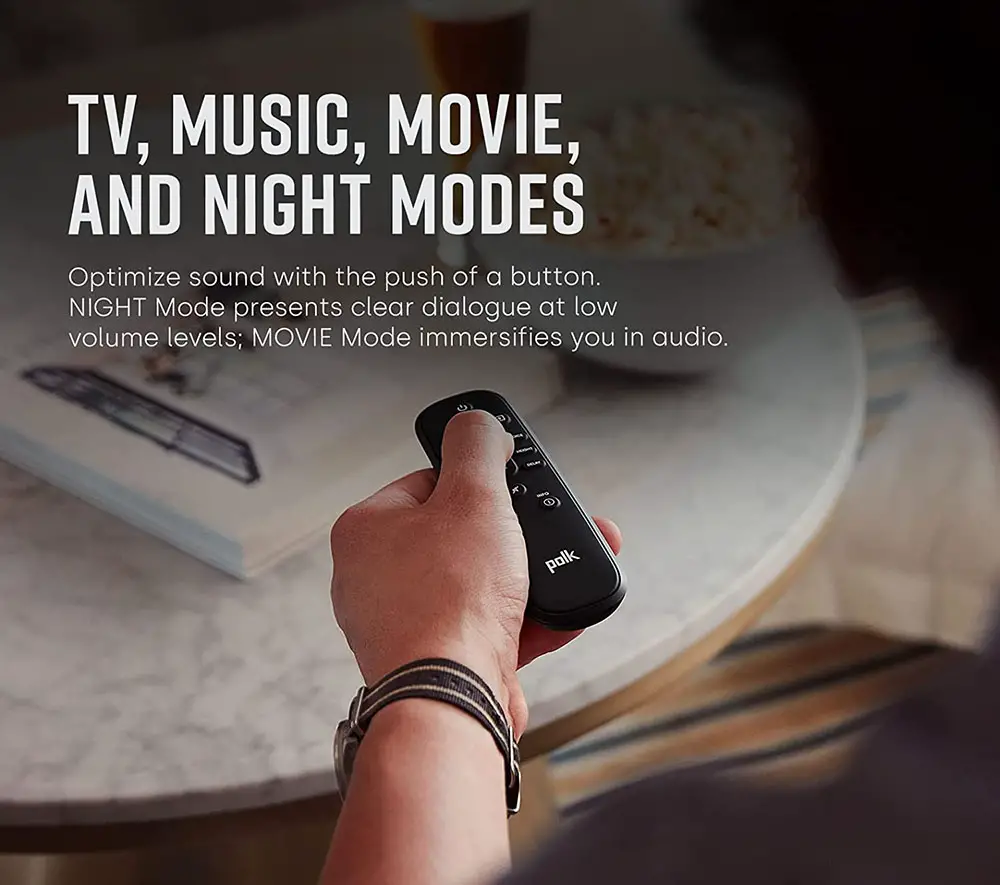 Polk continues not to offer a dedicated app for their soundbars. The Signa series didn't have one either so it doesn't come as much of a surprise. You can use a few apps to stream music to the unit but these do not offer the type of control the remote does. But more on these apps in the dedicated section below.
Extra Features and Services
Now let's go everything that the MagniFi Max AX comes with in terms of audio and features support.
The soundbar supports both Dolby Atmos and DTS:X and to be honest to see DTS:X in a Polk Audio soundbar is like a revelation as previously their entire Signa series would support only Dolby's formats. Obviously along with these two the soundbar can playback all the older channel based formats like Dolby Digital and DTS.
Another improvement we find here compared to the Signa units is that Polk has upped the number of sound modes available as the MagniFi Max AX has six in total. You again have the option to choose between Movie and Music mode depending on the kind of content you will use it for but there are more.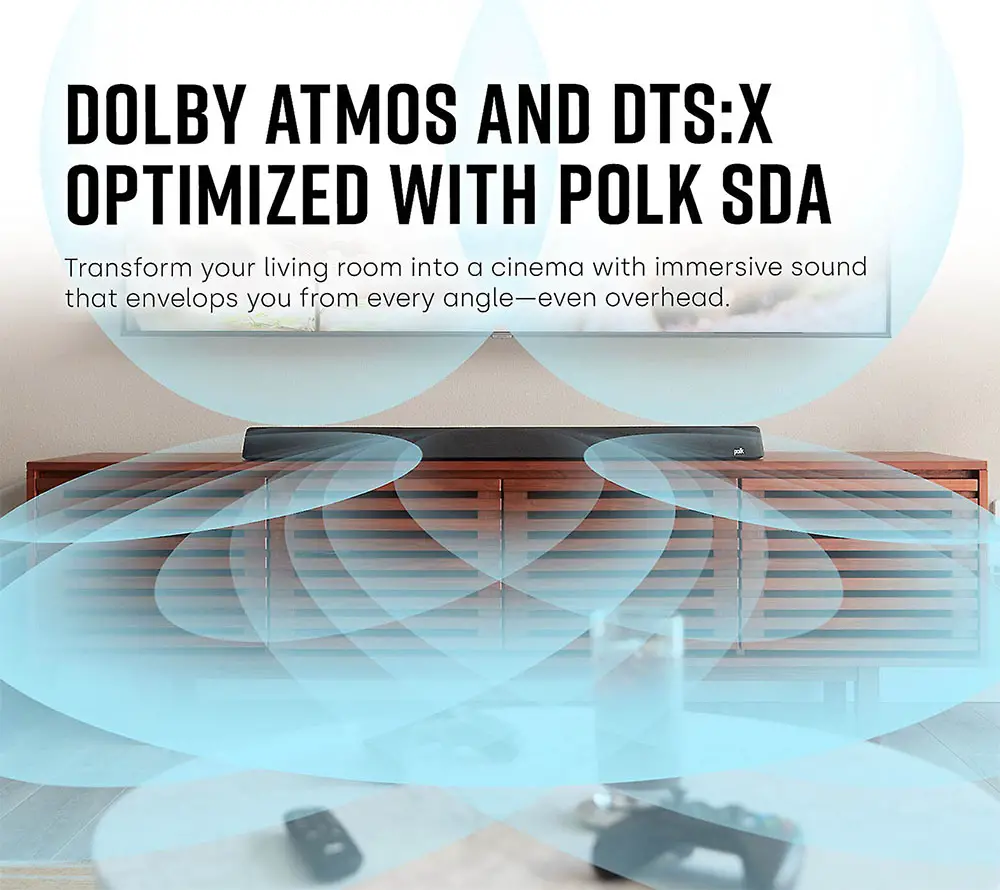 A TV mode that seems to prioritize dialog more, an All Stereo mode that sends the front left and right channels to your surround speakers if you have these installed and lastly the Night mode which reduces bass and volume dynamics while improving voice intelligibility for low volume listening which can be very handy for late night use.
In case you do not want to bother changing sound modes every single time you change content there is an Auto mode that choses which mode to use depending the content at play.
Polk Audio advertises a lot their VoiceAdjust technology that was included in all the previous Signa soundbars and we find it here also providing different levels of adjustment.
The soundbar lacks any kind of EQ settings or an auto calibration system and the only adjustments that you can really make is the bass, treble, height and surround levels. From the remote you can control all of these as there are dedicated buttons for each function.
If you don't like going through various audio settings and calibrations then the MagniFi Max AX is perfect in this regard. Polk soundbars were always very simple when it comes to sound modes and audio options and if you are the kind of person that doesn't want to spend the time on these, this will be a great experience for you.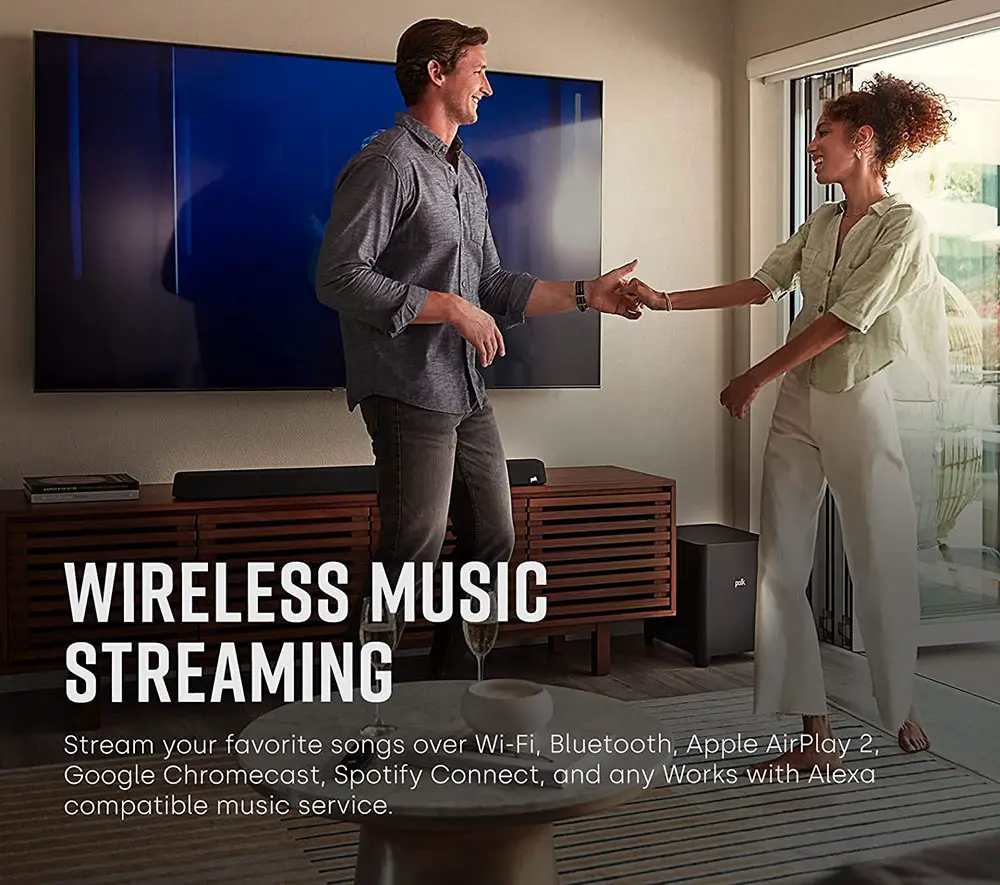 When it comes to playback, the soundbar supports both WiFi and Bluetooth streaming but not USB playback. Google Chromecast, Apple Airplay 2 and Spotify Connect are all supported and you can stream music through them to the soundbar itself.
As for the rest, the unit is Roku TV ready which means that if you have a Roku equipped TV setting up and controlling the unit can be a lot easier. Lastly you have the ability to expand the system to a 7.1.2 channels setup with the addition of the optional Polk SR2 Wireless Rear Surround Speakers.
The soundbar is missing a few features that we see in many higher tier soundbars like Google Assistant, USB playback, EQ controls and an auto calibration system so we cannot say that this is the most feature complete soundbar to test. And for the price asked some of these should be standard, placing the MagniFi Max AX in a tough position compared to the competition.
Initial Setup
Polk soundbars were always easy to install and setup and the MagniFi Max AX is no different at all.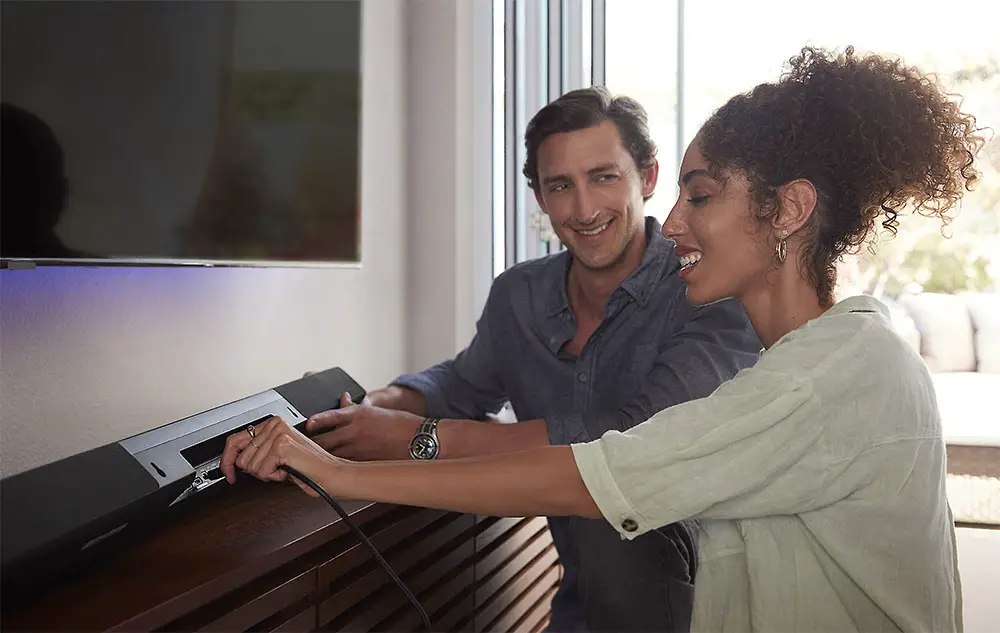 After placement you connect the HDMI cable and plug the unit to a power outlet. The same you do for the subwoofer that connects to the main bar automatically. If you want to connect the soundbar to the network there are three options to choose from, since Polk does not provide a dedicated app themselves. Google Home, Amazon Alexa or Airplay. And you are set.
For our review we decided to use the pass-through capabilities of the soundbar so we connected our Zidoo Z9X media player and PS5 in two of the HDMI inputs and from there to the TV we had at hand. Obviously we can't get 4K@120Hz gaming through this connection but for 4K@60Hz it is more than sufficient.
From there you have to calibrate the different channels manually and select the appropriate sound mode that you prefer. That's all there is to it. After everything is said and done we were ready for testing.
Movies
We started our movies tests with the 4K UHD version of the Lord of the Rings: The Return of the King with its reference rated Dolby Atmos mix.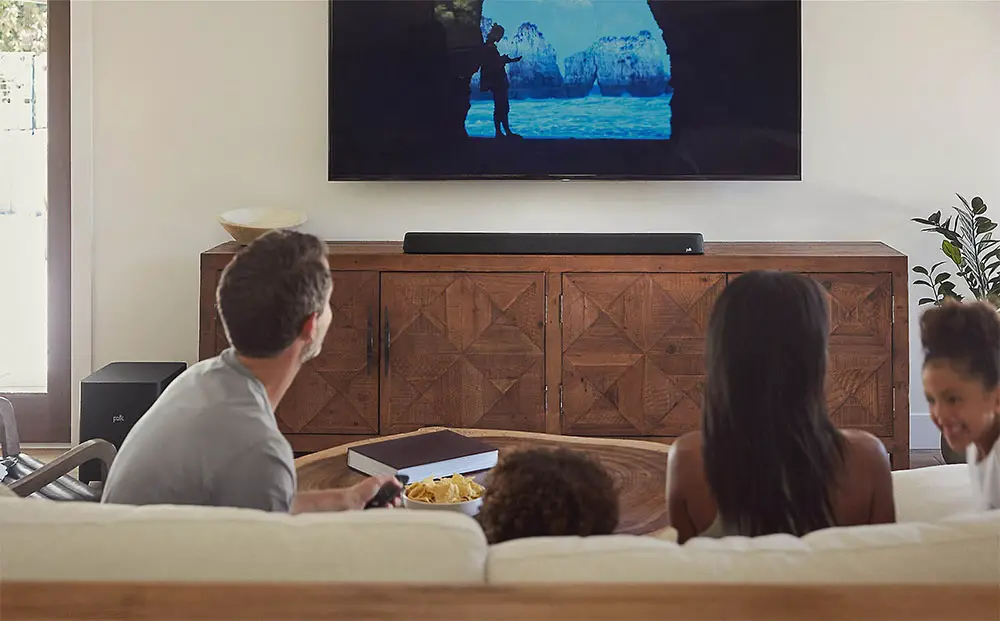 The first thing that immediately becomes obvious is how alive and full of energy the front sound wall was. The soundbar was not only able to render a very expansive stage at the front with satisfactory sideways extension and depth but the sense of elevation due to the inclusion of the up-firing drivers was more than obvious.
Now, there are soundbars we had tested before that could push the sound even further to each side but nevertheless what the MagniFi Max AX was able to give us was more that what we were expecting.
The main front channels had good separation even with being in close proximity to each other. Panning effects had very nice precision and good directionality while the center channel delivered crystal clear dialog even without using Polk's VoiceAdjust technology.
Atmos effects were as good as possible with a system using up-firing drivers. You will have some sense of elevation but sounds will not come directly from the top layer. Certain effects felt like coming slightly above our test TV which is still very good.
Also, as is the case with all similarly designed soundbars, your room plays a big role on the kind of Atmos performance you will get out of it. If you have a straight ceiling with a maximum height of 9 feet (3 meters) then the soundbar will surely give you this sense of elevated action. On the other hand an angled ceiling or one that is much higher will diminish these effects greatly.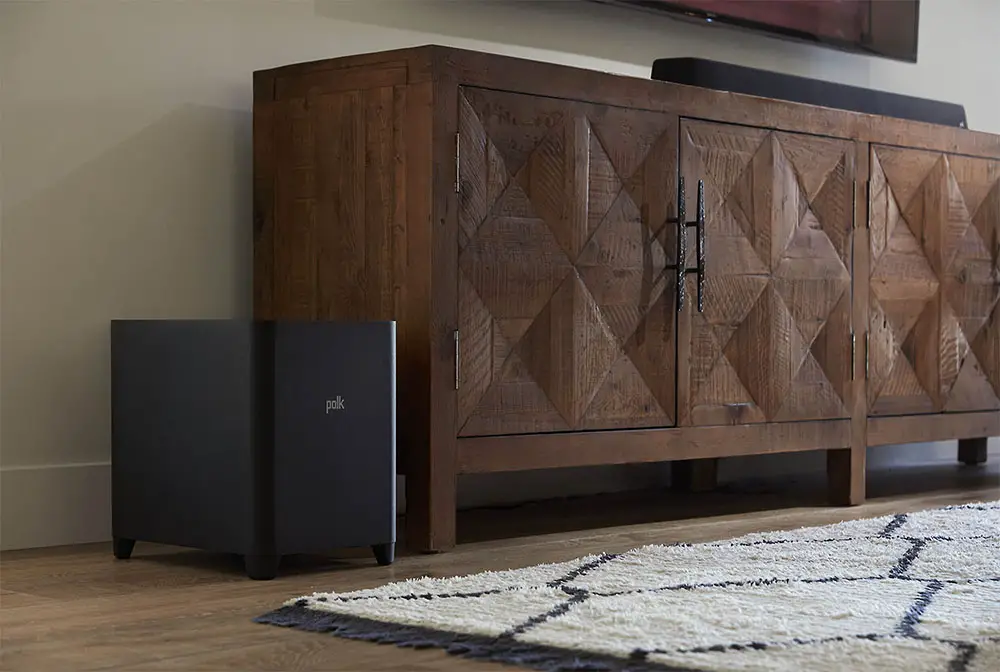 Another problem with the up-firing, Dolby Atmos enabled soundbars is that the sweet listening spot is extremely narrow. Sit too far from it and the Atmos effects will not be as pronounced or distinct as they should.
So while the unit can do really good here and offer very satisfying Atmos sound there are a lot of requirements in order to get the most out of it.
If there is one area where the soundbar failed a bit, that would be in its surround activity. The soundbar does try to create a multi-dimensional immersion bubble but with no rear speakers it can do so much with what it has. If you really want surround sound you will have to either buy the optional rear speakers kit or go for the Polk Audio MagniFi Max AX SR bundle that is the same soundbar with the rear speakers included.
On the bass front, the included 10″ soundbar was really a beast. The low end felt menacing, powerful and will send plenty of low end sonic waves your way. During the last ride of the Rohirim it was as if the battle was taking place inside our room. And while the subwoofer offers plenty of shakes and low end hits it never felt muffled or too boomy. There were a couple of moments when we though that it lost its balance but it regained stability immediately.
Overall we were very excited by what we heard. The soundbar can really immerse you and the front sound wall was powerful, full of energy and had great directionality. The high end was lovely, the bass was vigorous and the Atmos effects were satisfying. What else can you ask from a soundbar of this category?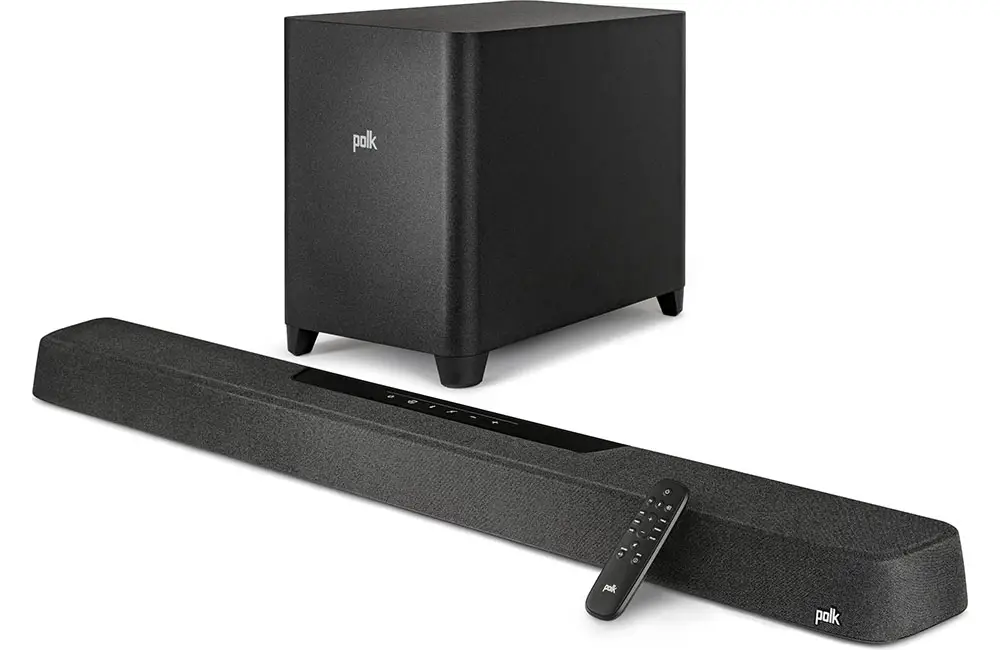 Music
When it comes to music streaming the soundbar offers plenty of options, either it be through WiFi, Bluetooth or one of the included ports, either HDMI or optical. For our review we used our Zidoo Z9X media player in order to stream some FLAC files through the connected HDMI port.
The unit comes with a music mode so we opted to use that for this part of our testing. But as we always say, choosing a specific sound mode has to do a lot with the personal preferences of each user so we strongly advise you to try them all and decide for yourself which one sounds better to your ears.
The MagniFi Max AX is a system that may not drop your jaw on the floor with its qualities but surely it can create a very satisfying melodic atmosphere. No soundbar should be considered HiFi material and this one does not break this standard. We have tested far more expensive soundbars that offer similar music performance and it is obvious where the limits of soundbars truly are.
But even with all the weaknesses such a system has the outcome was really good. Sound imaging was noteworthy with good clarity of all sound sources in space. The unit can render sounds with high enough resolution bringing forth the qualities of each performance. The center channel kept all vocals nicely isolated from the rest of the audio sources while maintaining their distinct characteristics and tonality.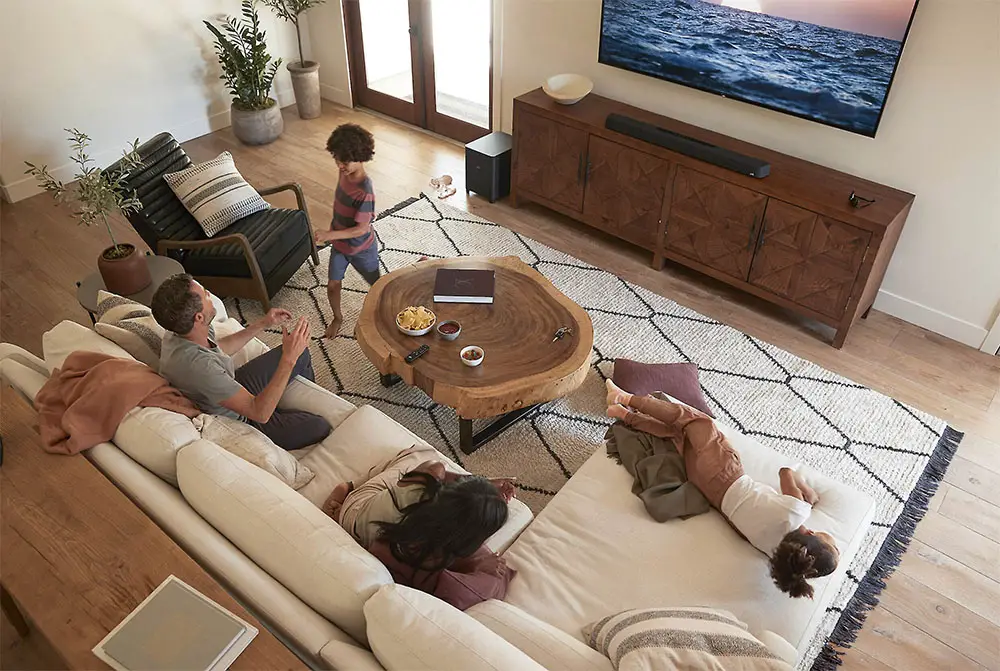 Polk knows their art and the MagniFi Max AX kept the tempo going without losing much of its balance across the entire frequency range. The mid section felt satisfying and solid and provided an excellent bind between the highs and the low end.
One area where the soundbar really impressed us was its bass as the 10″ subwoofer really takes no prisoners when it comes to its bass prowess and overall power. If you feed it with some demanding low end performance it will surely punch you in the face with its constant sound waves but not on the expense of clarity or detailed bass. Being a ported sub may show its weakness in some extremely crazy tempos and slightly lose its timing but this was a rare case and most of the time will have no problem with whatever you throw at it.
And we threw plenty of genres around to see how the unit will behave including Jazz, some rock, electronic, classical and finished with some heavy metal bits. In every performance the Polk did admirably but without breaking any standards that have been set from most previously released soundbars before it. It can be described as the perfect casual music experience a soundbar can offer.
With all the above in mind the Polk Audio MagniFi Max AX can be an excellent soundbar not only for your cinematic pleasure but for music also making it an ideal choice if you want this for mixed use.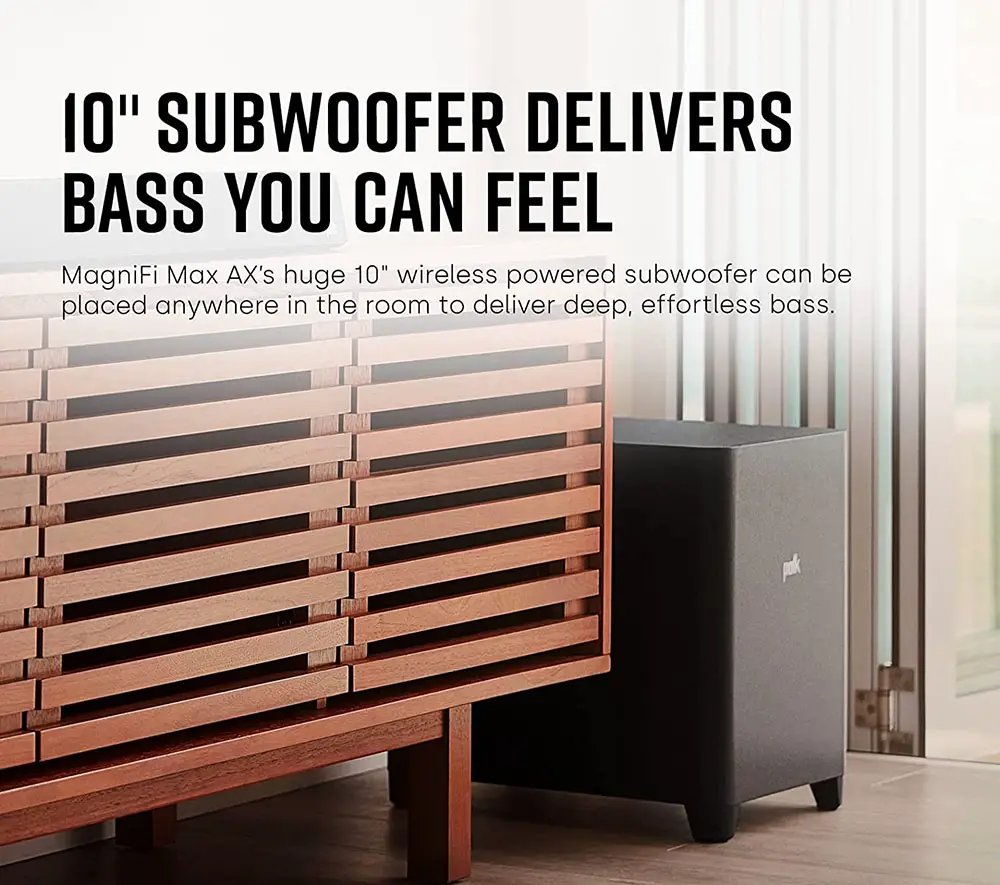 Final Thoughts
After having tested most of Polk's low budget Signa series the MagniFi Max AX feels like a big step forward in terms of cinematic performance and immersion. It feels like Polk took everything that made the Signa S4 such a fan favorite product and added more features and capabilities for the more demanding consumers.
The MagniFi Max AX is a soundbar that can really immerse you with its expansive and enveloping sound. Polk finally decided to support not only Dolby Atmos but DTS:X also which surely gives more flexibility regarding the content you can playback with this unit. Having three HDMI inputs guarantees that you can connect most, if not all, of your sources directly to the soundbar while if you find the unit lacking in its surround performance you can add the optional rear speakers kit.
On the other hand there are many features missing that you would consider standard with a soundbar that costs $800. There is no auto calibration system and no EQ settings so in terms of audio output you don't have much flexibility other than adjusting the individual channels. Also there is no USB playback, Google Assistant is completely missing in action while the HDMI ports don't support 4K@120Hz signals which many gamers will find disappointing.
Overall the Polk Audio MagniFi Max AX is not a bad soundbar at all. We liked what we heard and its cinematic and music prowess are undeniable. But while it is a very good soundbar it really fails to be a really great one as there are many omissions that you would consider standard in a $800 soundbar/subwoofer combo. If you don't care about these missing features then this is definitely a soundbar worthy of your consideration.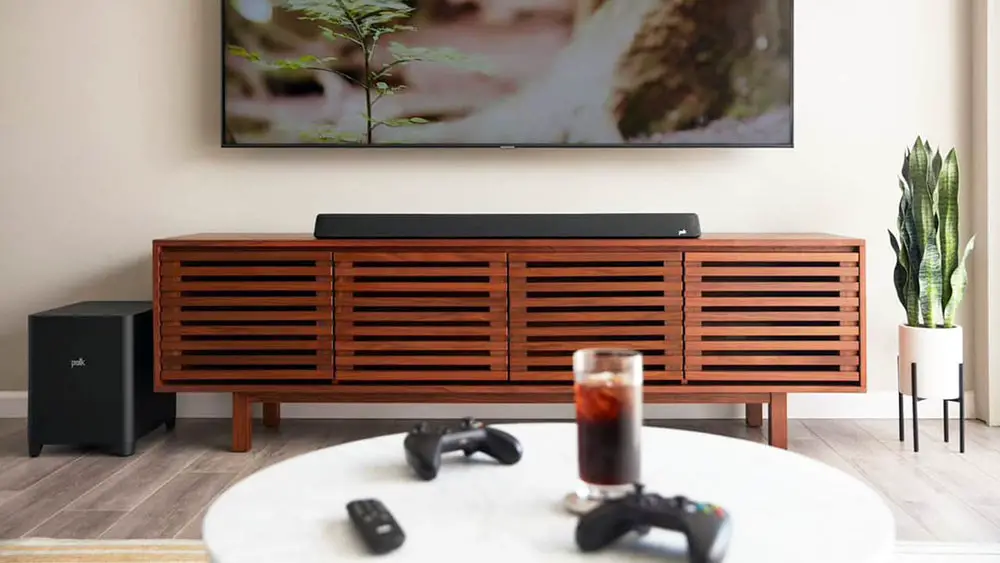 For more reviews you can check our dedicated Soundbar-subwoofer combo reviews list or even look at our Product Reviews Table where you can find the brand and specific product you are looking for.
Also don't lose the chance to subscribe to our Newsletter and gain exclusive privileges.
---
Cheapest Places to Buy :
---
Polk Audio MagniFi Max AX Specifications