Reserve R700
Reviewed at $2,199.00 (pair)
Movies Performance
9.3/10
Inputs and Features
9.2/10
Pros
Great build quality
Expansive sound
Powerful bass
Good price
Cons
White finish should be available
Stand has bigger footprint than the cabinet
Speakers with the grille on look uninspiring
Need ample of power to show their real strength
---
Cheapest Places to Buy :
---
It's been a while since we last checked on Polk Audio's speakers catalog and to be honest they haven't been so active lately as they seem to focus more on their soundbars lineup that we have extensively reviewed. But today in our Polk Audio Reserve R700 review we are glad that we will be looking at one of their latest releases in the floorstanding speakers market and what these have to offer.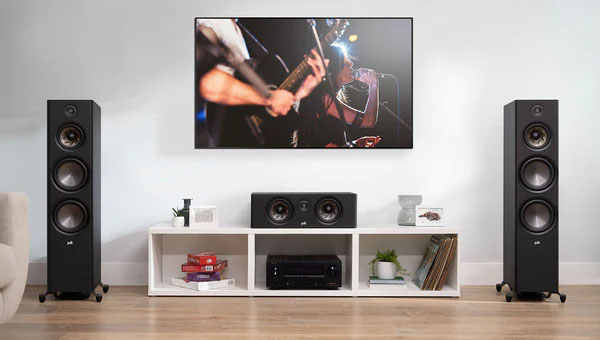 The Reserve series is, according to Polk Audio, the replacement of their previous RTiA series and second in line to their top of the line Legend series but looking at these new speakers and comparing them to the other Polk Audio ones it seems that the R700 have far more similarities to their more expensive brothers. It is as if Polk Audio tried to create a "Legend Light" version that would be more affordable to the masses but without compromising their quality and sound characteristics.
Before we start our in-depth look let's go over the specs real quick. The Polk Audio Reserve R700 is a 3-way, floorstanding speaker with a single 1″ tweeter, one 6,5″ mid-range driver and dual 8″ bass woofers. These are placed in a specially crafted cabinet that uses Polk's Cabinet Resonance Control (CRC) and updated Power Port 2.0 for enhanced lows. These speakers come in two color variations and are the biggest speakers in the series that also includes the R600 and R500 floorstanders, the R400 center speaker, the R200 and R100 bookshelf speakers and the R900 height modules.
The R700's specs and intriguing characteristics surely make these speakers a very interesting release. Having so much in common with the Legend series but at a much lower price surely make expectations go sky high. If these can manage to perform close to their more premium brothers then they will certainly be a killer series and one that will have little competition at that price range. Do we have a winner here? Let's find out.
Design, Inputs and Features
Exterior
The R700 surely are big speakers as we measured them 12.6 x 45 x 16.9 in (320.7 x 1143.8 x 428.3mm) including the feet while they weight a mind blowing 79.1 lbs (35.9 kg) making them the second heavier speaker from Polk Audio that we have tested (the first place still goes to the LSiM707) and far heavier than the RTiA speakers that these are supposedly replacing.
The cabinet comes pre-assembled with the feet and this is because the stand it comes on utilizes Polk's Power Port. These speakers may not look much upon first look and especially with the grilles attached. It's the usual boxy column with rounded corners and a flat top while the grille is covering a big area of the front baffle. It's when we get the grille off that things become more interesting, but more on this shortly.
Let's talk about the cabinet itself. Polk Audio may be a brand that is associated more with budget friendly speakers and soundbars but with the Legend, and now the Reserve series, they seem to be trying to change that. The R700 has a lot going for it and its cabinet construction makes this very evident.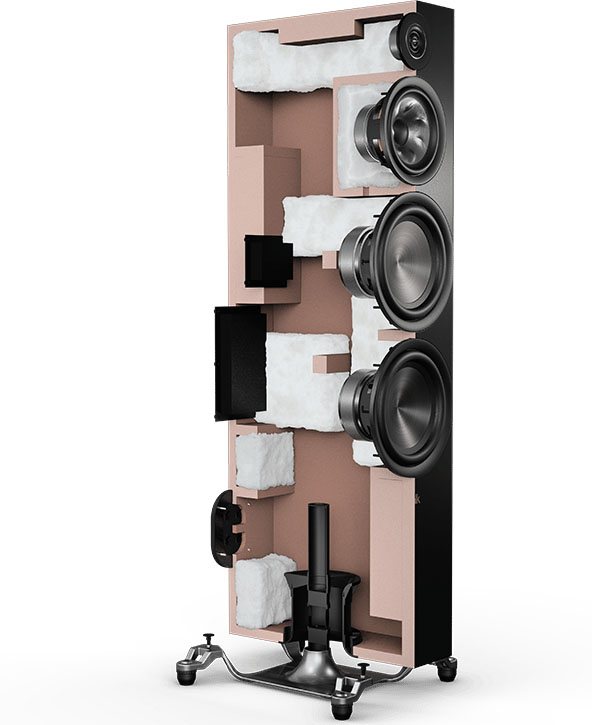 It seems that Polk Reserve cabinets, braces, and internal enclosures are engineered in such a way in order to minimize unwanted internal standing waves and eliminate unwanted resonances. According to Polk Audio these are Laser Doppler Vibrometer (LDV) designed, and their advanced precision point to point braced cabinets with individual enclosures mid and low-frequency transducers are combined with new Cabinet Resonance Control (CRC) in order to eliminate unwanted panel resonances.
But there is more as the R700 is also using Polk's Power Port 2.0. This seems to be the latest version of their successful Power Port technology that smooths the flow of air as it exits the cabinet through the port.
This works in parallel with X-Port which incorporates an Eigentone Filter (ETF) offering distortion-free and effortless bass. This consists of a set of closed-pipe absorbers that are specifically tuned to catch and eliminate traditional speaker distortions. X-Port ensures that the upper bass and mid-range are free of port and cabinet resonances for smooth, detailed audio. Together, these two technologies combined function as the new Power Port 2.0.
The speakers feature acoustically inert magnetic grilles, so no ugly holes on the front baffle offering a clean overall aesthetic. In terms of colors there are two options, black and walnut veneer finishes. It is not real wood veneer but we think this will bother only the most picky ones and most people will find its quality very high. We have seen these speakers in white variation also but we couldn't find them anywhere and even in the Polk Audio website there is no mention of it which is a pity as these looked really nice.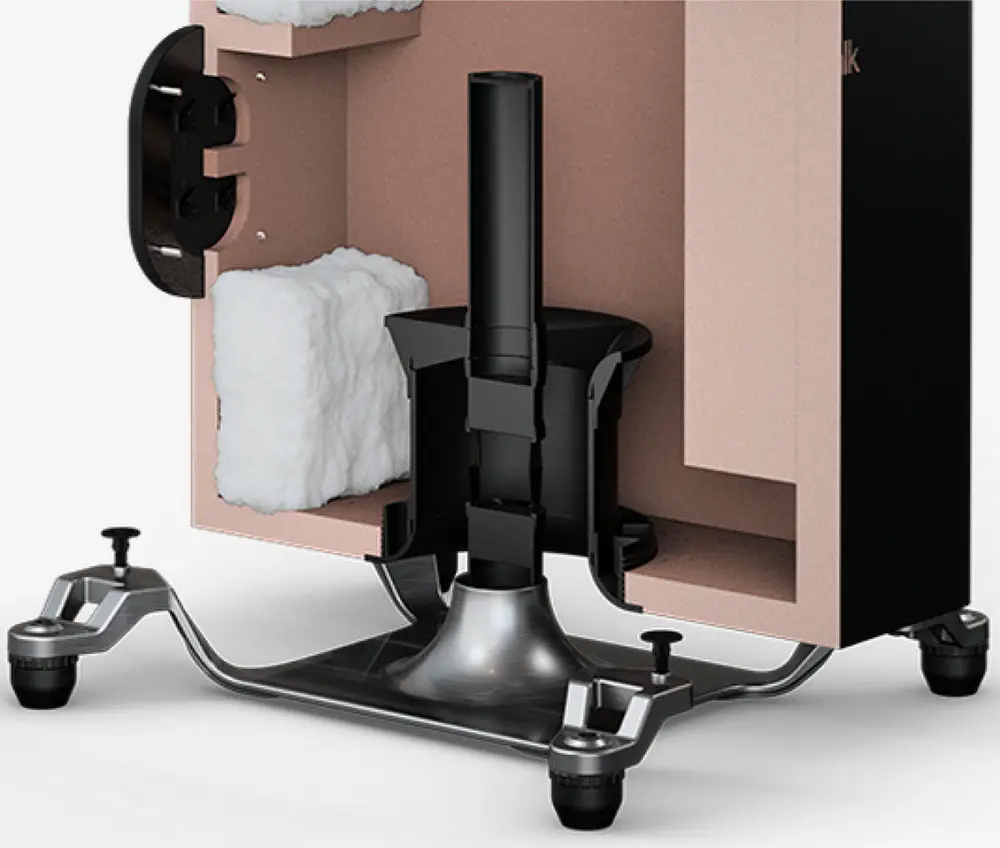 As for the stand, this is a specially designed one as it is not only the base for the cabinet to sit on but also incorporates the Power Port so it is an essential part of the speaker's performance. The stand is made of metal and if there is one thing we didn't like very much was that the feet extruded beyond the main body of the speaker making their footprint larger than they really are.
Overall these are some nicely crafted speakers. Yes, with the grilles on they look uninspiring and dull but when the drivers are exposed they look really good. The cabinet is of high quality, the stand is sturdy, even though slightly bigger than we would have liked, and it seems that Polk Audio make them look of higher quality than many of their previous releases. So far so good.
Internal Hardware
But it doesn't matter how good a cabinet looks or how carefully is designed and crafted if the hardware that renders the sound is not capable enough. And here the Reserve series makes things a whole more interesting.
As we said above the R700 is a 3-way system with a single tweeter, one mid-range driver and dual bass woofers. This is not out of the ordinary and this kind of setup has been used extensively across the entire speakers market. But when looking individually at each piece, is when you really understand that Polk Audio didn't follow the most usual of routes.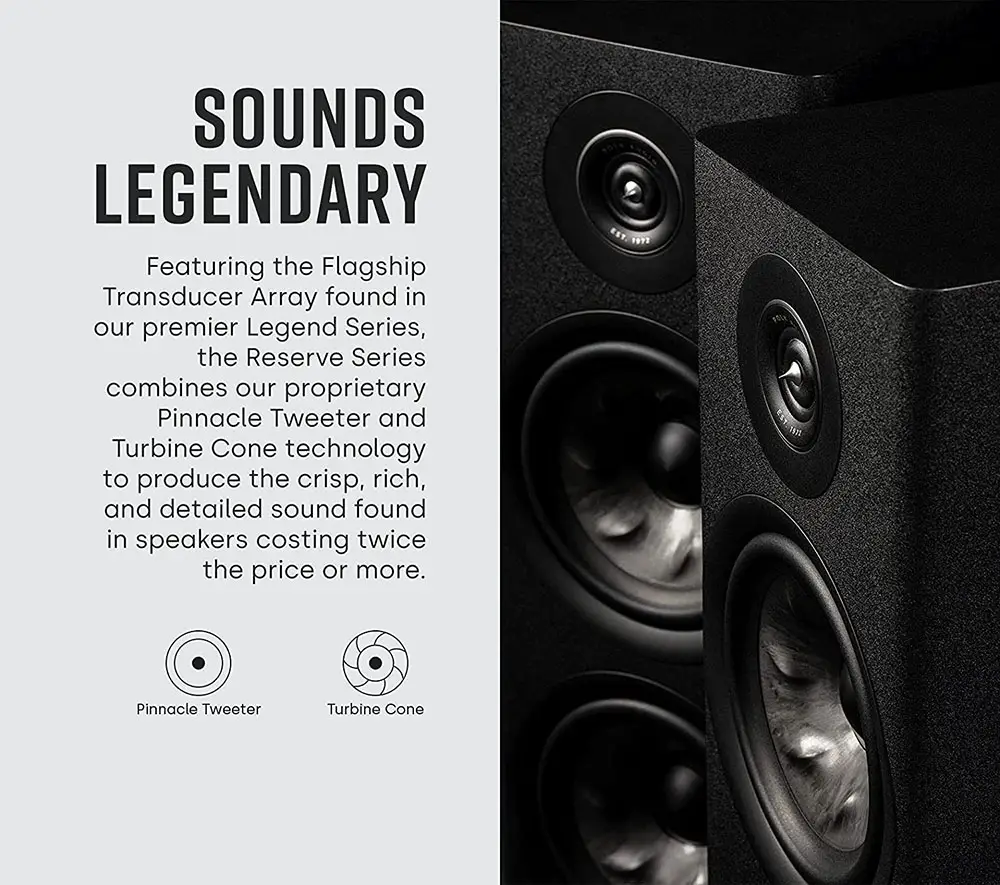 Instead of Polk using a dome tweeter that we have seen in countless other speakers they went for a 1″ ring radiator that they have been using in their Legend series. Ring radiators are not widely used but they surely have some differences over traditional dome tweeters. The tweeter's distinctive pointed shape guides the dispersion of high frequency sounds around a room for efficiently widening the sweet spot.
Next we get a 6.5″ mid-range Turbine cone. "Turbine cone" is surely a fancy name to use but the shape of the cone does indeed feature seven fin-type protrusions that create a vortex pattern and thus the name. According to Polk Audio this design gives the cone a more rigid construction without the need to increase its mass. This way the woofer can move with increased accuracy and speed to deliver much higher resolution than a conventional cone.
And then we have the bass woofers. The R700 comes with dual 8″ polypropylene cones that come with some beefy surrounds indicating they can push the low end to interesting levels.
All the above give the R700 a frequency response of 38Hz – 38kHz (-3dB limits) with 3.6 ohms of minimum impedance and 88 dB of maximum sensitivity. The tweeter/mid-range crossover frequency is set at 2700 Hz while the mid-range/mid-bass crossover frequency at 350 Hz. Polk suggests a suitable amplifier in the 50W – 300W range but we strongly suggest you at least a 100 watts one in order to get the most out of these.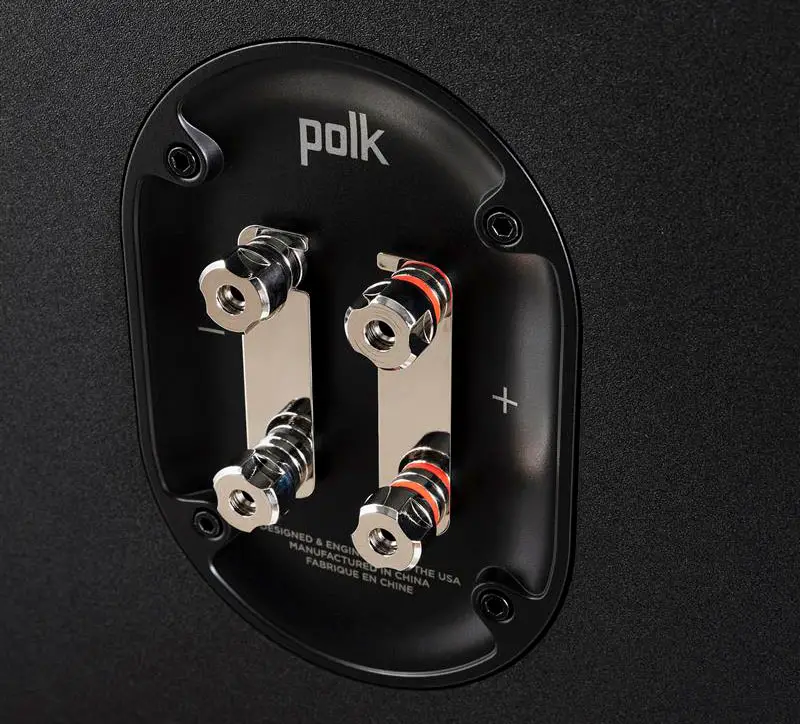 Connectivity
Looking at the back panel of the R700 we find dual Nickel-plated 5-way binding posts.
These are excellent for anyone that would like to bi-amp or bi-wire them and their quality is very high and what you would expect from this category. Various types of plugs can be used like spades, banana plugs or bare wires if that is your preference so you have plenty of options to go for.
Performance
Keep in mind that since these speakers come with a lot of drivers you have to be extra careful how you unpack them. In the package you will find the whole speakers pre-assembled so you don't have to do anything yourself.
Now as far as positioning, Polk Audio suggests you toe-in them when placed at about 22 degrees off center. We usually try to follow the manufacturer's advice when placing the speakers in our test room but as always this is more of a trial and error process and you have to place them the way they sound best to your ears and obviously according to your room's acoustics.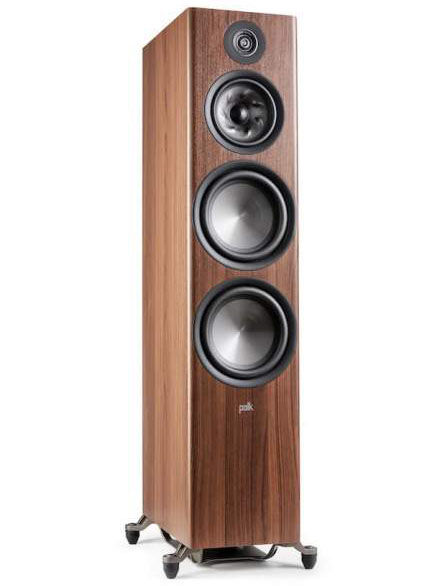 As we always do in these tests we left about 2 feet from the back wall in order to give them slightly more breathing space. Distance between the two speakers was around 9 feet.
The speakers we tested were relatively new but we could not confirm if they were past their break-in period. Most manufacturers do suggest between 50-70 hours of break-in time before speakers can reach their peak performance but we always suggest to wait until around 100 hours if they are new to be completely sure that what you hear is what the speakers can ultimately give you.
Now as far as our testing is concerned, for our movies we like to use a simple 4.0 channels surround system with only two front channels and a couple of surrounds and the reason for this is because we can easier determine how the front speakers can cover the omissions of a center speaker and a subwoofer. Weaknesses become more pronounced and although this would not apply to any real home theater system, as almost all of them would have both a center speaker and a subwoofer, we are here to determine specifically the characteristics of the two front channels and at least for us this is the best way to do so.
On the other hand when it comes to our music testing, as always we like to go for a pure 2.0 channels system with only the two front channels as this is the way that most music purists tend to go with. Now after all necessary connections and calibrations with our Marantz AV receiver we were ready to begin.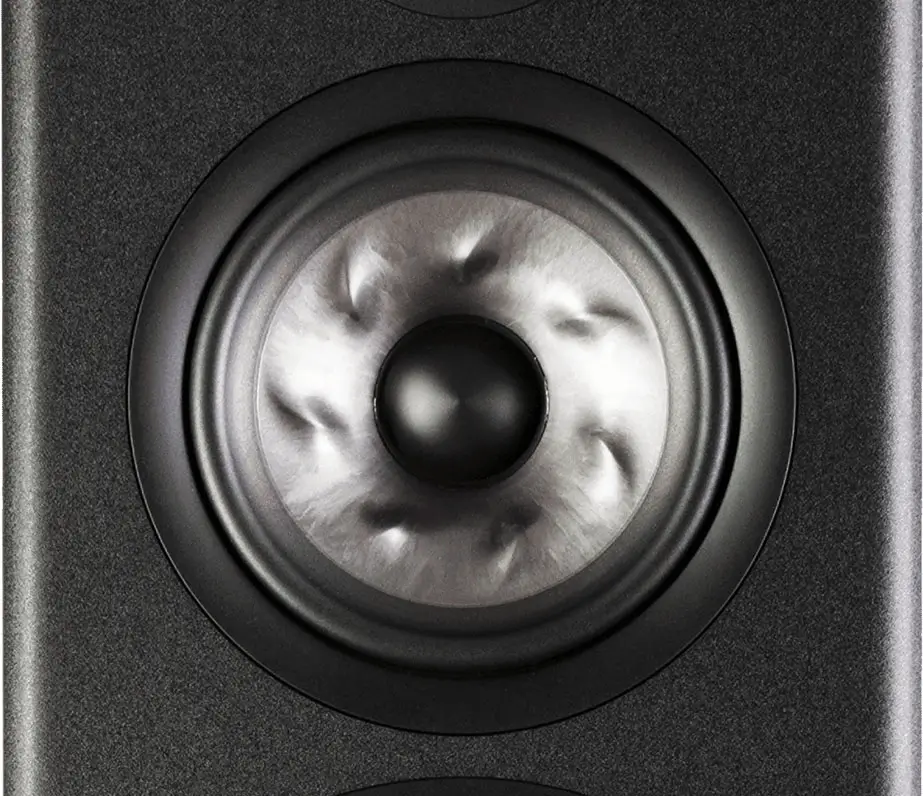 Movies
For our first test we decided to try out Battleship in 4K UHD that comes with an explosive DTS:X mix. You can say whatever you want about the film's quality but when it comes to its technical merits I think we all agree that they are flawless.
Obviously with a mix like this the R700 have a lot of work to do across the entire frequency range but the end result did not disappoint. The front speakers created a sound wall in front of us that was not only powerful and full of energy but also had great extension and depth which put us right into the middle of the action.
These are very high definition speakers and we could hear even the tinniest of details which made the whole performance so much more exciting. Obviously with such a film attention is drawn mostly towards its low end prowess but it was not without some more delicate moments that asked for more subtle handling.
Although we were missing a center channel this omission was less obvious than we originally anticipated, with the two main channels covering the space very faithfully with the dialogue of the actors. It was so good that we could close our eyes and almost believe that a center speaker was present, it felt that good. All voices were rendered with remarkable clarity and we never lost a single word even amidst all the destruction.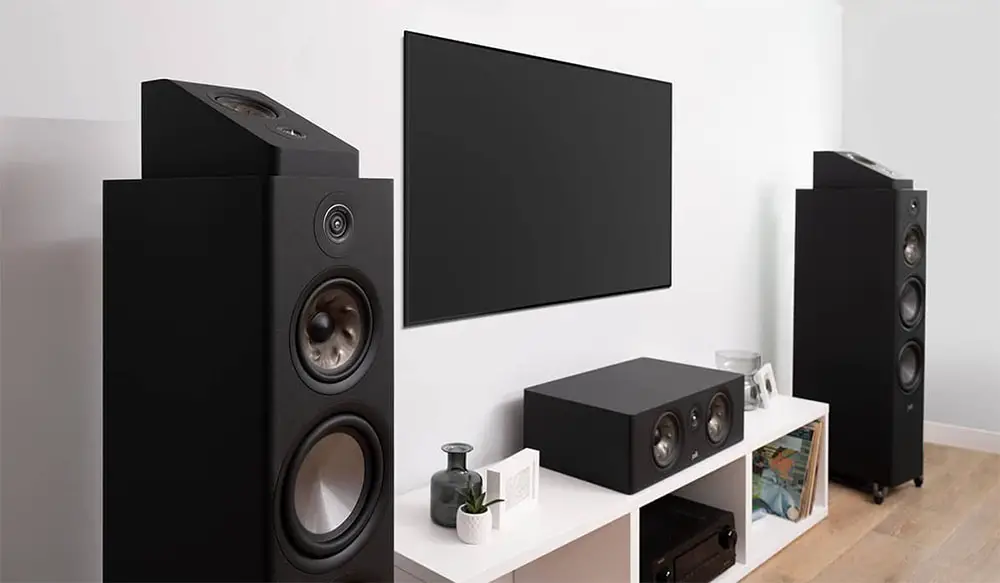 A true test for these speakers would obviously be their low end output during the most demanding sequences. Now, obviously if we had a subwoofer, especially a good one, there is no question that we would get much better and deeper low end but for what these speakers have to work with, what we heard was far better than expected.
The dual 8″ woofers did an amazing job at offering good extension on the lower end of the frequency spectrum with bass feeling deep enough and with good resolution. Even during the most demanding moments the speakers never struggled to push too low and kept hitting us to the face with every explosion. We did miss a bit of this extra low dips but no floorstanding speaker can achieve something like that. After all this is why subwoofers exist.
We switched gears and next film we tested was Lord of the Ring: The Fellowship of the Ring, again in 4K UHD which uses a reference level Dolby Atmos mix.
This mix is a bit more balanced and comes with a bit more variety than Battleship but the R700s had no problem whatsoever. Either it be the ominous sounds in the Mines of Moria and the confrontation with the Balrog or the calming atmospherics of Rivendell the R700 brought all qualities of this mix forth and enhanced them tenfold.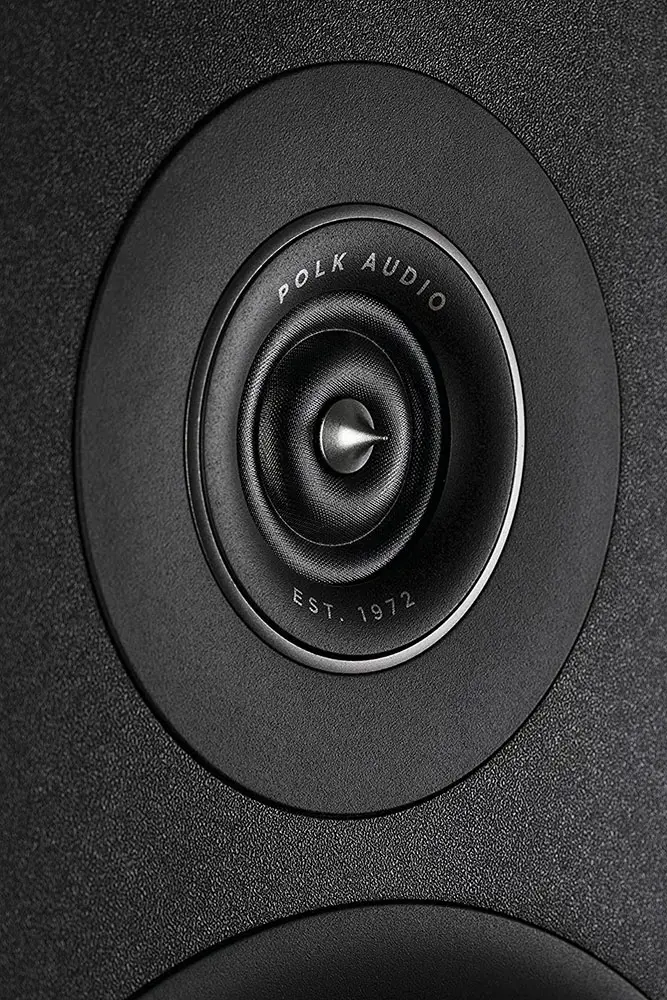 Although for rear speakers we had for use were a different brand, the R700s had no problem creating a 360 degree bubble that felt cohesive and complete and worked harmoniously with the rears. Sound imaging was noteworthy and all sounds had remarkable accuracy in space making them an excellent choice if you are looking for some quality speakers for your home theater.
This is the end of our film tests and there is not much else to say about these speakers cinematic excellence. They really have the complete package and there are hardly any notable weaknesses to talk about. They have the looks, sound great, can render all sounds in high detail and have no problem offering the kind of stability and handling that only premium speakers offer.
Music
Last test of the day is all about music so we switched to a pure 2.0 channels audio setup with only the two front speakers connected and we streamed a selection of FLAC music tracks through the front USB port of our Marantz receiver.
If with films we got a taste of the speakers high rendering output, with music this became even more pronounced. While the R700 felt very neutral speakers they surely adapt to the genre you are going to be listening in order to bring forth all the characteristics of each performance.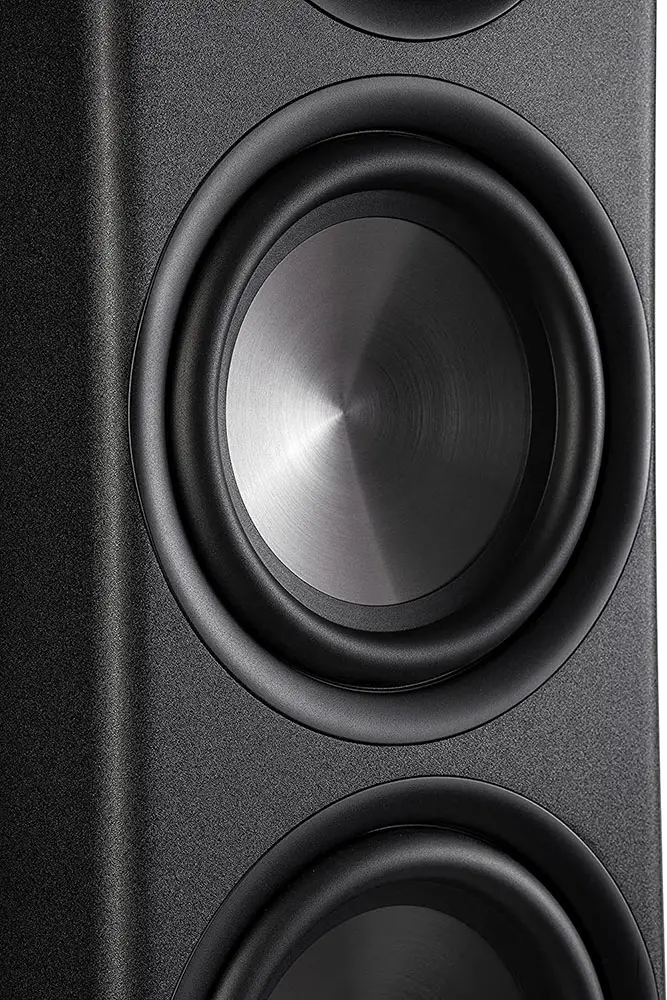 The front stage had a high level of energy and vigor as the R700 scaled to each song and kept the tempo going. Sound imaging was great, as all music instruments were separated into space in front of us. The speakers are really balanced and they will not lose their stability and cohesion easily. We tried to push them to the limit with some very demanding bits but they kept rocking with no stumbling.
The low end was once again one of the highlights and the R700 would hit the low end strings like a hummer and never letting go until the end of the performance. If you want a pure 2 channels setup with no subwoofer then the R700 will do great and surely there were moments that we didn't think that we would like to have a sub for extra depth.
As always we tried a few different genres to get a feeling of how the speakers do in different situations and what we heard was a really stable performance across the board. The speakers can really adapt to the situation making them amazing for all-around use.
Overall the Polk Audio R700 offered us a similar satisfying experience that we had during our movies tests. We didn't feel that the speakers lacked in any particular area and for their price they behaved in a manner that you don't usually expect in this category. If you are looking for a pair for your music setup the R700 will surely more than fit the bill making them an investment well worth it.

Final Thoughts
Polk Audio is an known and respectable brand for some time now, but when it comes to floorstanding speakers they were never the first name that came to mind. They had their fare share of good releases but it felt like they never had a lot of faith in their capabilities in making top quality premium speakers. The Polk Audio R700 may not be on the extreme high end of the pricing spectrum but this really works on their favor as what we have is a really unique speaker.
Build quality is high with a carefully designed and constructed cabinet and carefully selected audio components. In terms of their performance the R700 were more than impressive and shows that when Polk decides to put their expertise to the test the end result can be nothing but excellent. These are well balanced speakers with energetics highs, rock solid mids and really punching bass.
With so many good things to say about the Reserve series do the R700 have any weaknesses? Too hard to find any, at least by our humble standards. Having seen pictures of a white R700 we cannot understand why Polk Audio does not offer this for sale anymore while the stand's increased footprint may create the need for more space when placing them. Certainly we are nitpicking here but to be honest it is hard to say anything else bad about them showing how much value you get at this price.
The Polk Audio Reserve R700 have all the ingredients a high profile speaker needs to stand above competition. They have the quality, the resolution and the power that you will not often see at this price making them a real value for money proposal. At $2,200 for a pair you cannot really go wrong with them and thus we are forced to give them our highest recommendation.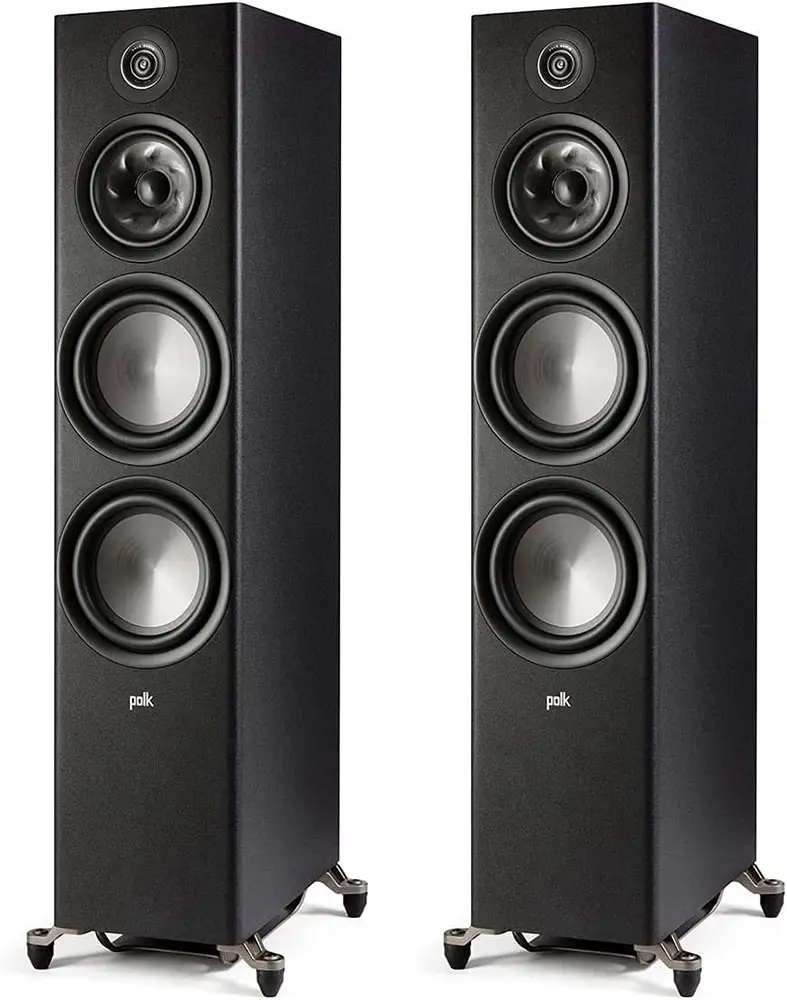 For more reviews you can check our dedicated Floorstanding Speaker reviews list or even look at our Product Reviews Table where you can find the brand and specific product you are looking for.
Also don't lose the chance to subscribe to our Newsletter and gain exclusive privileges.
---
Cheapest Places to Buy :
---
Polk Audio Reserve R700 Specifications