Polk Audio S60
Design -

86%

Movies performance -

92%

Music performance -

92%

Inputs and Features -

92%

Price / Quality -

95%
---
Cheapest Places to Buy :
---
Talking about home theater speakers, or speakers in general, there is a huge list of known brands and manufacturers out there that offer great value for money in some of their speakers lineups. But if there is one brand that has become synonymous to this "value for money" moto that would definitely have to be Polk Audio as for the last few decades their focus had always been to create good quality speakers that could perform good and be affordable to the general masses. And while over the years Polk Audio has gone through various changes our Polk Audio S60 review will show you that they still have what it takes to create an affordable but good performing speaker tower.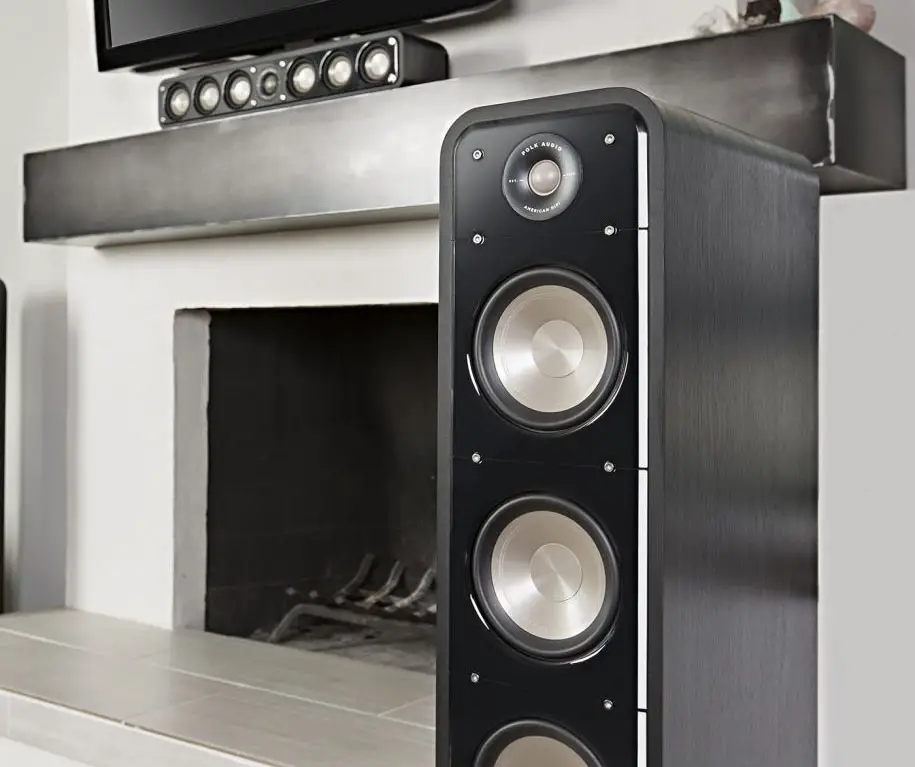 Belonging in the Signature series that was released a few years back the S60 is the biggest floorstanding speaker in the family with the S55 and S50 being the other two smaller towers while we also find the S35 slim center speaker along with the S30 center speaker, two bookshelf loudspeakers, the S20 and S15, and a single uni-pole surround speaker, the S10. No dedicated subwoofer in the series but there are plenty of options to select for this and as you see the signature series has everything you need to create your perfect combination of affordable speakers.
Now, for the S60s Polk Audio made sure to add some of their special sauce in order to make these perform according to their standards. Along with a honestly unique look and quality crafted cabinet design the S60s were created with Polk Audio's Dynamic Balance Technology Driver design, a high-resolution Polk terylene tweeter, custom mid-range drivers and Polk's Power Port technology. All these give the S60 such an extended high-frequency response making the Signature series to be the first of Polk Audio's lineups to get Hi-Res Audio certification.
But all these technical mumbo jumbo doesn't necessarily make a speaker good so we are here to determine if Polk Audio continue their legacy of manufacturing good performing speakers at a low cost. Did they manage to do it once again? Keep reading to find out.
Design, Inputs and Features
Exterior
Being the biggest floorstanding speaker in the Signature series the S60 is not only unique in design but is really a big speaker in general that will make its presence felt immediately. With a size of 44.5 x 11.7 x 15.7 (1130.3 x 297.2 x 398.8 mm) including the feet and a weight of 52 lbs (23.58 kg) the S60 have a serious footprint and are really meant to be used in big rooms with ample of space between them in order to perform accordingly.
When it comes to fairly large floorstanders one element that plays a crucial role is the position of the air port. Some manufacturers tend to place this at the front and thus make placement near a wall a bit easier but this is not always the case and with a rear port the kind of sound you get can alter greatly depending placement. And if you don't have much free space to move them around it can be a tricky tradeoff. But it seems Polk Audio went for a different solution and placed it at the bottom being part of their patented Power Port Technology that we will talk about shortly.
Now as it is common in this price the cabinet is using a non-resonant all-MDF construction, with minimum .75" inch-thick baffles that ensures a more natural sound. The acoustically inert enclosure feels strong and rigid and reduces unwanted internal standing waves for less audible coloration.
Polk Audio went with a very characteristic cabinet design that features rounded top corners and goes slightly away from the boring overall boxy speaker look that we have seen in many similarly priced offerings. And while Polk Audio does not reinvent the wheel here it shows that they did put the extra effort in order to create something that will not look like hundreds of similar products on the market.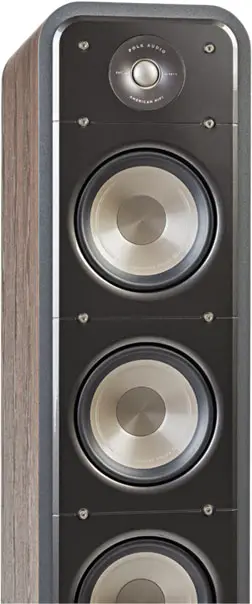 The S60 comes in two color variations and while we would like to have a bit more options the ones offered are pretty good. Classic Brown and Washed black Walnut finishes are the ones available that suite the overall design but at the same time the vinyl wraps show their low cost nature. Does this make them bad? Obviously no, but in any way there are some parts of the cabinet where this is obvious even if Polk Audio did their best to keep them good looking and more premium than they really are.
The front baffle is being covered by anti-diffraction magnetic grilles that cover the entire front face from top to bottom and while we definitely like the fact that these are magnetic the wrapping of the fabric around the plastic frame could be slightly better as it can separate easier than what we would like.
Taking the grille out we find the drivers array with the high frequency tweeter at the top and the three 6.5″ drivers below in a slightly extruded plane that is a nice design touch from Polk Audio. At the bottom there is an opening for the Power Port which look really neat and fits the rest of the looks.
The Power Port is Polk Audio's patented design that smoothly transitions the air flow from the speaker's port into your listening area. It also extends the overall bass port, providing greater surface area to eliminate turbulence and distortion, for bigger, more musical, deep bass impact. Additionally, according to Polk Audio, this special design offers 3dB more bass response output than a traditional air port.
And since we talked about the Polk Power Port Technology that is being used in the S60 the stand that is being incorporated exactly below the port is very simple which is good as it makes it less intrusive and doesn't distract from the rest of the design. The four feet extend to the sides and adds slightly to the overall footprint but given the size of the S60 you should definitely have some breathing space around them making the feet extension not such a big deal.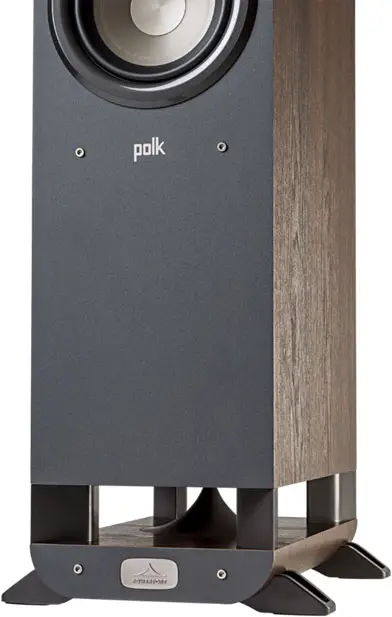 The back of the speaker is completely plain with only the speaker terminals being placed just above the air port in a specially designed inset.
Usually in this price range what is more important to manufacturers is to offer a good performing speaker and rarely we see designs that break the mold of what is already being offered. Polk Audio certainly managed to offer us something unique without the need to go overall crazy with their design. After all the price budget wouldn't allow for anything more but still the S60 manages to impress with its look even if it is not the most premium speaker we have seen to date.
Internal Hardware
Let's move next to the internals and see what Polk Audio has used in this rather interesting speaker.
The S60 is using a 2.5-way design with a single high frequency tweeter being placed at the top of the array and three 6.5″ drivers below for the mid-range and lower end extension. Being a 2.5-way design means that the top 6.5″ driver runs normally from low to high while the other two 6.5″ drivers roll off sooner and thus manage more of the low end instead of the mid-range.
It's not very common to see speakers even as big as the S60s to be able to go as high as 40kHz as Polk Audio mentions. And this is the result of using a 1″ Terylene High-Res dome tweeter instead of a standard silk dome tweeter that is mostly used in speakers of this price.
The Terylene dome tweeter features curvilinear formers that extend response and lower resonance. It features a powerful ceramic motor structure that lowers system resonance and extends low frequency response for better dispersion in the critical midrange, delivering clear and detailed high frequency response for realistic reproduction of vocals and instruments. As a result it can deliver sounds up to the 40kHz range.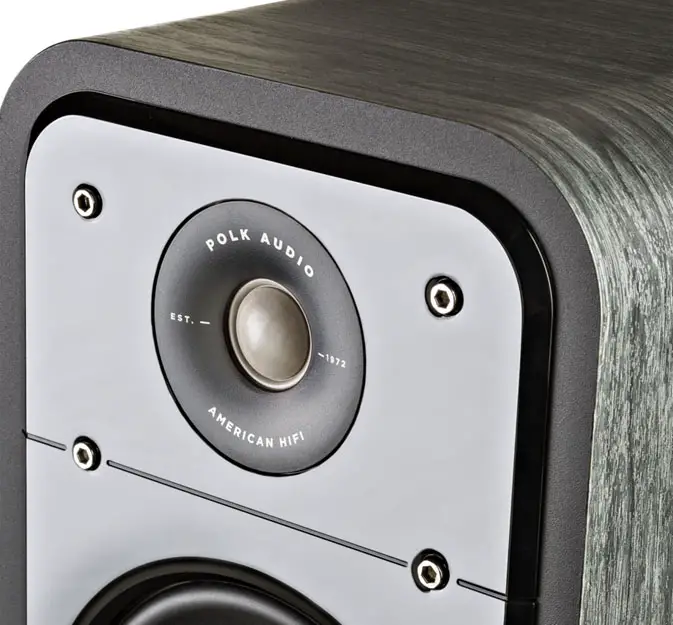 For the mid-range and lower end Polk Audio has used some custom made 6.5″ drivers. These use Mica-reinforced polypropylene cones with butyl rubber surrounds, four-layer voice coils, massive ceramic motor structures and high-temperature Conex fiber spiders in order to provide exceptionally high efficiency, for clean, clear bass, better linearity, lower distortion and greater durability.
The combination of the Terylene dome tweeter with the three mid-range/low end drivers give the Polk Audio S60 a frequency range of 26Hz–40 kHz with 8 ohms of nominal impedance, 90 dB of sensitivity and with the crossover frequency being set at 2.5 kHz. For the S60, Polk Audio is recommending an amplifier in the 20 – 200W range.
Connectivity
At the lower part of the back face the S60 is using dual gold-plated 5-way binding posts. These are excellent for anyone that would like to bi-amp or bi-wire them and their quality is pretty good and what you would expect from this category. Various types of plugs can be used like spades, banana plugs or bare wires if that is your preference but for the banana plugs you will have to remove the seals that almost all speakers come with lately.
Performance
Unpacking and placement went smoothly although with the size the S60s have you may need a bit of help to take them out of the box. The speakers don't need any assembly as the feet are already pre-installed so they are ready for use.
Positioning of the speakers is the standard affair as with all our speaker testing and as such we left around 2 feet from the back wall in order to give them slightly more breathing space. The good thing about the Signature floorstanders is that the Power Port is placed at the bottom with openings in all four sides and thus makes placement not such a difficult procedure. But even as such placing the speakers near a wall will increase its bass output while lowering its overall definition so finding the best balance is always crucial. Distance between the two speakers was around 9 feet while we like to toe-in them to our viewing position for better sound imaging.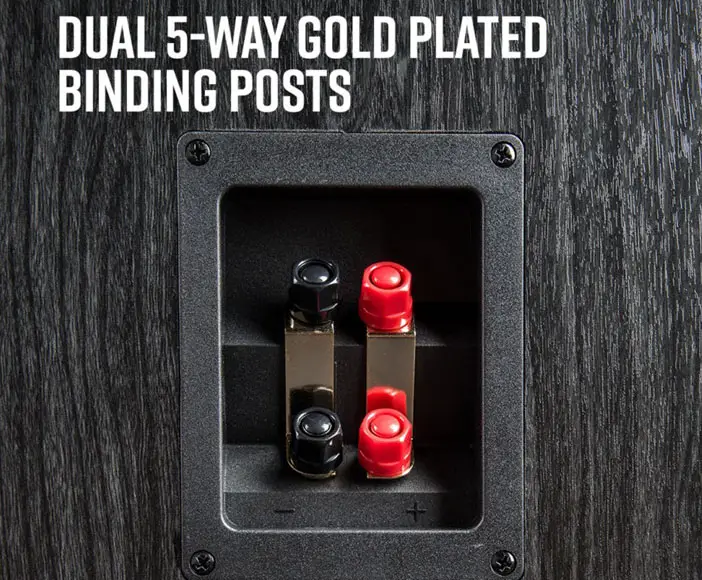 The S60s we used in our review were not completely new and had a few good hours under their belt but we could not confirm if they had managed to reach their break-in period of about 100 hours that we consider the standard for all speakers to reach their peak performance. Most manufacturers do suggest to give them certain time so always keep this in mind when you hear a completely new set of speakers that don't sound as you would expect.
One last thing to mention here is that for our movies testing, unlike others, we tend to simply use the two front channels along with a simple pair of surround speakers. Missing a center speaker along with a subwoofer allows us to determine how much the two front channels can cover these omissions and can show weaknesses sound more distinct. Obviously if you add a subwoofer along with a center speaker the overall immersion will increase a lot compared to what we will experience here. So keep this in mind when you read our reviews.
As for our music testing we always opt to go for a standard 2.0 channels audio setup that most music purists tend to go with. So without further delay, and after finishing the necessary audio calibrations with our Onkyo AV receiver, we proceed with our tests.
Movies
For this testing we chose to go out loud so we took out our 4K UHD version of Midway and popped it in our Panasonic UHD player. Midway in UHD comes with a spectacular Dolby Atmos mix that will certainly amaze you if you are planning in creating a capable Atmos audio setup. Obviously in our case we are not going to experience the whole thing as we are missing the Atmos speakers along with the center channel and subwoofer which was deliberate.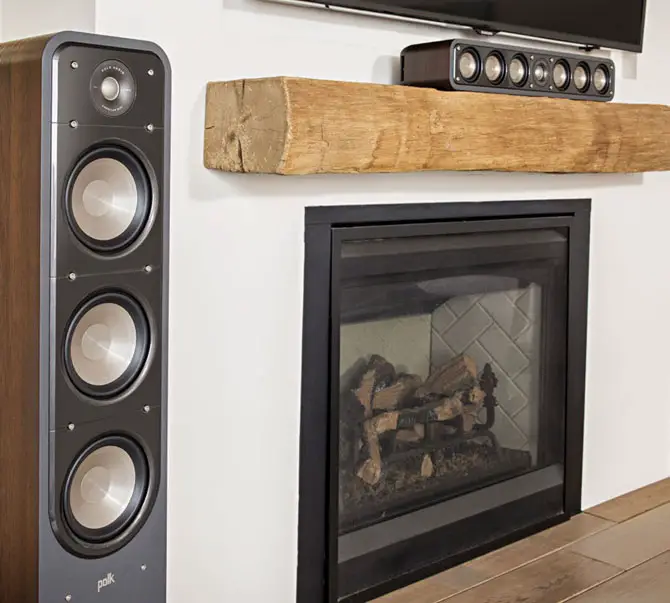 Now, the Midway Atmos mix is particularly characteristic not only for the active low end and breathtaking overhead layer but also features very distinct and powerful surround effects and channel transitions in order to create the necessary immersion for its grand battle scenes.
The first thing that we noticed with the S60 was that they could go very loud and with a sound mix like the one in Midway things can turn ugly fast when all hell breaks loose but we were pleasantly surprised by how coherent the Polks were. The front soundstage suddenly became alive and a grand sound wall was raised in front of us with good expansion and depth. With planes flying all around the camera the panning effects between the front channels were amazingly rendered with precision and good shifting.
The missing center channel didn't felt like bothering the S60s as they did a pretty good job at covering this omission. It did feel that we were missing a bit of depth but dialogue was very distinct and center placed even with a lot of action going on around. No overlapping or mixing between the dialogue and sound effects and the S60 were very capable in this regard.
On the low end the S60 fared similarly good. The bass was punchy, with good definition and authority. Its raw signature made the engines of the fighter planes shake us in our seats and give them a very realistic tone. There is plenty of power on the lower registers and while they cannot give you the power and chest pumping experience of a dedicated subwoofer what we heard was more than satisfying to be honest. Everything from machine gun fire to anti-air explosions and airplane engines roaring had excellent resolution and just about the right texture.
On the mid-range things felt equally good. The S60s had no problem here either with good balance, natural tonality and nice preservation of all acoustic elements throughout the frequency range. We were a bit concerned that the highs would be a bit tiresome but to our surprise they were playful, full of energy while never gave us ear fatigue which shows how good work Polk Audio has done in this regard.

Our next test includes part of a Lord of the Rings film and for this particular review we went for the Fellowship of the Ring in Blu-ray format that comes with a as good as it gets DTS-HD Master Audio mix. We skipped, as always, to the Mines of Moria as this is a scene that we tend to try out for its grand scale and easily combines quiet moments in the beginning with all out action and low end activity towards the end climax.
So how did the S60s fared with this film? Nothing short of amazing. Beginning with the Fellowship entering the mines it was surprising how easily the S60s could expand the front stage and give you a real sense of size these mines had. Working with the surrounds the Polks would render all the tiny sounds and whispers as they travelled across space with great clarity and precision. Even the tinniest of sounds were audible with the front speakers creating a really intriguing atmosphere. Ambient sounds and environmental activity gave each scene the realism it needed and the S60s never fell short of that.
And when you think that the Polks cannot do any better the action begins and show how good these speakers can be in any situation they are given. The cave troll had a real weight to him while various sounds like swords clashing, shields and armor cracking and rocks breaking were all spot on. And then the Balrog makes its appearance and here was the moment where the S60s showed how good performing floorstanders they are on the low end. Each step of Balrog as he approached the Bridge of Kazad-Dum had a thunderous and natural feel with true weight to it even if not the shaking experience a dedicated sub can give. Balrog's growl felt very deep and in general all effects were wrapped amazingly around the excellently performed orchestrated music.
The Polk Audio S60 are the kind of floorstanding speakers that can really wow you with their performance and it is even more impressive when you consider their lower than usual price. There are many low cost speakers that can perform good but the S60s had so much going on that you will fall in love with them if you give them a little time to flex their muscles. If you are eyeing some low cost speakers for your home theater that can perform better than what they cost the Polk Audio S60 should definitely be on your list for consideration.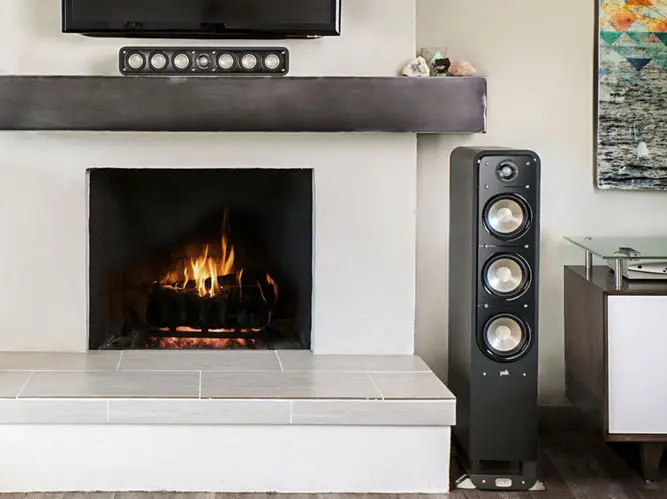 Music
Next in line is our music tests and in this part of our review we switched into a pure 2.0 channels setup while we opted for a few FLAC music tracks that we streamed through the front USB port of our AV receiver. Now keep in mind that the S60s are High-Res Audio certified so we were curious to see them in action.
The speakers will immediately hit you with their excellent ability to fill the front soundstage and create a very realistic musical environment where each musical instrument is heard very naturally and with amazing resolution. The speakers natural tone and overall pleasing audio signature was very characteristic throughout the whole presentation and makes you feel like you don't want to stop listening to them.
Stereo imaging was pretty solid as you could not only distinguish the sound sources during the performance but also pinpoint their exact location. Many of the panning stereo effects were nicely transitioning from one speaker to the other while overall audio dispersion was good enough across many positions in our testing area without loosing its cohesion.
We were particularly impressed by how playful and dynamic the high end was without making the audio become tiresome even after prolonged sessions. The Terylene tweeter seems to do excellent job and shows that Polk Audio research into it paid off. All the high frequencies were crystal clear and you could sense a degree of dimensionality to them.
The lower end was equally satisfying as the S60s were keeping the pace no matter what song we through at them. The lows were energetic, with good quality and enough punch and even with more demanding tunes it never felt like drowning are left out of breath. We are certain that many will find the bass performance of the Polks adequate and will not miss on a dedicated subwoofer making them all the more impressive. If you want to go lower and punchier obviously a sub can do that but for the price category we are in the S60 can do just fine.
In general we would very easily call the Polk Audio S60 the perfect low cost HiFi material. They have what it takes to elevate your music experience as they do not lack in any specific area. Yes, they may not be perfect, and they couldn't be anyway in this price, but they felt so balanced across the entire dynamic range that will certainly impress even the most skeptical of users.

Final Thoughts
Polk Audio never stops to amaze us with their releases. They may not be a brand that is famous for their most premium speakers although they do have their fare share of premium lineups but when it comes to good performing low cost speakers they are definitely up there close to the top of our list. And with the Signature series they proved once again that they still have the ability to aim high and ask for less as the S series is perfect for anyone looking for good performance but have certain budget limitations that cannot overcome.
When it comes to design the S60, as with the rest of the Signature series, have a certainly unique look that shouts Polk Audio from afar. The quality may not be the best there is but as for looks it will definitely turn a few heads and raise a few eyebrows. And while looks may only be the first impression their audio quality and balanced performance will certainly impress most especially if you consider how much these cost.
And considering that the S60s can achieve such a balanced performance across the board with very solid low end, balanaced mid-range, energetic highs and be able to keep cohesion across the entire dynamic range and never fall off balance due to demanding tunes or loud sounds is remarkable by itself.
On the downsides what we can say is that when it comes to their performance there was no particular area that we felt they were lacking. A few small irregularities here and there but nothing major to detract from the overall experience. Some bright upper mids or some sounds that had a less than natural tone to them but these are mostly nitpicking and  not an overall problem with the speakers. The cabinet's vinyl wraps show slightly their budget nature and the limited two colors available may not be enough options for some while the grille frames could be slightly of better quality but that's about it.
Closing we can only repeat what we have already mentioned above. These speakers are ideal for anyone looking to enter the low end HiFi arena. Either you want them for a home theater, music or a mixture of both the Polks will gladly follow and accept the challenge. The manufacturers should be proud of creating such good performing speakers with all the budget limitations they had to work with making the Polk Audio S60 getting our highest recommendation. They certainly deserve an audition and your consideration.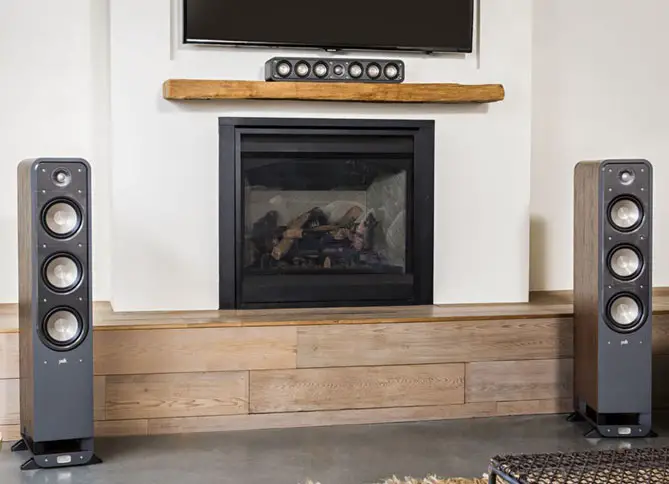 For more reviews you can check our dedicated Floorstanding Speaker reviews list or even look at our Product Reviews Table where you can find the brand and specific product you are looking for.
Also don't lose the chance to subscribe to our Newsletter and gain exclusive privileges.
---
Cheapest Places to Buy :
---
Polk Audio S60 Specifications