Polk Audio Signa S2
Design -

80%

Movies Performance -

85%

Music Performance -

85%

Inputs and Features -

78%

Price / Quality -

92%
---
Cheapest Places to Buy :
---
Let's be honest here. If there is one thing that all these new sexy flat TVs have in common nowadays is that when it comes to their audio performance things can be described as disappointing at best. These slim designs simply don't leave much space for manufacturers to use any kind of audio system that can truly offer what can be described as immersive audio performance. So you have 2 options, either to go for a full dedicated audio setup or go for a soundbar. But you shouldn't worry as in our Polk Audio Signa S2 review we will take a look at a soundbar that claims to offer the kind of performance that is far better than any TV can do and all this without costing an arm and a leg.
Polk Audio is a known and respectable brand when it comes to audio equipment and while they have created their fare share of premium quality products they are also very famous about their budget-friendly ones that have the characteristic of not compromising their performance by their aggressive pricing. One such product claims to be the Signa S2 soundbar which is their latest offering in the Signa series and a direct successor to the previous Signa S1 soundbar.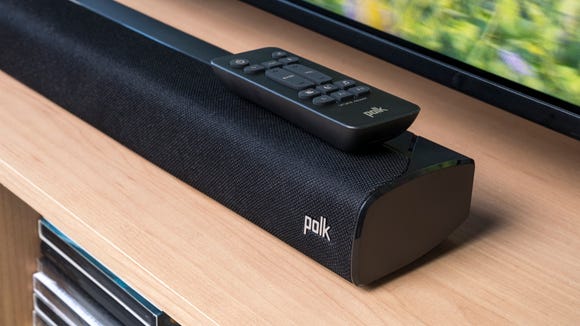 This little 2.1 channels soundbar that comes in a combo with a wireless subwoofer and costs a mere $200 promises to be the perfect entry level audio system for anyone that don't want to spend a lot on an expensive system but still desire something better than what their flat TV can do. But even if you are not limited by budget but your room space is not exactly the ideal one the Signa S2 has such a small footprint that can fit almost everywhere.
With so many low cost soundbars in the market today does the Signa S2 manages to make a difference or the extremely low price has a detrimental effect on it's performance and in the end gets lost among the competition? Continue reading our review to find out.
Design, Inputs and Features
Exterior
While Polk Audio nowhere officially states how many channels the Signa S2 supports it's pretty clear we are talking about a 2.1 channels soundbar and as such the package includes the basic unit along with a wireless subwoofer. The size of the main unit measures 35.43″ (89.99 cm) x 2.15″ (5.46 cm) x 3.22″ (8.18 cm) and weights 3.96 lbs (1.8kg) making the Signa S2 a really compact and lightweight soundbar which makes placement so easy even if your space is extremely limited. Similarly the included subwoofer has a compact footprint as it only measures 6.72″ (17.07 cm) x 13.4″ (34.04 cm) x 12.2″ (30.99 cm) and weights 11.46 lbs (5.2kg) making it easy to find some empty spot on the floor to place it.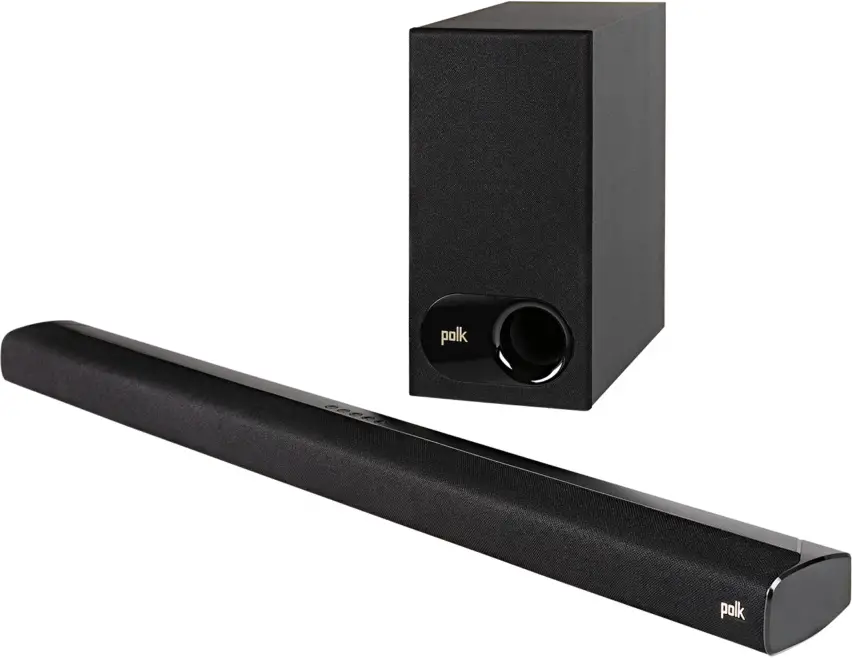 It seems that when Polk Audio designed the Signa S2 made sure to keep the low cost a first priority and this reflects on the design upon first look. Following a relatively simple design with light curves and a lot of plastic the Signa S2 is not the kind of soundbar that is what we call eye catching and will most probably go unnoticed in you media room. The front face is covered entirely from a dark grille that extends on the top side covering almost half of it also. On the top the only other thing we get is five circular physical buttons providing the most basic of functions.
Now while most soundbars provide some kind of visual display at the front in order to provide the user with some kind of visual confirmation of his commands the low cost of the Signa S2 meant that we will have to rely on a simpler form of this. Polk Audio instead of a display uses five LED lights on the center of the front face in order to give us some idea of certain functions like which input is being used, if Bluetooth streaming is enabled or if you are adjusting the voice. Obviously this is not the best as you have no indication of the volume limits so you don't know how much higher you can go but we cannot have everything in this price we suppose.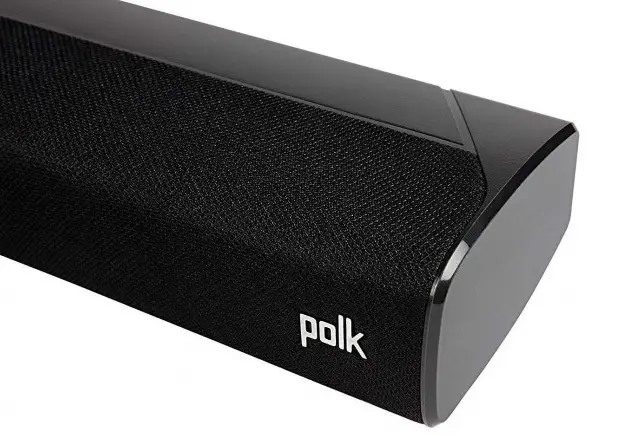 On the front face there is nothing else to be found except from the Polk logo on the right side. On the back we get a limited number of connectors while there are also special holes in order to wall mount it if you like. Another thing we should mention is that other bigger soundbars due to their size they cover the IR sensors of the TV making their placement a bit problematic. For this reason they need to rely on IR repeaters that are positioned on their back in order to relay the signal to the TV. This is not a problem here as the low profile of the soundbar makes positioning it in front of any TV easy without obstructing the TV IR signal making the need for IR repeaters unnecessary which also have a positive impact on the price.
In general the Polk Audio Signa S2 is a low cost soundbar and it's price reflects upon it's looks. It's not anything bad or something, but don't expect to be wowed by it when you look at it.
Internal Hardware
Although the front grille cannot be removed what we get behind it is two 1.25″ x 4.4″ (32 x 112mm) full-range oval drivers that are positioned left and right with a couple of 1″ (25mm) tweeters in the center. Using oval drivers may puzzle a few but don't forget that Polk Audio advertises this soundbar as a low profile one so using this type was a necessity as they would have to use even small ones if they would go for round types that would have a further negative impact on the soundbar's performance.

The subwoofer on the other hand uses a front firing 5.25″ (165mm) driver that is covered by the non-removable grille  and while this one is a bit on the small side it manages to offer enough punch all things considered.
Polk Audio nowhere mentions the total power either on the manual or on their website which is a bit head scratching but we have seen a couple other manufacturers also that prefer not to mention that. The only specs we do get is the total frequency range that according to Polk Audio is 45Hz to 20KHz.
Connectivity
Keep in mind that low cost is first priority here so don't expect anything fancy in this regard. Even so Polk Audio did manage to make some improvements compared to the Signa S1 by adding an HDMI port with ARC functionality. HDMI is the most commonly used port in today's home theater equipment so having at least one seemed like a necessity and Polk Audio did gave us that.

Except from that we also get an AUX 3.5mm mini jack as well as a Digital Optical input. All three ports are located on an inset on the left side of the soundbar as we look at it from behind. Another inset on the right side only houses the power connector. Lastly we should mention that there is a USB port that is located on the bottom side but this seems to be used only for service as the soundbar doesn't have any kind of USB streaming capabilities.
The Signa S2 also has wireless capabilities by supporting Bluetooth streaming but unfortunately there is no WiFi supported.
Control Options
With such a budget-friendly soundbar control options are extremely limited and very basic. The buttons on the top of the main body provide a quick way of powering on/off, selecting an input, enabling Bluetooth and controlling volume. Very basic like all integrated buttons usually are but they get the job done. The five circular buttons are physical ones obviously and although they have a clicky feel when pressed they are not so loud to be bothering which we definitely liked.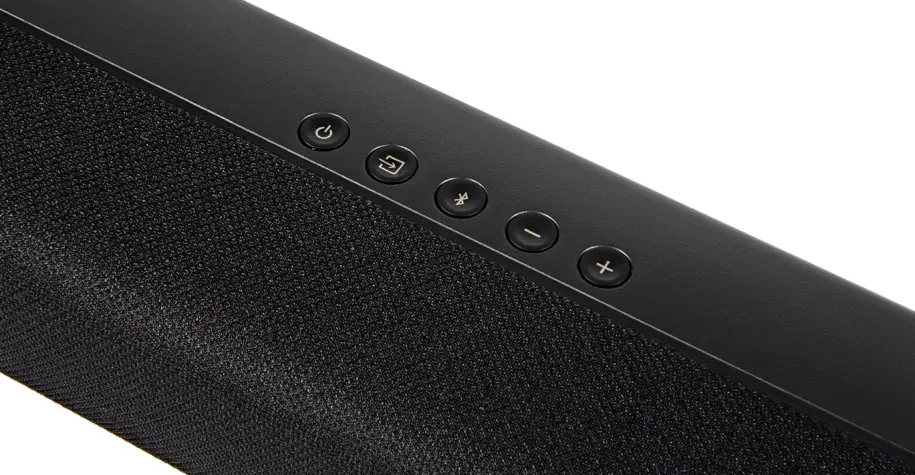 The other way and the one that you will mostly use is the included remote and to be very honest it is an average at best. In general the remote is rather small making it easy to hold and push all buttons with one hand but it has a certain cheap look to it. There are not many functions on the soundbar so the number of buttons needed are also very limited. On the top we get the power and mute buttons while under them there are three buttons in order to select desired input.
Two large buttons under them are for controlling the volume as well as the bass, next we get three buttons for the different modes you can select depending the content you watch like movies or music while a Night Mode is also available when you don't want to bother other people while sleeping. Finishing we get three buttons that adjust three different levels of voice. Why we need three different buttons for this is beyond us as a plus/minus button could also do the same. But let's leave it at that.
The buttons have the usual rubber feeling to them but it seems that they are not as responsive as we would like. More than once we had to push a button twice in order to register our command and while it was not such a huge problem it is something that should be mentioned.

Extra Features and Services
When it comes to features the Signa S2 is astonishingly easy and straightforward making it ideal for anyone that doesn't want to bother with many audio features that are meant for the more tech savvy ones.
First of all there is Bluetooth wireless streaming which means that you can stream audio from your smartphone, tablet or any other Bluetooth enabled device to the Signa S2. The process is fast, easy and effortless as the pairing is done without any problem and connection during our tests was very stable.
While other soundbars provide a wide range of music modes and audio calibration features here things could not be more clear and easy to understand. The Signa S2 provides you with two modes that you can use either for Movies or for Music. Each button on the remote changes the EQ settings of the soundbar in order to provide a better acoustic result in each situation. It couldn't be more simple than that don't you agree?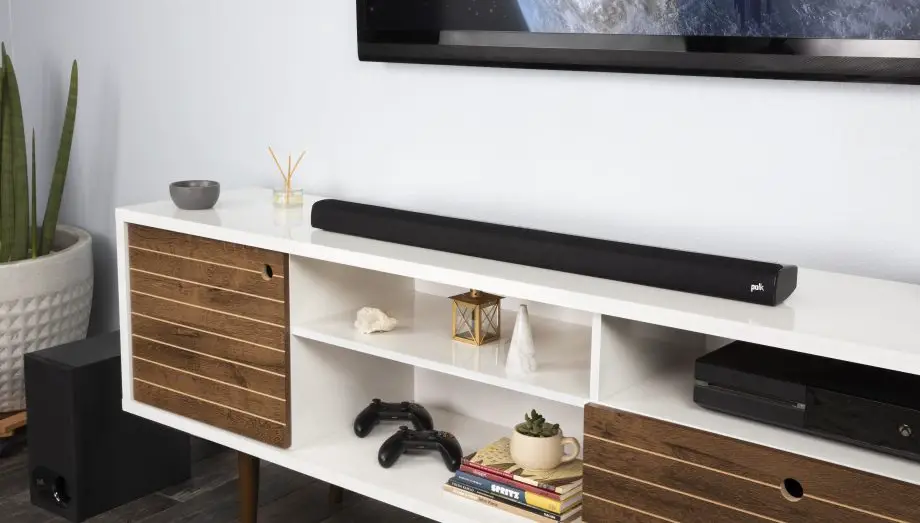 There is also a Night Mode included and what this does is to lower the bass while boosting the dialogue without the need to change the master volume. This way you can watch a movie at night without disturbing anyone sleeping at home while it makes it easy for you to hear all dialogues and voices.
And since we talk about dialogue Polk Audio advertises a lot their Voice Adjust technology that is included with the Signa S2 by providing three different levels of adjustment. Of course this is a personal matter but having tried all three levels we found the third to be a bit excessive and distorting the audio more than what we would like so in the end we settled for the medium setting that seemed to provide the greater balance.
The only other adjustment that you can do here as far as the audio is in the bass. From the remote you can control how much bass you like easy and fast with the press of a button. The initial setting felt a bit weak so we pushed it a couple of notches in order to feel this extra shake that we all find pleasure in.
Last but not least the Signa S2 is HDMI-CEC enabled which means that if you connect it to a TV through the HDMI port you can use the TV remote to control the soundbar.

Performance
Simplicity is the key here and it feels like that Polk wanted this soundbar to be as simple as possible in order to be easy practically for anyone to place it and start using it in no time. The limited number of features and options surely help with that and even if this is your first audio equipment it shouldn't take you more than a few minutes to have it up and running.
First of all you need to connect the Signa S2 to your TV either through the HDMI or the Digital Optical port, connect both the soundbar and subwoofer to a power outlet and turn them on. Now the soundbar and subwoofer are pre-paired from the factory but even if you have a connection problem a press of the button on the back of the subwoofer while also pressing the Bluetooth and VOL + on the remote will ensure the two will pair again. After that you just turn on the soundbar and you are ready to go. It's that simple.
The Signa S2 gives a new meaning to what plug-and-play means. Obviously there will be people that want more options and settings in order to calibrate the sound as good as possible but this is not the goal of this soundbar. It's goal is to provide a better audio experience without the need to trouble yourself with any calibrations at all.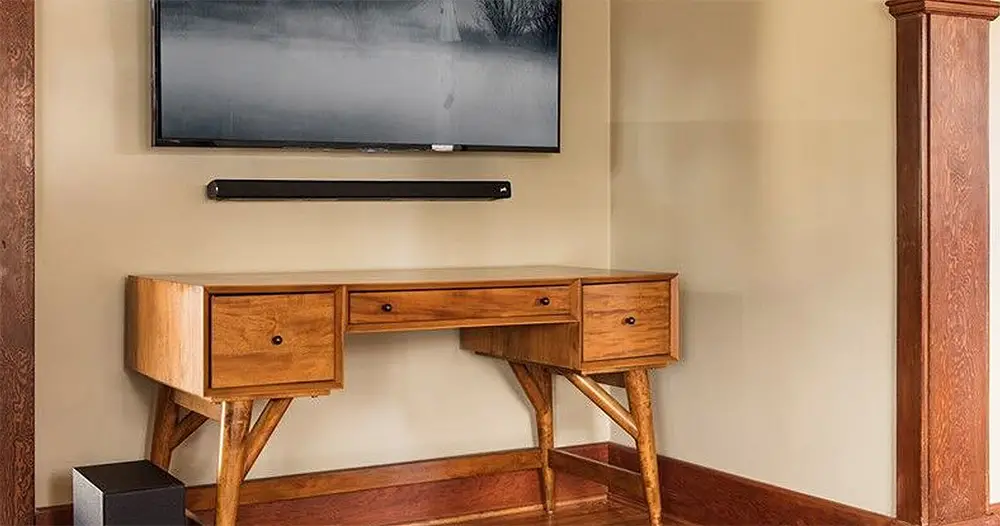 When you listen to some music or watch a film there are basically three buttons that you will need to press. Select the audio mode depending on the content, choose one of the three voice adjust settings and calibrate the bass volume. And that's it. We may be hardcore audiophiles that like to be able to calibrate every single aspect of the sound we hear but even we have to admit the power of simplicity the Signa S2 provides.
Obviously being a 2.1 channels setup surround immersion is bound to be problematic and although we have seen some promotional material from Polk talking about surround they seem very careful when doing so. Naturally with such a hardware setup we shouldn't expect any miracles although the Signa S2 seems to be able to decode 5.1 Dolby Digital signals. But we will see how it will fare in the following tests.
Movies
The film we decided to try first is an all times favorite of ours with the 4K UHD version of Saving Private Ryan providing the necessary Dolby Atmos track that is exactly what we need in order to push any kind of soundbar to it's limits.
With the Signa S2 basically having only 2.1 channels we were curious to see if any kind of surround activity would be present and obviously there is no better scene to try than the landing on Omaha beach. OK let's take the obvious out of the way first. For such a small soundbar the Signa S2 seems to pack quite a punch. Obviously it's not meant to be used in large areas as the soundbar doesn't have the necessary hardware to support that but what it has really gives it all in order to provide you with a performance that may surprise you in the beginning.

The soundstage at the front felt full while it gave a slight sense of extension beyond the physical limits of the soundbar. When the soldiers reach the beach and the German machine guns rain havoc the soundbar was able to reproduce all sound effects with precision and good resolution. Such a film obviously favors the low frequencies a lot and the subwoofer made sure to shake our room enough when German artillery shells were exploding. Being fans of bass we had to up the bass volume a bit in order to feel more punchy as the original setting was a bit too flat for our tastes.
Unfortunately the Signa S2 failed to provide any kind of surround activity. The soundbar lacks not only surround speakers but also any kind of virtual surround technologies meaning that we are left with a soundstage that took action entirely in front of us. This is not a soundbar that was meant to perform good in the surround aspect of things and it's good that Polk Audio doesn't advertise this very much.
Just to verify what we heard with Saving Private Ryan we switched to a more recent film with the 4K UHD of Bumblebee. There is plenty of action included in the Dolby Atmos that comes with it and we got a similar kind of behavior here also. The front soundstage felt very full and alive, dialogue was very clear and distinct and the effects never seemed to overlap with the vocals. On the low side surround effects were completely absent and the same applied to the overhead action as the Atmos effects we completely missing.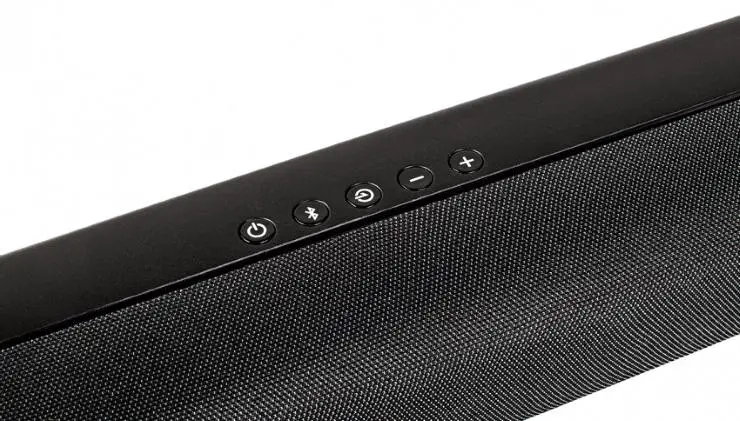 But what was in front of us felt very good especially when you consider that all this was coming from a sub-$200 soundbar. Explosions felt ominous while projectiles, debris falling and laser fire felt very alive and faithfully reproduced.
If you plan on using the Signa S2 for movies then you should know what to expect. If you just want to enhance your TV's audio then you will be pleasantly surprised, just don't expect to get the full kind of immersion that dedicated audio systems can provide or even some other more advanced Dolby Atmos and surround enabled soundbars.
Music
Moving on to our music testing we chose a selection of audio tracks that we streamed through our AV receiver. We can admit we were surprised by the musicality of such a cheap soundbar. With music the absent of any kind of surround activity is not obvious and maybe this is the reason why we believe the Signa S2 fared better in this regard.
We tried various tracks with different rhythms and we got a very solid performance. Musical instruments were reproduced with good clarity although we felt the soundbar had a slight electronic texture to it. Vocals had a sharp tone to them while resolution was very good. The subwoofer made a good job with bass although don't expect to push things as some other bigger subs can.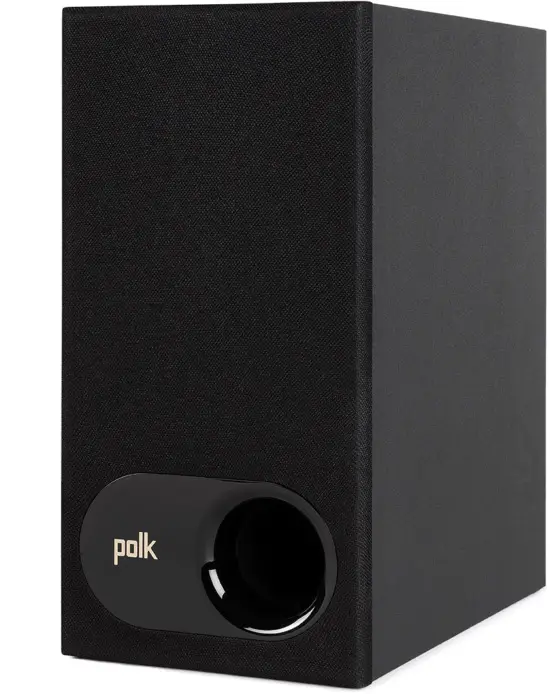 No mater what kind of music we tried, and we tried a lot, we got very solid performance with tight mid-range, lovely highs and satisfying lows. Let's be clear here. Don't expect to get an astonishing performance that will floor you by the quality of it's sound but the sub-$200 Signa S2 will certainly give you more that what it actually costs. If you love music and you are afraid of it's performance in this regard you really shouldn't as it will certainly offer you countless hours of acoustic enjoyment.
Final Thoughts
When reviewing a soundbar like the Signa S2 you should always judge it compared to it's price as this is the most important factor of how harsh it should be scored. With a starting price of $200, you can get the Signa S2 even as low as $149 at the time of writing this review. For a soundbar that also includes a subwoofer this price is crazy low especially if you consider the very solid performance that it offers.
The value of this soundbar becomes ever higher if you consider the simplicity and ease of use it has as a plug-and-play solution. Having very few options makes things pretty straightforward both during setup but also during use which will for sure be ideal for people that don't want to mess around with multiple settings until they can calibrate the sound to their satisfaction.
On the other hand the soundbar cuts many corners in order to reach this extremely low price. Build quality and design although solid, it's nothing special to talk about while pushing the Signa S2 to extremely high levels makes the soundbar reach it's limits with the sound starting to loose definition. Also there is no surround activity whatsoever so if you want a soundbar that can provide surround immersion there are other options to consider. Lastly the remote is so and so while the buttons felt a bit unresponsive. In addition the absence of a built-in display on the soundbar made things a bit hard to understand the kind of command you have issued.
Closing we will say that if you are looking for a dead cheap soundbar that can hold it's own and be compact enough and easy to use then there is no better choice than the Polk Audio Signa S2. If we had to describe this one in just a few words then it would definitely be called the perfect "budget-friendly casual soundbar". Polk know the audience this one aims for and in this regard they have created an exceptional offering.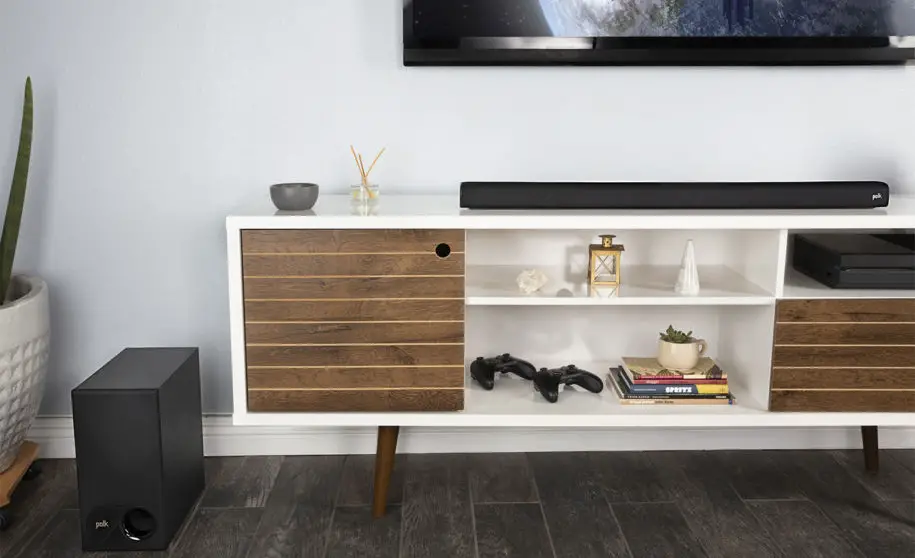 For more reviews you can check our dedicated Soundbar-subwoofer combo reviews list or even look at our Product Reviews Table where you can find the brand and specific product you are looking for.
Also don't lose the chance to subscribe to our Newsletter and gain exclusive privileges.
---
Cheapest Places to Buy :
---
Polk Audio Signa S2 Specifications