Polk Audio T50
Design -

80%

Movies Performance -

85%

Music Performance -

85%

Inputs and Features -

80%

Price / Quality -

95%
---
Cheapest Places to Buy :
---
The first thing that comes in mind when you see a set of home theater floorstanders is how expensive they are and what kind of amazing sound they can produce. A great many of people unfortunately don't have the space freedom to create big home theaters with huge speaker sets so we see more and more turning to compact designs with small factor speakers or decide to go for a soundbar that is created for that specific reason.
Low price with full size floorstanding sized speakers usually don't match but Polk Audio seems to disagree. But price is one side of the equation with sound performance being the other. Low cost means cutting corners but how much should be considered acceptable? Polk Audio took the challenge and created a model that offers a real glimpse of what premium sound is all about but at just a fraction of the cost.
At the time of writing the T50s have a price of sub-$100 per piece essentially making them the cheapest floorstanders you can get at the moment. But do this low price compromises quality of sound or Polk Audio managed to create a speaker that is the embodiment of what we call value for money? All questions will be answered in our Polk Audio T50 review.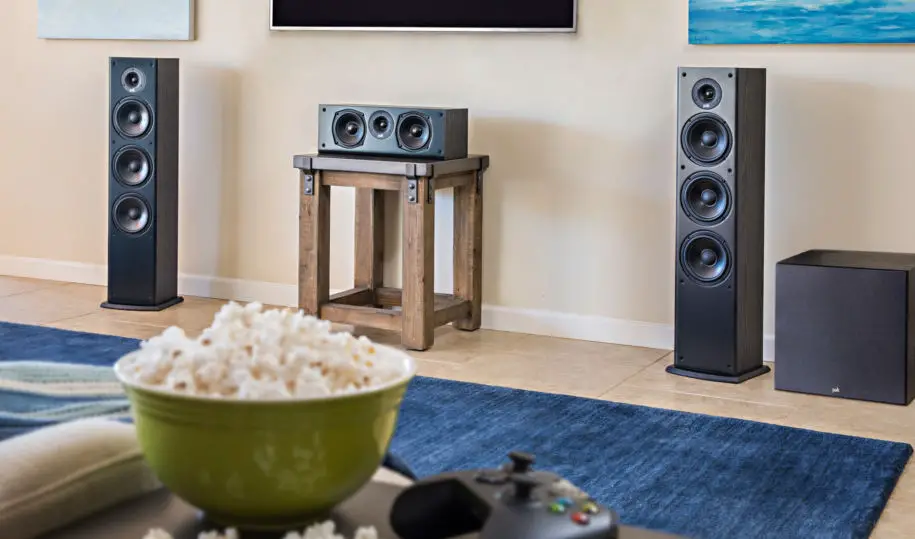 Design, Inputs and Features
Exterior
The Polk Audio T50 cabinet has a size of 36.5″ x 9.25″ x 8.75″ (92.71  x 23.5  x 22.23 cm) and a weight of 20.4 lb (9.25 Kg) with the attached base making it a relatively small sized floorstanding and lightweight speaker that certainly helps to place it in small rooms where there are not a lot of options when it comes to speakers placement.
The cabinet is constructed by MDF board and is covered by a black semi-gloss wood vinyl finish and makes it look more premium and expensive than it really is. Unfortunately black is the only color option so there is little flexibility there. On the inside the speakers are well braced to minimize an unwanted resonance.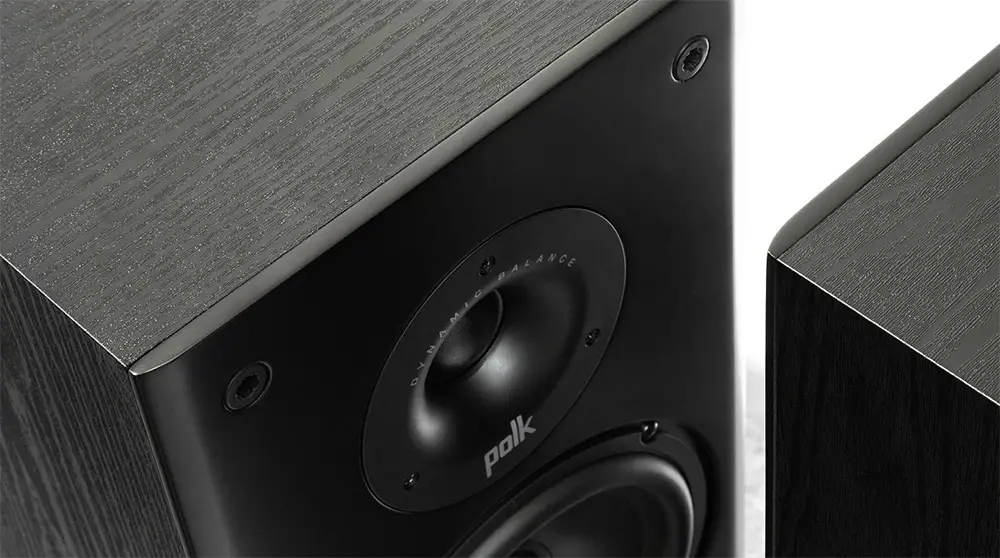 The speaker features a permanently attached base that unfortunately doesn't provide any adjustable legs so make sure the surface you will be placing it is straight and flat. The front is completely covered by a curved black cloth grille with only the Polk Audio logo showing at the very bottom of it keeping a very simple black rectangle box design.
These speakers may be cheap but certainly don't look like that. Polk Audio really managed to make wonders with such a limited budget and they deserve kudos for that.
Internal Hardware
Taking out the full frontal grille we are greeted by Polk Audio's proprietary Dynamic Balance drivers and tweeter that were designed for wide response and low distortion. The T50 features a two-way, bass-reflex design with one 1″ silk dome tweeter, one 6.5″ mid-range woofer and two 6.5″ bass radiators.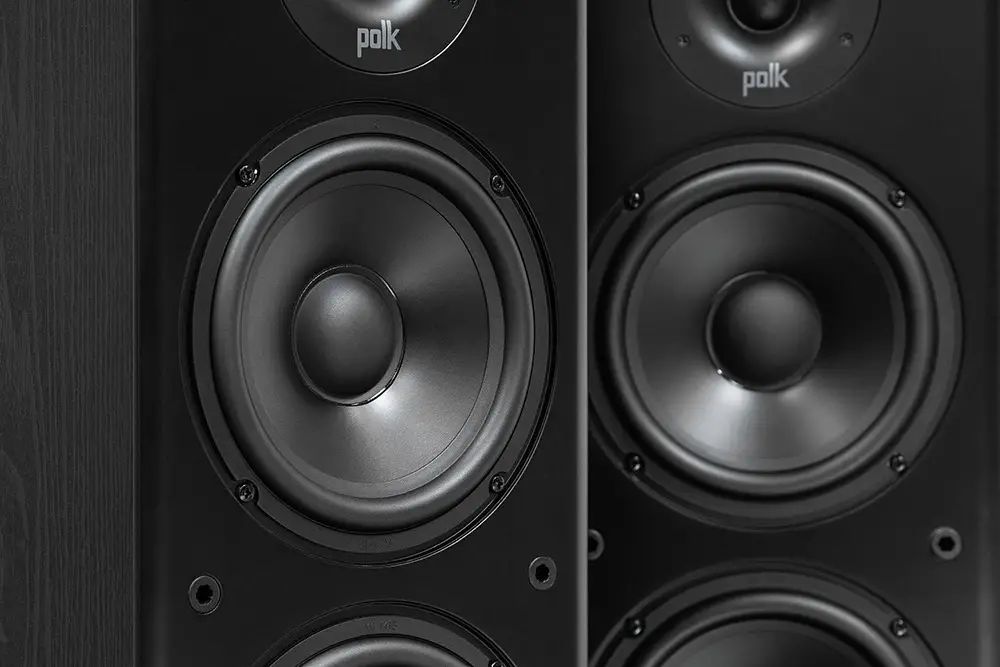 Now one think we would like to make clear is about the bass radiators. We have seen a couple of funny comments from people that think these two are fake speakers so we find this opportunity to put things straight. Bass radiators are passive devices which means they are not driven by a receiver's power amplifier. Basically they replace the bass port in a speaker which has the advantage of more placement freedom compared to speakers that come with bass ports and usually have to be placed near a wall for better results.
So while the T50 may seem like it has three drivers in reality only the one 6.5″ mid-range driver is active. Hopefully we were able to make things a bit more clear now for you. The combination of the tweeter with the mid-range driver and the two bass radiators give the T50 a frequency range of 38-24,000Hz, 90dB of sensitivity and 6 ohms of nominal impedance.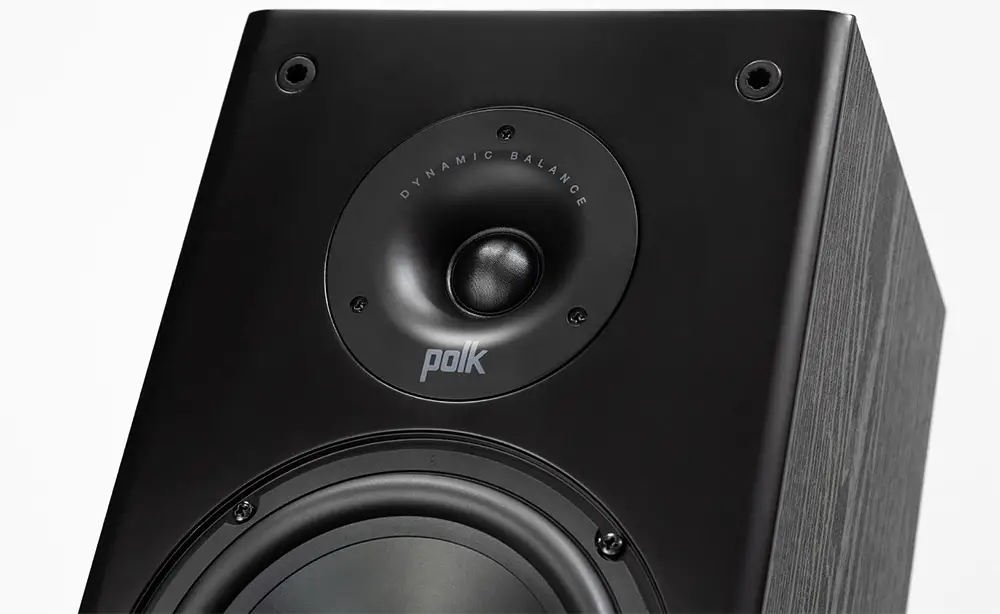 Connectivity
At the lower part of the back face we get a pair of five-way binding posts that you can connect using either bare wires or special banana plugs. The receptable is a bit small and you may find it a bit difficult to screw the wire properly as it needs a bit more effort than it should.
Performance
Polk Audio claims that the tweeter and woofers offer wide dispersion which means that there is no sweet listening spot which gives you more freedom where to sit when watching a movie or listening to music. Of course in our experience a bit of toe-in always offer better sound so we decided to do that than leave them completely off-axis.
Since there are bass radiators instead of a bass port placing them near a wall in not needed so you get more placing options. In our case due to the limited space we have we positioned them around 30cm away from the wall and made all necessary connections to our AV receiver. After going through the necessary calibrations our system was ready for testing.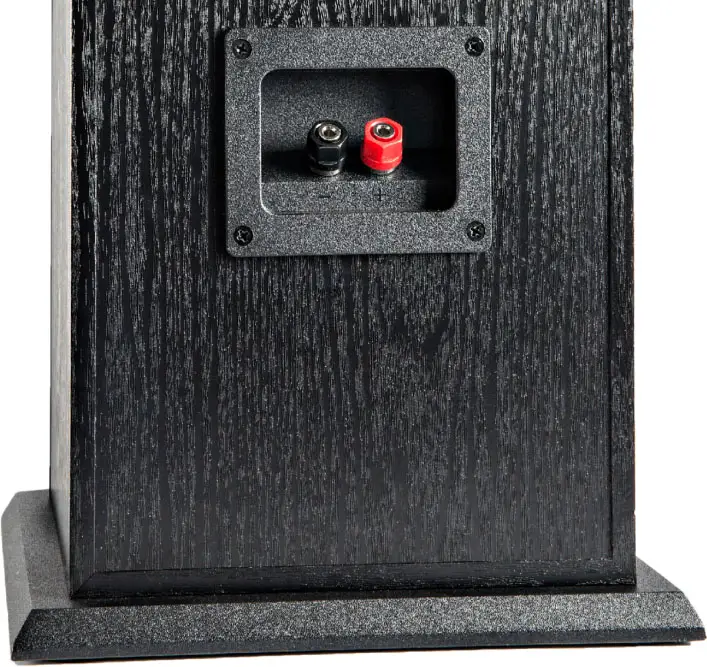 Movies
We wanted to push the T50s a little to see how they can perform under pressure so going for the 4K UHD version of Saving Private Ryan was an obvious choice. The film's Dolby Atmos mix has the necessary weight and a lot of low frequencies to really stress any speaker especially in the opening and final sequences that are the highlights of the film.
Checking out the landing on Omaha beach first there is an abundance of low frequencies as German artillery is pounding the Allied positions while German machine guns are ripping through the soldiers that try to get out of the boats and take cover. We thought that especially the artillery explosions would be too taxing for the T50s but they handled them pretty well. There was no obvious distortion but it felt like it stressed them a bit in a couple of moments which makes it clear that in moments where heavy bass is needed a subwoofer is a necessity.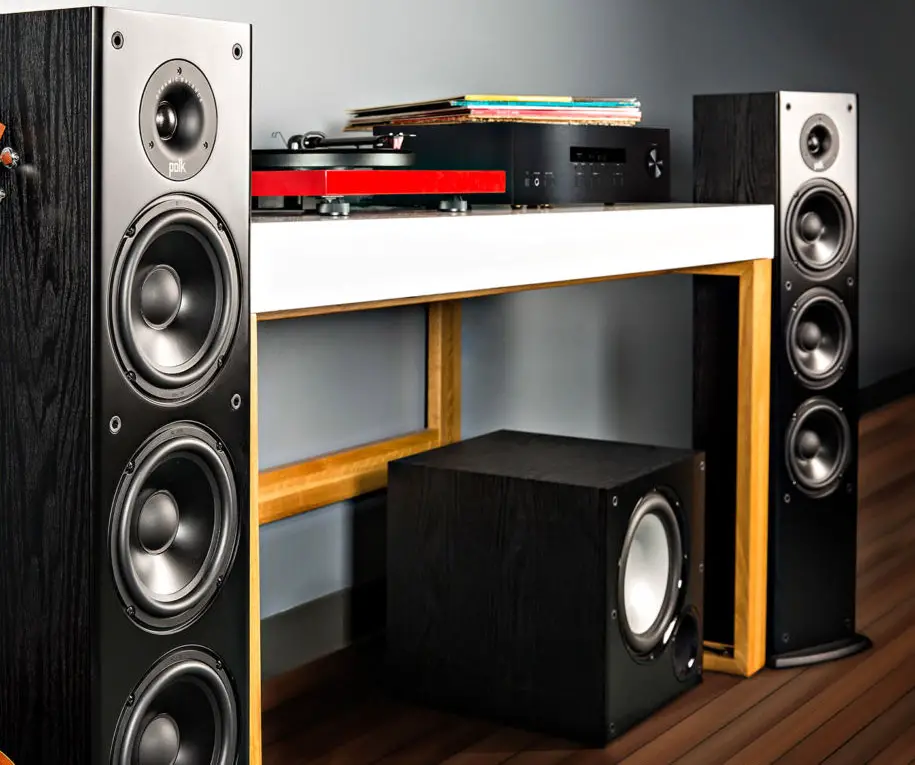 The final scene with the battle of Ramelle fared a bit better as the T50s were able to reproduce the tank fire much better. The rest of the effects followed accordingly with explosions, small arms fire and the ominous sound of the tank wheels squeaking all had a very natural and smooth flare to them.
The second film we tried was the 4K UHD version of Jurassic World, the first one not the sequel as it was such an amazing film, after the first film in the series of course which is in our minds a classic. The film comes with a powerful DTS:X mix which is exactly what we needed for the T50s. Here we got a more balanced mix and while it still offered plenty of moments of low frequency mayhem it was a bit more flexible across the whole frequency spectrum. Dinosaurs roaring and the famous T-Rex footsteps rumble didn't make the T50's to break a sweat. It handle everything relatively good while dialogue was very clear and distinguishable during all the action.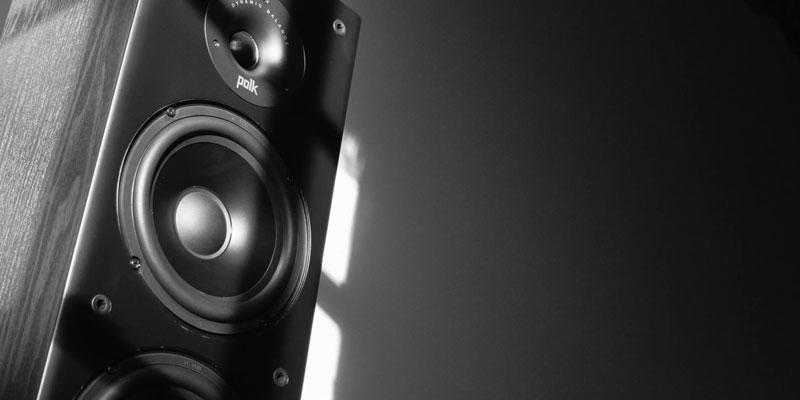 One thing we should note is how loud the T50s can go. Pushing the volume to extremely high levels can put a lot of stress on them. Around 80dB we would say is the maximum that these speakers can perform their best and while they can go higher we felt that any more than that and they start to loose composure a bit.
Music
Next in line is our music tests so what better way to try the Polk Audio T50 with something more delicate than to choose our favorite  FLAC music tracks that we stream through our receiver. As usual keep in mind that all speakers need a small "break-in" period before they can reach their top performance so in the beginning they sound a bit different than expected but we can assure you that this improves over time.
The speakers managed to give a very tight performance with good separation between the different musical instruments while they were well defined in space. Bass felt natural and fulfilling while the high frequencies felt just a bit more bright than what we would like but without being too excessive. The mid-range kept the instrumentation compelling while there was not any audible overlapping between the frequencies.
The T50s managed to perform well enough across the whole dynamic range and while pushing them to extreme high volumes they started to loose their grip a little in normal conditions they will offer a very good musical experience which is really amazing for the cost you have to pay. With a nicely controlled mid-range,bright highs and tight lows the T50 will offer a nice musical experience to any music lover on a tight budget.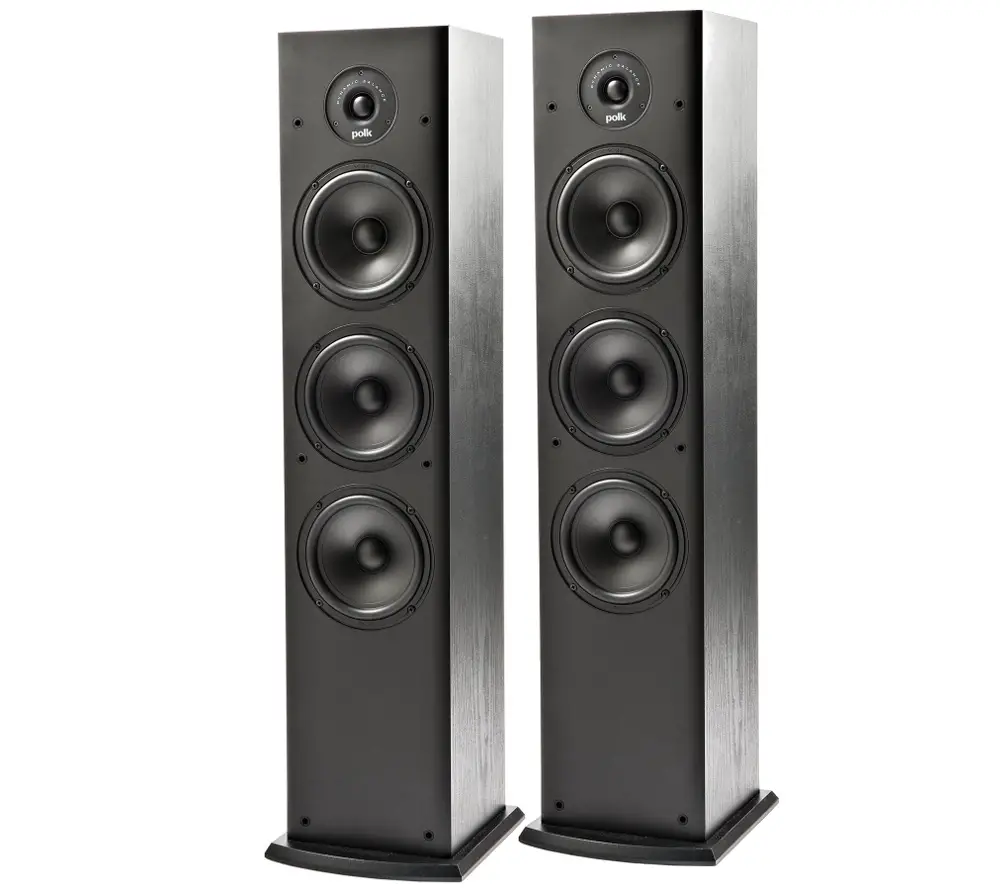 Final Thoughts
Polk Audio has managed to create a small miracle with the T50. The speakers obviously have weaknesses as they offer good performance but without managing to give us anything extraordinary. Their sweat spot seems to be around the 80dB mark after which they start to loose control a little while there were moments that extremely low frequencies made the speakers stress more than what they would like.
On the bright side the speakers managed to offer very good performance if you look at them as a whole. They are excellent for mixed use although we would definitely recommend you combine them with a subwoofer in order to take off a bit of the low frequency burden that seems too much for them in some cases. The speakers seems perfect for any kind of small or medium sized area but if you have a large space then we would recommend to check some other model.
Obviously the highlight of the T50 is it's price as it can claim to be the cheapest floorstanding speaker available in the market and with a relatively good performance the Polk Audio T50 is an excellent choice for anyone that looks for a good set of speakers but don't want to pay a high price for them.
For more reviews you can check our dedicated Floorstanding Speaker reviews list or even look at our Product Reviews Table where you can find the brand and specific product you are looking for.
Also don't lose the chance to subscribe to our Newsletter and gain exclusive privileges.
---
Cheapest Places to Buy :
---
Polk Audio T50 Specifications