---
Cheapest Places to Buy :
---
Today we have the pleasure to test a home theater system from Polk Audio, a very respectable and known US company in the audio equipment segment, and while many people know them for their top of the line floorstanding speakers in our case today we will be checking one of their smaller 5.1 home theater systems that are mostly suited for home theater beginners or people are don't have a lot of space or budget to go for a bigger setup.
We have started testing a lot of these small audio systems lately from various manufacturers as it seems that the need for low cost home theater systems that can offer respectable performance at a smaller size is becoming more and more popular. But with so many small audio systems in the market today how does Polk Audio fairs compared to the competition? Does their system manages to leave it's mark or we get another good but ultimately forgettable audio system. Continue reading our Polk Audio TL1600 review to find out.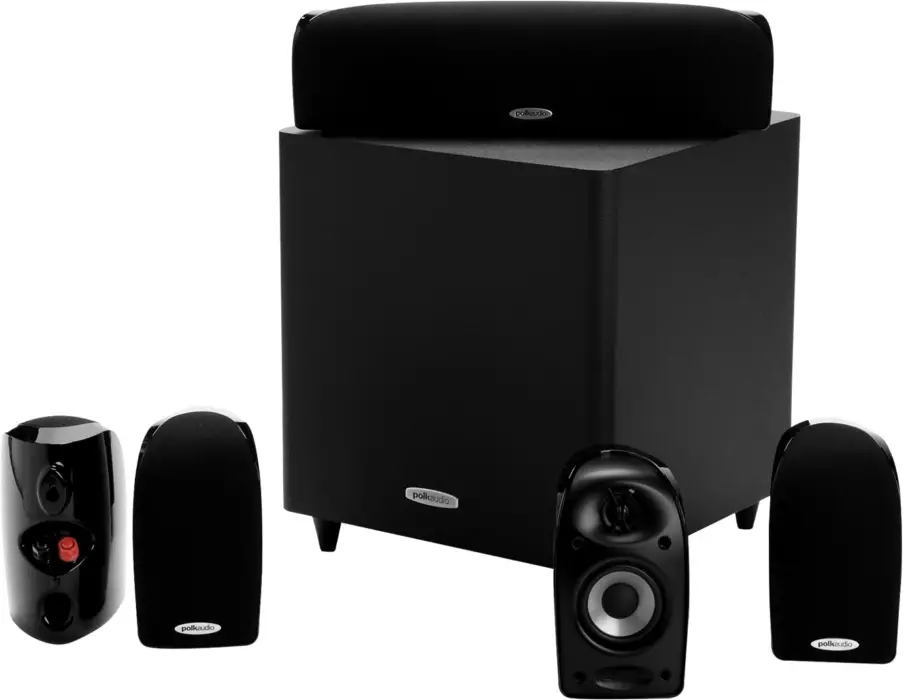 Design, Inputs and Features
The Polk Audio TL1600 home theater system is a small 5.1 channels system that includes 4 similar satellite speakers for the front and surround channels, 1 center channel and 1 active subwoofer for the low frequencies.
For the front and surround we get 4 identical TL1 satellites that sit vertically and have a very characteristic Curved Enclosure Design that Polk Audio created both to create a very distinct visual appearance but also to minimize audio coloration from internal surface resonances as well as in order to create a more rigid enclosure. A hi-gloss "Blackstone" finish all around give the speakers a nice gleaming look while on the front there is a removable black cloth grille that covers and protects the drivers. On the back we find a keyhole bracket in order to be able to wall mount the speakers while for the wire connections Polk Audio used 5-way binding posts instead of the cheaper spring clips.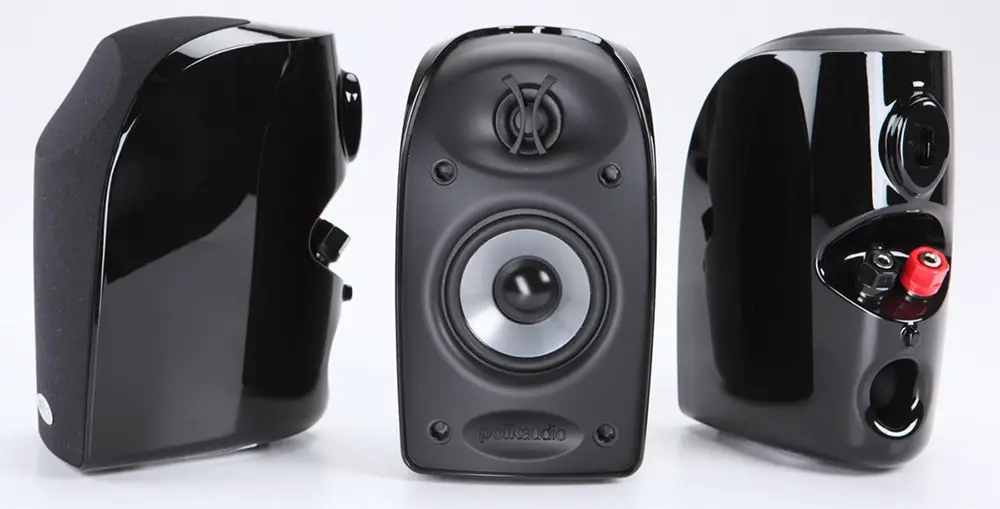 Another characteristic at the back of these small satellite speakers is that Polk Audio added an Aperiodic-Tuned Rear Port in order to create better blending with the subwoofer but also for better bass extension without distortion by controlling the air flow through the port. A pretty neat design and although the difference may not be huge when we are talking about such a small sized speaker but this shows that Polk Audio has thought even the slightest of details even if it would have minor acoustic improvements.
The satellite speakers measure 6.5″ X 3.75″ X 4.875″ (H x W x D) (16.51 cm X 9.53 cm X 12.38 cm) and weight 1.85 lbs (0.84 kg) making them small enough to be placed almost anywhere in your living room, bedroom or home theater area with their elegant and portable design. Each satellite speaker consist of one 2 1/2″ Long-Throw Driver With Dynamic Balance Driver Technology, which is Polk Audio's patented transducer design in order to play loud without strain while also be able to create detailed and transparent sounds, and one 1/2″ Silk Dome Tweeter for the high frequencies. These two-way systems are able to produce a frequency response of 120 Hz to 22 KHz with 89 db of efficiency and 8 Ohms impedance.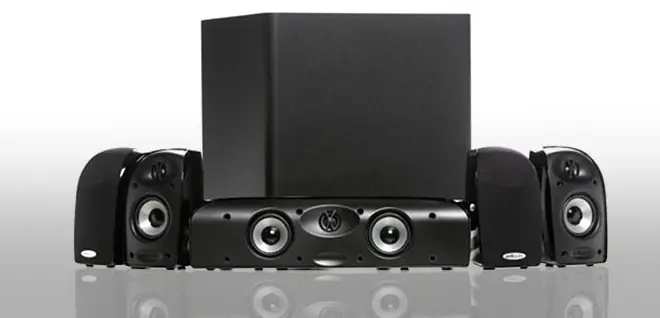 The center channel follows the same design principles as the satellite speakers by having a curved enclosure design and rear bass port for better blending with the subwoofer but naturally it sits horizontally and consists of 2 similar mid-range drivers and 1 tweeter. Measuring 4″ X 15″ X 3.5″ (H x W x D) (10.16 cm X 38.1 cm X 8.89 cm) and weighting 3.35 lbs (1.52 kg) the center speaker is a bit bigger but not so much as it tries to keep the low profile that is characteristic of the whole system. The 2 mid-range drivers in combination with the silk dome tweeter are able to produce a frequency response of 95 Hz to 22 KHz with 89 db of efficiency and 8 Ohms impedance.
Both center and satellite speakers feature what Polk Audio mentions as Time Lens Technology which basically has the tweeter and mid-range driver's acoustic centers aligned in order to produce more crisp sounds while the acoustic lens that is fitted on the back of the grill smooths the tweeter's frequency response resulting in much better performance that was impossible before in such small sized speakers…so Polk Audio says.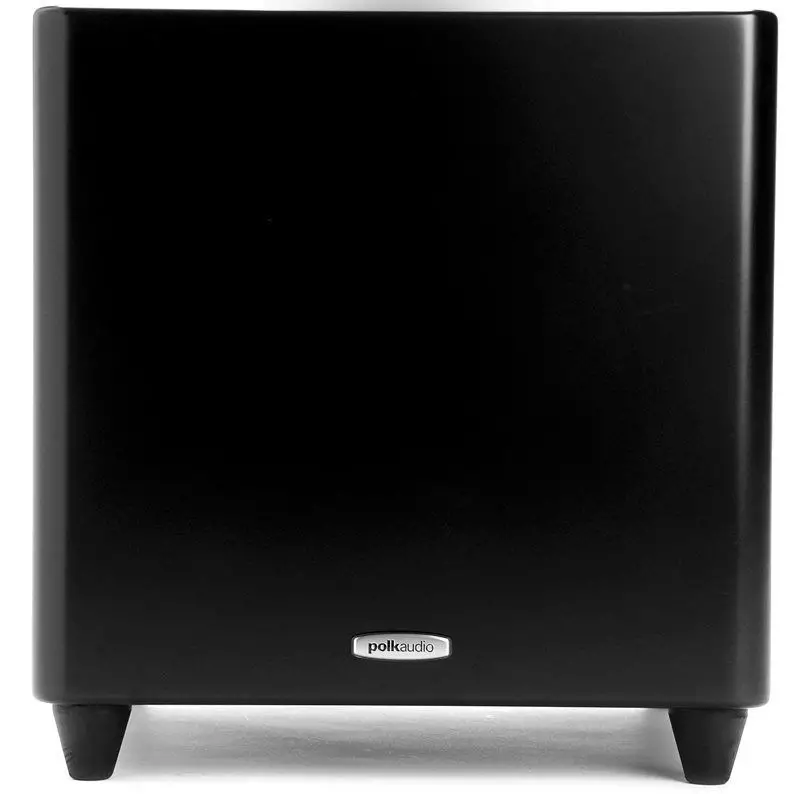 Along with the satellite and center speakers comes an active down-firing subwoofer in order to help with these low frequencies. Having a cubicle design with round edges sitting on four long legs with rubber ends and measuring 13.875″ X 12.5″ X 12.5″ (H x W x D) (35.24 cm X 31.75 cm X 31.75 cm) and with a weight of 20.5 lbs (9.3 kg) the subwoofer comes with a heavy-duty, non-resonant MDF enclosure with a satin black finish. The downward firing 8″ long-throw Dynamic Balance poly composite driver along with the downward firing vented port and a built-in 50 Watt continuous / 100 Watt peak amp give the subwoofer the ability to go as low as 45 Hz.
At the back we find more or less the expected with a volume knob, a low-pass knob that can adjust the cutoff frequency between 80 and 160 Hz, a 0-180 phase switch, a power switch, analogue audio input as well as speaker level inputs and outputs in case you have an older receiver with no dedicated subwoofer output.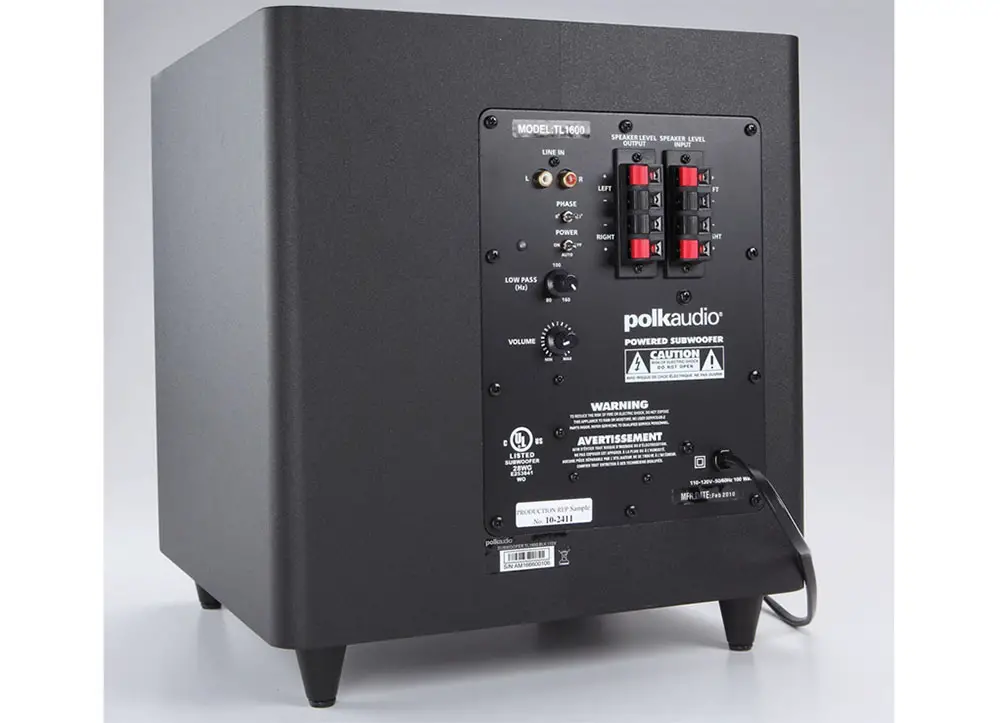 Closing this part we have to say that we are very impressed with the build quality of such a small system. Having such a low price made us a bit skeptical how good the TL1600 could be both from a design point of view but also more important on the construction of the speakers. Polk Audio really created an audio system to be proud of and one that has already justified it's cost just by the looks and quality design. Now it only remains to be seen how much better it would be in what really matters. Audio performance.
Performance
This system, being 5.1 channels, doesn't include an height speakers and as such cannot support any next generation audio tracks like Dolby Atmos or DTS:X. As it is mostly meant for home theater beginners or people that just want to enjoy immersive surround sound with the least possible cost this shouldn't be a problem as 5.1 is still enough for many people in order to create an expanded sound stage.
In our case positioning the speakers in our viewing area was a breeze and after the necessary connections and calibrations we were ready for testing.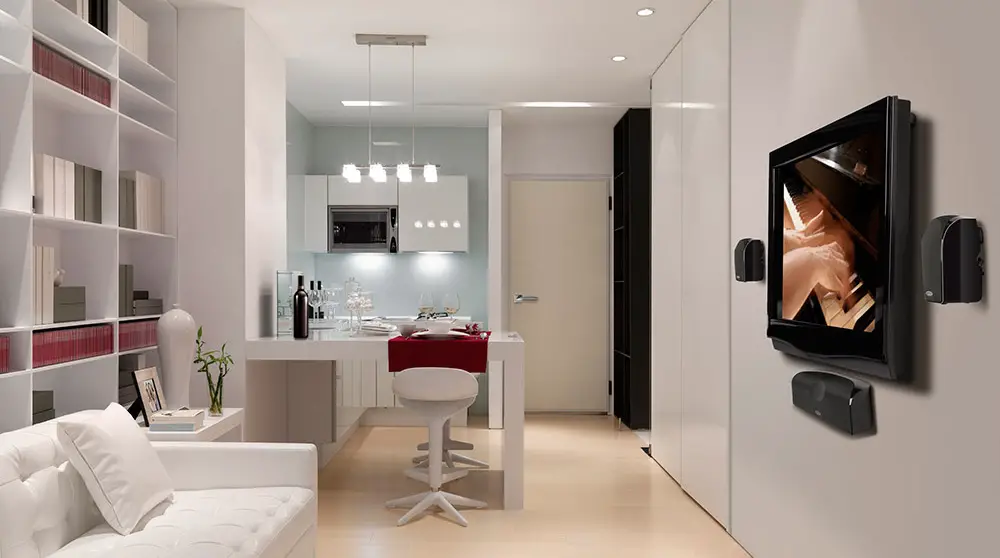 Movies
To test the capabilities of this small 5.1 system we went with 2 Blue-ray films, Saving Private Ryan and Lord of the Rings: The Fellowship of the Ring, which both come with amazing DTS-HD Master Audio tracks more than enough to stretch the Polk Audio TL1600 to it's limits.
We started by popping the Saving Private Ryan disc into our Blue-ray player and naturally decided to watch the opening battle with the Omaha beach landing. Having tested a couple of small 5.1 systems lately and with our memory still fresh we were curious if this one would be able to offer a different experience than the rest.
The TL1600 managed to faithfully reproduce the opening audio effects, the marine engines sound, splashes of water, background artillery shells and dialogue were all coming together nicely with good channel separation that gave you a clear understanding what was going on both in front and behind.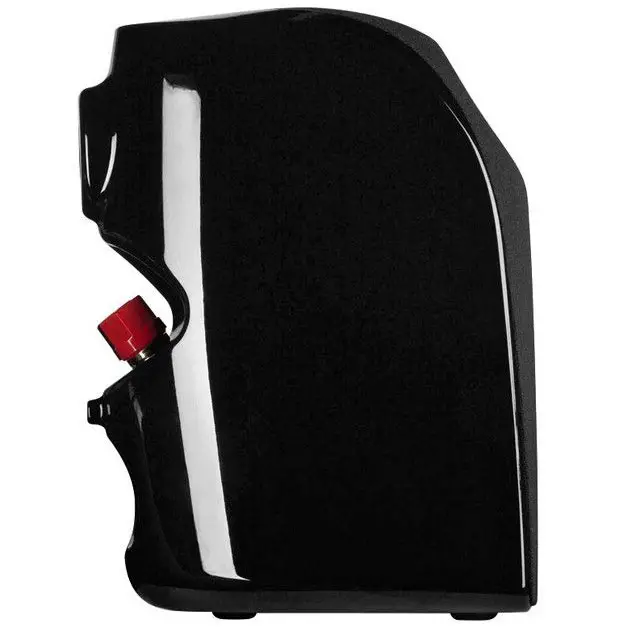 When the boats reach the beach and the doors open we get a rain of machine gun fire and artillery shells explosions and the TL1600 tried to really bring all the action of the screen in our room. Channel shifting was very good with accurate transitions, the center channel delivered all dialogue clearly even in all the mayhem while the surround channels managed to encompass us in this chaotic war scene with great success.
The subwoofer had a lot of work in these scenes as explosions, gun fire and projectiles that fly all around is the main attraction of that particular scene and although it managed to go low enough sometimes it felt a bit underpowered. It gave us a sense that it didn't have the same punch as some other similar systems and although the difference was minor that to some many even be non-existent we couldn't say that it wasn't there. It's not like the subwoofer under-performed or anything but a bit more power would definitely help make these low frequencies more dynamic.
Next for our testing came the Blu-ray disc of Lord of the Rings: The Fellowship of the Ring that features, in our opinion, one of the best orchestrated heavy soundtracks we have ever heard.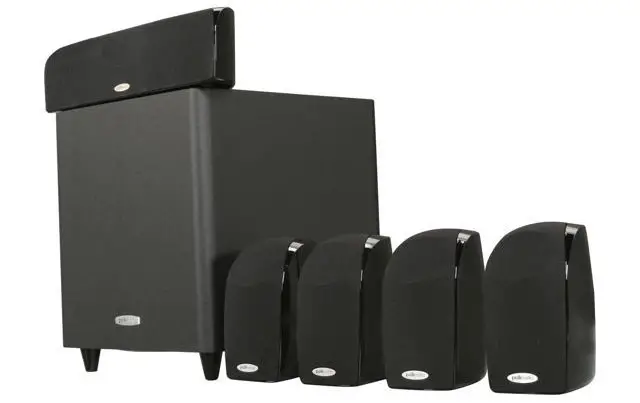 One of our favorite scenes is when Gandalf faces the Balrog at the Bridge of Khazad-dûm. From the first roar he makes to the file confrontation on top of the bridge this is a scene that combines a lot of sound effects with dialogue, a lot of low frequencies and surround effects on top of Howard Shore's amazing orchestrated theme with the TL1600 managing to recreate what we saw on the scene very nicely.
The sound effects were nicely separated from the dialogue and the music, the satellite speakers managed to expand the immersion field well behind us and the center channel delivered the words of Gandalf clearly and with good detail. The subwoofer once again gave to the scene the necessary weight but as previously we would love if it was a bit punchier. Nevertheless transition between it and the rest of the speakers were seamless creating a very immersive atmosphere.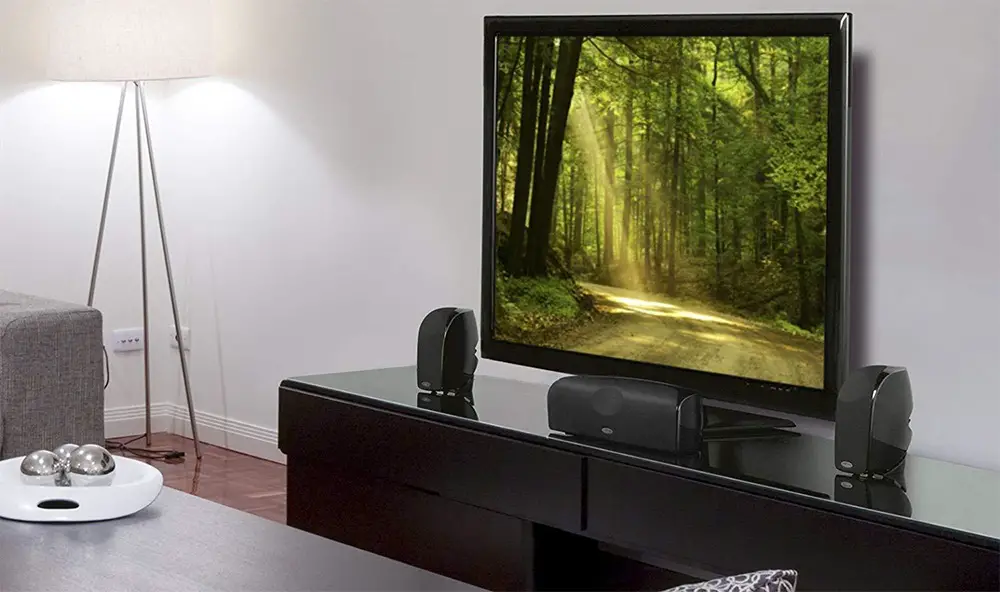 In general we were very please by the Polk Audio TL1600. It's amazing what such a small and low priced audio system can offer and it seems that manufacturers have made many advancements in their designs and technologies used in order to bring their performance a little bit closer to more advanced systems. The system definitely has it's limitations and we would like the subwoofer to offer more punch but if you consider it's size and cost then Polk Audio really did an amazing work.
Music
Next in line was our music testing and for this we selected a few FLAC audio tracks to see how the TL1600 would perform. As with all these small setups it's hard to get the kind of excitement you usually get from big floorstanding speakers but nevertheless the TL1600 managed to give a stellar performance. Music instruments were clearly distinct while vocals were nicely separated from the rest of the channels.
Mid-range with high blended very good but the bass was a bit more dull than what we would like. The system managed to keep control even when pushing the listening levels to disturbing levels although there is so much such small speakers can do. But although their size and limitations they never bulked under the high volume keeping surprisingly good control.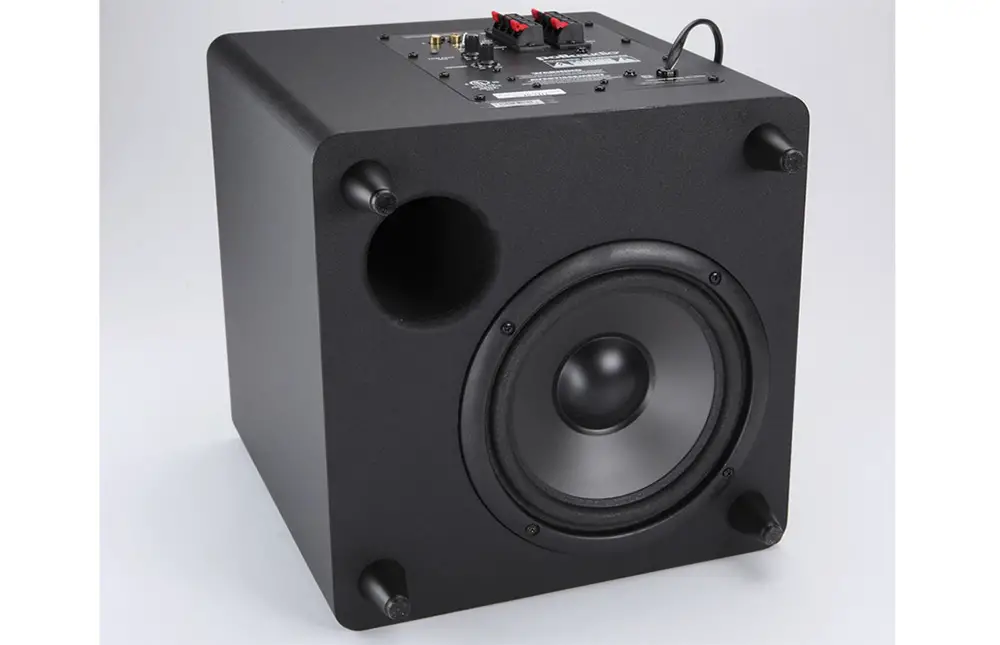 Final Thoughts
Polk Audio has proved to us that although huge, top of the line speakers may offer the best audio immersion and quality possible, you don't need such equipment to be able to get enough enjoyment out of a surround audio system. A lot of people just want to be able to get some of the surround audio magic with the lowest cost possible and this system can provide plenty of that.
The Polk Audio TL1600 has a very nice design that is both compact to be fit almost anywhere and of good quality for such a small size offering some very good performance that may not be apparent from a first look. Obviously the system is meant for small living rooms, bedrooms or small home theater areas but the speakers can go loud enough to fill even a bit bigger areas with acoustic immersion. Polk Audio paid much attention to details in order to achieve such performance from such a small design and they should be applauded for this. If you add to all these the amazing price for a full 5.1 surround system then this is a system that is definitely worth a try.
Being a budget friendly audio system it means that with no height speakers there is no Dolby Atmos or DTS:X support. There is a reason why it's called small and budget -friendly but for the people it is meant for, going for a 5.1 channels system will be enough. The high-gloss finish of the speakers may look nice but it's a bit of a fingerprint magnet that needs cleaning all the time. Lastly although the included subwoofer blended very good with the rest of the speakers we would like it to provide a bit more punch.
Polk Audio TL1600 is a great system for those that are just beginning their home theater experience, are tight in budget or have limited space or a combination of any of the above. And although it is small enough and low priced to fit these criteria Polk Audio made sure that it would be able to provide the best performance possible within these limitations and as such they managed to do a very good job.
For more reviews you can check our dedicated Complete Home Cinema Speakers reviews list or even look at our Product Reviews Table where you can find the brand and specific product you are looking for.
Also don't lose the chance to subscribe to our Newsletter and gain exclusive privileges.
---
Cheapest Places to Buy :
---
Specifications
Satellites

Height: 6.5″ (16.51 cm)
Width: 3.75″ (9.53 cm)
Depth: 4.875″ (12.38 cm)
Weight: 1.85 lbs (0.84 kg)
Driver Enclosure Type: Non-Resonant Composite w/Time-Aligned Geometry And Aperiodic Tuned Port
Driver Complement: 1 X 2.5″ (6.35 cm) Long-Throw Driver With Dynamic Balance Driver Technology, 1 X 0.5″ (1.27 cm) Silk Dome Tweeter

Frequency Response: 120 Hz → 22 KHz
Lower and Upper -3dB Limits: 135 Hz → 20 KHz
Efficiency: 89 db
Nominal Impedance: 8 Ohms

Recommended Amplifier Power Per Channel: 10 watts → 100 watts

Center

Height: 4″ (10.16 cm)
Width: 15″ (38.1 cm)
Depth: 3.5″ (8.89 cm)
Weight: 3.35 lbs (1.52 kg)
Driver Enclosure Type: Non-Resonant Composite w/Time-Aligned Geometry And Tuned Port
Driver Complement: 2 X 2.5″ (6.35 cm) Long-Throw Driver With Dynamic Balance Driver Technology, 1 X 0.5″ (1.27 cm) Silk Dome Tweeter

Total Frequency Response: 95 Hz → 22 KHz
Lower and Upper -3dB Limits: 125 Hz → 20 KHz
Efficiency: 89 db
Nominal Impedance: 8 Ohms

Recommended Amplifier Power Per Channel: 10 watts → 125 watts

Subwoofer

Height: 13.875″ (35.24 cm)
Width: 12.5″ (31.75 cm)
Depth: 12.5″ (31.75 cm)
Weight: 20.5 lbs (9.3 kg)
Subwoofer Array Driver Enclosure Type: Downward Firing Vented Port
Subwoofer Array Driver Complement: 1 X 8″ (20.32 cm) long-throw Dynamic Balance poly composite driver
Amp Power: Built-In 50 Watt Continuous /100 Watt Peak with active crossover