Q Acoustics 3050i
Design -

90%

Movies Performance -

92%

Music Performance -

92%

Inputs and Features -

90%

Price / Quality -

92%
---
Cheapest Places to Buy :
---
It's always exciting to try out a new pair of speakers and especially from a well known company like Q Acoustics, so today we have the pleasure to review one of their latest floorstanding speakers, the 3050i. Although we weren't able to review the predecessor of this series, the famous 3000 range, which had received praising comments and high scores for their performance the new 3000i range that is being replaced with promises to take what was already good and improve upon it.
The 3050i speakers are part of the 3000i family that include bookself speakers, a center speaker, a subwoofer and the floorstanding speakers we are checking here today and according to Q Acoustics they have undergone various improvements in order to enhance their sonic performance but at the same time keep the price at reasonable levels and as a result position them somewhere in the middle of the price ladder making them a good choice for those that want some quality speakers but without having extreme budgets to spend. But let's start our Q Acoustics 3050i review to see if these speakers are as good as they seem.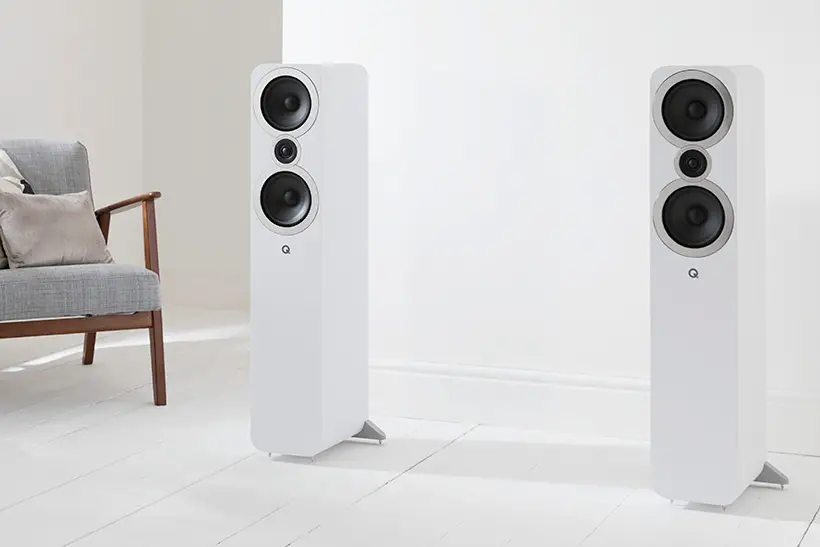 Design, Inputs and Features
With a size of 40.2″ x 12.2″ x 12.2″ and a weight of 39.2 lbs (17.8kg) the 3050i have a very distinct look that differentiate them from most other regular floorstanders as curves and rounded corners are all you will encounter. There are no sharp corners or lines to be found and certainly they look like they came out of a futuristic apartment. With the grilles taking the upper half of the speakers and a simple Q for the logo under them the general look is simple but at the same time fresh and definitely interesting.
At the outside the cabinets have a semi-gloss, so to say, finish that is not shiny but definitely has a nice look to it compared to the usual speaker surfaces we have seen lately. Taking out the grilles the first thing we notice are the thick, chrome shiny bezels surrounding a 22mm high frequency driver sandwiched between 2 165mm bass/mid-range precision drivers while looking at the back we find a bass port and a pair of low-profile speaker terminals.
And while the 3050i speakers feature a very distinct and characteristic look what is inside the cabinets is what really make these speakers more interesting. Q Acoustics made sure to use top-of-the-line technologies that originate from their high end Concept 500 series including P2P and HPE. P2P (Point to Point) technology makes the enclosure more rigid by stiffening the necessary parts and thus creating a more accurate soundstage while HPE (Helmholtz Pressure Equalizer) technology is used to reduce the cabinet resonance by using a vertical tube filled with dampening material, something very useful to tall loundspeakers that tend to resonate at a single favored frequency.
The 3050i feature a 22mm soft dome tweeter which is decoupled from the baffle with the help of a suspension system in order to minimize interference from the woofer and thus offer improved performance. The 165mm mid/bass drivers feature an impregnated and coated paper cone and surrounded by a low-hysteresis rubber which according to Q Acoustics offers a balanced performance between stiffness and self-damping. This 2-way reflex system is, based on the specs, able to deliver a frequency response of 44Hz to 30kHz, crossover frequency of 2.5 kHz with 91dB of sensitivity and 6 Ohms impedance.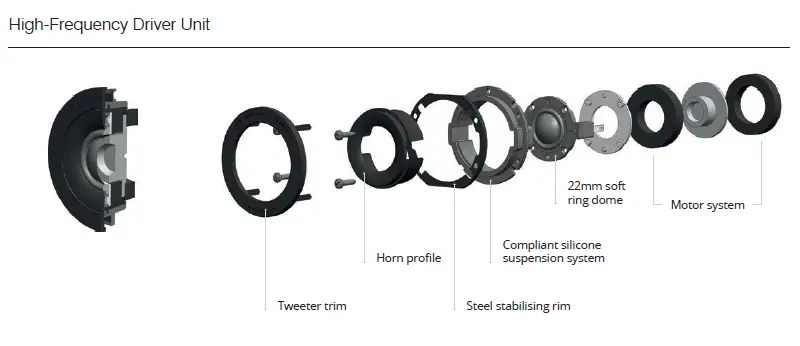 Q Acoustics seems to have paid attention to small details that elevate the overall quality and makes the 3050i so much better by providing magnetic grills which is a rare in this price range while the low profile binding posts make wire connections so much easier. The provided spikes come with a Hex tool for easy calibration and stabilization on the floor and we were able to have them ready in just a few minutes.
Q Acoustics 3050i come in 4 different colors to choose from with Arctic White, Carbon Black, Graphite Grey and English Walnut being the ones available.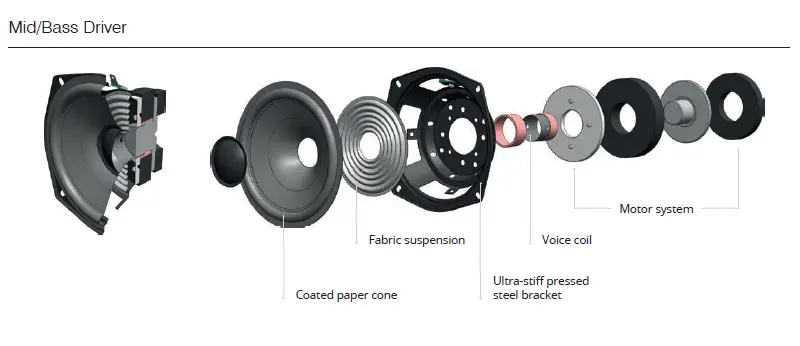 Performance
We connected the 3050i as the front channels in our Onkyo receiver and used the built-in calibration system to balance all speakers in our home theater before we start our movie testing.
Movies
When it comes to testing floorstanding speakers there are 2 films we usually try. The first being the 4K UHD version of Saving Private Ryan as it comes with an energetic Dolby Atmos track, perfect for any speakers testing. Obviously the most iconic scene couldn't be other than the landing of the Allied Forces on Omaha beach. From the first moment when the camera shows the soldiers in the marine boats you get a sense of the audio qualities of the 3050i speakers. From the marine engines, the waves hitting on the metal boats or artillery shells falling on the distant background the 3050i managed to reproduce all information faithfully.
When the soldiers reach the beach and the real mayhem starts the speakers manage to keep very good control of everything happening in each scene. We noticed that the speakers were a bit strong on the bass but this didn't bothered us at all as this didn't come at the expense of the highs which were clear and well defined. When the German machine-guns were ripping through the American soldiers you could hear their characteristic trumping metal sound very clearly reproduced while other sound effects were of equal quality. There is a lot going on in this scene and the 3050i manage to reveal a lot of details that you usually cannot hear in low end speakers.

Q Acoustics has really created a very good overall and balanced speaker and Saving Private Ryan was a film that proved that to us. Artillery strikes had the necessary oomph, machine-guns and weapons in general felt real while environmental effects like rains drops or the scratching tank tracks in the distance during the last battle of Ramelle created an expanded soundstage to all directions.
The second film we tried out was no other than the Lord of the Rings: The Return of the King with the siege of Minas Tirith starting with the ride of the Rohirim being the point where we selected to watch from. The film comes with one of the best DTS-HD Master Audio tracks as there is no 4K version yet to try out but nevertheless the results were astounding. Ground shaking, metal clashing and foul beasts screaming created an amazing atmosphere that the 3050i were able to deliver. Again we noticed a similar behavior here as the bass felt a bit more pronounced but in no way did this interfere with the mids or highs which were clear and energetic providing very distinct dialogue.
Closing this part we will just say that the Q Acoustics 3050i managed to perform admirably by providing big speakers dynamics and giving you a sense of scale and smoothness that we usually see in more higher-end speakers. They offered plenty of resolution and clarity and felt balanced enough even if a bit strong on the bass. Great work from Q Acoustics as they managed to create a speaker that offers real value for money.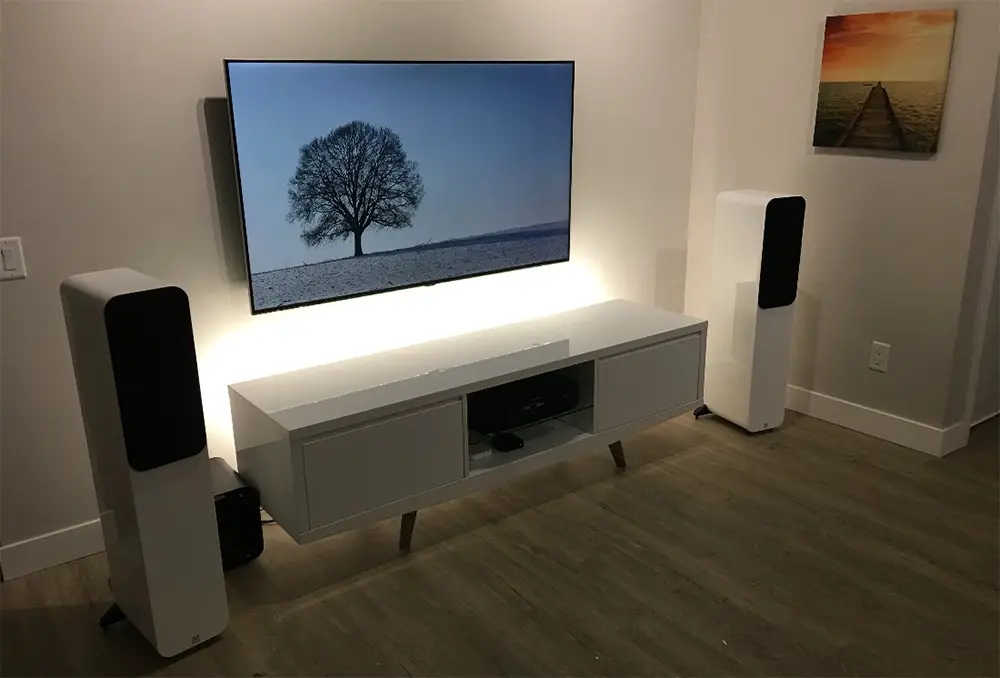 Music
Moving on to our music testing we chose a selection of FLAC tracks as usual with different rhythms and tunes that we streamed to our receiver. The 3050i revealed immediately a rare agility in the lower end something that was evident from the start but at the same time the vocals were very solid and clearly defined. Overlapping instruments were masterfully managed by the speakers giving a good sense of space while sudden shifts in dynamics never made them loose their grip.
Pushing the speakers into higher volumes didn't reveal any distortions and the cabinets were able to deliver sound that was clear and very detailed. Q Acoustics 3050i are budget-friendly speakers that can definitely perform like they cost more and in the end this should be considered a success for Q Acoustics.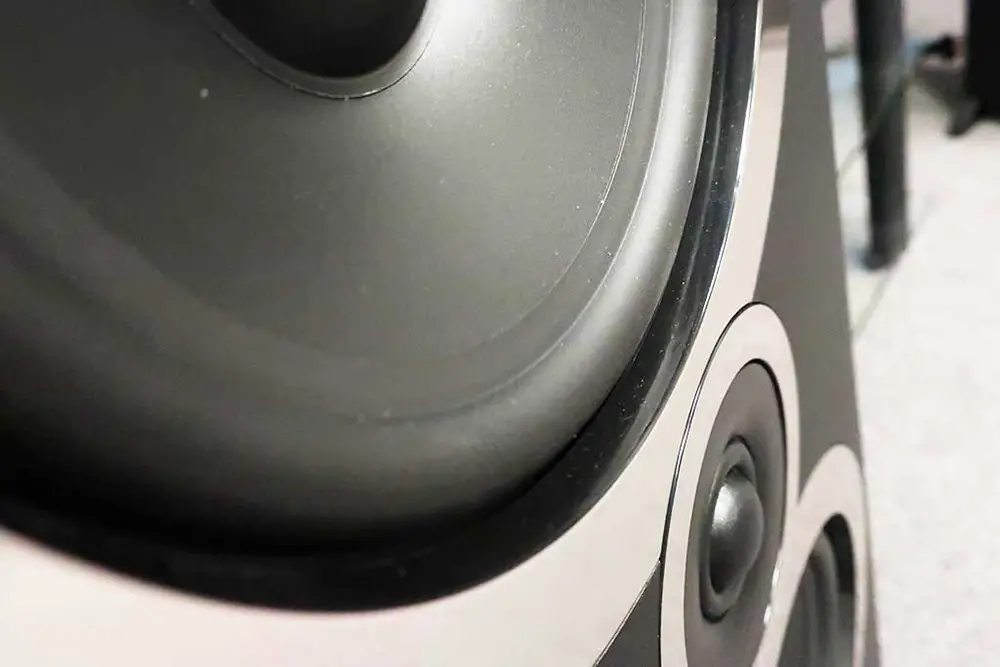 Final Thoughts
The Q Acoustics 3050i managed to pleasantly surprise us with their performance. Even though they are considered middle-range loundspeakers they managed to perform much better than expected. And although the design is unique that some may like while others will find it a bit too much, what matters in the end is the acoustic result that they can offer and in this regard the speakers managed to get very good scores.
With technologies that come from higher end models the 3050i manage to bring quality from higher-end to mid-level for a more or less affordable price. The Q Acoustics 3050i offered us a very enjoyable time both during our movies and music testing and we definitely suggest them to anyone who wants some quality speakers but are afraid to spend a lot of money on some more top-of-the-line models.
For more reviews you can check our dedicated Floorstanding Speaker reviews list or even look at our Product Reviews Table where you can find the brand and specific product you are looking for.
Also don't lose the chance to subscribe to our Newsletter and gain exclusive privileges.
---
Cheapest Places to Buy :
---
Specifications
Crossover Frequency : 2.5 kHz
Dimensions (H/D/W) : 40.2″ x 12.2″ x 12.2″
Enclosure Type : 2-Way Reflex
Frequency Response : (+3 dB, -6 dB) 44Hz – 30kHz
Impedance : 6 Ohm
Power Input : 50-165W
Sensitivity : 91dB (2.83 V@1 m)
Tweeter : 22 mm (0.9 in)
Weight : 17.8kg / 39.2 lbs