Q Acoustics 7000i
Design -

92%

Movies Performance -

90%

Music Performance -

90%

Inputs and Features -

85%

Price / Quality -

90%
---
Cheapest Places to Buy :
---
While many home theater fans like to go big with enormous TV screens, projectors and floor standing speakers there is a big portion of fans that either don't have the budget or the appropriate space for top of the line equipment. As a result the need to create affordable and space friendly home cinema speaker setups became more and more obvious pushing manufacturers into creating audio systems that would offer good immersion and audio quality without the need to go big.
One of the manufacturers that offer such systems is Q Acoustics that has created very good setups over the years and now they just offer small updates to keep their models on par with the competition. One such audio system we will be reviewing today and we put it to the test to see if it can offer the kind of audio quality that is expected even for a low priced setup. Has Q Acoustics managed to create a good performer or the low price is a deciding factor for better performance? All this in our Q Acoustics 7000i review.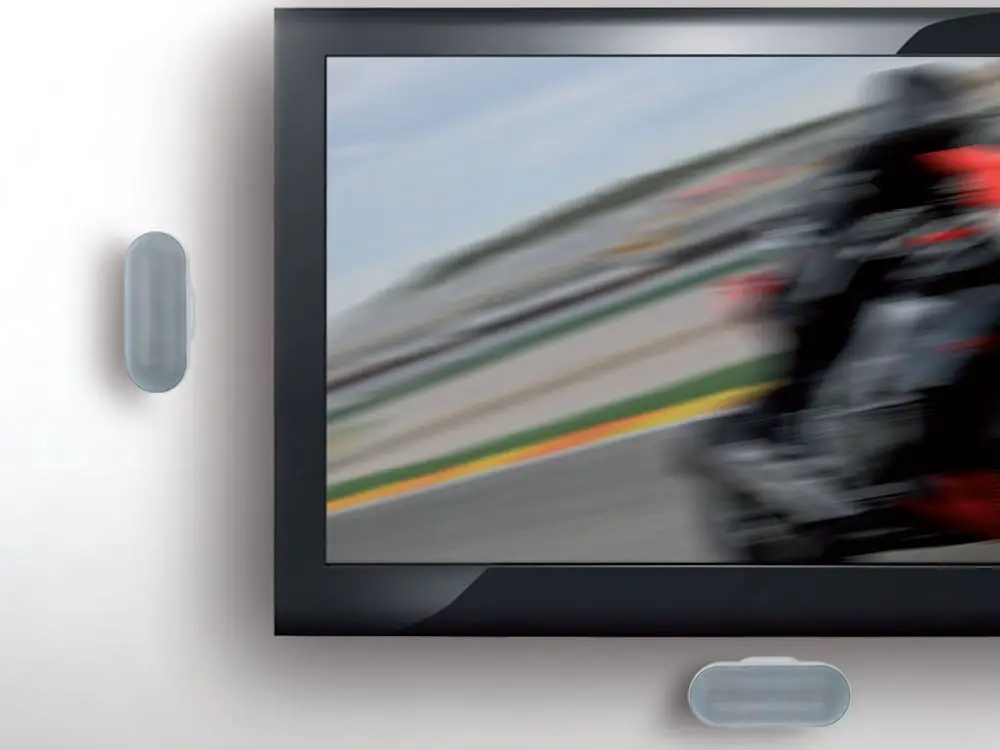 Design, Inputs and Features
The Q Acoustics 7000i is a very nice 5.1 channels audio system consisting of 4 similar satellite speakers for the front and surround channels, 1 center channel and 1 active subwoofer.
The design of the speakers is very characteristic with a curvy, pill-shaped look that makes them look very stylish and different from the usual box-shaped bookshelf speakers we usually see. The satellite speakers are vertically standing while the center one is placed horizontally. Measuring 240 x 100 x 160(mm) for the satellites and 115 x 207 x 160(mm) for the center speaker and weighting 1.6 kg each the speakers are small enough to fit in any kind of placement. Either you want to fit them in a tight bookshelf, furniture, stand or simply hang them on the wall their size and weight makes the placement a pleasant procedure.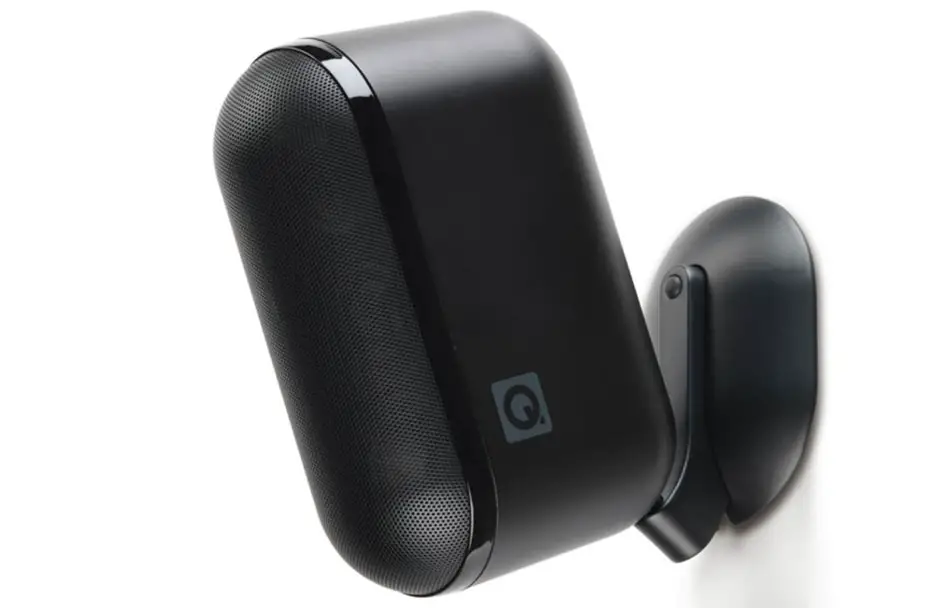 And speaking of wall mounting all speakers have a built-in stand that allows you to adjust the angle while turning them 90 degrees will allow you to position it on the wall. The stand has a recess where the speaker terminals are found while a cable management channel guides the wires to the back. Unfortunately the terminals cannot accept any kind of banana plugs so you will have to use bear wires. Alternatively there are matching floor stands that look stylish and fit exactly these speakers but they are not cheap if you decide to go this route.
The satellite and center speakers enclosures are made out of aluminium and feature internal damping in order to eliminate cabinet resonance. Under the front metal grill we find a rather unusual drivers setup for such small speakers. A 1″ (25mm) ring radiator tweeter that is backed by a Neodymium magnet sits between 2 3″ (75mm) ultra long mid/bass drivers made out of lightweight coated paper. Q Acoustics claims this setup to offer low distortion, detailed high frequencies and a wider dynamic range. Nice claims in theory so we were eager to put them to the test.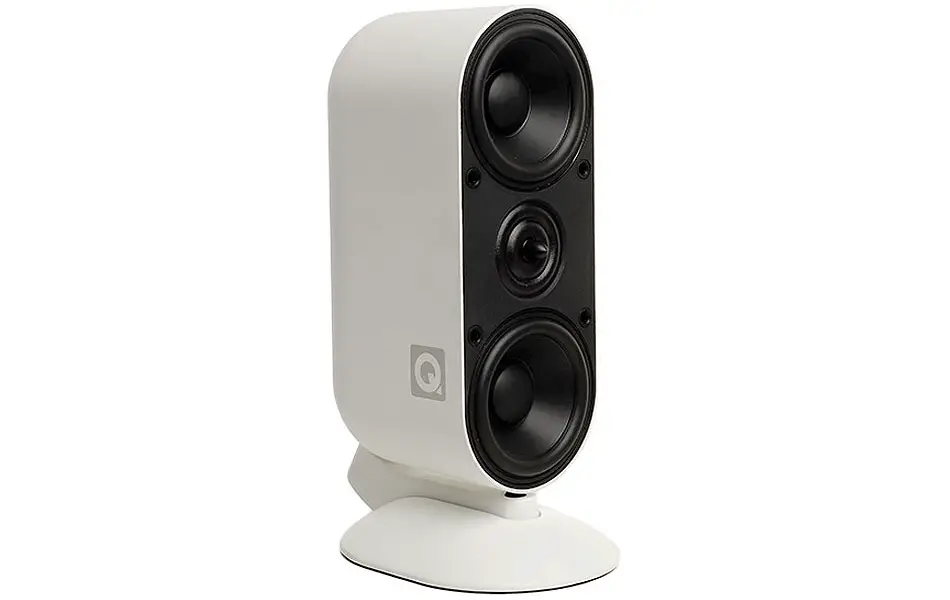 The featured drivers setup give the speakers a frequency range of 95Hz – 20KHz, 85 dB @ 2.83V of sensitivity with 6 Ohm Impedance.
The 7000i comes with the slim 7060S subwoofer to help with those low frequencies and what we get is a bit of a different design than the usual box type of subwoofers featuring a more rectangular shape. We have seen the 7000i system with two subwoofer variations, one is the 7060S we have here and the other is the 7070Si which has exactly the same specifications but comes with a bit different dimensions meaning that more or less they will have the same performance. There is no other difference to the system as a whole other than the slight increase in size the 7070Si has compared to the 7060S but we thought good to mention it in case you find one with the 7070Si subwoofer and wondering what's the deal.
The 7060S subwoofer measures 324 x 480 x 150mm (320 x 460 x 198mm for the 7070Si) and weights 11 kg (13.8 kg for the 7070Si). It's rectangular design makes it even possible to wall mount it with the optional bracket something rather unusual for a subwoofer but it definitely looks cool on the wall. The MDF bodywork features curved corners and feels really sturdy and high quality.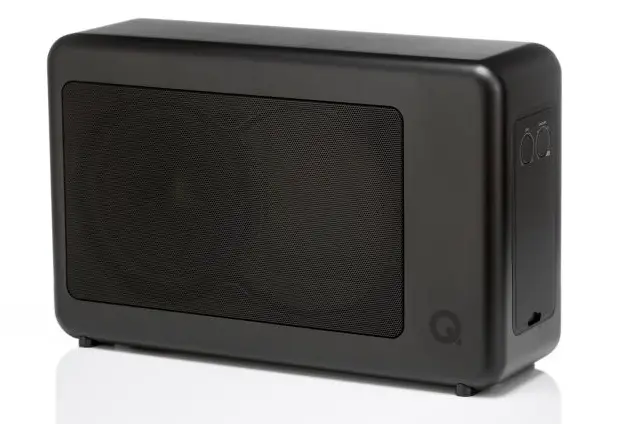 It features an 'Infinite Baffle' enclosure with a single 8″ (200mm) High-Excursion driver that is powered by a 150W class-D amplifier giving it a frequency range of 35Hz – 200Hz. Controls are basic with level and crossover knobs and 2 switches for phase and on/off function while for connection we have a single stereo/LFE phono input.
The 7000i system comes in two color variations, black as our testing sample or white. Closing this part of the review we have to say that the Q Acoustic 7000i left us impressed with it's quality for such a small audio system. The design is stylish, build quality is very good and it seems that Q Acoustics put a lot of thought in order to create a relatively low budget system without lowering the general quality of it.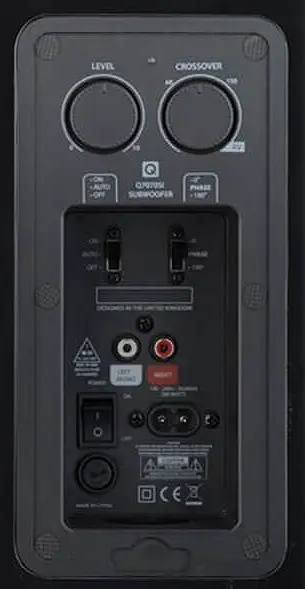 Performance
Being a 5.1 audio system it means that it is not a Dolby Atmos or DTS:X capable system and cannot take advantage of the height layer. You can of course use extra height speakers if your av receiver supports it but we opted instead to try it out as a pure 5.1 system to see it's behavior. Placing the speakers around was very easy due to their size and after making the necessary audio calibrations we were ready for our testing.
Movies
For this testing we decided to change a bit our selection of films tested. Since we have a simple 5.1 setup we decided to try 2 films in Blu-ray format with them being Saving Private Ryan and Lord of the Rings: The Fellowship of the Ring. Both of them come with explosive DTS-HD Master Audio tracks that can push any kind of audio setup to it's limits.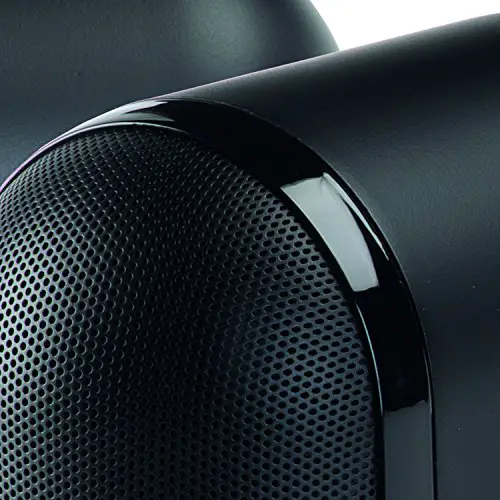 First we went with Saving Private Ryan and there is no better scene to start with than the opening battle with the Omaha beach landing. From the first opening moments the Q Acoustics 7000i really shows what is capable of with the water splashes of the boats and the marine engines rattling well defined and accurately reproduced. Artillery fire in the background make the surround speakers add depth behind us in the sound field making us turn our head a few times.
Getting closer to the beach the subwoofer joins the party as artillery shells fall around but it's when the boat doors open that everything comes together and the system is pushed to it's limits. Explosions, gunfire from the front and behind, screams as the water splashes on the metal hedgehogs create an acoustic cacophony but one that is so immersive and realistic. The 7000i audio system manages to reproduce all these faithfully with very good sound separation, shifting between the channels was very smooth while vocals from the center channel were always clear and easily heard.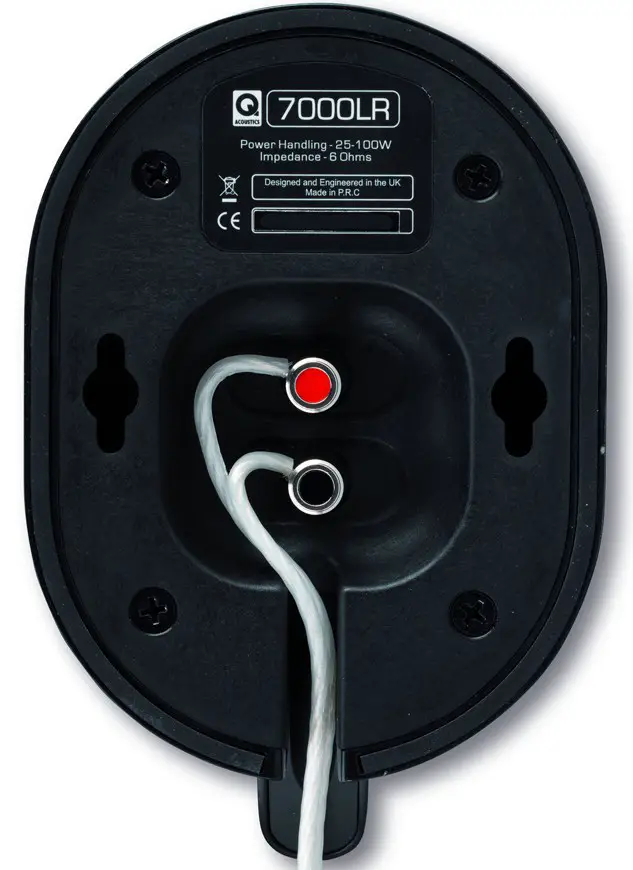 The subwoofer on the other hand had a lot of work with such a film recreating all the explosions and cannon fire very clearly while we were impressed how it worked in conjunction to the satellite speakers that you could almost not tell when the one started and the other was finishing showing a very good balance between all the speakers.
The second film we tried out was our all time favorite Lord of the Ring: The Fellowship of the Ring. The film has a very orchestrated oriented audio track so we wanted to test how the Q Acoustics 7000i would behave when music and sound effects would be blended together.
The result was very good here also with the 7000i being able to recreate the sound track with enough clarity and precision for it's size and price range. When Gandalf faces the Balrog at the Bridge of Khazad-dûm we get a nice mixture of sound effects, dialogue and the epic orchestrated score and each speaker managed to do it's job faithfully with the center speaker offering the dialogue clearly, the satellite speakers creating an immersive atmosphere in front and behind while the subwoofer offered all the necessary oomph of Balrog's actions making our testing area to shake more than a few times.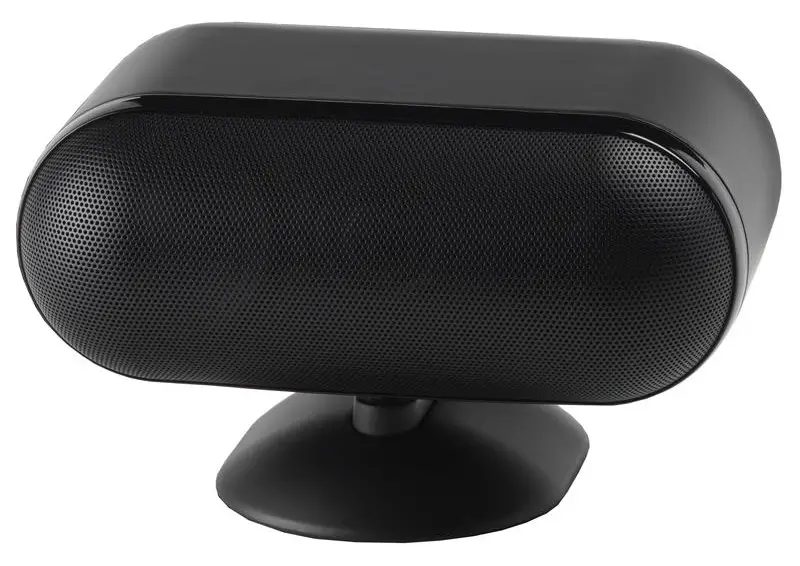 Closing our movie testing we will say that for a system of this size, the Q Acoustics 7000i offered us a very pleasant experience. Of course it cannot compete with top of the line floorstanding speakers but this was never meant to. It's purpose is to offer an as good as possible alternative to those that have certain limitations and in this regard the system have past the test with flying colors.
Music
Next in line is our music testing so we took a few high quality FLAC audio tracks to see how the Q Acoustics 7000i fair during music playback. During our listening session we got similar performance as the lows, mid-range and high frequencies felt pretty balanced which is surprising for such a small system. We would admit that the audio was a bit less exciting than what we would like but this was to be expected considering the size of the speakers so we cannot complain much about it. Instrument separation was good enough with a well defined and distinct area around the listener.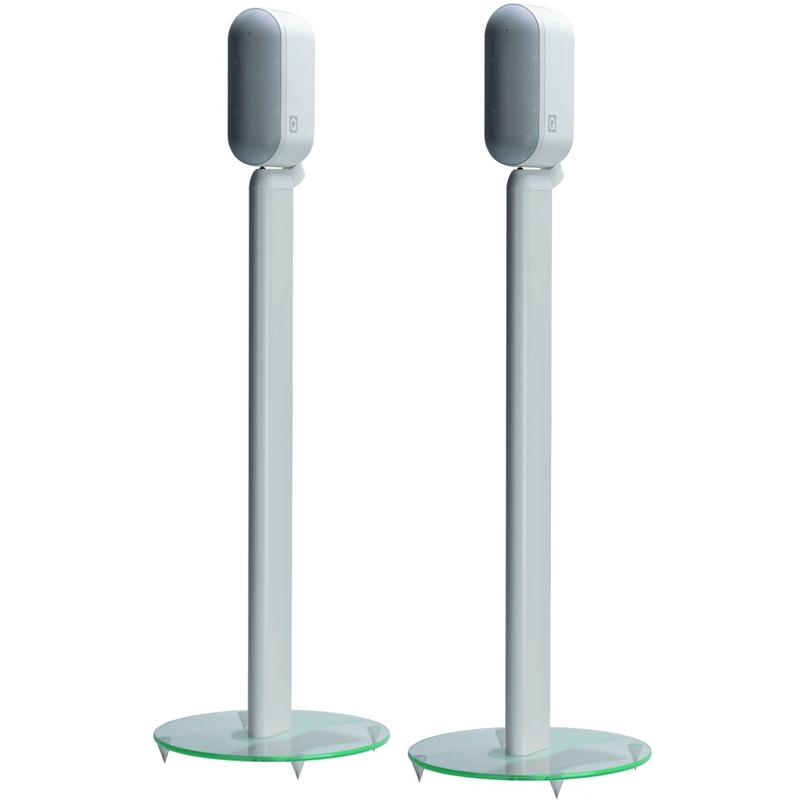 Final Thoughts
Q Acoustics 7000i is a lovely budget-friendly 5.1 audio system that is clearly designed for those that have certain space limitations and their budget does not allow to go for high quality floorstanding speakers but on the other hand don't want to sacrifice much on quality. Q Acoustics have managed to create a speaker setup that it's low price is not limiting it's audio performance.
The 7000i audio system features a very nice and stylish design accompanied by very good build quality. They are small enough to be placed almost anywhere while they have the ability to be wall mounted something that also applies for the subwoofer. Performance wise the audio system left us very good impressions by offering very clear and distinct sound reproduction with good separation between the sound effects. The speakers could go relatively high without any audible distortion or crackling from the enclosures. Add to all these the very good price for a whole 5.1 system and this is certainly a very good deal.
Does it have any drawbacks? Well considering the price range you can not be very strict on what such a system can offer. But nevertheless we should mention that as it is offered the 7000i is not a Dolby Atmos capable system as it doesn't include any height speakers. Also we would like to see the speaker terminals to support banana plugs even if this is something for more advanced systems. Lastly if you want to place them on the accompanying stands they will cost you a bit more than we would like. We are a bit nitpicking here but these are the only problems we could find with this otherwise amazing little audio system.
Q Acoustics has managed to create a system that despite it's relatively low price managed to offer us an incredible experience. If you are tight in space or budget, or both, but want a surround system to enjoy your Saturday night viewings the Q Acoustics 7000i is an excellent choice as it will offer you very good immersion and nice audio quality at a very affordable cost. Highly recommended.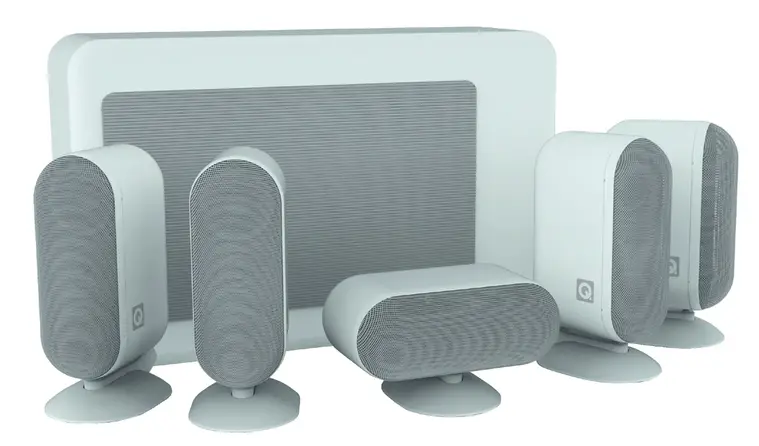 For more reviews you can check our dedicated Complete Home Cinema Speakers reviews list or even look at our Product Reviews Table where you can find the brand and specific product you are looking for.
Also don't lose the chance to subscribe to our Newsletter and gain exclusive privileges.
---
Cheapest Places to Buy :
---
Specifications
Satellites 7000LR

Enclosure Type: 2-Way Sealed Enclosure
Enclosure Material: Aluminium
LF Units: 2 x 3″ Long Throw (Neodymium)
HF Unit: 1″ Ring Radiator (Neodymium)
Power Handling: 15 – 100W
Sensitivity: 85 dB @ 2.83V (Free Space)
Impedance: 6 Ohm
Frequency: 95Hz – 20KHz
Overall Dimensions (H x W x D): 240 x 100 x 160(mm)
Weight: 1.6 Kg

Center 7000Ci

Enclosure Type: 2-Way Sealed Enclosure
Enclosure Material: Aluminium
LF Units: 2 x 3″ Long Throw (Neodymium)
HF Unit: 1″ Ring Radiator (Neodymium)
Power Handling: 15 – 100W
Sensitivity: 85 dB @ 2.83V (Free Space)
Impedance: 6 Ohm
Frequency: 95Hz – 20KHz
Overall Dimensions (H x W x D): 115 x 207 x 160(mm)
Weight: 1.6 Kg

Subwoofer 7060S or 7070Si

Enclosure Type: Infinite Baffle
Enclosure Material: MDF
LF Units: 8" (200mm) High-Excursion Driver
Power Handling: 150W Class-D
Frequency: 35Hz – 200Hz
Overall Dimensions (H x W x D): 324 x 480 x 150(mm) / 320 x 460 x 198(mm) for the 7070Si
Weight: 11.0 Kg / 13.8 Kg for the 7070Si
Power: 100V-240V 50/60Hz