Q Acoustics Concept 40
Design -

90%

Movies performance -

92%

Music performance -

92%

Inputs and Features -

93%

Price / Quality -

92%
---
Cheapest Places to Buy :
---
It's always pleasant to see young companies get the respect they deserve from their products. And one such company that is very known in the home theater segment is no other than Q Acoustics. They may not have either the heritage or the history of some of the other big players in this industry but in the few years they are in the speakers market they have managed to leave their mark by offering good quality and performance with affordable prices. In our Q Acoustics Concept 40 review today we will be looking at one of the floorstander speakers of the Concept series that were released some years ago and they still manage to make waves with their performance.
Some months ago we had the pleasure to review their first try on the high end market with the Q Acoustics Concept 500 which were marvelous speakers and they managed to give us an unforgettable experience. The Concept 40 we will be looking today are the kind of floorstanders that are a bit more down to earth and more affordable to the casual consumer but they still manage to share some of the same technologies that we will talk about shortly. We should point out that the Concept 40 were those that first used Q Acoustics Gelcore technology and the Concept 500 just took it one step further.
So with the Concept 40 aiming to grab a piece of the middle tier market what does Q Acoustics did to design a floorstander that has what it takes to take on the competition but also keep the price at reasonable levels that this category dictates. Let's find out…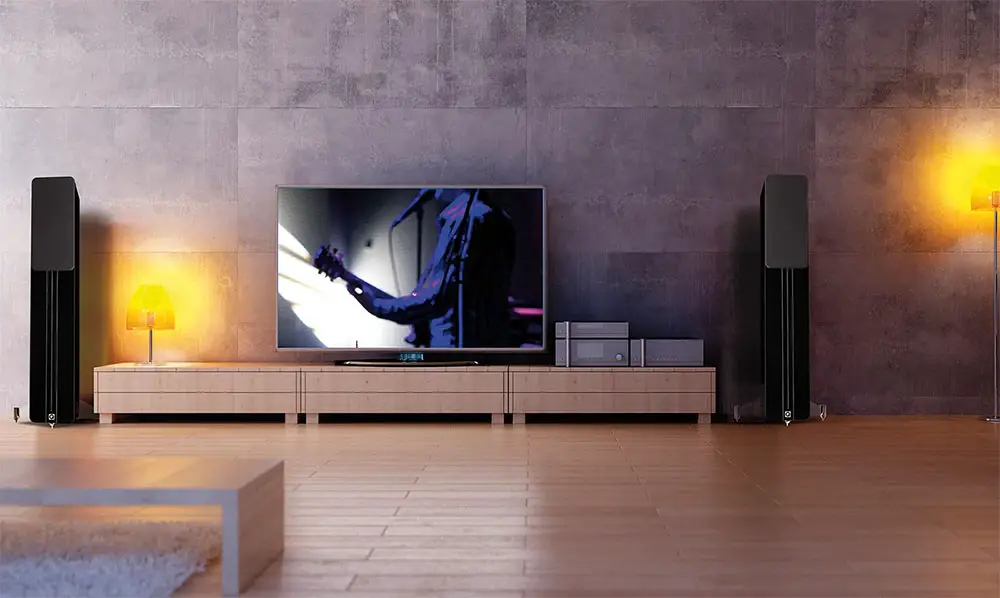 Design, Inputs and Features
Exterior
Q Acoustics already has a few floorstanders under their belt but when it comes to design and cabinet construction the Concept 40 is definitely not your average speaker. These are not the biggest speakers around and with a size of 38.26″ x 11.33″ x 6.69″ (972 x 288 x 170 mm) and weight of 40 lbs (18.5 kg) they will fit nicely in any kind of medium sized home theater or media room. Having a fairly large port at the back means that they do need certain breathing space to perform accordingly although there are foam bungs included in case you need to place them near a wall.
As for it's looks this is a typical Q Acoustics design as all their speakers follow similar lines and general layout. But the Concept 40 does deviate a bit and spices things up with one of a kind elements that certainly catch the eye. They do have a certain futuristic feel to them with the front straight lines, the unique tripod and front aluminum face-plate. Q Acoustics continues to use rounded corners to the cabinet that certainly give a more smooth posture to the Concept 40 while they can be found in two color variations with Gloss Black or Gloss White being the only two options.
And if design and looks are one part of these speaker's characteristics the technology behind it's cabinet quality and construction is another. One key element in achieving good sound reproduction is by reducing cabinet resonance. But to do this you have to construct sturdy and expensive cabinets with lots of internal bracing. With Q Acoustics being a company that mostly focuses on budget and middle class speakers they had a problem on their hands. How to create a cabinet that had the qualities of more expensive ones but at an affordable price?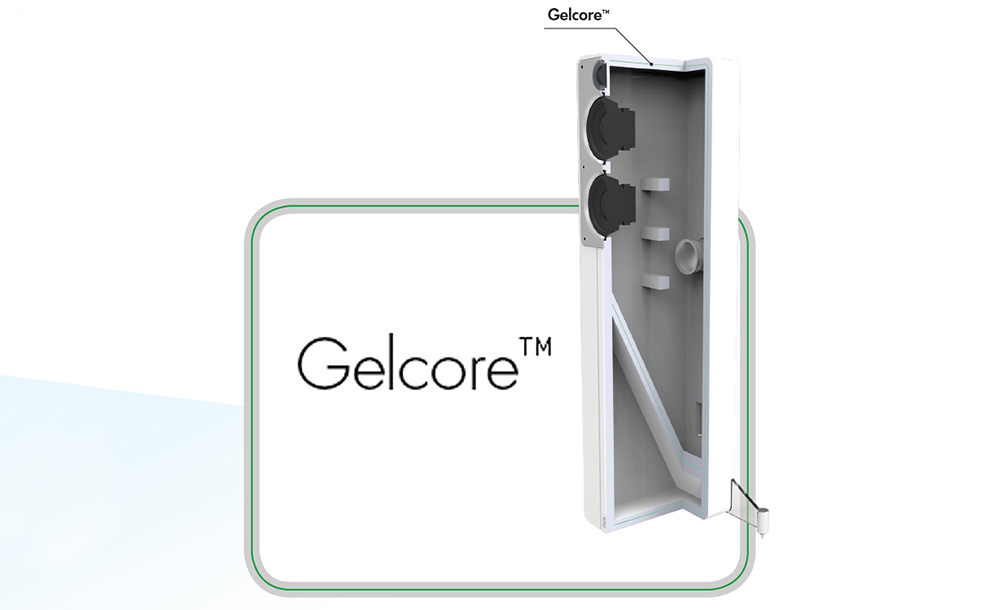 You cannot bend the laws of physics so what Q Acoustics did was to just go around them. As such they have created what they call Gelcore technology. Gelcore is a special resonance-cancelling compound that they sandwiched between the 'cabinet within a cabinet' design which is a basically two MDF enclosures stuck together. With this construction any kinetic energy produced by the driver units is absorbed by this compound and dispersed as heat. This way resonances are greatly reduced that could lead to sound coloring and speaker output degradation.
This is exactly the same technology we saw used in the Concept 500 only in that one they used three layers of MDF and two layers of Gelcore. The Concept 40 uses the same technology but with a more basic layout. But what is interesting is that there are other elements on these speakers that at first look may seem like were added only for aesthetic reason but they do more that upping the looks. The aluminum plate at the front is a nice design touch but also clamps a butyl rubber sheet to the front panel that also help to reduce resonances. As you see nothing is randomly designed.
Q Acoustics were always using out of the ordinary stands for their floorstanders and the tripod that the Concept 40 is using may be rather unique but we are certain that this may not be to the liking of everyone. The back legs that attach to the back of the cabinet feature a safety glass while the overall stand construction is sturdy enough even though we were a bit skeptical about it. Now if you like it or not it's completely a personal matter so we will leave it at that. There are also floor spikes included for placing the speakers on carpets and soft surfaces.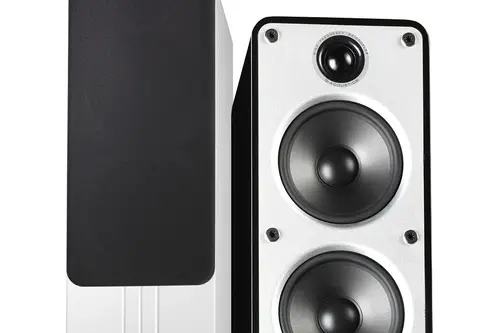 The front grills also follow the general design principles that all Q Acoustic speakers appear to have. As such only the drivers are covered meaning that with the grill on only about one third of the front face is covered. Keep in mind that the grills are not magnetically attached so if you prefer to use the speakers with the drivers exposed then the front holes will show their ugly face. Below the grill there are three straight lines that end at the Q Acoustics logo sitting at the bottom. A simple but at the same time intriguing design.
Now at the back of the unit, exactly at middle height, we find a big sound port while at the bottom there are two pairs of high quality speaker terminals.
The Concept 40 certainly has the quality and technology that Q Acoustics is known for that they try to use in all their models. The design and general looks may not be for everyone but the quality is undeniably there with the Gelcore technology being the center focus on trying to bring a high quality design on an affordable price.
Internal Hardware
The UK manufacturer may have put a lot of attention on the cabinet quality and may be the main focus of their marketing but the driver configuration is equally important in order for the Concept 40 to be able to perform accordingly. So what we get here is basically a 2-way reflex with double woofer type with two 125 mm (5″) mid bass drivers sitting on top of each other while at the top we get a single 25 mm (1") high frequency unit.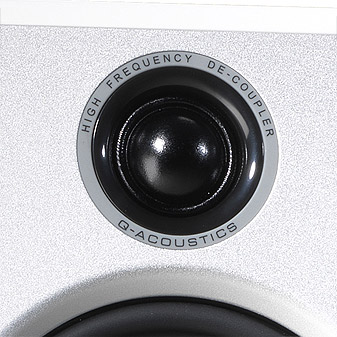 The wide dispersion 25mm soft dome tweeter is decoupled for better isolation while the mid bass drivers feature bigger than usual magnets in order to ensure wider dynamic response. In general when it comes to hardware the Concept 40 do have certain elements that we saw in the top tier Concept 500 but are a cut below that which is normal as we are talking about a speaker that has a huge price difference from Q Acoustics top premium offering.
And while the drivers combination of the Concept 40 may not be anything exciting or exotic the work that has been done was exceptional with their combination providing a frequency response of 53Hz to 22kHz, 8 Ohms of nominal impedance, 90 dB of sensitivity and with the crossover frequency been set at 2.3 kHz. Lastly they have been rated at 25 to 150 watts of recommended power.
Connectivity
Q Acoustics is always providing good quality speaker terminals to all their models so the Concept 40 could be any different. At the lower part of the back face we find two pairs of high quality terminals that you can connect either by bare wire or use special plugs. There terminals can be bi-wired or bi-amped if you prefer that way of connection while opinions seems to be divided if this is for the better or not. But at least it's good to see Q Acoustics giving you this option also.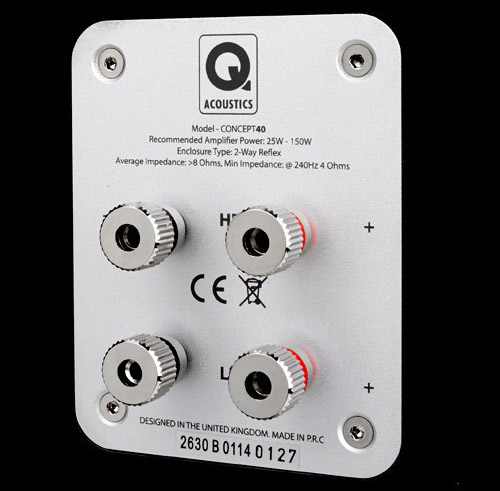 Performance
It is common practice when you have speakers with large back sound ports to leave enough breathing space between the speaker and the wall in order to get better performance out of it. And with the Concept 40 featuring a rather big one you need to make sure you have the necessary space for them. The good thing is that even in the case that you don't, Q Acoustics provide foam bungs to use and thus allow you to place them closer to a wall if this is absolutely necessary.
For our testing we left a distance of about 2 feet from the back wall while the distance between them was around 9 feet. We also had to toe-in them towards our listening position in order to get better stereo imaging. The specific set that we tested had a few good hours under their belt so we were not worried about the break-in period that most new speakers need in order to reach peak performance. But keep this in mind if you get a new pair and they don't exactly sound as you were hopping. Most manufacturers suggest around 100 hours but this may vary a little depending on use.
The pair that we tested was connected to a 4.0 channels surround system as we believe that without a center channel and a subwoofer it's easier to discern any weaknesses these speakers have. After making the necessary calibrations to our Onkyo AV receiver we were ready for our testing.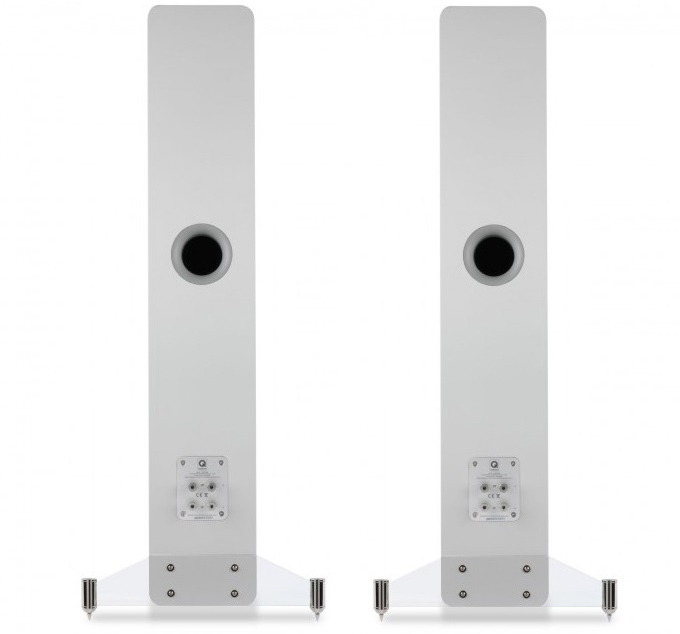 Movies
For our first film we decided to try out the 4K UHD version of Rogue One: A Star Wars Story that comes with an excellent Dolby Atmos mix. Obviously here we don't have a Dolby Atmos setup so we were not expecting to get any kind of overhead action but we were curious to see how much the Concept 40 would be able to cover the lack of any center, overhead and subwoofer speakers.
Gareth Edwards Star Wars film needs no introduction as it acts as a filler between Episode III and Episode IV and tried to show us the story of a Rebel group as they struggle to steal the plans for the Empire's Death Star. The film is no shy of action sequences and the sound effects follow accordingly. There are plenty of opportunities that the Concept 40s show how good home theater speakers these can be.
Either it be some space battle or some ground battle the Q Acoustics always managed to portray each scene in all it's grande stature and give breathtaking size and volume to every moment. But let's take it one step at a time. First of all the front sound-stage felt really full and even without a center speaker the floorstanders made a good job at filling the empty space. Dialogue was nicely separated from the left and right channels and there was a nice degree of channel shifting and separation as spaceships were traveling from right to left. We never felt like the dialogue was overshadowed by the rest of the action even when things got really busy.
Now while there was no overhead action here the Q Acoustics did a really good job at expanding the front action on all axis. Obviously no discreet sounds were coming from above but the speakers did try to rise the action slightly higher showing how good dispersion they had. The surround activity was nicely integrating with the front in order to get a very nice 360 degrees bubble all around us.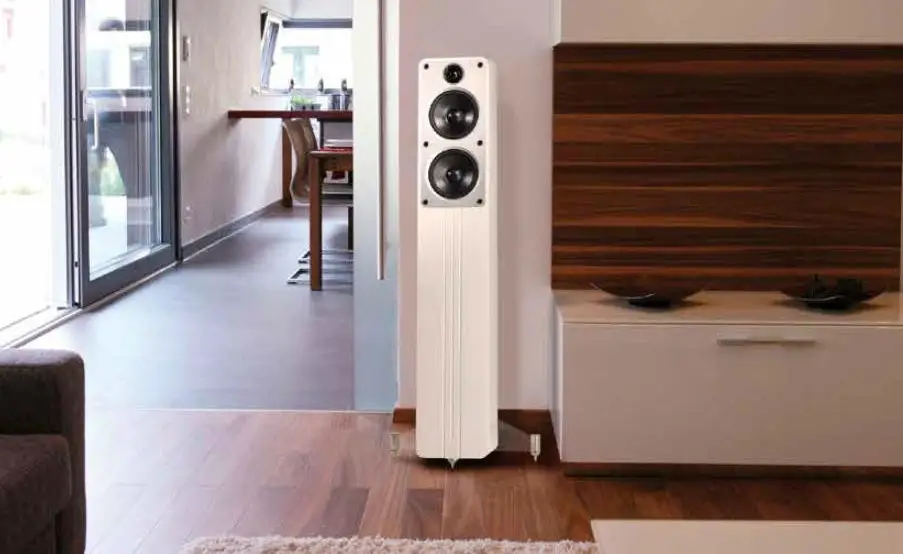 Now the Concept 40 is not the kind of speakers that will give you a very aggressive performance. We would say they were more smooth than we expected and had a warm tone to them that we really liked. The treble was great and we never felt it going overboard that could result in ear fatigue. On the low end obviously the speakers cannot provide the punchy and chest pumping bass that a good subwoofer can but the speakers did manage to provide clear and focused bass.
Everything integrated nicely around the very controlled and well rendered mid-range. These speakers are not going to knock your shocks off but it's as if they know their limits and try to get the very best out of what they can offer. An amazing feat and shows how good job Q Acoustics has done in the design stage.
But none of our reviews would be complete without taking a small bite from our top movie selection which is no other than the Lord of the Rings. This time we opted to try the Blu-ray version of Two Towers with it's reference quality DTS-HD Master Audio mix. The film is not relying so much on surround effects and is mostly front and dialogue driven while the surrounds add to the ambient and environmental immersion the most.
The siege of Helm's Deep is the obvious highlight here as 10,000 Uruk-hai storm the walls of the keep and you can hear every small sword, armor and shield clashing. But while this scene provide a great opportunity for the Concept 40 to go loud there are other scenes that show how delicate they can also be like when the trees of Fangorn Forest begin to groan and how much this environmental ambiance the speakers are able to create, can make a scene so much more immersive.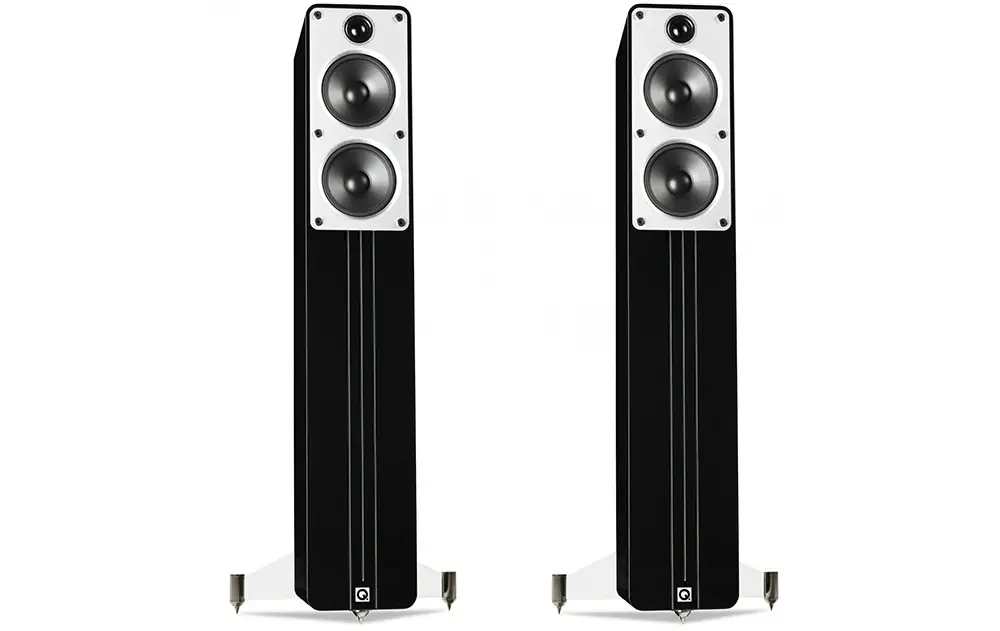 And in all this action we also have the amazing score from Howard Shore that creates the basis for all the other effects to integrate nicely and give us this one of a kind experience. The Q Acoustics never feel overburden by this task and they managed to keep very tight control of all elements and thus give us such a satisfactory listening session.
Closing our movie testing what we can say about the Concept 40 is that these are some pretty solid speakers that may never provide an over-exciting experience but will never disappoint either. They are really focused with a warm tone and very good highs that you can listen for hours without filling a bit tired. Obviously you cannot expect a totally flooring bass but we are pretty sure that most will have a subwoofer when it comes to movies so it will integrate nicely and will give the chance to the Concept 40 to focus more on other parts that they can handle the best. So with this in mind we don't know what else you can ask in this price.
Music
Moving on to our music testing now we switched our setup to a pure stereo one with just the pair of Q Acoustics connected to our Onkyo AV receiver. We don't consider ourselves hardcore music audiophiles but do like to have our fair share of music fix from time to time so we selected a few music tracks in FLAC format that we streamed through the USB port of our receiver for the best possible quality.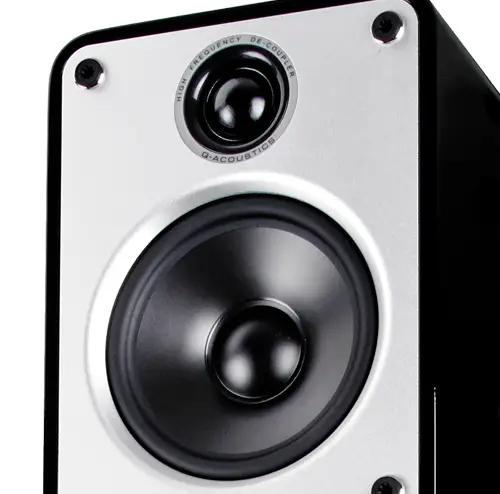 The floorstanders were really great when it comes to handling music. Although we admit that in general we like speakers that have a little warmer tone to them and this may be the reason why we found the Q Acoustics so pleasant to our ears. Sound imaging was very good with good sound resolution and separation. We could pinpoint from where each sound originated in front of us while panning sounds from left to right were spot on and with no lagging.
The floorstanders made an excellent job at providing tight and focused control and cohesive sound. Vocals were produced with clarity and emotion. Bass was handled nicely even though we would like it to be slightly more punchy. Everything from cymbals to guitar strings or even synthesizer electronic sounds were produced with a very nice texture and color.
Do we liked what we heard? We certainly did. The Concept 40 may not be a speaker that belongs in the top premium category but certainly behaves like a speaker that costs more than it actually does and it's a great choice for anyone that wants to hear some quality music but without having to go crazy on price.

Final Thoughts
Having reached the end of our review we have to admit that the Concept 40 gave us more than we were expecting to get. Q Acoustics managed to create a speaker that combines performance with affordability and style and thus make it ideal for all kind of setups either it be a pure music setup or for a home theater room.
What we liked was the extremely high production values as it shows how much attention Q Acoustics has put into the design and their proprietary Gelcore technology in order to create a top of the line cabinet without the need to go crazy expensive. Also the hardware used may not be anything exotic but the UK manufacturer has somehow managed to get the best out of it and combine it amazingly with the sturdy shell they created. All this resulted in a speaker that can go loud, provide great sound imaging and very good resolution without loosing either in clarity or focus.
On the other hand the design of the speaker although unique we understand that not everyone will like it while the tripod used is also something that will make a few cringe. The speakers do need their space to be able to breathe and perform accordingly so if you are extremely tight on space and you have to cram them in between some other furniture and near a wall you may loose some of their qualities. Lastly the low end can feel a bit soft and not so punchy.
Wrapping up the Q Acoustics Concept 40 are the kind of floorstanding speakers that can give you an excellent performance both for movies and music and are ideal if you want quality without spending a fortune. Q Acoustics knows their art of creating great speakers at affordable prices and the Concept 40 is the embodiment of that.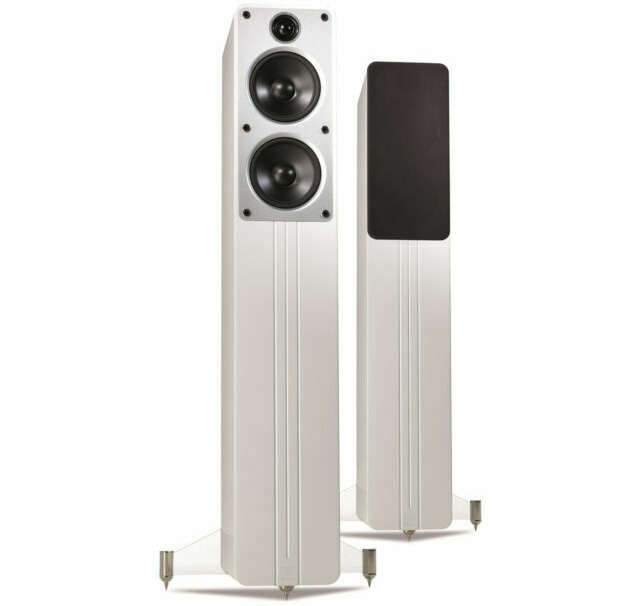 For more reviews you can check our dedicated Floorstanding Speaker reviews list or even look at our Product Reviews Table where you can find the brand and specific product you are looking for.
Also don't lose the chance to subscribe to our Newsletter and gain exclusive privileges.
---
Cheapest Places to Buy :
---
Q Acoustics Concept 40 Specifications