---
Cheapest Places to Buy :
---
The daughter of an Imperial scientist joins the Rebel Alliance in a risky move to steal the Death Star plans.
Plot
*Be aware of spoilers*
High-ranking Imperial military officer Orson Krennic confronts Galen Erso, an ex Imperial scientist, and tries to convince him to return and work for the empire once again. He resists resulting in Krennic killing his wife. 15 years later an Imperial pilot defects with the plans of what was Empire's biggest weapon. He goes to Jedha and apprehended by the local forces there. Jyn Erso, the daughter of Galen Erson is being rescued by the rebels while being on transport with other prisoners and offered a deal to find her father and the plans of this secret weapon that threatens the whole galaxy.
Arriving at Jedha Jyn, Cassian and android K-2SO rescue Bodhi, the Imperial pilot and Jyn confronts Saw who shows her a holographic message from her father telling her about the Imperial super weapon that is called Death Star and about a fatal design flaw that he secretly designed to destroy it. The Death Star attacks Jedha destroying the planet completely but Jyn, Cassian, Bodhi and K-2SO escape along with Chirrut and Baze that helped them escape.
On Eadu, Jin tries to save her father but after a rebel X-Wing attack on the imperial base Galen is fatally wounded and Cassian gets her out at the last moment. On Yavin-4 Jyn tried to convince the rebels to attack Scarif where the Death Star plans are kept only to turn her down resulting in going there with only a few men who decided to follow her.
On Scarif, the rebels manage to break through and transmit the data. The Death Star destroys the planet along with Jyn and Cassian as they hold hands on their last moments while Darth Vader kills the rebels aboard a rebel ship trying to get the memory disk with the plans but at the last moment Princess Leia's ship un-docks and escapes with the plans.
Directed by
Gareth Edwards
Produced by
Kathleen Kennedy
Allison Shearmur
Simon Emanue
Screeplay by
Chris Weitz
Tony Gilroy
Story by
John Knoll
Gary Whitta
Production Company
Lucasfilm Ltd.
Distributed by
Walt Disney Studios Motion Pictures
Starring
Felicity Jones
Diego Luna
Ben Mendelsohn
Donnie Yen
Mads Mikkelsen
Alan Tudyk
Jiang Wen
Forest Whitaker
Running time
133 minutes
Author's review
Now this is a movie long time in the making. When Disney announced these star wars side stories people were skeptical how they would be relevant to the cannon story. Even during filming there were rumors of troubled filming and word of mouth was not so good. When the movie came out in cinemas a lot of people were surprised. What Gareth Edwards did was to craft a movie that didn't necessarily follow the cannon movies but it was very relevant and in context.
"Rogue One: A Star Wars story" follow the story of a small group of rebels that try to steal the designs of the most fearsome weapon the empire had created. Although we know from the beginning how this story ends it really is the journey that counts, as everything falls in place as they should and you really feel this movie was made before the original trilogy. When Episode IV: A New Hope came out the film provided bits and pieces of this backstory but never dived deep into the backstory of what had happened. So most of it was left to the imagination of the viewers to fill in the gaps of this past event.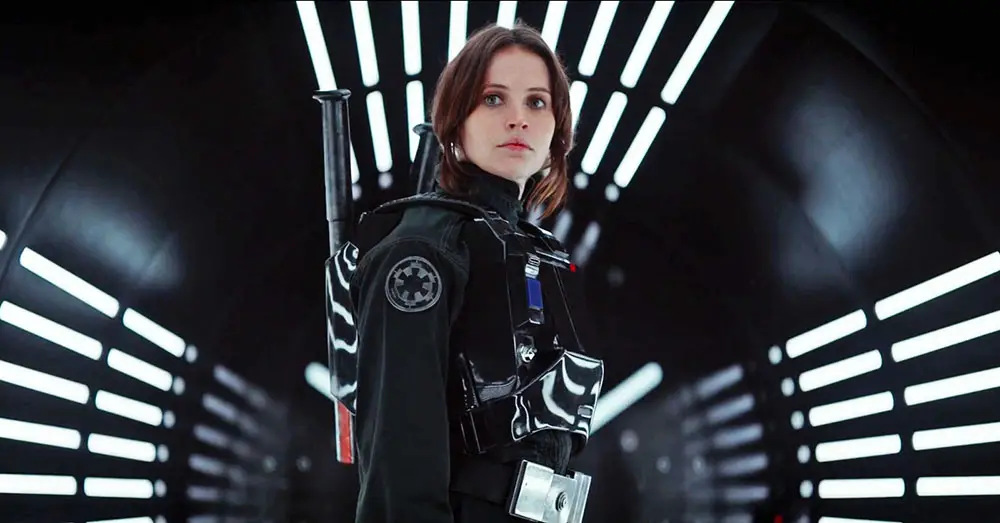 Almost 40 years had to pass in order for the film makers to decide to actually create a movie that tells this famous but ambiguous story and the end result is nothing less than stunning. Every scene and set piece was created in such a way that takes us back to 1977. It showed that everything was created with the first film in mind in order to be able connect properly both in story and in setting with the original trilogy. For many the first three films still remain the best from all the Star Wars films and and keeping everything that made these original films so good with the addition of a fresh coat of special effects and cinematography really makes this movie to be on par with the legendary original trilogy.
The story was known from the beginning but only in a very general way so this gave the writers the opportunity to create a fresh story and new characters that would have to follow some very vague and general restrictions. That's why this film feels fresh and never did I feel like it had to follow a specific path. We got new sceneries, new characters and new back stories and everything came together very nicely from the beginning to the end. In a sense this film expands the world of the original films so much and gives you a greater understanding of what happened before Episode IV.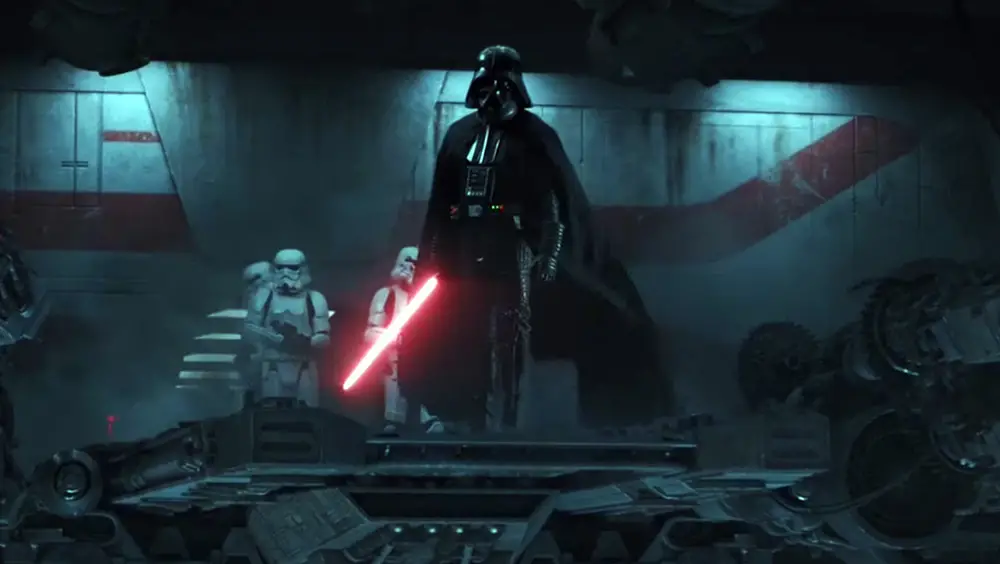 As for the actors all I can say is that they made all the right choices. Even though it was almost certain that most of the main characters would die till the end of the film Gareth Edwards chose some first rate actors for the lead roles and oh boy do they fit perfectly to their characters. I don't want to mention someone specific as this would be unfair for all the rest of the cast that is just perfect but I have to give special kudos to Felicity Jones because for me she was the driving force of the movie. In every scene she was in you felt the special weight her character had and how good she was portraying it on screen. For me she played one of the best female characters I had seen for some time.
The film follows the same dark tones as the original trilogy in general and every scene is made in such a way to remind us of this. But this doesn't mean all the film is doom and gloom. From the Imperial research facility on Eadu to the Imperial Data bank on Scarif we see so much variation in colors and different scenes both in mood and in setting that is really breathtaking and keeps you always on the edge and hungry for more.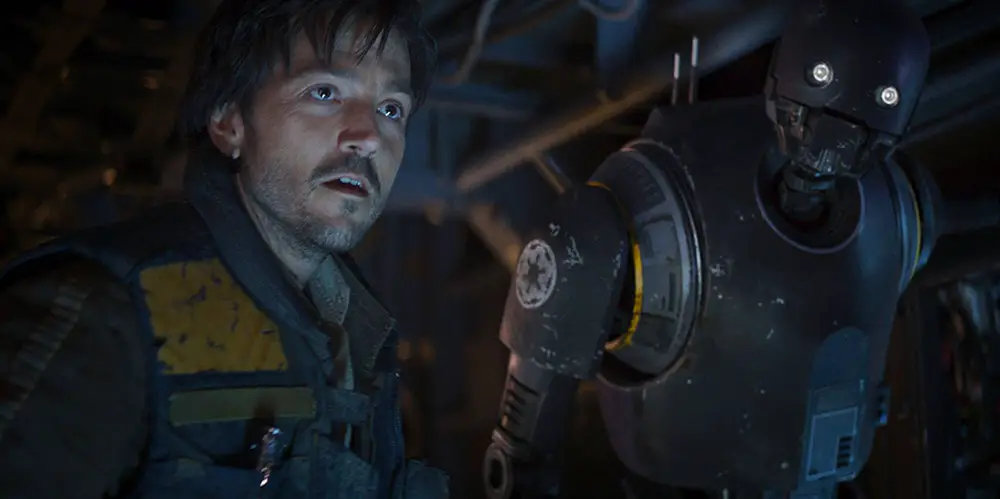 Technically the movie could not be more perfect. Rogue One is a film with a 1977 design but with 2018 special effects and I guess as it was for me, many felt like this was a dream come true. The whole final act with the battle on Scarif would simply be impossible to visualize the same way in 1977 as it was done now. It's a true visual spectacle and a testament of how much visual effects have progressed over the last 40 years.
I may have been a bit skeptical in the beginning when they first announced this film but Gareth Edwards made sure to dissolve all my doubts. Rogue One is fresh, bombastic, clever and technically perfect in every way. If you are a Star Wars fan this is a definite buy for you but also for everyone else that is a sci fi fan this movie will excite you with great visuals, solid acting and spectacular photography. Highly recommended. Four and a half stars for this masterpiece.
Blu-ray Review
Rogue One has only been released on Full HD blu ray and this is a really fine transfer. The movie was shot digitally but in a way that seems like it was done on film. Most of the Imperial shots use a cold, dark gray palette but they never loose texture detail or precision. The special effects and CGI look incredibly realistic and never I felt they interfered with the practical sets. The Bluray disk provides a DTS-HD Master Audio 7.1 lossless soundtrack that is a real pleasure to hear and if you have a 7.1 home cinema system then prepare to be immersed in the world of Star Wars like never before.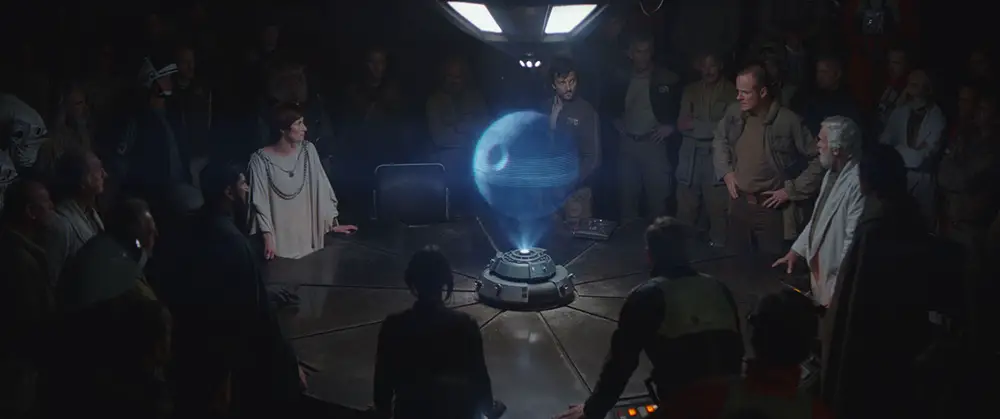 The battle on Scarif with the X-wings and Tie Fighter flying all over the place with blaster fire and explosions on every scene create nothing sort of cinematic chaos that will really keep you sucked in the action till the very end. The disk is perfect in every way and one can only imagine how it will be when the 4K UHD disk will arrive eventually in the future.
Movie Rating :





Blu-ray Rating :





If you liked this review you can check more of our movies reviews in our dedicated section. Also don't lose the chance to subscribe to our Newsletter and gain exclusive privileges.
---
Photos
---
Cheapest Places to Buy :