Roku Ultra (2017 Model 4660)
Design / Hardware -

90%

Remote -

90%

Playback performance -

93%

UI, Content and Apps -

94%

Price / Quality -

88%
---
Cheapest Places to Buy :
---
2017's Roku Ultra is one of the latest streaming devices that offer 4K viewing with HDR for various online streaming services as well as various features from Roku into a single powerful box. Being a $100 streaming box Roku has to face tough competition since most streaming devices cost between $30 and $70 while on the other hand going a bit more expensive you can get much more powerful devices like the Nvidia Shield.
Also consider that 2017's Roku Ultra has small differences to last year's model as 2016's Roku Ultra was already a nearly perfect device that didn't need a big upgrade after only one year. So with all the above in mind let's check how much this streaming box is worth it in out Roku Ultra review…
Design / Hardware
If you have seen last year's Roku Ultra chances are you won't notice the differences between the two as the main body is exactly the same. What we have here is a 5 inch plastic box with curved glossy black sides and a matte black top with a Roku logo on top as well as a button that activates a sound on the remote in case you cannot find where you placed it.

As far as hardware is concerned we get the same quad-core processor with 4K HDR playback support, a USB port to connect external storage, an SD card slot for additional external storage, a power connector and an Ethernet port for wired connection to the internet. The last one is very important in order to have a stable connection especially if you are watching 4K content that needs a lot of bandwidth. There is also a white light on the right side of the front of the box that shows when the box is turned on. What I found strange is how close the HDMI port is with the SD card slot making it a bit difficult to use both if you are using some big HDMI cables. Having the USB port to the side left me in question why they couldn't do the same with the SD card port to keep things more space out.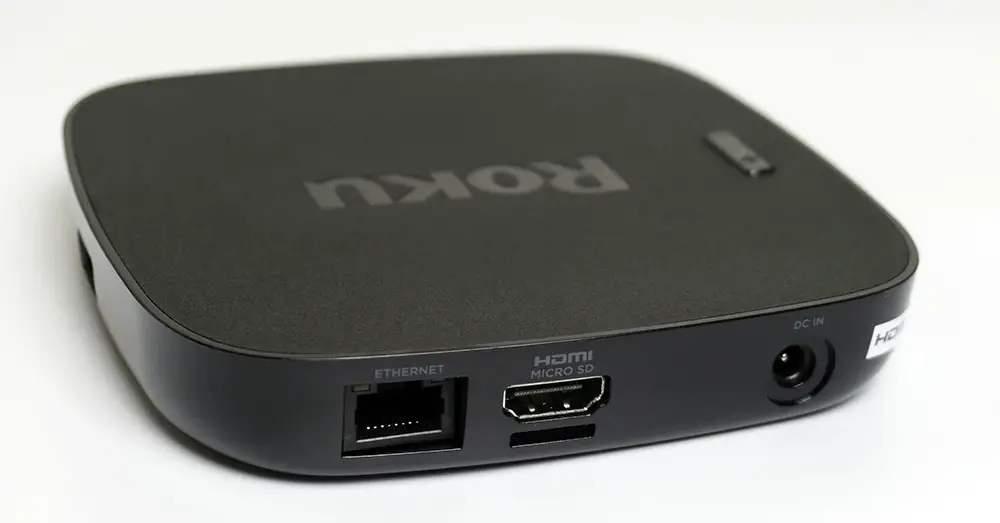 The machine runs very quiet and this is a definite plus if you compare it with some other "noisy" streaming boxes that can create a frustrating distraction. The one big missing piece this year compared to last year's model is the digital optical out. Although most people will be using HDMI there are still a few that have older equipment and would be more than happy to still have this connector. But even with this missing port having an HDMI port and an Ethernet port gives the Roku Ultra the advantage compared to some other streaming devices like the less expensive Roku Streaming Stick+ which doesn't have either of them.
Remote
Roku has been improving their remotes over the last few years and today they offer great functionality, good looks but most important they are very practical. At first glance the remote seems very similar to last year's model. It has a matte black look with a distinguishable purple navigation pad on top and the characteristic Roku fabric tag on the bottom.
Other than the navigation and the playback buttons Roku has incorporated dedicated buttons for Netflix, Sling, Hulu and HBO Now that can be very useful for those that use these services but completely a waste for everyone else. We also get motion sensors as well as an A and B buttons that can be used by turning the remote sideways and using it as a gaming pad but in my opinion the gaming experience you get is vastly inferior than what you get from a dedicated console.

The remote is equipped with a built in microphone that you can use to issue voice commands but from what Iexperienced it's functionality is not as good as some other voice command programs in other electronic devices and hopefully Roku will improve this in the future. On the left we get a headphones jack where you can plug your headphones for private listening. By plugging the included earphones the Roku Ultra cuts the audio going to the TV and streams it through the remote. I found this very practical and easy and in my opinion this is a great feature to have.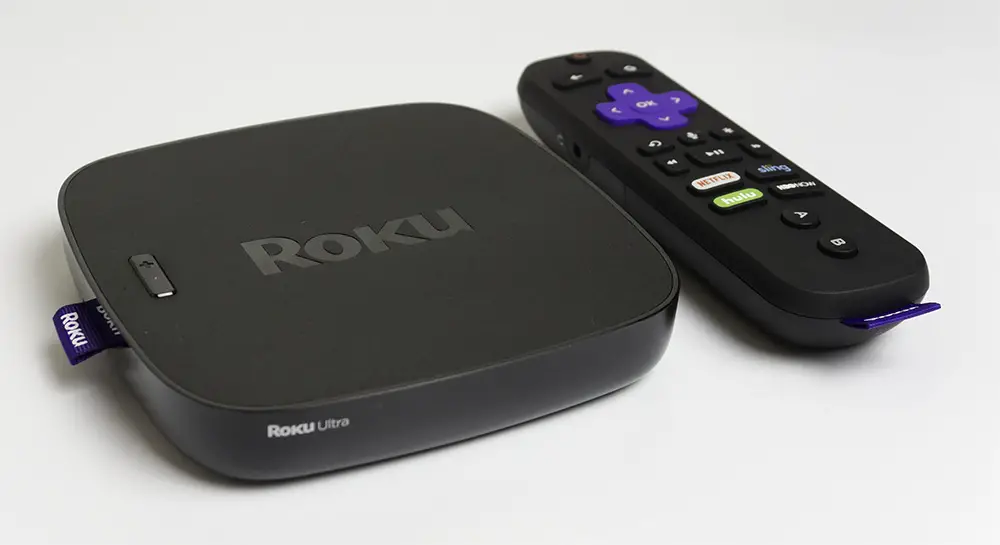 For 2017 we get a few improvements over last year's remote. When you connect the Roku Ultra with your TV it will identify your TV model over the HDMI port and program the remote with the corresponding codes so you can control your TV with the Roku remote. Functionality is basic as you can only turn on/off and adjust the volume but nevertheless this can be very practical in some situations. To do this there is a power button on the top as well as volume control buttons placed on the right side of the remote. There is also the ability to control the Roku Ultra through your smartphone through the appropriate app giving you a lot of options and controls and even let you stream content from your mobile device.
Playback performance
Roku Ultra is a 4K HDR streamer with support for the HDR10 protocol but no Dolby Vision. There are a few streaming services that use Dolby Vision like Netflix and Vudu so in this cases content is streamed in 4K with standard dynamic range while other services use the HDR10 protocol and you will be able to watch your 4K content with HDR. This is a very important point and you should check with your streaming service to know what is being supported before you decide to make a purchase if HDR is very important to you and if your TV and other equipment support Dolby Vision.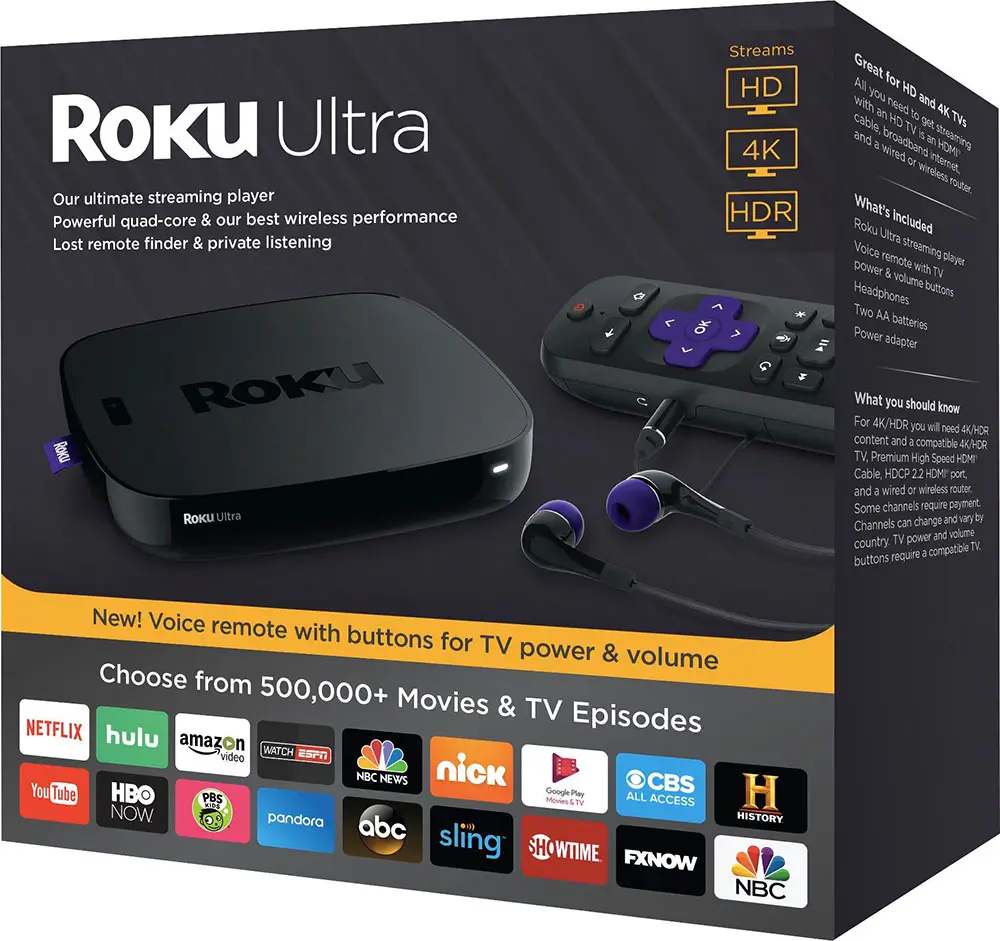 Buffering of 4K content seemed pretty stable although it can take a few seconds before a smooth connection is being established and enough content is buffered in the device in order to provide normal playback. I would definitely recommend a wired connection as many times this solves a lot of problems for 4K streaming. Wireless is nice and practical but it will never have the stability of a wired connection. There are so many factors that are responsible for having a good 4K experience as network performance, app responsiveness or device functionality that eliminating as many potential problems as possible can only be a good thing.
Menu navigation seemed pretty smooth and responsive and this was to be expected as the Ultra features the same hardware as last year's model that also had very good performance and no major issues to report.
UI, Content and Apps
One thing that you will notice when you start operating the Roku Ultra is the sheer amount of online apps and streaming services on offer. There are more than 5.000 apps and services in the Channel store to choose from that covers all the big names you would expect in movie, TV shows and music industry and includes services like Netflix, Amazon, Hulu, DirecTV Now, Sling TV, Google Play Movies & Music, PlayStation Vue, Spotify, Pandora, YouTube, iHeartRadio, Vudu, CBS All Access among hundreds of other services from every TV network that offers one.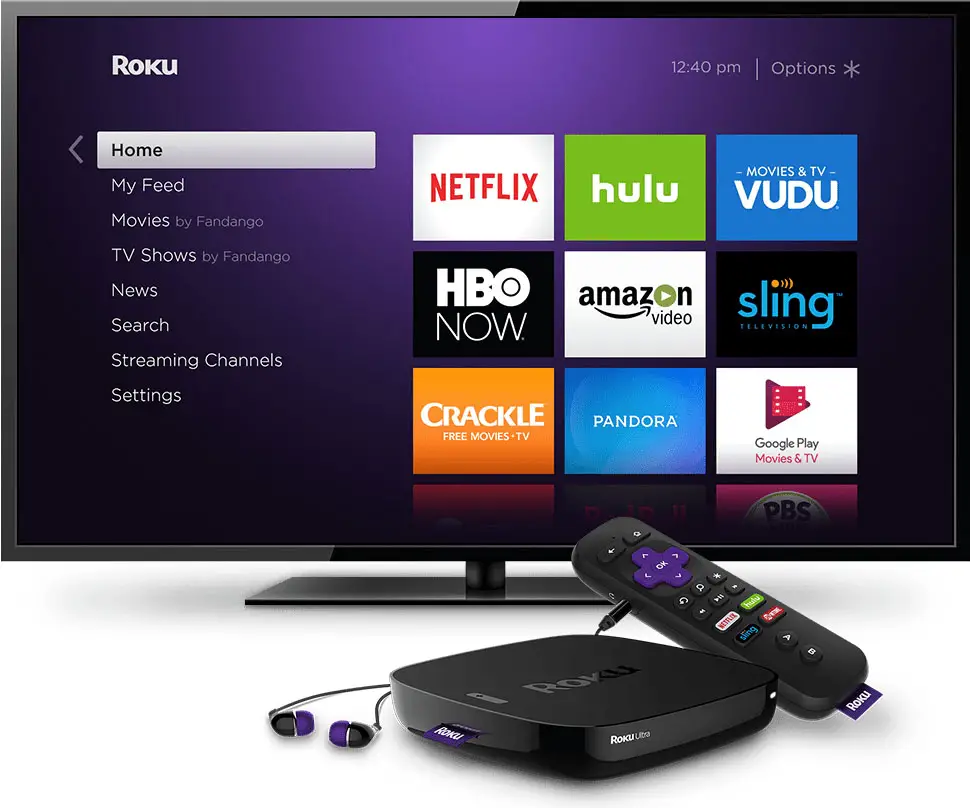 Roku offers the most 4K compatible channels than any of it's competitors and the huge catalogue of services and online apps will certainly will leave everyone satisfied. The only one from the major services that is missing is naturally iTunes and the chances this to appear outside of an Apple product is zero so you cannot really claim that is missing since no other competitor product, except from Apple devices, can offer this service. In general you cannot ask for more than what is on offer.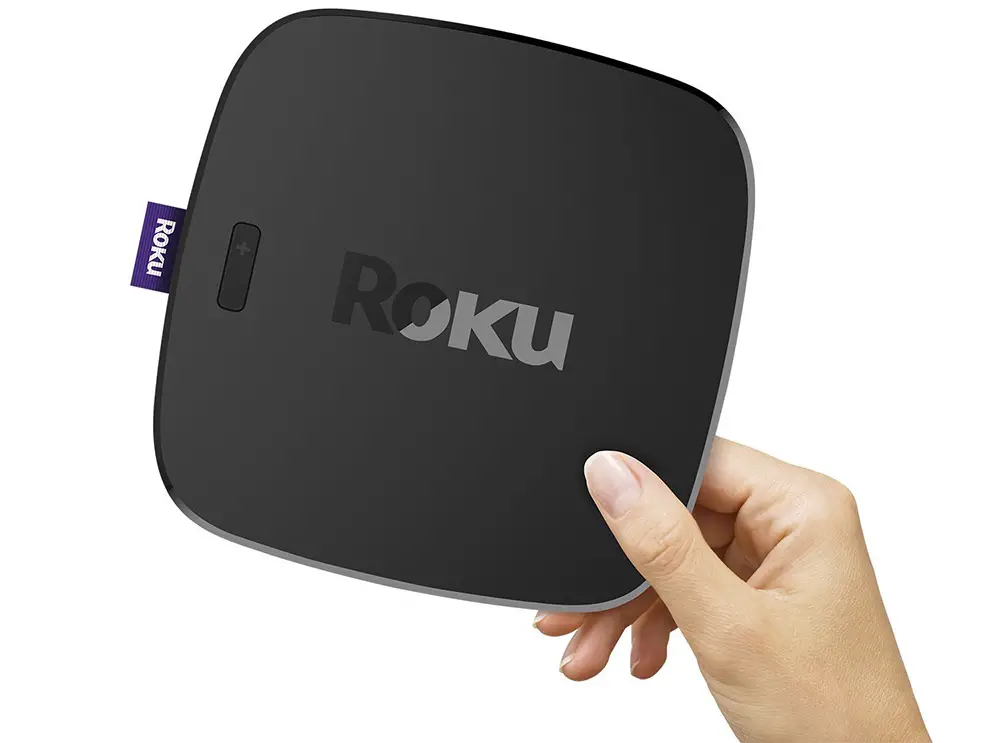 What I like very much is the simplicity of the user interface. You download the apps or services you want, customize them in the main screen in rows and click to open them. There are no folders or sub menus like some other devices offer and this can be good and bad as you will have to organize your apps very good if you are using more than one service but it can be good thing as this reduces the time between you and your content to just a few seconds.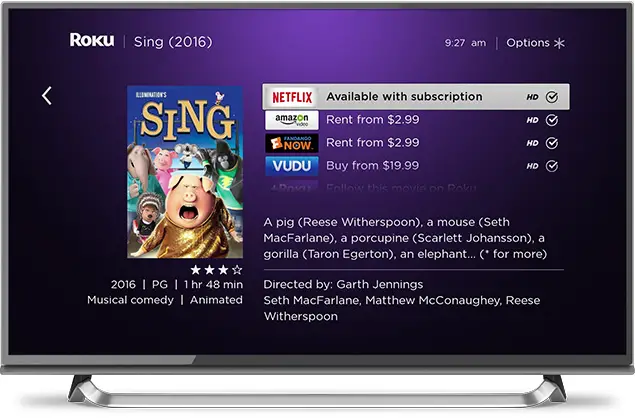 Also with so much content it's natural for Roku to have a good search functionality and the result is more than satisfying if you consider the amount of search it has to do. Voice search can be a bit problematic since it cannot identify some more complex commands but for simple words it will do just fine. In general it feels like a hit or miss function which can be very useful in many cases but completely useless in others.
Final Thoughts
The Roku Ultra is a great streaming device that faces some very tough competition. As streaming becomes more and more popular many more similar devices will try to earn their place among the already established brands. The Ultra is positioned at a price range that doesn't have much competition. You can either go cheaper with the Streaming Stick+ that offers similar specs but misses some of the Ultra's features like the Ethernet and USB ports as well as the headphones jack on the remote or you can go much more expensive with devices like the Apple TV or the Nvidia Shield that are more powerful and with more features.
The Roku Ultra with some nice improvements over last year's model and two big omissions, last year's digital optical port and still no Dolby Vision support, still remains one of the best and fully featured streaming devices you can get with a huge library of streaming services to choose from and a nice and easy to navigate user interface. The gap between Roku and it's competitors may not be as big as it used to be but it still manages to prove it's worth.
For more reviews you can check our dedicated Streaming Boxes reviews list or even look at our Product Reviews Table where you can find the brand and specific product you are looking for.
Also don't lose the chance to subscribe to our Newsletter and gain exclusive privileges.
---
Cheapest Places to Buy :
---
Specifications
Video outputs : Up to 1080p HD (1920 x 1080) on HD TVs, Up to 4K/60 Ultra HD (3840 × 2160) on 4K UHD TVs
Video Up-conversion : Up-scaling 720p to 1080p on HD TVs, Up-scaling 720p and 1080p to 4K 60fps Ultra HD on 4K UHD TVs
Audio features : Dolby Audio over HDMI® and optical, Night listening mode
Storage expansion : microSD card slot for additional channel storage, USB port for local playback
USB media formats :Video — H.264/AVC (.MKV, .MP4, .MOV), H.265/HEVC (.MKV, .MP4, .MOV); VP9 (.MKV)Audio – AAC (.MKV, .MP4, .MOV); MP3(.MP3, .MKV); WMA (.ASF, .WMA, .MKV), FLAC (.FLAC, .MKV), PCM (.WAV, .MKV, .MP4, .MOV), AC3/EAC3 (.MKV,.MP4. .MOV, .AC3), DTS (.MKV, .MP4, .MOV), ALAC (.MKV, .MP4, .MOV, .M4A)Image — JPG, PNG, GIF (non-animated)
Networking : 802.11ac MIMO dual-band wireless, 10/100 Base-T Ethernet
Remote control : Advanced point-anywhere remote with voice search, headphone jack, and gaming buttons / Speaker for lost remote finder alerts / Player includes IR receiver, compatible with various universal remotes
Power consumption : <4.5W (typical) when streaming
Power input : 12V – 1A power adapter
Size : 4.9 x 4.9 x 0.85 inches
Weight : 8.0 ounces