Samsung HW-A550
Reviewed at $199.00
Product Name: Samsung HW-A550
Product Description: 2.1 CH Soundbar
Design -

9/10

Movies Performance -

8.5/10

Music Performance -

8.5/10

Inputs and Features -

8.8/10

Price / Quality -

9/10
Summary
Reviewed at $199.00
Pros
Nice design and build quality
Good front stage performance
Nice feature set
Expandable to a 4.1 surround system
Cons
No real surround activity
DTS Virtual: X was so and so
USB port placement
Not very deep bass
---
Cheapest Places to Buy :
*We are a reader-supported website. When you buy through links on our site, we may earn a small affiliate commission at no extra cost to you. Home Media Entertainment does not accept money for reviews.*
---
For one more year Samsung seems to offer a strong soundbar lineup that extends across three different series and is one of the few manufacturers that try to match LG in sheer numbers of releases every single year. The three series Samsung has created manage to cover a big chunk of the consumer market as soundbars have become very popular the last few years. And today in our Samsung HW-A550 review we will be looking at one of Samsung's lower cost offerings belonging in the refreshed A series.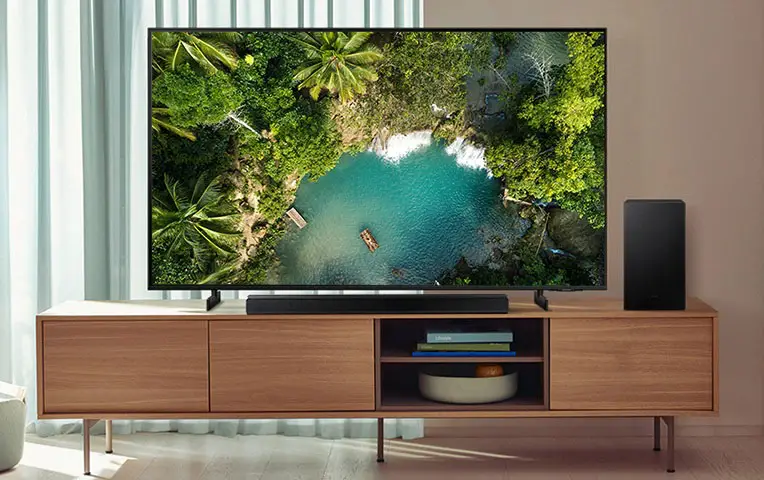 To make things clearer we should mention that the 2021 A series basically replaces last year's T series. So for 2021 we have the premium Q series, the mid-range S series and the low cost A series. The change from T to A certainly does not help to understand where the A series belongs to and Samsung unnecessarily creates more confusion this way. But essentially the HW-A550 is a direct replacement of the HW-T550. We hadn't tried last year's model but we did review its bigger brother, the Samsung HW-T650 some months ago so in case you want to have some short of comparison point you can read our review of that in the link.
So let's see what this low cost unit has to offer in a glimpse. What we have here is a basic 2.1 channels setup with a total of 410 watts, it supports both Dolby audio and DTS along with DTS Virtual:X and has a more or less standard feature set for its price including High Resolution audio playback, USB and Bluetooth streaming, plenty of sound modes and customization while it can also be expanded to a full surround system with the addition of the SWA-9100S surround speakers.
Looking at the specs sheet it seems that there are no major differences to be found compared to its predecessor so let's see if Samsung actually changed anything this year or the HW-A550 is more or less a rebranded HW-T550.
Design, Inputs and Features
Exterior
The Samsung HW-A550 sits in the middle of the A series between the 450 and the 650 models. Measuring 33.9″ x 2.2 "x 3.3″ (860.0 x 55.0 x 85.0 mm) and with a weight of just 4.63 lbs (2.1 Kg) the A550 is compact enough to fit nicely under any TV of 43" size and above making it a suitable solution for a bigger market out there.
In terms of design the HW-A550 is very similar, if not entirely the same, with many of the other Samsung releases. Samsung has been using the same design with small deviations and obviously sizes depending the model and series it belongs to. As such we may not be getting premium quality materials but the soundbar has a certain quality level that Samsung has got us used over the years.
The main material being used is obviously plastic with a nice brushed texture on it for the top face. A set of buttons is located at the back side of the top face which are very subtle due to their color and size while a characteristic of many Samsung soundbars is the small chamfered top front corner that we find in this one giving it slightly more style and unique look.
The plastic body is combined with a full frontal metallic grille that wraps slightly towards the bottom and has a more interesting holes design rather than the usual circular ones we find in most other metallic grilles. This one is non removable so you don't have the option here to take it off or not.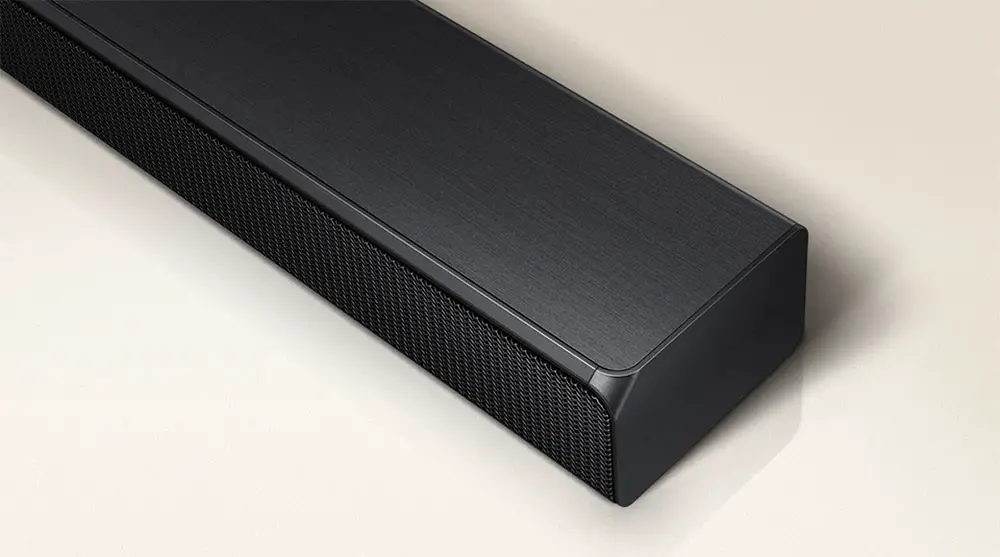 Thankfully the unit does come with a fully functional front display which is located behind the metallic grille and Samsung has placed it exactly at the center as the soundbar is missing a center speaker. We do prefer this kind of display as it is much easier than using LED lights that many low cost units use and many times you cannot remember all of their combinations. The only minus is that this display is relatively small and not many characters fit in it, only three characters show at the same time, meaning that whatever it displays it has to scroll it for you to see its full message.
The back of the unit is plain with only the two big insets visible that house all the connection ports. There are no IR repeaters of any kind so make sure that the size of the main bar will not obstruct the IR sensor of your TV. The soundbar has a relatively low profile but you can never be sure. At the bottom of the unit we see a few holes that are probably for cooling as we are talking about a sealed design and also special holes for the wall brackets to lock in case you want to wall mount it.
The included subwoofer follows the simplistic design of the main unit and is in line with the quality of the main unit. It features a cubic design with subtle rounded corners and can pass unnoticed in any room. It features a front firing driver that is covered by a fabric cloth and comes with a size of 7.9″ x 13.9″ x 11.4″ (200.6 x 353.0 x 290.0 mm) and a weight of 11.7 lbs (5.3 kg). It's not a very big sub and with its design you can certainly find some space to fit it in.
Unlike the main bar, the subwoofer cabinet is made out of wood, melamine to be more precise, while on the upper back side we find a big air port and at the bottom the power connector and a single pairing button. There are no other buttons or controls and things are kept very simple here, ideal for most casual users that don't want to mess a lot with time consuming connections.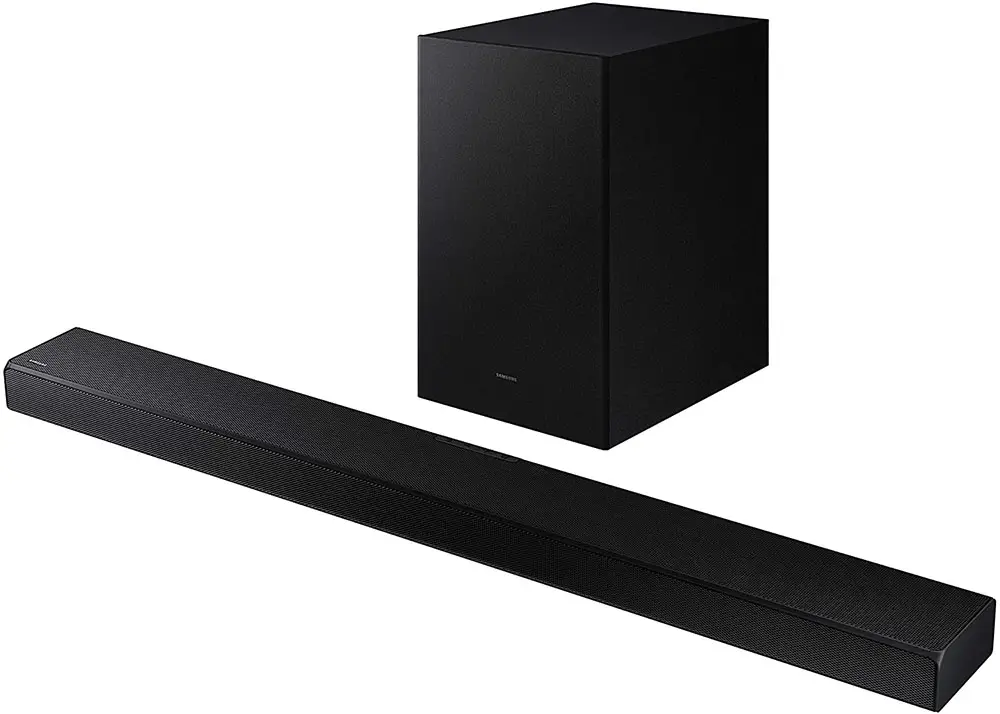 Overall the HW-A550 continues from where the T series stopped last year. In terms of design there are no changes whatsoever and Samsung decided to keep everything the same.
Internal Hardware
Samsung is very secretive as to the kind of drivers being used in many of their releases and the HW-A550 is no different. There is no mention of their kind either in its specs sheet or in the manual. And with the soundbar's non removable metallic grille it's not easy to identify them by ourselves. What we can say from the specs and by looking through the metallic grille is that for the two channels in the main unit there are four drivers with 40 watts output each for a total of 160 watts for the soundbar.
This means that each channel is using a dual driver configuration with an oval driver along with a single tweeter which is not a very rare combination to see.
For the subwoofer there is also some secrecy as to the size of the driver being used and the only information we get is its 250 watts power output which in theory sounds very good for the size and category of the soundbar.
With the 160 watts of power output for the main soundbar and 250 watts of the subwoofer we get a total of 410 watts which is not bad at all but as always a number never indicates the real audio output of a soundbar and we will see how all this translates into the real world shortly.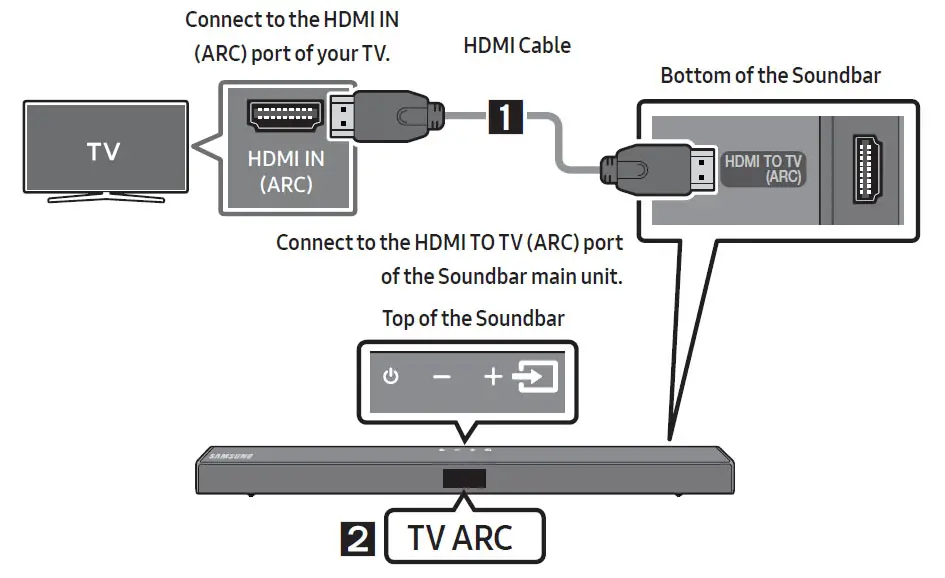 Connectivity
Next we will be looking at the connectivity options of the unit and once again there seem to be no changes compared to last year. As with all the soundbars of similar price we usually see them offering more or less a basic layout with very small deviations depending the brand which may be enough for most that look for simplicity but leaves a lot to be desired if you are more demanding and need to connect a lot of devices. The unit features two deep insets at the back and all connections have been equally split between the two.
On the one on the left we find a circular power connector along with both HDMI ports, one input and one output. The other inset on the right features the USB port along with the Digital Optical input.
The included HDMI output supports only ARC which means no Dolby TrueHD or DTS-HD Master Audio pass-through. At least it can playback Dolby Digital Plus which many streaming services have been using lately. Also there is no analogue port, which was available in some Samsung models last year by the way, but this is not such a big deal, at least in our opinion, as the HDMI ports are the main means of connection nowadays anyway.
Wireless capabilities of the soundbar are limited with the inclusion of just Bluetooth as the unit is missing any kind of WiFi functionality. Samsung doesn't mention which Bluetooth version is included in the unit either in the manual or in their specs sheet so we cannot confirm on this. We did test the connectivity quality during our review and we didn't notice any streaming problems to be honest.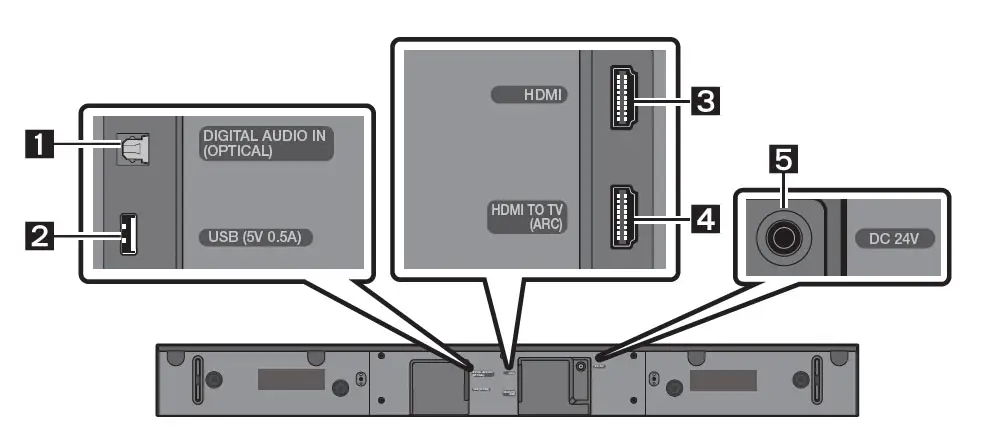 Control Options
Next we will be looking in the ways you can control the HW-A550. As per usual the soundbar has some built-in buttons that Samsung has placed on the top center but these are placed towards the back and not at the front as we have seen in many other brands. These are physical buttons and are shaped in the form of symbols for easier recognition of their functionality. From left to right we find a power button which also acts as a Auto Power Down button, volume controls and a Source button for choosing input mode.
We like that these buttons are physical as they are much easier to handle but using similar color as the rest of the soundbar makes them slightly hard to distinguish, especially at night, and would be preferable if another color was used.
Obviously the most obvious means of control is no other than the included remote and here we find no other than the familiar One Remote that Samsung has been using on a wide range of their visual and audio devices. And while general design and buttons layout remain fairly unchanged what has obviously changed is the functionality of these buttons.
The two buttons above the navigation controls are used for source selection and Bluetooth pairing while the other three below the circular navigation controls are for sound mute, sound mode selection and sound control including treble, bass and audio sync. The two buttons at the bottom are for main volume on the left and subwoofer volume on the right.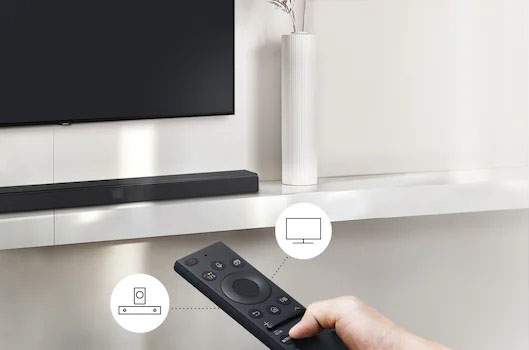 We were always fond of the One Remote and the one we have here is no different. Its design is the same as the One Remote we were getting the previous years, as for their TVs Samsung went ahead with a new look. Overall easy to use, and with very few buttons to handle all functions, making things so much easier for casual users that don't want to mess with complex controls.
The soundbar supports HDMI-CEC which means that if you connect the unit to the TV with a HDMI cable you can use the TV's remote to handle some basic controls like volume. This may not give you the complete range of supported functions but it may help in certain situations.
Keep in mind that the HW-A550 is still fairly limited in terms of control options as the unit lacks any voice control functionality while there is also no app support. This obviously had to do with the fact that the soundbar lacks WiFi connectivity that both these functions require. With many cheap models offering both of these nowadays the HW-A550 certainly finds itself in a tough spot as people will go for the one that offers the most.
Last year it was the same with many of Samsung's low cost offerings and nothing has changed in 2021 from the looks of it.
Extra Features and Services
Next is our extra features section and looking at what is included in the A550 it seems that there are not any major changes here either as most, if not all features, make a return from last year. But first of all let's talk about what kind of audio this one can playback.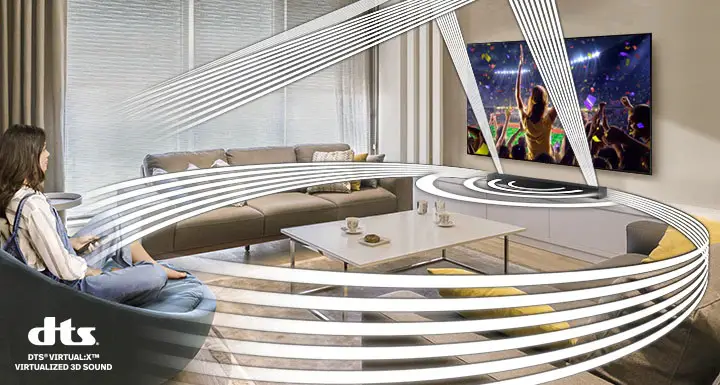 The HW-A550 seems to support the usual and by that we mean there is LPCM 2 ch, Dolby Audio, Dolby Digital and DTS support. Obviously for Dolby Digital and DTS the signal has to be downmixed since there are no surround speakers in order to use the full 5.1 channels signal. In case you want some extra immersion there is also DTS Virtual: X which is very usual in soundbars of this category and we will test this to see if it improves the surround performance of the soundbar at all.
Most of the sound modes that are included are the same we had seen previously with a couple of additions. As such we get Standard which outputs the original audio mix as it is, Surround Sound that provides a more wide sound field than the Standard mode, Game mode which provides stereoscopic sound to immerse you in the action while gaming, Adaptive Sound Lite, was called Smart Sound last year, which analyzes the content audio and provides the optimal sound field accordingly, Bass Boost which enhances the low end for deeper bass and lastly DTS Virtual: X which tries to simulate surround audio without the presence of actual physical speakers.
As for special modes although the soundbar is missing a specific Dialogue or Night mode we do get a mode that Samsung calls Dynamic Range Control (DRC) which lets you apply dynamic range control to Dolby Digital tracks. With the DRC turned on, loud sound is reduced but this can result in slightly distorted sound so use it wisely.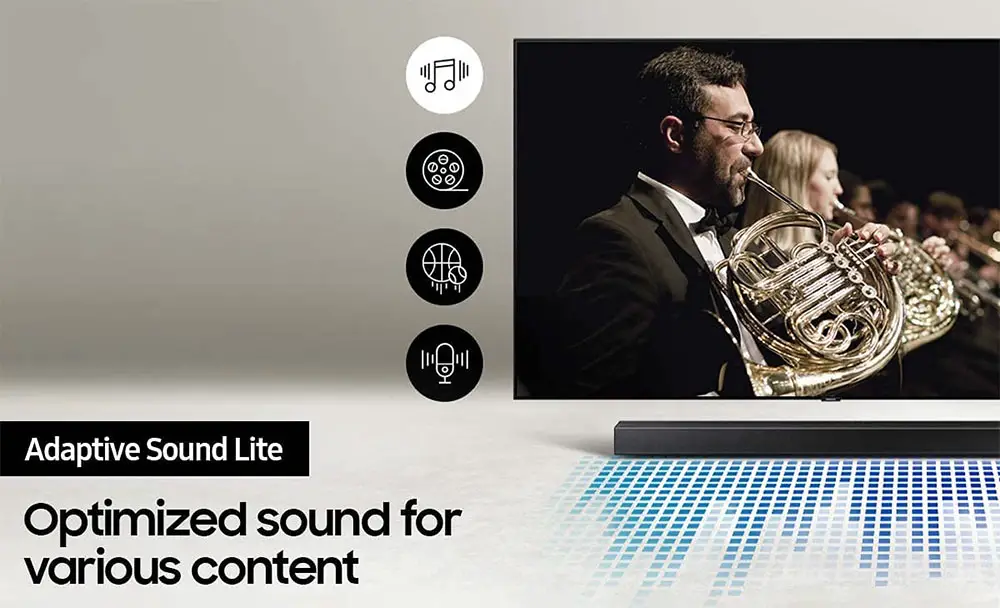 The A550 also comes with Bluetooth connectivity. First of all you have the ability to stream audio from any mobile device through a Bluetooth connection. The soundbar also supports Bluetooth multi-connection which means you can connect up to 2 devices at the same time. And lastly if you don't want to mess with cables you have the ability to connect it to your TV through Bluetooth if your TV also can support such a connection. Just keep in mind that you cannot have both your TV and a mobile device connected at the same time. It's either the TV or two Bluetooth devices at a time.
With the included USB port you can playback audio files from an external storage device and it can support almost all major audio formats available, at least the ones that are more popular nowadays. Once again what we don't like in this one is the position of the USB port.
Samsung, for some reason, has placed it in one of the insets making it extremely difficult to reach especially if you have placed the soundbar on a furniture as you will have to rise the unit every time in order to use the connection. If wall mounted, things can be a bit easier but here we have to consider all options. Using a USB extension cable seems to be the only solution to this and frankly we don't understand why Samsung hasn't fixed such an obvious design flaw already.
As for the files being supported we get the usual MP3, WMA, AAC and OGG when it comes to low quality ones but we also get High Resolution Audio playback for FLAC, AIFF and WAV files up to 192 kHz (WAV files up to 48 kHz) which is a major plus for a relatively low priced unit.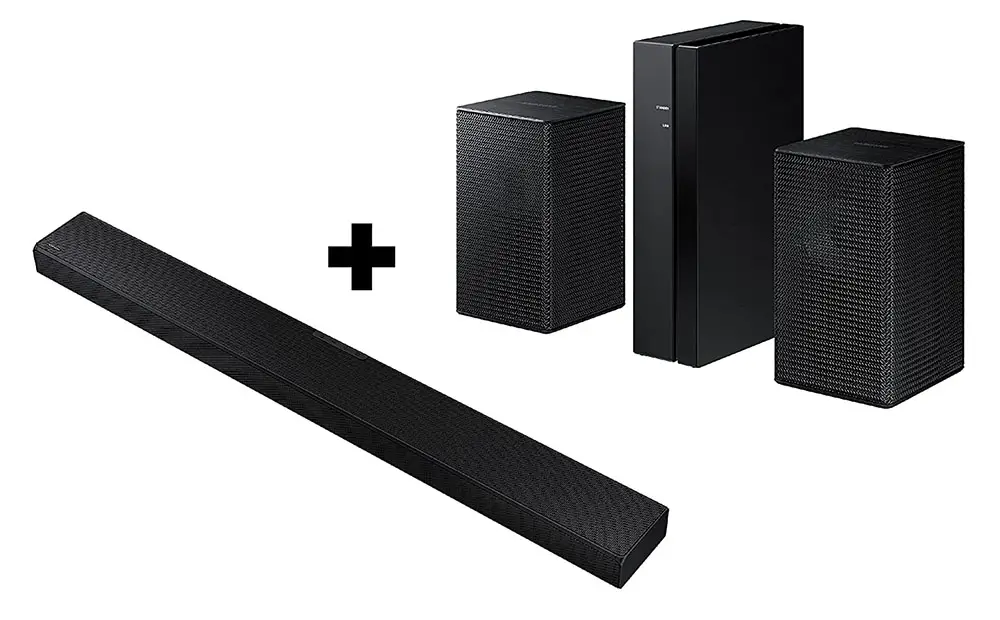 Now, if you are very much into surround sound and the performance of the included DTS Virtual:X is not satisfying you there is the option to buy the extra SWA-9100S surround speakers and with it to create a 4.1 channels surround system. Connecting the optional kit is very easy although it still uses cables in order to connect the receiver module to the speakers and to a power socket so they cannot be described as completely wireless ones.
Lastly there is a Bluetooth Auto Power ON/OFF function. The unit will turn on or off automatically depending on the state of its Bluetooth function. When it detects an incoming Bluetooth signal it will power on while if no Bluetooth signal is detected for a period of time it will turn of automatically.
Initial Setup
In terms of ease of use the HW-A550 is exactly the same as most previous low and mid-tier releases from Samsung. We don't see anything different in terms of connecting or using the soundbar and the unit remains very easy to handle and use which is ideal for consumers that want to deal with a lot of sound menus and calibration options.
After unpacking and placing both the main unit and the subwoofer we connected both of them to a power outlet and let them connect to each other which is done automatically. But even if this doesn't happen there is a manual way to do it which is very easy and fast.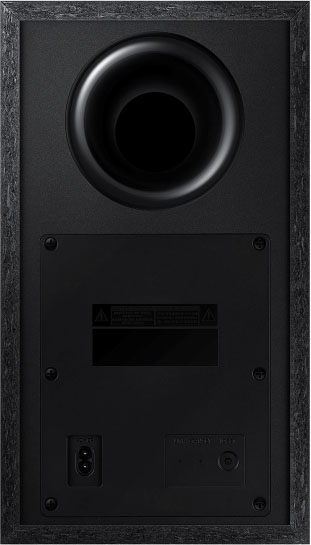 For connecting all devices we preferred the HDMI way so we used the HDMI output of our 4K UHD player to connect to the HDMI input of the HW-A550 and from its HDMI output to one of the HDMI inputs of our test TV. If you also have the optional surround kit installed pairing it is very easy and there are detailed instructions in the manual on how to do it.
After all connections are finished you are set to go. The soundbar does not come with an auto calibration system so you have to set the treble and bass levels by yourself but this is done easily and should not have any trouble adjusting them to your liking. With that finished all you need to do is choose the appropriate sound mode depending on the content or personal preference.
The unit is really very simple to initially connect. The manual is very clear and it shouldn't take more than a few minutes to finish everything even if this is your first soundbar you deal with.
Movies
For this review we chose the film Prometheus and used the DTS track that the soundbar does support. Originally we set the unit in standard mode which outputs the original sound without any processing.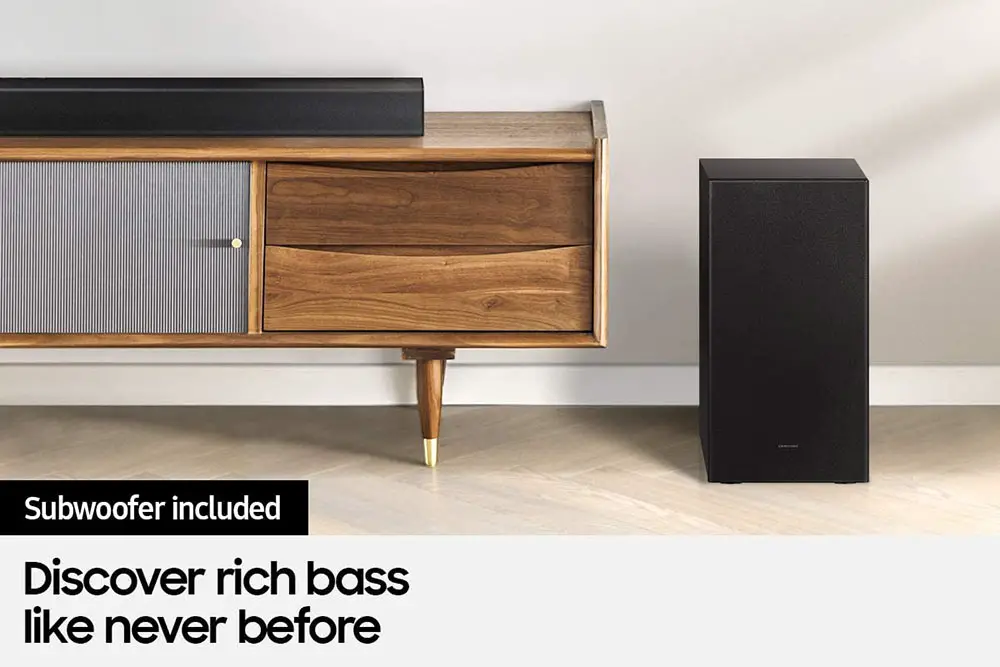 Immediately you feel the difference a soundbar has compared to the simple audio system of the TV itself. The sound output was more fulfilling, stronger, with more depth and more expansion. Also the low end was stronger and deeper giving the whole performance much more weight than before.
First of all at the front things felt exactly as you would expect from a 2.1 channels soundbar. The unit is not very long and there are no side firing drivers so although there was satisfying expansion don't expect the sound wall to expand very much sideways as we had seen in some other competing brands.
Dialogue was pretty distinct but without a dedicated center channel it was not as clear in comparison. Nevertheless we had no problems even with sound effects at play to hear all dialogue. On the low end we were a bit disappointed as the subwoofer didn't give us the low end rumble we were hoping for. Yes it can go far lower and with more thump than any TV can but for the power output this subwoofer has we were hopping to get more shaking than we ultimately got.
In terms of surround activity there was none and all action was firmly positioned in front of us. So next we decided to try out the Surround mode and with this mode we did feel that certain surround effects were more distinct than before. The problem here is that without any surround speakers all sound came from the front and as a result there were times that the audio output felt a bit strange because the surround sounds did not originate from the back as they should.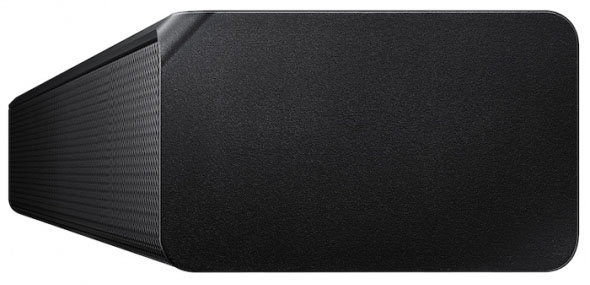 We also tried the DTS Virtual:X mode which is heavily advertised in all these low end soundbars. We could say that with DTS Virtual:X things improved slightly. Sound had more volume, more depth and more extension. Some panning effects felt closer to our position but obviously there was still no over-the-shoulder action. But for films with heavy surround effects the DTS Virtual:X is your best bet for getting a more immersive experience.
The only downside with this mode is that there were many moments that the sound felt over-processed and unnatural. As the soundbar tried to emulate certain surround effects the result was not always the best. This was not obvious all the time and was greatly dependent on the content itself. There were moments in Prometheus, especially during scenes with heavy atmospheric sound effects that the DTS Virtual:X did a very good job at rendering all sound elements in space.
The good thing with the HW-A550 is that with the available sound modes you can really choose the one that suits the content itself. The soundbar is obviously very limited in terms of hardware so having different sound modes that can enhance certain aspects of its content is the best thing that such a low cost unit could have.
From what we saw if you want to use a sound mode and never have to deal with it again we would suggest either the Standard or Adaptive mode. But for films specifically and mostly for those that have a lot of sound and surround effects we would suggest you either the Standard or the DTS Virtual:X mode. We do get that DTS Virtual:X is not for everyone, many seem to like how it sounds while others don't at all. But in our opinion it has its uses and there are moments that can really enhance the audio in specific scenes.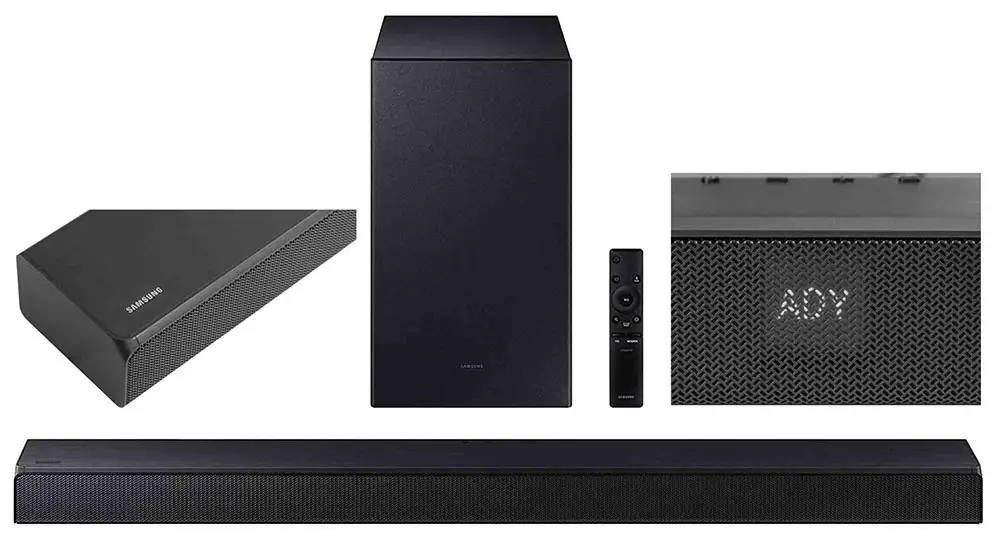 The Samsung HW-A550 may not be the kind of soundbar that will drop your jaw on the floor but it was never meant to be such one. It will surely give you more than your TV can ever do and for $200 you will have a more cinematic experience. If you really want to have a better surround immersion then the optional surround kit is a must but even without it the soundbar is not a bad addition if you want something more but don't have the budget for something better.
Music
Thankfully the unit does support not only USB playback but also High Resolution audio and as such we decided to try out a few selected FLAC files through the USB port for the best quality possible.
The first impression we got during our test was very positive considering how cheap the soundbar is. Obviously this is not meant to be an extraordinary HiFi experience as the hardware is not capable enough for anything more than the basics.
The sound wall in front of us was more than enough for any casual listener and can fill your room easily without pushing the unit to its max. The two front channels had good separation although it was not as distinct as some other soundbars of the same category. Stereo panning effects were noticeable but were a bit lacking in the wow factor.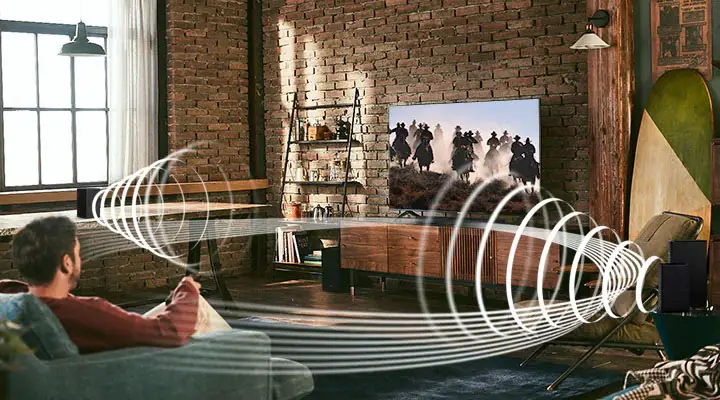 The unit had ok transparency and while there was certain distinction of the various sound sources it lacked the resolution and attention to details that could elevate the final outcome even more.
The sound had a certain neutrality and aimed at offering a more balanced outcome in the mid-range. The high end was ok but it was a bit lacking in energy and overall vibrancy. The bass was also a mixed bag. On the one side the HW-A550 did fare much better than any single unit soundbar can do as the sub would go much lower and hit the lower end with much more power. But on the other side with such a high rated subwoofer we were hoping for a bit more thunder than what we got.
We tried some very bass intensive songs and while the unit didn't have any major issues with them we felt that it was loosing some of its vigor and accurate output. Also we tried various genres like jazz, pop, heavy metal, rock, classical and electronic and it really depends on the song the kind of outcome you will experience. In some of them we were surprised how good and detailed they were while in some others the soundbar failed to render some of their more crucial elements.
Closing what we can say is that the HW-A550 is a great choice if you are looking for a good causal music experience. It will not wow you but it will not disappoint either. It has its merits and certainly has its strengths but keep in mind what you pay for it and you will certainly enjoy your investment.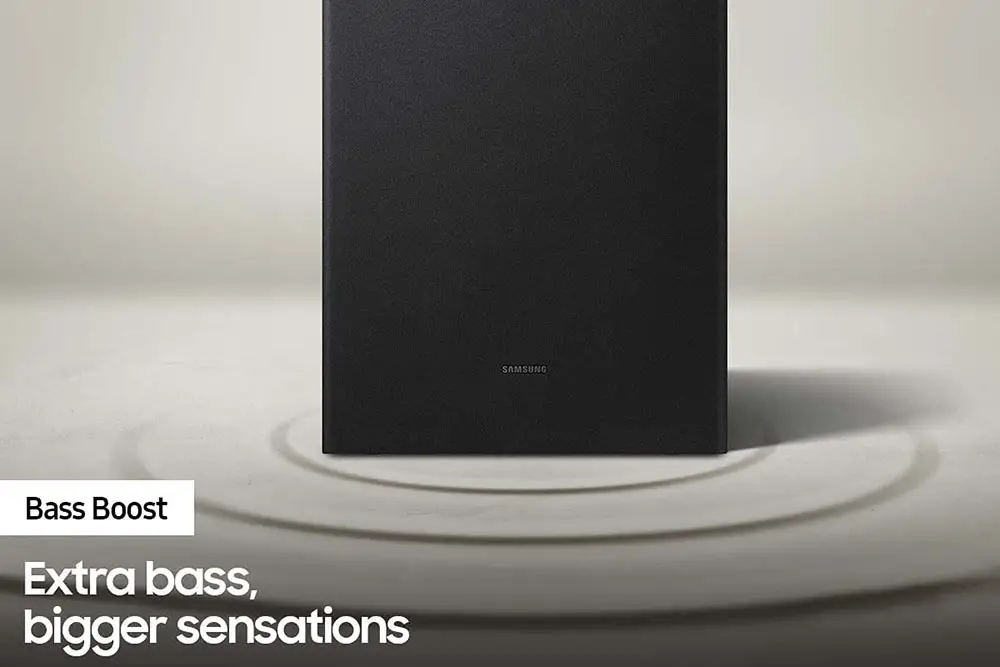 Final Thoughts
When judging a soundbar we are looking at the whole package including features, performance and price. It is also important to see if it offers anything more that what was on offer last year and if there are any improvements that could give the current model the edge. The HW-A550 seems mostly like a rebranded last year release. The differences between the HW-A550 and the HW-T550 are minimal at best while in many cases they fell exactly the same.
What we liked was the nice design the defines all Samsung units and the One Remote that comes with it, the plenty of sound modes to choose from, the nice feature set that adds the appropriate value and the ability to expand the soundbar to a full surround system. In terms of audio performance its front performance was good enough for its price category with good expansion and depth and it certainly will boost what your TV can output.
On the downsides if you don't get the optional surround kit then you shouldn't expect any real surround action as everything is firmly placed at the front even with the use of either the Surround or DTS Virtual:X mode. Also we had higher hopes of the included subwoofer as with its power rating we were expecting more deep and powerful bass which we didn't exactly get. Missing a center channel does show as dialogue was not as defined as we would like while the placement of the USB port remains the same, adding more frustration than practicality.
Closing our review what we can say about the Samsung HW-A550 is that it is a nice low cost soundbar that will for sure give you more than what you TV can and then some. The price is good enough for the performance and extras you get and in the end this is what this is all about. Yes, the soundbar is not perfect, far from it, but if you have your expectations at check there is certainly plenty of value to find in this one.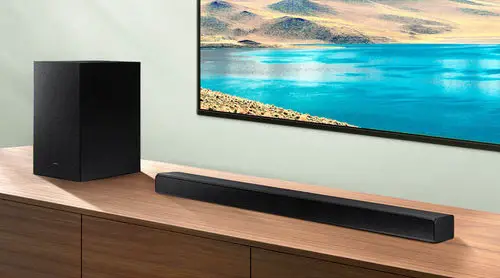 For more reviews you can check our dedicated Soundbar-subwoofer combo reviews list or even look at our Product Reviews Table where you can find the brand and specific product you are looking for.
---
Cheapest Places to Buy :
*We are a reader-supported website. When you buy through links on our site, we may earn a small affiliate commission at no extra cost to you. Home Media Entertainment does not accept money for reviews.*
---
Samsung HW-A550 Specifications