Samsung HW-MS650
Movies performance
8.8/10
Inputs and Features
9.3/10
Pros
Impressive performance for a single-body soundbar
Easy to setup and handle
Plenty of features
Can be upgraded
Cons
Bass not as punchy as we would like
It's height can be a problem for some TVs
No actual surround activity
Single HDMI input
---
Cheapest Places to Buy :
---
When it comes to soundbars they can be divided into three different categories. In one of them we find those that usually include both a subwoofer as well as surround speakers and these are supposed to pose a good alternative to full dedicated surround setups. Next we get the soundbar-subwoofer combos that are created with simplicity in mind but try to offer the kind of performance and features of a fully featured system and thus trying to cover a middle ground. And lastly we get the single-body soundbars that are aimed directly to those that look for the absolute easiest way to improve their TV's audio with the least hustle possible.
Such a soundbar we will be testing here today in our Samsung HW-MS650 review. Samsung has been making soundbars for some time now and we have seen some pretty amazing units from them. The MS650 belongs in their Sound+ series which is supposed to be their single-body variants that aim at combining the best audio performance of a main bar and subwoofer into a single unit. Make no mistake, this may be a single unit soundbar but it has been tested and tuned in Samsung's California Audio Lab and packs some pretty amazing features in order to deliver the goods.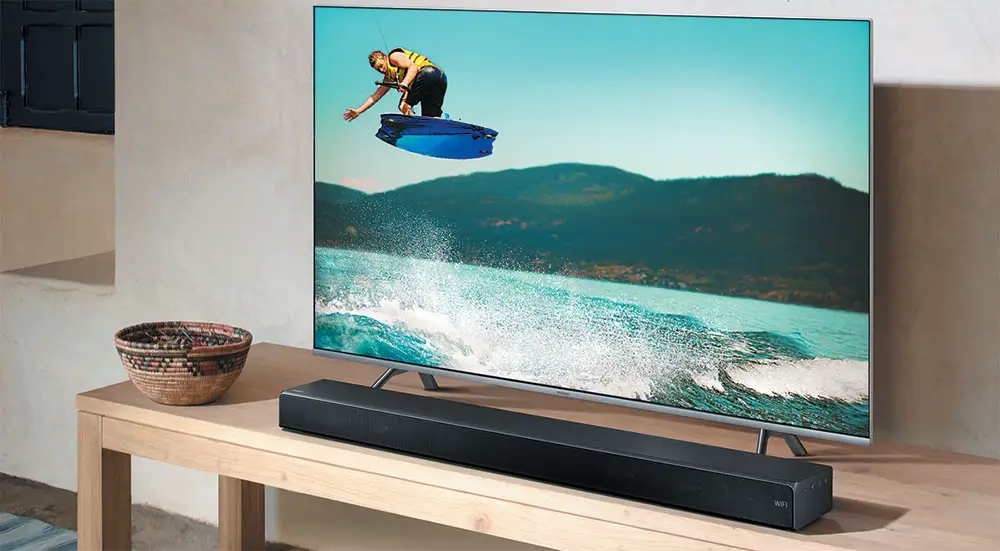 The HW-MS650 is basically a 3 channels single-body soundbar that features 6 mid/bass drivers and 3 tweeters, supports Dolby Digital and DTS sound, features High Resolution Audio and Bluetooth streaming, it is Amazon Alexa enabled and can be expanded to either 3.1 or 5.1 channels by adding a subwoofer or surround speakers. As you can see there is great flexibility in this unit both in terms of performance as well as included features. Are all these enough to keep this competitive in it's respective category and how much of an improvement can a single-body soundbar offer you in case you are looking for a simple to handle solution? Keep reading as we reveal everything below…
Design, Inputs and Features
Exterior
Usually single-body soundbars, with a few notable exceptions, don't have a lot going for them as they usually target the lower tier categories and thus we get fairly simple setups when it comes to the hardware they use. The MS650 seems to be one of the exceptions as this unit may be rated as a 3.0 channels soundbar for the front left, right and center channels but what is under the hood makes it all the more impressive. We will go into more details in the appropriate section but the soundbar comes with a whopping 6 mid/bass drivers along with 3 wide-dispersion tweeters making things all the more interesting when it comes to it's performance.
Another interesting fact is this unit's dimensions. Measuring 41.7 x 3.1 x 5.1 inches (1060.0 x 78.0 x 130.5 mm) and with a weight of 13.7 lbs (6.2 kg) we cannot say this one is one of the biggest soundbars we have tested but is not small either. And what should be noted is that while many of these units aim for a low profile in order not to obstruct the TV's IR sensors this can be a problem with the MS650 as it goes higher than other similar models. So you need to make sure that it will not cover your TV's sensor otherwise you will have to come up with a solution if you want to save yourself from frustration.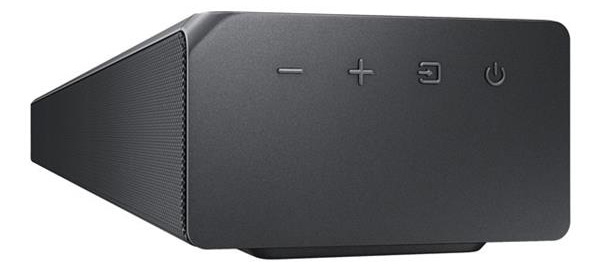 We really dig the design that Samsung created for this one. It's not anything impressive or something that we hadn't seen before but usually with soundbars it's the small details that make a difference. The MS650 features a straight rectangular shape design with simple sharp lines while the upper front corner has been using a chamfered edge to give it a bit of character. The entire front face is covered by a metal grille covering the front-firing drivers while the rest of the body features high quality plastic with a brushed aluminum texture on the top and both sides.
As per usual the soundbar has a few built-in buttons with Samsung placing them on the right side. These are physical buttons shaped according to their functionality and what we get is volume control, input selection and a power button. To be honest while touch sensitive buttons give a more premium look we prefer physical ones as it can be easier to find them in the dark. There is nothing else at either side keeping an otherwise clean and tidy look.
One thing that we found very practical is the inclusion of a small front display giving you various information regarding the soundbar's functions. It's not a very big one and has been placed at the far right side of the front face which was a necessity with a center channel being placed something that some symmetry purists may dislike.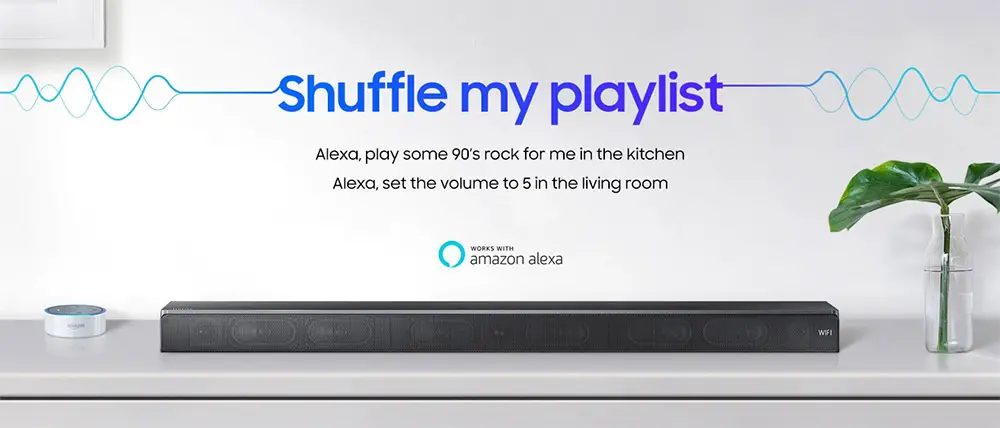 Turning the unit around we find all the ports grouped together at the center inside a special inset that can help to hide the cable plugs. Many soundbars tend to divide the connections which can be problematic some times and is not helping with cable management so everytime we get one that groups them all together is a plus in our books. Also there are special wall brackets you can use in order to place it on a wall. Samsung has also included a wall mounting guide to help you make the wall holes in their appropriate positions.
Closing we can say that as far as it's design and quality of materials the MS650 left us with very good impressions. Samsung created a nice looking soundbar that includes everything necessary to make it easy to setup and to handle. If there is one thing that may cause some problems is it's height that may obstruct some lower TVs but otherwise we cannot find anything bad about it. Good work here.
Internal Hardware
Here is where things start to get more interesting. As we mentioned above when you see a 3 channels soundbar usually you don't expect anything fancy hiding under the hood. On the other hand Samsung decided to go a different route and without a subwoofer it seems they were determined to up the game in order to provide the main unit with the necessary hardware to cope with that.
So Samsung decide to include 6 4.3″ x 2″ oval mid/bass drivers along with 3 wide-range inverted dome tweeters. This means that each channel is using a dual mid/bass driver along with a single tweeter setup and if you consider that each driver has it's own 20 watts amp you can understand that what we get is a lot for such a system. But Samsung didn't stay only there as they included a few technologies that would truly make the included hardware really shine.

Precise multi-speaker control along with the soundbar's unique distortion cancelling technology, that can predict the distortions due to the low frequencies as they happen making the necessary adjustments, provide better and deeper overall low frequency performance that according to Samsung can go as low as 39 Hz which is amazing if you think that there is no subwoofer here.
Also the wide-range inverted dome tweeters can cover a wide frequency range and can also ensure the best acoustic result is not confined to a single sitting spot making the MS650 ideal for family based spaces like living rooms.
With no subwoofer and no surrounds it seems that Samsung wanted to boost the soundbar's hardware capabilities in order to create a unit that you wouldn't feel like it was lacking in either power or bass handling. So they married some pretty impressive hardware for this category with some pretty amazing technologies and it only remains to be seen how all these translate in our testing that will follow shortly.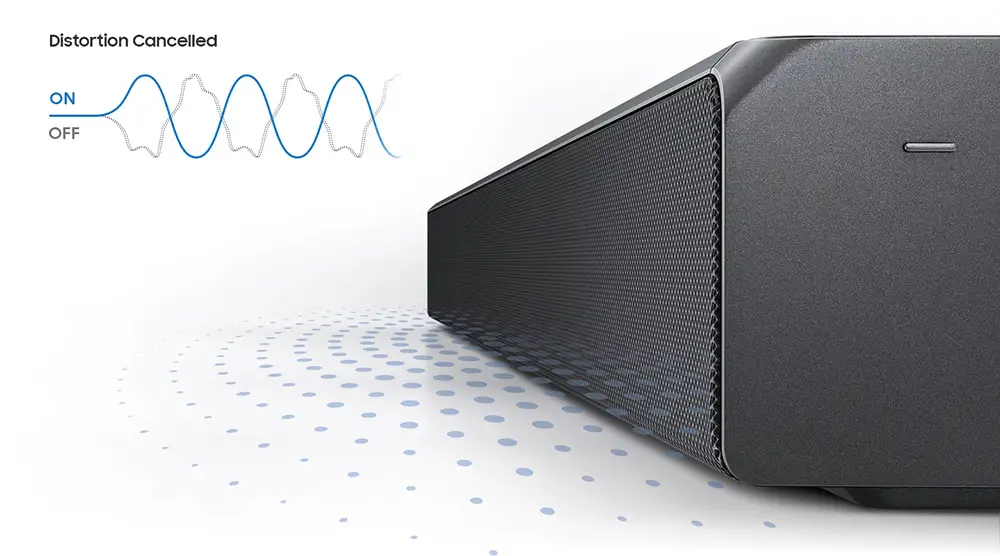 Connectivity
Let's talk about connectivity now. As we mentioned above all the connections are grouped together which takes a thumbs up from us but the most crucial here is what we do get as many times we have seen manufacturers offering the absolute minimum in this regard. The Samsung MS650 did surprise us a bit in this regard as we get plenty of options to play with.
But let's start from the obvious ones first. On the right side we get a HDMI input and an HDMI output that comes with ARC functionality. The HDMI ports are both HDCP 2.2 enabled which means they support 4K, 3D as well as HDR pass-through and there is also HDMI-CEC meaning that you can control the soundbar using your TV's remote if this is a function that is also supported by your TV. This way you can minimize the number of remotes in use which can be very practical.
On a second deeper level of the inset we find a digital optical input, a microUSB that can be used to connect a special dongle in order to connect wireless surround speakers and subwoofer to the main unit and a 3.5mm analogue audio input.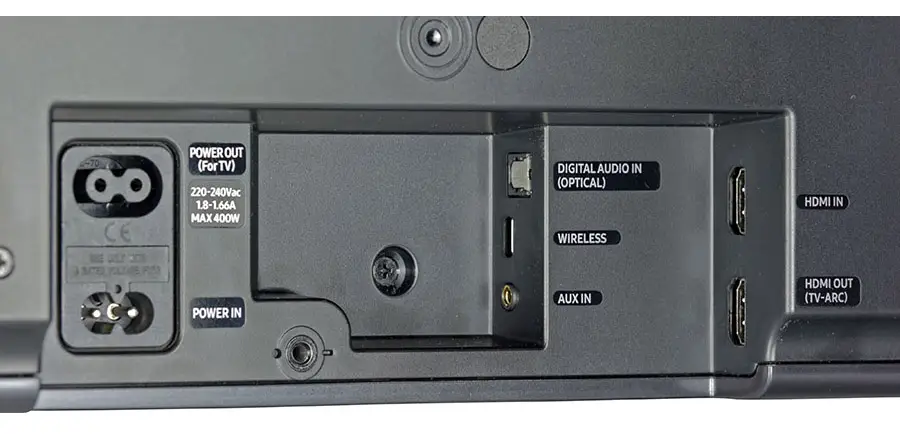 But what is special in the MS650 and rather unique is that next to the two-pin power input there is another power output you can use in order to connect your TV. This way you can avoid using a separate power cable from the TV to the power outlet and keep things much more tidy and good looking. You just need to check that your TV doesn't have higher requirements than what this port can offer otherwise this is a very smart move although we don't know how much people are going to use it.
Lastly the soundbar supports both WiFi (2.4 and 5GHz) as well as Bluetooth for wireless streaming.
Control Options
The HW-MS650 comes with different means of control and the most obvious is through the included remote. If you have ever used a Samsung TV over the last few years then you are going to be greeted by a familiar design as this soundbar's remote resemble very much Samsung's One remote with it's curvy look and minimalism design.

The number of buttons are kept at a minimum getting a big thumbs up from us with the circular navigation buttons sitting in the middle with only three buttons above for power, settings and input selection while below there are three buttons for surround, sound mode and smart mode. Lastly two buttons at the bottom control the volume and bass.
If you want an alternative to the included remote you can use Samsung's Multiroom app which is rather interesting and feels improved compared to other Samsung phone apps. Menus are straightforward and easy to understand while grouping is done through a specific menu where you enter and can link the various devices together.
Lastly there is also support for Amazon's Alexa if you like to use your voice instead. But since there is no built-in microphones in this one you will need to use an external speaker like an Amazon Echo product for that to work. Then Amazon Alexa needs the SmartThings app that you will have to download to your phone and use Alexa through that. The manual provide very clear and easy to understand steps on how to do it so you shouldn't have any problems finishing setup very fastly.
If there is one thing missing is obviously Google Assistant. As we move forward more and more devices support both these major voice control platforms and when we test a device that is missing one of the two then it definitely looses some points. Other than this Samsung made sure to provide plenty of options in this regard making our life as consumers much easier.
Extra Features and Services
The soundbar supports various audio formats including 2 channels LPCM, Dolby Digital as well as DTS. And while for Dolby Digital it accepts the full 5.1 audio signal initially it could support only 2 channels DTS formats. Since then it seems that Samsung has released a firmware update and now it also supports 5.1 channels DTS so you need to make sure you update from the first moment to be sure you get it. And while there are HDMI ports that could support the newer Dolby TrueHD and DTS-HD Master Audio unfortunately there is no support for these in the MS650.
As for it's sound modes there are 5 available that you can choose from with a single press of the sound mode button on the remote. The ones available include Standard which gives you the sound without any processing, Music, Movies, Sport and Clear Voice and they function accordingly to their names.
Now there are a couple of separate modes that you can enable by pressing their dedicated buttons on the remote. The first one is called Smart mode and what this does instead of you choosing every time the appropriate sound mode the soundbar optimizes the sound effects according to the content being played. This is like an all in one solution if you don't want to bother with settings every time.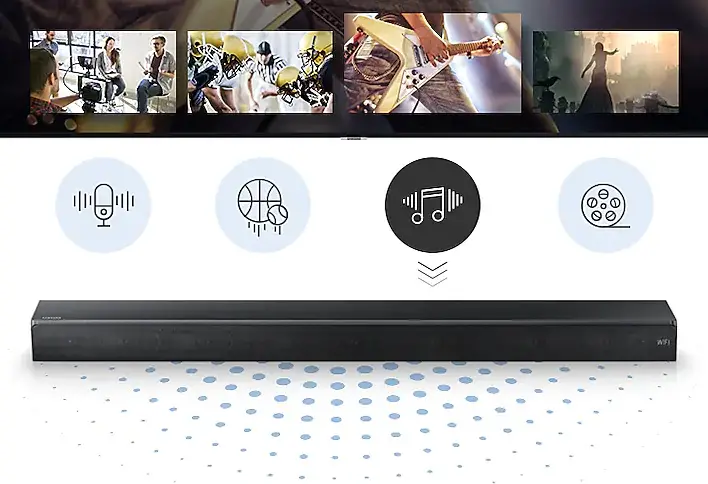 The other mode is called Surround Sound Expansion and this basically is some kind of virtual tech that tries to add volume and depth to the front soundstage. Since there are no dedicated surround speakers performance in this regard is always lacking so modes like this are somewhat trying to rectify this. But how good is this mode we will test on our movies testing that follows.
Another feature that we find is the inclusion of High Resolution Audio support but since there is no USB port that you could use to stream audio your only other option to do that is through a wireless connection or with Bluetooth. The MS650 supports all the known High Resolution Audio formats including FLAC, ALAC and WAV in addition to the more usual MP3, AAC and OGG files.
One thing we liked very much is that while the soundbar offers a very basic 3.0 channels setup you can expand this to your will. Do you want an extra bass boost? No problem as you can purchase separately the SWA-W700 subwoofer and create a 3.1 channels system. Or maybe you want the extra immersion of the surround audio. Then the SWA-9000S Wireless Rear Speaker Kit is the one you need for a 5.0 channels system. And of course you can go all the way and get them both for a full 5.1 system which will cover everything but naturally will rise the cost considerably at levels approaching the $1,000 mark.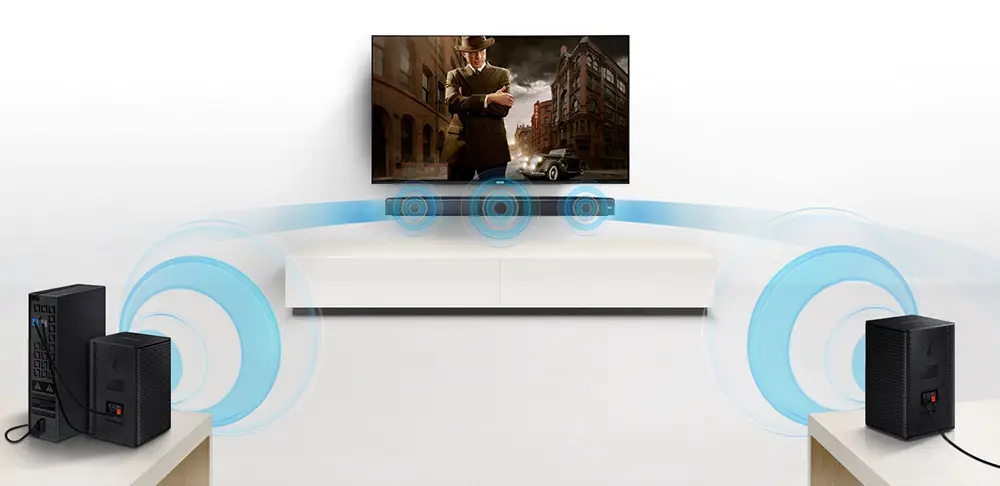 Streaming is obviously one the strong points of the MS650 as you can either use Bluetooth or WiFi for that. Obviously you can stream audio localy if it happens you to have a local network drive or NAS server or you can use one of the supported streaming services through the Samsung Multiroom app that includes Spotify, Deezer, Qobuz, TIDAL, Napster, JUKE, 7digital, Murfie, and TuneIn radio among others if this is more to your liking.
Overall we are pleased with what we found on the MS650. For a soundbar that is well south of the $500 mark Samsung tried to include enough features to create a very intriguing proposal. Featuring enough sound settings along with strong streaming options and the ability to expand the basic unit to a fully fledged 5.1 system makes this unit pack a lot of value.
Initial Setup
We were always saying that one of the main goals a soundbar has is to provide a streamlined experience by offering plug-and-play usage to it's user. This means ease to setup and connect as well as everyday use. The HW-MS650 makes things even more simple as there is no subwoofer you need to connect so there is an additional step you can skip here.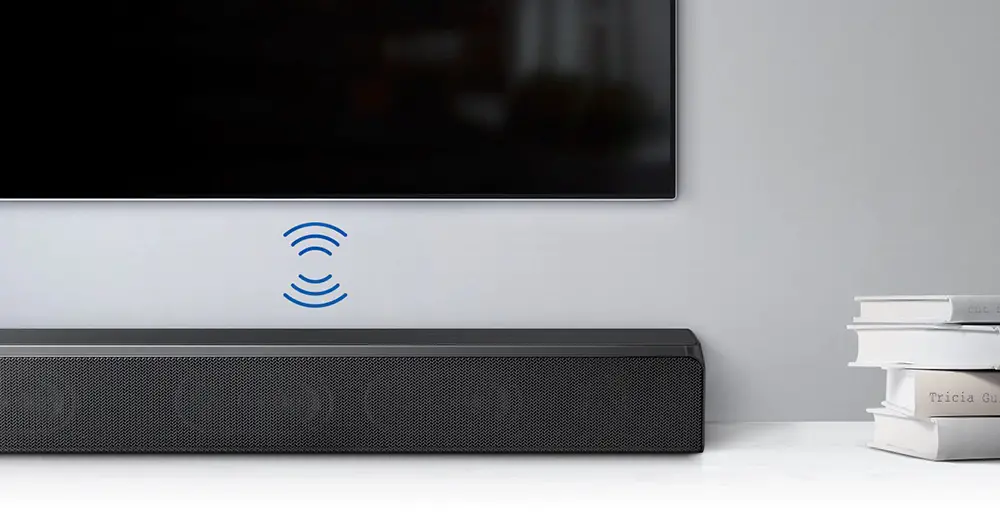 Basically you connect the soundbar to the TV and connect to a power socket. There are a couple of slightly more advanced audio settings including treble as well as adjusting sound for various frequency bands but other than these there is not much to do. You can go ahead and choose the desired sound mode and if you want to enable the Surround Sound Expansion. But if you don't want to mess with these every time you can go ahead with the Smart mode and let the soundbar handle everything for a more casual experience.
Nothing else can be said here as everything is pretty much straightforward. Only keep in mind that when placing the soundbar in front of your TV you may have a problem with the IR sensor of your TV so make sure that this is not blocked.
Movies
With no subwoofer we were curious to test a movie that is very bass heavy in order to determine how low it can go with the included drivers. And what better movie to try out than the 4K UHD version of Godzilla: King of the Monsters. To be honest we were a bit disappointed with the sequel as it failed to capture the magic of Gareth Edwards original film that we greatly praised. But even as such the sequel has a lot going on during it's running time with the Titans wreaking havoc across the globe.
The UHD disc comes with a fantastic Dolby Atmos mix but unfortunately here we can only enjoy the core 5.1 channels Dolby Digital mix as this is only supported by the HW-MS650. So let's get the obvious out of the way first. The first thing that becomes apparent is how full the front soundstage felt. The unit made good use of the number of drivers it includes and we got a nice sound wall that some times extended beyond the physical limits of the soundbar.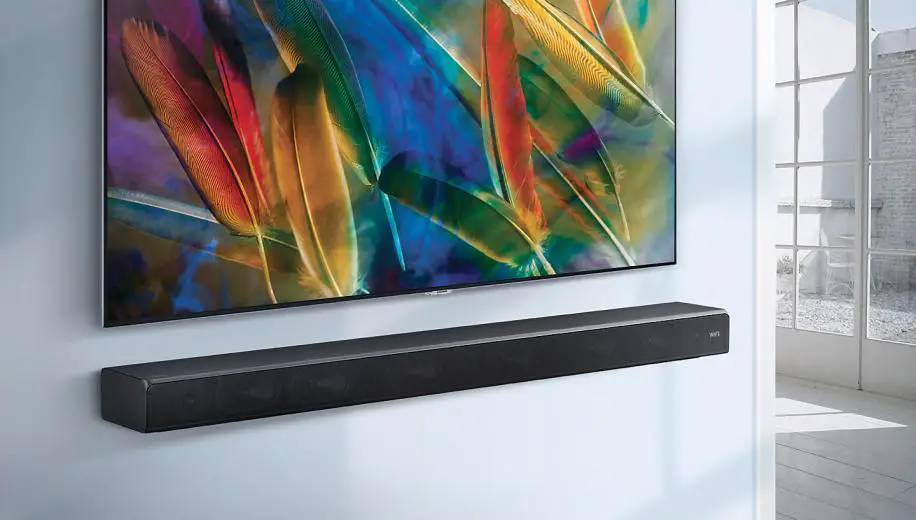 Having a dedicated center channel helped to bring the dialogue forward and keep it separated in center space from the rest of the sound effects even when all hell was breaking loose. Panning across the channels felt very distinct and precise without any notable delay. Now one thing that you may be wondering about is about it's bass performance and here things are not clear cut. Obviously you will not get the earth shuttering performance that a dedicated subwoofer can offer nor it can go as low and as deep and keep a well defined outcome. But for what it is we were very pleased to hear the unit dive as deep as it did and it's outcome was far better than other single-body soundbars that had almost always a very flat and uninspiring bass performance.
The other thing we need to talk about is surround activity which unfortunately there was none. All the activity was situated firmly in front of us and even effects that were supposed to originate from the back were being heard at the front. This is a common problem that plagues all soundbars and there is nothing wrong with the MS650 specifically. We next tried to enable the Surround Sound Expansion mode to see if we could get anything better out of it. With this the sound felt to have more volume and be a bit more three-dimensional than before bringing the action closer to our sitting position but again failed to push it behind us. It seems that the only way to get any meaningful surround action is to get the optional surround speakers kit.
We also tried another all times favorite film with the Blu-ray version of Lord of the Rings: Return of the King being next in line for testing. Here things felt much better as this one is not so heavily dependent on surround activity so the core DTS mix that we got was every bit as good as you would expect. With the film being heavily dialogue driven the HW-MS650 managed to keep everything clear and distinct at the center space while the left and right channels provided with ample power and authority the rest of the action.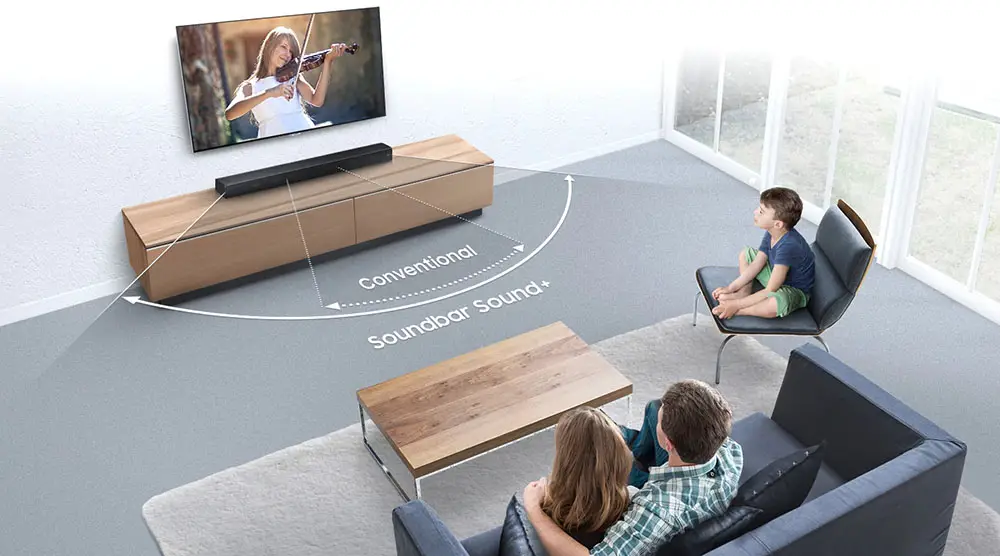 This mix is heavily orchestrated driven and the MS650 seems to favor this as Howard Shore's score was beautifully rendered while it enveloped the rest of the action on screen. We watched the most part of Minas Tirith siege by Sauron's army and the unit managed to provide very good resolution to even the tinniest of effects while keeping an excellent balance across the whole frequency spectrum which was really impressive without having made any previous calibration to improve the final outcome.
Once again the soundbar showed us the same characteristic weaknesses we saw in out first test. The bass, although deep enough and stronger than expected it never managed to give us the needed cinematic weight such films demand. For casual viewing it will be more than enough for sure but if you are serious about your cinematic immersion then it leaves a lot to be desired. Also having heard this mix countless times before there are moments of surround activity and mostly in the way of ambient volume with many scenes getting a necessary boost and scope this way. This was obviously missing here making certain scenes loosing some of their grand stature making us wish we had the surround expansion kit available.
In the end we cannot say we feel disappointed. On the contrary the soundbar managed to perform much better than we originally expected. Although the included hardware gave us a slight idea of what to expect it was not until we went into the testing that we were pleasantly surprised by the provided dynamics and fulfilling front performance it gave us.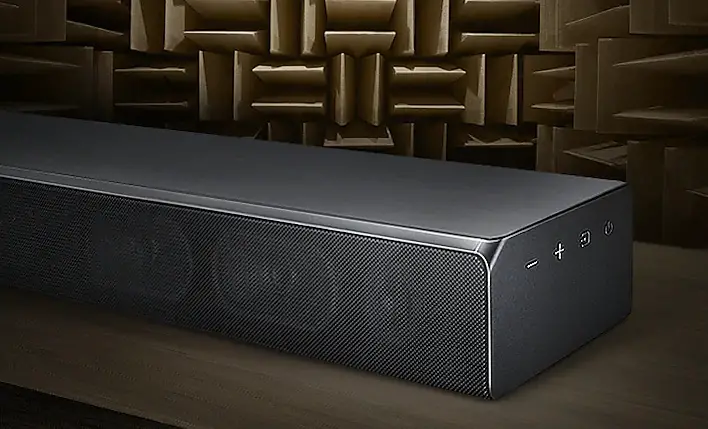 Music
With the MS650 supporting High Resolution Audio we opted to try a few FLAC music tracks but since there is no USB port streaming available we went for the next best thing and that is to stream the files through our local NAS server. We switched through the various sound modes and the ones we would advise you to use is either the Standard or Music modes which felt to our ears to offer the best result for this testing.
This soundbar has a certain musicality to it that you don't see very often in this price. The combination of the drivers used along with the distortion cancelling technology is doing amazing job here with everything from vocals, to drums, to guitars or synths come out with a kind of exposure and handling that feels unique. It's bass was tight and controlled without being overall disturbing or overshadowing the rest of the performance while it's playful and otherwise punchy mid-range gave the rhythms for the rest of the spectrum to follow suit.
To be honest we believe that we enjoyed more our music testing than the movies one and this is due to the fact that the weaknesses of the MS650 are not so obvious here. Yes, the lack of excessive bass was showing but it didn't bother us to the same degree it did in the movies we tried. The unit did managed to keep a straight face when going low, it just couldn't keep us on our toes as there is so much the main unit can do. But overall it was not bad at all and certainly much better than many other competing soundbars with no subwoofers.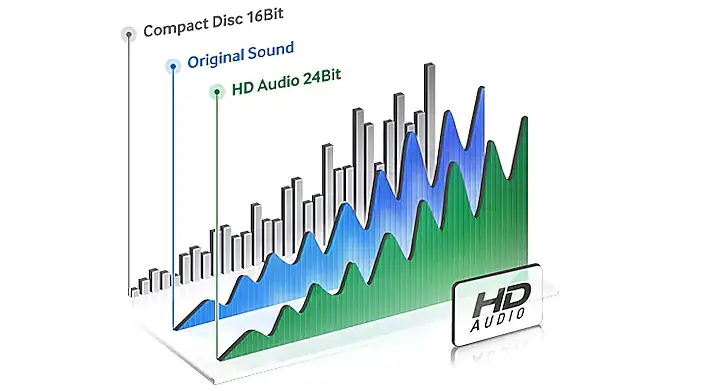 Final Thoughts
Samsung went through a lot of effort in order to create an all in one solution. The HW-MS650 is the kind of soundbar that tries alot to compete with units that include separate subwoofers and we can see that from the choices Samsung made for the included drivers and sound technologies. But no matter how good all these are and how much software has improved nothing can totally replicate the performance of a dedicated speaker at least until now.
The MS650 managed to perform admirably for a simple 3.0 channels setup as the soundbar could go pretty loud and pretty deep for a single-body unit while clarity and sound texturing was very good for it's category. Design and build quality was great but nothing jaw-dropping and obviously the highlight here is the total of 9 drivers included, with 6 mid/bass drivers and 3 tweeters, that are responsible for the audio quality you will get.
Along with Samsung's extra sauce that includes Distortion Cancelling and Wide Range Dispersion this soundbar promises to offer satisfactory results from any sitting position. Lastly there are enough extra features like Bluetooth and WiFi streaming, Alexa and mobile app support, High Resolution Audio as well as upgradability to either a 3.1, 5.0 or 5.1 system through the purchase of extra wireless speakers to up the value of the base model even more.
As for the downsides? Well the bass could be punchier which was to be expected from the subwoofer-less soundbar while true surround activity is non-existent. The Surround Sound Expansion mode can do so much to improve things with the end result lacking considerably compared to dedicated surround speakers. Also a single HDMI input may not cut it for today's standards while the height of the unit may be a bit problematic if you own a lower than usual TV model.
Closing what we can say is that the Samsung HW-MS650 is a great option in case you are looking for a single-body soundbar with a price that hovers around the $350 mark. It managed to offer an all in one solution without greatly compromising it's overall performance and at the same time will give you many extras to play with without becoming more complex or hard to use that only adds to it's overall value.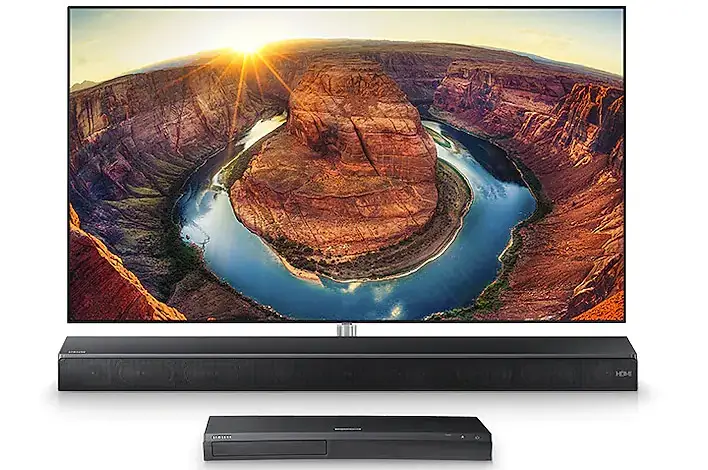 For more reviews you can check our dedicated Single Soundbar reviews list or even look at our Product Reviews Table where you can find the brand and specific product you are looking for.
Also don't lose the chance to subscribe to our Newsletter and gain exclusive privileges.
---
Cheapest Places to Buy :
---
Samsung HW-MS650 Specifications