Samsung HW-T650
Design -

90%

Movies Performance -

88%

Music Performance -

88%

Inputs and Features -

90%

Price / Quality -

92%
---
Cheapest Places to Buy :
---
If there is one company that puts a lot of attention in their soundbars lineup every year and can match LGs huge push into this growing market this is no other than Samsung. As with LG, Samsung has been releasing yearly updates of their soundbars but they have decided to create separate series in order to create a more easy to distinguish portfolio. In our Samsung HW-T650 review today we will be looking at one of their releases that belongs in the T series and what it has to offer as a low cost soundbar-subwoofer combo.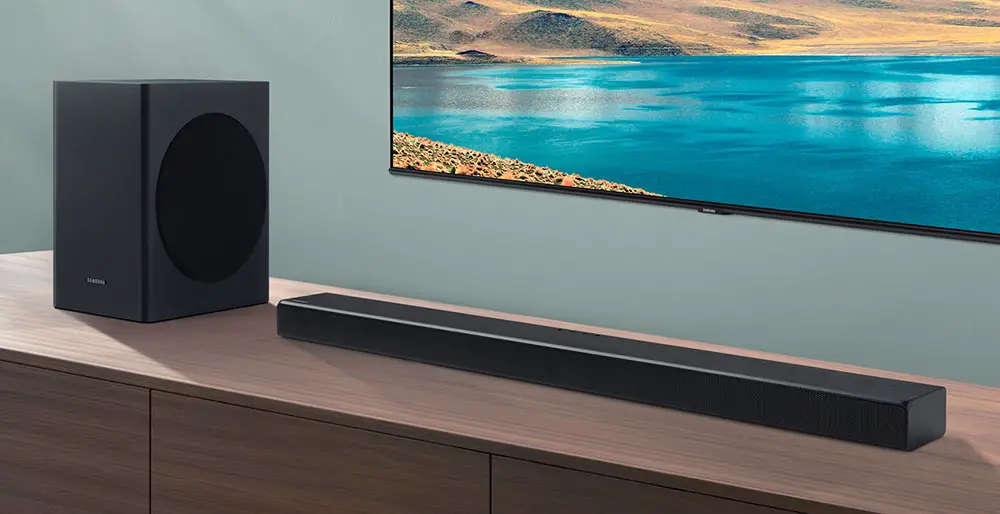 The HW-T650 is the biggest soundbar in the more affordable T series with the Q series being Samsung's premium lineup and the S series including a few all-around compact models. The T series includes three soundbar-subwoofer combos, the T450, the T550 and the one we will be looking here, the T650 which is not only the biggest of the three but is also the only one that uses a 3.1 channels configuration with a dedicated center channel.
It seems that the HW-T650 is the kind of soundbar that was designed with ease of use in mind but Samsung wanted to create a slightly better unit in order to offer an experience that would be slightly better than the absolute basic one. As such the Samsung HW-T650 can output a total of 340 watts of power from its 3.1 channels, it can playback Dolby Audio, Dolby Digital and DTS sound, it comes with DTS Virtual: X for a more immersive surround experience, can playback High Resolution Audio files up to 192 kHz, can stream music either from a Bluetooth connection or the included USB port and is wireless surround ready in case you want some real surround action.
The kind of features included in the HW-T650 is nothing out of the ordinary, in fact we have seen many units featuring exactly the same technologies. Usually these are the features you get in a soundbar that wants to keep things simple but also tries to offer some flexibility to its users. So what remains to be seen is how good the soundbar can do in its actual performance. Without further delay, let's start our analysis.
Design, Inputs and Features
Exterior
The Samsung HW-T650 is the longest of the three T series soundbars but even so it still keeps a relatively compact size. Measuring 38.6 x 2.3 x 3.6 inches (980.0 x 58.0 x 90.0 mm) and with a weight of just 5.3 lbs (2.4 kg) the T650 is the kind of soundbar that can fit nicely under any TV of 55″ or above but it greatly depends on the kind of stand your TV has.
Overall we were very pleased with the kind of quality we got here. The HW-T650 may not be oozing with premium quality materials but it certainly is on a decent level. The main material being used is obviously plastic with a nice brushed texture on it for the top face. A set of buttons is located at the back side of the top face which are very subtle due to their color and size while a characteristic of many Samsung soundbars is the small chamfered top front corner that we find in this one giving it slightly more style and unique look.
The plastic body is combined with a full frontal metallic grille that wraps slightly towards the bottom and has a more interesting holes design rather than the usual circular ones we find in most other metallic grilles. This one is non removable so you don't have the option here to take it off or not.
The unit does come with a fully functional front display which is located behind the metallic grille and Samsung has placed it at the far right side of the unit. We do prefer this kind of display as it is much easier that using LED lights that many times you cannot remember all of their combinations. The only minus is that this display is relatively small and not many characters fit in it meaning that whatever it displays it has to scroll it for you to see its full message.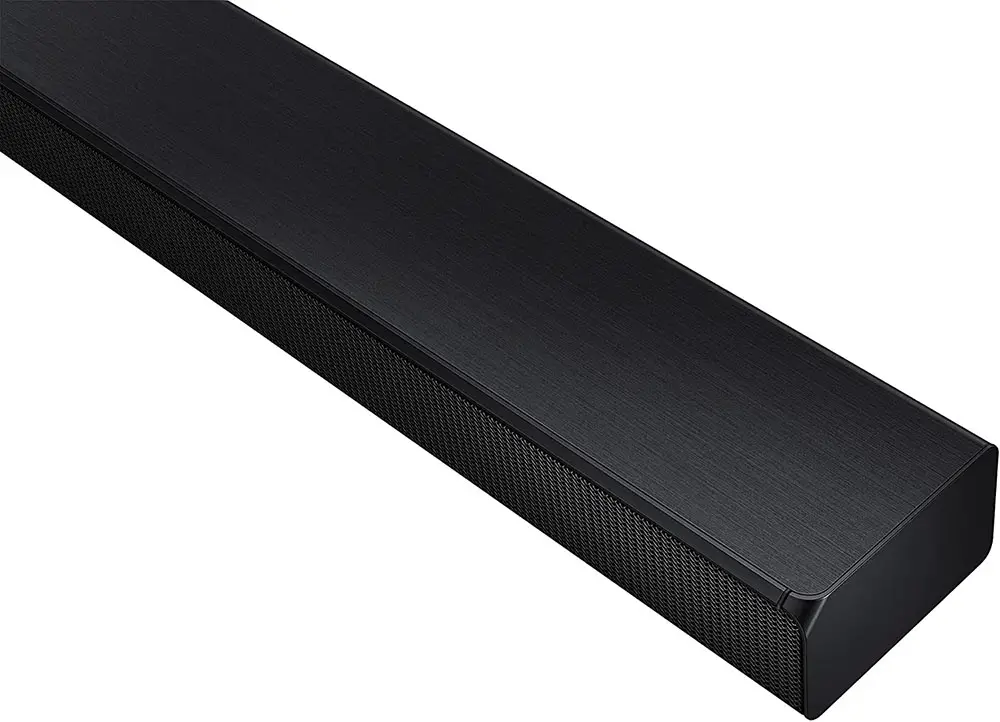 The back of the unit is plain with only the two big insets visible that house all the connection ports. There are no IR repeaters of any kind so make sure that the size of the main bar will not obstruct the IR sensor of your TV. The soundbar has a relatively low profile but you can never be sure. At the bottom of the unit we see a few holes that are probably for cooling and also special holes for the wall brackets to lock in case you want to wall mount it.
With the T650 we also get a subwoofer and this certainly follows the simplistic design of the main unit. It features a cubic design with rounded corners and can pass unnoticed in any room as Samsung has placed it's driver on the side covered by a rounded fabric grille. The subwoofer measures 8.1 x 13.9 x 11.9 inches (205.0 x 353.0 x 303.2 mm) and weights 13.7 lbs (6.2 kg) making it easy to fit anywhere even in rooms with not so much space to spare.
Unlike the main bar, the subwoofer cabinet is made out of wood while on the upper back side we find a big air port and at the bottom the power connector and a single pairing button. There are no other buttons or controls and things are kept very simple here, ideal for most casual users that don't want to mess a lot with time consuming calibrations.
Closing this section what we can say is that the HW-T650 is a good looking soundbar and Samsung has paid a lot of attention at its build quality. It may not be a premium product but keep a certain quality level that Samsung has got us used in all their products.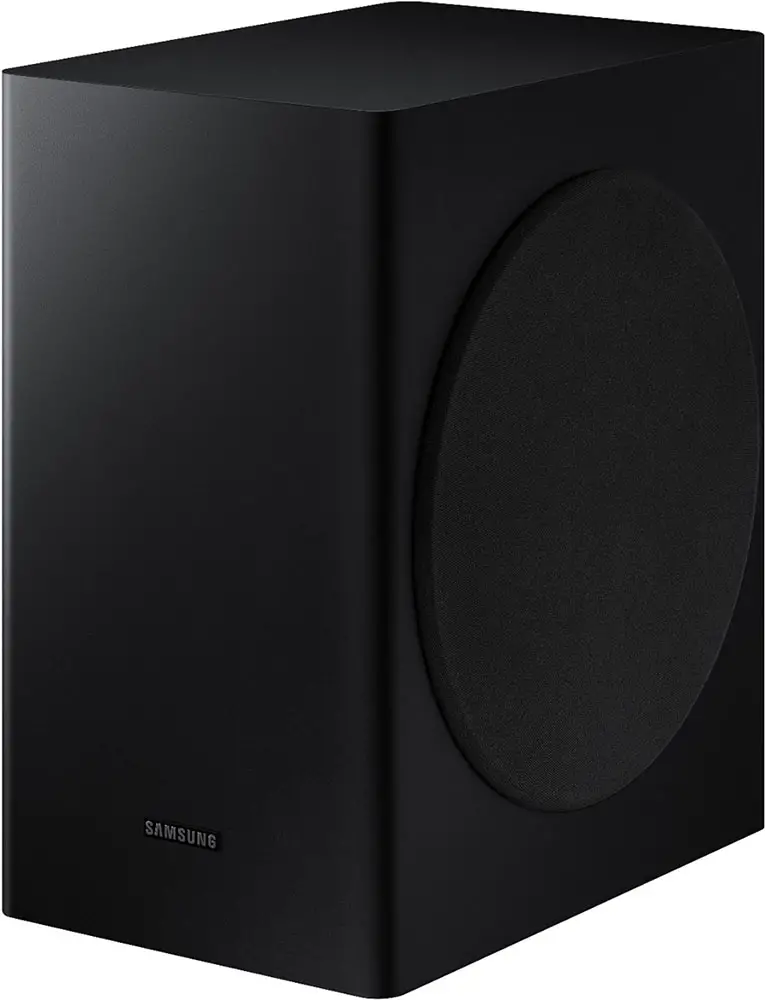 Internal Hardware
Samsung is very secretive as to the kind of drivers being used in the HW-T650. There is no mention of their kind either in its specs sheet or in the manual. And with the soundbar's non removable metallic grille it's not easy to identify them by ourselves. What we can say from the specs is that for the three main channels in the main unit there are six drivers with 60 watts output each for a total of 180 watts for the soundbar. This means that each channel is using a dual driver configuration which is not a very rare combination to see.
For the subwoofer there is also some secrecy as to the size of the driver being used and the only information we get is its 160 watts power output which is slightly less than what we were expecting but we will put it to the test to see how much of an impact this makes.
With the 180 watts of power output for the main soundbar and 160 watts of the subwoofer we get a total of 340 watts which should be enough for small and small to medium sized rooms.
Connectivity
Next we will be looking at the connectivity options of the unit. As with all the soundbars of this price range we usually see them offering more or less a basic layout with very small deviations depending the brand which may be enough for most that look for simplicity but leaves a lot to be desired if you are more demanding and need to connect a lot of devices. The unit features two deep insets at the back and all connections has been equally split between the two.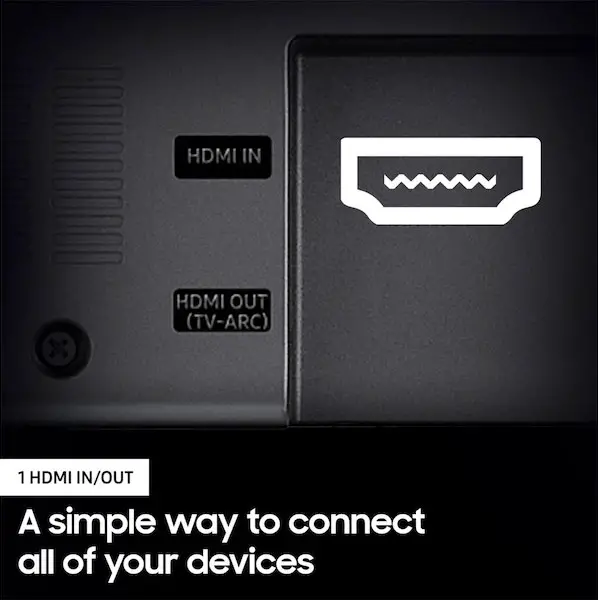 On the one on the left we find a circular power connector along with both HDMI ports, one input and one output. The other inset on the right features the USB port along with the Digital Optical input. And that's all.
The included HDMI output supports only ARC which means no Dolby TrueHD or DTS-HD Master Audio pass-through. At least it can playback Dolby Digital Plus which many streaming services have been using lately. Also there is no analogue port but this is not such a big deal, at least in our opinion, as the HDMI ports are the main means of connection nowadays anyway.
Wireless capabilities of the soundbar are limited to the inclusion of Bluetooth as the unit is missing any kind of WiFi functionality. Samsung doesn't mention which Bluetooth version is included in the unit either in the manual or in their specs sheet so we cannot confirm on this. But at least during our time with it we didn't notice any connection problems so no matter what version is being used at least it was good enough.
Control Options
Next we will be looking in the ways you can control the HW-T650. As per usual the soundbar has some built-in buttons that Samsung has placed on the top center but these are placed towards the back and not at the front as we have seen in many other brands. These are physical buttons and are shaped in the form of symbols for easier recognition of their functionality. From left to right we find a power button which also acts as a Auto Power Down button, volume controls and a Source button for choosing input mode.

We like that these buttons are physical as they are much easier to handle but using similar color as the rest of the soundbar makes them slightly hard to distinguish and would be preferable if another color was used.
Obviously the most obvious means of control is no other than the included remote and here we find no other than the familiar One Remote that Samsung has been using on a wide range of their visual and audio devices. And while general design and buttons layout remain fairly unchanged what has obviously changed is the functionality of these buttons.
The two buttons above the navigation controls are used for source selection and Bluetooth pairing while the other three below the circular navigation controls are for sound mute, sound mode selection and sound control including treble, bass and audio sync. The two buttons at the bottom are for main volume on the left and subwoofer volume on the right.
We were always fond of the One Remote and the one we have here is no different. Easy to use, and with very few buttons to handle all functions, making things so much easier for casual users that don't want to mess with complex controls.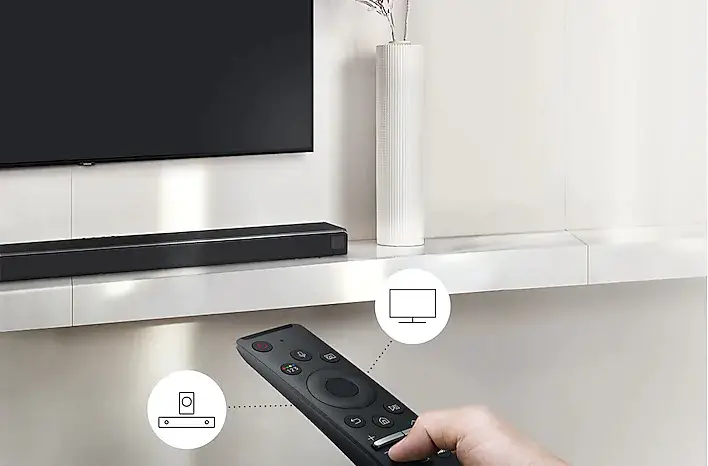 The soundbar supports HDMI-CEC which means that if you connect the unit to the TV with a HDMI cable you can use the TVs remote to handle some basic controls like volume. This may not give you the complete range of supported functions but it may help in certain situations.
Lastly we need to mention that there is no voice control support and Samsung has not added any mobile app support either. This certainly limits the flexibility the HW-T650 has and if you consider that nowadays there are much more cheap models that offer at least one of them, if not both, then the T650 feels a bit behind the competition.
Extra Features and Services
Next is our extra features sections and while the T650 is not a soundbar that comes fully packed with extra functions and features there are a few of them that are worth of mentioning. But first of all let's talk about what kind of audio this one can playback.
The HW-T650 seems to support the usual and by that we mean there is LPCM 2 ch, Dolby Audio, Dolby Digital and DTS support. Obviously for Dolby Digital and DTS the signal has to be downmixed since there are no surround speakers in order to use the full 5.1 channels signal. In case you want some extra immersion there is also DTS Virtual: X which is very usual in soundbars of this category and we will talk about its performance in the appropriate section.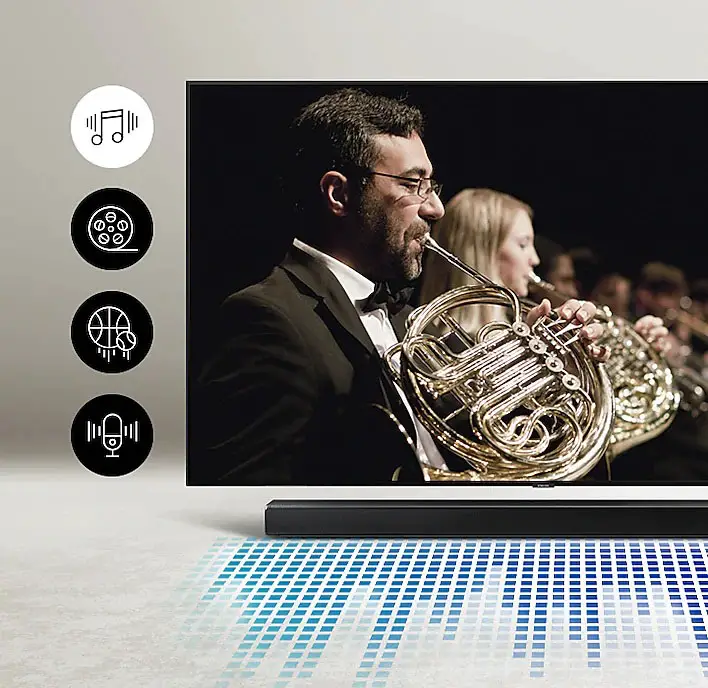 Every soundbar that respects itself comes with at least a few sound modes that you can select from and the HW-T650 seems to offer a pretty standard selection of them. As such we get Standard which outputs the original audio mix as it is, Surround Sound that provides a more wide sound field than the Standard mode, Game mode which provides stereoscopic sound to immerse you in the action while gaming, Smart Sound which analyzes the content audio and provides the optimal sound field accordingly and lastly DTS Virtual: X which tries to simulate surround audio without the presence of actual physical speakers.
As for special modes although the soundbar is missing a specific Dialogue or Night mode we do get a mode that Samsung calls Dynamic Range Control (DRC) which lets you apply dynamic range control to Dolby Digital tracks. With the DRC turned on, loud sound is reduced but this can result in slightly distorted sound so use it wisely.
There is also Bluetooth capabilities and in the T650 it comes with plenty of flexibility. First of all you have the ability to stream audio from any mobile device through a Bluetooth connection. The soundbar also supports Bluetooth multi-connection which means you can connect up to 2 devices at the same time. And lastly if you don't want to mess with cables you have the ability to connect it to your TV through Bluetooth if your TV also can support such a connection. Just keep in mind that you cannot have both your TV and a mobile device connected at the same time. It's either the TV or two Bluetooth devices at a time.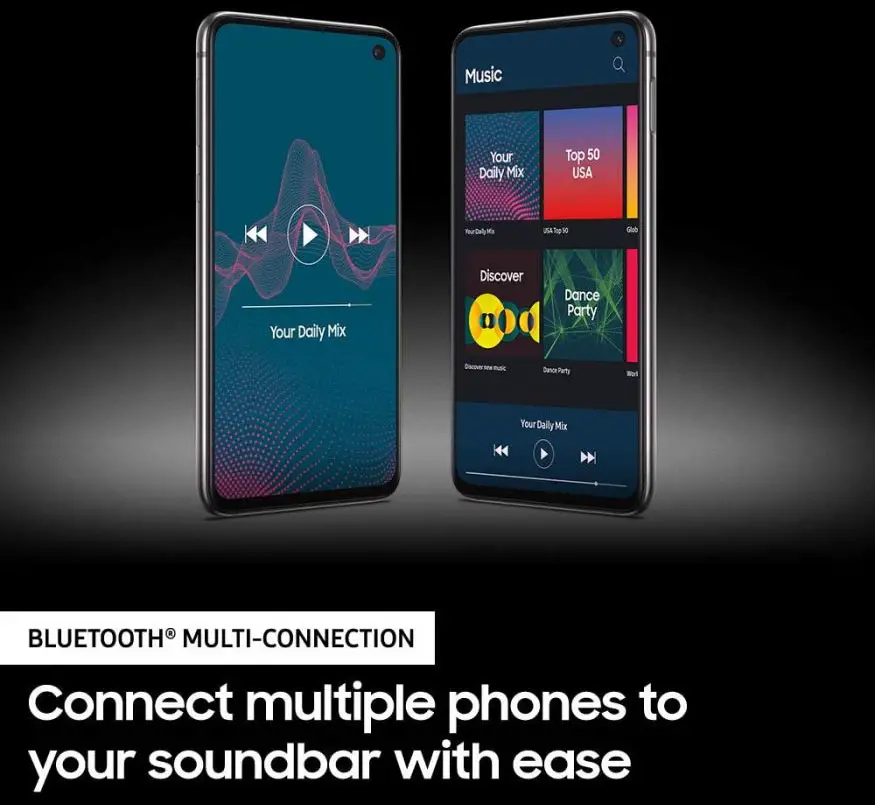 With the included USB port you can playback audio files from an external storage device and to be honest its functionality is much more enhanced than some other soundbars we had seen recently. What we don't like in this one is the position of the USB port. Samsung, for some reason, has placed this in one of the insets making it extremely difficult to reach especially if you have placed the soundbar on a furniture as you will have to rise the unit every time in order to use the connection. If wall mounted things can be a bit easier but here we have to consider all options. As we see it the only solution is to use a USB extention cable to save you the frustration.
As for the files being supported we get the usual MP3, WMA, AAC and OGG when it comes to low quality ones but we also get High Resolution Audio playback for FLAC, AIFF and WAV files up to 192kHz which is a major plus for a relatively low priced unit.
Now, if you are very much into surround sound and the performance of the included DTS Virtual: X is not satisfying you there is the option to buy the extra Wireless Surround Sound Kit (SWA-8500S) and with it to create a real 5.1 channels surround system. Thankfully the kit is not as expensive as some other surround kits from competing brands so it can be a good option if you think that the HW-T650 is lacking in this regard and you have the room for the extra speakers.
Lastly there is a Bluetooth Auto Power ON/OFF function. The unit will turn on or off automatically depending on the state of its Bluetooth function. When it detects an incoming Bluetooth signal it will power on while if no Bluetooth signal is detected for a period of time it will turn of automatically.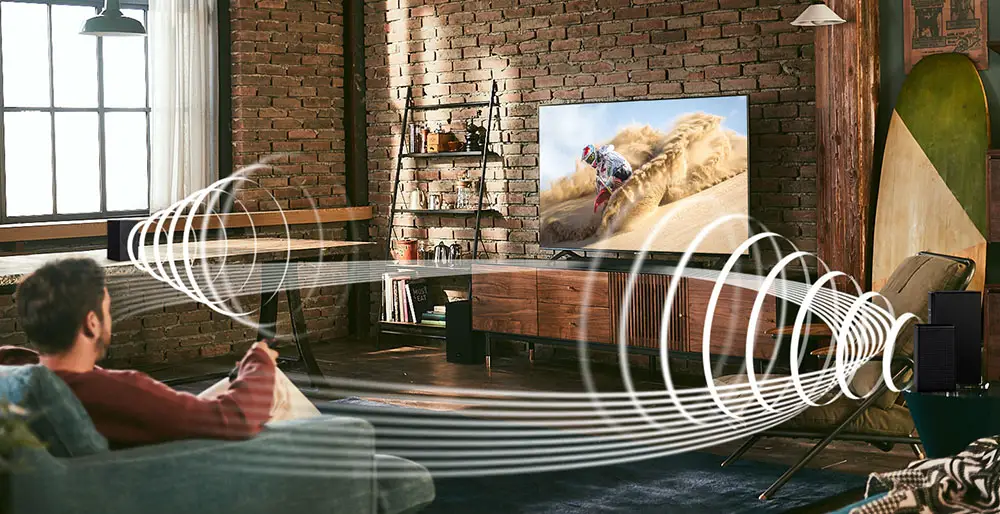 Initial Setup
As with most soundbars the HW-T650 follow the same simplistic principles we have seen in most similar units. This includes both initial setup and connection but also everyday use which can be ideal for those casual users that don't want to mess with countless menus and settings.
After unpacking and placing both the main unit and the subwoofer we connected both of them to a power outlet and let them connect to each other which is done automatically. But even if this doesn't happen there is a manual way to do it which is very easy and fast.
For connecting all devices we preferred the HDMI way so we used the HDMI output of our 4K UHD player to connect to the HDMI input of the HW-T650 and from its HDMI output to one of the HDMI inputs of our test TV. If you also have the optional surround kit installed pairing it is very easy and there are detailed instructions in the manual on how to do it.
After all connections are finished you are set to go. There is no auto sound configuration here so you have to set the treble and bass levels by yourself but this is done easily and should not be very hard to do it. With that finished all you need to do is choose the appropriate sound mode depending on the content or personal preference.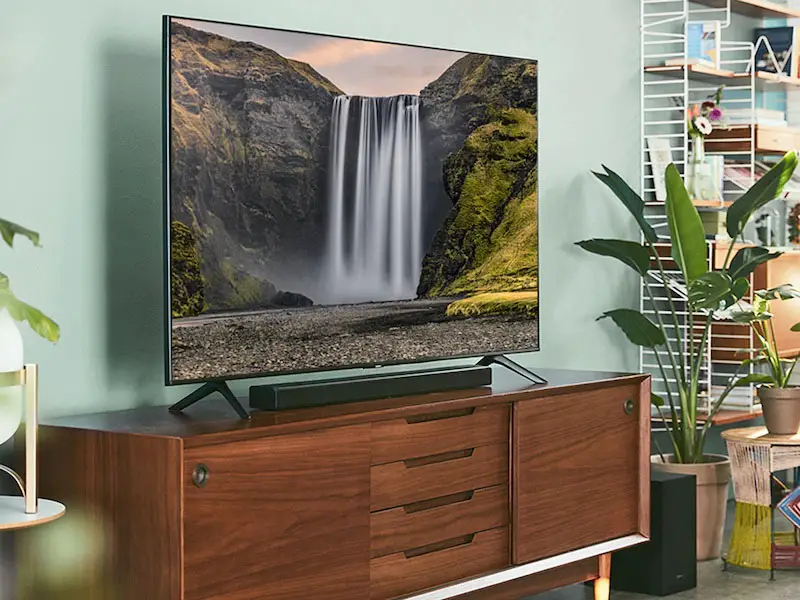 That's all there is to it and while we have seen some setups that are even easier than this one it really shouldn't take you more than a few minutes even if you have no previous experience with similar setups.
Movies
For our movie testing we decided to try out no other than the 4K UHD version of Jurassic World that comes with a totally immersive DTS:X mix. For this test we didn't use the extra surround kit so what we got to listen is the core DTS mix that is downmixed to 3.1 channels that are distributed to the available ones in our testing unit.
Also we tried the movie in two sound modes. First we used the Standard mode in order to get audio that uses as less processing as possible. After we repeated out test using the available DTS Virtual: X mode in order to determine if we can get a better surround experience without the addition of extra speakers.
Jurassic World is the kind of movie that has it all. Dialogue driven scenes, full out action, explosions, ambient effects and atmospherics, you name it. Its variety is unbeatable and the perfect material for testing the various strengths and weaknesses of any audio equipment.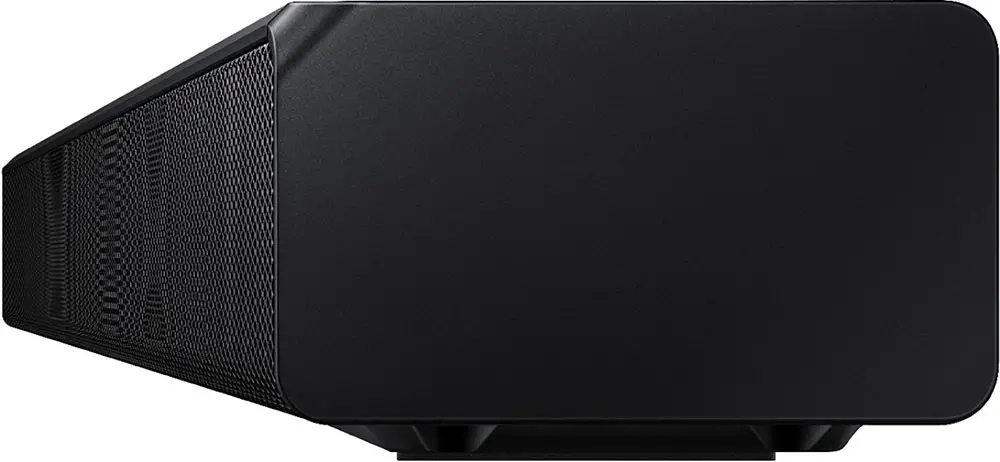 First we will start from the front and the HW-T650 did a great job at filling the space between the TV and our position with a sound wall that was pretty extensive and deep. It's the first impression that the soundbar gives you that sound is not as flat as we would hear it from the TVs audio system. It had more volume, more depth, more height and even slight sideways extension although not as much as we had heard in some other units.
And it can go loud, loud enough for its size. But hitting the upper volume limits was not without a few missteps as the soundbar could not keep the same balance and high resolution as it did during normal listening levels. But in general what we heard was very pleasing and certainly ups the immersion tenfold and puts you right into that world. During jungle scenes you can feel the size and depth of the forest, you can hear various ambient sounds coming from different places  while stereo panning effects we noticeable and believable.
With the addition of a center channel the soundbar was also very good at keeping the dialogue separated and contained even during busy action scenes. You could feel the dialogue isolated in the middle and this certainly helped keep the rest of the sound effects from overlapping between the two. We never found ourselves wondering what they were saying and the addition of the center channel is a major one in this unit.
Next let's talk about the bass. Jurassic World has plenty of low end activity and the included subwoofer is a feast for the ears even if it is not a pure powerhouse. With it the film has more weight, more vigor and more power. Dinosaur roars feel more alive and with a natural texture while the steps of Indominous Rex give you a sense of size and weight. The subwoofer can dive deep enough considering its size and has enough power to give you the necessary shakes but it cannot hit you in the chest like some dedicated subwoofers can and this is totally understandable.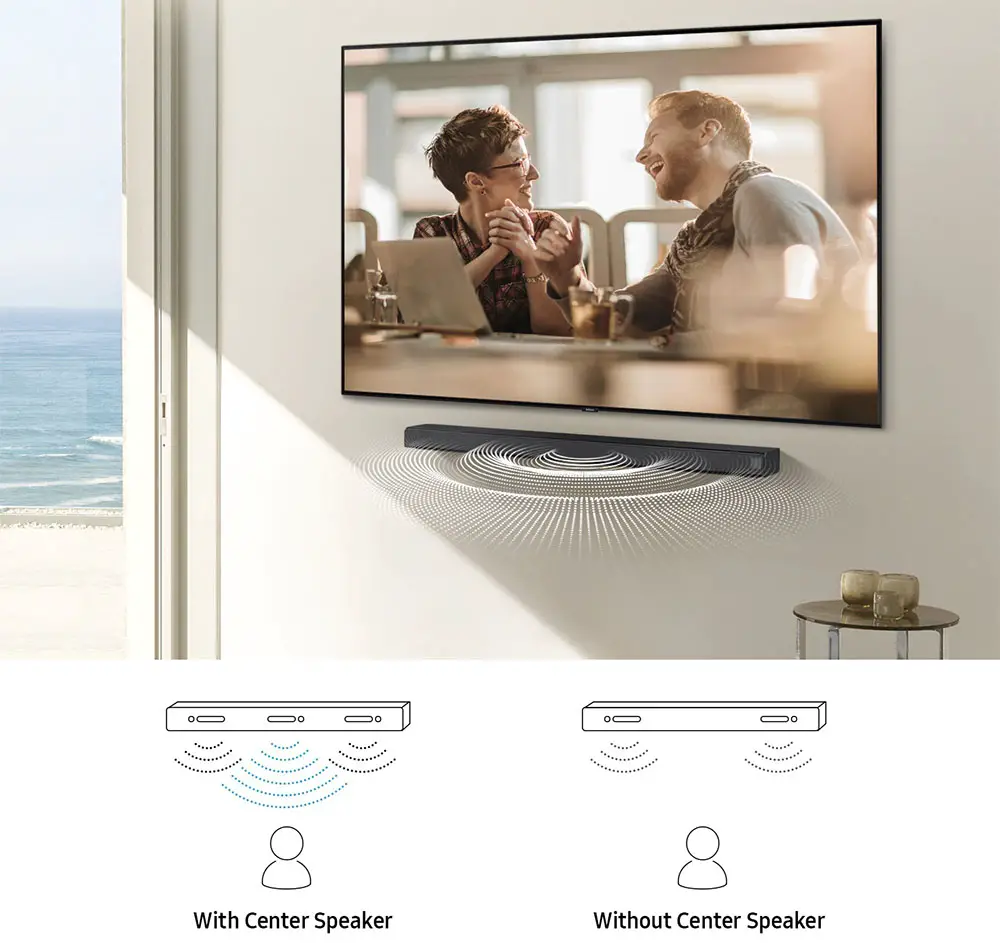 And while the HW-T650 did very good in almost all areas, if there is one aspect of it that really fails to deliver is in its surround performance. There is none really and with no surround speakers this was to be expected. All action was firmly positioned at the front and even surround effects that were supposed to originate from the back could only be heard from the front speakers which makes the outcome slightly weird at moments. If you are deadly serious about the surround performance we would strongly suggest you to get the optional Wireless Surround Sound Kit (SWA-8500S) because other than that your only option is to use the available DTS Virtual: X mode which we will talk about right now.
DTS Virtual: X is the mode that is supposed to create a more immersive surround experience without the need for dedicated surround speakers. This is achieved by using virtual technology in order to give you the illusion of sound from positions where there are no real speakers. This virtual tech can be neither as good nor as accurate as real speakers. But if you don't have the budget or the space to add more speakers this may be your only other option. So we are here to determine how good this is and if it can really provide you with an authentic surround experience.
Once again we tested some of the same scenes from Jurassic World as we did in our previous test but this time with the DTS Virtual: X mode engaged. To be honest the difference is immediately apparent but not all instances were for the best. First of all with this mode sound definitely feels more immersive. It has more volume and extents more to the sides and also slightly higher. Depth perception gets an upgrade both towards our viewing position and on the opposite side.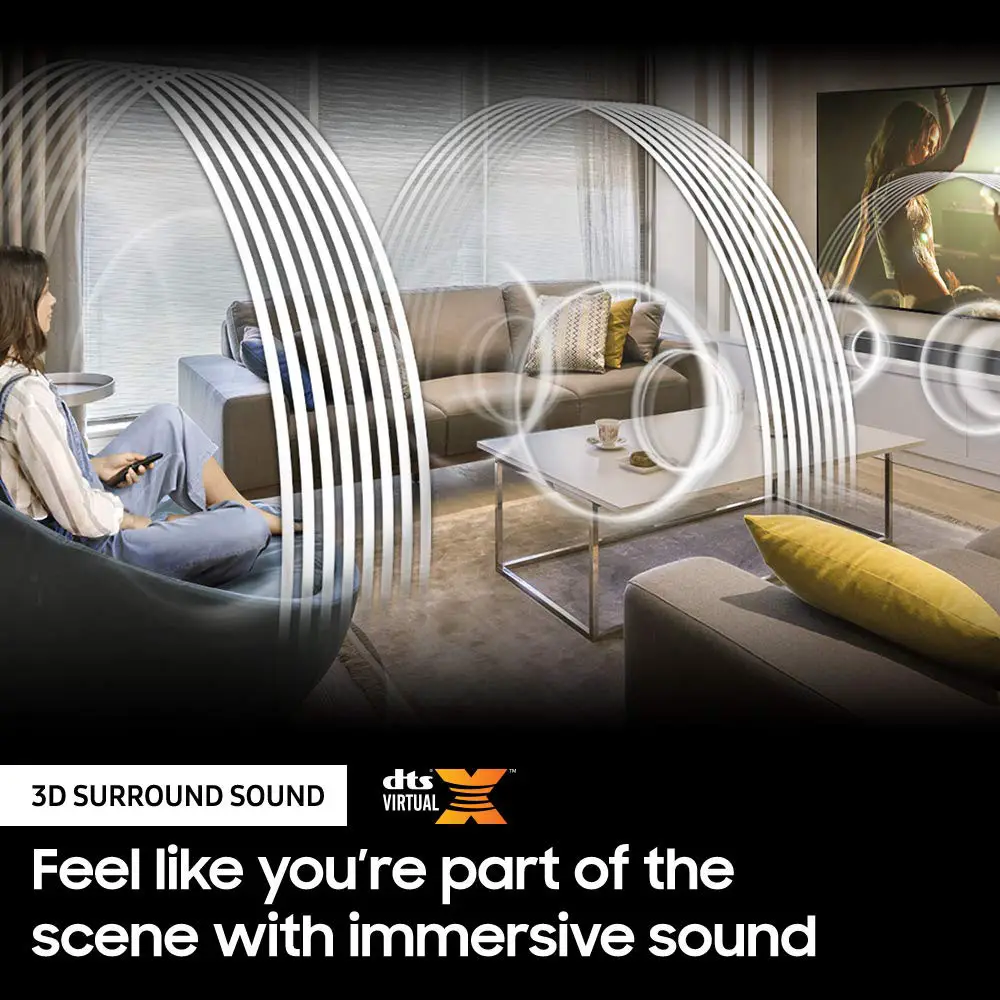 It's as if, with the DTS Virtual: X mode, the world suddenly became bigger. Does this means that it managed to completely encircle us? Not exactly. There were certain moments that we felt surround sound effects to originate from different positions other than the front but we cannot say that we felt sound really coming from the back. Maybe more to the sides and also closer to us is a more accurate description.
Also another thing to keep in mind is that due to the extra processing many effects sounded artificial and over-processed. Accuracy is not the best and many effects sound different or out of place than where they were supposed to be. This happens because the soundbar tried to guess where these surround effects should originate and its not always as successful as we would like. It's the standard weakness of this virtual tech and it doesn't have to do specifically with this soundbar. All audio equipment that utilize DTS Virtual: X exhibit similar behavior.
But to be honest in certain situations it can really do more good than harm. There were scenes where the jungle felt more menacing, dinosaurs more dangerous and action scenes in general more pleasing. And since there are many users that certainly don't mind a bit less accurate results in order to get this extra immersion DTS Virtual: X can be a good alternative to a non surround soundbar. And also keep in mind that usually the more confined your space is the more pronounced these effects will feel.
Music
Before completing our analysis there is one more thing to do and this is no other than our music tests. With the HW-T650 supporting some High Resolution Audio files we opted to go with some high quality FLAC files that we streamed through the available USB port.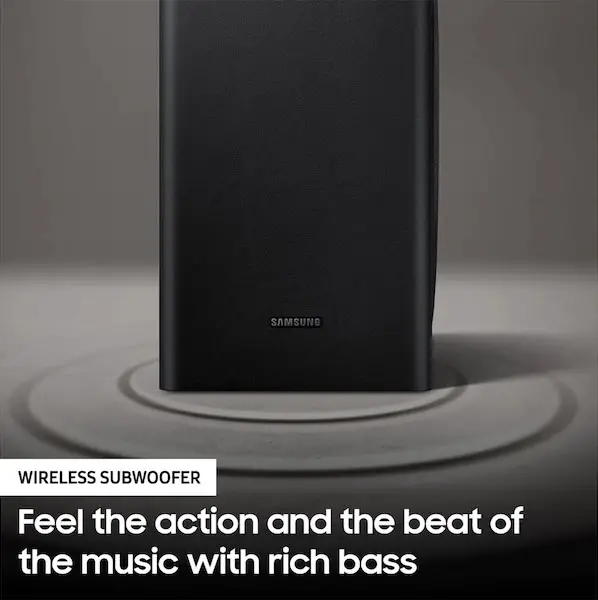 The front stage immediately became alive as the soundbar managed to recreate all sounds with good quality, nice details and plenty of resolution. It may not be the most highly rendered sound we have heard and this was to be expected from this moderate priced soundbar but for casual use it will be more than enough even if you look for something more than the absolute basics.
Stereo imaging was rather good although the unit lacked a bit in precision. Stereo panning effects were distinct and impressive even if they didn't have the impact we had experienced before. The subwoofer  provided a nice low end extension and followed the rhythms with a good tempo and without stumbling a lot during extremely demanding sessions.
The center channel did a good job at reproducing all the vocals with nice tonality and enough energy that bind nicely with the rest of the performance. Mid-range had good balance, even if not the best it could, and helped bring together the whole frequency spectrum without any major alterations.
In this price range you should obviously not expect to get any HiFi quality performance. But the HW-T650 is the kind of soundbar that has enough quality to provide you with a pleasing result that is certainly above the absolute basics and will provide countless hours of music enjoyment.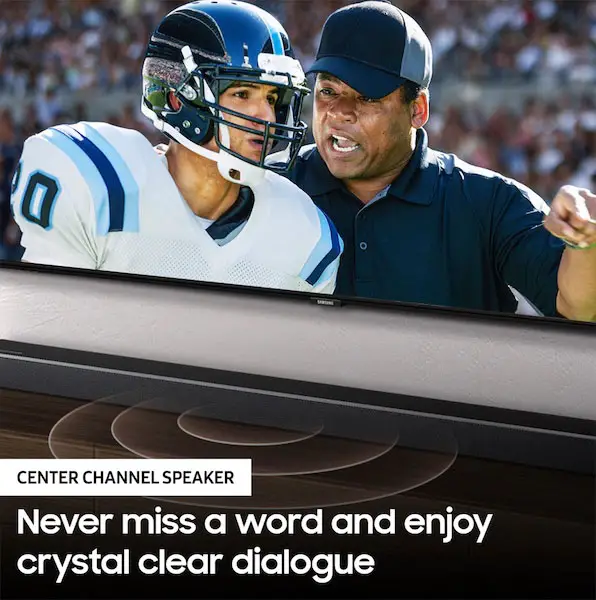 Final Thoughts
There is a huge selection of soundbars in the same price range of the HW-T650 with similar characteristics and specifications making it extremely difficult for any of them to stand out of the crowd. But nevertheless the T650 is really a good soundbar that has the whole package of an easy to use, good performing model that can be ideal for many different types of users.
On the one hand the HW-T650 is very easy to setup and start using in just a few minutes while the user experience is high due to the simplicity of its settings and features. Sound quality is very good considering the price and will surely upgrade the audio experience over anything your TV can spit out at any moment. If you add to these a nice design with good build quality and a few extras thrown in for good measure like Bluetooth streaming, USB playback, High Resolution Audio support and the ability to add optional surround wireless speakers then what we get is really good value for money.
On the other hand the soundbar will not astound you with its HiFi performance. It is enough to satisfy anyone looking for a casual experience but if you are particularly demanding you will not find what you are looking at here. Also without the rear speakers there is no real surround activity as all action was firmly fixed at the front. Even with the DTS Virtual: X mode engaged the end result leaves a lot to be desired in that front. And lastly, compared to other low priced models, the T650 can be considered a bit light on extra features lowering a bit its usability and overall flexibility.
The Samsung HW-T650 soundbar is a nice performing 3.1 channels combo unit and if you want to have it for mixed use it will serve you well. Either it be for movies, music or video games it never misses its mark. It may not offer the best of the best but it certainly knows where it belongs in the price ladder and what it can offer you in return making it worthy of consideration.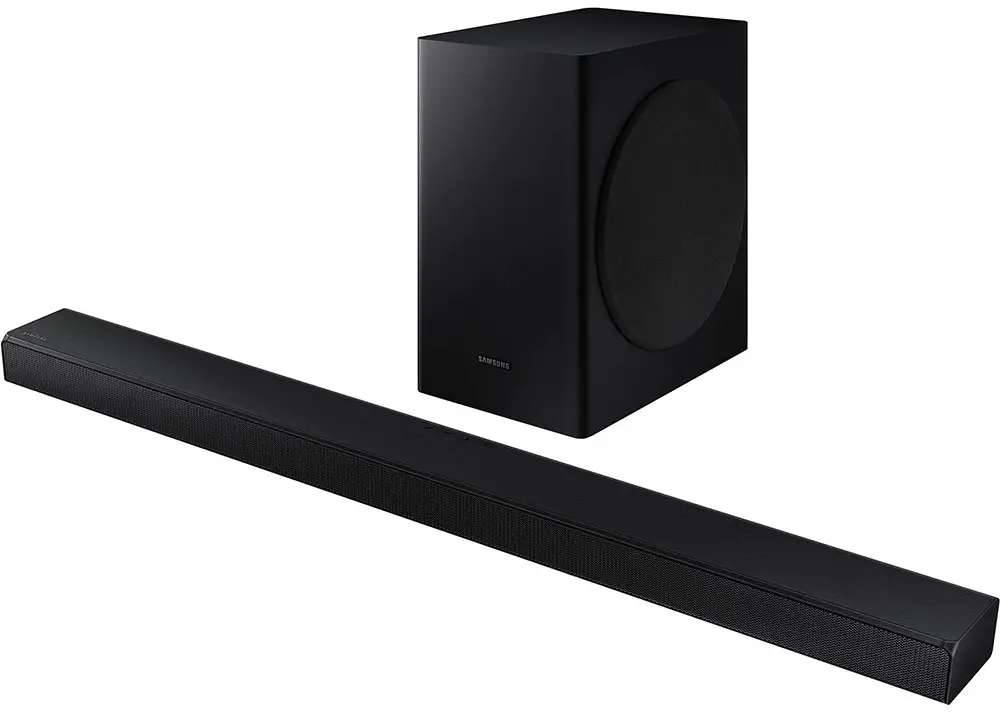 For more reviews you can check our dedicated Soundbar-subwoofer combo reviews list or even look at our Product Reviews Table where you can find the brand and specific product you are looking for.
Also don't lose the chance to subscribe to our Newsletter and gain exclusive privileges.
---
Cheapest Places to Buy :
---
Samsung HW-T650 Specifications