Samsung UN55MU8000 (US) - UE55MU7000 (Europe)
OS, Apps and Features
9.2/10
Pros
Very good black levels and contrast
Great motion handling
Low input lag
Solid brightness levels
Cons
Colors not as good as top tier models
Poor viewing angles
HDR could be better
Mediocre sound performance
---
Cheapest Places to Buy :
---
Samsung MU8000 sits comfortably in the middle of the company's 2017 lineup of TVs. This category is usually for those that are a bit limited by budget to go for the premium line but also want something more than just a low end 4K TV. In my opinion Samsung has managed to find a perfect balance with this series by keeping a few specs of the higher end models but cutting enough to keep the cost at a reasonable level. At the moment of writing this model costs around $1000 and this is a great price limit that Samsung aimed for by offering a 4K UHD TV with good HDR that will not break the bank. But this TV is worthy of it's price only if it can perform accordingly. So let's see how it fairs in our Samsung MU8000 review.
Design
The model we are reviewing here is the UN55MU8000 which is the flat US variation and it uses a bench type stand that extends to both sides of the TV. This type of stand may make it difficult to position in some narrow furniture but it definitely makes it better balanced. Also Samsung is using a new cable management layout that seems to be an improvement over 2016 models. The front panel has some very narrow borders and the metal frame gives a nice premium feel to an otherwise middle tier TV.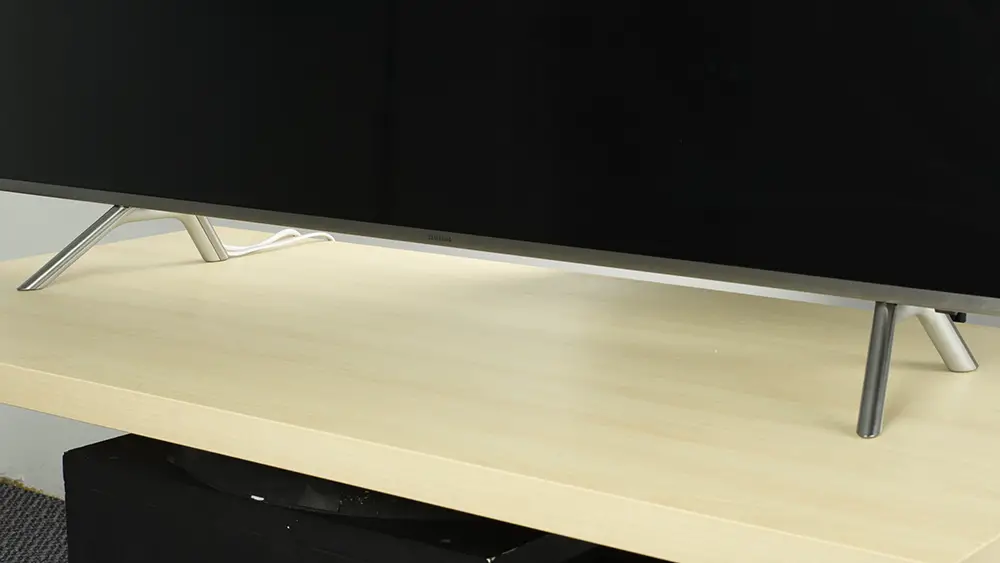 I never understood the reason but Samsung likes to use different model numbers in USA and Europe. So the US variant we review here, the UN55MU8000 in Europe is actually the UE55MU7000. I see very often people mix these model numbers and think that it's the same for all continents so be careful when you look for a specific model.
As with all of Samsung designs most of the ports and connectors are located separately from the TV at the One Connect Box. As a result what we get is a rather slim design that can very easily be placed on any wall. I always liked this design decision of Samsung as I only have to run two cables from the main body of the TV, the power cord and the One Connect Box cord. So I can hide the One Connect Box anywhere I want and run all cables from there away from viewing.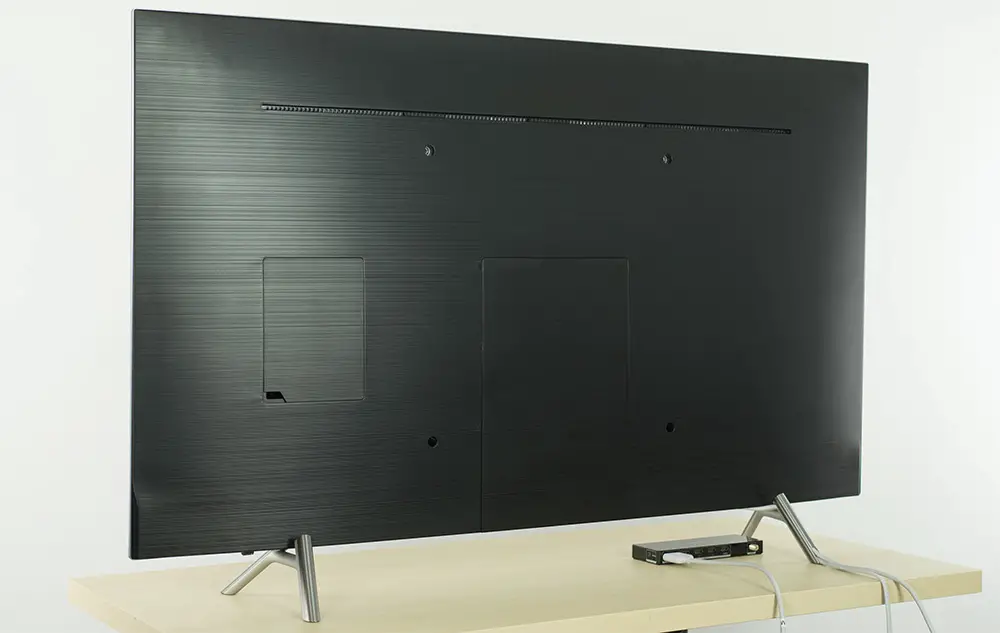 Video Quality
When you aim for a mid-range TV as the MU8000 you should always keep your expectations at check. Picture performance is not bad, on the contrary, it can deliver some very beautiful image quality but considering the price you shouldn't expect extremes like the top-range quantum dot models performance.
First of all the brightness of the MU8000 may not be able to reach such high numbers like the top QLED models of above 1000 nits but the TV is giving a very nice result and it definitely delivers on both color and brightness power even if the end result is not as breathtaking as we would like. As for HDR brightness things could have been better as HDR peak for 10% window was measured around 500 nits which is very average and I was expecting a bit more even for a mid-range TV as this. This model supports HDR10 and HLG but as with all Samsung TVs there will not be any Dolby Vision support as it seems the company is still against this.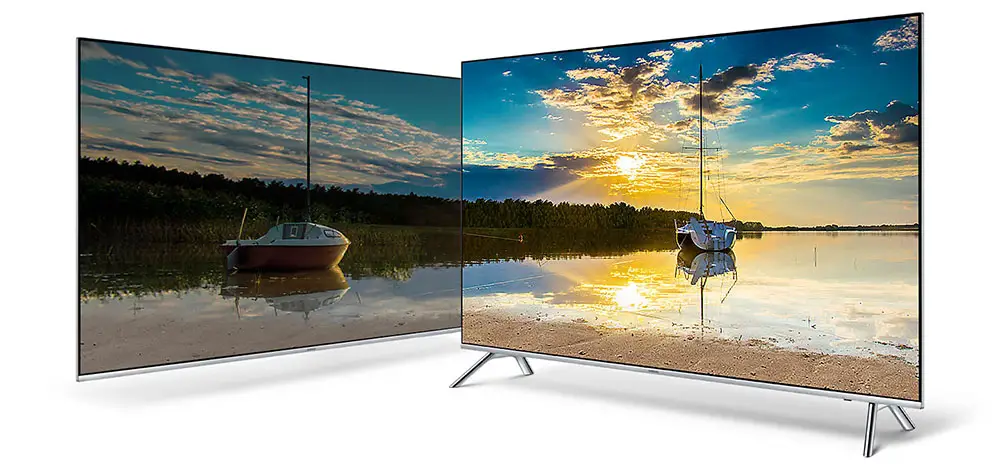 As for color performance Samsung may have given this model a 10 bit panel and wider color gamut but the end result is clearly second-tier quality. Colors may be vibrant but they never reach the extremes of the quantum dot models which use a wider color palette. Vibrant colors as well as more dark colors have a certain washed out feel to them and this happens because the wide color gamut volume is not shown to it's full extreme as other TVs do. For most users it may not be so apparent this lower quality but if you have spend some time with a few quantum dot models watching some HDR content then the difference can be very obvious at moments. But for the average user the end result will be more than adequate even great I would say.

As far as black levels the TV is giving a very good performance providing great uniformity and deep blacks that are very close to the 2016 SUHD models. Another feature that helps with black levels is local dimming technology that this model has and although it may not be as precise as it could be it helps to deliver deeper blacks when needed resulting in more realistic images and this will certainly please viewers.
The MU8000 is using a VA panel and this means only one thing. Poor viewing angles. VA panels may have good contrast but when compared to other 4K TVs that use IPS panels the VA panel of the MU8000 is lacking considerably. Maximum angle sits between 25-30 degrees from center and anything more than this will start to deteriorate the image considerably loosing in both saturation and contrast as well as lighting uniformity.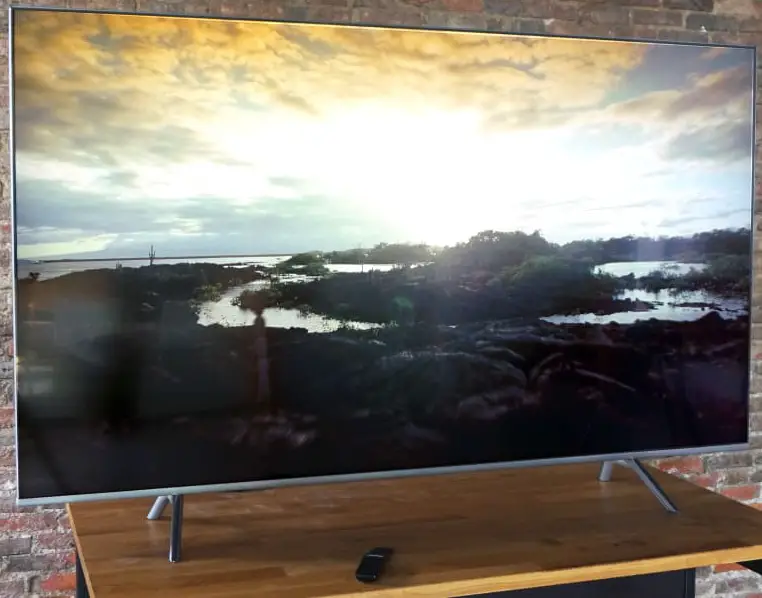 The MU8000 has a 120Hz refresh rate and this greatly helps at delivering very good motion performance. In addition it offers judder-free 24p playback and absolutely great motion interpolation for content of below 120fps. Input lag was very low at around 24ms and this is only good news for gamers.
Inputs
All inputs and connections are located to the separate One Connect Box. What we get is 4 HDMI 2.0a ports, all of them being HDCP 2.2 compatible, 2 USB ports for connecting external storage, a digital optical output, aerial inputs and the TV connector. On the TV you will find an extra USB port along with an Ethernet port for wired connection to the internet.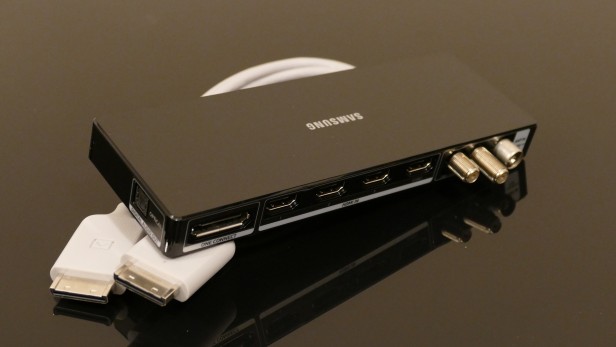 The One Connect Box is a great idea from Samsung as it gives you a lot of freedom on where to place it and how to manage your cables and one that I wished other manufacturers would also copy. As for the amount of connections we get I would say this is a pretty basic setup and one that you would expect from a middle tier TV. It may not offer the amount or variation of top of the line models but they are sufficient for most of your basic needs.
OS, Apps and Features
The MU8000 is using Samsung's 2017 Tizen platform which is the 3rd generation of this OS. This time it uses a white theme with nicer animations and navigation as well as responsiveness is very smooth overall. Tizen is a great smart TV platform with an easy interface where you can find anything you want easy and fast. At the bottom of the screen there is a row with all your favorite apps.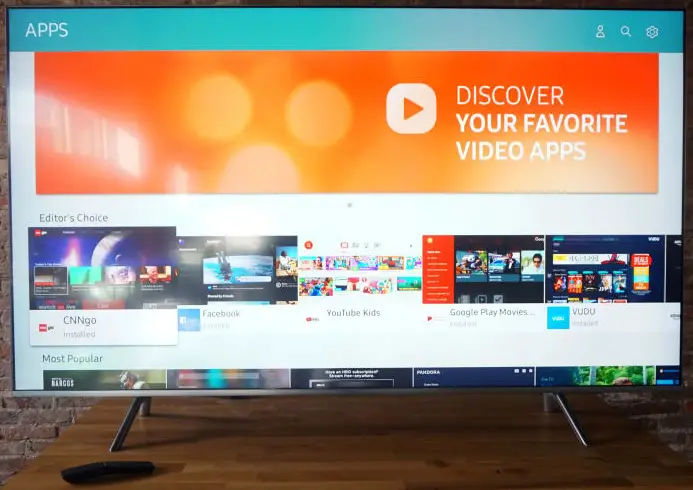 The good thing is that these apps even when closed still run in the background which makes it easy and fast to start them again without the need to navigate though all the menus of the TV to get the content you want. And of course everything can be customized to your liking by reordering the apps and deleting what you don't want.
Sound quality is average at best. Rising the volume can create audible distortions at all levels and this is definitely not a strong feature of this TV and I would suggest to use a dedicated sound system instead of the TV audio if possible.

Included with the TV is a smart remote with built-in voice commands functionality. It's the same remote Samsung was giving with their 2016 SUHD lineup with the only difference this time in the buttons that have a little different design. Issuing voice commands is easy and it helps to open certain apps and choose channels but it is not always registering the correct command you want. It's a nice feature but one that I didn't use very often. I like overall the smart remote of Samsung TVs. The first time I used it it was a bit weird since I was used in having traditional remotes with lots and lots of buttons but Samsung proved to me that if done right you don't need a lot of buttons to make it easy to use and functional.
Final Thoughts
I really like the Samsung MU8000. It's a TV that offers very good performance considering it's price. It may not offer top quality but it certainly has more strengths than flaws. It is a medium range TV with a few premium qualities. Contrast is great but HDR is average but certainly not bad.
If you want a 4K TV with HDR that can offer good image performance but your budget does not allow to jump on the premium lineup then the Samsung MU8000 is your best bet. And Samsung has proved with this model that you don't need a fortune to get good 4K with HDR.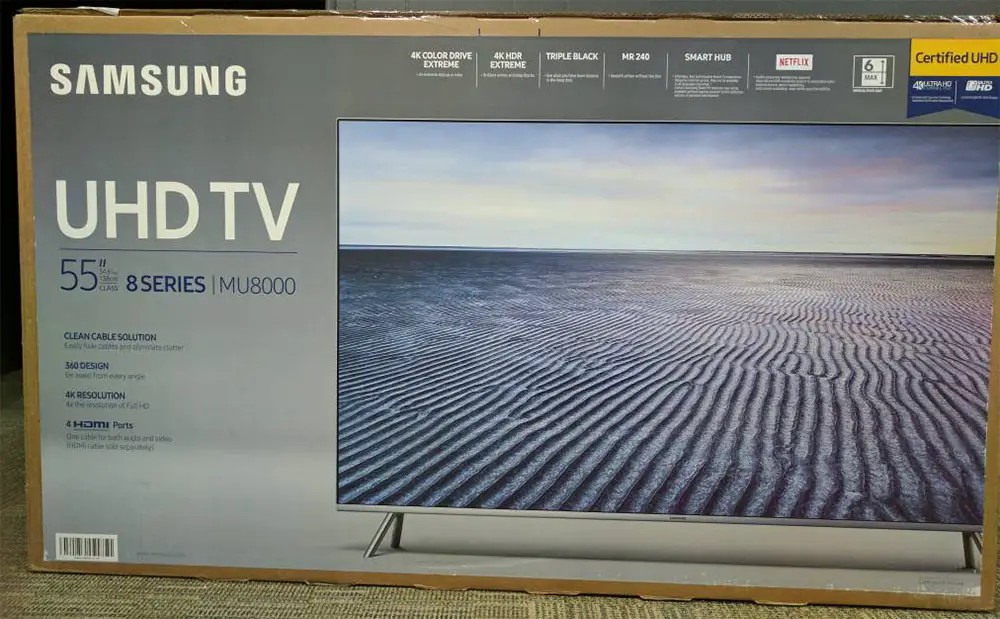 For more reviews you can check our dedicated 4K LED LCD TV reviews list or even look at our Product Reviews Table where you can find the brand and specific product you are looking for.
Also don't lose the chance to subscribe to our Newsletter and gain exclusive privileges.
---
Cheapest Places to Buy :
---
Specifications
Screen sizes: 49″ UN49MU8000, 55″ UN55MU8000, 65″ UN65MU8000, 75″ UN75MU8000 (USA)
Screen sizes: 49″ UE49MU7000, 55″ UE55MU7000, 65″ UE65MU7000, 75″ UE75MU7000, 82″ UE82MU7000 (Europe)
Resolution: 3,840 x 2,160 pixels UHD Flat panel
Processor: Quad-Core Processor
Color : 4K Color Drive Extreme
10 bit Support : Yes
HDR (High-Dynamic Range) : 4K HDR EXTREME – HDR10 and HLG support
Picture Engine : UHD Upscaling Engine
HD to UHD upscaling: Yes
Motion Rate : 240
Screen Lighting: edge-lit LED backlighting (top and bottom) with local dimming
Refresh Rate: 120Hz native refresh rate
Contrast Ratio: 4,754 : 1 (native, real contrast)
Black Level maximum: 0.020 cd/m2
HEVC (H.265) and VP9 support
Smart TV: Tizen Smart TV platform
Connectivity (all in One Connect box): 4 HDMI 2.0a – HDCP 2.2 ports, 3 USB ports, 1 Ethernet port, 1 Digital Audio Out
Built-in WiFi and Ethernet port
Sound: 40W, 2.1CH (Down Firing + Front Firing), Dolby and

DTS Premium Sound

support
Remotes: Samsung OneRemote Smart Remote
TV dimensions (55 inch model): 48.3″ x 28.0″ x 2.2″ inches w/o stand, 48.3″ x 30.8″ x 9.7″ w stand
TV weight (55 inch model): 39.5 lb lbs w/ Stand, 38.4 lb. without stand