Sony Q8FN (US) - Q8DN (Europe)
Design -

87%

Video Quality -

92%

Inputs and Ports -

93%

OS, Apps and Features -

90%

Price / Quality -

88%
---
Cheapest Places to Buy :
---
The Q8FN is the last of the QLED series in 2018 that we still hadn't review so it was time to look at the second in line model after the Q9FN flagship. In general what we can say is that although none of the QLEDs were able to achieve the black levels OLED TVs can, looking at their overall performance they managed to perform very well and give a very good alternative to the top TV technology that OLED is considered. Most of these models scored good marks in our reviews but not all of them managed to offer the top quality they are advertised for. You can check how the rest of the QLED TVs fared by reading our individual reviews in our Samsung TVs for 2018 article HERE.
As for the Q8FN, being the second in line in the QLED series we expected it to get very good scores overall if we take into consideration how the Q9FN and the Q7FN scored in our recent testings. All this and more in our in-depth Samsung Q8FN review.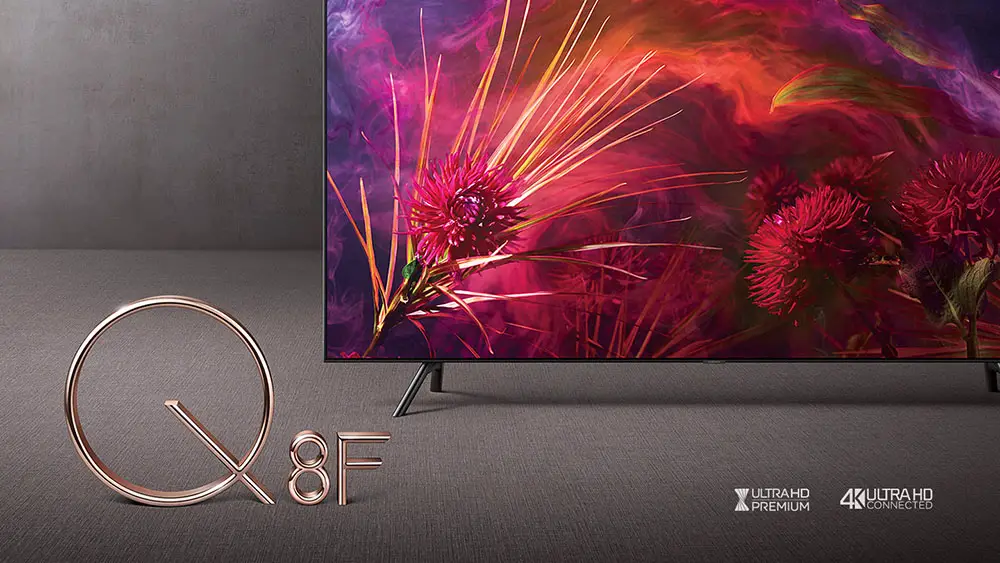 One thing that we need to make clear before we analyze each part of the TV is that we need to distinguish which model we are reviewing as the confusion with using different model numbers in different markets continue. In the US things are more straight forward as there is only one model called Q8FN and has a Full Array Local Dimming System (FALD). This is the one we will be reviewing today.
Now in Europe things can be very confusing. The exact same model as in the US, in Europe is called the Q8DN. There is also a Q8FN in Europe but has a few different specifications. It has a different centered stand design and uses an Edge LED system instead of FALD. And there is also Q8CN which is basically the curved version of the Q8FN. So if you live in Europe and want the best Q8 version then you will need to look for the Q8DN model as this features the superior lighting system. With this out of the way we can now start looking at the different aspects of the Q8FN.

Design
Being the second in line in the QLED series, the Q8FN has a few similarities to the Q9FN flagship but also some major differences. First of all it sports a 360-degree design that pays the same attention on the back as it does in the front panel. It also comes with a thin metal design frame that gives it a more premium look. The TV is thicker than some other models and definitely thicker than OLED TVs but not by much and this has to do mainly with the inclusion of the full array backlight panel. The difference is minimal so it will not be a problem even if you plan to wall mount it.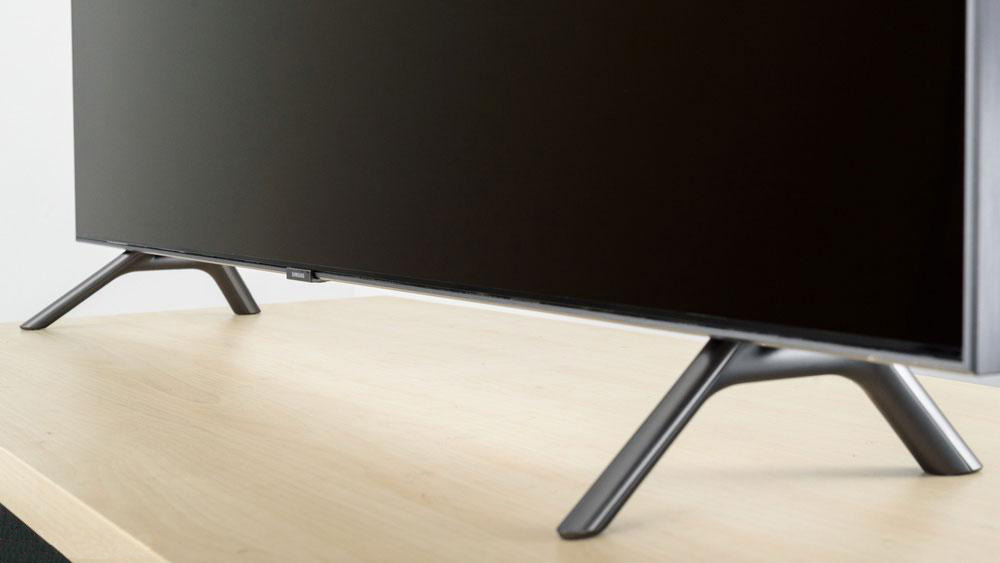 The Q8FN comes with a wide, bench-style stand and although it gives the TV more stability it may cause a few problems if your furniture is small enough. The stand has a nice design that looks slick and modern. The bench-style design allows for a soundbar to easily be positioned under the TV screen. We are not very fond of these types of stands purely out of preference as we prefer the more attractive Y-shaped center stands but in all honesty this depends entirely on taste and you make like it more than us. The back of the stands have special grooves that is part of cable management the TV offers and allows cables to run through them in order to hide them as much as possible.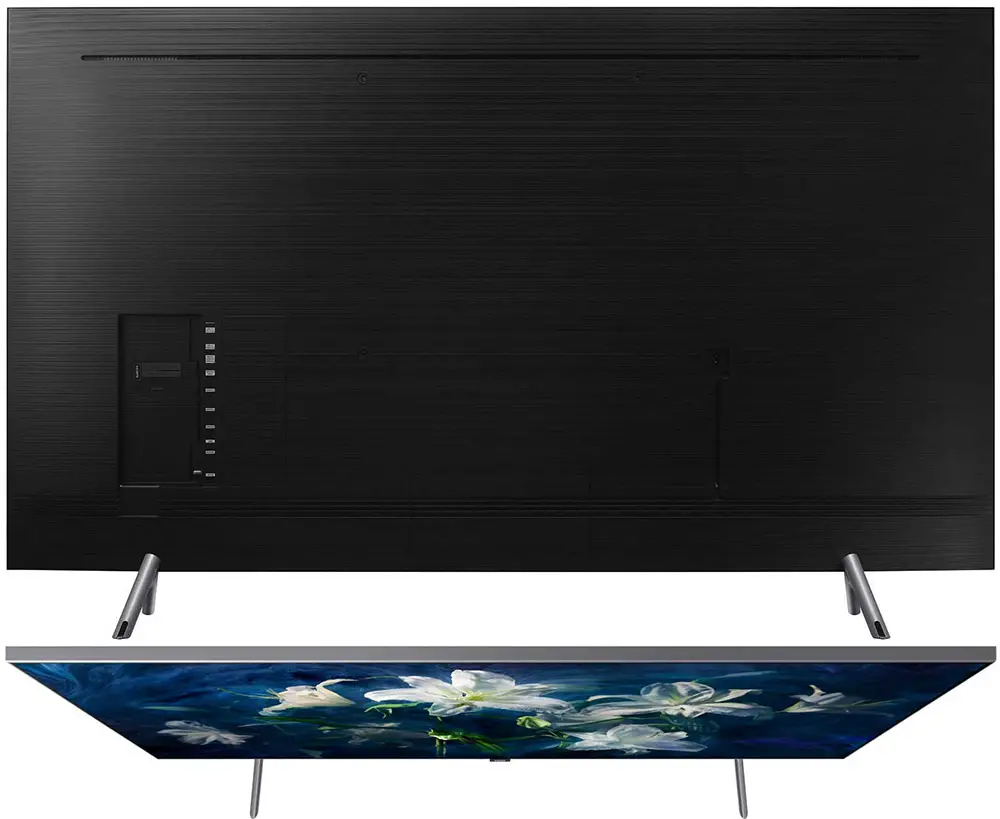 The major difference between the Q8FN and the other top of the line QLED models is that this one does not come with the One Connect Box. This means that all connections are housed on the back of the TV and as a result this impacts the overall design. We were definitely buffled by such a decision as we believe that such top of the line model should definitely come with such a premium feature and it was a major letdown to see that this was not the case. All ports are housed in an inset panel on the right side of the TV and we will analyze them on our dedicated section.
Another difference, even if a minor one, is that the Q8FN supports standard VESA wall mounts while the Q9FN came with the "no-gap" bracket for wall mounting. As for everything else, build quality is very good even though there is a lot of plastic being used. The overall design may not be as good as some ultra modern OLED TVs but it is effective and gives the Q8FN a sense of being a premium model.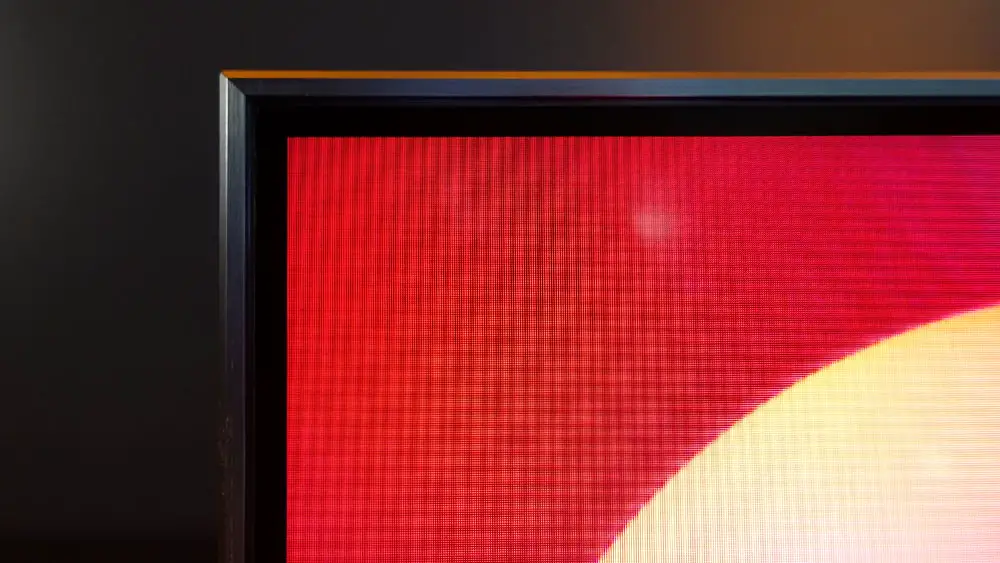 Video Quality
The Q8FN is using the same Full Array Local Dimming (FALD) lighting system that the Q9FN is using something that is very important in order to produce HDR with such intensity as it is advertised for. But there is one big difference between the two models. While the Q9FN was equipped with almost 480 dimming zones the Q8FN uses only 40. What this means is that the screen is split in 40 equally sized parts and the TV can manage the intensity of each of these parts individually.
So having smaller zones means better and more accurate control of the light. As you can understand the more zones the better. And while in bright scenes the Q8FN produces amazing results the low number of dimming zones is visible in dark scenes that have some very bright local highlights. In this situation you can see these highlights are often surrounded by halos. This happens because when you get as high as 1000 or 1500 nits of brightness the panel has a limit how much light it can block and naturally some of it will leak in the surrounding pixels resulting in this "washed out" effect.
The Q8FN also uses a couple more of the premium features that we found in the Q9FN flagship and the first is the anti-reflective coating (Q Contrast Elite) which rejects some of the ambient light and surrounding reflections and helps improve just a little bit the viewing angles. The second feature is Q Color which improves the volume and amount of colors on display.
HDR support is the usual we have seen in all the QLED series which means it supports the standard HDR10 as well as HLG and the new HDR10+ which is similar to Dolby Vision but unfortunately there is still very little support for it. Only Amazon Video supports HDR10+ at the moment but with no indication if the viewing content is actually HDR10+ or not it is hard to know when you are watching content with this new HDR protocol. Dolby Vision is absent in this model also as Samsung seems will try to promote the HDR10+ instead.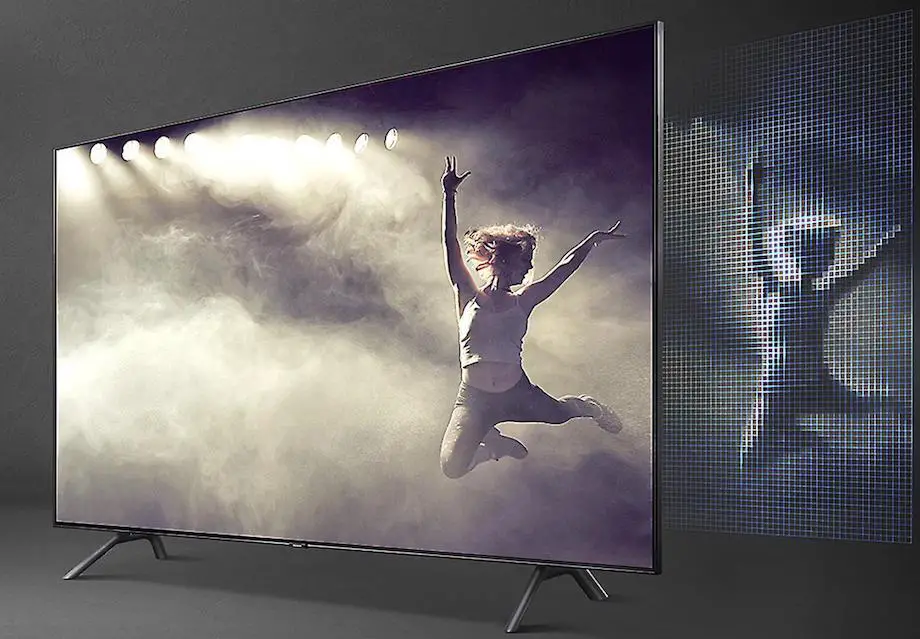 Let's see how brightness and HDR performs in this model. When we reviewed the Q9FN it performed remarkably with some of the best brightness performance we have seen to date. The Q8FN may not be able to offer exactly the same results as it's bigger brother but still managed to impress us with it's brightness and performance overall. When watching some 4K content the Q8FN manages to produce dazzling images with amazing highlights making the viewing experience really extraordinary. Samsung suggest the Q8FN can go as high as 1.500 nits of brightness so we were curious to see how close it can get to that number in real. From our measurements in full screen the Q8FN can reach around 550 nits while on a 5% window it almost reaches 1.200 nits of brightness which is very good overall.
The Q8FN also supports Wide Color Gamut (WCG) which means it can display a wider number of colors compared to non WCG panels. From our measurements we saw that it can produce around 98% of the DCI-P3 color space and around 78% of the REC.2020 color space which is some of the best color coverage we have seen till now. This means more lifelike colors and true to what the creators intended.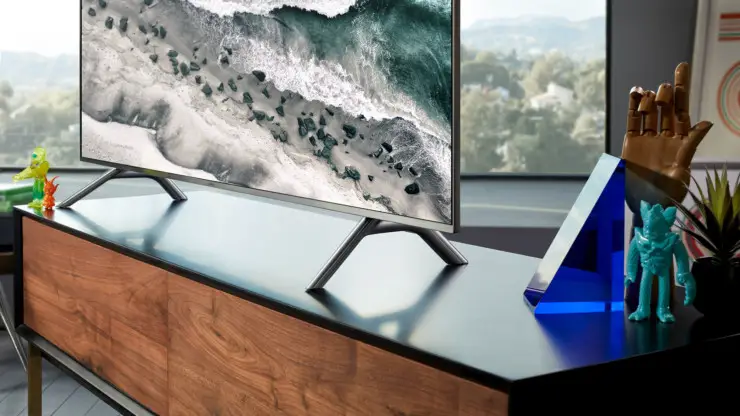 Black levels are generally good but the less backlight dimming zones are hurting the overall Q8FN performance. What we noticed during testing is that in dark scenes when there is sudden changes in very bright local highlights there is a delay in the backlight system until it adapts to the new scene. Depending on the scene this may be very visible but also pass completely unnoticed.
SDR performance was similar to what we saw with the Q9FN. Since there is no demand for such high brightness in SDR content the Q8FN performs admirably delivering accurate colors and overall great picture balance. Upscaling of SD content to 4K is great without any visible artifacts or extra noise.
Motion Performance is an area that Samsung is behind a little bit especially if you compare their models with Sony and here we see the same results. There is a certain amount of stuttering during fast camera motions but this depends on the viewer if it is bothering or not. The Q8FN is equipped with two features that can help with this. The first is 'Auto Motion Plus' that you can calibrate yourself to achieve better results. We would suggest to use low settings in order not to make the motion look artificial and to avoid the infamous 'Soap Opera Effect'. Another feature you can use is called 'Black Frame Insertion' (BFI) and what this does is insert a black frame between two individual picture frames. This is a relatively new feature that improves motion but some people may notice a bit of  flickering while the overall brightness takes a hit.
Input lag of the Q8FN was also very good and while using game mode we measured it at around 20ms which is excellent by our standards. It will definitely please not only casual but also hardcore gamers that want blazing fast response times for their gaming sessions. Samsung as with all their TVs use a VA panel which considerably limits the viewing angles of the Q8FN. Anything more than 20 degrees and both brightness and colors will start to suffer greatly resulting in a much lower viewer experience.
Inputs
As me mentioned earlier the Q8FN houses all of it's connections at the back of the TV as Samsung for unknown reasons decided to exclude the One Connect Box from this model. The ports all look sideways which may help a little if the TV is wall mounted but they are placed in such a way that once you have put the TV on the wall it will be very hard to access them and this makes us prefer the One Connect Box over this solution. The power connector is placed separately on the other side of the TV and makes power cable management just a little bit easier.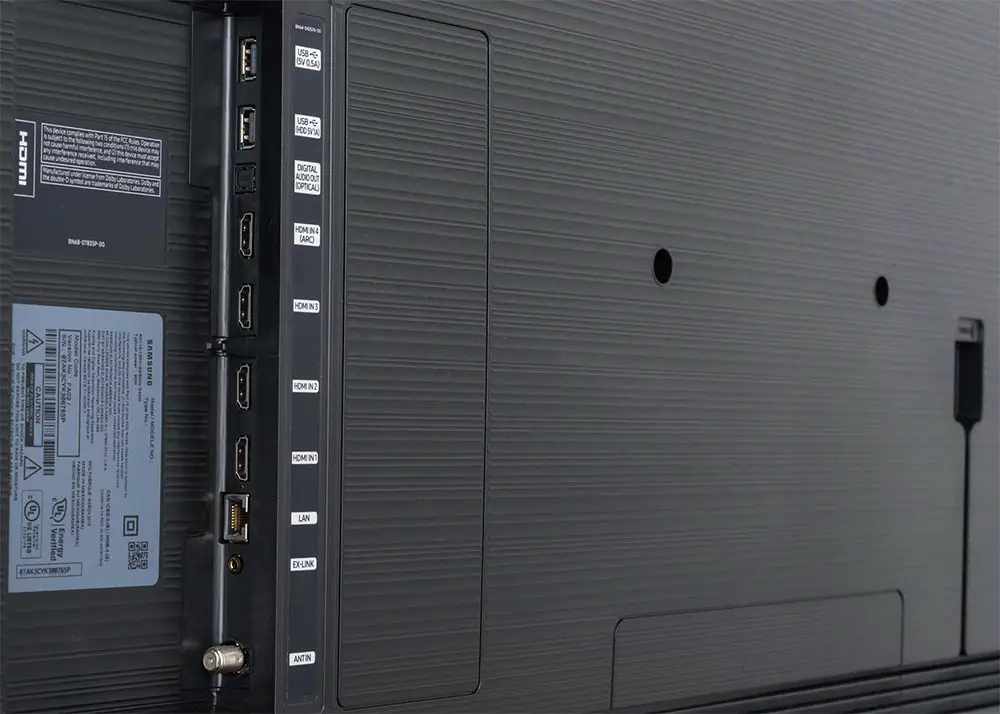 The ports that we found are 4 HDMI ports with all of them being HDCP 2.2 while HDMI 4 also supports ARC, 2 USB 2.0 ports, one digital audio out port (optical), one Ethernet port for wired connection to the internet, an EX-LINK connection and the terrestrial antenna port. Pretty standard in our opinion although we insist that the USB ports should be version 3.0 at least for the premium QLED series something that most manufacturers still are hesitant to include.
OS, Apps and Features
As with the rest of the 2018 QLED models the Q8FN uses the same version of Tizen platform and from the time we had checking it we didn't see anything different. One thing that we should mention is that according to Samsung policy all models that have the Tizen platform will not receive any future versions of the OS meaning that you are stuck with the one that is originally provided. A major letdown for sure  and one that we hope Samsung will change in the future but for now what you will see when you turn on the TV will be the same no matter what firmware update will be available for the specific model.
Samsung have used their proprietary Tizen OS platform for their entire QLED lineup as well as some other UHD models. We have reviewed the 2018 edition of their smart TV OS in our previous QLED 2018 reviews and it remains the same this time also. After you make all connections the TV proceeds with a thorough setup to calibrate everything like internet connection and broadcasting channels. Everything can be setup through the screen directions and is easy to understand and follow.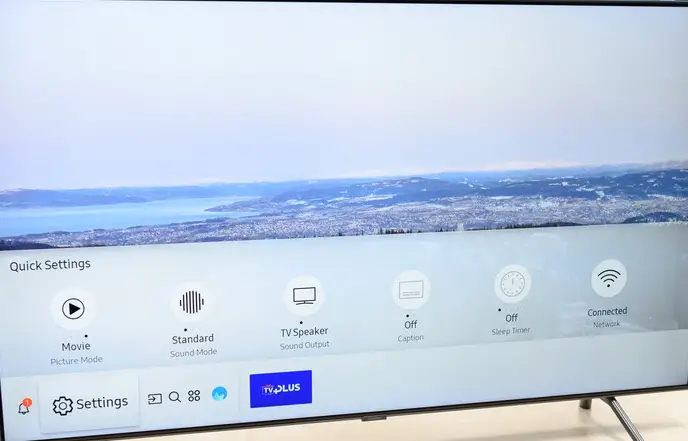 The Tizen smart TV platform offers an experience that really you have to see for yourself in order to understand. Over the years Samsung made improvements to the point that now it feels easy, fast and becomes a second nature once you learn where everything is and how everything works. On the bottom of the screen we find all the options you can choose from like settings, inputs and applications shortcuts while the upper part of the screen is used to unfold more details of the chosen app.
This setup makes navigation easy and fast and with the user interface completely full with options and setting this was a necessity. Find a specific setting or menu can be a bit hard for those not used to many options but certainly will make happy those that like to go deep into calibration options and handle even the tiniest detail of their TV.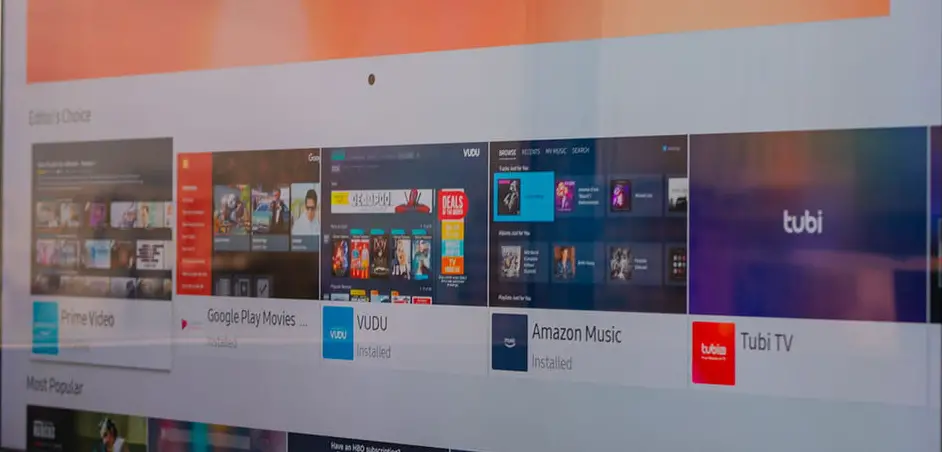 Tizen offers a certain amount of customization given that with so many options it was necessary to offer such in order to position everything to your liking. Unfortunately some applications don't unfold in the upper screen like others and this has to do with how developers are creating their apps for the specific platform. It would definitely help if all applications would unfold as it is a very practical way to use the applications and would definitely ease the menus navigation.
What is immediately obvious is the huge amount of applications that are being offered for online streaming services with some of them being Amazon, Netflix, HBO and Youtube. Loading of each app was fast and with no trouble. Playback was also smooth but this certainly depends a lot on the internet connection you have.
We would strongly suggest a wired connection in order to eliminate any potential problems that wireless connections may have. One small problem we noticed is that with so many apps, navigation can get a bit laggy some times. It's a problem we saw in some other QLED models also so this is not specific to the Q8FN. The problem was not big to frustrate us or distract from the overall experience but it is there and it is worth to mention it.
The Q8FN also comes equipped with the now famous Ambient mode that let's you turn the TV almost invisible to it's surroundings by using similar colors or textures to mimic it's environment. It's a feature that we cannot say we were enthusiastic about before and our opinion has not changed today either. As a feature it is always good to have but we suspect that very few will use it because when in this mode it continues to draw a certain amount of power and the end result depends a lot on the material you will choose to display. The Ambient mode we get in the Q8FN is not as extensive as the one used in the Frame that we reviewed recently as it offers less and more basic options.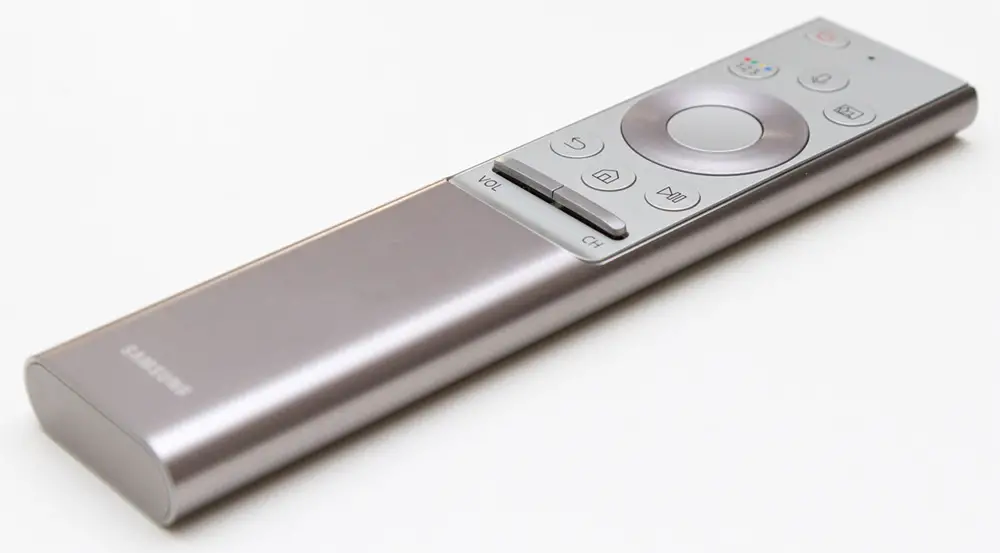 The remote that is offered with the Q8FN is exactly the same as the one we saw in the Q9FN. Samsung's One Remote is a really great smart TV remote that can only be rivaled by LG's Magic Remote. The One Remote that comes with the Q8FN has an aluminum casing giving it a really premium look. Buttons were easy to press but due to it's metal texture it may feel a bit strange to the touch. There are only a few buttons on the remote since most of the navigation is done through the on-screen options something we prefer than to have a cluttered remote with buttons that you probably will never use. The remote connects through Bluetooth and it was very responsive to our commands.
Final Thoughts
The Samsung Q8FN is an interesting model as it offers some premium features of the Q9FN flagship model but at the same time has a few major omissions. As far as image quality the Q8FN impressed us with it's performance as it managed with some calibration to offer very accurate colors and a very clean and sharp image. HDR was also another strong point as the Q8FN is a really bright TV. Having a Full Array Local Dimming lighting system helps a lot to the overall result. Motion performance was also good with the Q8FN which made fast action motion look great. In addition the Q8FN comes with the same Tizen smart TV platform offered in the Q9FN as well as the aluminum version of the Samsung One Remote.
On the other hand the Full Array Local Dimming system of the Q8FN comes with less dimming zones which means less accurate backlight control. Also there is no One Connect Box meaning that all connections have to be made on the back of the TV making wires management much more difficult. The stand also makes it difficult to place the TV on smaller furniture while for wall mounting the "no-gap" wall bracket solution that was in the Q9FN has been replaced with a standard VESA solution. Lastly as with all Samsung TVs there is no Dolby Vision support and this will be an omission that will haunt all Samsung models in the coming years.
Overall the Q8FN is a great TV offering image quality that is almost on par with the top of the line Q9FN but at a better price. For those that are only a bit shy of getting a Q9FN due to it's price, the Samsung Q8FN is a great alternative and a model that you cannot go wrong with.
For more reviews you can check our dedicated 4K LED LCD TV reviews list or even look at our Product Reviews Table where you can find the brand and specific product you are looking for.
Also don't lose the chance to subscribe to our Newsletter and gain exclusive privileges.
---
Cheapest Places to Buy :
---
Specifications
Screen sizes (US): 55″ (QN55Q8FNBFXZA), 65″ (QN65Q8FNBFXZA), 75″ (QN75Q8FNBFXZA), 82″ (QN82Q8FNBFXZA)
Screen sizes (Europe): 55″ (QE55Q8DNATXXU), 65″ (QE65Q8DNATXXU), 75″ (QE75Q8DNATXXU)
Resolution: 3,840 x 2,160 pixels UHD Flat panel
Processor: Quad-Core Processor
Color : Q Color
10 bit Support : Yes
HDR (High-Dynamic Range) : Q HDR Elite – HDR10, HDR10+ and HLG support
Picture Engine : Q Engine
HD to UHD upscaling: Yes
Motion Rate : 240
Screen Lighting: Full Array Local Dimming (FALD)

Depth Enhancing Technology

: Contrast Enhancer
Smart TV: Tizen Smart TV platform
Connectivity: 4 HDMI 2.0a – HDCP 2.2 ports, 2 USB ports, 1 Ethernet port, 1 Digital Audio Out, 1 RS232, 1 RF In (Terrestrial), 1 RF In (Satellite)
Built-in WiFi, Bluetooth and Ethernet port
Sound: 40W, 4.1 channels
Remotes: Samsung One Remote Smart Remote TM1850A
TV dimensions (65 inch model): 56.9″ x 35.8″ x 11.2″ /

1446.1 x 920.7 x 390.8 mm

with stand, 56.9″ x 32.8″ x 2.2″ inches /

1446.1 x 827.9 x 46.9 mm

without stand
TV weight (65 inch model): 54.7 lb / 27.2 Kg with Stand, 53.4 lb / 23.1 Kg without stand