---
Cheapest Places to Buy :
---
Last year was the first debut of QLED TVs, which is the technology Samsung is using in their top of the line TVs and even though they were looking good they were insanely expensive and had the major drawback of being edge lit based. It seems that Samsung have improved on these problems and for this year their most top of the line TV, the Q9FN or Q9F in Europe if you prefer, is cheaper than last years model and also is equipped with full array local dimming (FALD) which greatly improves the end result. But let's see how this second generation QLED TV fairs in general in our Samsung Q9FN Review…
Design
Since we talk about the best TV Samsung can offer to date, it is destined to be compared to the best OLED technology TVs from other competitors even for it's design and here things get a bit messy. From one side the TV doesn't sport the crazy thin designs of most OLED TVs and this has mostly to do with it's direct LED lighting that doesn't allow for a more slim design. If you want to wall mount the TV and you are a bit design sensitive then you may want to rethink it. It's not looking bad by any means but compared to the crazy thin OLED TVs it is a bit on the fat side.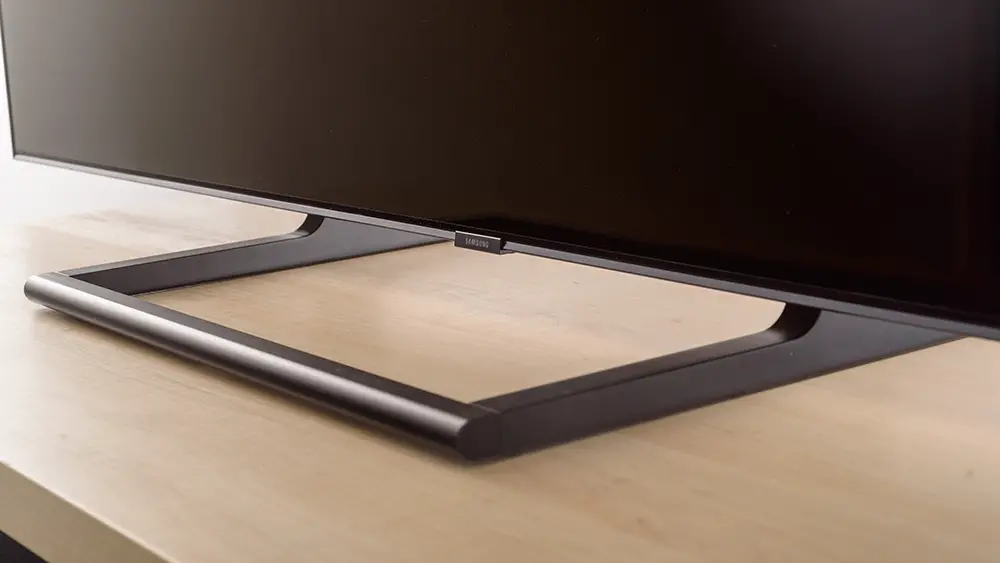 Gone is the time when the top of the line models were coming with a metal back as it seems most of them nowadays are covered mostly in a plastic body. It's not a big deal since we are talking about the back of the TV which most of the time you will not even see but it shows that manufacturers are trying to keeps the costs down in things that don't matter very much. The frame around the panel is very thin and I think this is a given nowadays with most higher tier TVs. The stand again varies depending on the country and in the USA we get a rectangle type stand while in Europe we get a Y shaped style stand. They are both functional but the European one is more practical because the USA design does not allow for a soundbar to be placed directly in front of the TV.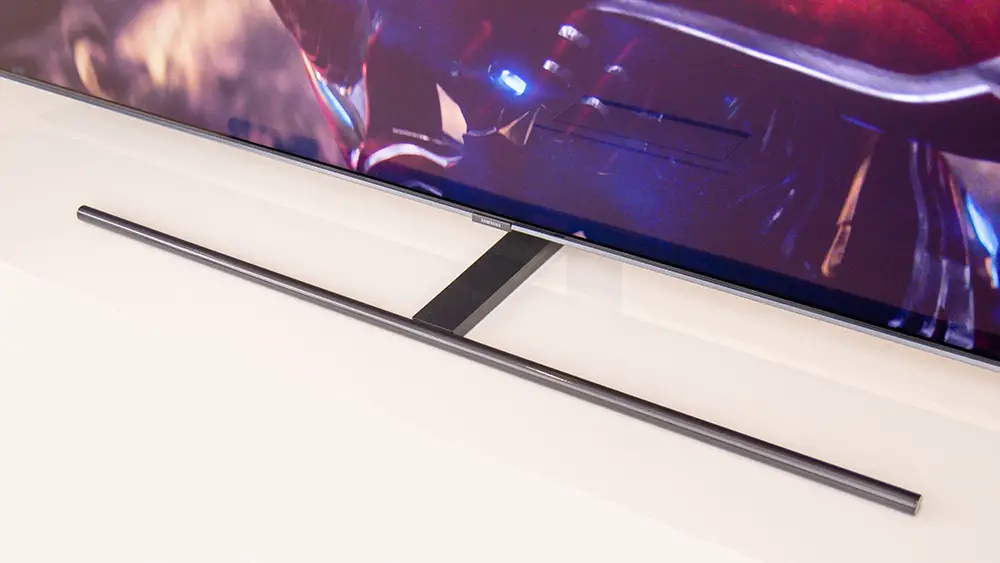 What is new this year as far as the design is concerned is that we get only one cable coming out of the TV. Samsung redesigned their One Connect Box in order to house not only all the ports but also the power supply of the TV. As a result only one cable is coming out of the TV and connects to the One Connect Box instead of two we were having till last year (Box connection and power supply). The result of this is that the One Connect Box became visibly bigger in order to house the power supply and the fanless cooling system. But no matter how big this thing gets you can so easily hide it in some closet or drawer and this is the magic of Samsung's design.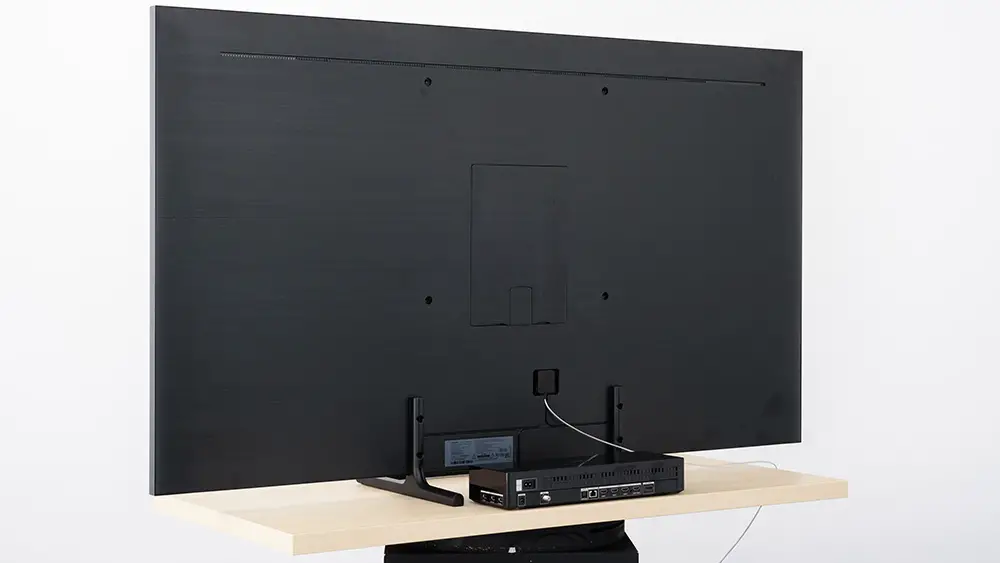 Video Quality
There are a lot of things that when put together make the image quality of this year's Q9FN to be breathtaking but what should be the center point is the decision of Samsung to go from an edge-lit system to a full array local dimming system (FALD) consisting of almost 500 local dimming zones making it one of the most advanced LCD TVs to date. The result is very evident in it's spectacular control over brightness and amazing HDR highlights while also offering good black levels and overall contrast.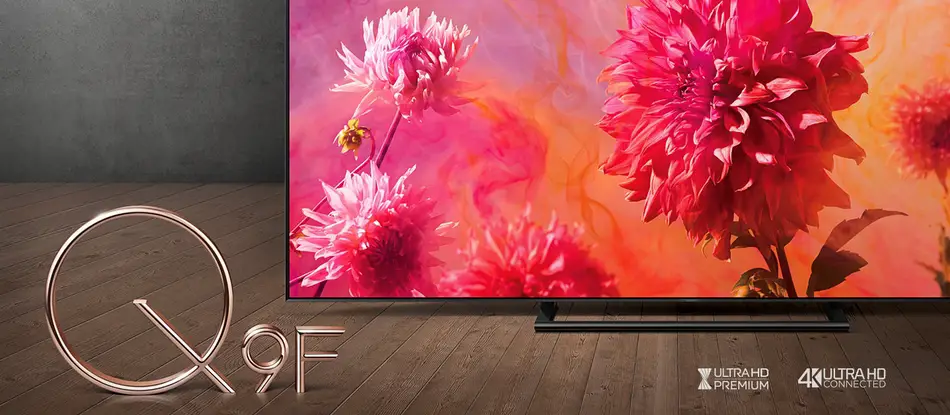 A few other features that help in improving the overall image quality is the use of a new anti-reflective coating (Q contrast Elite) that helps in rejecting ambient light and reflections keeping the surrounding noise as low as possible as well as improving a little the viewing angles. Also we get Samsung Q Color which improves the volume and amount of colors on display.
The TV supports HDR10 which is the standard for the HDR format but also HLG and HDR10+ which is the equivalent of Dolby Vision but it is not supported much yet and there are no disks that come with this format. Right now only Amazon video supports HDR10+ but we hope we will see bigger support in the future from all studios. The one big absent feature is Dolby Vision but it seems Samsung is determined not to support it and it only remains to be seen if their decision is for the best or not.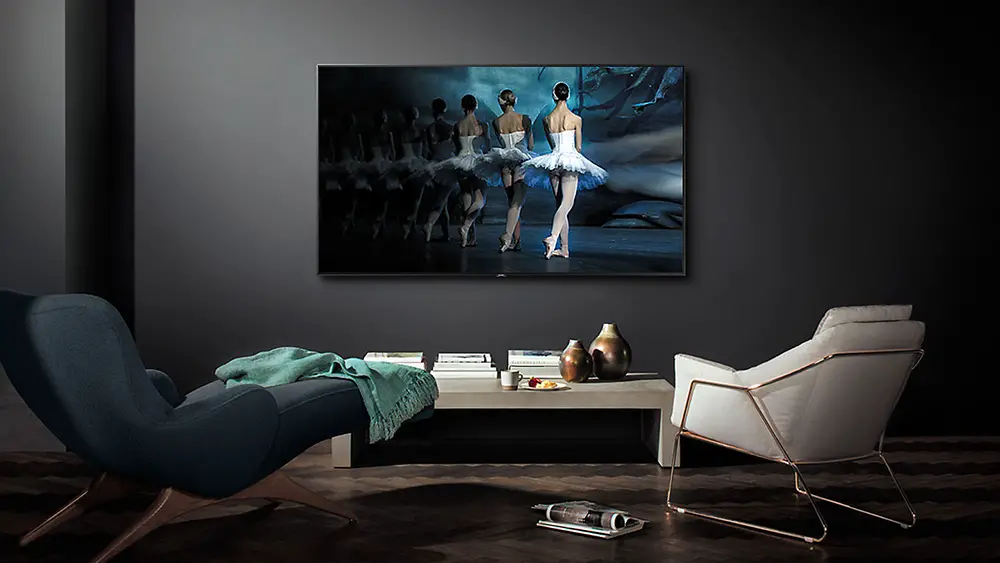 Brightness and HDR performance in general is some of the best we have seen in any LCD TV to date. Watching a movie on this TV is certainly a thrilling experience and you will not want to stop watching until the very end. Samsung suggests the TV can reach 2.000 nits of brightness but this is a theoretical number that can never be reached in real conditions. Measurements in normal viewing show that the TV can reach 650 nits in full screen and around 1.500 nits of brightness on a 5% window making this the best performance we have seen.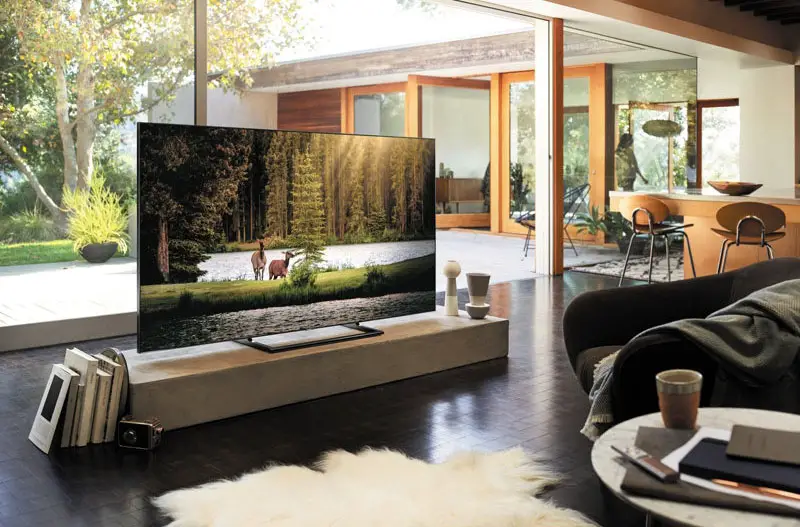 As with brightness the Q9FN delivers some of the best blacks an LCD TV can offer to date. Local dimming helps a lot on this and when calibrated correctly the TV offers great highlights, deep blacks and great backlight control. One minor issue I noticed with the backlight system is that in some scenes it cannot decide the intensity level to use resulting in what can be called pulsing or flickering of the brightness level. I see that other reviewers are experiencing the same issue so it is not a problem with the unit I reviewed and hopefully it's something Samsung will solve with a future firmware update.
Motion performance although very good was not the mesmerizing experience the TV offered with it's image quality. Motion during fast action scenes were good but only with the help of the TV's Clear Motion setting it did get a bit better. The Q9FN also sports some of the lowest input lag we have seen so far hovering around 21-22 ms on both SDR and HDR modes making it a gamer's heaven.
Inputs
As with almost all Samsung TVs the last few years all connections are placed on the One Connect Box that is connected to the TV with a single cable providing the power needed as well as all inputs and content it receives from it's inputs. As I explained above the One Connect Box has increased considerably in size mostly due to the power supply included in the box. As for everything else what we get here is fairly standard for a higher end TV.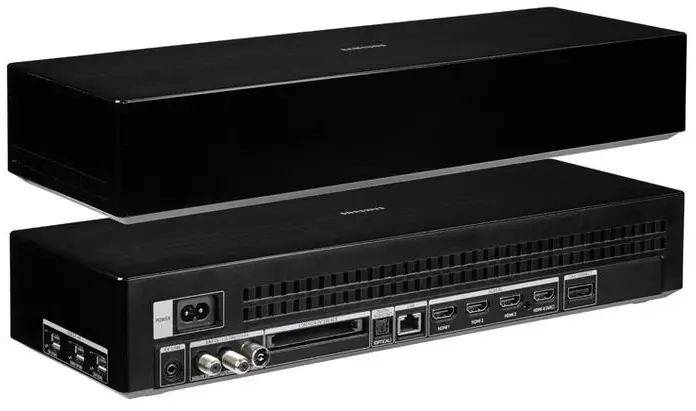 The One Connect Box includes 4 HDMI ports, 3 USB 2.0 ports, an optical Digital audio out port, a TV tuner port to connect an external antenna as well as an Ethernet port if you prefer wired connection to the internet. My only complaint is that the USB ports are only 2.0 and not 3.0 and this is unacceptable for such a high end device to still use this archaic version when 3.0 is around for so many years now.
OS, Apps and Features
Samsung continues to use their Tizen smart TV OS system and they have updated considerably lately making it one of the best and feature complete TV OS in the market today. Once you make all connections to the One Connect Box the TV handles all the setup. You can use your smartphone to add text and change settings so things get much easier than using the remote. Only for the over-the-air (OTA) broadcast  channels through the TV tuner you will have to switch to the TV remote for calibration. After this is done you are good to go and to tell you the truth you get so many options and features that it really is breathtaking.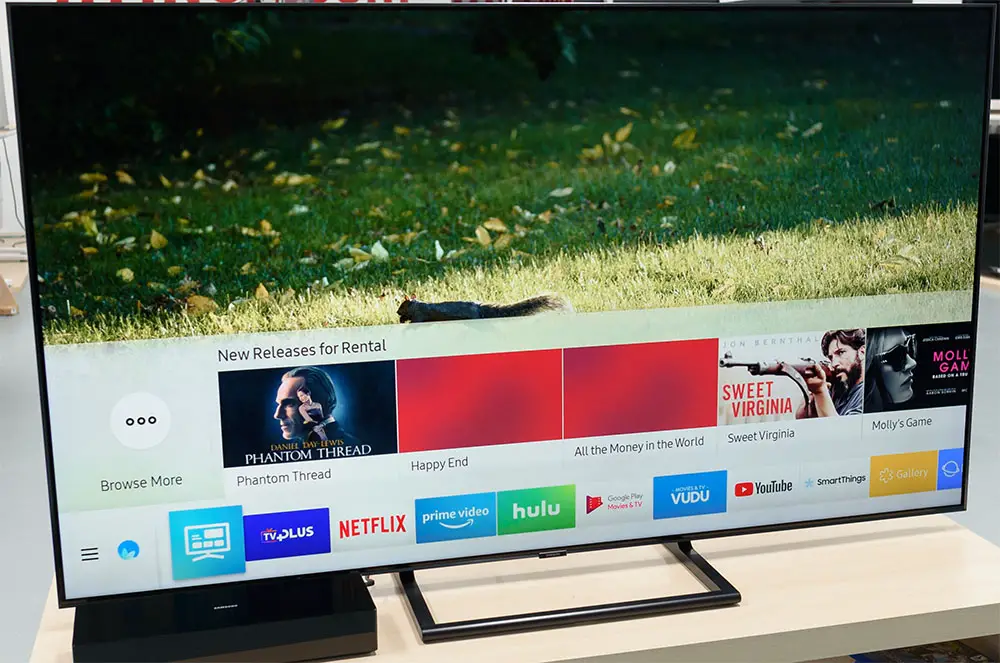 The experience you will have using Samsung's smart TV functionality in the form of the Tizen OS couldn't be any better. The menu is separated into two different parts. The bottom one where all main options are like inputs, apps shortcuts, video sources etc and the upper part that unfolds every time you move your cursor to one of the main options. This makes loading of the apps very fast and easy to navigate inside each app. The user interface is fully packed with advanced options and settings something that is good for those willing to dive deep into calibrating their TV the way they want but since most people will not even use them it can be hard for some to search for a specific feature.
With so many apps,menus and settings it is a given that the user interface offers customization so you can reposition the icons the way you want in order to suite your needs. One thing I paid attention to was that some of the apps don't unfold to the upper part like some others do and I guess this has to do with each app and it is up to the developers to take advantage of Samsung APIs to use this effect. It's not a big deal but it helps and hopefully more developers will use it in the future.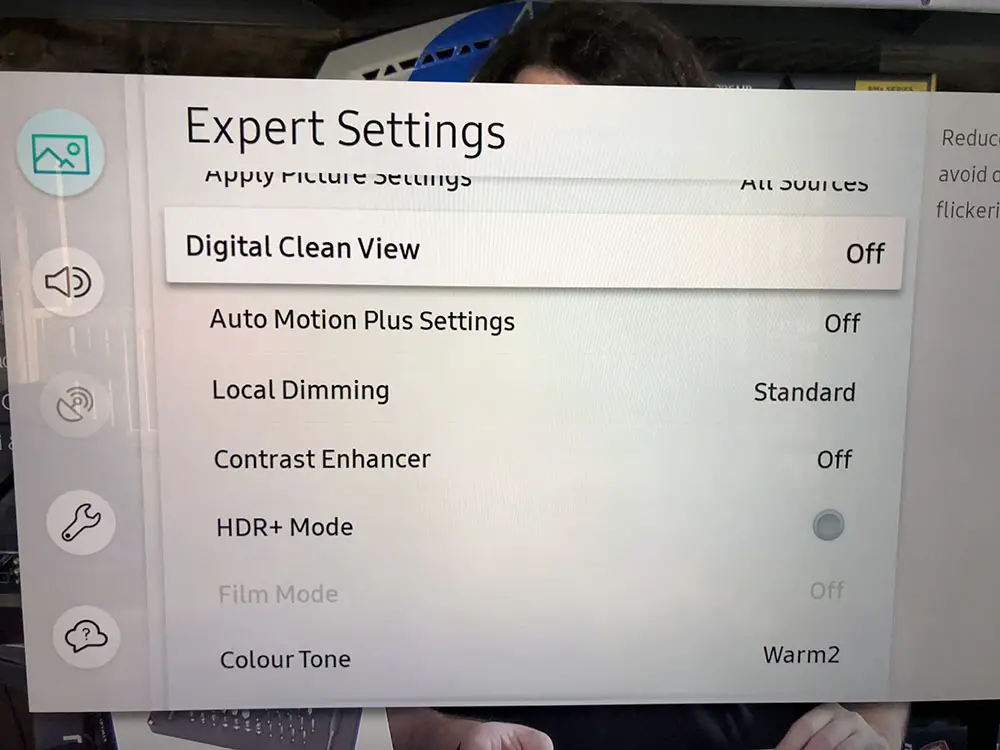 There is a plethora of apps that you can find like Amazon, HBO, Netflix and youtube just to name a few and all of them seem to boot very fast without any noticeable problems. Also playback continues from where it was stopped so this also helps for fast viewing. But what I noticed is that menu navigation can lag a little bit. It was not a big problem and certainly does not distract from the overall experience but for a TV like this you would expect smooth menu navigation.
The TV offers automatic game mode switching which means that you don't have to change mode every time you play a video game. The TV is capable or recognizing when it displays a video game by analyzing the content and not the input and make the switch accordingly. Something that gamers will definitely find useful.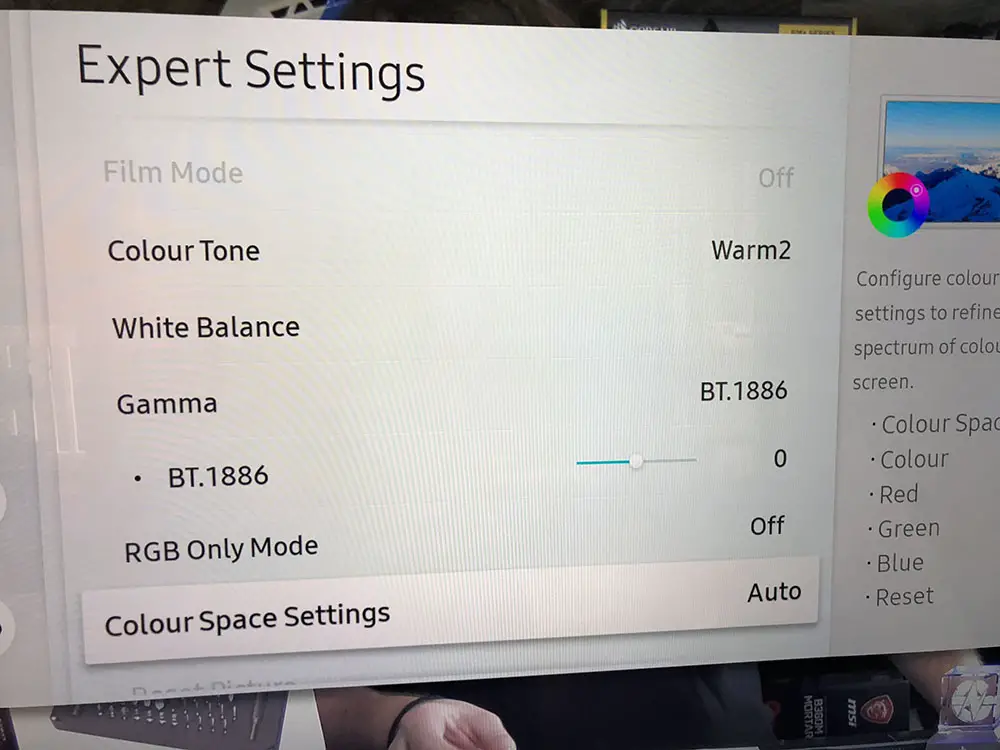 The Q9FN also sports a new Ambient mode in which the TV tries to mimic it's surroundings by using similar colors and textures. The end result is a bit of a mixed bag and it depends on the quality of photo and the lighting but if the photo displayed is good the end result can be very good making your TV almost invisible. A nevertheless interesting feature even if it's something not very useful to most people. Keep in mind that being in ambient mode the TV draws a considerable amount of power so this is also something that makes the feature more of a gimmick than a useful feature.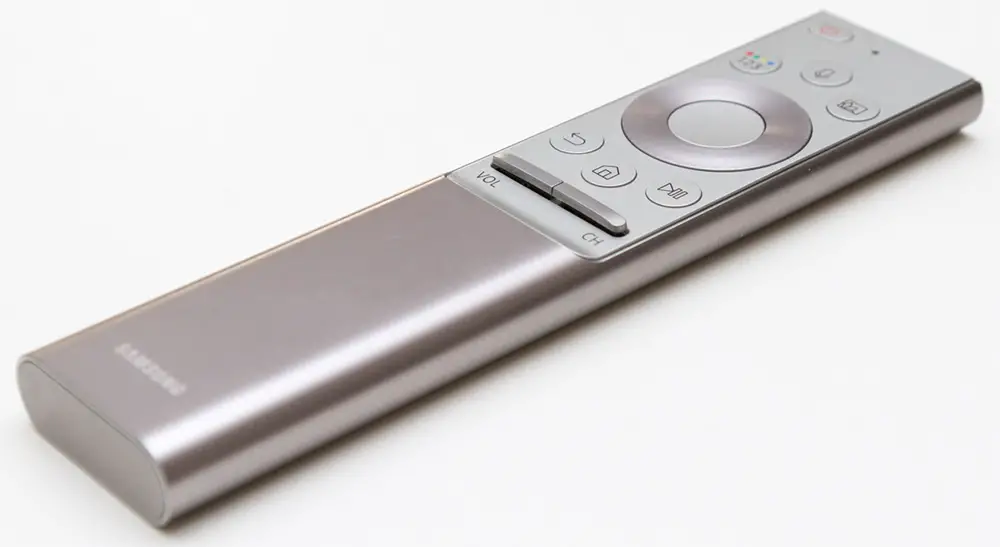 The first time I used Samsung's smart remote was in 2016 KS series and from that year on there are small but steady improvements every year. For this year Samsung equipped the remote with an aluminium casing that really makes it look premium quality. I didn't have any problems with the buttons as they were very responsive and easy to use. Voice commands was a mixed bag as some commands would not register as good as others but this is a feature I rarely used so I don't find it a big deal.
Final Thoughts
Samsung seems they have improved their QLED technology this second time around compared to last years offering. Turning from edge lit to direct lit with great local dimming technology was the right thing to do and this greatly improved the overall image quality by giving the chance for the quantum dot technology to show it's full capabilities. HDR in this TV is simply breathtaking. Also the TV is fully packed with features, so many that some may find overwhelming but in general this will please even the most die hard users that want everything they could ask for.
On the other hand QLED is no OLED and although Samsung is improving black colors with every year's offerings it can never reach the deep blacks OLED technology offers. Also no Dolby Vision support may be a big minus for many people even though it supports both HDR10 and HDR10+.
In the end of the day the Samsung Q9FN is a spectacular TV with mesmerizing HDR and brightness capabilities but also with good black levels making it one of the best LCD TVs in the market today as well as a worthy competitor to some of the best OLED TVs out there.
For more reviews you can check our dedicated 4K LED LCD TV reviews list or even look at our Product Reviews Table where you can find the brand and specific product you are looking for.
Also don't lose the chance to subscribe to our Newsletter and gain exclusive privileges.
---
Cheapest Places to Buy :
---
Specifications
Screen sizes: 65″ Q9FN, 75″ Q9FN (USA)
Screen sizes: 55″ Q9F, 65″ Q9F, 75″ Q9F (Europe)
Resolution: 3,840 x 2,160 pixels UHD Flat panel
Processor: Quad-Core Processor
Color : Q Color
10 bit Support : Yes
HDR (High-Dynamic Range) : Q HDR EliteMax – HDR10, HDR10+ and HLG support
Picture Engine : Q Engine
HD to UHD upscaling: Yes
Motion Rate : 240
Screen Lighting: Direct Full Array Elite

Depth Enhancing Technology

: Q Contrast EliteMax
Ultra Black: Ultra Black Elite
Smart TV: Tizen Smart TV platform
Connectivity (all in One Connect box): 4 HDMI 2.0a – HDCP 2.2 ports, 3 USB ports, 1 Ethernet port, 1 Digital Audio Out, 1 RS232
Built-in WiFi and Ethernet port
Sound: 60W, 4.2 channels, Dolby

Sound

support
Remotes: Samsung OneRemote Smart Remote
TV dimensions (65 inch model): 57.1″ x 32.7″ x 1.5″ inches w/o stand, 57.1″ x 34.1″ x 14.4″ w stand
TV weight (65 inch model): 62.8 lb w/ Stand, 58.9 lb without stand