Samsung QN90B
Reviewed at $1,799.00 (55")
Product Name: Samsung QN90B
Product Description: 2022 4K Neo QLED TV
Design -

9.5/10

Video Quality -

9.2/10

Ports & Connectivity -

9.4/10

OS, Apps and Features -

9.5/10

Price / Quality -

9/10
Summary
Reviewed at $1,799.00 (55″)
Pros
Amazing SDR and HDR brightness
Perfect for movies and gaming
New Tizen
Four HDMI 2.1 ports
Cons
No Dolby Vision or DTS
Blooming still visible
Slightly worse colors and contrast
Mediocre sound
---
Cheapest Places to Buy :
---
On our last review we had the chance to try out the new Samsung QN85B which was the most affordable mini LED Samsung has on offer for 2022. Today in our Samsung QN90B review we have the opportunity to test the next model in the series which is a direct replacement of last year's QN90A and comes with certain improvements compared to its smaller brother.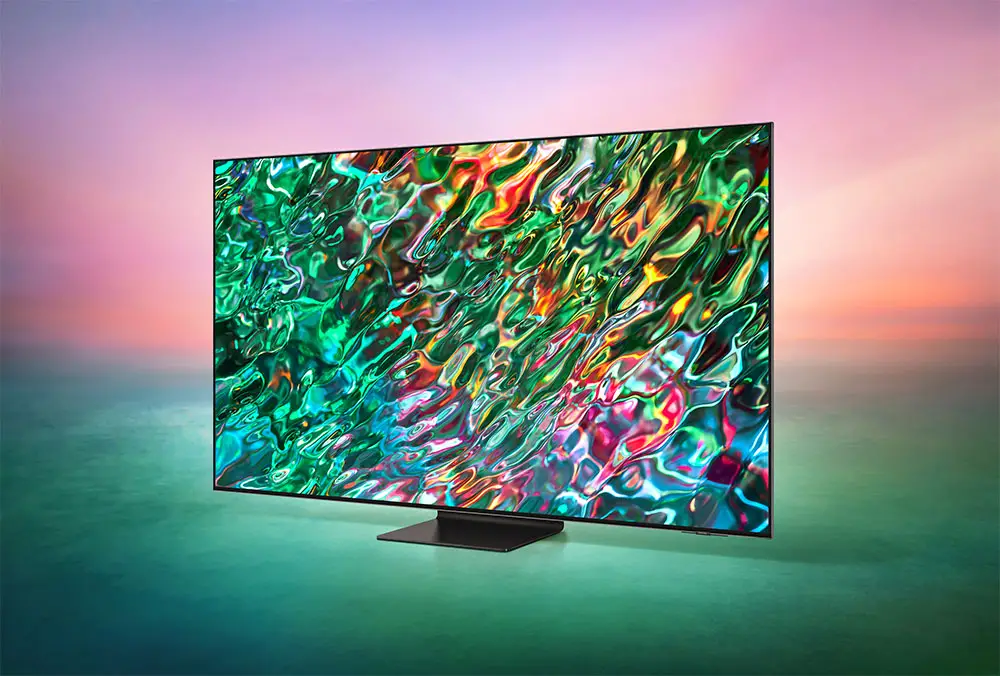 Although Samsung introduced their QD-OLED technology this year their Neo QLED series still remains their top tier series and have put a lot of focus with a total of six models, three with 8K and three with 4K resolution. The QN90B sits exactly in the middle of the 4K batch below the QN95B, which for the first time will be released in the US market, and above the QN85B.
The QN90B seems to be very similar to the 2021 model but there are a few very obvious additions and updates that surely makes the new QN90B a more interesting choice. It will be offered in no less than seven sizes from 43″ up to a gargantuan 98″ one. It comes with a VA panel with 120Hz frequency, it uses Samsung's Neo Quantum Processor 4K, supports HDR10+ and for sound uses the Object Tracking Sound+ (OTS+) audio system with Dolby Atmos. This year, as with many Samsung models, we get four HDMI 2.1 ports and uses the latest Tizen 2022 platform.
From the above the most obvious and at the same time most important update is that the QN90B comes with four HDMI 2.1 ports which was not the case last year, at least not for all markets. But is this the only aspect of the TV that have changed? Let's begin our analysis to find out.
Design
It seems that in terms of design Samsung decided to keep everything the same as the QN90B seems awfully similar to the 2021 QN90A. In fact even having these two models side by side makes it hard to point out any differences between them. The design, thickness, even the stand are like for like.
Keep in mind that the QN90B does not use Samsung's One Connect Box that allows all connections to be made on a separate box and for that you will have to go for the next model in the lineup, the QN95B. The QN90B uses the more traditional ports layout on the back of the TV's panel instead.
Being basically the same, the QN90B uses once again Samsung's NeoSlim Design making the TV incredibly thin. Basically this comes down to the fact that the QN90B instead of using a Full Array with Local Dimming backlight system uses the new mini LED one which helps to minimize its overall thickness greatly, we measured it just 1.06″ (2.7 cm), making it look amazing when hanged on the wall.
The back side of the TV is covered by a plastic panel that in true Samsung fashion has a brushed texture look on it. All ports are grouped together in an inset that is placed at the left side and all look sideways for easier access if you have it on a wall while on the lower part there are special grooves in order to place your cables and drive them through the central stand. The power connector is placed on the right side while the only other thing at the back is the holes for a VESA wall mount.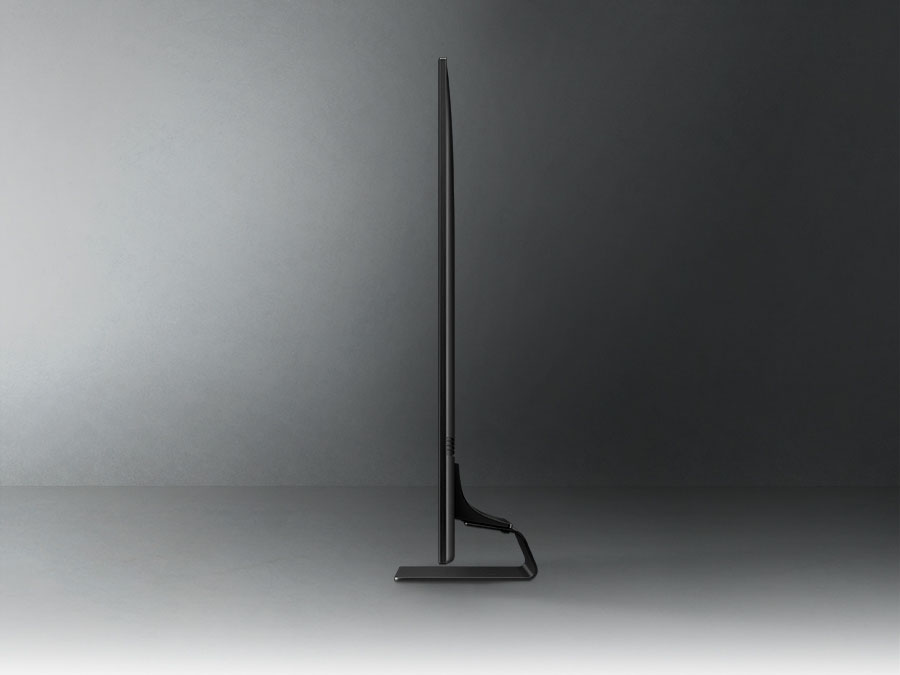 As we mentioned above the stand is also exactly the same one we found last year. Having a central stand does help with placing the TV on smaller furniture but as always with these types of stands the TV may wobble a little especially if you have one of the bigger sizes. It is made entirely out of metal and only the connecting part between the TV and the stand is made out of plastic and has special grooves to keep all your cables together.
The stand does leave enough space under the panel for a soundbar to be placed but as always we advise you to make measurements just to be on the safe size. The height available between the panel and the surface was measured at around 2.5″.
As for the remote that comes with the QN90B, this is the same across the entire 2022 lineup like the S95B or the Q80B we tested before. It looks similar to the year before but with some minor design changes that do not affect its practicality or everyday use. It is still small and uses very few buttons as it relies on the TV's UI for most of its functions. It comes with a rechargeable battery that can be charged either through a USB-C cable or from its solar equipped back side. The only difference we find this year is that the top side is now seamless while a fourth dedicated button for Disney+ has been added.
All other features and characteristics of the remote return from previous years like its built-in microphone for voice commands and CEC commands control.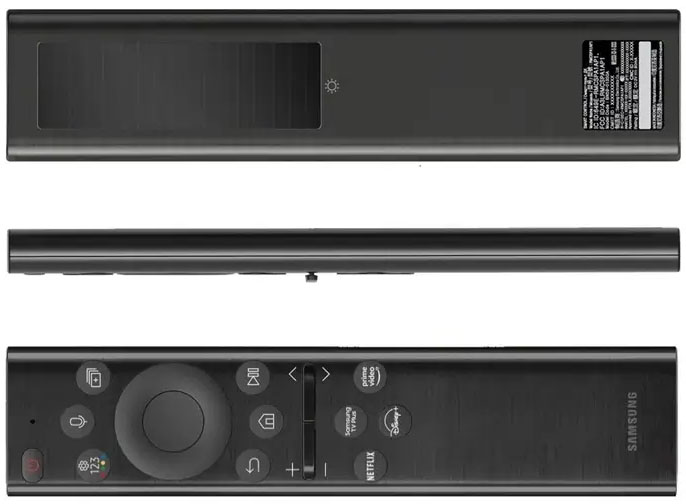 Build quality is good and up to the standards of all high tier Samsung TVs. There is a lot of plastic being used but we didn't see any defects or any other problems with its construction.
Video Quality
Processor technology used
While last year all Neo QLEDs were using the Neo Quantum Processor, for 2022 things are a bit different. The 8K Neo QLEDs use the new Neural Quantum Processor while the 4K ones uses the familiar Neo Quantum Processor 4K except from the QN95B which uses the same chip as its 8K counterparts.
As always Samsung does not provide specific details on the chips and so we are not certain if the Neo Quantum Processor 4K in the QN90B is the same chip like last year but its capabilities seems to indicate this. So basically the TV is using the same chip as the QN85B as well as last year's QN90A so don't expect many differences in terms of image processing.
What Samsung has mentioned about this processor is that it uses up to 16 different neural network models, each trained in AI upscaling and deep learning technology, and this way the Neo Quantum Processor can optimize picture quality to 4K picture output regardless of the input quality. Not exactly the most detailed description and borderlines the usual marketing material but Samsung was never very open about the way their processors work.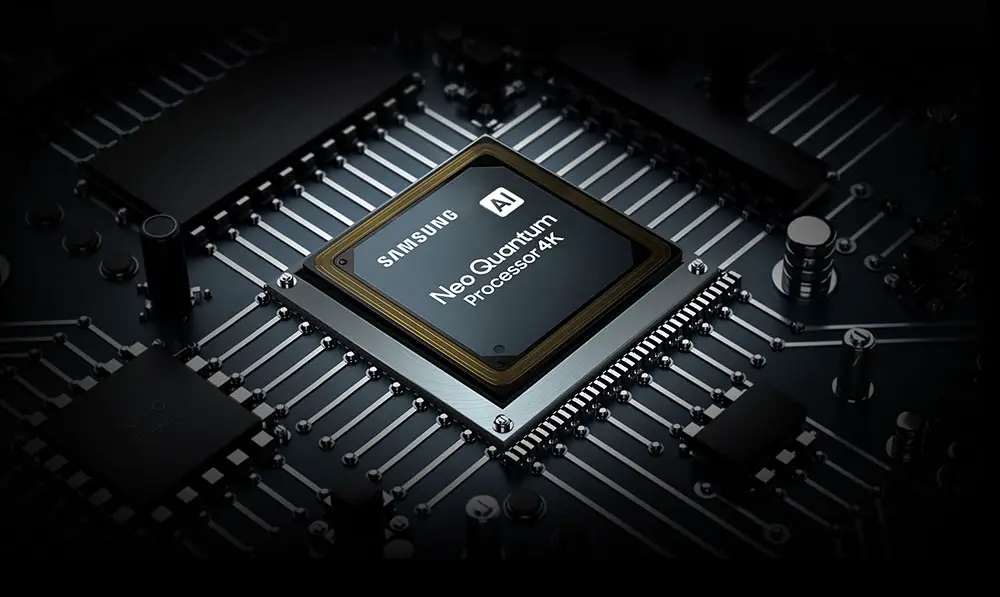 Also its Real Depth Enhancer, a new feature added in 2022, automatically separates objects in the content from the background and creates 3D like depth in order to make the image even more immersive.
As for its upscaling performance the QN90B did every bit as good as you would expect from such a high tier release. All content we tried on it looked really good and the TV upscaled everything to 4K resolution with no visible artifacts. Obviously the lower the quality of the original content the worse it will look but in general we were happy with what the Neo Quantum Processor can do in general. All kinds of SDR material from very low 480p and 720p resolutions looks as good as possible with 1080p video looking even better.
A few features we got the previous years also find their way here and one of them is Adaptive Picture which is a feature that analyzes the light conditions in your room and can calibrate the picture accordingly in order to provide you the best image quality for your specific situation.
As for the sound the Neo Quantum Processor 4K works with the TV's Object Tracking Sound+(OTS+), Adaptive Sound and Active Voice Amplifier (AVA) which can improve the sound outcome in all kinds of ambient sound conditions. More on these in our dedicated audio section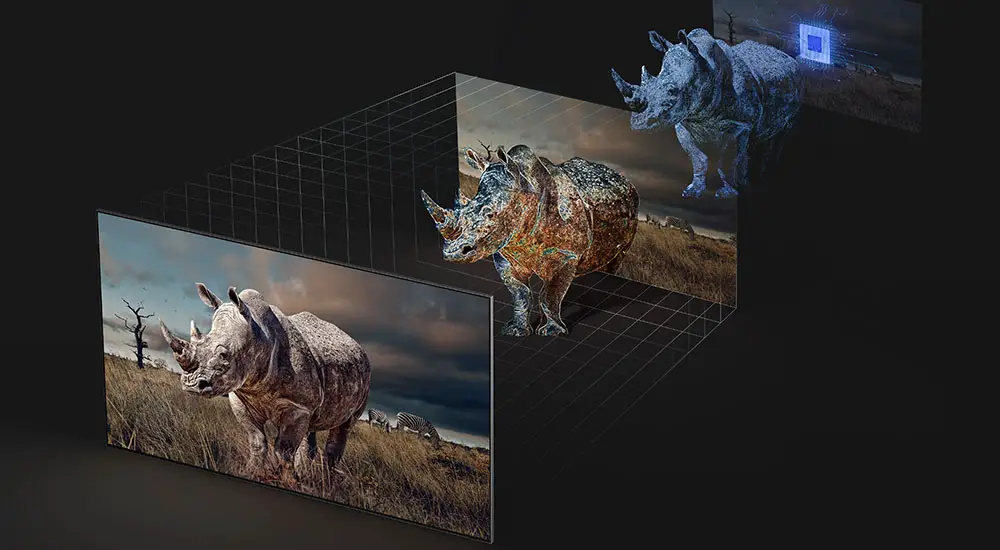 Lighting technology used
The arrival of mini LED brought several improvements over what was previously possible with the older FALD backlights although this still has its fare share of problems.
The QN90B is using a Quantum Mini LED backlight as all Neo QLEDs have and it seems to be exactly the same as the one used last year which is precisely controlled by Quantum Matrix Technology. The major advantage of Quantum Mini LED is that it has 1/40 the height of a conventional LED.
Instead of using a lens to disperse light, and a package to fix the LED in place, the Quantum Mini LED has incredibly thin micro layers filled with many more LEDs. This way Quantum Matrix Technology has much better and more precise control of the densely packed LEDs, preventing what was the most obvious disadvantage of previous LCD backlight systems, blooming.
Keep in mind that while mini LED technology is vastly superior to any other LCD backlight system so far it is not alleviating the blooming problem completely and it is still very much dependent on the number of zones that have been added to each panel along with how efficient the dimming algorithms are.
The 55″ version of the QN90B we have for testing seems to be using the same zones configuration with 576 dimming zones in a 36 x 16 pattern. Again bigger sizes use more zones like the 65″ size that comes with 720 zones while even bigger sizes use close to 1,000 zones.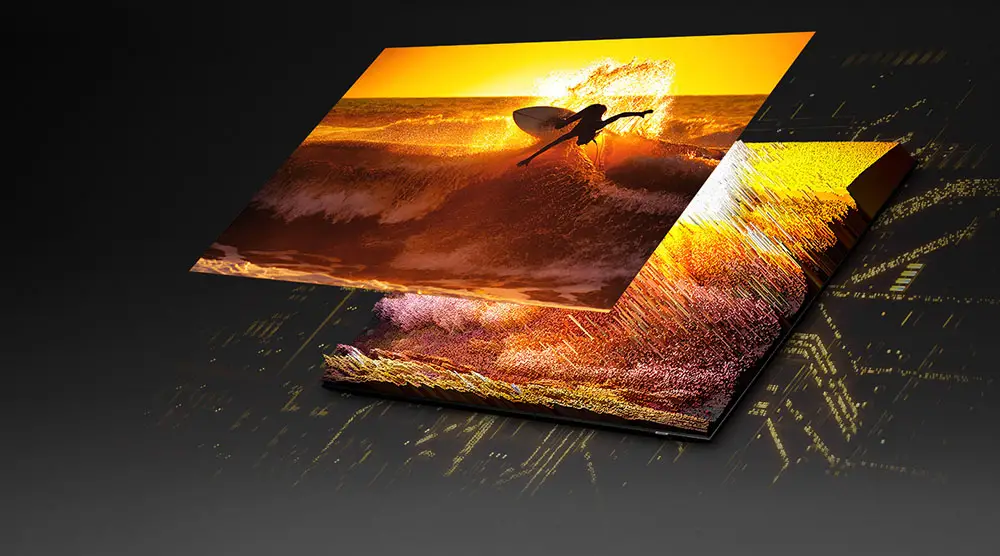 In our blooming testing we could say that the QN90B fared slightly better than what the QN90A did last year. The difference is not huge but in certain test patterns it was noticeable but we should say that both of them performed similarly with real world content. Blooming was still visible but in general the TV was capable enough in hiding it most of the time although in some scenes it was more obvious than others.
Also zones transitioning was fast and the algorithms were responsive enough not to show any delay. We also did notice some shadow detail being lost but it was not anything major and did not lower the overall image quality by much.
If we had to compare it with last year we would say that the QN90B was just a bit better here. Not by much and with real content the difference was almost not visible but the fact remains that the QN90B's backlight was slightly more capable and efficient.
Brightness / Contrast
Brightness is one of the most important aspects of any HDR TV nowadays as with HDR content the need for high brightness output is bigger than ever.
For our review we used the Movie mode and Warm 2 color tone along with Local Dimming set to High. In our SDR brightness test over a 10% white window we measured 2,062 nits which is amazing by any standards and is not only enough for any kind of SDR content but it can even combat glare in any kind of light room conditions.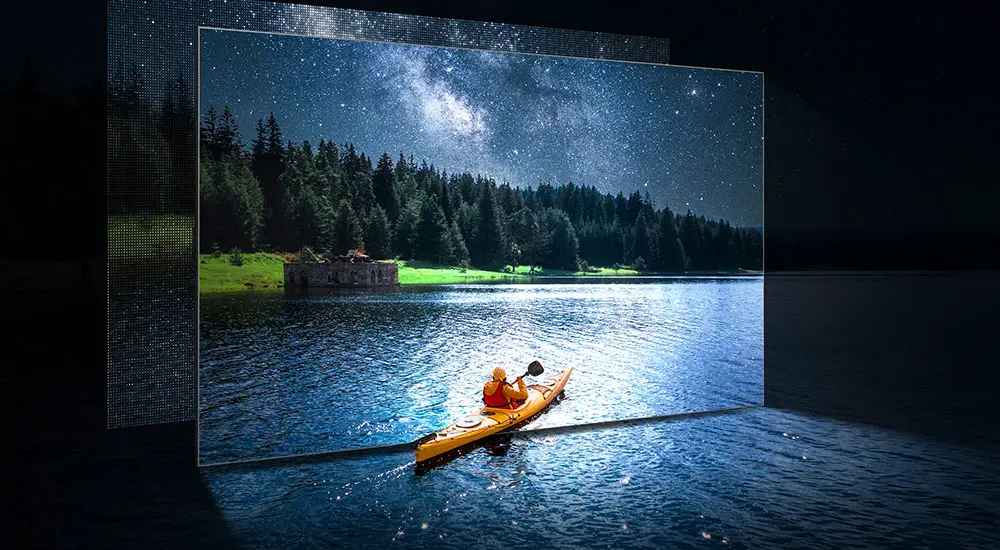 On our HDR brightness test over a 10% white window we got 2,015 nits of brightness which again is amazing and will make any kind of HDR pop and look spectacular. In fact the QN90B is one of the brightest TVs we have tested so far and shows its backlight prowess and capabilities.
Keep in mind that with bright scenes the Automatic Brightness limiter (ABL) kicks in and will lower the peak brightness in order not to damage the panel.
Brightness levels followed the EOTF reference values extremely close up to its roll-off point with only some very minor deviations.
In terms of contrast the QN90B comes with a VA panel (for the 55″ unit we had for testing), which means that contrast was very good. Blacks looked deep enough although native contrast takes a hit due to the inclusion of the Ultra Viewing Angle layer that is used in all sizes from 55″ and above.
In pure numbers the QN90B seemed to perform slightly worse with contrast than last year's QN90A but the difference was not huge to be noteworthy.
The 43″ and 50″ don't use the same Ultra Viewing Angle layer and so their contrast performance is surely better but we don't have these sizes for testing so we cannot confirm this by ourselves.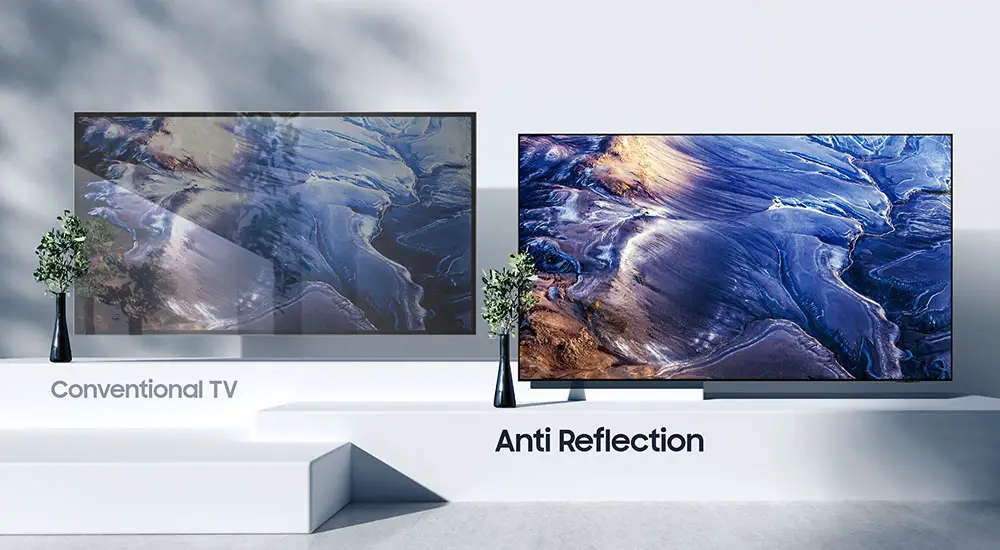 Viewing angles
Regarding viewing angles things are pretty much the same with all the other flagship Samsung models before it. The QN90B is equipped with a VA panel which in general doesn't mean good things when it comes to viewing angles. In order to combat this Samsung has used what they call Ultra Viewing Angle which is a technology that minimizes the light leakage by focusing the light on the right direction and as a result we can get better image results at far greater angles than without it.
Keep in mind that the 50″ size uses the less capable Wide Viewing Angle technology with Anti-Glare while the 43″ size has none of these two technologies.
In the case of the QN90B we would say that this extra layer helps a lot in order to bring the viewing levels up to average levels although in no way it can compete with what OLEDs can do nowadays. As such we would say that up to about 40 degrees you get very respectable results but anything more and the image quality degrades rapidly.
Overall it seems that the QN90B did improve slightly here over last year but the differences are not all that big and the QN90B remains a good overall performer for family use.
HDR support
HDR support is universally similar across their entire release lineup while the QN90B specifically comes with Samsung's Quantum HDR 32X certification. This certification doesn't mean much by itself but it gives us a small hint of how bright and how many zones the TV uses in comparison to their other releases.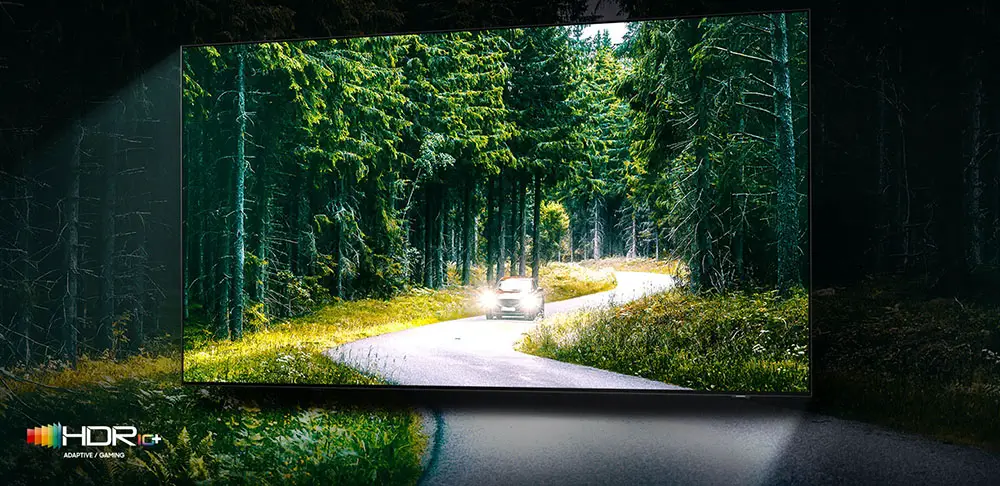 The TV obviously supports the most basic HDR10 that is required for 4K UHD playback, there is HLG that is used mainly for broadcasting along with the newer HDR10+ which is the most advanced HDR protocol that uses dynamic metadata in order to provide the best image quality on a frame by frame basis, similar to what Dolby Vision is doing.
The QN90B comes also with HDR10+ Adaptive and HDR10+ Gaming. HDR10+ Adaptive uses its AI engine to analyze the viewing environment, including the lighting, brightness and even reflections using the sensors equipped on the TV. The results are then incorporated into the dynamic metadata, and then through four further steps, the brightness and contrast of a scene are optimized. This way you can view HDR10+ movies and television programs in various environments at home.
Samsung continues to say no to Dolby Vision and this surely is hurting their entire lineup. Samsung remains very confident supporting HDR10+ instead but in our opinion this is a pointless conflict and all manufacturers should embrace all HDR formats instead of pushing consumers to choose by brand because of this.
Color coverage
The QN90B, being in essence a QLED, uses Samsung's special Quantum Dot layer in order to display more vivid and lifelike colors. Samsung claims 100% coverage of the DCI-P3 color space for all of their QLED and Neo QLED series but you should never take these numbers literally as they are mostly used for marketing purposes. Real numbers usually deviate a lot from these claims.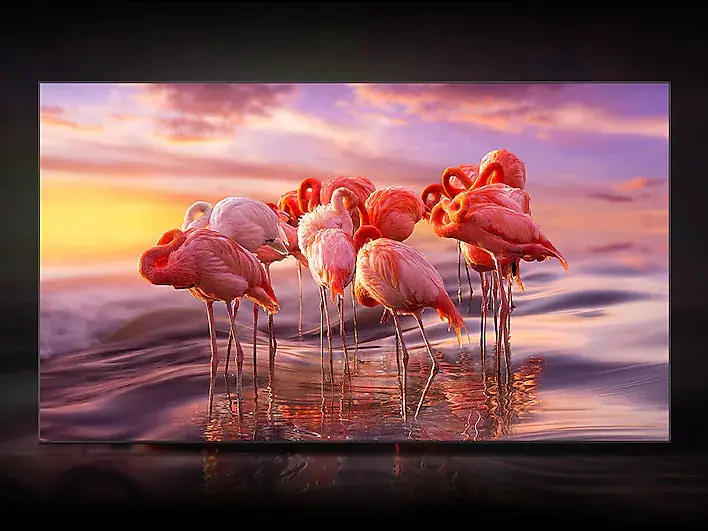 According to our measurements the TV has about 92% coverage of the DCI-P3 color space which is great although we have seen higher numbers than this. On the wider REC.2020 color space we got a coverage of 70% which is again good but not the best overall.
Comparing these numbers to last year the TV did a bit worse but again the numbers are just numbers and even comparing the two TVs side by side would make it extremely difficult to spot the differences.
Before calibration the QN90B had good color accuracy with only very few colors in need of fixing. White balance was ok for the most part and only few colors had values above the DeltaE limit of three. Both of these were corrected after calibration.
Color gradients were very good although some banding was visible in some darker shades, especially with reds. There is also a Noise Reduction function in case banding is bothering you but you are going to loose some fine detail if enabled.
Motion performance
We move on to our next part which includes our motion performance tests. The QN90B is similar to last year as it comes with a 100/120Hz panel along with a backlight dimming frequency of 960Hz which is exactly the configuration we saw in the QN90A. Having such a high frequency ensures that flickering is completely invisible but this also depends on the picture mode you will be using as in some of them the frequency drops to 100/120 Hz.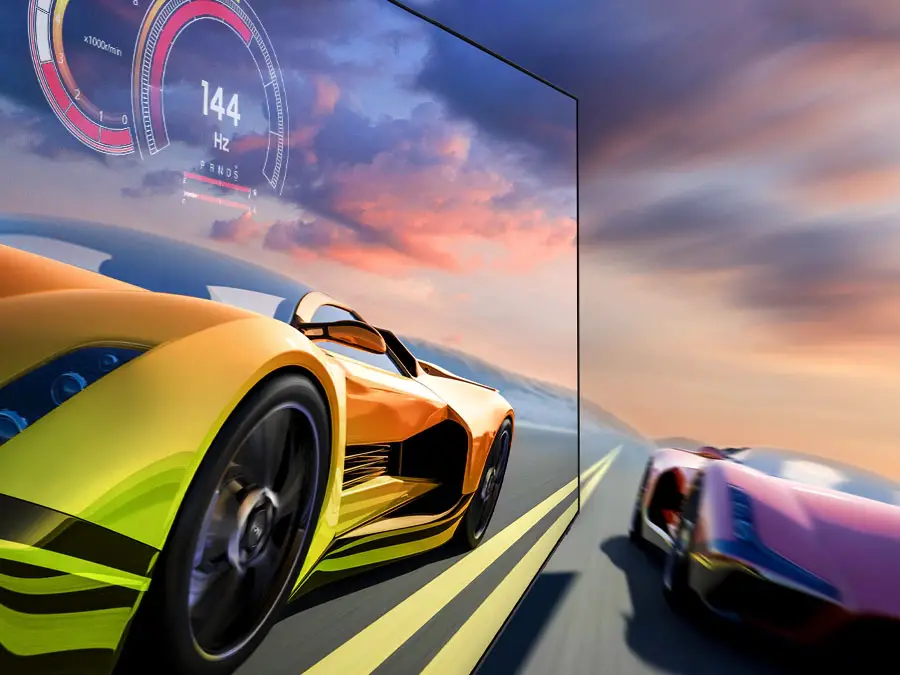 We need to clear up some confusion here as it seems that the 43″ and 50″ sizes can actually do 144Hz but all sizes from 55″ and above are limited to 100/120Hz. Why this is the case we are not sure but most probably has to do with the fact that these smaller sizes are going to be used for gaming purposes and that is why Samsung decided to go for 144Hz for these ones.
Obviously we also get motion interpolation which once again is named Motion Xcelerator Turbo+. The QN90B was capable at removing judder but as usual artifacts would become visible when the camera would make fast movements while interpolation was active at all times even when there were static images or slow camera movements. Some stutter was also noticeable during low frame rate content which could only be eliminated by enabling motion interpolation.
Enabling motion interpolation can be done, in the same way as with all other Samsung models, by going in the Picture Clarity settings  in the menu and by adjusting the two sliders for blur or judder. Keep in mind that very high values in the sliders and the "Soap Opera Effect" will appear so if you want to improve motion but you hate the SOE effect keeping minimal values in these two sliders, like 1 or maximum 2, is your best bet.
Black Frame Insertion (BFI) is also available as usual which can be enabled in the menu with the LED Clear Motion option. BFI is a technique that inserts a black frame in between two individual frames in order to smooth out motion. Although the end result is very good, it has a couple of side effects. First due to the black frames, brightness takes a visible hit while due to the lower frequency used which can be either 100/120Hz or even 50/60Hz some flickering may become noticeable.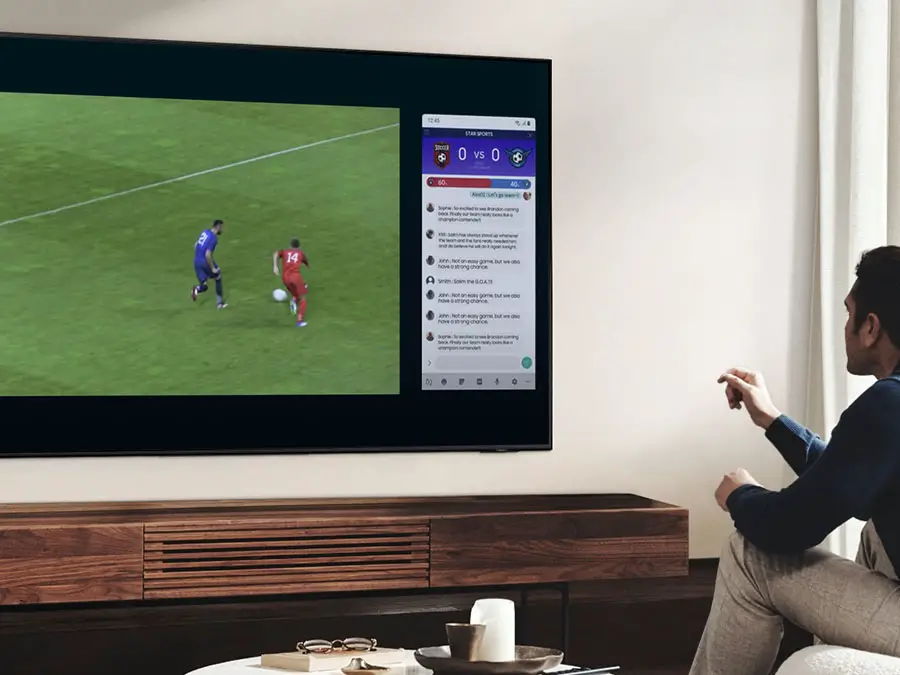 In general we couldn't spot any meaningful differences between the QN90B and last year's release. Motion performance was good in general but not without some problems but if you use low values in its motion interpolation feature then you can get good enough motion without much blur or judder and avoid SOE that can be really distracting.
Input lag
The last few years manufacturers push the envelope more and more when it comes to their TVs input lag performance and we have reached a point where we get amazing low values that can make these TVs excellent for gaming purposes.
According to our measurements the QN90B measured an average of 11ms input lag in both 1080p and 4K resolutions at 60Hz with the use of Game mode. At 120Hz we measured 5.8ms in both 1080p and 4K resolutions which is perfect and essentially the same like last year.
With such low figures, gaming can really be a pleasure but in order to get such a low value you have to keep in mind that you need to use the available Game mode as outside that the input lag will greatly increase to around 85.7ms which can still be used in slow paced offline games but it may be too much for online gaming that requires blazing fast response times.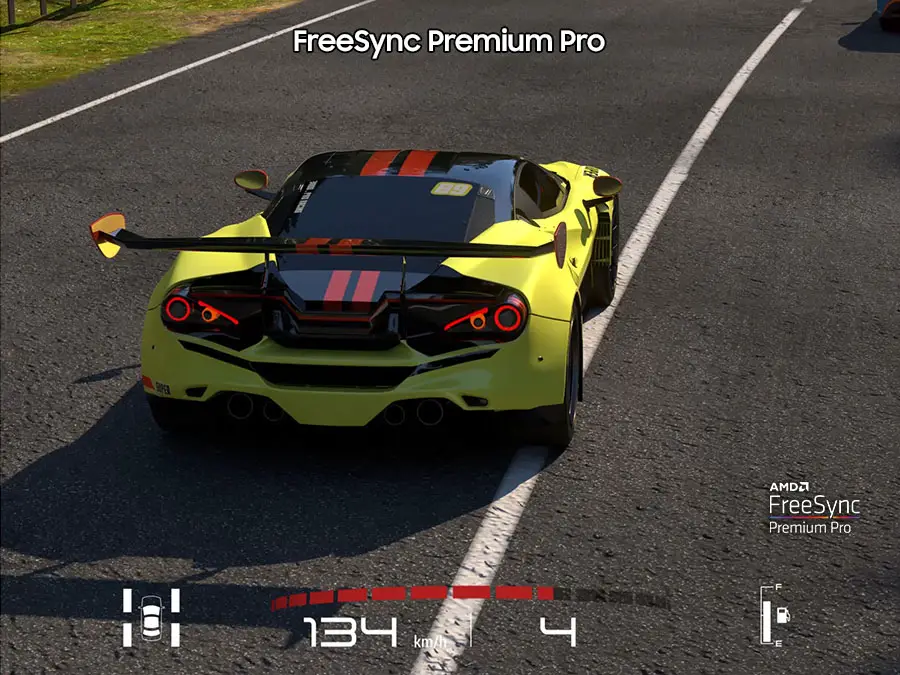 We should also not forget to mention that the TV supports Auto Low Latency Mode (ALLM) that can be used with any devices that support that like the PS5 and Xbox consoles and can greatly benefit users. Once again we get HGiG Mode which is HDR Gaming Interest Group's technology that ensures you enjoy HDR games the way that their creators and developers intended.
The QN90B, as with many Samsung TVs this year, also supports FreeSync Premium Pro which can vastly improve your gaming experience if you have a device that also supports AMDs solution. Along with it we get support for all other VRR technologies including HDMI Forum VRR and NVIDIA G-Sync which can be enabled from the new Game Bar 2.0.
Before moving on we connected our PS5 to the TV and played a bit of Astro's Playground which comes with VRR support and we didn't notice any delays or slow response times. Everything registered blazing fast making the QN90B an excellent TV not only for movies but for gaming also.
Image quality impressions
Looking at the QN90B's overall performance we could say that there were a few notable improvements but there were also a few areas where it performed slightly worse than the QN90A.
Its mini LED backlight felt slightly more efficient, it has far higher peak brightness in both SDR and HDR content and similar viewing angles resulted in better image quality overall.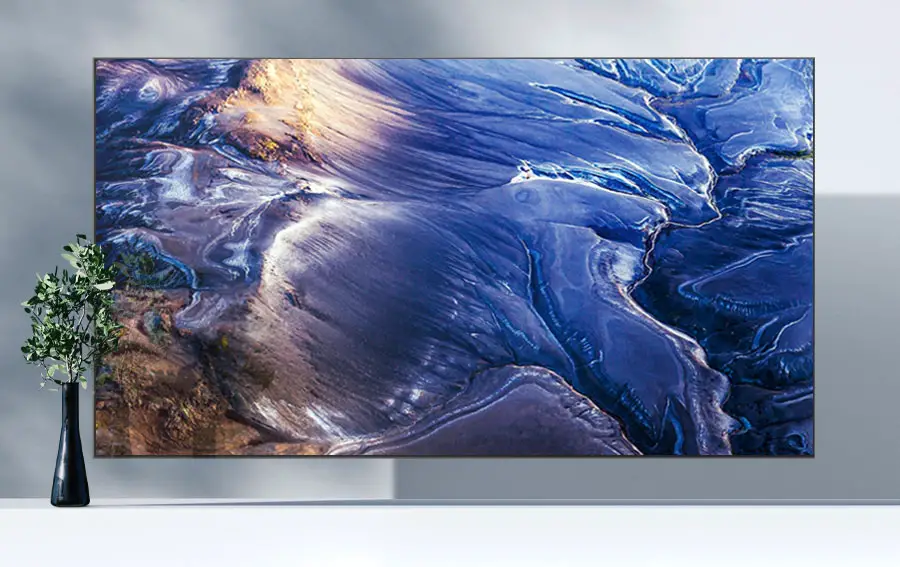 On the other hand color coverage was lower and native contrast was a bit worse.
Everything else like input lag, motion performance and upscaling capabilities were very close and any differences were too small to be noteworthy. With all the above in mind and taking into account all differences we saw, we would call the QN90B the winner by a small margin and this mostly because of the huge difference in brightness output these two TVs have. Everything else is not so noticeable to make such a huge impact as peak brightness does.
Audio Quality
If there is one area that manufacturers are still struggling with after so many years is in the audio department. These ultra slim TVs simply don't have the space required to equip them with audio systems capable at offering more immersion and better sound. We have seen most TVs lately incorporating various techniques and features but most of them are mostly software based and the end result is not much better than what we would hope for.
It's been a couple of years now that Samsung has developed their own audio system for many of their top tier and mid offerings called Object Tracking Sound and as of 2021 there are four variants of this system depending its capabilities. We have the OTS Pro, OTS+, OTS and OTS Lite and QN90B is using the OTS+ variant which is basically the same as last year's model.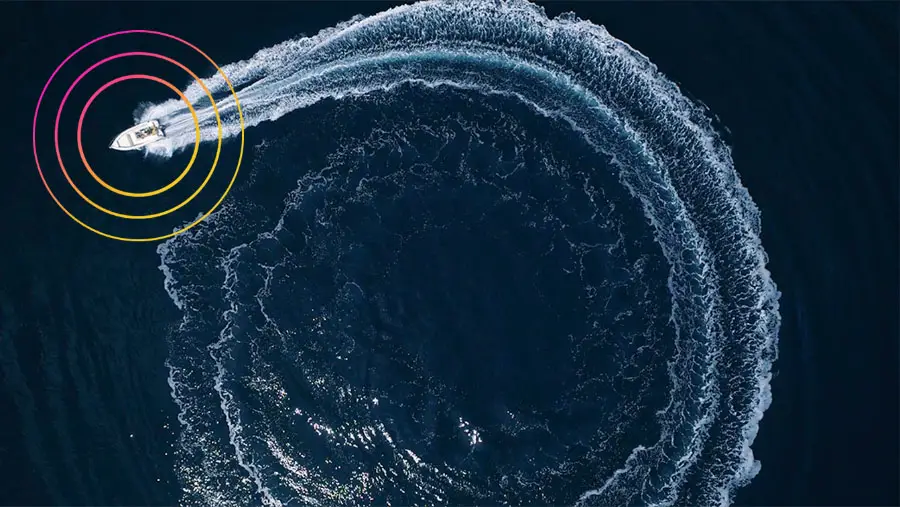 This uses a 4.2.2 channels audio system with a power rating of 60 watts in total which is more than enough for casual viewing. The included speakers provide very clear dialogue and good separation of sound while panning effects do feel more precise and this extends in both axis giving not only width but also height to the performance.
Overall the OTS+ system is good for casual viewing but it certainly lacks in terms of immersion as there is no surround activity and all action is firmly at the front. It's virtual tech cannot do anything to bring the action closer or behind the viewer so don't expect much in terms of that.
The TV supports Dolby Audio and for the first time for Samsung it even can do Dolby Atmos but that doesn't mean much even if the TV comes with a system like the OTS+. If you want something better you will certainly need a dedicated audio system or at least a soundbar with surround speakers. Dolby Atmos can be passed-through the included eARC to some Dolby Atmos soundbar or dedicated sound system in this case.
DTS support is completely absent once again this year as it is not only missing from native support but it cannot also be passed-through from any of the available ports which is rather disappointing. And this applies for all Samsung TVs, either low cost or top tier premium ones. From the big three Sony remains the only one that still supports DTS sound.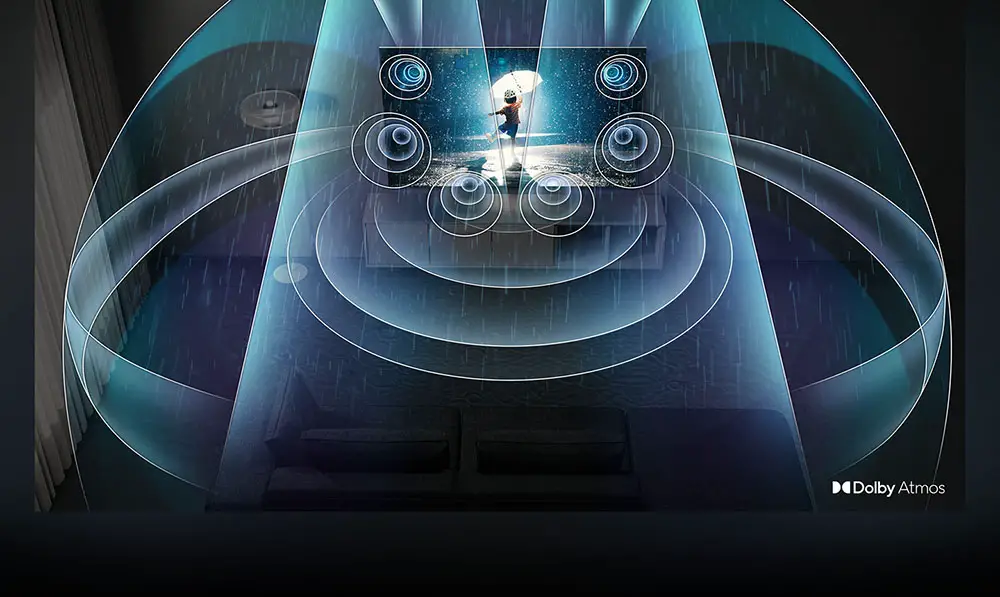 There are a few additional audio features that are worth mentioning and come in all high tier Samsung releases. The first one worth mentioning is called Adaptive Sound+ with which the TV analyzes the content being played and for each scene can identify and render the best sound type. This whole process starts by separating and classifying audio input signals. Key characteristics are then pulled out and rendered to best suit the scene.
Another feature is Active Voice Amplifier (AVA). With it the TV can detect environmental noise and enhance the voice output of the content you watch for a more pleasant viewing experience.
Lastly we get Q-Symphony which is a feature that you can use to combine the TVs audio system with an appropriate soundbar that also supports that. This way the audio will be synced and output from both devices for an even more immersive audio experience. Samsung has released a whole lineup of soundbars that support Q-Symphony in case you are thinking of getting one.
Overall the TV can offer good casual performance but not impressive enough for an immersive experience. A soundbar or a dedicated surround system is recommended in case you want to create an authentic cinematic environment.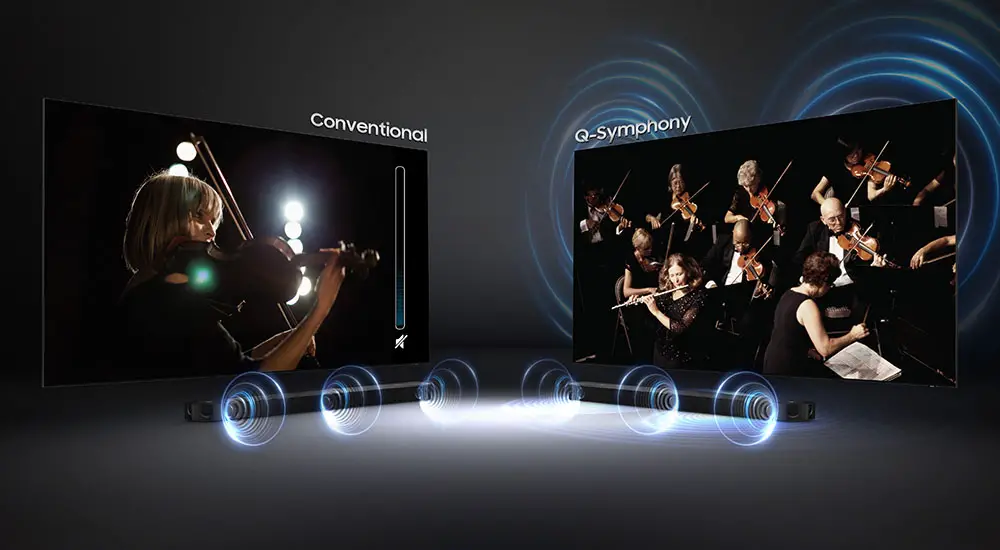 Ports and Connectivity
When it comes to ports and their layout Samsung is pretty consistent across their entire lineup. As such the QN90B seems to have the same setup as the one we saw in the QN85B recently. Keep in mind that the One Connect Box that allows all connection to be made on a separate box is reserved only for the QN95B from the 4K offerings.
Starting from the top right we find two USB ports, a single digital optical output, four HDMI ports, an Ethernet port for wired connection to your local network, an Ex-Link port and the usual antenna/cable connector.
The major difference with the QN90A, which is a fact in many of Samsung TVs this year, is that all four HDMI ports are version 2.1 with 48Gbps of bandwidth. This was not always the case last year as in some markets the QN90A was offered with only one HDMI 2.1 while in others it had four. It seems that in 2022 the QN90B will have four HDMI 2.1 ports across all markets.
Having HDMI 2.1 means that the QN90B supports all new and old features including 4K@120, ARC, eARC, ALLM, VRR, G-Sync, FreeSync Premium Pro, HFR and HDMI-CEC. 
Unfortunately for one more year the Ethernet port will only support up to 100Mbps which is a real shame but not entirely surprising given the fact that all manufacturers still include 100Mbps adapters in their TVs. Hopefully this will change in the future as Gigabit adapters should be the standard by now.
In terms of wireless capabilities the QN90B supports WiFi 5 (802.11ac) along with Bluetooth which in 2022 has been updated to version 5.2.
OS, Apps and Features
Being a Samsung TV means that for its OS we find the usual Tizen platform which has been updated to its 2022 version and what we have here is basically the same OS we have seen in the other Samsung reviews we have done for this year including our recent QN85B review. There is no difference whatsoever so this part of our review will basically be a repetition of our previous observations for the platform.
Samsung decided to follow Google and LG and made the new Tizen occupy the whole screen instead of being a tile based row at the bottom of the screen, exactly as Google TV and webOS are this year.
It seems that smart TV platforms opt for a more personalized experience and as such the new Tizen 2022 tries to provide you with options that are tailored for your viewing habits. As such there are personalized ads, recommendations based on your viewing patterns both for streaming services and broadcasting channels and even shopping suggestions.
If you have used Tizen before, the new version may feel a bit chaotic at first. This was the same with Google TV and webOS and certainly you will need to spend some time with it to get your bearings. But once you get the hung of it, it is easier to navigate than it may seem.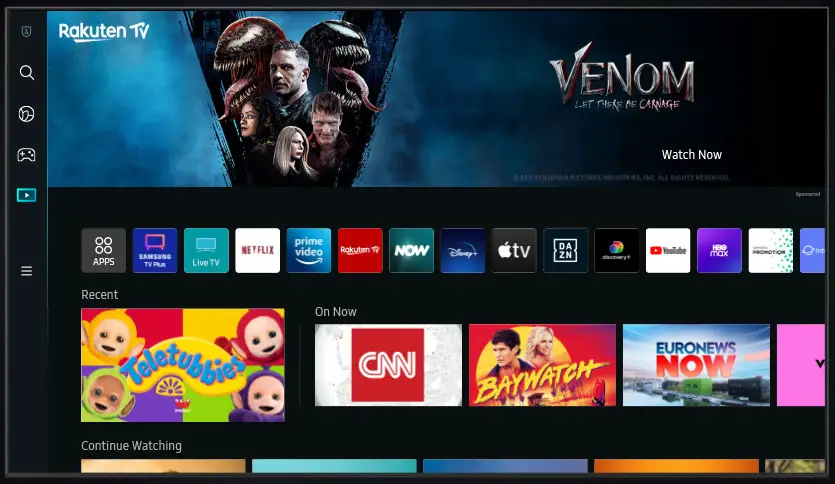 The new Samsung Smart TV Hub is separated in different sections and it allows you to navigate easily through all of them. At the left of the screen there is a single column with a few central selections including Media, Gaming and Ambient while the rest of the screen is divided in rows with streaming services, apps and other functions and features available.
Having tried both the latest Google TV and webOS we can say that the new Tizen is not all that different. Obviously the layout is tailored to Samsung's needs but in essence it offers the same thing. Navigation was smooth enough and jumping from one app to the other was relatively fast and with no obvious lags or delays.
Except from the visual overhaul the new Tizen comes with a few updates, although fundamentally it offers the same kind of functionality we had experienced last year.
The Super Ultrawide GameView & Game Bar that was introduced last year makes a return but now it is called Game Bar 2.0 and got an update along the way. This is an on-screen menu that lets you make real-time adjustments to screen ratio, input lag check, FPS, HDR, wireless headset settings and more. This can be a really handy feature to gamers as you don't have to mess with menus every time you want to check on a specific setting. With this quick feature you have everything in front of you with the click of a button.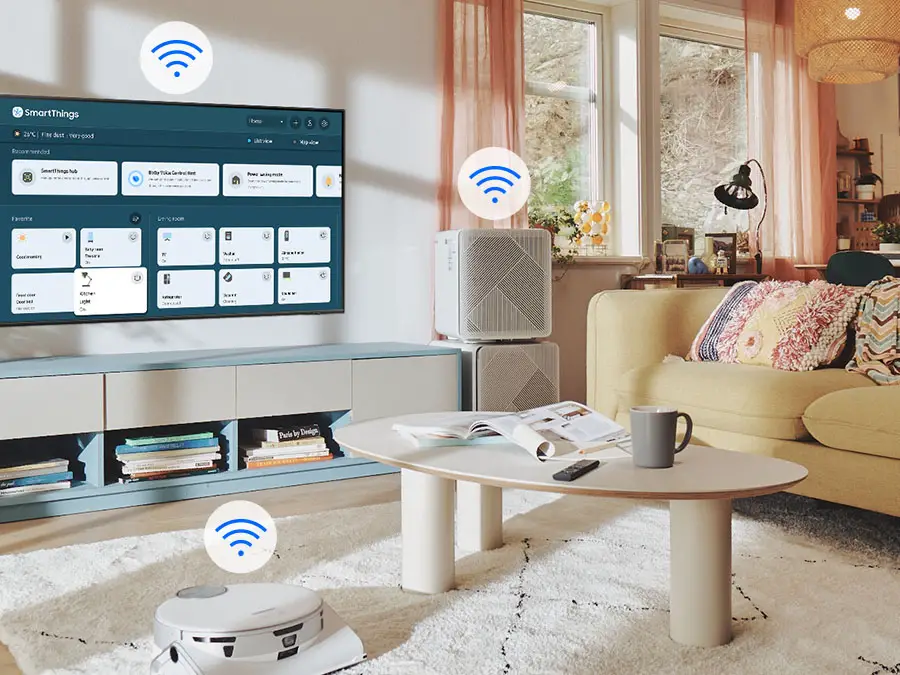 When it comes to content the Tizen platform is famous for it's enormous support from developers. The QN90B comes with practically all known services and platforms you can think of with Netflix, Apple TV, Disney Plus, Youtube, Amazon, Hulu, Rakuten, Demand 5 and BBC iPlayer just a few of the big names available with some of them obviously being region dependent.
There is also Samsung TV plus which offers hundreds of subscription-free channels to choose from. Many of these services can playback in both 4K with HDR like Netflix and Amazon but this is very much app dependent.
A function that has been retained from the last few years is SmartThings integration. With it you can make your TV the central hub of all your smart houses devices. These can be lights, electronic locks, alarms, vacuum robots, thermostats and everything that supports the SmartThings platform.
Obviously another feature that could not be missing is voice control. It seems that Samsung is really trying to market their own Bixby service but even if you are not very fond of that there is Amazon's Alexa or Google Assistant to choose from. While if you are an Apple guy then don't get disappointed as there is also Airplay 2 support and you can use Siri through it for your voice commands. Unfortunately while Airplay is available HomeKit is not.
Another feature that was introduced a couple of years ago and seems to be a standard now is Multi-View and although at it's core it's not something entirely new Samsung took it a step further. Multi-View is basically a more advanced screen mirroring and with it instead of just simply projecting the screen from your mobile device on the TV you can choose to have two screens showing both TV content and what your mobile device shows.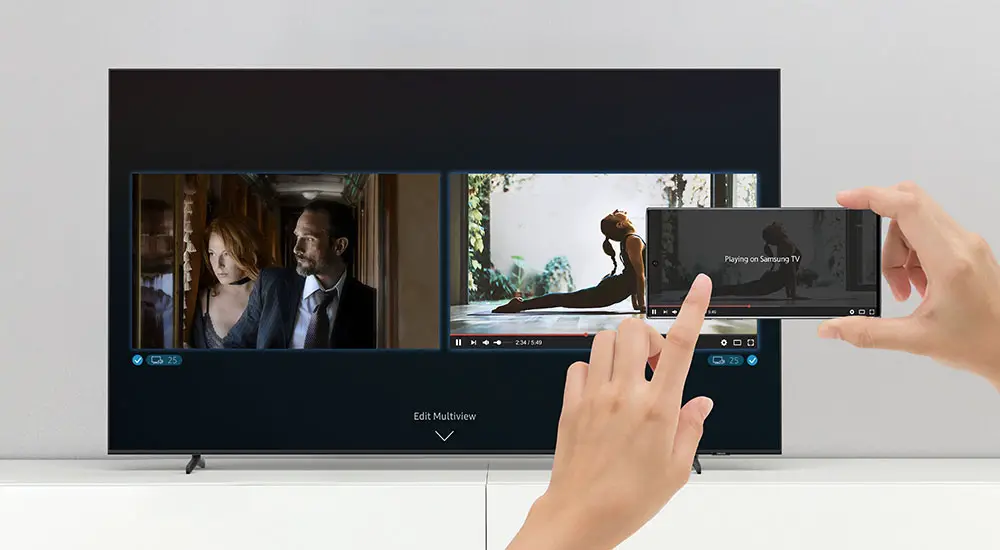 In addition to Multi-View there is also Tap View and with it you can mirror your phone on your TV with just a tap to continue enjoying movies, music, and apps on the bigger screen within seconds.
Another returning feature is Ambient Mode+ which is a slightly enhanced version of the Ambient Mode we get in many Samsung models for the last few years. With the plus version now except from the ability to display various images on the TV when not in use it can also project various information including weather updates, news headlines, photos and music.
Samsung Health is another returning feature from last year. Last year with the coronavirus pandemic many people were staying indoors so Samsung thought that exercise at home would be on the rise. So many of their TVs came with Samsung's program in order to stay in shape. It seems that Samsung liked it so they kept it in for another year.
A new feature in 2022 seems to be the inclusion of Google Duo which allows for video chat up to 32 people. Although we cannot imagine a lot of people using it, it's good to have it as an extra. The more the better.
No much to say here that we haven't said before. The QN90B brings all features Samsung has to offer and the latest Tizen brings a new look with all the old functionality along with a couple of additions that may not change much the overall experience but surely add more value and usability.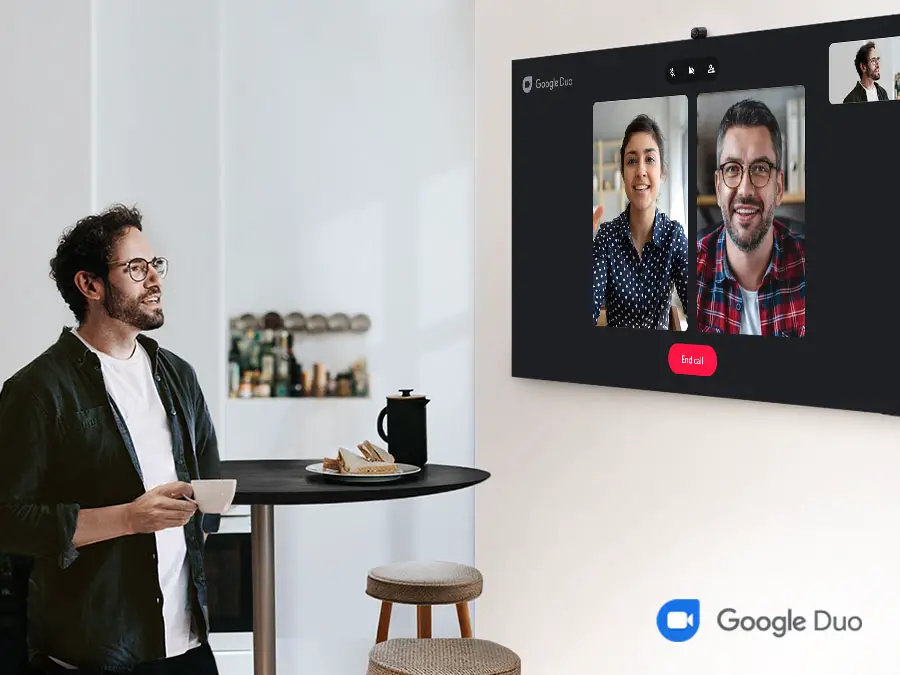 Final Thoughts
The new QN90B is one of the best 4K Neo QLED TVs Samsung has on offer and in general can be considered one of the best 4K LED LCD TVs to this day. The TV has its own strengths and weaknesses but there are some things that really make it stand above its predecessor. Its higher peak brightness, its inclusion of four HDR 2.1 ports and support for Dolby Atmos that was missing in 2021.
The 2022 release performed really good in our upscaling tests, has amazing brightness in both SDR and HDR tests, its backlight seemed a bit better than last year, displayed solid motion performance, nice viewing angles, extremely low input lag and the inclusion of the four HDMI 2.1 ports along with all its gaming centric features and new Tizen platform makes the TV perfect for any kind of use.
Its downsides were not all that different from last year. No Dolby Vision will surely make a few stay away, there is still some blooming visible especially in specific scenes, we don't like that Samsung ditched DTS support while the TV did fare worse in color coverage and native contrast although not by much.
Closing our review we would describe the Samsung QN90B as an excellent TV that may not be perfect but is one of the best LED LCD TVs on the market today. Either you want it for movies or gaming, or both, it will offer you countless hours of entertainment. If you cannot afford to go the QD-OLED way then the QN90B is a safe bet and money well spent.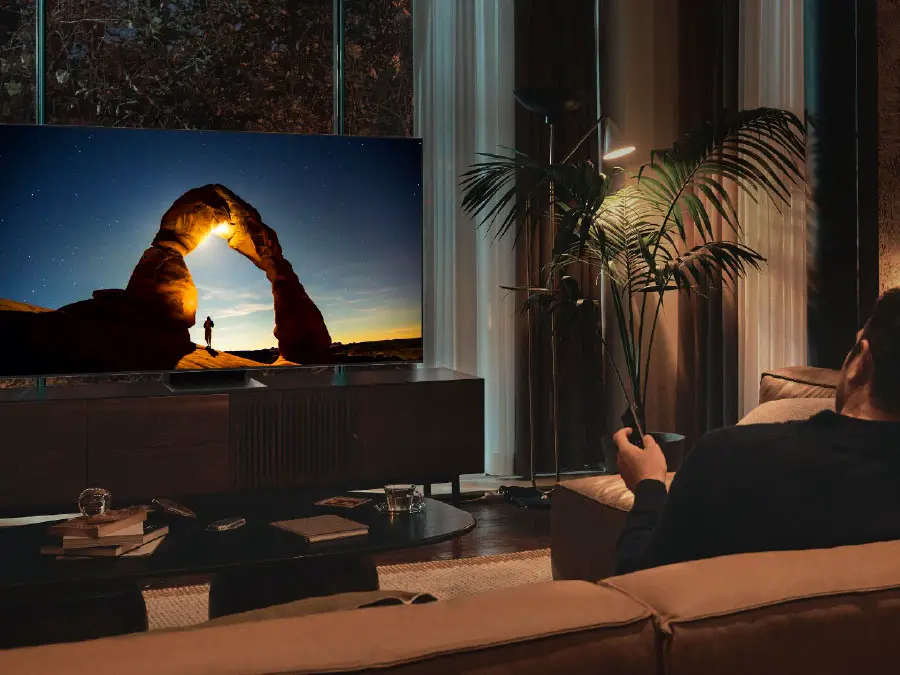 For more reviews you can check our dedicated 4K LED LCD TV reviews list or even look at our Product Reviews Table where you can find the brand and specific product you are looking for.
---
---
Cheapest Places to Buy :
---
Samsung QN90B Specifications