Samsung UBD-M9500
Design -

90%

Video / Audio Quality -

93%

Inputs / Ports -

88%

OS, Apps and Features -

92%

Price / Quality -

88%
---
Cheapest Places to Buy :
---
Samsung was one of the first companies to offer a 4K UHD player with it's UBD-K8500 in 2016 and although it was a good player offering great image quality and showcasing the capabilities of the new format it showed it's weaknesses once other players from Panasonic, LG and Oppo appeared in the market.
In a sense the K8500 was a trial run for Samsung that could use in order to iron any problems with a still relatively new format. And the UBD-M9500 seems to be the result of all this as Samsung took lessons from their first try and tried to improve upon it. The end result is a player that is a clear improvement over it's predecessor in all respects but still has a few glaring omissions. You can read all details on this player in our Samsung UBD-M9500 review below.
Design
The UBD-M9500 has a very characteristic design as it is the only UHD player with a curved front keeping a similar design from 2016's K8500 player. In 2016 curved TVs were promoted heavily by Samsung and they decided to create their first UHD player with a design to accompany their TVs. In 2017 curved TVs may not be so hot news anymore but it seems that Samsung decided to keep the same design for it's next generation players and although it may feel a bit unnecessary to keep this style now it certainly feels unique and differentiate itself from the rest of the competition.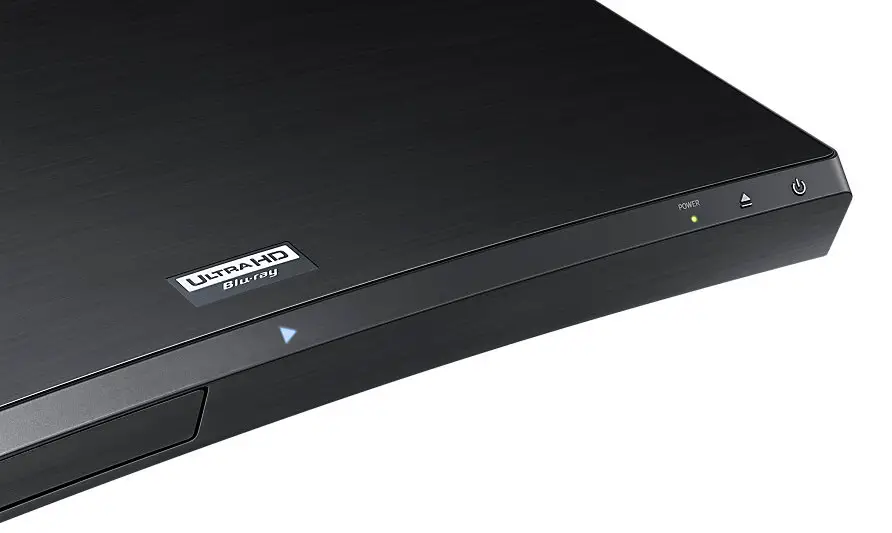 At first sight the M9500 may look very similar to the previous K8500 player but once you look more carefully there are many differences that set these two players apart. First the build quality seems to have improved as the M9500 feel more heavy and has a more sturdy design. It also has a brushed metal black finish that gives it a more premium look even though the casing is still made out of plastic. Another change is the front USB port as it has now been moved to the right side. Last but not least is the inclusion of a very small OLED screen in the middle that shows certain functions of the player. This small screen may be a bit hard to distinguish from a distance but at least it gives you some indication of the player's functionality.

In the right of the player there are a couple of touch sensitive buttons, one of them being for open/close the disc tray and the other for the power on/off. On the left of the buttons we get a small power led showing the player's functionality. On the left we get the slide out disc tray that follows the curved design of the front side.
It is very obvious that Samsung wanted to keep the overall design of the K8500 player and improve upon it and it seems that they succeeded on that by creating a design that feels more sturdy, more premium and in general more functional.
Video / Audio Quality
Having a better build quality doesn't mean only looking better, but also functioning better. First of all the UBD-M9500 is more quiet than the 2016 K8500 model with no audible fan spinning. The disc tray was also much more silent as well as disc spinning during playback. The player loads discs pretty fast with 4K UHD discs loading at 30 to 40 seconds until reaching their main menu while Blu rays would take much less time. All discs we tried showed no playback problems or skipping.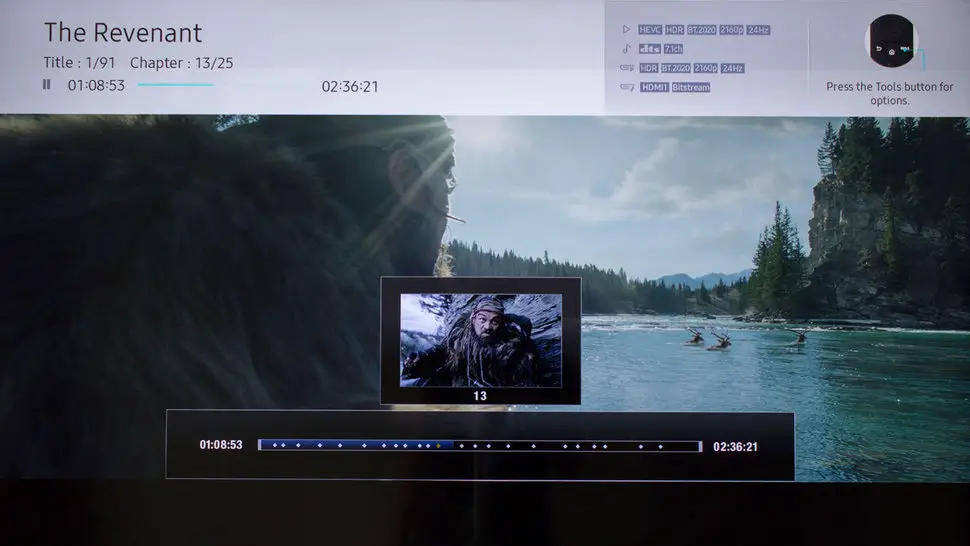 The M9500 is a very capable player showing improvements over the previous model in almost all areas. Being capable of detecting your display capabilities it optimizes the output accordingly delivering dazzling 4K images with spectacular HDR. The improvements in 4K playback with HDR is minor over the K8500 but still there was some and this shows that Samsung continues to improve their already great image quality.
Another two areas that Samsung has greatly improved is SD and HD upscaling to 4K as well as downscaling of HDR content to SDR. Upscaling content to 4K seems to create more detailed images than what we had seen in the K8500 and also free of any unwanted artifacts. Samsung always had good upscaling and it seems that they have improved this even further.
As for downscaling of HDR content this may seem like an odd feature to have because buying such a player would almost mean you have a capable 4K display also but nevertheless its a feature always good to have for those that will need it. DownscalingHDR to SDR come with three options that you can choose from in order to retain as much color integrity and clarity as possible depending on your TV capabilities.
One missing feature that will definitely hurt it's overall video quality score is the omission of Dolby Vision. The player supports the standard HDR10 protocol that is mandatory for 4K UHD playback and for many this may be enough but for those that have equipment that support Dolby Vision then this player is a no go and will have to look at other options in order to get the premium standard from Dolby.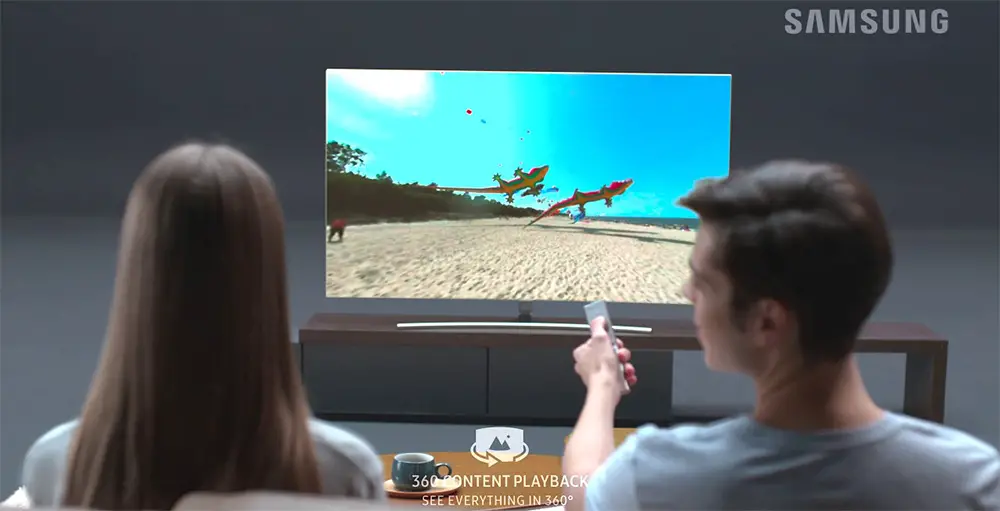 The player also supports all the next generation audio formats like Dolby Atmos and DTS:X with no problems. Popping in the 4K UHD of Pacific Rim: Uprising made the player deliver the Dolby Atmos track in all it's glory and acoustic cacophony delivering surround effects front, back and above with great clarity and precision. Along with the almost perfect audio playback the UBD-M9500 delivered amazing 4K image quality with mesmerizing HDR as even the smallest details in the Jaeger metal bodies were visible. HDR would create dazzling highlights and make HUD holograms have an almost 3D effect on them. Excellent performance from the Samsung player and we could not be more happy from it's performance.
Inputs / Ports
Except from the USB connection we get in the side all other ports are typically located at the back of the player. What we get here seems to become the standard as far as budget friendly and middle tier players is concerned. This means we get the usual dual HDMI ports with one being HDCP 2.2 and HDMI 2.0a enabled and can carry both video and audio signals with 4K/60p, HDR and Wide Color Gamut (WCG). The other HDMI port is only version 1.4 and can carry only audio and is meant to connect sound bars or AV receivers that don't support HDCP 2.2 or HDR.

As for everything else we also get a Optical digital audio out port and an Ethernet port for wired connection to the internet if you prefer a more reliable connection way. Of course there is WiFi for wireless connection but it depends on how good signal you can get and this can be tricky some times. In general for the connections there are no surprises and what we get seems to become a trend lately as we have seen exactly the same connections setup in a lot of new UHD players and this can be very good as we have a clear measure of what should be expected as the minimum accepted ports that a player like this should have.
OS, Apps and Features
Samsung clearly decided to offer an improved player with a rich feature set and in this department it seems they have succeeded. First of all the M9500 support CDs, DVDs, Blu rays and 4K UHD discs playback. Playback through the USB port and DLNA media streaming from PCs and NAS drives supports the most known video and audio formats as well as high-resolution flac, WAV, ALAC and AIFF file types up to 192kHz/24-bit. The player cannot play 3D Blu rays, SACD or DVD-Audio so this can disappoint some.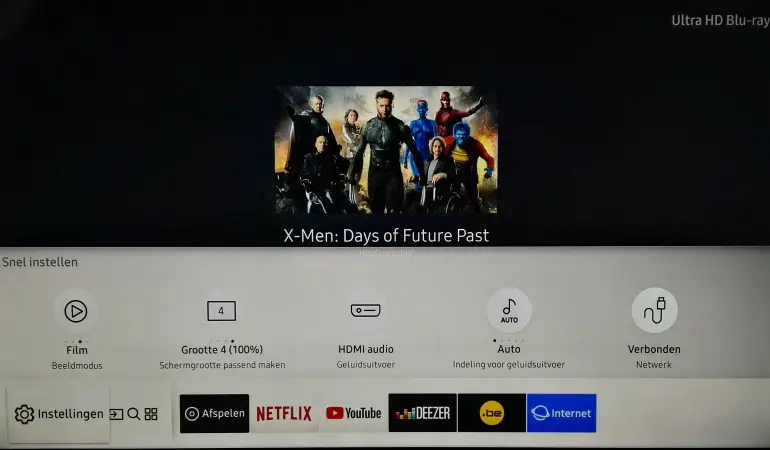 For the M9500, Samsung decided to equip it with the Eden interface which is powered by their amazing Tizen smart platform that works amazingly in all Samsung TVs. If you have ever used a Samsung TV from 2016 and later then the Home menu will look very familiar with a banner at the bottom of the screen containing a row of tiles. On the left of the banner you can find four options being settings, source selection, search tool and apps selection. There is also a "quick settings" selection from where you can change various options like switch picture modes, audio output and menu sizes.
The interface also gives you the ability to customize it in order to rearrange the tiles the way you want and keep the ones you use the most. There is a comprehensive list of more than 300 apps including services like Netflix, YouTube, Google Play, Amazon, All 4, Plex, My5, STV Player, BBC iPlayer and Wuaki TV among others that you can choose from as well as Spotify, TuneIn and Deezer for music streaming. One thing to point out is that Netflix, YouTube and Amazon services support 4K with HDR streaming. In general the user interface is stylish and very user friendly providing easy and very fast navigation.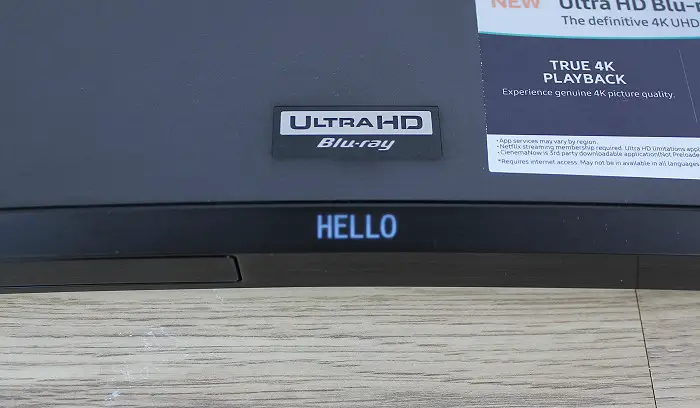 One of it's most promoted features is the Blu-ray to Mobile feature with which you can stream a Blu ray or an UHD disc to your smartphone. To some this may sound a bit of a strange feature to have but Samsung in trying to create a more family friendly experience thought that with this if your kids want to watch some cartoon you can stream it to your smartphone while you are watching your favorite football match keeping everyone happy. Just keep in mind that this feature does not support iOS and only Android devices will work. With the M9500 you can also do the opposite by sending content from your phone to the player with the feature called Screen Mirroring or beam music if it is music you are interested in.
Another feature that Samsung added to the M9500 is called Private Cinema Mode with which the player can transmit audio to Bluetooth enabled headphones in order to create a silent viewing experience if you want to watch a late night movie. It also has support for Gear 360 and Youtube 360 content and you can navigate around the 360 degrees videos with the use of the remote.

Another improvement over the K8500 player is the remote as the one offered with the M9500 player is very similar to the OneRemote we see on offer with Samsung TVs. One major change they made this time is the inclusion of separate skip and scan buttons in contrast with the previous remote that were both offered in the same button making it difficult to choose one over the other. As for all the other buttons we found the layout simple and easy to memorize. If you have a Samsung TV you can use the M9500 remote to control the TV as well or you can use the TV remote to control the M9500 also saving you from using two remotes at the same time. If there is one thing we would like to see is some kind of back light which would make an already great remote even better.
Final Thoughts
The Samsung UBD-M9500 is a clear improvement over the K8500 player on all respects. Offering a better design that feels more premium and is more functional, playback performance that improves upon an already good performing model and having a lot more features and functions Samsung is determined to make their offering a good contender for the middle tier segment of UHD players. It's price may not be the lowest we have seen but it's not the most expensive either with Samsung trying to find a middle ground between performance and price.
On the other hand there are some very glaring omissions that will certainly turn off more than a few potential buyers. First of all there is no 3D Blu ray support and although 3D seems to have become a niche feature if not a dying one there are still a lot of people that like it and would love to have a player that will be able to play their large 3D Blu ray libraries. There is also no SACD and DVD-Audio support and although very few use these a large number of players still support them. Being a Samsung player the most obvious omission is of course the lack of Dolby Vision support and this is not going to change for this player at least as it lacks the necessary hardware..
In total Samsung has created a very good player but because of a few drawbacks and omissions it will never become a really great one. If playing 4K UHD discs is your only concern then the UBD-M9500 is more than just a good player offering spectacular image quality and excellent sound playback. The lack of 3D Blu ray and Dolby Vision support is the Achilles heel of this player and if you care for any of these two then there are other options to consider. If not then it's a worthy player for your viewing entertainment and one we would definitely recommend.
For more reviews you can check our dedicated 4K UHD Blu ray Player reviews list or even look at our Product Reviews Table where you can find the brand and specific product you are looking for.
Also don't lose the chance to subscribe to our Newsletter and gain exclusive privileges.
---
Cheapest Places to Buy :
---
Specifications
Disk Formats :

Ultra HD Blu-ray, AVCHD, Blu-ray, DVD / DVD±R / DVD±RW, 4K Blu-ray

AV Decoding Format :

WMV

,

JPEG

,

MKV

Audio Processing :

Dolby Decoding Channel

7.1,

DTS Decoding Channel

7.1
Features :

HDR, 360-degree view, Anynet+ (HDMI-CEC)

,

CD Ripping

,

Multiroom Compatible

, Smart Blu-ray with Full Web, Browser and Samsung Apps, Smart Hub,

Samsung Smart Blu-ray™, N Screen (BD to Mobile), HD Up-Scaling, UHD Up-scale, Video Upscale (DVD), WiFi, Bluetooth

Connections : HDMI 2.0a x 1 (VIDEO/AUDIO), HDMI 1.4 x 1 (AUDIO ONLY), Digital optical Audio Output, Ethernet port
Dimensions / Weight : 15.98″ x 1.77″ x 8.88″, 4.19 lbs