Sennheiser AMBEO MAX
Reviewed at $1,999.00
Movies Performance
9.2/10
Inputs and Features
9.2/10
Pros
Powerful audio output
One of the best 3D sound implementations
Plenty of features
Can be used as a hub
Cons
Not as good as a true surround system
Bulky and heavy soundbar
No HDMI 2.1 means no 4K@120Hz pass-through
Expensive
---
Cheapest Places to Buy :
---
When it comes to soundbars the name Sennheiser is probably not going to be among the first on your list and not without reason. Sennheiser has made a name for their top quality headphones of all sizes and shapes but they were never very much into the soundbar business. This was until a few years ago and today in our Sennheiser AMBEO MAX review we are going to test this 13 drivers behemoth that surely made waves in the soundbar market when it was first released.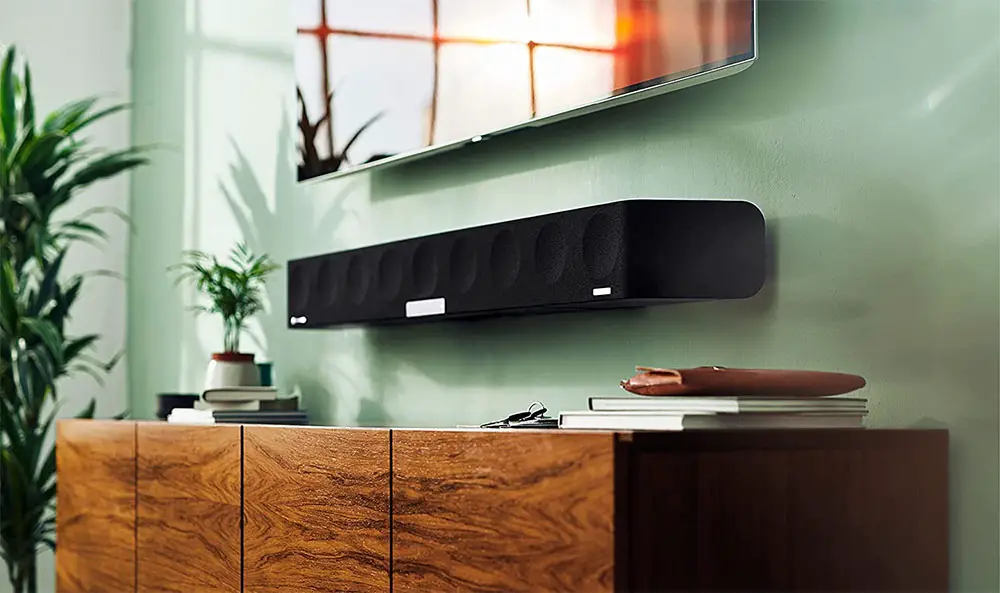 The AMBEO MAX, originally released as just AMBEO, is the first of the two soundbars Sennheiser has on offer with the AMBEO Plus being the new member in the family that will come out in 2022 and hopefully we will have it for a detailed review in the near future. The AMBEO MAX is really a huge Dolby Atmos soundbar that gathered a lot of attention when it was released a few years back but still remains a very interesting system to this day.
But let's see real quick what the AMBEO MAX is all about. What we have here is a 13 drivers single unit soundbar that is branded as a 5.1.4 channels system, is able to playback both Dolby Atmos and DTS:X and has a lot of interesting features like 360 Reality Audio technology from Sony, an audio calibration system, high resolution audio support, Google Chromecast and AirPlay 2, Bluetooth and NFS functionality and obviously a dedicated mobile app.
When the Sennheiser AMBEO soundbar MAX came out costed a staggering $2,500 which for a soundbar is a lot. From back then it seems that the price has fallen slightly to a more reasonable $2,000 which can still be considered high for a single soundbar. Does Sennheiser created such magic that would make the AMBEO MAX deserve that price? Let's put it to the test to find out.
Design, Inputs and Features
Exterior
Design wise the AMBEO MAX is really one of a kind. We have tested some big soundbars in the likes of LG and Samsung in the past but the AMBEO MAX takes it to the next level. This is one huge system and is obvious that Sennheiser put the performance of the system at first priority and not its size.
The soundbar measures an amazing 126.5 x 13.5 x 17.1 cm including the feet and weight approximately 18.5 kg which is astonishing for a soundbar. As you understand from the above even if your TV has a fairly high stand the soundbar will not fit under it. With a height of more than 6.5″ you will either need a special furniture to keep the TV higher or you will need to place the TV on the wall.
Keep in mind that if you plan on placing it in front of your TV the soundbar doesn't have any IR repeaters, so if your TV's IR sensor is extremely low then it may obstruct the signal, so you better measure first just to be on the safe side. With most TVs having a stand clearance of about 2.5″ means that the AMBEO MAX will not fit in most cases. So you will have to make your homework when it comes to placing this beast under your TV.
Design wise the AMBEO MAX is good but nothing astonishing. And to be honest for any other unit we wouldn't mind it too much but when you have to give $2,000 for it then you expect a bit more of a premium design like LG and Samsung offer.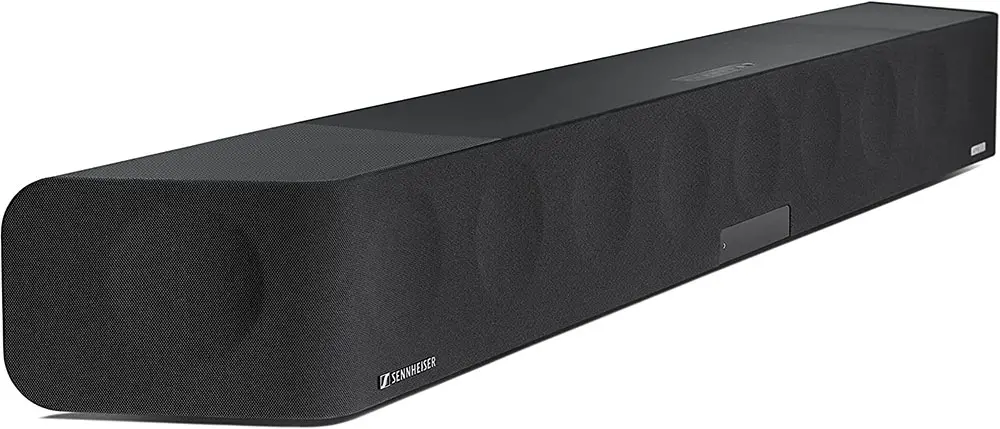 The entire front face along with both sides are covered by a fabric grille that can be removed if you like to clean it or to show the soundbar with its drivers while the top is using plastic for its center and metal grilles at the sides that cover the up-firing drivers. At the top we also find the built-in controls with seven round buttons available that include mute, volume control, AMBEO/audio calibration, a multi-function button, source selection and power. Along with them we also find the NFC antenna that enables this function to the unit.
When it comes to its display the AMBEO soundbar MAX features one of the best full OLED function displays we have seen in any soundbar. This is placed right in the middle of the front face and instead of being behind the grille there is a special panel that sits on top of it so the display is crystal clear and easy to discern. It is also extra big meaning that whole words can fit into it and surely its quality is a step above everything else that is released even today.
At the back we find a single inset that houses all the available connection ports along with the power connector and there is a rubber band allowing you to hold all cables together for easier management.
Overall the Sennheiser AMBEO soundbar MAX is a huge unit and should be handled with care when placing. Its size does not help and you will have to make sure it fits where you plan on placing it while in terms of design, while its materials are of good quality we were hoping for something slightly more premium looking for the price asked.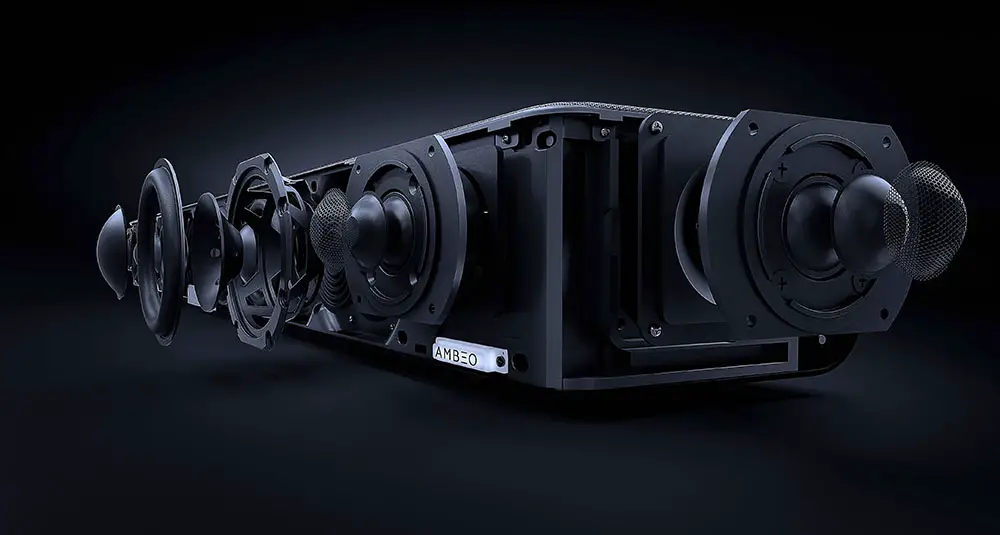 Internal Hardware
With the AMBEO soundbar MAX it was rather easy to find what kind of hardware it uses as the removable grille along with Sennheiser's information gave us everything we needed.
The unit comes with a total of 13 different drivers and is being classified as a 5.1.4 channels system.
At the front face we find six 4″ cellulose sandwich cones complemented by three tweeter aluminium cones. Another two such cones are placed at an angle facing sideways while there are also a couple of 3,5″ top facing full range cones for the overhead effects.
Sennheiser is using 13 class D amplifiers, one for each driver, while all the audio processing is handled by a single Dual Core 1,2 GHz ARM Cortex A7 along with two Dual Core 500 MHz SHARC DSPs.
The unit is rated at 250 watts power output (RMS) and 500 watts of peak power with Sennheiser claiming a frequency response of 30 Hz – 20kHz (-3dB).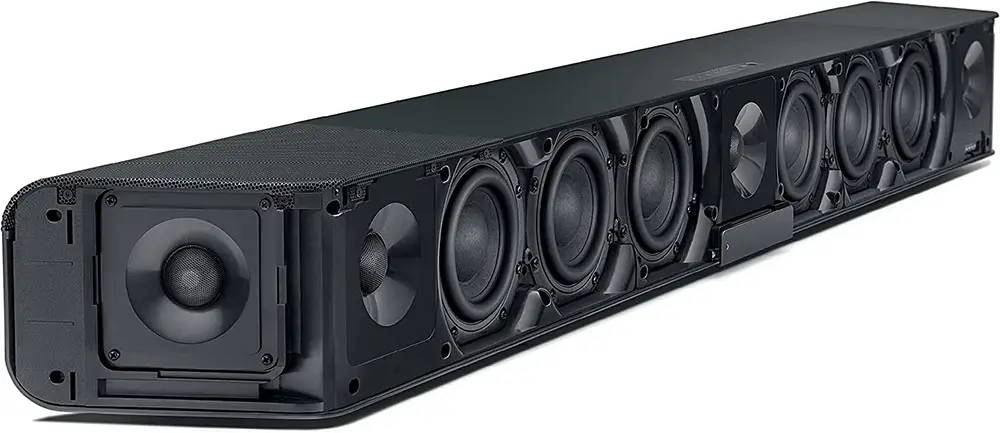 The AMBEO MAX is surely an interesting and rather impressive design. The combination of its drivers array and digital audio processing is what gives this unit the ability to perform much better than what single soundbars usually do. But more on this in our movies testing.
Connectivity
When it comes to soundbars things tend to be slightly underwhelming, even with premium top tier releases. On the other hand looking at what the AMBEO MAX offers looks a bit more promising and certainly much better than most.
From left to right what we get is a analog stereo input, a dedicated subwoofer pre-out, a digital optical audio input, three HDMI inputs, one HDMI output, an RJ-45 Ethernet port for wired connection to your local network, a USB-A port and the power connector.
A few notes we need to make here and we will start from the HDMI ports. These are all HDMI 2.0a which means they can pass-through 4K@60Hz at best. So you can forget about high frame rate gaming through this. At least the ports support both HDR and Dolby Vision so in essence you can connect all your sources through the soundbar itself.
The HDMI ports also support CEC which can be handy if your TV does also while the HDMI output supports eARC in case you want to direct audio from the TV to the unit itself. Just keep in mind that eARC can be troublesome so use it only as a last resort.
Also this is one of the few soundbars that feature a dedicated subwoofer port that you can connect a 3rd party unit on it in case you find the bass lacking. And lastly the USB-A port is only for power distribution as the soundbar does not support USB playback at all, which is a bit disappointing for such a premium release.
The AMBEO MAX also supports wireless as it uses both WiFi (802.11 a/b/g/n/ac) and Bluetooth 4.2 (AAC, SBC).
The AMBEO soundbar MAX is definitely one of the better soundbars in terms of connections as with three available HDMI ports you can surely connect most of your sources on it, if not all. It may be lacking HDMI 2.1 ports along with their gaming centric features like VRR and ALLM but even soundbars released today have not these yet.
Control Options
Next we will be looking at the ways you can control the soundbar.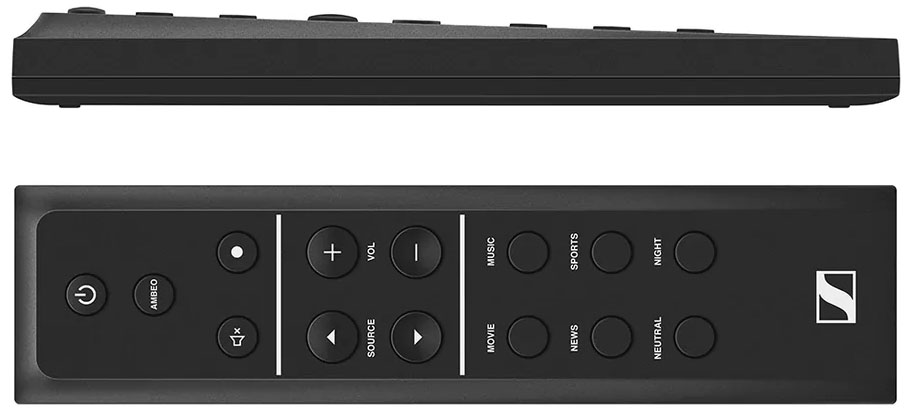 The built-in buttons are the first and most basic form of controlling it but as usual their usability is rather limited as for many of the unit's functions you will need either the remote or the available mobile app.
In terms of the remote this is a very simple one, especially considering the price of the soundbar itself. It's a simple dark plastic dongle with 14 round buttons that include most of the soundbar's functions, but not all of them.
At the top is we find the power button with the AMBEO function right below it. After these we get the mute and multi-function buttons, source selection and volume control and lastly an array of six buttons for different sound profiles including Movie, Music, News, Sports, Neutral and Night.
The soundbar supports HDMI-CEC which means that if you connect the unit to the TV with a HDMI cable you can use the TV's remote to handle some basic controls like volume. This may not give you the complete range of supported functions but it may help in certain situations.
Also due to the inclusion of the built-in WiFi module you can use voice control although this is not supported built-in. If you have a Google Assistant device then you can use that to issue commands to the AMBEO MAX itself.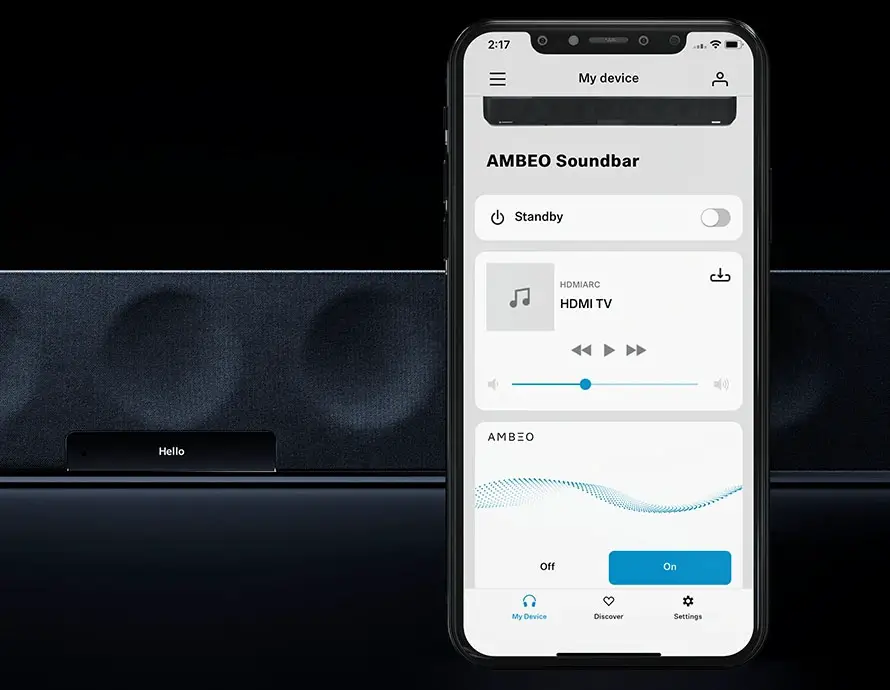 Lastly there is the Sennheiser Smart Control app which is available in both Google Play and App Store and with it you can have complete control over the soundbar that no other means of control can offer. The app is very nicely designed and has a very pleasant user interface. Its menus and icons are easy to understand and you can find everything you are looking for relatively fast.
Sennheiser has updated the app and included many new functions that were absent in the original release. This is another indication that the brand supports its products well after their release and we commend them for doing so.
Overall the AMBEO MAX offers plenty of flexibility here as any premium soundbar should.
Extra Features and Services
Now let's talk about all the extra features that are included and we will start with the audio formats supported.
The soundbar can playback content containing Dolby 5.1ch, Dolby Digital Plus, Dolby True-HD, Dolby Atmos, DTS 5.1ch, DTS-HD, DTS-HD Master Audio, DTS:X and LPCM 8Ch. What is missing is IMAX Enhanced and Auro-3D but these were never supported in any soundbar and in general their availability is scarce at best.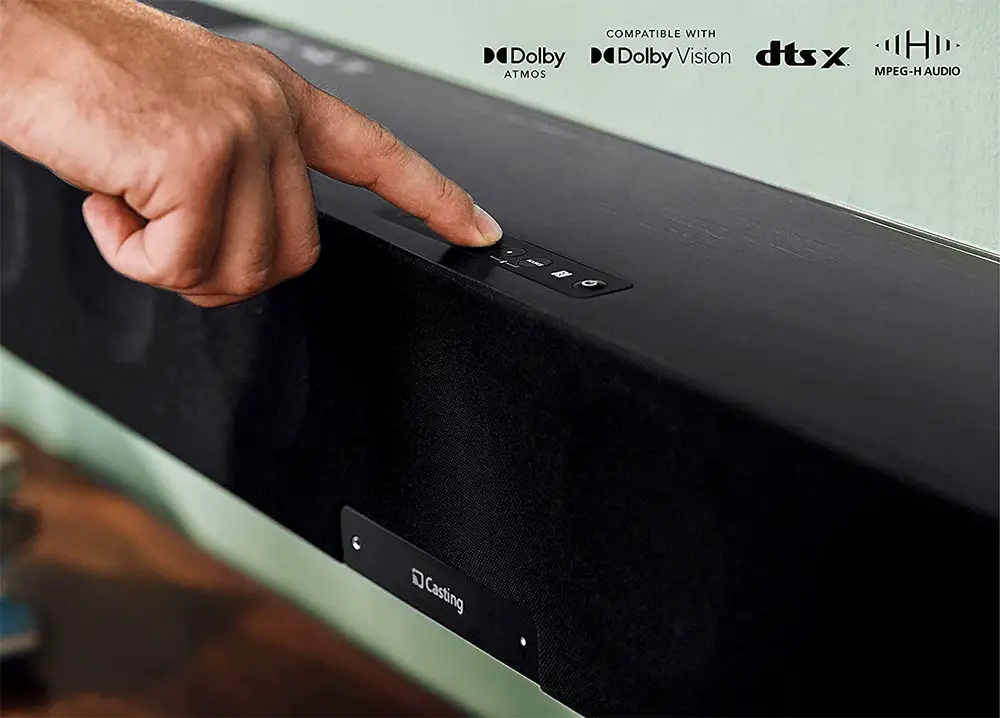 The unit also comes with a few sound profiles, or modes if you prefer, you can select from as per usual with most soundbars. The ones available are Movie, Music, News, Sports and Neutral.
With these you have the option to enable the AMBEO mode which will add more three dimensionality to the whole performance. The AMBEO feature has three presets with Light, Standard and Boost available.
With all the above we also get a Night mode which can be ideal for night time viewing and can be used in combination with any of the above sound profiles and the AMBEO mode (except from the AMBEO Boost setting).
The unit also comes with a few Dolby technologies including Dolby DRC (Dynamic Range Compression). This function compresses the dynamics of the audio signal, thus changing differences from soft to loud passages.
There is also Dolby Dialogue Normalizer which makes dialogue easier to understand by reducing loud music/background noise and amplifying softer dialogue audio while Dolby Virtualizer plays back Dolby audio content unchanged. Keep in mind that with this last one activated you will not be able to use any of the sound profiles, AMBEO mode, equalizer or room calibration data.

The unit also comes with Bluetooth connectivity and with it you have the ability to stream audio from any mobile device through a Bluetooth connection.
As for audio decoding we get the usual MP3, WMA, AAC and OGG when it comes to low quality ones but we also get High Resolution Audio support for FLAC, ALAC, AIFF and WAV files. What is disappointing is no USB playback from the unit itself. This means you have to rely on an external source like a media player that supports these or through Bluetooth or WiFi but in this case the quality will certainly be much lower than it could.
There are also plenty of multi-room and online streaming features including Google Chromecast, Airplay 2, in case you are more into Apple's devices, Spotify Connect and Tidal Connect for some high quality music.
Lastly there is NFC functionality which is similar to the Tap Sound feature we find in Samsung soundbars. If you mobile phone supports NFC also you can use it to pair it to the soundbar this way.
Overall the Sennheiser AMBEO soundbar MAX offers most of what you would expect to find in a top tier soundbar. Obviously here LG and Samsung usually are the kings but the AMBEO MAX is not missing much of what most users would need for a fully functional home theater system.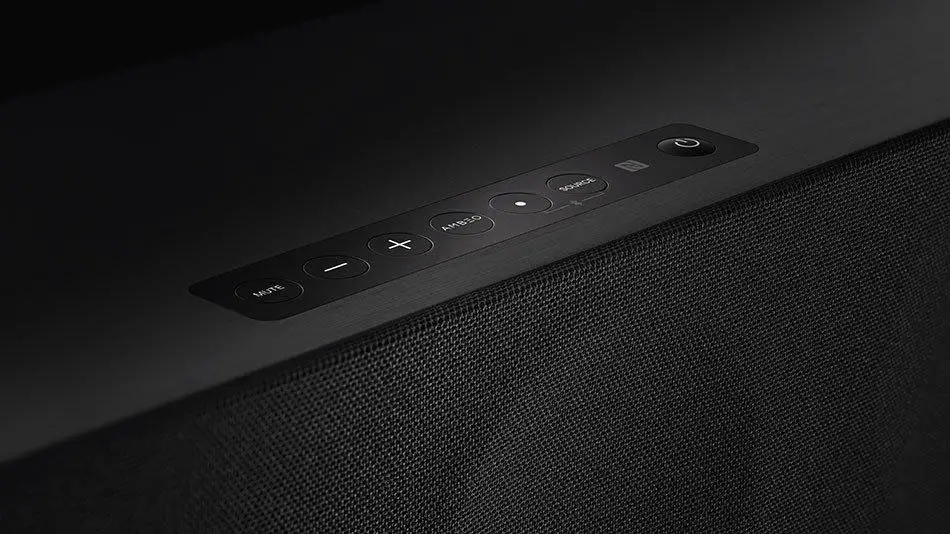 Initial Setup
One of the fundamental principles of a soundbar is to provide you with a simple and straightforward user experience. And Sennheiser made sure that the AMBEO soundbar MAX does exactly that.
In terms of setup the steps you have to follow are fairly simple and easy to comprehend. First of all you have to decide how to connect the soundbar to your TV and system. Here you have multiple options including HDMI pass-through, eARC, through the digital optical port or even the analog stereo input.
After you connect the power you have to download two apps in succession. The first one is the Google Home app that will allow the unit to connect to your local network and the internet. The second is the Sennheiser Smart Control app that will grand you full control over all of AMBEO's functions and features.
It is strongly advisable you run the audio calibration system first before use as this way the unit will calibrate its output to correspond to your room's design and acoustics. Keep in mind that the AMBEO MAX works with virtual technology meaning it needs to be as precise as possible if you are to get the illusion of surround sound to the best of its ability.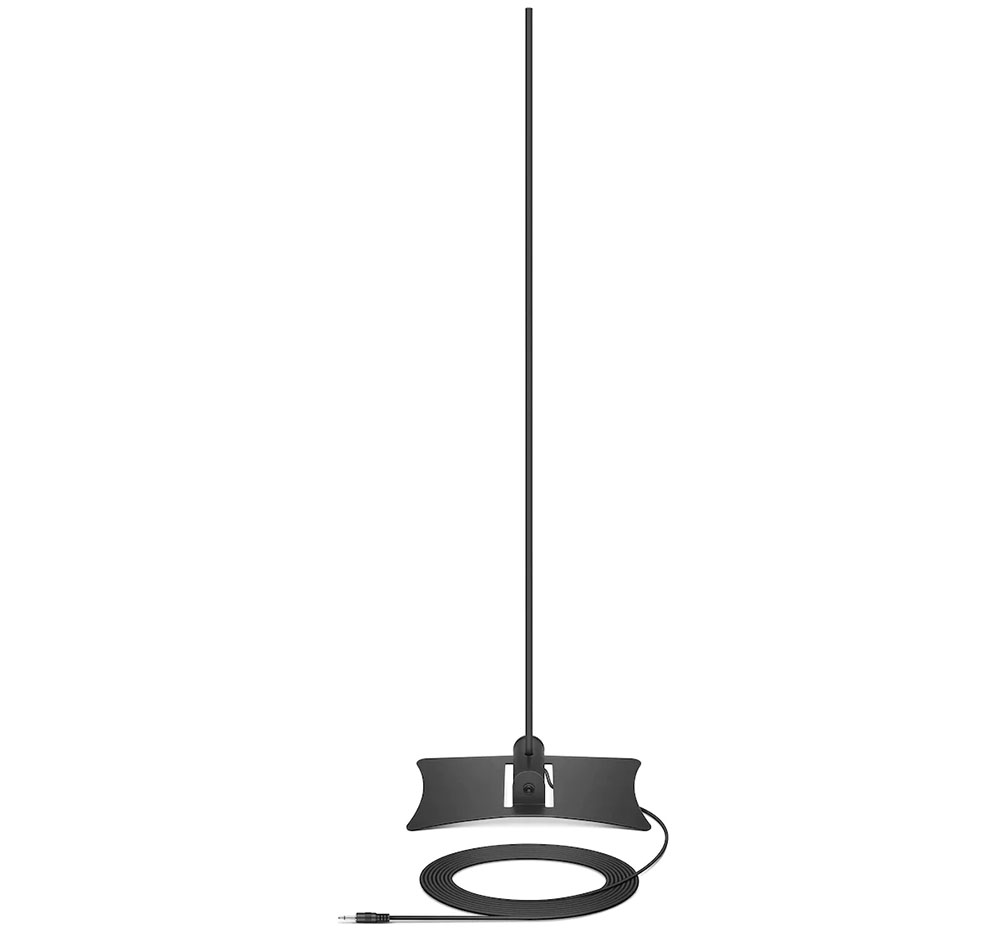 Here we couldn't but mention the microphone that comes equipped with the unit. This thing is huge and is by far the biggest calibration microphone we have seen in any audio device. Forget about these small microphones that most AV receivers come with, this thing trashes them by a mile!
When calibration is done and you have the Sennheiser app in your phone you can select certain audio features including the sound profile and if you are going to use the AMBEO feature in order for the soundbar to create a more immersive surround output.
The kind of output you will get greatly depends on the room you have. So try to place the soundbar in a symmetric room with equal distances between the walls on both sides and with a low straight ceiling for the Atmos effects to have the most impact.
And while the audio calibration system will surely try to compensate for the irregularities of your room this is not perfect and surely any room configuration will give different results in terms of virtual surround output.
When everything is said and done you are ready for use and so were we.
Movies
We wanted to push the soundbar to its limits in order to determine if the 360 Reality Audio technology can really do its thing or we would get more of the same as many other soundbars that claim to support Dolby Atmos and surround sound but only in name do.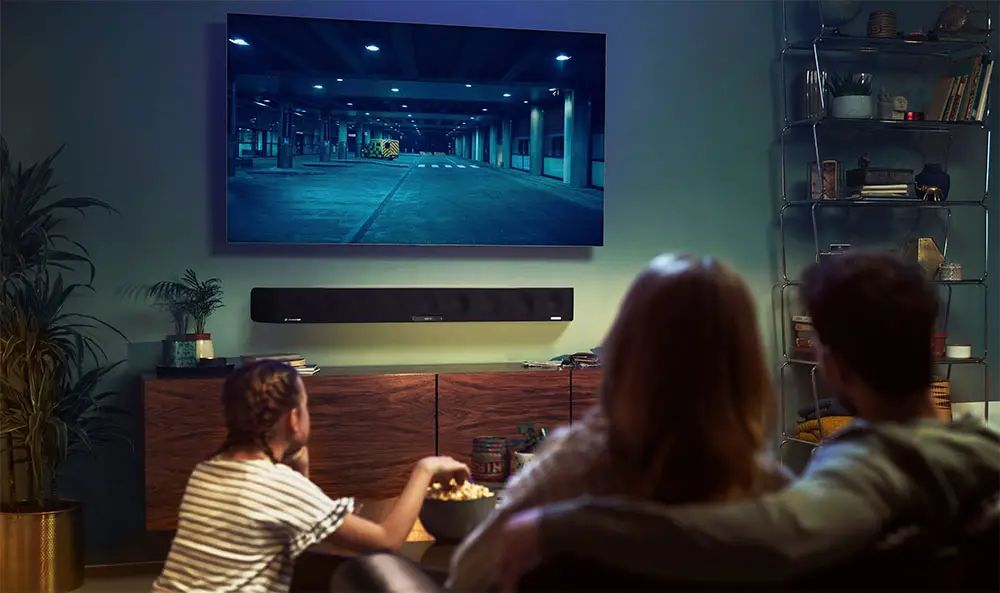 And what better content to try than Bumblebee in 4K UHD with its excellent Dolby Atmos mix. The opening sequence with the war of Cybertron is an excellent showcase of panning effects, surround activity and overhead action.
When you test a soundbar, and we have tested a lot of them, you have certain expectations depending what each system has in terms of hardware. And when we are talking about single unit soundbars the odds are certainly not in favor of these units when it comes to creating a full three dimensional audio immersion.
And this is where the AMBEO MAX will surprise you. From the first moment this didn't sound like your typical soundbar. Surely it still had specific characteristics that with closed eyes you could still understand that this is not a full surround system but sound came to our ears very differently from what we expected.
The front soundstage was very dynamic with loud and very clear sounds emitting from the entire front wall. The side firing drivers did an excellent job at extending the physical boundaries of the unit itself and you could clearly sense audio coming for further away from our TV.
The two main channels along with the center one had good separation, even though they are in close proximity and panning sounds from one channel to the other were accurate and distinct. The soundbar did equally great with dialogue as we never felt like actors voices were getting lost under all the mayhem and destruction.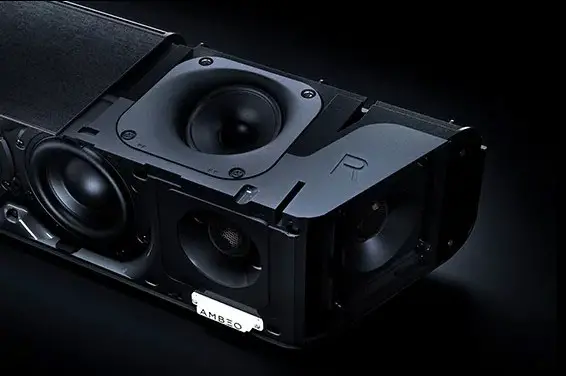 As for its Atmos performance this was really good with enough elevation although precision and clarity were suffering a bit. This is a trait of all Dolby Atmos soundbars that use up-firing drivers to deliver Dolby Atmos content. As sounds bounce of the ceiling and down onto you the level of clarity is far lower than having real ceiling or height speakers to work with. Also having only two front Atmos channels means that precision of these effects is taking a dive.
For the soundbar to work at its best with Atmos effects you need to make sure you have a low straight ceiling (9 feet high at the most) and find the sweet spot of your viewing position in order to get the best performance out of it. Stay too far and the Atmos effects will definitely sound weaker.
But the most impressive aspect of the AMBEO soundbar MAX is definitely its surround performance. We can say with certainty that this system brought surround effects closer to our viewing position than any other single unit soundbar we have tested to this day. It was that good. We could feel certain effects in our sides and this greatly upped the immersion during viewing.
We can say with certainty that this was due to the fact that the side walls of our testing area are relatively close to our viewing position and this helped the soundbar to bounce the sounds better towards us. The further the side walls are the weaker the effects will be for sure so again your room's design will play a big part on the soundbar's performance.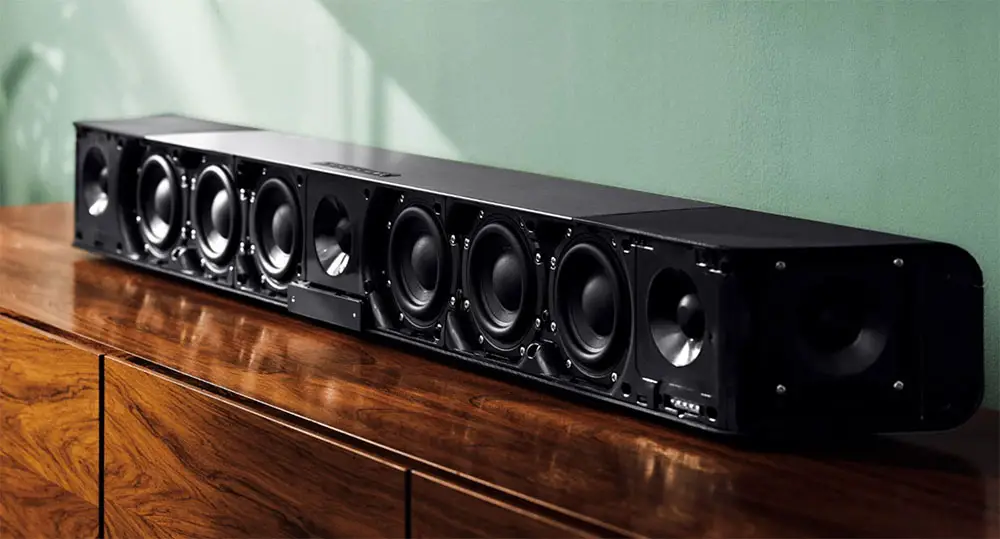 When it comes to its low end performance the AMBEO was good but not great. It surely has enough punch and will try to dig dip whenever it can but ultimately don't expect to get the Earth shaking experience a 3rd party subwoofer can provide. Thankfully if you also find the bass lacking Sennheiser gives you the option to add an external subwoofer to rectify this.
The Sennheiser AMBEO soundbar MAX is a system that will surely surprise you as it did in our case. We never expected to hear a single soundbar behave so good with surround sound and while it may not be able to reach the precision and clarity of a real surround system with separate speakers, for a soundbar that offers a compact design, almost no cables, ease of use and no fuss making complex calibrations it came damn close.
Music
The AMBEO MAX lacks USB playback, which is inexcusable for such an expensive system, so what we did instead was to connect our media player to the HDMI port and stream some high resolution audio to the soundbar this way. For all our reviews we use a Zidoo Z9X to playback a selection of FLAC files we have at hand for these situations.
Most of the times when we review a soundbar, music feels a bit like an afterthought and not without reason. Soundbars are primarily created as simpler and more streamlined home theater systems and are not meant to replace a dedicated HiFi system for music. So while many of them perform good, most of the times their abilities with movies are far better than with music.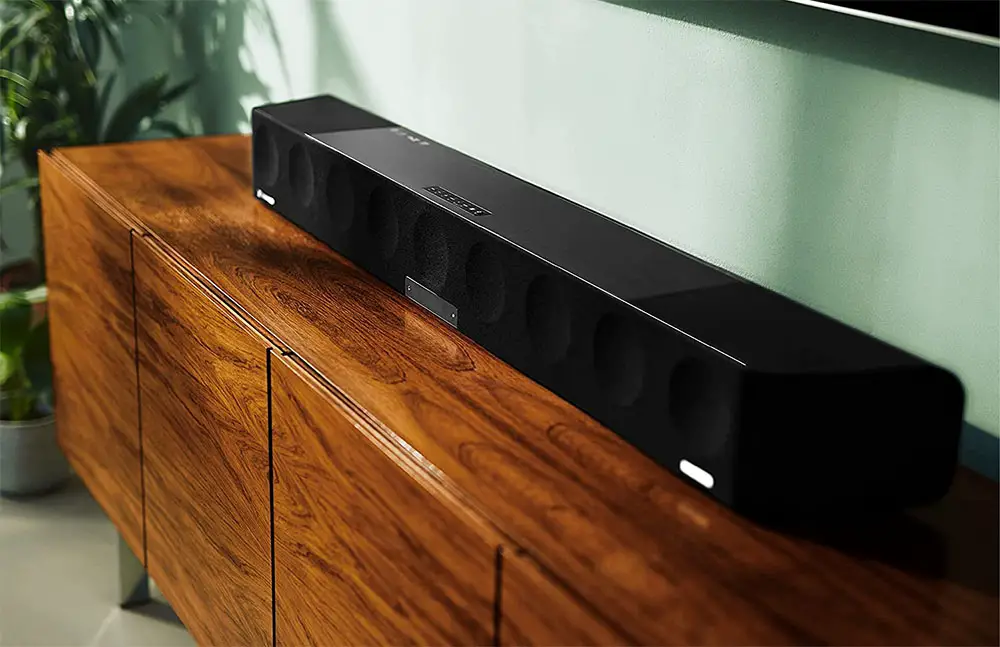 There was no reason to expect anything different but the AMBEO MAX once again managed to surprise us. The level of quality you are going to get is much better than even some high tier releases from the more known brands. Clarity was very high and the articulation of sound was phenomenal. Now, before you start doubting our writings we need to make clear that the AMBEO MAX in no way can compete with a HiFi system. It's just that what you will hear is a cut above anything your typical soundbar can do.
Sound imaging was really good with the front sound wall being meticulously rendered in order to be able to pinpoint the sounds in their original positions. Panning stereo sounds were distinct enough and there was no audible delay between the channels.
The AMBEO MAX had a very solid mid-range which made an excellent base for all the other frequencies to tie in. The high end had enough energy and emotion without becoming distracting or overall bothersome. Tonality was great and the soundbar in general had a very neutral sound without any excessiveness across the entire frequency range.
A few different genres didn't reveal any abnormalities in specific strings and the entire performance was really as impressive as it gets from such a compact system.
When we closed our movie section we didn't thought that things could get any better but the AMBEO MAX once again proved us wrong. What we have here is not only a very capable soundbar but also a very masterful music performer which makes this unit a great choice for mixed use and will not make music feel like an afterthought as many soundbars do.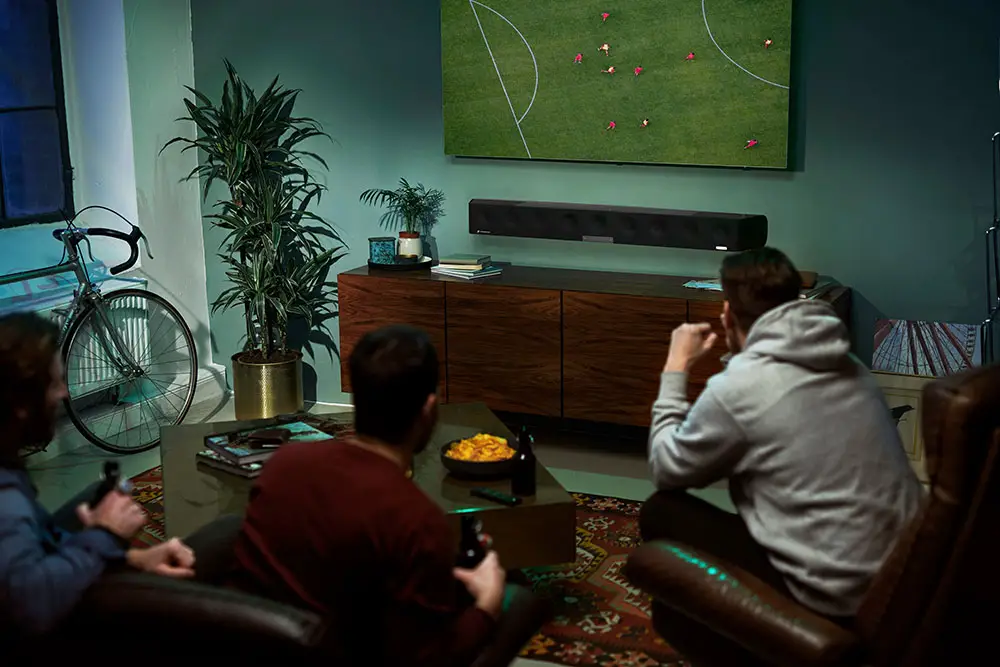 Final Thoughts
When the Sennheiser AMBEO soundbar MAX first came out costed a whopping $2,500. Since then the price has slightly fallen to the more acceptable $2,000 mark. It is still a very expensive unit no matter how you see it but the AMBEO MAX offers the kind of audio quality that is hard to find in a single unit soundbar nowadays.
On its positives the unit creates a very powerful and dynamic front soundstage with exceptionally high resolution output and crystal clear dialogue. Its surround and Atmos performance was a step above most other units that come with similar virtual technologies while it offers plenty of online features to satisfy most needs. Lastly special mention need to be made for the three HDMI inputs available that enables the unit to be a hub for all your sources.
On the downsides, as good as the AMBEO MAX surround sound may be it still is not as precise or as accurate as a true surround system with dedicated rear and height speakers. Also the unit is one of the biggest and heaviest we have tested which surely makes placement troublesome. No HDMI 2.1 means that you are limited to 4K@60Hz signals while for a single soundbar the $2,000 price tag may be a bit too much for a lot of consumers.
Closing our review we will say this. If you want the best performing single soundbar that money can buy then look no more. The Sennheiser AMBEO MAX takes this title with ease and will make you think again what a single soundbar system can do in terms of surround audio. Highly recommended.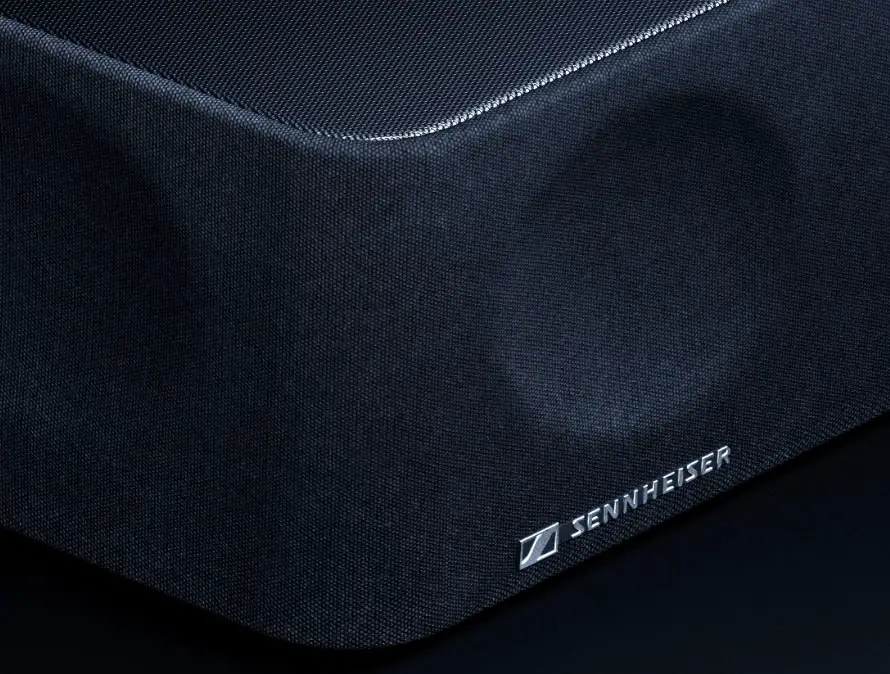 For more reviews you can check our dedicated Single Soundbar reviews list or even look at our Product Reviews Table where you can find the brand and specific product you are looking for.
Also don't lose the chance to subscribe to our Newsletter and gain exclusive privileges.
---
Cheapest Places to Buy :
---
Sennheiser AMBEO MAX Specifications