Sonos Playbar
Design -

94%

Movies Performance -

92%

Music Performance -

92%

Inputs and Features -

82%

Price / Quality -

86%
---
Cheapest Places to Buy :
---
Creating an immersive home theater system is not always an easy task as it not only depends on the cost but also on available space making sometimes the placing of speakers around the viewing area a difficult prospect. Also the quality of audio nowadays coming out of flat TVs are completely the opposite of their visual quality thus making the need for a system that would offer both good audio performance but in a compact design a necessity.
Today we are very pleased to review a soundbar from Sonos as it will the first product we will reviewing from this company. Given their many years of expertise in the field we are curious to see how their soundbar fairs and if it's performance justifies the high price it costs. Sonos is not a company that follows the tends and their soundbar reflects this mentality by offering something different than what we normally see. Sonos Playbar is not your typical soundbar but does it offer what is it advertised for? All these in our Sonos Playbar review that follows.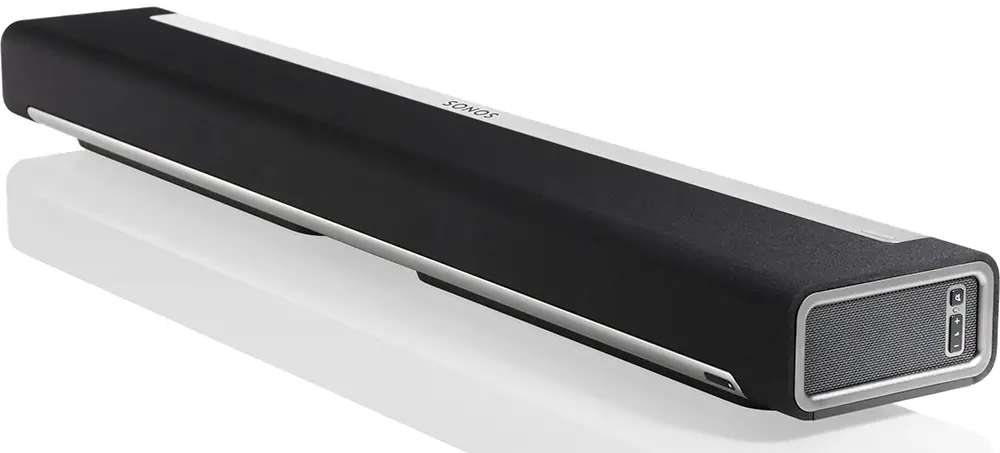 Design, Inputs and Features
From the first moment you unpack the Sonos Playbar you understand that it's something special. The soundbar has a slim rectangular shape with it's body being covered by black fabric and has silver metallic finish at the edges giving it a very distinct visual design. The first of Sonos unique features is that the soundbar can be positioned in two ways, either laid down or with the wider edge facing out. This can definitely help depending on your situation and it gives you more options on how you want it look. Measuring at 3.35″ (H) x 35.43″ (W) x 5.51″ (D) / 85mm (H) x 900mm (W) x 140 mm (D) and weighting 11.9 lbs / 5.4kgs this is not a small piece of equipment so having the flexibility to place it in two ways is a major plus and one we don't see in soundbars often.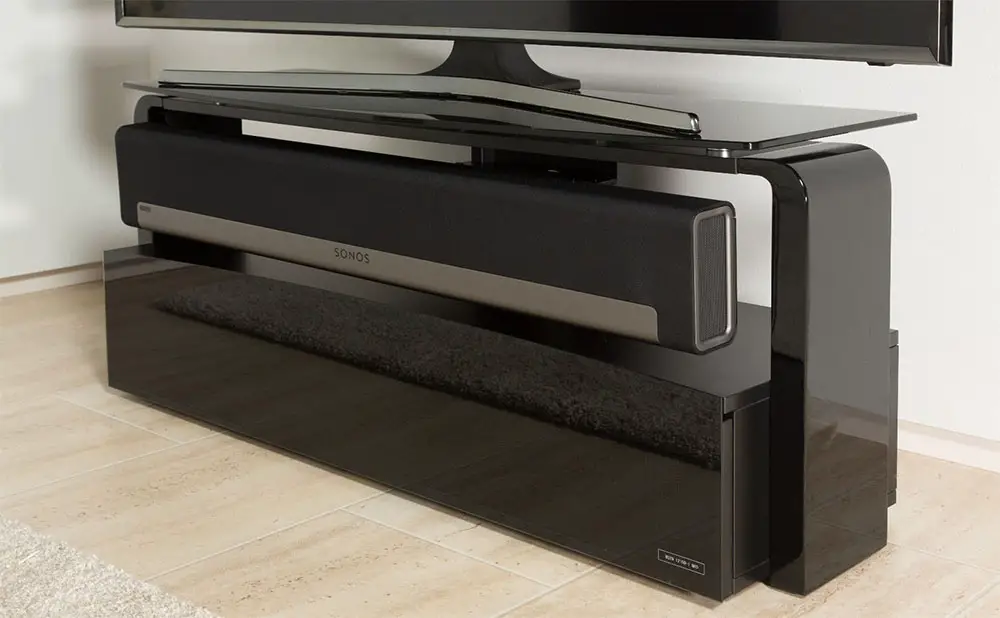 Basically what happens is that the soundbar is using it's on-board sensors to know in which position it is placed and is calibrating it's output accordingly. In our opinion placing the wider edge facing out gave a sense of better performance but it also depends on if you have the space to place it like this. On the other side if you are tight on space placing it laid down will not result in major differences in sound reproduction.
At the back of the soundbar there is an inset area hiding all the connections and here is the second unique feature we get. When you look at the ports on offer you immediately understand that this is not a typical soundbar with it's typical connections we usually see. And this because the only available ports are an optical in port as well as two Ethernet ports…and that's it.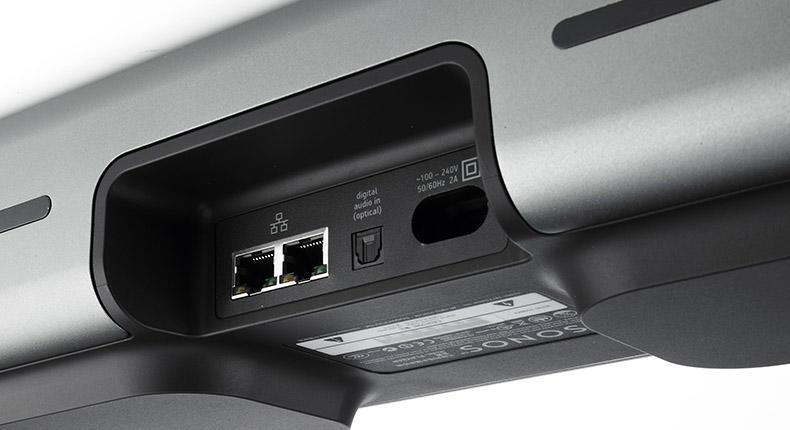 Sonos has designed their soundbar with a specific mindset. To playback the sound your TV would but in a much better way. What this means is that you connect all you source devices like blu-ray player, streaming box, media player and game console to your TV through the HDMI ports and connect your TV with the Sonos Playbar through an optical audio out port so the TV will direct sound to the soundbar instead of the TV's speakers.
In theory this sounds very simple and smart design but it comes with a catch, one you should be very careful before you decide to buy this specific soundbar. Your TV must be equipped with an optical audio out port as the soundbar is only equipped with an optical audio in port. And although a wide range of TVs from the last few years do have optical audio out ports this is not standard for all TVs making the connection with the rest of them that don't have one impossible. So make sure your TV has an optical audio out port before deciding.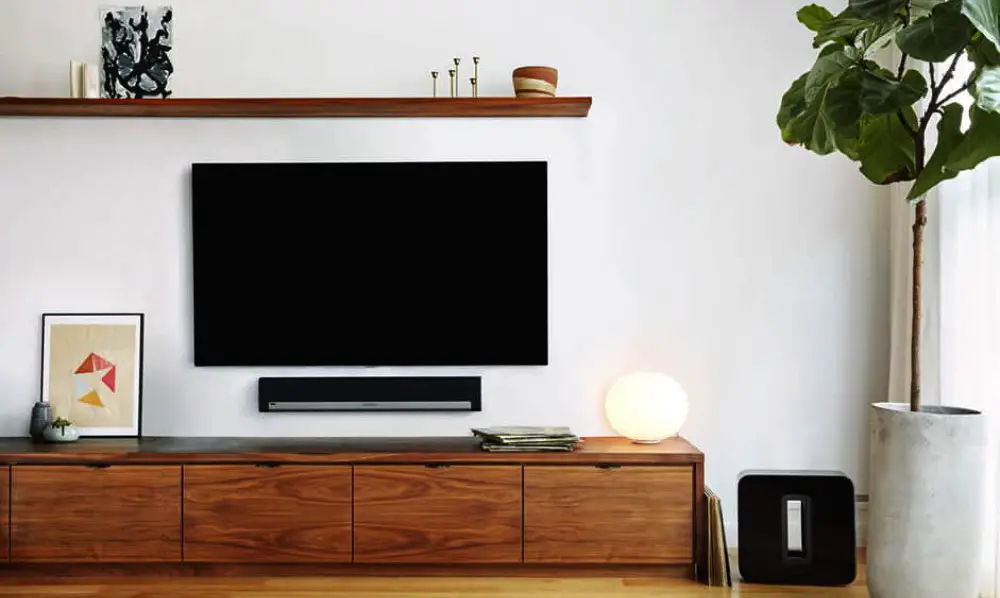 Since we talked about the use of an optical port here we found a very glaring drawback of the Sonos Playbar. By design the soundbar unfortunately cannot handle DTS audio tracks, it can decode only Dolby Digital, but due to bandwidth limitations of the optical port it also cannot handle lossless tracks like Dolby TrueHD and DTS HD: Master Audio. Another potential problem is that some TV models don't output proper 5.1 surround sound from their optical out ports but only stereo. In this case you will have to setup your source to make the decoding and connect it directly with the Sonos Playbar in order to get proper surround output.
Taking all the above into consideration it's time to talk about the unit itself a little bit. Sonos really know their game as they have equipped the Playbar with six mid-sized woofers and three tweeters creating a nine phased speakers array that according to the manufacturer offers a wider sound stage and better directionality. The number of speakers is definitely impressive but we will talk a little later how it performed in our tests and if the company's claims hold true.

Nowadays almost all soundbars come equipped with a subwoofer in order to offer much lower frequencies than the main unit would ever be able to. Unfortunately to our disappointment the Sonos Playbar doesn't have any even though it gives you the option to connect one. For such an expensive soundbar we would definitely like to have a sub included as buying it separately would rise the cost into three digit numbers in total. Also there is the option to add a couple of Play:3 wireless speakers and with the addition of the wireless subwoofer to create a fully featured 5.1 surround system.
And since we talked about extra speakers, the soundbar features a great degree of scalability. What does this means is that if you don't have the budget to go for all these speakers but would like at some point to get them all, you can buy the Playbar now and the subwoofer as well as the surround speakers you can add at a later time as adding extra speakers to your system is very easy and fast and recalibration is almost seamless with the use of the online app.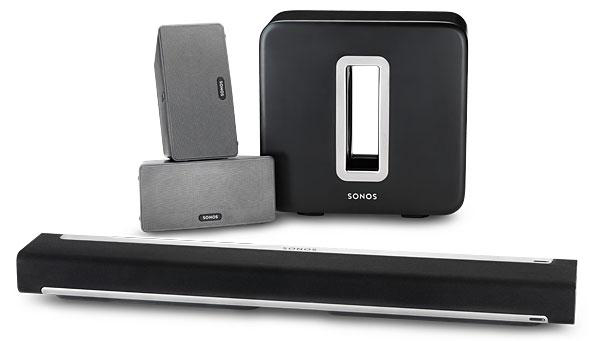 If this is your first Sonos component then you will have to plug it directly to your internet router. And that's the reason why there is a second Ethernet port available so you can use it to connect other devices to the internet via the Sonos network. If your router is far from the Playbar you can connect it through WiFi as Sonos updated the Playbar to connect wireless  as before you needed to buy a special device Sonos called Bridge to connect. Connecting it online gives the Playbar the ability to stream online music from a wide list of online streaming services like Amazon Music, Tidal, Soundcloud, Apple Music and many many more. Controlling the Playbar can be done from anywhere in your house as you can control it through the appropriate online app that you can download and is available for both Android and iOS.
Another feature that makes this soundbar unique is that there is no dedicated remote for controlling it. It sure made us look for it a couple of times but the Sonos Playbar has the ability to learn to respond to your TV's remote for sound control. It also has a built-in IR repeater so in case the Playbar sits in front of the TV, it is able to pass the commands that are directed for the TV itself. All this is part of the ease of use mentality that Sonos tried to pass to the overall design of the Playbar.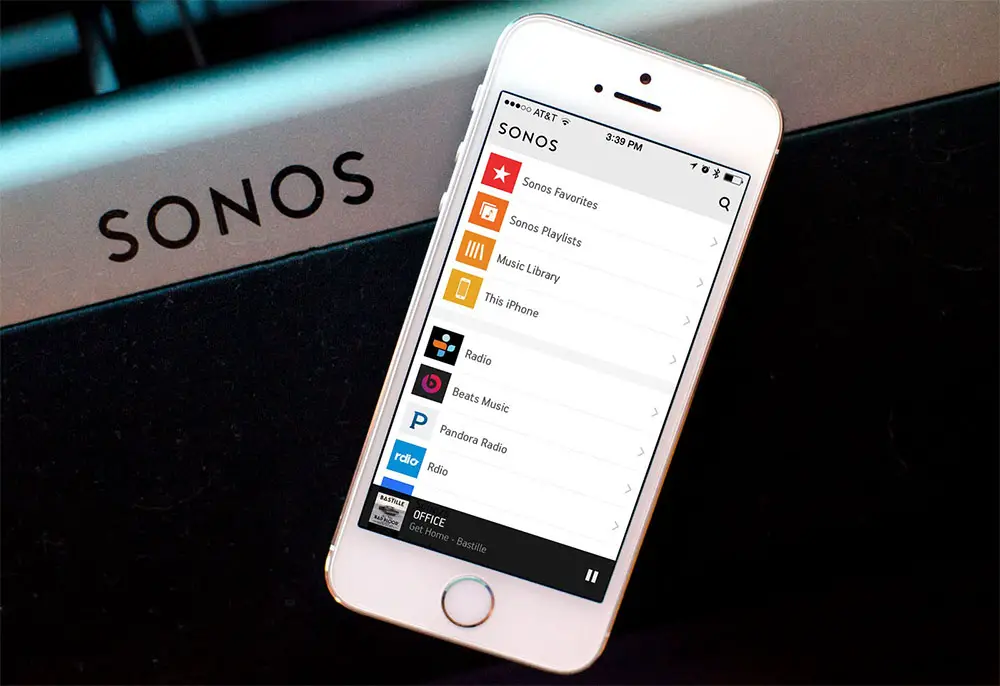 Performance
Setting up the unit is quick and painless. We placed the soundbar in front of the TV, connected the optical and Ethernet ports and that's all, we were ready to rock. All the setup is done fast through the online app that guides you in every step on how to make all connections and how to setup your TV for the optical port to work. The app is available for both Android and iOS and can be downloaded separately from each store. With the app you can also add more speakers to your setup like the wireless sub or two Play:3 wireless surround speakers.

Sonos provides another app called Trueplay with which you can make automatic calibration of your system in case you are using an amplifier. But instead of using a testing microphone you use your smartphone and by moving into different positions Trueplay carries out the calibration automatically. Unfortunately while Sonos app is available on both Android and iOS the Trueplay app is only available for Apple devices for unknown reasons.
Movies
When everything is ready and set we decided to use our copy of Pacific Rim: Uprising in order to put the soundbar to the test. The very first impression we got is that the Playbar created a very wide and full sound stage but at the same time it was completely limited to the front of us. Effects were convincingly moving from left to right with a great sense of separations between the two sides. Dialogue was very clear and distinguishable from the rest of the sound effects.
As for the bass the Playbar managed to go pretty low, lower than what most soundbars have used us going but even like this the Playbar has it's limits and it screams that the addition of the Sonos subwoofer would greatly benefit the overall performance. A movie like Pacific Rim is heavy on low frequency effects and the Playbar struggles to reproduce these effects with power and control feeling a bit flat in the end.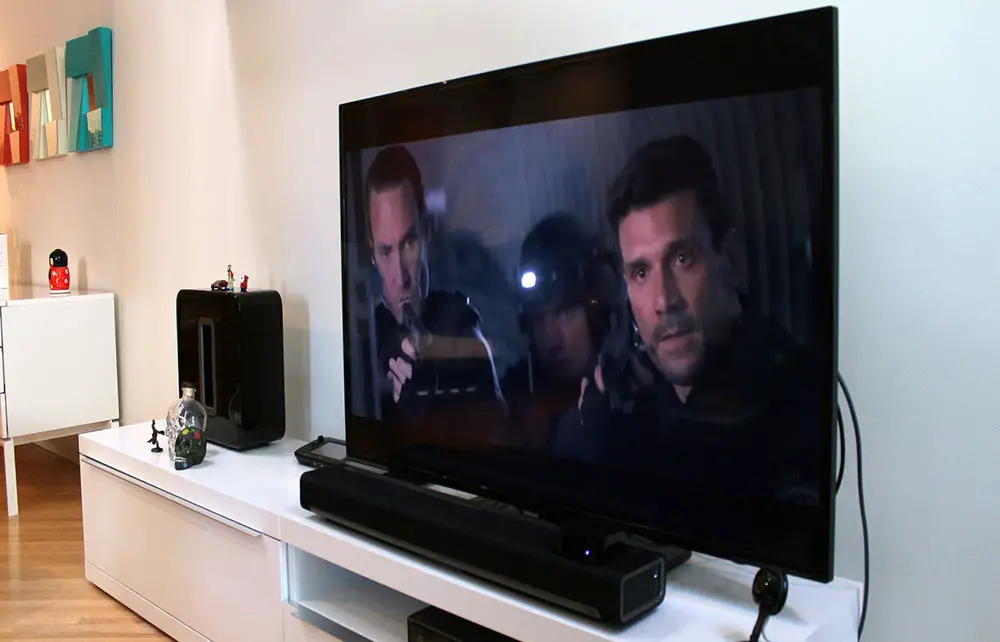 As for surround the Sonos Playbar didn't manage to expand the sound field behind our viewing position. The overall result feels much better than using a couple of front speakers as the sound field feels like having a bit more depth but if you want a complete surround experience then you will be disappointed. In this case a couple of Play:3 surround speakers will do their magic and will provide you with all the surround immersion you will ever need.
In total the soundbar offers very good sound reproduction but it certainly has it's limits. Adding a Sonos subwoofer will help the bass come to life while adding a couple of Play:3 surround speakers will add depth to the sound field and create an immersive experience. So if you want the absolute best result you should not only buy the Playbar but the sub and the surround speakers also. Otherwise the Playbar by itself is good enough, certainly far better than any TV speakers can offer, but not without limitations on what it can give you.
Music
Finaly we tried a few music tracks with a few orchestrated tracks at first. The result was once again very good with very impressive performance. The Playbar was delivering the track with extraordinary clarity and precision down to the tinniest details. But when the music track was becoming more bass heavy the Playbar felt like it was missing something and in this regard it would definitely help to have the Sonos subwoofer also.

We also tried different tracks from various genres and we got more or less the same impression. Excellent performance, great clarity, precision making it easy to distinguish each and every musical instrument at any given time. Even tracks which were more bass heavy the Sonos Playbar delivered very good, better than we expected actually but still left us wondering how much better it would be if we also had the sub to help with the lows.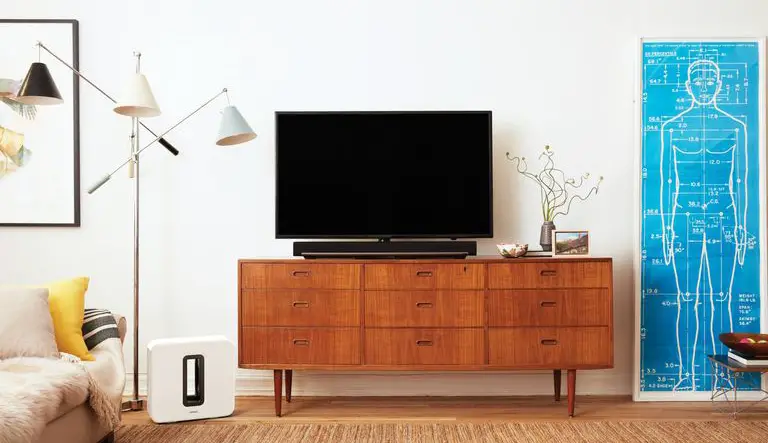 Final Thoughts
Sonos Playbar is a very unique soundbar. It has a few characteristics that distinguish it from the competition and it is a result of the unique design mentality Sonos decided to give this model. Playbar is a very well built soundbar offering amazing sound quality both for movies and music reproduction. Also it was designed with simplicity in mind that's why both physical connections as well as setup through the app could not be any easier. Being able to place the unit in two positions offer many advantages especially for those with limited space and the system offers a degree of scalability that you don't see in this kind of equipment as you can add a wireless subwoofer as well as wireless surround speakers at any time you want in order to expand the capabilities of your main unit. Also it is a great streaming device offering a huge list of online streaming services to use.

But Sonos Playbar comes also with a few major disadvantages. For one connecting it only through an optical port severely limits it's flexibility as you will either have to connect a source directly to the unit or make sure your TV has an optical out port and that it passes 5.1 surround sound through it. Another major letdown is that it cannot play DTS or any lossless tracks like Dolby TrueHD or DTS HD: Master Audio and in this case the source player will have to do the decoding into a format the Playbar can support. Last but not least the price. At first sight it may not seem too much but when you understand that this includes only the Playbar and there is no subwoofer included, as is the standard these days with most soundbars, then you will see that the price is a bit high.
In total Sonos Playbar is a fine piece of audio equipment and although we were more than pleased with it's performance the drawbacks we mentioned above are way too obvious to ignore. If the disadvantages we mentioned are not bothering you and you want a soundbar that will offer you some of the best audio performances possible in this category then the Sonos Playbar is one of the few that you should definitely consider.
For more reviews you can check our dedicated Single Soundbar reviews list or even look at our Product Reviews Table where you can find the brand and specific product you are looking for.
Also don't lose the chance to subscribe to our Newsletter and gain exclusive privileges.
---
Cheapest Places to Buy :
---
Specifications
Amplifier : Nine Class-D digital amplifiers
Speakers : Nine amplified speakers—six midrange and three tweeters
Music Services Supported : Deezer, Google Play, Pandora, Spotify and TuneIn Radio, as well as downloads from any service offering DRM-free tracks.
Internet Radio Supported : Streaming MP3, AAC, WMA
Audio Formats Supported :

Support for compressed MP3, iTunes Plus, WMA (including purchased Windows Media downloads), AAC (MPEG4), AAC+, Ogg Vorbis, Audible (format 4), Apple Lossless, Flac (lossless) music files, as well as uncompressed WAV and AIFF files
Native support for 44.1kHz sample rates. Additional support for 48kHz, 32kHz, 24kHz, 22kHz, 16kHz, 11kHz, and 8kHz sample rates
Note: Apple "Fairplay", AAC Enhanced and WMA Lossless formats not currently supported. Previously purchased Apple "Fairplay" DRM-protected songs may be upgraded

Album Art Supported : JPEG, PNG, BMP, GIF
Playback Modes : Crossfade, shuffle, repeat
Playlists Supported : iTunes, WinAmp, Windows Media Player, and MusicMatch (.m3u, .pls, .wpl)
Networking :

A single Ethernet port can connect PLAYBAR to a wired home network. A second Ethernet port can be used to share the network connection with other devices in your network

Works on your home WiFi network with any 802.11b/g, 2.4GHz broadcast capable router

Also works on SonosNet™, a secure AES encrypted, peer-to-peer wireless mesh network dedicated exclusively for your Sonos system to reduce WiFi interference (If pairing surround speakers or a SUB with your PLAYBAR, you'll need to connect a Sonos product to your router with an Ethernet cable.)

Dimensions / Weight :3.35″ (H) x 35.43″ (W) x 5.51″ (D) / 85mm (H) x 900mm (W) x 140 mm (D) – 11.9 lbs / 5.4kgs