Sony HT-Z9F
Design -

90%

Movies Performance -

84%

Music Performance -

85%

Inputs and Features -

90%

Price / Quality -

88%
---
Cheapest Places to Buy :
---
Soundbars were always considered the middle ground between the atrocious audio performance that we have to tolerate from our lovely flat TVs and a full blown surround audio setup. Of course in many situations certain limitations prevent us from being able to have dedicated speakers around the room either it be cost or limiting space so in this case a soundbar is the next best thing. Of course the biggest problem till now was surround performance as most soundbars lack surround speakers and this got worse with the arrival of Dolby Atmos and DTS:X as additional speakers were needed in order to create the overhead effects. In trying to bridge the difference in hardware there was only one way possible, and that was through virtualization.
Virtual surround technology seems to be used a lot lately in soundbars with mixed results. And while most models seem to use this as an added feature the soundbar we will be reviewing today from Sony uses this as one of the unit's core functions in order to deliver a more immersive experience. But how accurate can this virtual technology be when it comes from a limited amount of speakers and does this soundbar manages to create realistic surround and overhead effects? Keep reading our Sony HT-Z9F review to find out.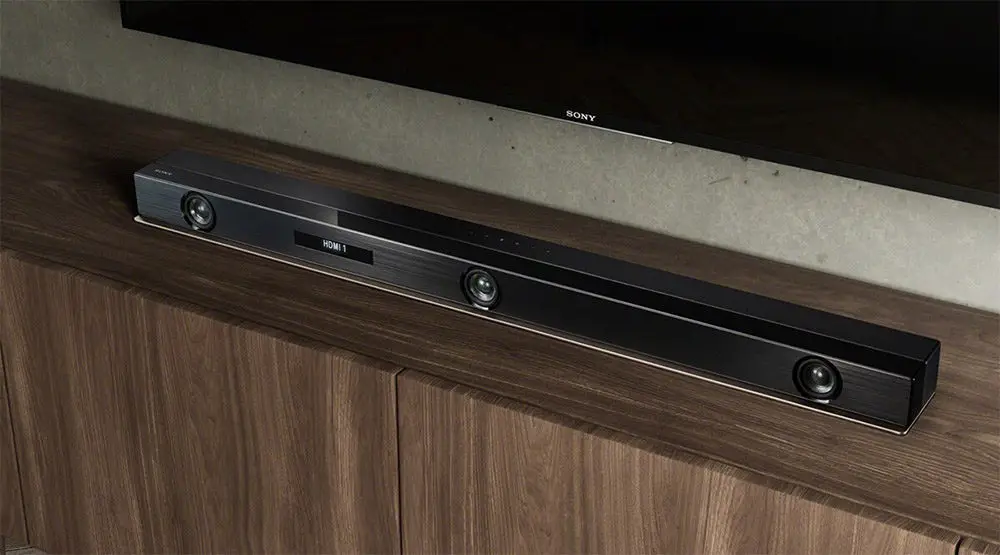 Design, Inputs and Features
The Sony HT-Z9F is a 3.1 channels soundbar as the main unit comes with 3 main channels for left,center and right while the included wireless subwoofer included in the package helps a lot with the low frequencies. With a size of 39-3/8″ × 2-5/8″ × 4″ (100 cm x 64 mm x 99 mm) and weight of 17 lb 14 oz (8.1 kg) the unit can sit comfortably under most TV panels and stands.
Sony has kept the aesthetics at pretty high levels too. With a piano-lacquered top plate and what seems like a brushed aluminum base the chassis is well made and pairs nice with the perforated, charcoal gray metal grille which attaches magnetically on the main unit. It's not the top premium quality we have seen recently on some other soundbars but it's one of the better ones.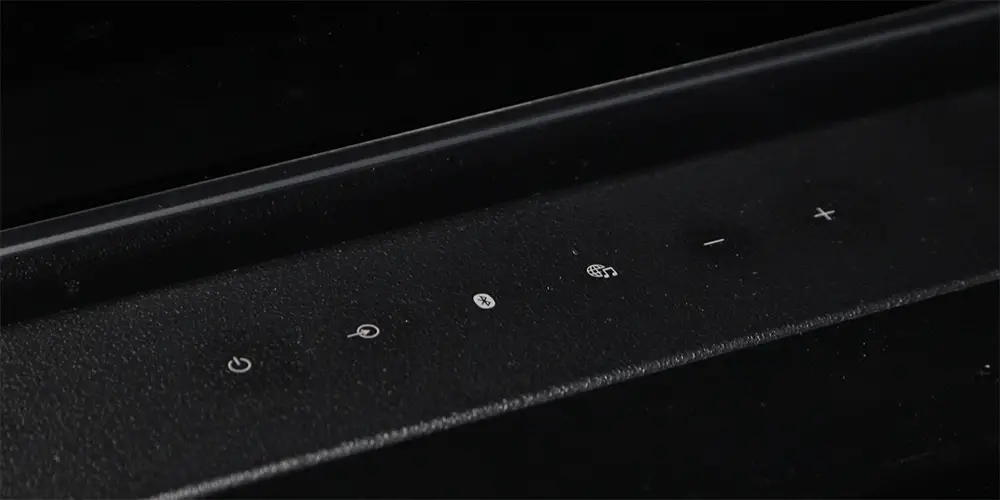 Another characteristic of it's premium construction is the pressure sensitive control buttons that are placed at the top center of the unit. These include Power, Input, Bluetooth, Music Service and Volume controls and while being pressure sensitive makes the soundbar look nicer one drawback is that it's always hard to find them in the dark.
At the front between the left and center drivers we find the front panel display with the Bluetooth indicator being placed on it's left and the remote control sensor on it's right. With the grille on, the display doesn't look as good as without it but this is common in most soundbars so no complaints there.
What caught our attention was that Sony has also included an IR repeater at the back of the unit. This means that if the soundbar is obstructing the IR sensor of your TV fear not as the soundbar will relay the signal to it's back and to the TV itself making things so much simpler.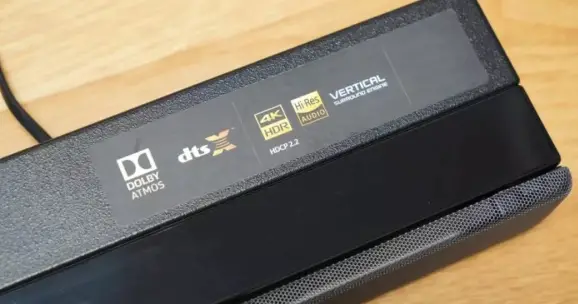 The most curious aspect of this unit is that it is rated as a 7.1.2 channels Dolby Atmos enabled soundbar but looking under the grid we only find three drivers for the left, right and center channels. There are no upfiring drivers that we had seen in some other Atmos soundbars which means that in order to reproduce the Atmos effects the Z9F would have to rely on virtual technology. How effective this is and if it really manages to create the same immersion of having dedicated or at least upfiring speakers we will discuss a bit down this article.
With the soundbar we also get a wireless subwoofer which stands just over 15 inches high and deep, and just under 8 inches wide. It has a glossy bass port at the front and in general feels like it would go unnoticed in most audio rooms. And while it's appearance may not be much it will be interesting to see how it performs which is what matters the most.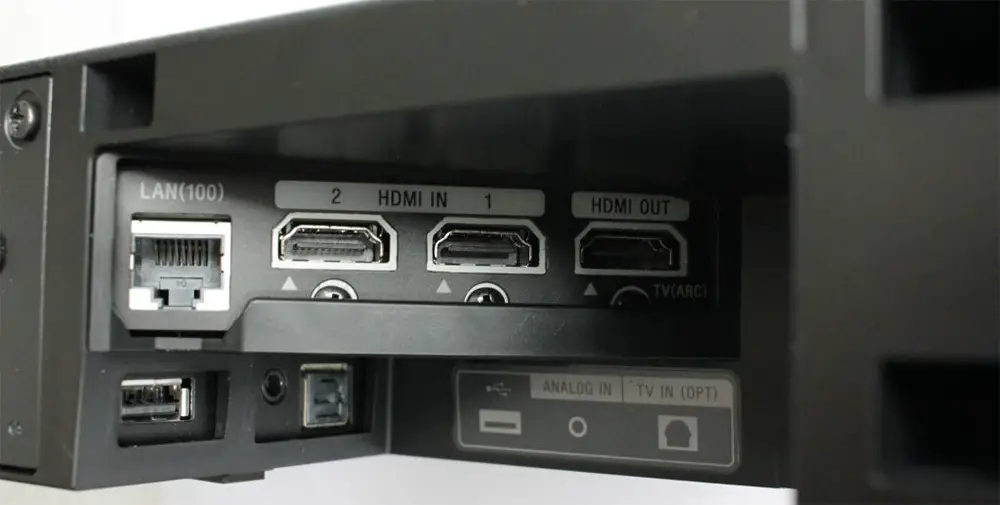 Naturally all ports are located at the back as we find them all grouped together in a recess while their placement is rather unique as you can see in the photo with the three HDMI ports along with the Ethernet port being at an angle compared to the main unit's body. We guess this was made deliberately to make connections easier when wall mounting the soundbar but we question how much difference this can make.
The unit comes with 2 HDMI inputs and 1 HDMI output that also supports ARC. All of them are HDCP 2.2 compatible which means they passthrough 4K, HDR10, Dolby Vision, HLG and Wide Color Gamut. There is also an optical input, a 3.5mm analogue audio mini jack input and a USB port that you can use to stream audio from a USB stick or external storage.

The unit comes with built-in WiFi as well as Bluetooth support which you can use to pair some Bluetooth enabled headphones for private listening. The WiFi signal was strong and never experienced any disconnections during our testing.
There are three primary ways that you can control the HT-Z9F. If you prefer the most classic one then the included remote offers you all the basic functions that you will need. The remote itself is nothing special as Sony has got us used in providing simple remote designs for most of their equipment. It has a rather simple and uninteresting look but at least it is functional and buttons placement is rather good. Unfortunately no backlight to be found here.
The second option is to use Sony Music Center App with which you can not only control the soundbar but also connect various supported speakers around your house and stream music in order to create your preferred multi-room environment.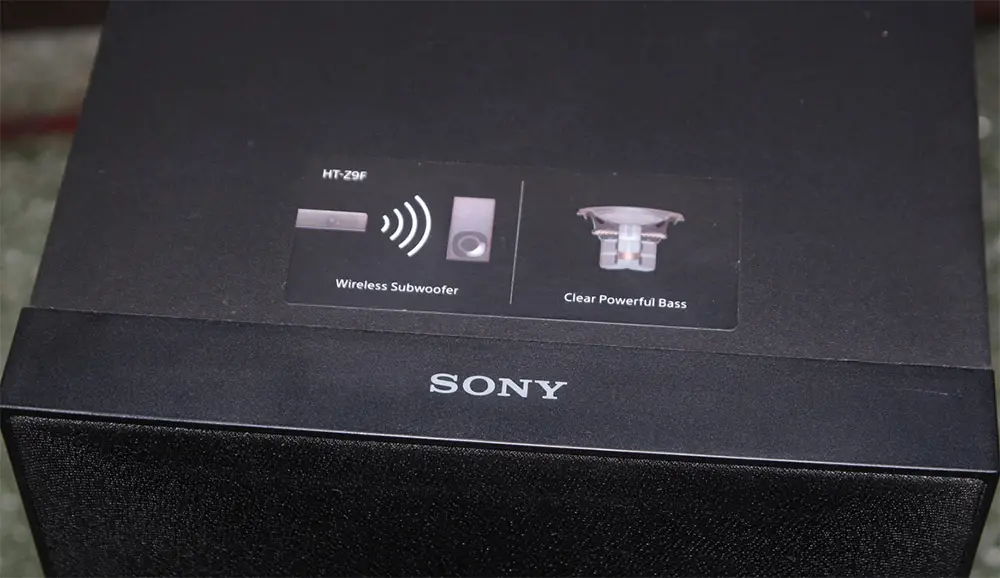 Lastly there is added support for voice control if you are more tech savvy that the average consumer. Sony has added both Alexa and Google Assistant voice controls but in order to use any of these you will need the appropriate speaker device as the HT-Z9F lacks any kind of built-in microphone array that would make it voice control ready. If you have an Echo Dot or Google Home device around your house then you are ready to go.
The soundbar supports all types of audio formats from Dolby Digital and DTS to Dolby TrueHD and DTS-HD Master audio all the way to the most advanced Dolby Atmos and DTS:X making it future proof to all currently available types of audio.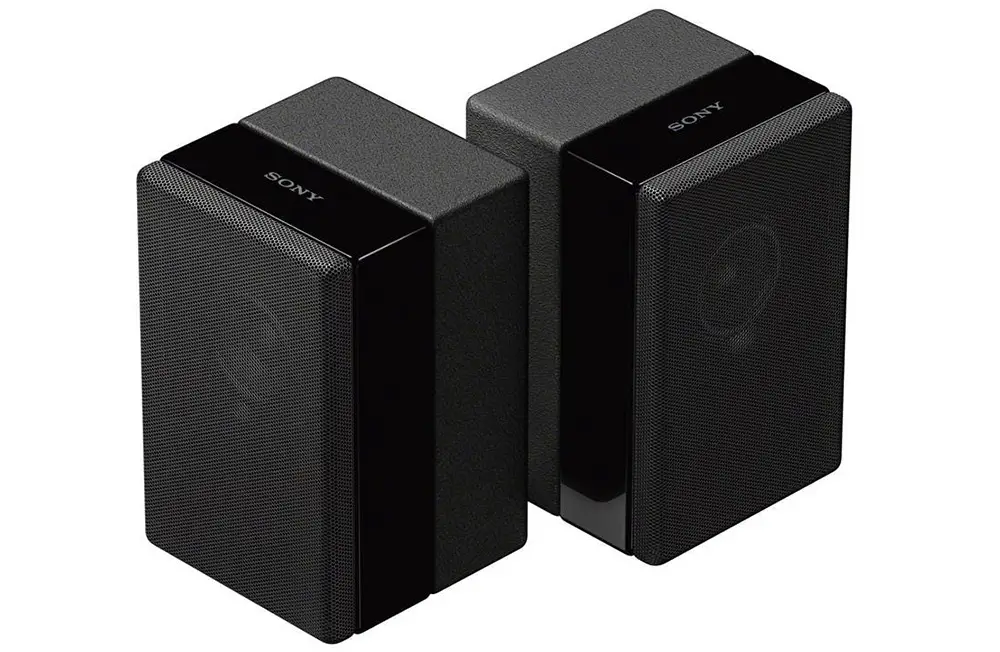 The main unit includes the soundbar and the subwoofer for creating a 3.1 setup but the good thing about this model is that it gives you the ability to expand it to a full surround 5.1 system by adding a pair of rear speakers (SA-Z9R). These speakers connect to the main unit wirelessly like the subwoofer and you only need a power outlet near them to power them up. Of course since you have to buy them separately it means that if you go for the whole 5.1 setup the cost goes much higher. This is a great feature and gives great flexibility depending on your room and budget limitations.
Sony has equipped this unit with a few additional features that we are sure many people will appreciate. As such there is Chromecast support which lets you to stream music to the soundbar from a tablet or smartphone.
Also there is support for High Resolution Audio like High-Res FLAC 192kHz 24bit and DSD if you prefer but even when playing lower resolution files the soundbar comes with Sony's DSEE HX up-scaler that is supposed to enhance the audio to almost high resolution quality. We tried this with a few tracks and while there are a few instances that it felt like some improvement was there in most cases don't expect any major difference.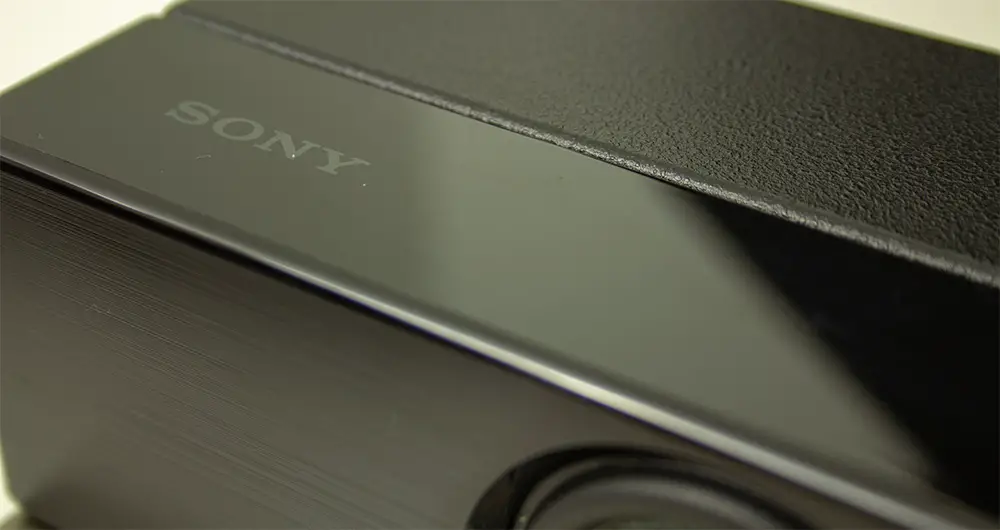 Performance
It may be a little confusing to some so we need to clear a few things about the virtual technologies that come with the HT-Z9F. At the core of the unit we find the Vertical Sound Engine which is Sony's proprietary virtual technology that is supplemented by the Vertical S up-mixer. In the remote Sony has placed the Vertical S button in the most center position that toggles the up-mixer on and off. The up-mixer should be used especially when there are other non Dolby Atmos tracks as when Atmos is being detected the upmixer is being overridden by it.
The Z9F also comes with 7 different DSP options that include Cinema, Music, Game, News, Sport, Standard and Auto Sound. Obviously the Auto option will switch to a specific processing depending on the content while all the other are designed to create a more dramatic effect for their specified content. Although it's nice to try them all and you may find some to your liking you should prefer to use the Standard mode as it is the one that playbacks the audio with as little processing as possible and is closer to how it was intended to be listened.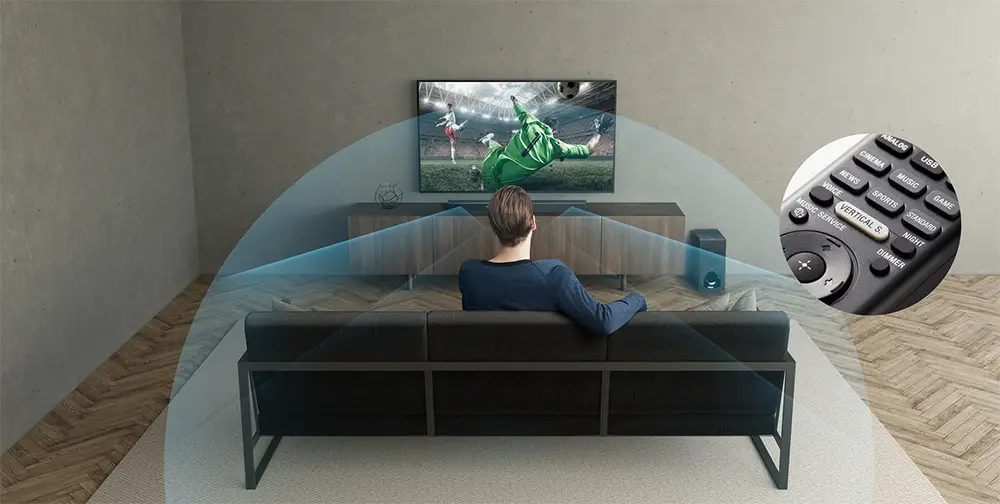 Initial setup cannot be any easier even for people that have zero knowledge with audio equipment. After connecting both the soundbar and subwoofer to a power outlet we used a HDMI cable that runs from the unit to the TV and turned them on that got us to an on-screen guide that took us step by step through the initial setup. First it confirmed the speakers that had connected wirelessly, after it connected to our wireless router for internet and lastly it asked us to enable Chromecast something you can skip and enable later if you want. And that's it.
One thing that we noticed was that while other soundbars offer some kind of automatic audio calibration system there was none in this one so all calibrations had to be done manually something that we definitely prefer but some may find it a bit troublesome. In the advanced menu you can find settings to adjust the distance of the soundbar and subwoofer from your sofa as well as change the individual speaker levels.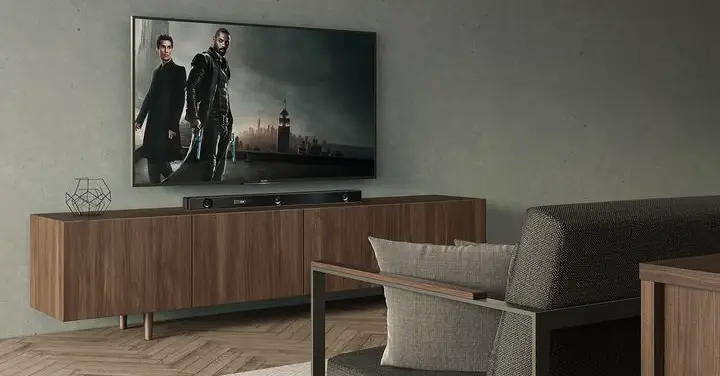 Movies
Moving on to our movie testing we picked up our favorite film lately which is Saving Private Ryan in 4K UHD which comes with an amazing Dolby Atmos soundtrack. This film is exactly what we need in order to determine how good the virtual surround technology is working on the Z9F and if it can faithfully recreate the overhead and surround effects of such a film.
Naturally we started our test with the opening scene which is the landing of the Allied forces on Omaha beach. What is immediately obvious is how much better the film sounds from the vanilla TV audio system. The sound feels richer with more details being heard while the Allied boats are approaching the beach. The splashes of the sea waves on the metal boats felt more real, the marine engines were roaring with more oomph while you could hear artillery shells exploding on the back distance more vividly.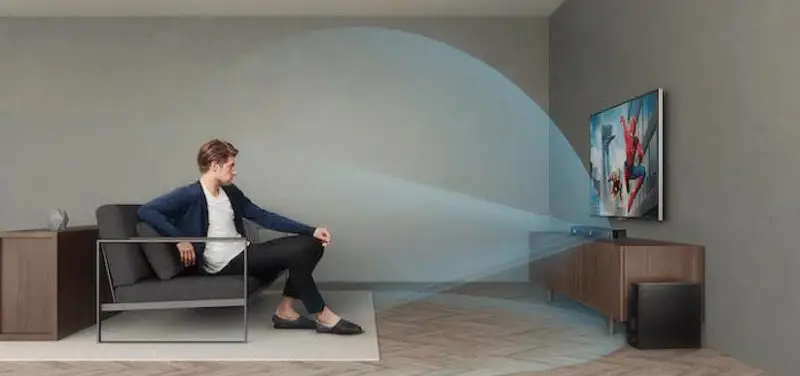 So far so good but the real test comes when the soldiers reach the beach and the marine boat doors open. The clarity and dynamics we get at the front are really very good. For a 3.1 system the front soundstage felt really wide and deep and the soundbar was good and precise with channel shifting. The subwoofer was good enough in delivering all the lows with artillery shells exploding at the front of the camera made our sofa shake a few times. Integration between the subwoofer and the soundbar was very good and you could almost not understand when the one stops and the other starts.
Let's talk a bit about the Atmos effects. Being advertised as a Dolby Atmos enabled soundbar you would expect all those overhead effects to pass over your head all the time, right? Well with the HT-Z9F although there is some sense of overhead action this is not very obvious and happens only a few times. And this is not a fault of this film as we tried a few others to confirm it also.

The soundbar really tries to virtually create the illusion of overhead action and while some times it succeeds it is a hit or miss situation really. Sitting closer to the soundbar the effect becomes more apparent but this means you will have to find a sweat spot for that and your room may not allow for such freedom of choice.
The second thing we paid attention to was that there is not much depth in the soundstage behind us. If you decide to go for the rear speakers then this problem is obviously solved but as we wanted to try how the soundbar behaves without those we saw that it fails to deliver the surround effects as we would hope it would. There is some sense of the action being closer to us in comparison with other non Dolby Atmos enabled soundbars but still it cannot offer you the kind of immersion that you would have with real surround speakers.
Closing our movie testing we would like to say that the soundbar is a major improvement over any kind of TV audio system exists today. It offers a very wide front soundstage while it's virtual technologies try to push the immersion above and behind our viewing position but with not a very clear result. You are definitely going to feel like you hear sounds from other places other than the front but don't expect the results you would see from a real Dolby Atmos system with dedicated speakers.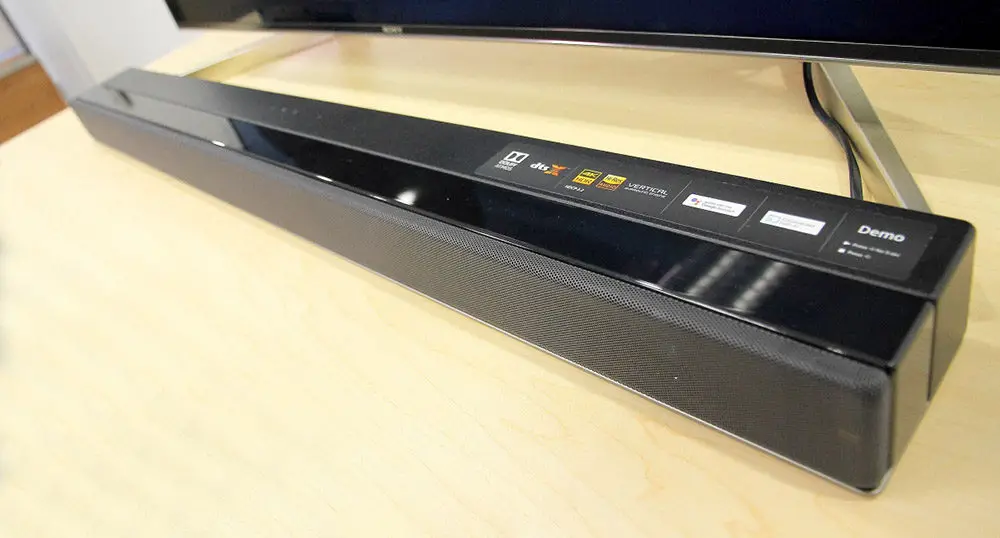 Music
We then moved on to our music testing and here the HT-Z9F fared very good if you consider the hardware limitations of the unit. Testing a few FLAC music tracks through the USB port we got very sharp vocals and a very balanced mid-range. Audio separation was good enough with the soundbar offering you very good spatial awareness. The subwoofer although felt more at home during our movies testing it was able to give a respectable performance delivering all the necessary bass of the music tracks.
Soundbars have in general some hardware limitations that originate from the hardware they have to use but even so the HT-Z9F managed to deliver a very respectable music performance and it will be a great choice for those seeking an all-in-one solution for their home entertainment room.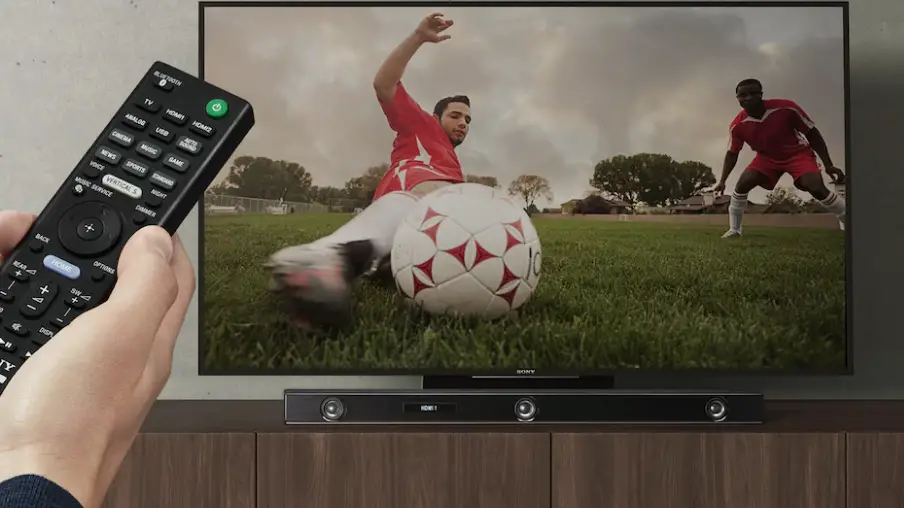 Final Thoughts
Sony has made some pretty big claims with the Z9F and while the unit offers pretty good performance for what it is, it can't offer the full Dolby Atmos experience that we would like.
On the positive side Sony has created a good quality soundbar that definitely elevates the audio immersion from what the simple TV audio system can offer, it's easy to setup, offers support for all audio tracks including Dolby Atmos and DTS:X, comes with many features that will satisfy most users and can be expanded to a full 5.1 surround system. At the center of it's performance is Sony's Vertical Sound Engine, supplemented by the Vertical S up-mixer and with the addition of Dolby's own Atmos virtual processing the soundbar offers a full virtual technology package.
But while the soundbar claims a lot it fails to deliver in its most important aspect. Being a Dolby Atmos bar means that it can deliver the necessary overhead effects but this is not true here. And while the virtual technology that comes with the unit definitely adds a bit of height to the soundstage we never felt completely surrounded by it or made a real difference to our experience. The same can be said about it's surround capabilities as without the surround speakers most of the depth behind us is lost. Lastly the price even for the core 3.1 unit is a bit high as we have seen many other soundbars with much lower price that offer respectable results also.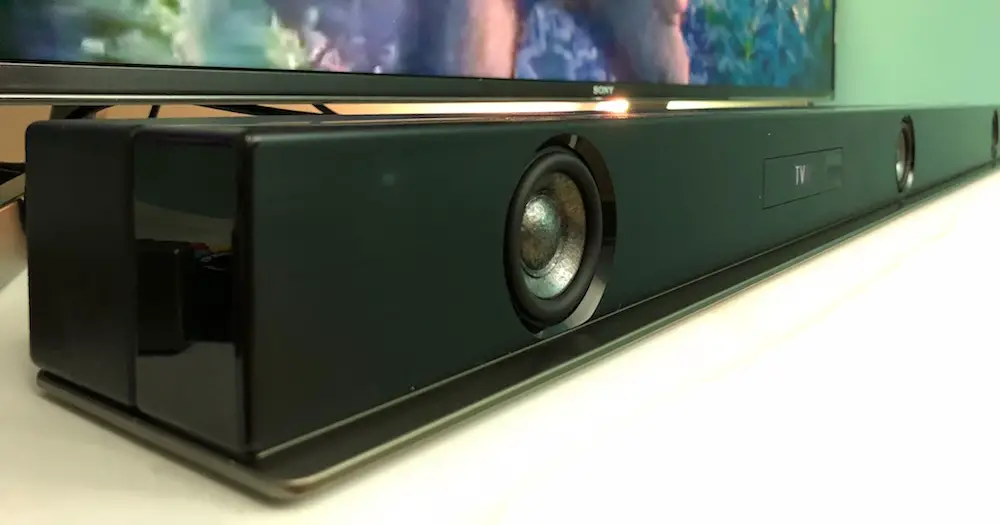 When a soundbar with 3.1 channels claims to offer a 7.1.2 channels immersion you should always keep your expectations at check. Virtual technology as good as it may be it can never faithfully simulate a real surround system and the Z9F is a prime example. It's not that it's a bad model, on the contrary for a 3.1 soundbar it offers very good sound but it's Sony's claims that makes expectations very high. If it was advertised for a simple 3.1 system then we would be able to judge it differently as it definitely offers a much better experience than any TV audio system can offer.
And in the end this is how you should see this model. As a 3.1 system that can offer much more than what your TV can and it can even expand to a full 5.1 system if you add the rear speakers. As such the Sony HT-Z9F definitely deserves a consideration.
For more reviews you can check our dedicated Soundbar-subwoofer combo reviews list or even look at our Product Reviews Table where you can find the brand and specific product you are looking for.
Also don't lose the chance to subscribe to our Newsletter and gain exclusive privileges.
---
Cheapest Places to Buy :
---
Specifications
Amplifier Type : S-Master HX
Power Output (Total) : 3.1 channels 400 W
Subwoofer Type :Wireless Subwoofer
Input and Output Terminals : 2 X HDMI IN, 1 X HDMI OUT(ARC), Optical-audio input, Analog in (stereo mini), USB type A, Ethernet
Connectivity :IEEE802.11 version 11a/b/g/n (2.4 GHz/5 GHz), Bluetooth 4.2
HDMI : 4K/60p/YUV4:4:4, HDR, Dolby Vision Compatible, HLG (hybrid log gamma), HDCP2.2, BRAVIA Sync, HDMI CEC
Audio Formats
HDMI : Dolby Digital, Dolby Digital Plus, Dolby True HD, Dolby Atmos, Dolby Dual mono, DTS, DTS-HD High-Resolution Audio, DTS-HD Master Audio, DTS-ES, DTS 96/24, DTS:X, LPCM (2ch/5.1ch/7.1ch), DSD (2ch/5.1ch)
Optical Input : Dolby Digital, Dolby Dual mono, DTS, LPCM 2ch
USB : DSD (.dsf/.diff), Wav, Flac, Alac (.m4a only), AIFF, HE AAC, AAC, mp3, Monkey Audio, WMA, Ogg Vorbis
Bluetooth Receiver : SBC, AAC, LDAC
Bluetooth Transmitter : SBC, LDAC
Sound Functions :
Sound Mode : Auto Sound, Theater, Music, Game Studio, News, Sports, Standard
Sound Effect : Night Mode, Voice Mode
Virtual Surround Technology : S-Force PRO/Vertical Surround Engine
Network Function : Chromecast built-in, Works with Google Assistant, Spotify Connect, DLNA
Wireless Features : Wireless Surround (with optional wireless speakers),TV Wireless connection,Wireless Multi-room
Dimensions (W X H X D) :
MAIN UNIT SIZE – BODY : 39-3/8″ × 2-5/8″ × 4″ (100 cm x 64 mm x 99 mm)
SUBWOOFER SIZE : 7-1/2″ x 15-1/8″ x 15-1/4″ (190 mm x 382 mm x 386 mm)
Weight :
MAIN UNIT WEIGHT – BODY : 6 lb 13 oz (3.1 kg)
SUBWOOFER WEIGHT : 17 lb 14 oz (8.1 kg)