Sony STR-DN1080
Design -

90%

Audio Quality -

90%

Inputs / Ports -

86%

OS, Apps and Features -

88%

Price / Quality -

90%
---
Cheapest Places to Buy :
---
Sony has always been a traditional brand regarding home entertainment equipment. As so their AV receivers always had a certain level of quality from the very low end ones to the top tier models. There have been of course a lot of hits and misses over the years so let's see how their STR-DN1080 receiver fairs.

Design
The Sony STR-DN1080 has a very distinct design by keeping most of the front panel empty and arranging all the buttons in a single line. I like this style to tell you the truth. Keeps everything clean and well organized. I really hate when a receiver is full of buttons on the front when most of the time you never use any of them more than once since most of the functions are controlled through the remote.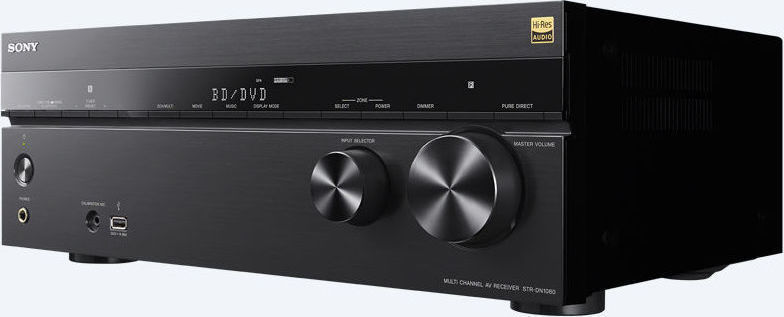 We get two big turning knobs here, one for the inputs and one for the volume, also the on / standby button, a USB input, a PHONES input and a mic calibration input. And that's all for the front. The only minus for me in the design is that it is missing a front HDMI input. Nowadays almost all receivers come with a frontal HDMI for easy and quick access. I am using the front HDMI a lot and i see how useful it can be so this is a big miss for a receiver even in this range that is not supposed to be on the high end.

Audio Quality
The Sony STR-DN1080 is a 7.2 channels av receiver that supports all the older audio formats but also the new ones being Dolby Atmos and DTS:X.  Two of the channels you have the option to either use them as surrounds or height speakers to create a 5.2.2 setup that will take advantage of the new formats. Most 7.2 channels receivers offer this option so it's natural to get the same here and i imagine that most people that would want the new formats would go for a 5.2.2 setup. What we get with this receiver is 165 Watts of power on 6 Ohms speakers and 130 Watts on 8 Ohms speakers that are enough to power high-end home cinema speakers.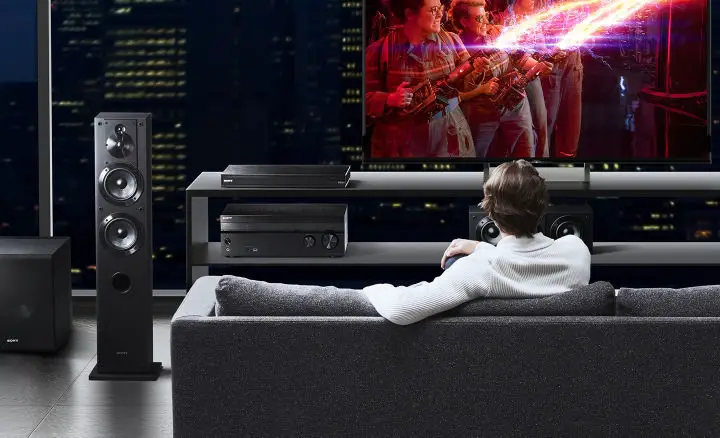 As far as how the receiver performs i would say we get the standard high quality you would expect from a Sony receiver. With a full 5.1.2 setup you get an encompassing surround field clear and without any audible distortions even when you crank up the sound. The receiver is managing each channel with masterful control and explosions can be heard from every corner of the sound field. This receiver should be heard in a 5.1.2 environment to appreciate it's capabilities.
You couldn't expect anything better in this range. Dolby Atmos and DTS:X decoded very well as well as all the older audio formats. The receiver has the ability to create phantom surround sources meaning it can create two virtual surround sources from a 5.1 source creating a pseudo 7.1.2 setup. It may not be as good as a true 7.1 setup but is an extra options for those that want to use this. The receiver had no problem passing a full 4K signal with HDR and Wide Color Gamut from an UHD player.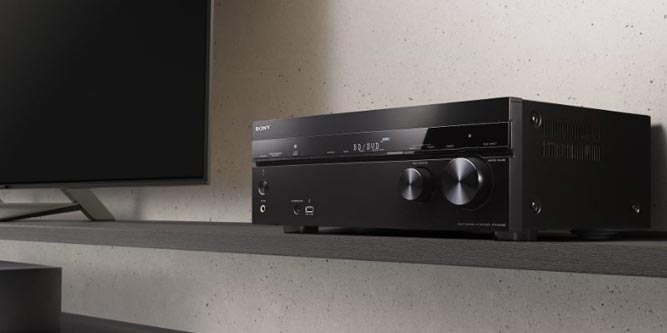 Inputs / Ports
The receiver is offering a wide range of inputs and outputs mostly in the back of the receiver. Here you get 6 HDCP 2.2. HDMI inputs and 2 HDMI outputs. We also get an Ethernet port if you prefer wired connection to the internet,  we get coaxial video and audio inputs. For digital audio input there are 2 ports one coaxial and one optical. In addition to all these ports we get the standard 7 speakers outputs plus two for the subwoofers.

In the back we can also find dual Antennas for wireless connection if this is your thing. In the front other than the PHONES and mic calibration inputs we get a USB input. All in all what we get is more or less the same as most receivers in this price category with the only big minus is the missing front HDMI port i mentioned earlier.
OS, Apps and Features
The receiver has Bluetooth capabilities that you can pair with your smartphone and if you download an app Sony offers you will be able to control the receiver with your telephone. What Sony offers for speakers calibration is called D.C.A.C EX and what we get here is a double microphone with a distance of around 70mm from each other. Usually most calibration microphones are single so I was a bit surprised when I saw the one Sony offered. For sure it will offer better accuracy but I would strongly suggest to spend a few more minutes and do a manual calibration as this will always be the optimal way for your home entertainment center calibration.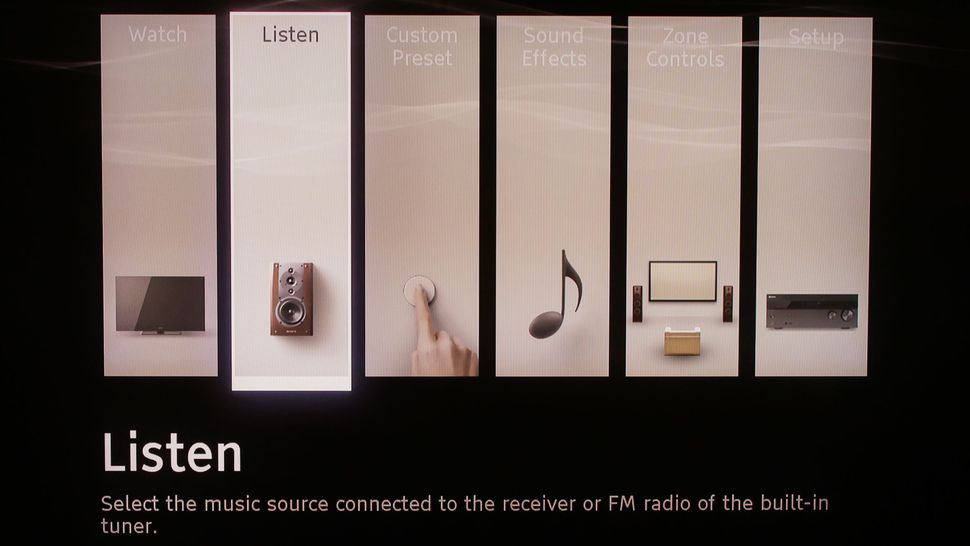 What we get here is a wide variety of apps and features like AirPlay, Spotify, Chromecast and DLNA among others. What I found interesting with this Sony receiver is that it's menus and apps felt like they had a more professional and computer like layout than most typical receivers that offer a very simple and basic settings menu. It really felt nice and more pleasing design wise even if it didn't offer anything more than what the other brands are offering us.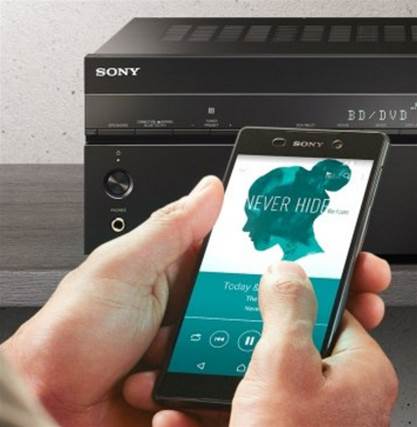 Lastly the remote control Sony is offering is pretty much a basic one. On the top you get the inputs buttons, in the middle the navigation for the menus and settings and in the bottom the play and volume controls. I like how they have placed everything. They may not offer everything you can imagine but i think this is better and make easier to find the button you are looking for. We get the options that you will be using the most and this is what really matters.
Final Thoughts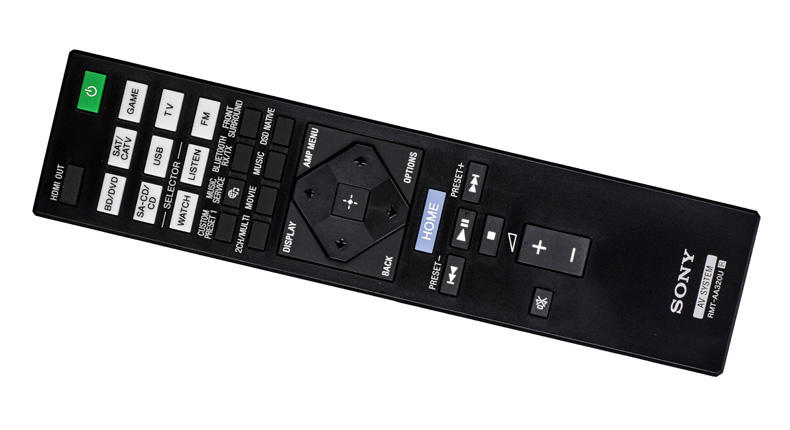 The Sony STR-DN1080 receiver is a solid addition to the middle tier of Sony AV receivers. With a 5.1.2 output setup and giving excellent performance up to 4K UHD signals with Dolby Atmos or DTS:X as well as offering a wide range of applications and capabilities you cannot ask a lot more from a receiver in this price range. If you want receiver that offers the new formats without the need to spend a lot of money that the higher tier models ask then this is a receiver you should really consider. You cannot go wrong with this one. Highly recommended.

For more reviews you can check our dedicated 7 channels 4K AV Receiver reviews list or even look at our Product Reviews Table where you can find the brand and specific product you are looking for.
Also don't lose the chance to subscribe to our Newsletter and gain exclusive privileges.
---
Cheapest Places to Buy :
---
Specifications
Power output: 165 watts (6 ohms, 1kHz, 1ch driven THD 0.9%)
Number Of Channels: 7
Subwoofer Outputs: 2
HDMI Pass-through up to 4K
3D over HDMI
HDR support
DSD , LCPM, Dolby Atmos , Dolby Digital , Dolby Dual Mono
DTS: X , DTS HD MA, DTS HD HR , DTS , DTS-ES (Matrix6.1 / Discrete6.1), DTS 96 / 24
HDMI Inputs: 6
HDMI Outputs: 2
USB Connections: 1 Front
Ethernet Port: 1
HDCP 2.2
Bluetooth, Wi-Fi, NFC, Airplay