---
Cheapest Places to Buy :
---
Today we will be reviewing a premium 4K UHD player that has been around for some time but we thought it was the perfect time now since it's successor was announced a few days ago giving us the perfect opportunity to check if this deck is still relevant and if it would be a worthy purchase. Now it may seem strange to some to review a unit when there is an upcoming model already announced to replace it but we tend to disagree and the reason is that the unit's highlight is obviously it's image and audio performance and with a new model coming out it means that it's price will definitely fall even further making this a rather affordable premium deck.
The Sony UBP-X1000ES was an excellent premium player when it came out, but it did at a time that Dolby Vision was not so mainstream as it starts to become now. We now see far cheaper units, even from Sony, to come with built-in support for Dolby Vision putting the pressure on this otherwise excellent player. Is it still worth it to consider or this player has lost it's appeal due to a new wave of cheaper players with added Dolby Vision support? Continue reading our Sony UBP-X1000ES review to find out.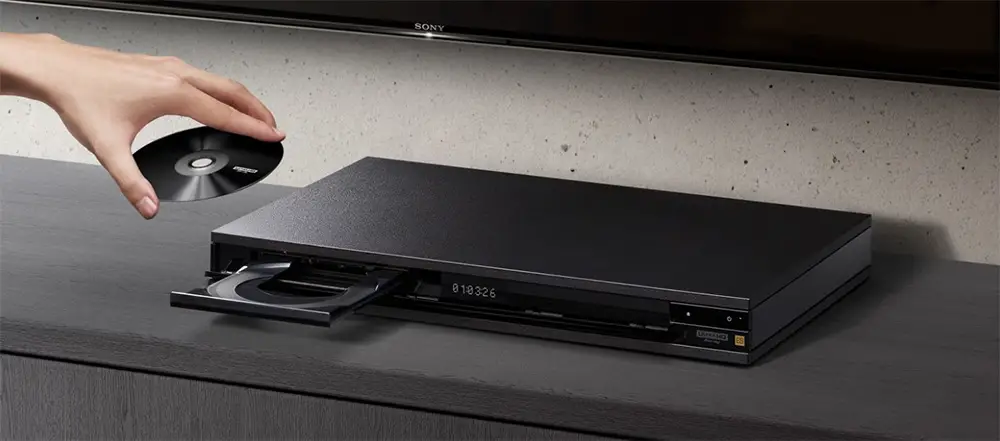 Design
Looking the UBP-X1000ES up close we see that it has many similarities to the lower priced UBP-X800 but there are also a few differences in order to set these two apart and that would justify the premium tag this unit has. First of all let's look at it's size. The deck measures W17" x H2 1/4" x D10 1/2" [W430 x H54 x D265 (mm)] and weights 8 lb 3/5 oz [3.9 kg] while it's design follow the same characteristics that we have seen in all Sony 4K players up to now with a glossy black mid-section while the top and bottom parts have a charcoal grey metal texture.
Looking the unit at the front we see the disc tray being positioned at the left side, in the middle we get a Front Display while on the right we find a couple of buttons for power and eject and a USB port that is sitting under them hiding behind a tethered cover.
Sony has put a lot of thought into the construction of the unit and it definitely feels solid and well constructed. As with the other units the X1000ES uses the familiar by now Frame and Beam (FB) chassis which was designed in order to reduce vibrations but also provide better electrical shielding. In addition its honeycomb top plate, heat sync and offset insulator feet reduce the effects of airborne and mechanical vibration even more.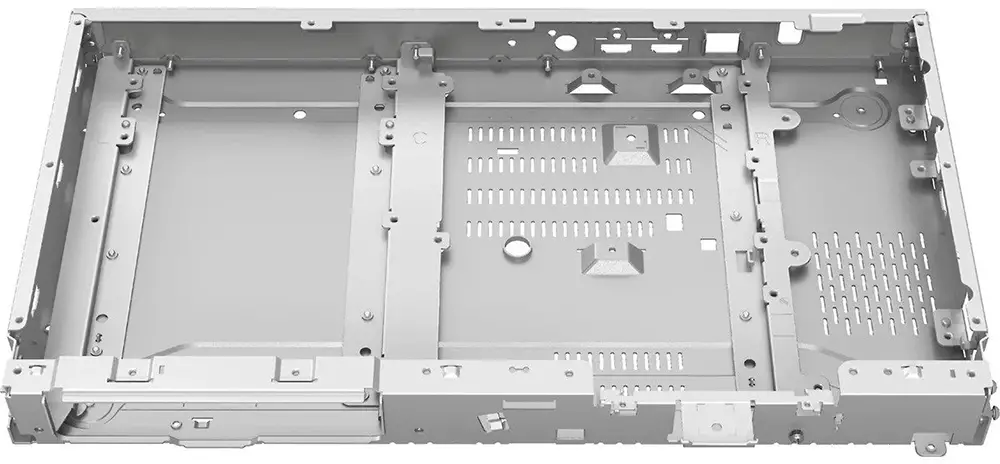 The UBP-X1000ES uses a Precision HD drive developed by Sony in order to provide superior performance and greater media support. The front USB 2.0 port can be used to stream media from external storage but we would like to see a 3.0 version instead of this older type. Under the hood Sony has equipped the X1000ES with a high-end 192kHz/ 32bit DAC that offers amazing performance.
The included remote is exactly the same we saw with the X800 and unfortunately is not a very good one. It looks and feels cheap and certainly doesn't fit with the premium tag this player has. The buttons have the familiar rubber feel to them but thankfully they have enough space between them in order not to push the wrong one accidentally. At the top we find a couple of dedicated and input buttons, under them we get the usual navigation controls, below various playback buttons and at the bottom a big volume control button. The remote is small enough to be handled with one hand and there is no backlight to be found which is unfortunate.

Build quality in this deck is very good and it shows that Sony really put a lot of effort in order to created a well constructed player. The only dissonance being the remote that doesn't feel premium at all and Sony will have to design a better one to accompany their premium models.
Video / Audio Quality
Obviously the most important part of a disc player is it's image and audio capabilities so we were curious to see what this premium unit has to offer us. Maybe the most obvious omission of the unit is that it doesn't have Dolby Vision or HDR10+. We shouldn't forget that this player came to the market some time ago when Dolby Vision was not so popular and it didn't have the content support it has today so not having this advanced HDR was not so much shocking as it would be today. As such you will have to do with just HDR10 which is the basic HDR needed for 4K UHD playback. If your home theater system doesn't support Dolby Vision or you don't care to update anytime in the immediate future then there will be no problem for you in this regard.
As for the audio the X1000ES supports all kind of audio tracks from simple surround tracks like Dolby Digital and DTS, to Dolby TrueHD and DTS-HD Master Audio all the way to the most recent object-oriented tracks like Dolby Atmos, DTS:X and Auro-3D making it a true audio powerhouse.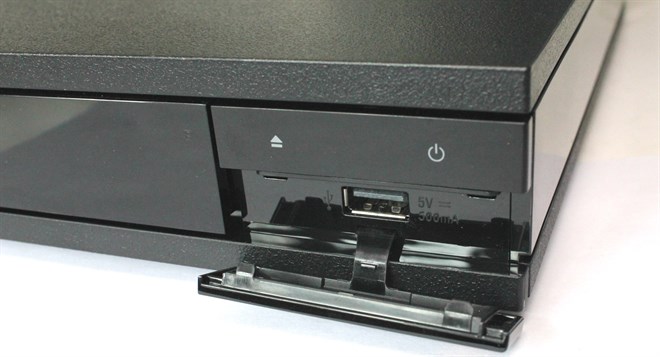 For our movie testing we used the 4K UHD disc of Fantastic Beasts: The Crimes of Grindelwald that we had tested previously and we know that it comes with an amazing 4K image and a very good Dolby Atmos audio track. And although the disc has Dolby Vision, due to the player's limitation we were able to see only the basic HDR10 protocol. Impressions of it's performance were extremely positive we would have to say.
The film has amazing sharpness and a lot of details show on the character's skin and clothes textures. The X1000ES managed to reproduce the image faithfully while colors were more intense than ever and with the help of a very solid HDR the image was the best possible, Dolby Vision excluded. Accordingly the included Dolby Atmos track was solid and kept the momentum as the story unfolded with the player delivering every bit of sound information to the receiver as it should.
Sony has added a couple more video features to the player and one of them is 4K upscaling. Sony always provided good upscaling functionality to their devices and this is the case here. We tried various 1080p as well as SD content and all of them upscaled nicely to our 4K screen. Of course upscaling is very dependent on the source material but the X1000ES managed to provide clean upscaling making the end result very pleasing no matter the material used.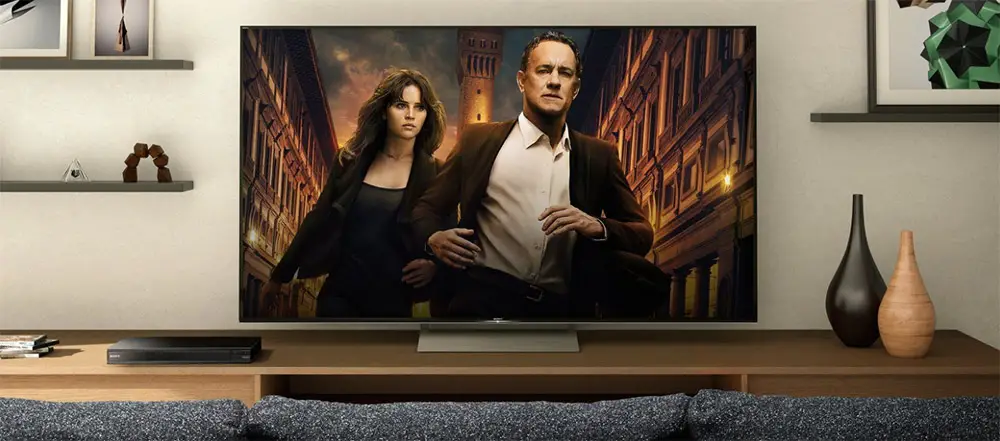 Except from upscaling the unit also supports 4K HDR to SDR conversion in case you want to connect the player with a TV or projector that doesn't support HDR or is older 1080p capable.
Obviously no unit should hold the premium tag without having High Resolution audio support. In addition to support for simple audio files like MP3 and WMA we also get FLAC, ALAC, AAC, LPCM, AIFF and DSD (11.2MHz at two-channel) support. For the audio purists you can use the player to hear your DVD-Audio or SA-CD collection for those few that want to hear music with a quality that is as good as it can get.
Last but not least the player has support for 3D content and we tried a few 3D Blu-rays to see that playback was excellent. We didn't find any problems there and it's an additional option that will be appreciated by those that still like to use this abandoned format.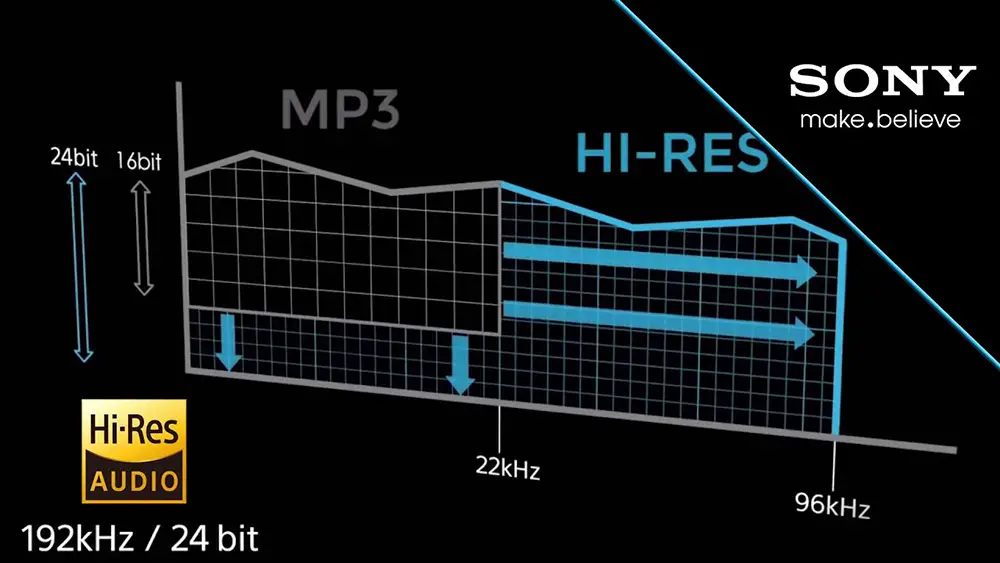 Closing this part many will be wondering how it's overall performance was compared to the very similar X800. Video performance we would have to same was exactly the same and this was obvious as the 2 units are almost identical in this. It's image quality was amazing showing incredible sharpness, amazing colors and dazzling HDR that really made the picture look almost three dimensional. We would give the edge on the X1000ES on the audio department as it has a couple of features that push it ahead of the X800. Having an optical audio output and an an analogue stereo audio output will certainly be a small change for most but is something that gives just a bit more value to this unit. Now if this justifies the extra cost is a different matter.
Inputs / Ports
Let's see now what we get as far as connectors is concerned. As we mentioned earlier at the front there is a USB port that you can use to connect any kind of external storage to stream audio. At the back we get a pretty standard setup and it's in line with what you should expect from a unit in this price.

As such we find 2 HDMI ports with HDMI 1 being used for both video and audio while HDMI 2 is only for audio output if you prefer to use both ports at the same time. The first HDMI is 2.0 in order to support 4K/60Hz while the 2nd is only version 1.4 and is enough to carry the necessary audio signals. We also find a coaxial digital output and an optical digital output if your audio system is older and support only these ports, an infared input, an RS-232C port for control and an analogue stereo audio output.
Most ports are gold-plated for better signal transmission which is a given for any premium player. We cannot say that the player offers anything out of the ordinary as all the basics are here with some extra and we cannot say that there is anything to set it apart from many other players that offer similar connectivity options in this price..
OS, Apps and Features
The Sony UBP-X1000ES comes with the familiar tile-based smart platform we have seen in their other players and we can admit that we found it very easy to navigate. If you don't like how things are you can even customize the page to your liking and the apps you use the most. Setting up the unit for the first time didn't give us any difficulties and can be very easy if you have even a little bit of experience with such devices.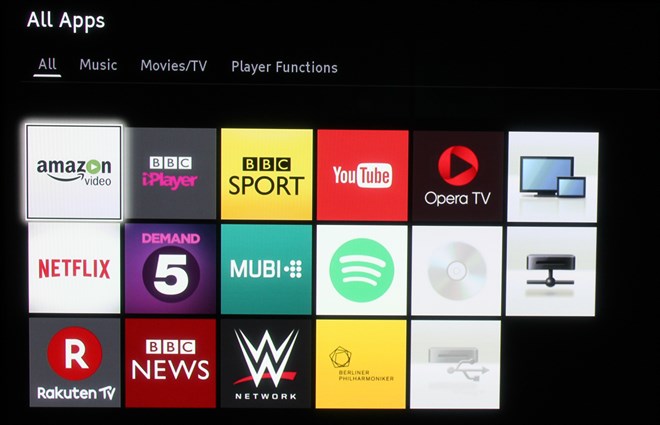 The player also supports a good amount of streaming services like Netflix, Amazon, Youtube with all three of them supporting 4K streams while Netflix can also do HDR. Other services include Spotify, BBC iPlayer and Demand 5 among others.
Using the frontal USB port you can stream a huge amount of file types and formats. FAT32, exFAT and NTFS are all supported and as for files except from audio files that we mentioned above you can also stream video files that include MPEG2, MPEG4, MKV, AVI, MOV, WMV and Xvid as well as images like JPEG, GIF, BMP and PNG to name a few. You can read the full list below in the specifications section.
And while you can use the USB port locally the unit has both Bluetooth and WiFi support that you can use to stream content from a NAS server in your local network. The player has functionality for DMP (Digital Media Player) and DMR (Digital Media Renderer) and also supports screen mirroring (WiFi Miracast). Using the free Sony Music Center app you can also stream audio from the X1000ES unit to other connected speakers around your house for a true multi-room environment.

The X1000ES is being advertised as a universal player and this holds true as the unit supports not only 4K UHD discs but also Blu-ray, Blu-ray 3D, DVD, CD, Super Audio CD and DVD Audio. Loading times of the unit were good but not great. We tested a few UHD discs and the time to reach the menu varied from 28 to 35 seconds. Naturally Blu-ray discs were loading a bit faster while DVDs were even more fast if you still have any of those in your library. Noise was low enough and although there were a few moments that we could hear the disc spinning it was never loud enough to be bothersome.
One key characteristic that differentiate this player from Sony's cheaper players is that it is optimized for custom installation by having a number of features like IP Control over Cat5 cable or WiFi, RS-232C two-way control and IR-IN. A web browser interface is also offered, along with support for Ihiji, a cloud-based network management solution used by custom installers for remote maintenance.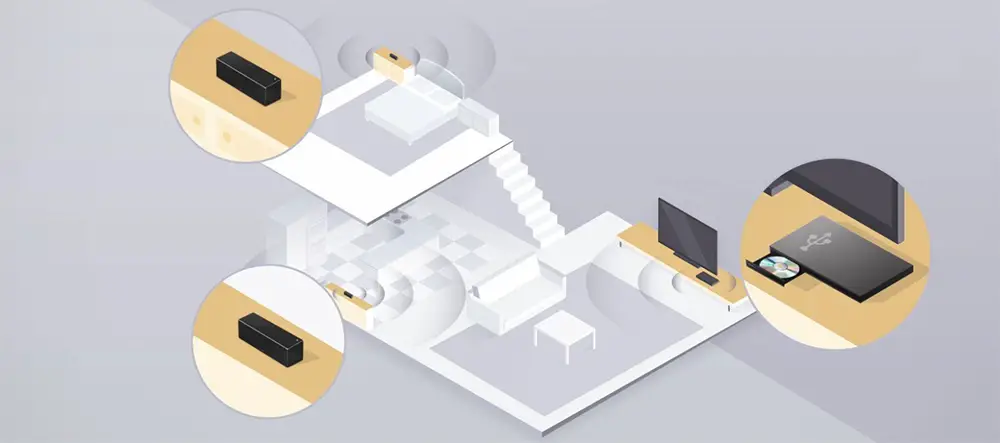 Final Thoughts
The Sony UBP-X1000ES is one amazing player. It really has amazing image quality and it is a great audio performer justifying it's premium title. But is it for everyone? We would have to say no. Unfortunately even with it's amazing performance there is one glaring omission that will for sure turn away many people. The unit doesn't support either Dolby Vision nor HDR10+ so if you want a unit to support these then you should look elsewhere. It's value drops a little when you consider there are other much cheaper units offering Dolby's more advanced HDR protocol.
Currently the unit has a $500 price tag that is certainly to fall when it's successor, the UBP-X1100ES, comes out in the market making it a far better deal. We would have to say that if you are looking for a premium quality deck but at the same time you don't care about Dolby Vision, if your system doesn't support it, then the Sony UBP-X1000ES is a great choice. It has amazing picture, spectacular audio, good streaming and online features and a build quality that really screams premium. The price will certainly fall even more and this will make this premium model even more affordable something that will certainly raise it's value.
It all boils down to this. If you want a premium UHD player but don't care about Dolby Vision then the Sony UBP-X1000ES is a good option to consider. The unit is not much different than the cheaper X800 and the extras are not that significant as having a front display, analogue stereo outputs and a few custom installation features is all the differences you will find. If it's price falls even further with the imminent release of it's successor it will become an even better deal making this one of the most affordable, premium UHD players in the market.
For more reviews you can check our dedicated 4K UHD Blu ray Player reviews list or even look at our Product Reviews Table where you can find the brand and specific product you are looking for.
Also don't lose the chance to subscribe to our Newsletter and gain exclusive privileges.
---
Cheapest Places to Buy :
---
Specifications
Playback Capability :
DISC : Ultra HD Blu-ray, BD-ROM, Stereoscopic 3D (profile 5), SA-CD (SA-CD / CD) Playback, DVD-Video, DVD-Audio, DVD-R, DVD-RW, DVD-R Dual Layer, DVD+R, DVD+RW, DVD+R Double Layer, CD (CD-DA), CD-R / -RW
VIDEO FORMAT : HEVC (.mkv, .mp4, .m4v, .m2ts, .mts), VP9 (.webm, .mkv), VP8 (.webm, .mkv), VP6 (.flv), MPEG-1 Video / PS (.mpg .MPEG, .mkv) [.VOB, .VRO], MPEG-2 Video / PS, TS ( .mpg.MPEG, .m2ts, .mts, .mkv) [.VOB, .VRO], MPEG-4 AVC (.mkv, .mp4, .m4v, .m2ts, .mts), MPEG-4 / AVC (.mov, 3gp, .3g2, .3gpp, .3gpp2, .flv), Xvid (.avi, .mkv), WMV9 (.wmv, .asf, .mkv), AVCHD Disc Format, VC1 (.m2ts, .mts, .mkv), Motion JPEG (.mov, .avi)
AUDIO FORMAT : AAC (.AAC, .mka), HEAAC v.1 / v.2 / level 2, WMA9 Standard (.WMA), LPCM (.mka, .wav), DSD – DSDIFF / DSD (.dff, .dsf), FLAC (.flac, .fla), AIFF (.aiff, .aif), ALAC (.m4a), Dolby Digital (.ac3, .mka), WMA10 Pro, Vorbis, MP3 (.mp3, .mka), AAC (.m4a), Monkey's Audio
PHOTO FORMAT : JPEG (.jpg, .jpeg), GIF (.gif), PNG (.png), MPO MPF 3D (.mpo), BMP (.bmp)
Picture and Audio Features :
PICTURE FEATURE : HDR to SDR conversion, 4K Upscale (60p), Deep color (12 bit), 24p True Cinema, BRAVIA Mode
CERTIFIED HI-RES AUDIO : Yes
DOLBY : Dolby Atmos (bitstream out) / Dolby TrueHD decoding (7.1ch)
DTS : DTS: X (bitstream out) / DTS decoding (7.1ch)
DSEE HX : Yes
BLUETOOTH : Bluetooth TX, LDAC
Network :
WI-FI BUILT IN : Yes (2.4 GHz, 5 GHz)
WI-FI MIMO : Yes
FEATURES : DMP (Digital Media Player), DMR (Digital Media Renderer)
STREAMING : 4K streaming, 3D Streaming (No 3D content)
Convenience Features :
FUNCTIONS : Child Lock, Parental Control, BRAVIA Sync, Super Quick Start Mode, Auto Power Off (Auto Stand-by)(20 min), Subtitle Shift, Display Info Position
Terminals :
INPUT AND OUTPUT : HDMI Output(s): HDMI2.0 x 1 (Rear) , HDMI1.4 x 1 (Rear, Audio only), Analog Audio 2ch Output(s): 1 (Rear), Optical Audio Output(s): 1 (Rear), Coaxial Audio Output(s): 1 (Rear), USB Input(s): 1 (Front), Ethernet Connection(s): 1 (Rear)
Power :
POWER CONSUMPTION : in Operation, in Standby
Accessibility :
SCREEN READER : Yes
AUDIO DESCRIPTION : Yes
ENLARGE : Yes
CLOSED CAPTION : Yes
ACCESSIBILITY SHORTCUT : Yes
Size & Weight :
DIMENSIONS (W X H X D) : W17" x H2 1/4" x D10 1/2" [W430 x H54 x D265 (mm)]
WEIGHT : 8 lb 3/5 oz [3.9 kg]