---
Cheapest Places to Buy :
---
4K UHD is maturing and this is very obvious when you see players like the Sony UBP-X700 UHD player. What we have here is considered a mid tier 4K UHD player but with a performance of a 5 star product. We are bound to see more players offering top performance but with a price under 200$.
So why someone should prefer this player than the top tier UBP-X800? The answer is very simple and it has a name. Dolby Vision support. Sony needed a player to accompany their new Dolby Vision supported TV lineup and thus created the X700 for that purpose. But is it worth it to go for X700 just for Dolby Vision or the rest of the specs follow the same high standards. Continue reading to find out…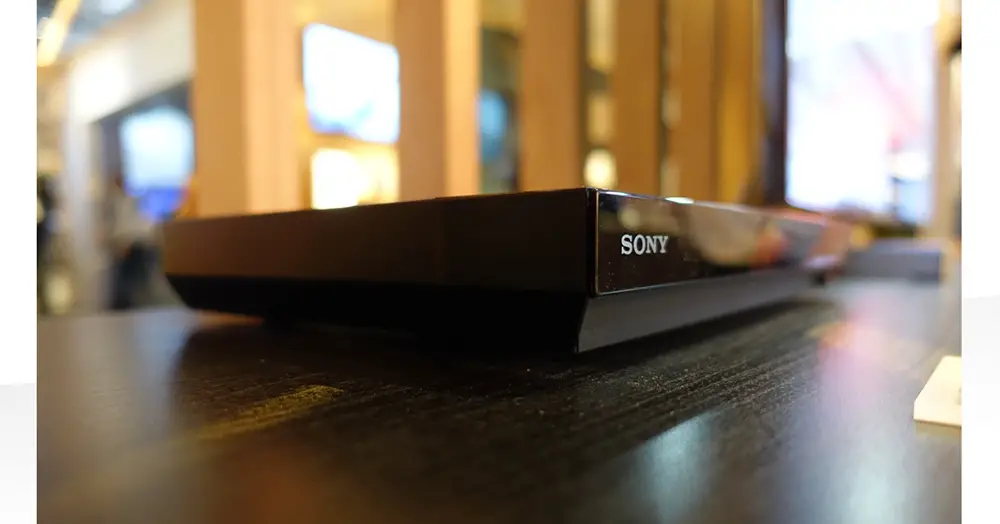 Design
The reduced price should have an impact on the X700 and it seems that this went onto the design of the unit. The UBP-X700 is smaller than it's big brother, the X800, by around one third. The first impression certainly gives you a feeling that it was made with low cost in mind. Although they tried to make the design a bit interesting with it's angled metal body in general this is not a player that will wow you with it's looks.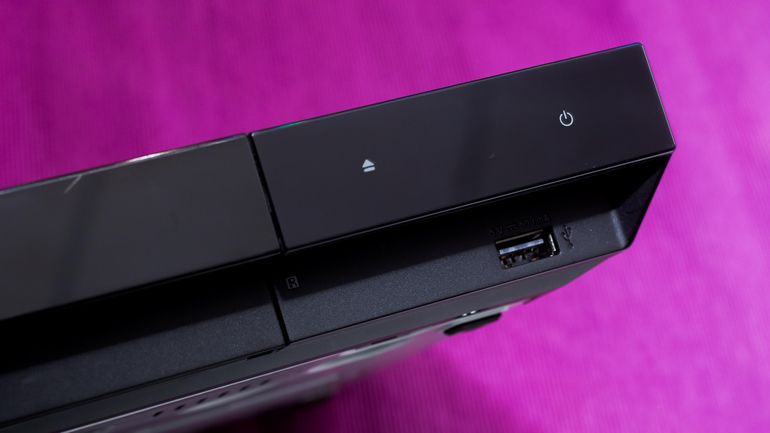 Also the front display is gone as a measure to cut costs even further. To tell you the truth this is not such a big deal. With many players that I had with a front display, I was never paying attention to it and it was serving only as an indication that the device is on or off. In the front you will also find a comfortable USB port for connecting external storage and the power and eject buttons that are made out of plastic. They certainly feel cheap but I found them very responsive and never had any problem with them.

Video / Audio Quality
If there is one aspect that Sony hasn't cut any corners in this player is the image and audio playback quality. Although the player will support Dolby Vision in summer 2018 with a firmware update until it does what is on offer is the traditional HDR10. And does it look great. Firing up the Transformers UHD disk reveals a crystal clear image with a breathtaking amount of detail. You could see every little piece on each Autobot move in their messy structure. Colors were popping out of the screen and HDR would draw you in the picture. Motion performance is excellent and every action scene was displayed in a very smooth and natural way.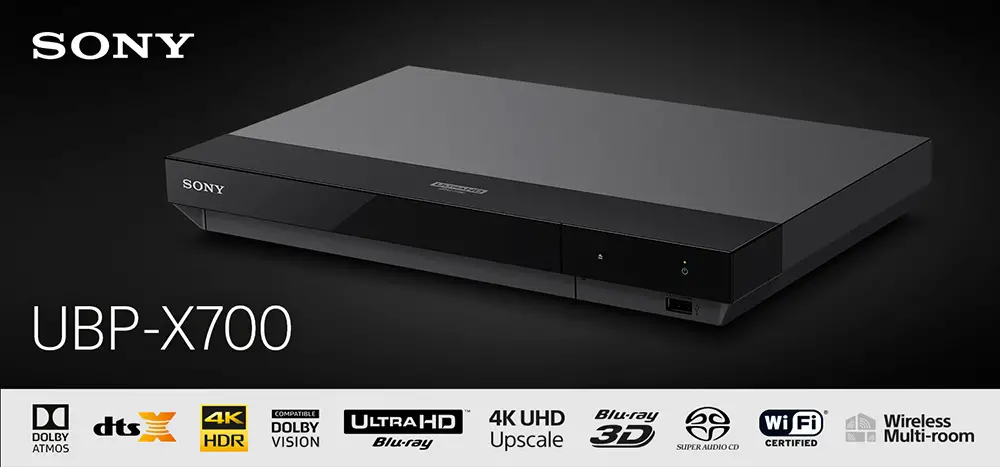 As with the image quality, the audio performance is great also. When the action starts every sound no matter how small or trivial, can be heard clearly. From the characteristic transformation effects of the Autobots, the synthesized Megatron voice or the explosive sound effects during the final act the player offers clear separation of all sound channels and it will offer the best of what each sound track has to offer. If you have or planning on creating a Dolby Atmos home theater then the UBP-X700 will definitely take advantage of all the speakers you will place to create the most immersive sound field possible.

Other supporting features are 4K upscaling of SD and Full HD material as well as 3D Blu ray and SACD playback. These features may not be for everyone but nevertheless it's always good to have them as options for those few that would like to use them.
In all honesty this player may be cheap compared to other models but it's playback performance it top notch. At no point during film viewing did it feel like this was such a cheap player and this reveals the mentality Sony had during designing this new breed of UHD players. Cut the cost without sacrificing what makes consumers buy an UHD player, it's ability to produce spectacular 4K UHD material with breathtaking HDR.
Inputs / Ports
Since we have a budget friendly player we shouldn't expect anything fancy as far as connections is concerned. What we get here is the absolute basics. All ports are located in the back and what we get is an Ethernet port for wired connection to the internet, 2 HDMI ports, one for VIDEO/AUDIO and the second just for AUDIO and a coaxial Digital Out port…and that all. Very basic stuff but enough for most people that just want to make the standard connections to their home entertainment center.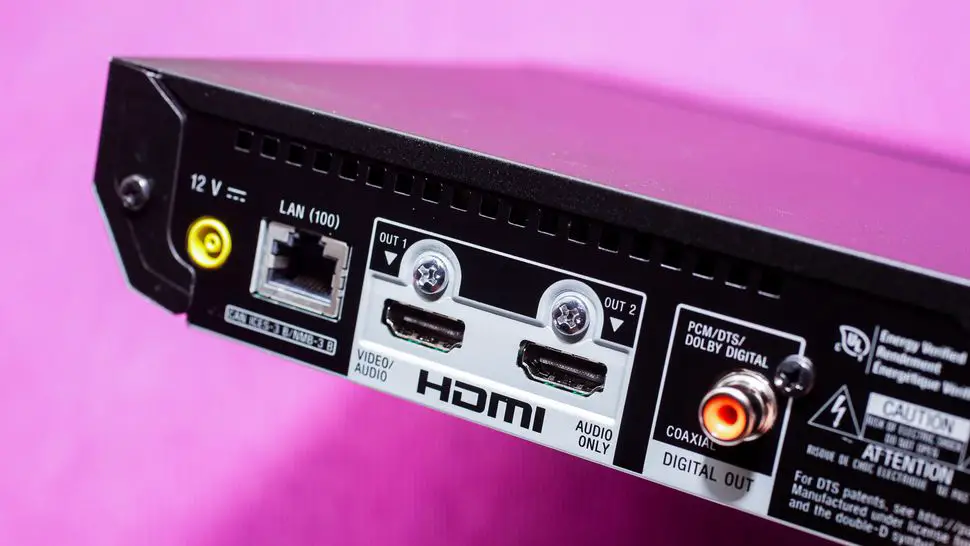 OS, Apps and Features
The menu is pretty much the same as you would see in the X800. It also supports enough online apps like Amazon Prime, Netflix, Pandora, Spotify, Youtube and Hulu. It also has support for 4K streaming with various of these services but only with Youtube you get HDR. The player also supports Miracast and DLNA.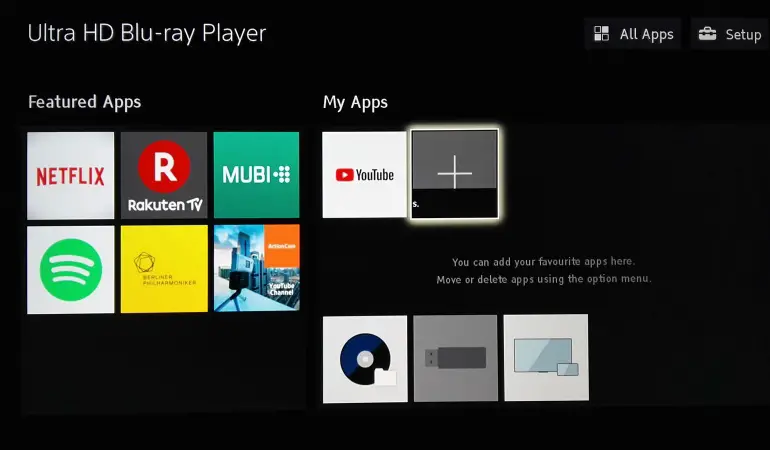 The Sony UBP-X700 supports wireless connection to the internet but it only supports the 2.4Ghz band in contrast to it's bigger brother, the X800, that supports also the 5Ghz band. But the wireless connection was steady at all times and never had any problems or disconnections and streaming with the player was smooth.

The player is very quiet in general without any bothering loading noises although the disk tray is a bit loud. The remote is very basic and this is also a part that they tried to cut on the cost. It is very small and offers only the basic function keys you could ask for. The buttons are made out of rubber and of course you shouldn't expect any fancy back-light or anything similar. Simple, cheap but gets the job done.
Final Thoughts
What we have here is clearly a player for the budget sensitive consumers. Sony didn't want to sacrifice any of it's performance but they had to cut on the cost and this shows in every other aspect of the player. But in the end you buy such a player not for it's looks but for it's excellent image quality and it's spectacular sound and in this departments the Sony UBP-X700 is scoring top marks. It may not be on par with the big boys like the Panasonic UB900 or the OPPO UDP-203 in general score but let's not forget the huge price difference between these players and the X700. An overall great player that is destined to spearhead the mainstream market. Highly recommended.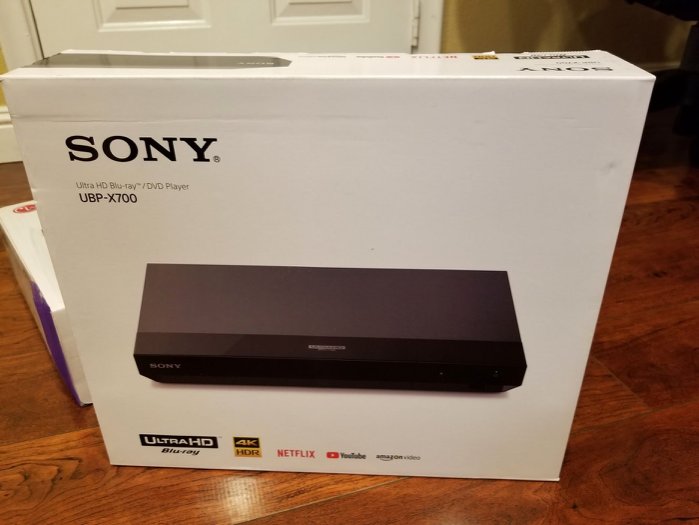 For more reviews you can check our dedicated 4K UHD Blu ray Player reviews list or even look at our Product Reviews Table where you can find the brand and specific product you are looking for.
Also don't lose the chance to subscribe to our Newsletter and gain exclusive privileges.
---
Cheapest Places to Buy :
---
Specifications
Disk Formats : BD-RE, BD-RE Dual Layer, BD-ROM, CD (CD-DA), CD-R / -RW, DVD+R, DVD+R Double Layer, DVD+RW, DVD-R, DVD-R Dual Layer, DVD-RW, DVD-Video, SA-CD (SA-CD / CD) Playback, Stereoscopic 3D (profile 5), Ultra HD Blu-ray
Video Formats : AVCHD Disc Format, HEVC, Motion JPEG (.mov, .avi), MPEG-1 Video / PS (.mpg .MPEG, .mkv).VOB, .VRO, MPEG-2 Video / PS, TS ( .mpg.MPEG, .m2ts, .mts, .mkv).VOB, .VRO, MPEG-4 / AVC (.mov, 3gp, .3g2, .3gpp, .3gpp2, .flv), MPEG-4 AVC (.mkv, .mp4, .m4v, .m2ts, .mts), VC1 (.m2ts, .mts, .mkv), VP6, VP8, VP9, WMV9 (.wmv, .asf, .mkv), Xvid (.avi, .mkv)
Audio Formats : AAC (.AAC, .mka), AIFF (.aiff, .aif), ALAC (.m4a), Dolby Digital (.ac3, .mka), DSD – DSDIFF / DSD (.dff, .dsf), FLAC (.flac, .fla), HEAAC v.1 / v.2 / level2, LPCM (.mka), Mokey's Audio, Vorbis, WMA10 Pro, WMA9 Standard (.WMA)
Photo Formats : BMP (.bmp), GIF (.gif), JPEG (.jpg, .jpeg), MPO MPF 3D (.mpo), PNG (.png), WEBP(.webp)
Features : 24p True Cinema, 4K Upscale (60p), Deep colour (12bit), Dolby Atmos®(bitstream out)/Dolby® TrueHD decoding (7.1Ch), DTS:X™(bitstream out)/DTS decoding (7.1ch), 3D Streaming, 4K streaming, Live Streaming, Screen mirroring (Wi-Fi Miracast), Wi-Fi MIMO, Auto Power Off (Auto Stand-by), BRAVIA Sync, Child Lock, Parental Control, Video & TV SideView
Connections : Coaxial Audio Output(s): 1 (Rear), Ethernet Connection(s): 1 (Rear), HDMI Output(s): 2 (Rear), USB Input(s): 1 (Front)