---
Cheapest Places to Buy :
---
Sony decided to skip support for UHD in the PS4 Pro which was a curious decision as similar examples in the past had shown that PS2 pushed the DVD format into mainstream and the same example can be said about PS3 and blu ray. For me this was most probably a move to promote their dedicated players that sooner or later would be coming out in the market. Their first UHD player was announced in September of 2016 with the UBP-X1000, but the price of it was a bit too high for most people. This brought us six months later with their second and more affordable UBP-X800 that aims to be a more budget friendly model.

Design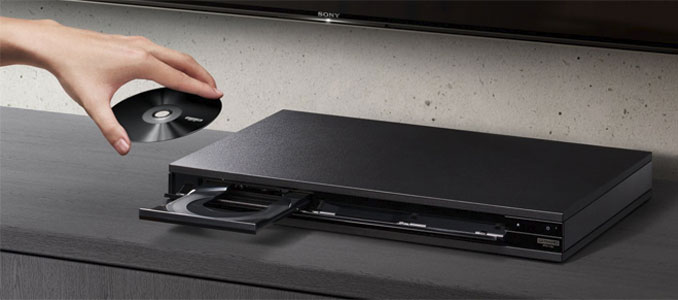 Sony decided to go for a very clean and minimalistic design that will certainly not wow anyone. Sony engineers just went with what was absolutely necessary here and this shows in all aspects of the player. In the front left we have the disk tray hidden behind a drop down panel and to the far right we have 2 buttons, one for open / close the disk tray and one power button. Under the two buttons we have a USB port for connect external storage hidden behind a pull away panel. And that's all for the front. If you consider that we are talking about a budget 4K UHD player i think it's natural not to expect much more than what we get here. It is obvious that we are getting a player that will do the job without anything fancy.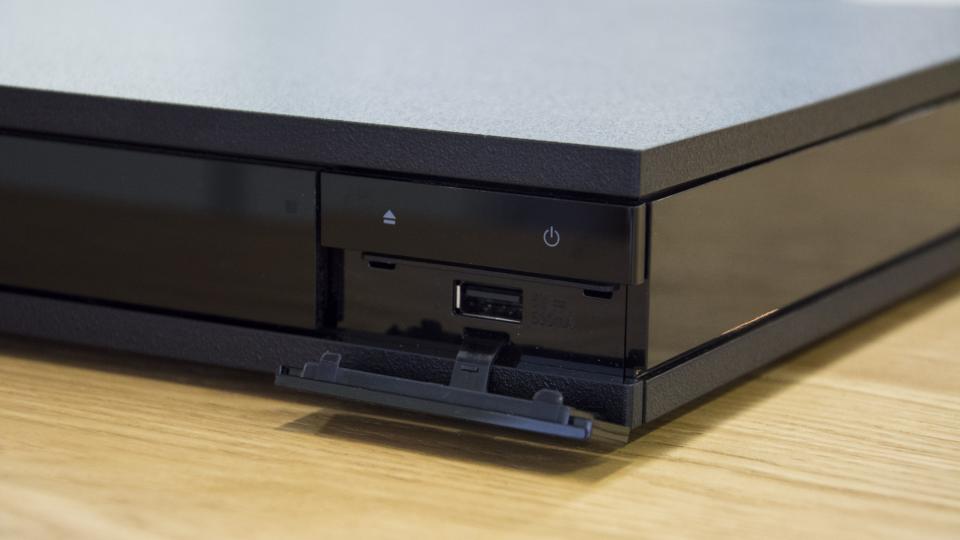 Video Quality
The Sony UBP-X800 may be a budget friendly player but when it comes to 4K UHD reproduction  it really shows it's strength. Picture quality is exceptional as is color performance. The player supports up to 4:4:4 subsampling and I didn't see any visible banding. 4K signal shows without any artifacts or anomalies. The player automatically detects the capabilities of your TV and sends the corresponding data meaning it's adjusting the resolution, frame rate, HDR, deep color and color space according to what your TV can show. You cannot change these settings manually as some other players as this is done by default.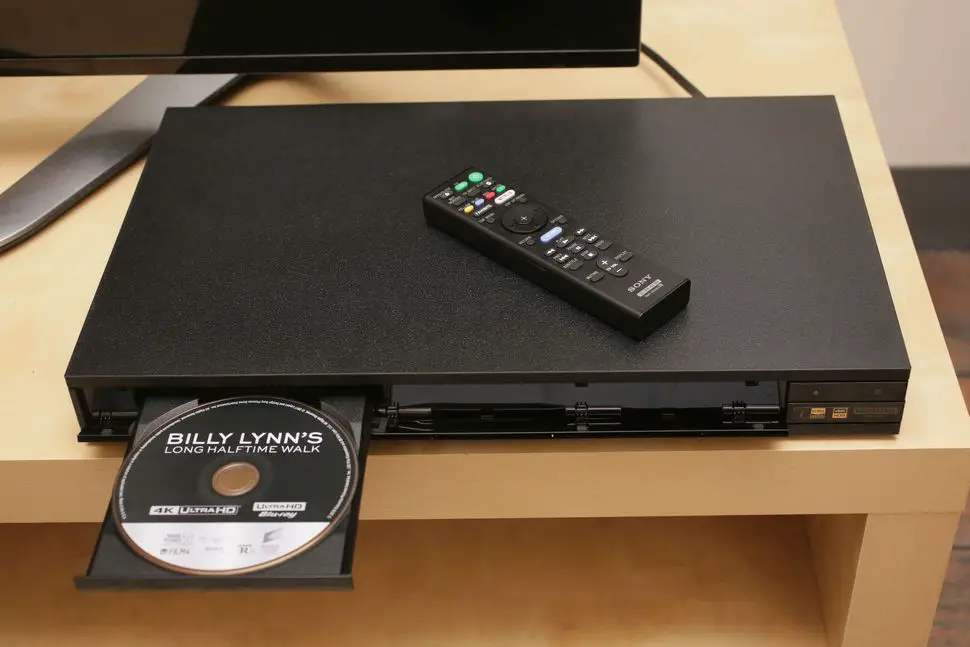 As far as High Dynamic Range the player supports HDR10 but no Dolby Vision. Since Dolby Vision needs special hardware don't expect this with any future firmware update. If you don't care about this then this player offers great HDR but if Dolby Vision is a must then better look for a different deck or you can wait for the new Sony 4K UHD player that Sony announced recently and will come with Dolby Vision support. The player also supports HDR to SDR conversion for those that don't have a 4K HDR TV. It also upscales DVDs and Blu rays to 4K resolution and the result is really great considering the material of course. Finally it can also play DVD-Audio and SACD.
The new audio formats are reproduced perfectly with Dolby Atmos and DTS:X tracks filling all channels and creating an immersive sound field. I tried the Transformers 4K UHD movie and you could almost feel the bullets flying all around the room. The player is also an excellent audio player. It supports a wide range of audio formats like 24-bit FLAC and DSD up to 11.2MHz, as well as WAV, AAC, MP3, APE and Ogg. Video files that it supports include MKVs, MPEG, MOV, AVI and m2ts. All these formats are upscaled to 2160p.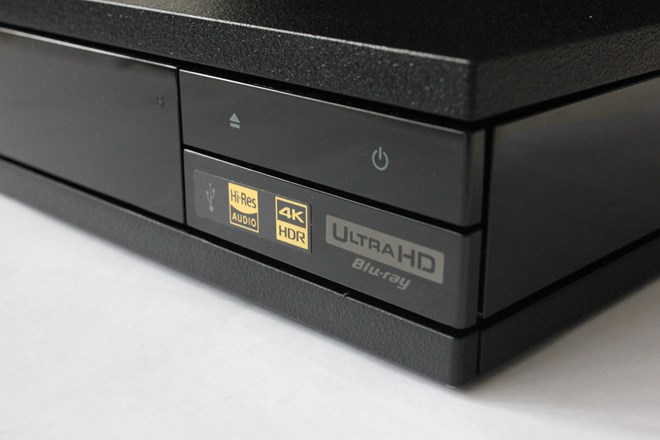 All in all the the most important part of a disk player is it's playback quality and here the Sony UBP-X800 really excels. For a budget player you cannot ask for much more and if it had Dolby Vision it would have no competition but even like this we get a great player that will offer you everything you can expect from the new video and audio formats without having to spend a huge amount of money.
Inputs

As with the minimalistic design in the front the same principle is followed for the inputs in the back as we also get very few ports with 2 HDMI ports, one v2.0 HDCP 2.2 enabled, the other an audio-only v1.4 output to connect to receivers that don't support 4K signals pass through. We also get one coaxial digital output. Strangely enough the player is missing an optical digital output, a port that even budget players seem to have as default. We also don't get any analogue stereo output. The player supports dual band Wi-Fi and Bluetooth using Sony's LDAC headroom extension. Lastly we see an Ethernet port if you prefer wired connection to the internet.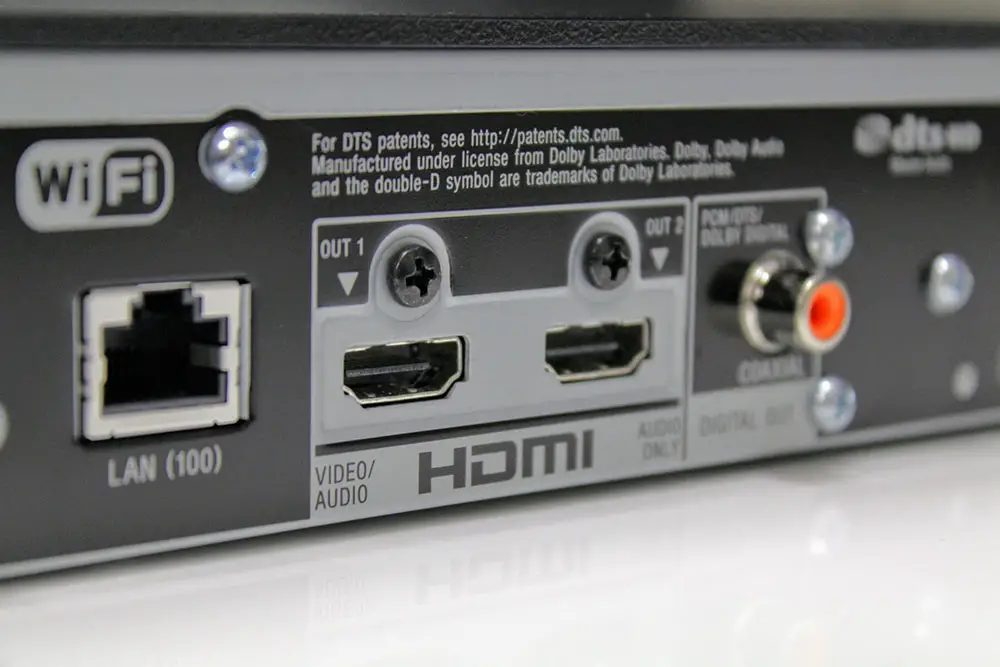 OS, Apps and Features
Sony offers a grid like home screen from where you can choose between the different streaming services, play disk or setup options. The X800 comes with support for Netflix and Amazon Video, as well as BBC iPlayer, Demand 5, Spotify and many other options. The amount of services is above average compared to other players and this is a plus in my opinion. More services are added if you have the player connected to the internet so updating is a must to have all these new streaming services available.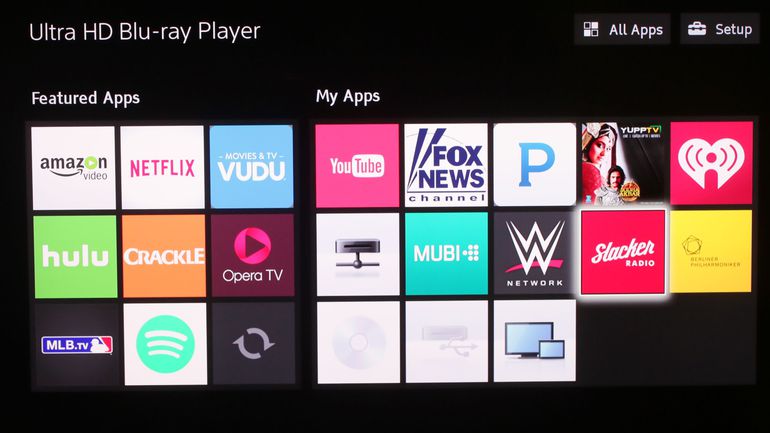 Loading UHD disks was fast but it felt like it was loading a bit  slower than other players without being bothering of course. Blu ray and DVD disks loaded very fast and this is to be expected. As far as the remote i have to say that here Sony offers us a simple design with the most necessary buttons available as well as a dedicated Netflix button for those that like using this service. I particularly like that all buttons have certain distance between them and you cannot accidentally push the wrong one. Nothing fancy here but totally functional for this price range. The player is very quiet no matter what disk we put into it so this is an extra plus if you are sensitive on noise. This i guess has to do with the build quality and it's something Sony was very much marketing before this player went on sale.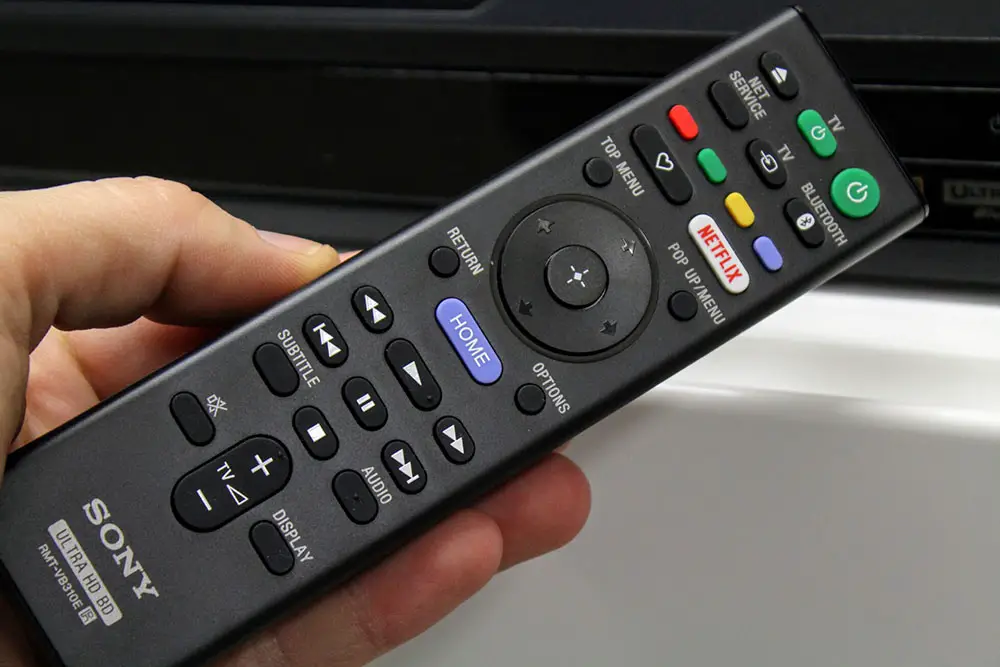 Final Thoughts
If you are on the lookout for a quality 4K UHD player but you are also tight on budget and you don't want to spend a small fortune to get the more premium players out there then the Sony UBP-X800 is the perfect choice especially if you don't care about Dolby Vision that in my opinion is the most glaring missing feature of the player. Other than this I can say with certainty that this player is an excellent choice, with good design, excellent playback features, adequate ports, a functional menu and a great price for what it offers. Highly recommended.


For more reviews you can check our dedicated 4K UHD Blu ray Player reviews list or even look at our Product Reviews Table where you can find the brand and specific product you are looking for.
Also don't lose the chance to subscribe to our Newsletter and gain exclusive privileges.
---
Cheapest Places to Buy :
---
Specifications
Disk Formats : BD-ROM, CD (CD-DA), CD-R/-RW, DVD+R, DVD+R Double Layer, DVD+RW, DVD-Audio, DVD-R, DVD-R Dual Layer, DVD-RW, DVD-Video, SA-CD (SA-CD / CD) Playback, Stereoscopic 3D (profile 5), Ultra HD Blu-ray
Video Formats : AVCHD Disc Format, Motion JPEG (.mov, .avi), MPEG-1 Video/PS (.mpg, .MPEG, .mkv).VOB, .VRO, MPEG-2 Video/PS, TS (.mpg, .MPEG, .m2ts, .mts, .mkv).VOB, .VRO, MPEG-4/AVC (.mov, 3gp, .3g2, .3gpp, .3gpp2, .flv), MPEG-4 AVC (.mkv, .mp4, .m4v, .m2ts, .mts), VC1 (.m2ts, .mts, .mkv), WMV9 (.wmv, .asf, .mkv), Xvid (.avi, .mkv)
Audio Formats : AAC (.AAC, .mka), AIFF (.aiff, .aif), ALAC (.m4a), Dolby® Digital (.ac3, .mka), DSD – DSDIFF/DSD (.dff, .dsf), FLAC (.flac, .fla), HEAAC v.1/v.2/level2, LP cm (.mka), Vorbis, WMA10 Pro, WMA9 Standard (.WMA)
Photo Formats : BMP (.bmp), GIF (.gif), JPEG (.jpg, .jpeg), MPO MPF 3D (.mpo), PNG (.png)
Features : 24p True Cinema™, , HDR → SDR converter, Deep Color (12bit), 4K Upscale (60p), Dolby Atmos® / Dolby® True HD decoding (7.1ch), DTS:X(bitstream out)/DTS decoding (7.1ch), Bluetooth® TX, LDAC, Wi-Fi (2.4Ghz, 5Ghz), DMP (Digital Media Player), DMR (Digital Media Renderer), Screen mirroring (Wi-Fi® Miracast), Wireless Multi-room (Server), 3D Streaming, 4K streaming, Live streaming, Auto Power Off (Auto Stand-by), BRAVIA Sync, Child Lock, Parental Control, Super Quick Start Mode
Connections : Coaxial Audio Output(s): 1 (Rear), Ethernet Connection(s): 1 (Rear), HDMI Output(s): 2 (Rear), USB Input(s): 1 (Front)