Sony VPL-HW45ES
Design -

92%

Video Quality -

95%

Inputs / Ports -

85%

OS, Apps and Features -

88%

Price / Quality -

90%
---
Cheapest Places to Buy :
---
Among all the other electronic devices Sony is manufacturing, the company has also made a good name for it's high quality projectors designed for media rooms as well as dedicated home theaters. Being one of the few companies that offer both 1080p and true 4K projectors as they never went the way of pixel shifting as a substitute for higher resolution panels Sony projectors are viewed favorably among videophiles and home theater enthusiasts.
The projector we will be reviewing today is the successor of the highly successful VPL-HW40ES and Sony had  enough time to make improvements upon an already very good performing model. Two years of work was plenty of time for Sony and the results are really evident from the first moment you lay gaze upon it's design till you power it up and take it for a test viewing. But without further delay let's see what it has to offer in our Sony VPL-HW45ES review.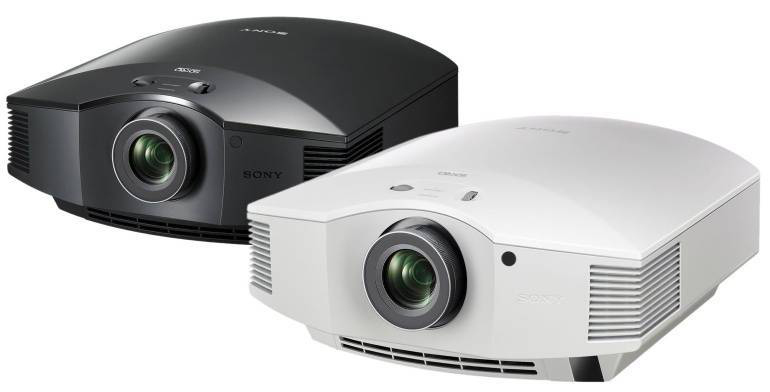 Design
The projector comes in a large turtle-like box design that is very characteristic of it's gentle curves in addition to it's sharp corners. Sony did very good work on the design and it gives you a feeling of being a quality projector. In the front we find the lens placed in the center mounted inside a recess in order not to protrude awkwardly beyond the rest of the projector's body.

On the right and left front corners we get the air vents from where hot air is blowing and this is a good design decision as it helps if you place the back of the projector very close to the wall or if you position the projector in front of the viewers. In both cases hot air will not become bothersome. In the back two corners there are also air vents but these are for air intake only and cannot be blocked even if the projector is placed very close to the wall.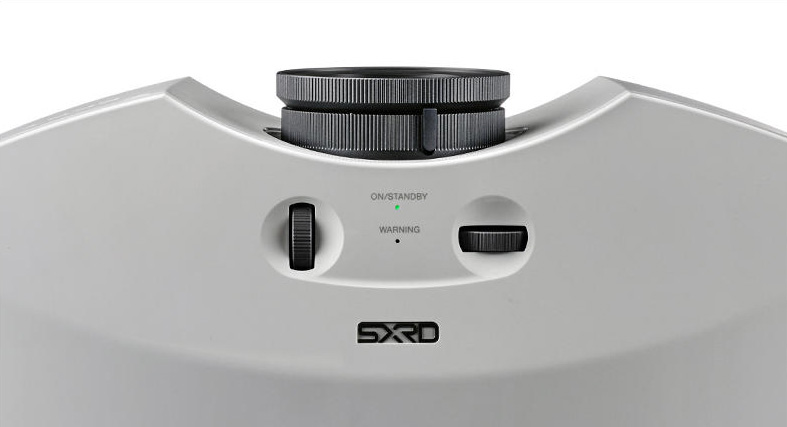 On top of the lens we get two manual lens shift adjustment knobs for proper alignment of the picture on the projection screen as well as a couple of led lights, one of them for power on/off and one for warning. On the right side we find all the connections on the bottom under a lip that we will analyze a bit further down our review and control buttons for power and navigation on top of them.
The projector is offered in two colors, either white or black and it has a nice shiny plastic surface that may not become the center of attention in your media room but it certainly gives you a sense of what it is capable of when turned on.
Video Quality
The Sony VPL-HW45ES is a Full HD 1080p SXRD projector (Silicon X-tal Reflective Display) which is how Sony calls their LCoS (Liquid crystal on silicon) projection technology implementation. If you consider the price of 4K projectors then it would be natural that the Sony projector offered in such a competitive price could not have any kind of 4K functionality. In the contrary Sony made sure to focus on making it as good a Full HD projector as possible.

The projector has a light output of 1800 lumens which we cannot say is an impressive number by itself. There are two settings you can use depending on the environment the projector is placed in. The high lamp mode is mostly used in bright lit rooms or broad daylight but as a result black colors turn a bit grey and there is some added noise in the picture creating an overall mediocre result. For night viewing or if your room has low light then the low lamp mode is much better as deep blacks return as well as shadow detail  accompanying the vibrant and lifelike colors.
Contrast performance is excellent here as the high contrast ratio yield deep blacks and make colors look so vibrant giving them an almost 3d feel to them. Color balance is also very good as is color saturation and hue. Contrast Enhancer is a system that makes dark colors look more prominent but it should be set at low or turned off otherwise it creates unnatural blacks and as we always say the less processing is most of the time better.
The projector can also display 3D content with active 3D glasses but the end result is really mediocre at best. The main issue here is that with 3D, brightness takes a serious dip making the whole experience feel like a compromise rather than an entirely new experience. The projector's peak brightness is not very high and this contributes in the lack of brightness during 3D viewing. 3D in general may be on the decline lately but there are still a lot of new films released in this format and although it feels that this feature is more of an afterthought for this projector it is good to have for those insisting on using and finding pleasure out of it.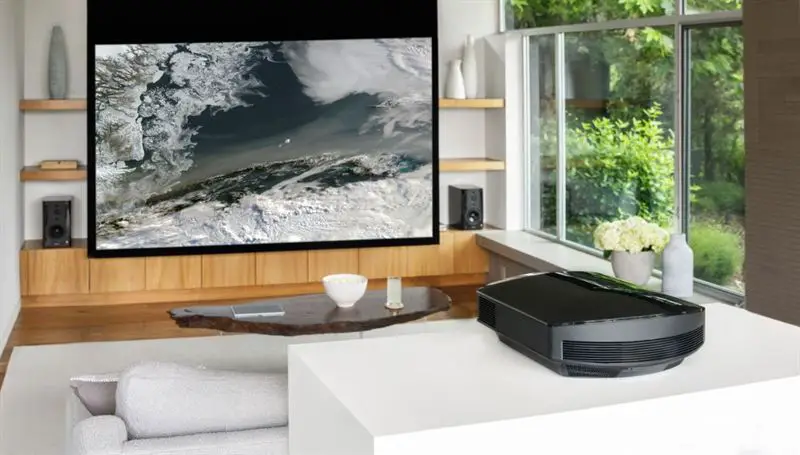 Another high point of the Sony projector is it's very low input lag that is measured at around 22ms when input lag reduction is turned on which can rival even some TV displays. When input lag reduction is turned off the lag skyrockets to a high 105ms so at least when you use the projector for your gaming sessions it is advisable to have input lag reduction always on. There is a button on the chassis of the projector that is for this function directly so it is easy to switch this on/ff.
Using the projector in the "Reference" mode gave the best results with very accurate and vibrant colors. Displaying some good Full HD content helped the projector work it's magic by delivering enough clarity and sharpness  in every scene. If you add the good motion performance and low input lag what we get here is a very capable projector that will leave you satisfied with the end result.
Inputs
Sony has placed all the connections under a lip at the bottom right of the projector. What we get here is two HDMI ports, a USB port that unfortunately can be used only for firmware updates and not to connect external storage devices, an RS-232 port and an IR-in port for adding external remote control.
It is a bit disappointing to see that there is no 12V trigger port that is very useful when using a projector because it can be used to automatically descend a motorized projection screen when the projector is turned on, something that can be very practical. Another big omission is no Ethernet port something that most projectors nowadays offer.

In total there are not a lot of ports on offer here and what we get I would say is more or less the absolute minimum most projectors offer. The omission of a 12V trigger as well as an Ethernet port feels a bit puzzling and the use of the USB port only for firmware updates like a missed opportunity. The cost of adding these ports would not be so much higher so it is strange why Sony decided on this connections setup and it leaves you with a bitter taste that so much more could be done in this department.
OS, Apps and Features
Setup of the Sony VPL-HW45ES was far easier than expected. Using the vertical and horizontal lens shift wheel as well as having a 1.6x zoom can help to place the projector on a table, shelf or ceiling mount it with little trouble.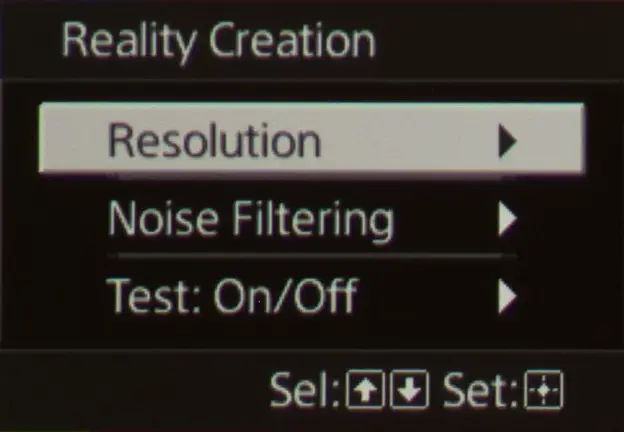 A projector of this class could not be without any video processing systems and the Sony VPL-HW45ES comes equipped with a wealth of options and settings for video and motion processing that in all honesty we prefer to turn off most of the time in order to keep the picture as natural and untouched as possible. And with the projector having so good image quality without any processing all these systems are mostly there as an extra feature rather than an essential addition.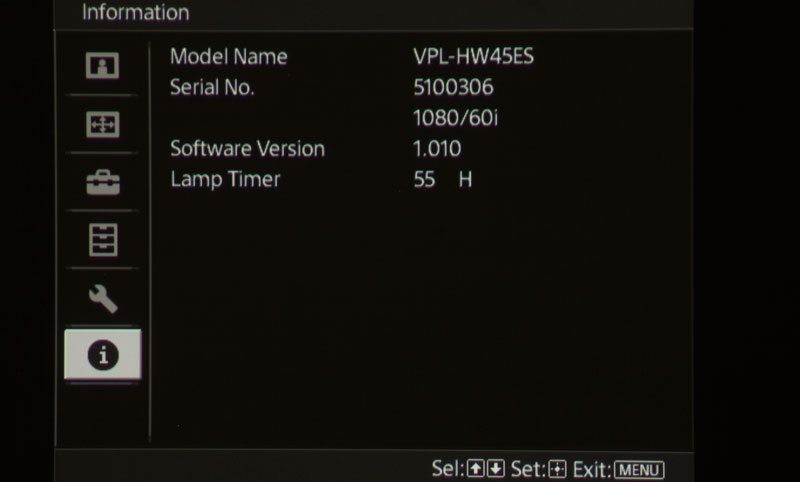 Reality Creation is an edge enhancement system that helps mostly to upscale the picture. You can use a slider to determine the amount to use it and in order to have as little distortion as possible, it is mostly preferable to keep it at a low setting or turn it off completely. On the other hand MotionFlow is a system that tries to remove motion blur and although this may make the images appear more smooth it can create a soap opera effect. There is also the Super Resolution processing feature that adds sharpness to the overall image but it makes the image look a bit unnatural. If sharpness is what you want then the Reality Creation system is much better to use in comparison.

The remote that comes with the projector is a pretty good one although considering the buttons it offers we would say it is a bit on the long side. The buttons are arranged in groups with a lot of space in between to distinguish them. In the center we get a circular group of buttons for menu navigation. Above there are the presets buttons as well as input, power and light in order to activate the buttons backlight which can be very useful in dark rooms. Under the circular group we get various buttons for various features like Aspect Ratio, Motion Flow, 3D, Color Space, Color Temp, Color Correction, Gamma Correction, Contrast Enhancer and Reality Creation.
At the bottom we get three calibration buttons for sharpness, brightness and contrast. All buttons are soft enough and pleasant to the touch and can be easily pressed. I like how the buttons are grouped making them easy to distinguish but leaving so much space between them has in return made the remote a bit too large. In general it is a very functional and easy to use remote without having anything extraordinary. It will get the job done easily and fast and that's what matters.
Final Thoughts
The Sony VPL-HW45ES is a very nice projector in all respects. Having very good image and motion performance with exceptional clarity and detail as well as producing very vibrant and lifelike colors. It has also impressed us with it's dark colors and deep blacks. In addition it offers a wide variety of image processing systems for those that like to use them but thankfully can be turned off for the image "purists". Another strong point is the very low input lag that makes this projector ideal for online game sessions but for gaming in general also. If you add the very good price then the result is more than great.
On the other hand brightness could be better and in 3D things turn out even worse with the end result being a mixed bag. Also being a Full HD projector it doesn't offer any kind of 4K content handling making it not very future proof if you consider diving into the 4K UHD format. Lastly if you consider watching movies in 3D you will have to buy some active 3D glasses separately something that will add to the cost.
If you consider that we are talking about a $2,000 projector what it offers is more than enough to justify the cost. Sony has created a worthy successor to their previous model and even if we are talking about a 1080p projector in a 4K HDR age it will definitely offer you a cinematic experience that will leave you more than satisfied.
For more reviews you can check our dedicated Full HD Projector reviews list or even look at our Product Reviews Table where you can find the brand and specific product you are looking for.
Also don't lose the chance to subscribe to our Newsletter and gain exclusive privileges.
---
Cheapest Places to Buy :
---
Specifications
Projection System: SXRD (Silicon X-tal Reflective Display) panel, projection system
Light Output (Lamp mode high):

1800 Lumens

Color Light Output (Lamp mode high):

1800 Lumens

Effective Imager Size: 0.61 in x 3
Maximum Display Resolution: 1920 x 1080 dots (HDMI Input only)
Video Signal Input: 480/60p, 576/50p, 720/60p, 720/50p, 1080/60i, 1080/50i
HDMI Input Only: 1080/60p, 1080/50p, 1080/24p

Effective Pixels : 6,220,800 (1920 x 1080 x 3) pixels
Lamp Type: High-pressure mercury lamp, 215 W type
Lamp Life:

6000 (Low mode)

Screen Size: 40″ to 300″ (1,016 mm to 7,624 mm)
Projection Lens Zoom/Focus: Manual (Approx. x1.6) / Manual
Projection Lens Shift: Manual, Vertical: +/- 71%, Horizontal: +/- 25%
3D Compatibility: Yes

Dimensions (W x H x D)

: 16 1/8″ (40.7cm) x 7 1/8″ (17.9cm) x 18 3/8″ (46.4cm)
Weight: Approx. 9 kg / 20 lb

Noise Level

: 22dB
Operating Temperature: 5°C to 35°C (41°F to 95°F)/35% to 85% (no condensation)

Power Consumption

:

310W

I/O Connectors: 

HDMI (2 INPUTS) – Digital RGB/Y Pb/Cb Pr/Cr, IR IN – Minijack, USB – DC 5 V, Max. 500 mA, REMOTE – RS-232C, D-sub 9-pin (female)