---
Cheapest Places to Buy :
---
Sony is a manufacturer that knows how to make good TV sets both in design as well as in specifications that offer top image and audio quality. Continuing this trend for the year 2018 Sony presented their top offering the X900F, or as it is called in Europe the XF90, the successor of 2017's very successful X900E.
What we get this year is an LCD TV equipped with a Direct LED panel with Local Dimming as well as the company's most powerful video processing engine until now, the X1 Extreme processor. This combination gives us amazing results with spectacular image quality and HDR that is a clear improvement over last year's models. So without any further delay let's see how this model fairs in our Sony X900F review.
Design
The model in this review is the 65″ variant of the Sony X900F 4K UHD LCD TV. The frame around the TV may not be the most thin there is but in general is fairly thin for today's standards and sports a brushed metal finish giving it a bit of style. The TV has average thickness making it easy to hang on the wall without making it look bad but we have seen a few thinner models that look better. The back of the TV is pretty basic and is all covered by a black plastic and is compatible with 300mm X 300mm VESA mounts for wall hanging.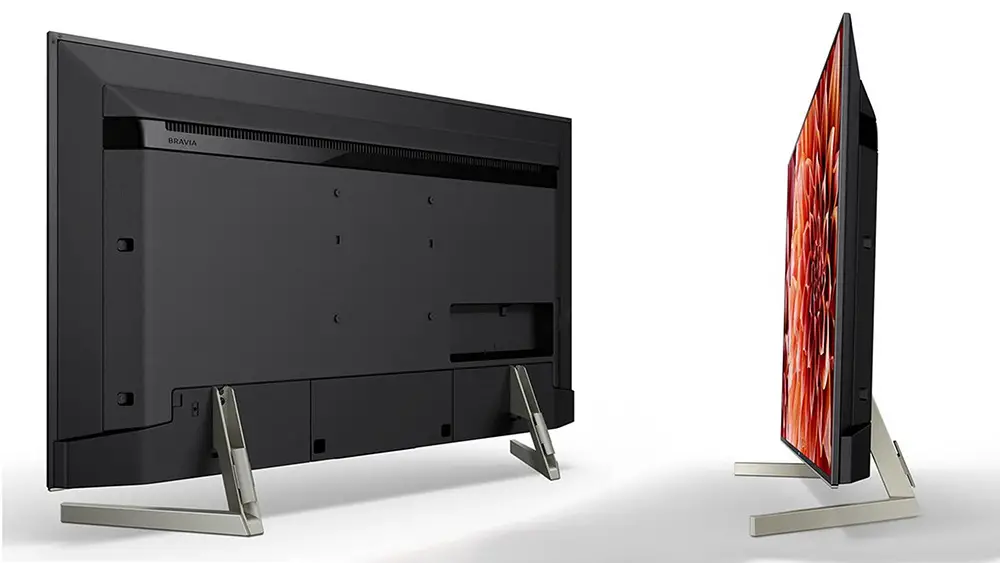 The connection ports are separated in two groups, one on the right side as we look the TV from the back with the ports looking sideways and a second group in the lower right corner with the ports looking downwards. As with most TV sets that follow the same design for the connections, the ones looking downwards will be very hard to use in case you want to wall mount the TV and you will have to rely mostly on the ports looking sideways severely limited the connection options you have. For everyone else that prefer to place it on some furniture will have no such problem.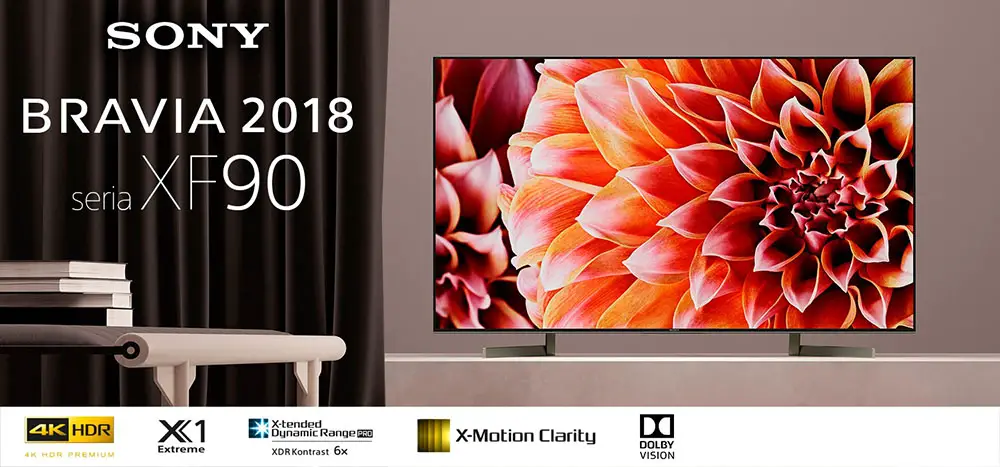 One thing that looks a bit odd in my opinion is the stand design that Sony chose for this year. The TV uses two L-shaped legs attached to each side while both of them look at an angle. Using angled stand means that the furniture you will have to place it on should be fairly large compared to other TV sets that can make do with smaller areas due to better and smaller stand designs.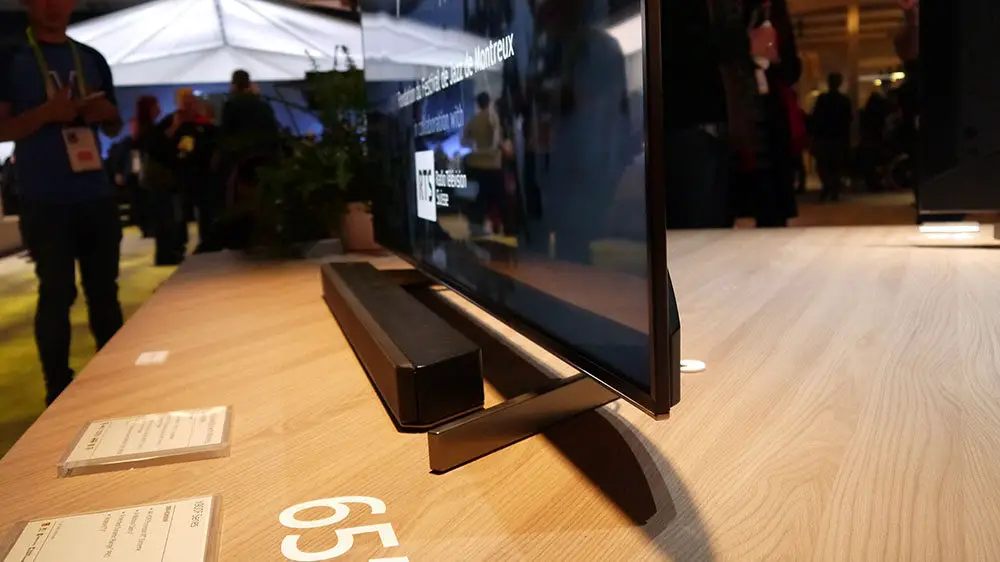 The legs of the X900F although offer good stability to the large TV they don't look so good as the rest of the set with their oversized, goofy look. Sony offers some short of cable management on the stand with a plastic cover that can hold all cables grouped together hidden behind the stand.
Video Quality
The most important part of a TV is it's image quality and here Sony has shown how good they are in creating a TV that delivers superb image quality. Sony X900F packs some high end technologies that when combined give us this amazing result. For 2018 Sony decided to use the X1 Extreme processor that is about 40% more powerful than last years X900E X1 processor.
As a result all SD and HD material upscaled to 4K resolution look better than ever with more detail and clarity without introducing excessive noise. Another feature that greatly benefits from the updated processor is the SDR to HDR conversion and although this is something other manufacturers also offer Sony's variant of the system seems to produce more rich and consistent colors that are pleasing to the eye.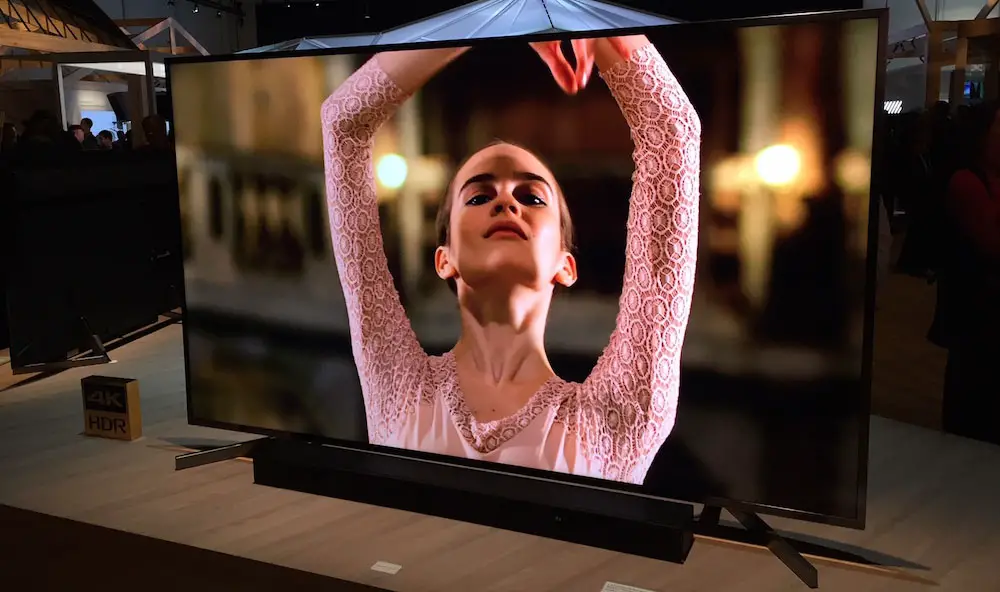 Another impressive feature is the brightness that this model can produce. In our tests the HDR brightness over a 10% white window was measured close to 1200 nits, a number impressive by itself giving us a clear idea of how bright the X900F can go and a clear improvement over last year's X900E. Big part in these results has to do with the X900F having a Direct LED panel with local dimmable zones. Going with direct-lit instead of edge-lit lighting helps in minimizing any unwanted back-light inconsistencies improving the end result dramatically.
But with so much brightness there is bound to be some back-light clouding especially in scenes where there are intense highlights against a completely dark scene. Around the highlights you can see light halos that although not very obvious in most scenes it can be a little frustrating in some cases. Also as with all LCD screens viewing angles are not very good with anything more than 25 degrees from the center will decrease image quality and color reproduction dramatically.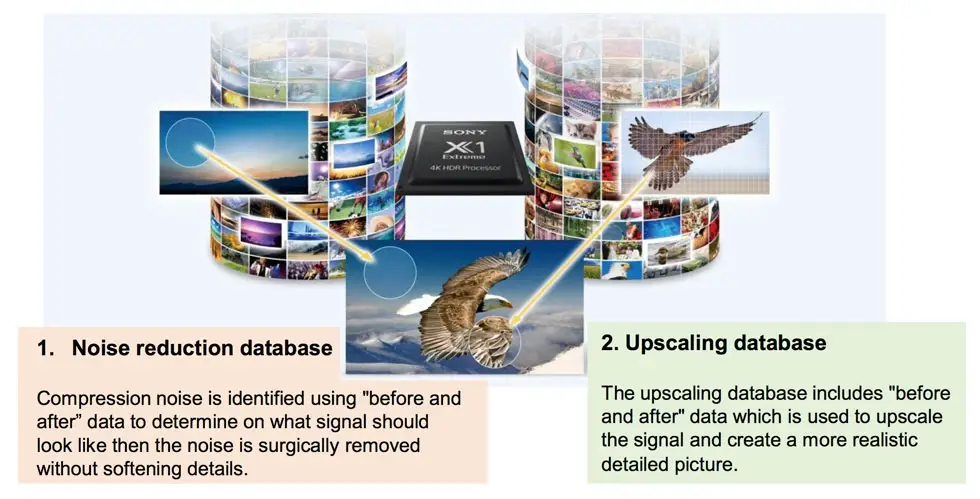 The X900F supports all known HDR protocols with HDR10 and HLG right out of the box and from June of 2018 support for Dolby Vision through a firmware update bringing this model up to date with other TV models in the same category.
Also very good in this TV is it's excellent color reproduction with the X900F having Wide Color Gamut covering more than 90% of the DCI-P3 color space creating more vivid and accurate colors that pop out of the screen and bring this model on the same level as other top performing TVs like the Samsung Q7F or the LG C7.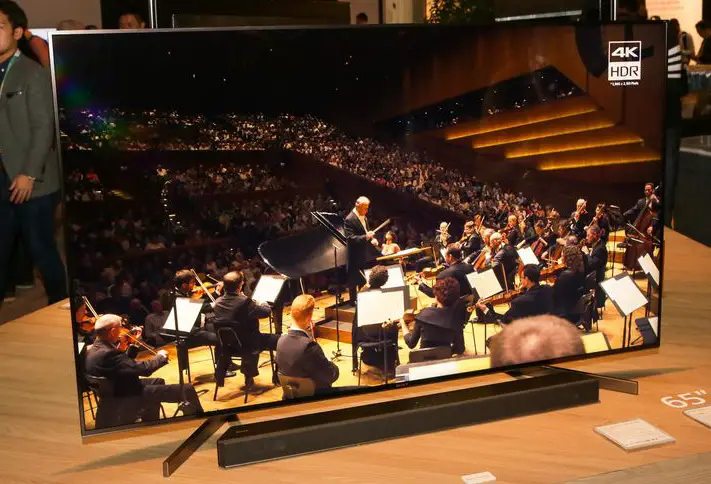 Another part that Sony excels the last few years with their TV sets is motion performance and it could not be any different this year. Using Sony's MotionFlow processing and a 120Hz panel the TV achieves reduced judder and blur during playback. A known technique to achieve natural motion reproduction is by inserting black frames between individual image frames during playback and while this technique improves motion performance and quality it has the side-effect of dramatically lowering the perceived brightness of the display.
Sony took this one step further with their X-Motion Clarity processing and instead of inserting a black frames between images it darkens the back-light and by tracking the bright parts of the image it keeps them at a sustained back-light level making the screen noticeably brighter. This way Sony achieves to have excellent motion performance without the loss of brightness.
The X900F is also ideal for gaming with a very low input lag measured at around 24ms. It may not be the lowest input lag we have seen but it is very good and is enough to provide you with pleasant gaming sessions
Inputs
As mentioned above in our review the Sony X900F has two groups of connections. One group is looking towards the side of the TV and will be the main ports you will be using if you prefer to wall mount it. In this group we get one HDMI port, two USB 2.0 ports for connecting external storage, an IR blaster port, an analogue audio out port, a composite video in port and a remote IR in port.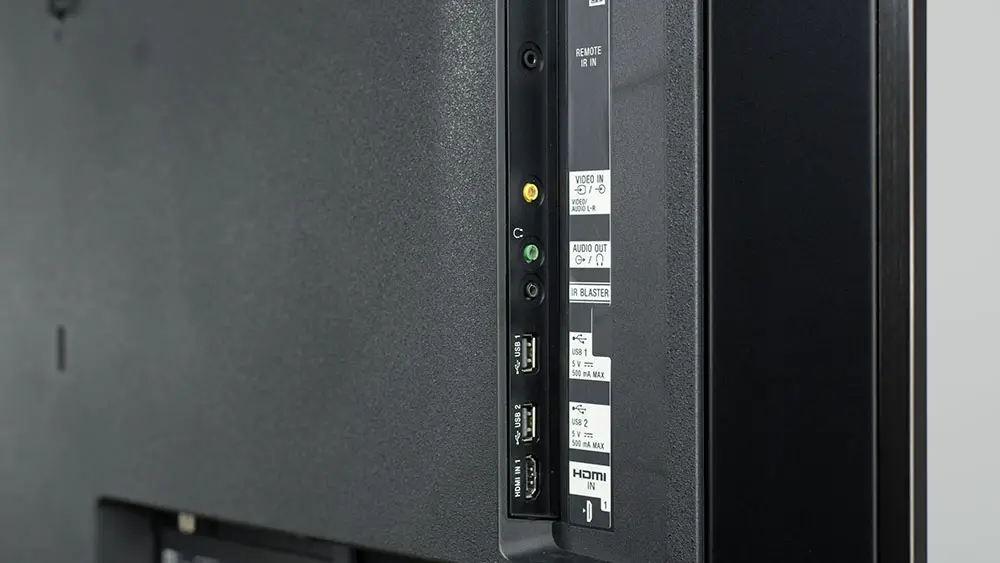 The second group of ports is located below the other group in the lower right corner as we look the back of the TV. Here we have a Cable/Antenna port, an Ethernet port if you prefer a wired connection to the internet, an optical digital audio out port, an RS-232C port as well as three additional HDMI ports with one of them supporting ARC and another USB port with this one being version 3.0.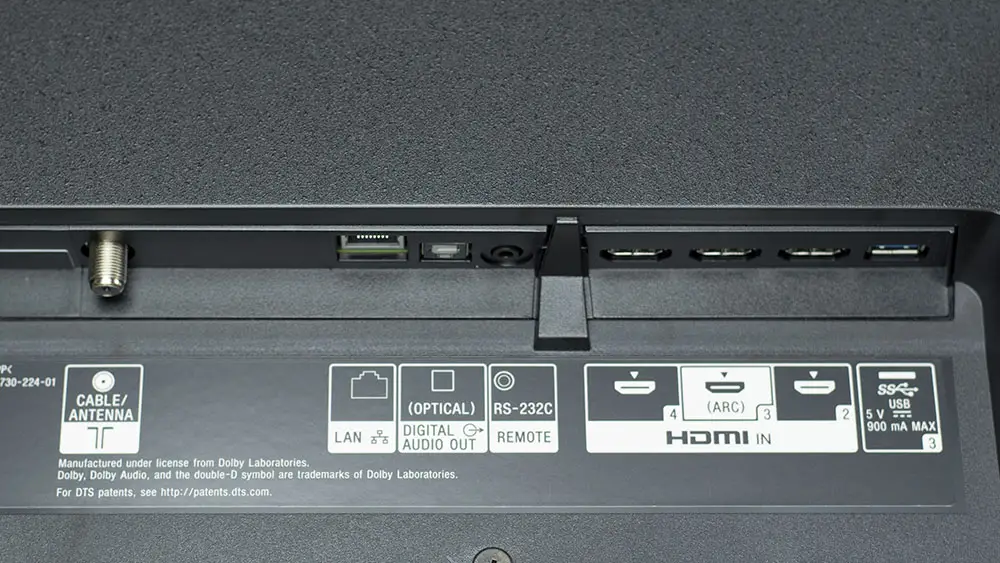 In general we get enough ports for a TV in this price range although Sony's decision to make one of the group's ports look downwards can make these ports a bit difficult to use. I assume Sony did this because if they were facing outwards then these would become completely useless in case you wall mount the TV and by doing this you will still be able to use them even if it will be hard to frequently use some ports like the USB. It's a give and take situation either way so it came down to what they thought would be more practical.
OS, Apps and Features
For one more year Sony has decided to use the Android OS for their TV sets. From past experience this can be both good and bad. One of Android's biggest advantages is the huge amount of apps and services it supports through the Google Play store something competing platforms find hard to match. There is also built-in Chromecast functionality giving you the ability to run Chromecast-enabled apps on the TV as well as support for Google Assistance which helps you find content and information with voice commands. Being compatible with Google Home and Amazon Alexa makes it easy to use and control all connected devices you may have.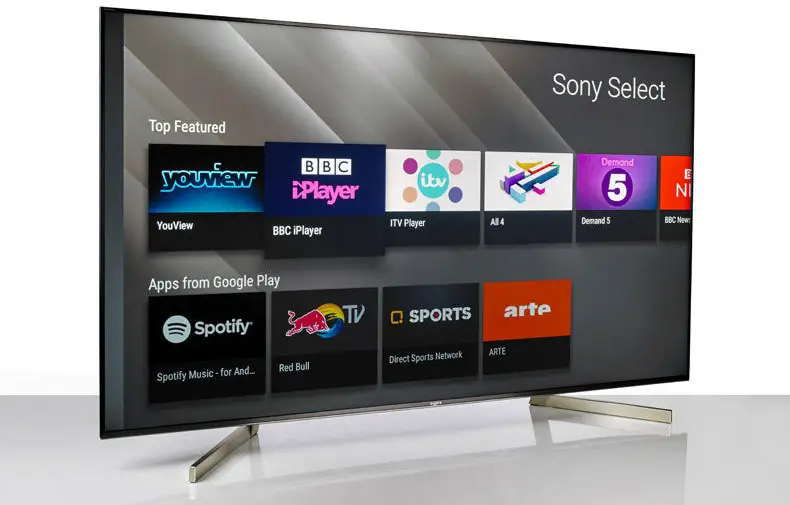 On the other hand Android is still a clunky and frustrating platform to use, using rows of apps and services that look cluttered and spread out with rows after rows of content leaving the user in frustration looking for a specific app and with little ability to customize them. Also a lot of times Android gives you false recommendations of personalized content that make no sense.
The menu navigation is also rather sluggish and some times there is a delay between pressing a button on the remote and the TV executing the command. Some times the home page would take forever until fully loaded which is very frustrating to see in a TV in 2018. Sony should definitely focus more on making the OS of their TVs better. If they want to stick with Android at least they should try to allocate more processing power in order to create a more smooth experience and menu navigation.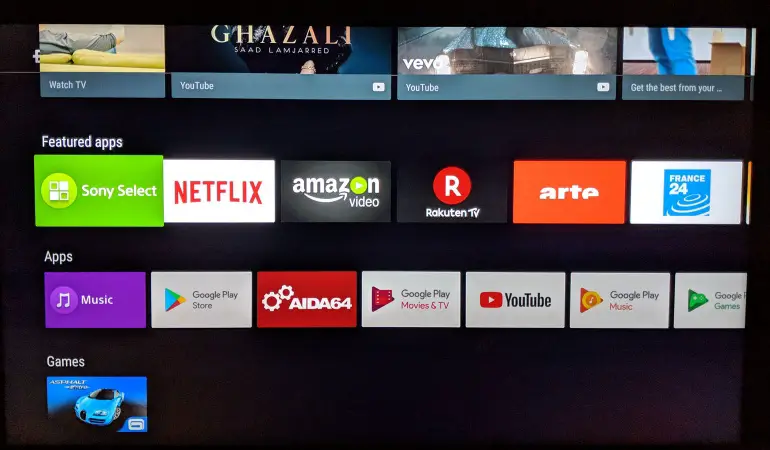 Sluggish navigation may be frustrating but it is still tolerable and what saves it is the huge list of services on offer like Netflix, Vudu, Sony Ultra App that is exclusive to Sony TVs, Google Play Movies and TV, Youtube TV, Hulu, Playstation Vue, DirecTV Now, Facebook video, MLB AtBat, PlutoTV, Twich and Sling TV among many others.
The remote Sony offers with this model is nothing to brag about and is definitely a step behind what Samsung and LG are offering with their TV models the last few years. It's very interesting to see the different way of thinking between Samsung that prefers to manufacture remotes with as few buttons as possible and prefer to use the user interface and menu screen for navigation and Sony that prefers to offer a rectangular shaped remote with as many buttons as possible, almost 50 buttons in total, that definitely looks cluttered and frustrating to handle.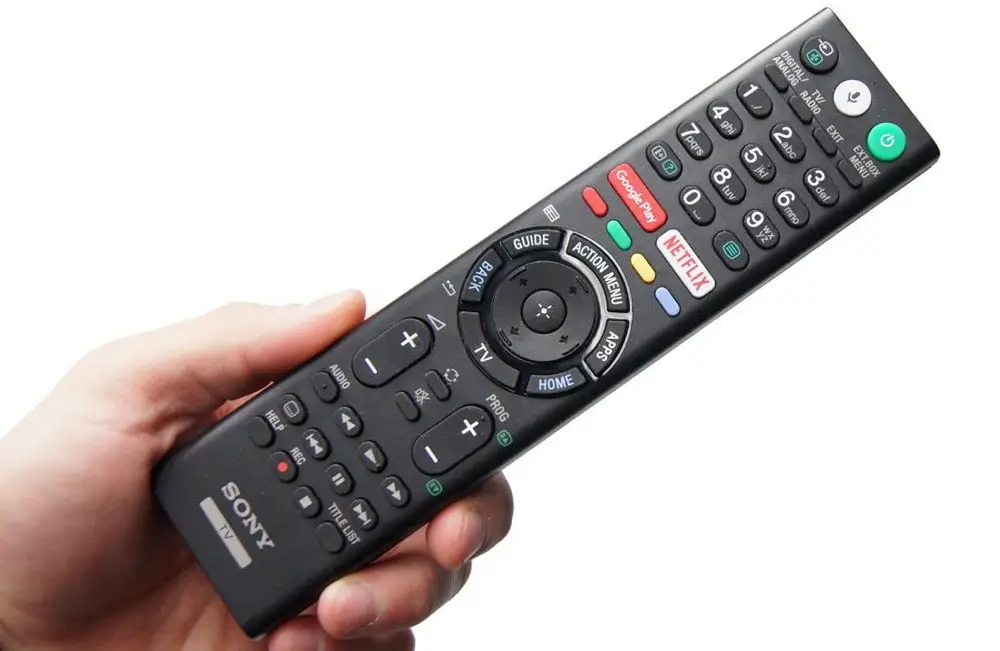 New for this year is the button on the top of the remote with the Google Assistant icon that lets you control the TV using voice commands. The end result is a mixed bag as with most voice command systems and I don't blame Sony's specific offering as in general whenever I used the same system from all manufacturers it would give me mixed results. For simple commands it seems to work well but a lot of times it mixes what you want to tell it giving you wrong results. It is a nice gimmick and until manufacturers improve it to the point that can execute more complex commands it will stay that way.
Last but not least we check the sound of the X900F and as you would expect the end result is average at best and this is normal as with most flat panel TVs. Equipped with a pair of 10 watt speakers you can go pretty loud with this set without any audible distortion but what is immediately obvious is that it is missing any kind of subwoofer making bass take a hit and sound far less dynamic than it really is. Sony is offering some sound technologies like bass reflex and S-Force Front Surround but these can do little to improve the overall result. Having a dedicated sound system would be the best way to go or if that is not possible then at least a sound bar can improve the sound quality dramatically.
Final Thoughts
The Sony X900F is a nicely made mid priced TV. Sony took everything that was good from last year's X900E and improved upon them with more brightness, more local dimming zones and better display performance resulting in delivering amazing image quality.
But as with any device it does come with a few drawbacks most notably being the Android OS that once again cannot reach the top quality of Samsung's Tizen or LG's WebOS systems. Also a few questionable decisions by Sony like the uncomfortable ports placement, the funny and awkward looking stand as well as the remote control keeps the X900F from scoring top marks.
But even with these flaws The Sony XBR-65X900F is a great 4K TV with enough features to ensure it will be future proof and image quality that will make most people more than happy. The price is good, so are the specs. And this is a combination you cannot go wrong with.
For more reviews you can check our dedicated 4K LED LCD TV reviews list or even look at our Product Reviews Table where you can find the brand and specific product you are looking for.
Also don't lose the chance to subscribe to our Newsletter and gain exclusive privileges.
---
Cheapest Places to Buy :
---
Specifications
Screen sizes: 49″ XBR-49X900F, 55″ XBR-55X900F, 65″ XBR-65X900F, 75″ XBR-75X900F, 85″ XBR-85X900F (USA)
Screen sizes: 49″ KD-49XF9005, 55″ KD-55XF9005, 65″ KD-65XF9005, 75″ KD-75XF9005 (Europe)
Panel : 65″ LCD Direct LED panel with Local Dimming
Resolution : 3840 x 2160
HDR supported : HDR10, HLG
Video : 4K HDR Processor X1™ Extreme, 4K X-Reality™ PRO Dual database processing, Live Color™ Technology, Precision Color Mapping, Super bit mapping™ 4K HDR, TRILUMINOS™ Display, Dynamic Contrast Enhancer, Object-based HDR remaster, X-tended Dynamic Range™ PRO, X-Motion Clarity
Audio : 10 W+10 W Bass Reflex Speaker
Video Codecs support : MPEG1 : MPEG1 / MPEG2PS : MPEG2 / MPEG2TS (HDV, AVCHD) : MPEG2, AVC /MP4 (XAVC S) : AVC, MPEG4, HEVC / AVI : Xvid, MotionJpeg / ASF (WMV) : VC1 / MOV : AVC, MPEG4, MotionJpeg / MKV : Xvid, AVC, MPEG4, VP8.HEVC / WEBM : VP8 / 3GPP : MPEG4, AVC / MP3 /ASF (WMA) / WAV / MP4AAC / FLAC / JPEG
USB drive format support : FAT16/FAT32/exFAT/NTFS
Audio Codecs support : Dolby™ Digital, Dolby™ Digital Plus, Dolby™ Pulse, DTS Digital Surround
Ports : HDMI (HDCP 2.2) X 4, USB X 3, Ethernet X 1, Composite Video In X 1, RS-232C X 1, Digital Audio output X 1, Headphone X 1, RF In
Network : Wi-Fi Certified 802.11a/b/g/n/ac, Bluetooth version 4.1; HID (mouse/keyboard connectivity)/HOGP (low-energy device connectivity)/SPP(Serial Port Profile)/A2DP (stereo audio)/AVRCP (AV remote control)
Smartphone connectivity : Chromecast built-in, Screen mirroring(Miracast™), Video & TV SideView (iOS/Android)
Operating system : Android
On-board storage : 16GB
Tuner : Digital TV Reception (Terrestrial,Cable)
Dimensions of TV (W x H x D) : 57 x 32 3/4 x 2 3/4 in (1447 x 829 x 69 mm) w/o stand, 57 x 35 3/8 x 11 3/4 in (1447 x 898 x 297 mm) with stand (65″ Reviewed)
Weight of TV : 54 lb (24.5 kg) w/o stand, 56.2 lb (25.5 kg) with stand (65″ Reviewed)