---
Cheapest Places to Buy :
---
With Spider-Man's identity now revealed, Peter asks Doctor Strange for help. When a spell goes wrong, dangerous foes from other worlds start to appear, forcing Peter to discover what it truly means to be Spider-Man.
Plot
*Be aware of spoilers*
Spider-Man's civilian identity as Peter Parker is revealed to the world. After Parker and MJ flee to his apartment which is surrounded by the Department of Damage Control they are interrogated but ultimately released without charge due to the help of Matt Murdock. Parker, MJ, and Leeds then return to high school but their university applications are rejected due to the recent controversy. Parker asks for help from Stephen Strange so people can forget he is Spider-Man. However, the spell is damaged and Peter is attacked by Otto Octavius who he captures and place in a holding cell in the Sanctum Sanctorum. Strange reveals that his spell has begun bringing everybody from every part of the Multiverse.
Norman Osborn is retrieved but while Strange wants to send the villains back to their respective universes Peter frees them and confines Strange in the Mirror Dimension. They all go to Happy's apartment where Parker successfully cures Octavius but the Green Goblin persona takes over Osborn before the cure can be administered to him. In the ensuing battle, May is critically injured while MJ and Leeds summon alternate Peter Parkers from different universes. Parker meets the other Spider-Men and cooperate on curing the remaining villains by luring them to the Statue of Liberty.
Leeds accidentally frees Strange who seizes control of the spell and works to protect the current universe as the barriers begin to break down between the other universes. Parker fights and overpowers the Goblin injecting him with the cure and restoring him to a regretful Osborn. To prevent further catastrophe Strange fixes the spell, sending the alternate Spider-Men and their villains back to their respective universes, while making everyone forget Parker's existence. Later, Parker tries to reintroduce himself to MJ and Leeds, but finds himself unable to do it and he decides to resume his independent heroics by creating a new suit from scratch.
Directed by
Jon Watts
Produced by
Kevin Feige
Amy Pascal
Written by
Chris McKenna
Erik Sommers
Based on Spider-Man by
Stan Lee
Production Company
Columbia Pictures
Marvel Studios
Pascal Pictures
Distributed by
Sony Pictures Releasing
Starring
Tom Holland
Zendaya
Benedict Cumberbatch
Jacob Batalon
Jon Favreau
Jamie Foxx
Willem Dafoe
Alfred Molina
Benedict Wong
Tony Revolori
Marisa Tomei
Andrew Garfield
Tobey Maguire
Running time
148 minutes
Author's review
With Hollywood running out of fresh ideas rebooting a franchise has become the norm nowadays but this doesn't always means that success is guaranteed. Because for every Batman and every Spider-Man there is always a Fantastic Four and a Superman Returns reminding us that a film cannot succeed only by name and there are a lot of things that need to be done right for the cash to flow in and the positive reviews to appear.
Spider-Man had a really solid trilogy and Sam Raimi did manage to create a superhero film faithful to the source material at a time when the MCU was still non existent. Marc Webb's The Amazing Spider-Man reboot had an equally successful run with two films so when the announcement was made that Spider-Man would be rebooted for the second time and enter the MCU many were both excited and skeptical of what to expect.
Personally I loved Andrew Garfield's take on Spider-Man and it felt a darker version than Raimi's trilogy so with MCU's lighter, more family oriented tone it would certainly mean a major change to what we had seen in the last two films.
But it seems that Disney didn't only plan to put our slinging hero into the MCU just for the heck of it but also made him an integral part of the MCU story along with the individual films that were certain to come.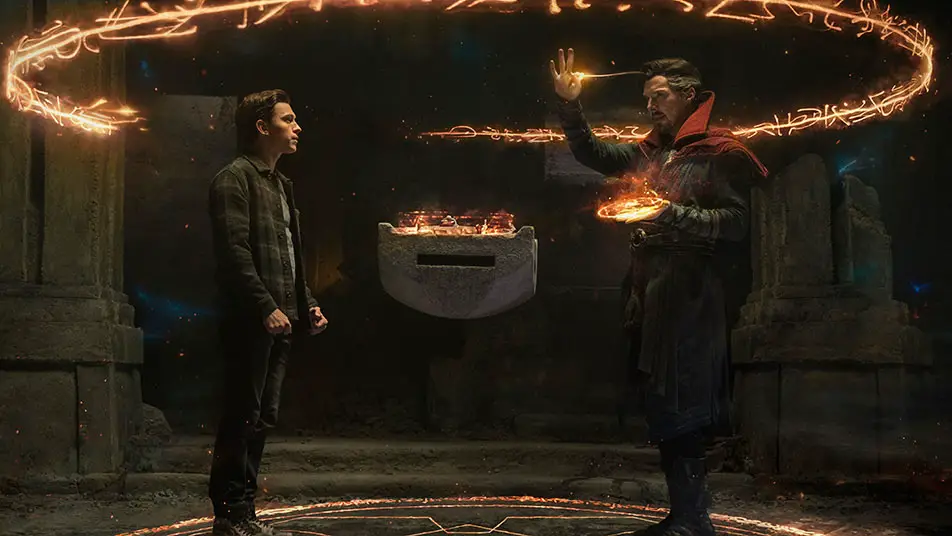 After two extremely successful films Tom Holland has really grown into the character of Peter Parker and we could even dare say rise above and beyond where previously Tobey Maguire and Andrew Garfield went with the character. Obviously this was the result of Disney taking their time bringing the character to the MCU and giving him enough time both in the Avengers along with his individual films to grow and show the different stages Parker goes through during his adventures.
And it's amazing how the Spider-Man franchise has developed during the MCU era. What started as simply another hero into the Avengers team has now become one of the main driving forces of the MCU storyline. And you can clearly see this evolution in the three films so far with Homecoming being, let's say the most constraint of the three while Far from Home decided to up the stakes even more. And with the dawn of the Multiverse, Far from Home seemed to be the next logical step to introduce what would be coming after the Infinity Wars saga.
Now, it would be easy to write a review without any spoilers but for a film like No Way Home it is impossible to do it in a way that you can be given enough information without spoiling what is happening. Because there are some major points that need to be mentioned in order to understand how far filmmakers decided to go and what this meant for a rebooted franchise like this. So I strongly urge you to go see the film before reading another sentence. Don't say I didn't warn you!!!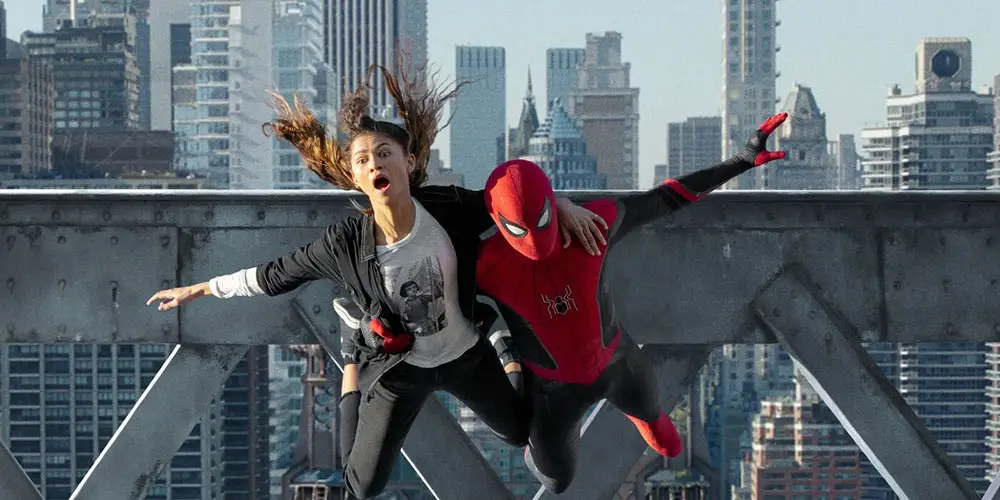 As far as the story is concerned No Way Home showed a natural progression to what had happened before. The arrival of the Multiverse will certainly stir things up in the future even more but we do get Disney's intentions to take things slowly. If there was one stinky point to the film that would certainly be the lack of other heroes except from Spider-Man and Doctor Strange. Ok, we do get this is first and foremost a Spider-Man movie but with the Multiverse cracking up, an event like this would draw more attention from more Ethereal characters than what we ultimately got.
But other than this No Way Home's writers did something amazing that no other successful reboot did before. You see, when a reboot happens it tends to create everything fresh. New actors, new story, new environments and new characters. Even if these remain the same to stay relative to the comics everything goes back to the drawing board. And here comes the big spoiler…last chance to stop reading!
Spider-Man No Way Home decided to play tricks with its audience and while it is supposed to be a new reboot with a fresh Peter Parker and new storylines the introduction of the Multiverse brough the brilliant idea that the previous films do exist in a parallel universe to the one of Tom Holland's. Obviously the rumors of the return of Tobey Maguire and Andrew Garfield were never ending and the release of a trailer featuring villains fighting empty air ignited a craziness beyond anything we had seen before.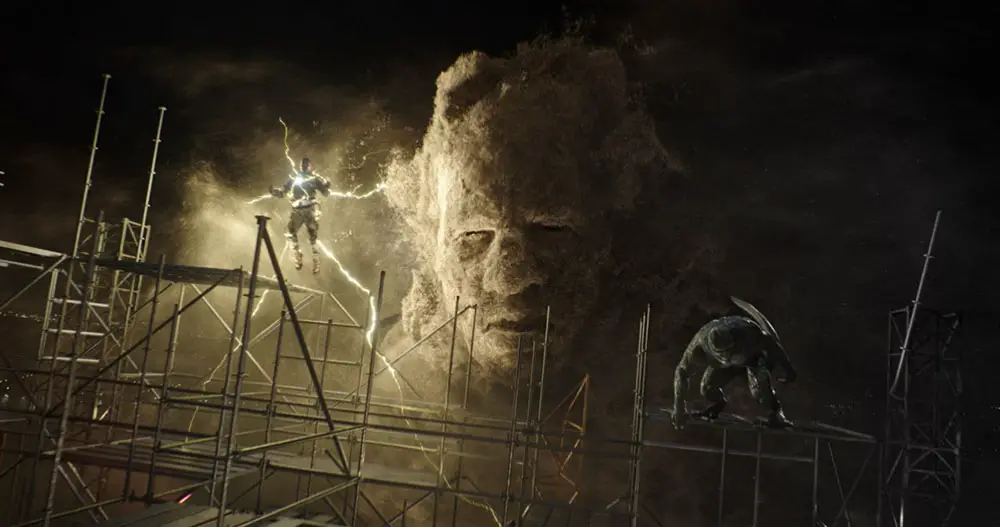 So most people going in the theaters were waiting for that single moment that all three Spider-Men would meet in an unprecedent moment in cinematic history. To see the main character of all three versions of the same character on screen together.
The story of No Way Home was really good, no doubt about it but the idea that Tobey Maguire and Andrew Garfield do exist in a parallel universe was one of a kind. The Multiverse obviously helps a lot to explain this but how this was done and how nicely it was integrated to the main storyline was simply textbook writing.
And this mix of the all the different Spider-Men resulted in the re-introduction of some of the most iconic villains we had previously seen by getting another chance to rain havoc and seek absolute power.
We will never get tired to see Willem Dafoe as the Green Goblin or Alfred Molina as Doctor Octopus and Jamie Foxx as Electro. Although these characters didn't get as much character development as we hoped they would, they did play an integral role of how No Way Home's storyline would unfold.
The film's tone and light mood hadn't change a bit compared to the previous films and this was to be expected both due to the nature of the Spider-Man films but also it stayed faithful to the MCU tone. We do get the usual jokes here and there and some of the interactions between Doctor Strange and Spider-Man are all out hilarious.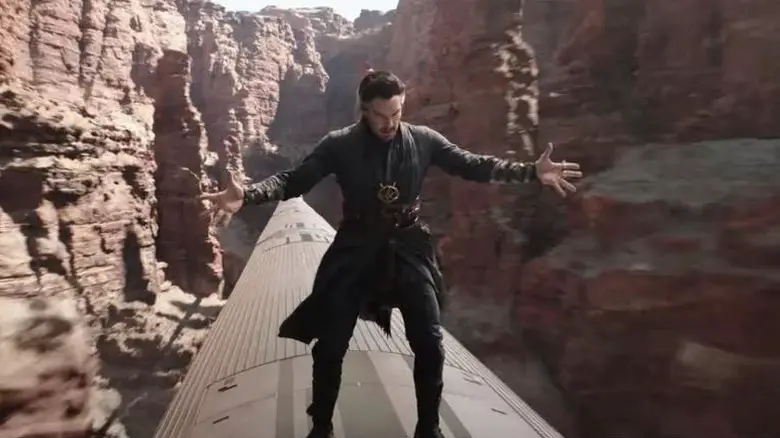 No Way Home is a visual spectacle that belongs right up there with the best films in the MCU. Everything is so meticulously crafted, all the characters, the design pieces, the environments, there are all flawless and as any MCU big budget film should be. The action is nicely spread throughout the running time and there was not a single moment where you will get bored.
Bringing Doctor Strange into the mix did create a really interesting duo and even the fights between the two are one of a kind. Usually Spider-Man and Doctor Strange are not two characters you expect to see them go against each other but the vast difference of abilities between the two created some awesome action sequences that go beyond what we had seen so far. This is not the first time we see Doctor Strange fight but we mostly have seen him going against characters that have similar abilities, so Spider-Man created a whole new set of rules when going against each other putting some really fresh ideas on the table.
Jon Watts have crafted the best Spider-Man movie to this day but in order to really appreciate what they have done with this one you have to consider the whole MCU Spider-Man trilogy as one story. No Way Home may have lost the race of being the first introduction to the Multiverse to Loki but surely will remain a very important story piece as we embark on this new era.
With many of the old heroes now gone, there is no Iron-Man or Captain America to be the driving force behind the continuation of the MCU storylines. And even the pending Thor film seems like it will be passing the torch to new heroes so Spider-Man will be an important link between the past and the future and we do hope that Marvel can see this.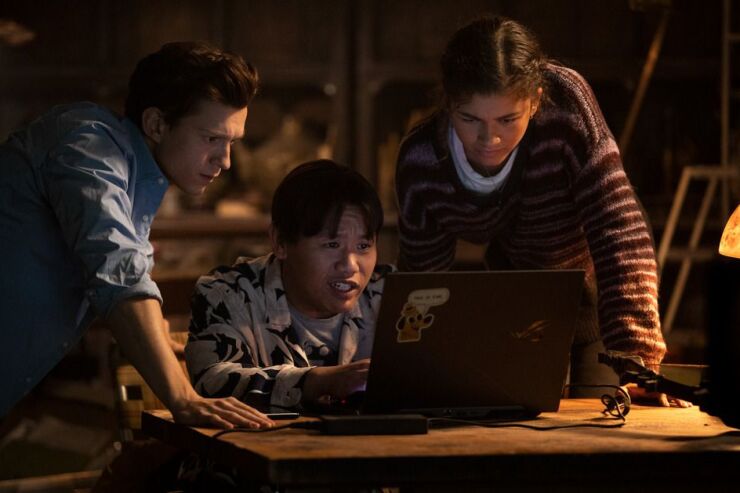 Overall No Way Home really has the whole package and delivers on all fronts. The story is big and until release it was the biggest secret in cinematic history along with being a first of bringing characters from rebooted films back and making them integral and relevant to the on-going story. Tom Holland is better than ever and it shows how the character has grown in him over the course of the MCU. Visually the film is a big budget extravaganza and if you know what to expect from an MCU feature film then you will know what this has to offer.
With such an amazing finish we are curious to see what will come next for Peter Parker as there are rumors that Tom Holland will continue his Spider-Man adventures. Will he be drawn deeper into the Multiverse storyline, as this is where things seem to go from now on or we could expect something entirely different? No matter what happens it seems that Spider-Man will remain a relevant character both for Disney and Sony, and the MCU will continue to enjoy our web slinging hero for the foreseeable future.
With the upcoming Doctor Strange and the Multiverse of Madness, No Way Home is surely a nice way to both close a trilogy of films and also make it a solid introduction of the new gargantuan MCU story of the Multiverse that surely will make even Infinity Wars look puny in comparison.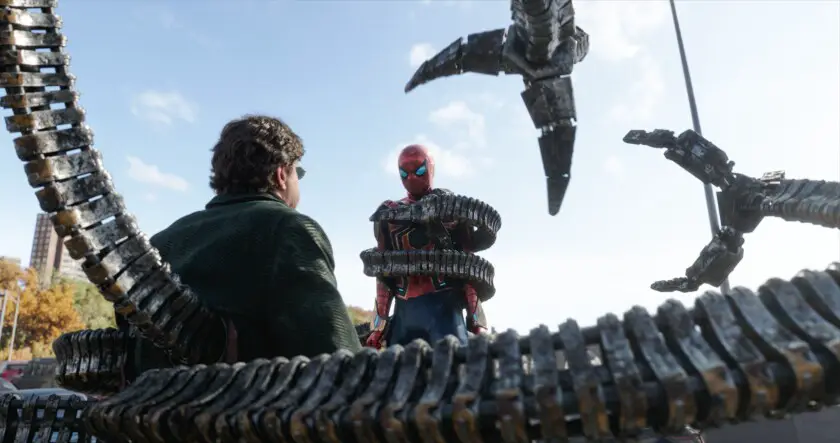 Spider-Man: No Way Home slings on the 4K UHD format with a pristine 2160p resolution, HEVC / H.265 transfer courtesy of Sony Pictures. It comes with the standard 2.39:1 aspect ratio while the disc features not only the basic HDR10 format but also the more advanced Dolby Vision. In terms of audio we get an equally impressive Dolby Atmos mix along with Dolby TrueHD 7.1.
The first thing that immediately strikes you in this transfer is the kind of clarity and sharpness even though this is not a true 4K release. It may have been shot with 4.5K Arri Alexa cameras but it has been downscaled to a 2K Digital Intermediate (DI) and so this is an upscaled 4K release. Even as such the level of detail is apparent throughout the running time and your eyes will not have enough time to process all the information contained in each shot.
Overall in terms of picture quality this is, hands down, the best version you can see the film in your home. The improvements compared to the aging Blu-ray version can be seen across the board and there is no single element that does not benefit from the strengths the UHD format provides.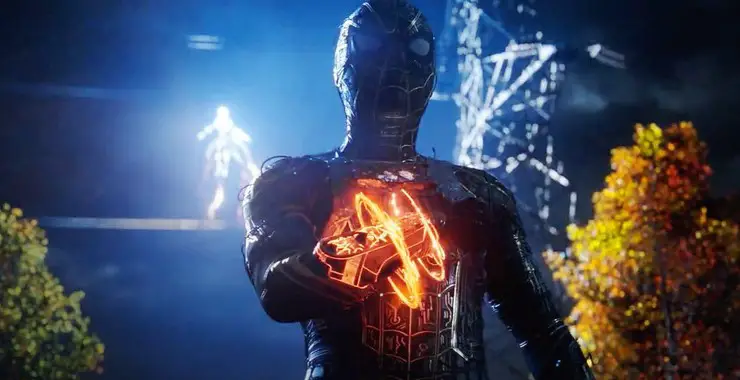 But if clarity and overall sharpness is the first element that surely draws most of the attention the colors reproduction and overall Dolby Vision output of this film is the other. The colors are breathtaking and Dolby Vision shows really what it was created for in a film like this. There is so much variation among the different scenes that the film never gets dull.
The lush greens of the forest, the dull greys of the city or even the burning reds when the sun goes down gives the film a unique style for every single second of its running time. But impressive were not only the environments as Dolby Vision works great with colors overall making the Spider-man suit look the best version we have see to this day. Each villain had a characteristic color with Dolby Vision making this distinguishment even more pronounced.
The deep greens of the Green Goblin or the sparkling blues of Max Dillon's lighting is only a couple of the examples that shows how the UHD goes above and beyond what all other home release versions do offer. Sony never disappointed us with their home release versions and Spider-Man: Now Way Home is another prime example of how you should handle such a high profile film.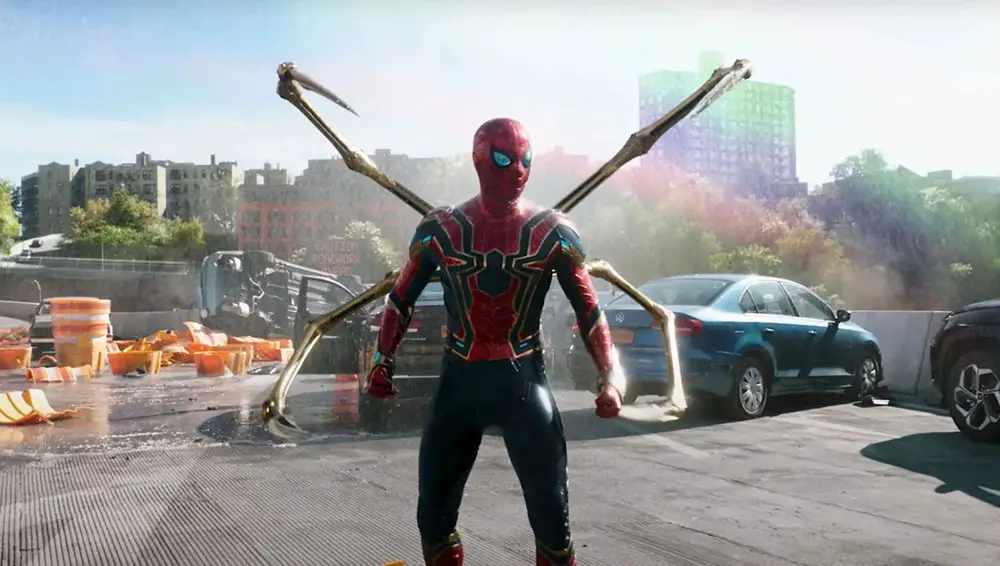 The accompanying Dolby Atmos mix is equally impressive and really elevated the whole immersion and quality of the picture to new heights. It is an extremely balanced mix that will never try to knock down your walls but surely will keep you entertained until the last second.
Surround and environmental effects are cleverly used and they are never too much on the face. They serve their purpose and are not there just for the heck of it. The same can be said about the Atmos effects and there are many shots that really make the overhead layer more active. One such example is during the fight of Strange and Spider-Man in the Mirror Dimension with all channels being very active both above and behind us binding the visuals and the audio in a magnificent way.
Closing our review we can say that if you are a fan of the MCU, and reading this review most probably means that you are, then you have to make yourself the favor and buy the 4K UHD version of the film. It is hands down the best version you can see it right now, no doubt about it. Sony has a stellar record regarding their 4K UHD releases and Spider-Man: No Way Home is no exception and really honors the UHD format in a way it deserves it. The Multiverse is here and we cannot wait to see how deep the rabbit hole can go from here on!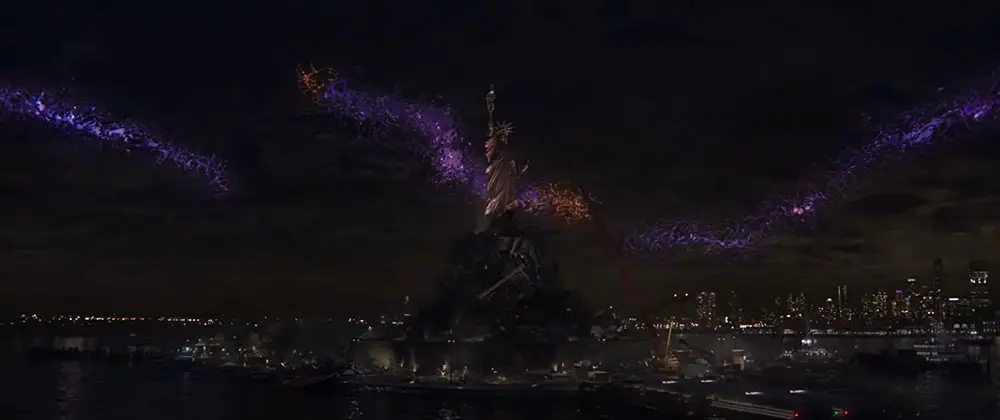 Movie Rating :





4K UHD Rating :





If you liked this review you can check more of our movies reviews in our dedicated section.
---
Cheapest Places to Buy :