---
Cheapest Places to Buy :
---
SVS is a company that has made a name due to their quality speakers over the years so every time they announce a new speaker is big news for all audio and home theater enthusiasts. So when the SB-2000 subwoofer was introduced in 2014 with a 12 inch driver and 500 Watts amplifier everyone was curious to see how it would fair compared to it's more expensive brothers. The previous generation, the SB-1000, received high marks so the next generation SB-2000 was bound to offer even better performance. But did this model lived up to it's name. Let's check our SVS SB-2000 review to find out…
Design, Inputs and Features
The SB-2000 uses a compact enclosed design that gives it a very stylish look. SVS created the enclosure of Medium Density Fibreboard (MDF) and used rubber feet for stability. On the front we get a curved metal grill that gives a distinct look to an otherwise fairly standard subwoofer design. It may look unique but some may dislike it and would prefer a more straight grill that would follow the lines of the main body. The size of the sub is fairly small, measuring just 37 x 36 x 43cm and weighting around 16 Kg placing it among the smaller sized subwoofers category.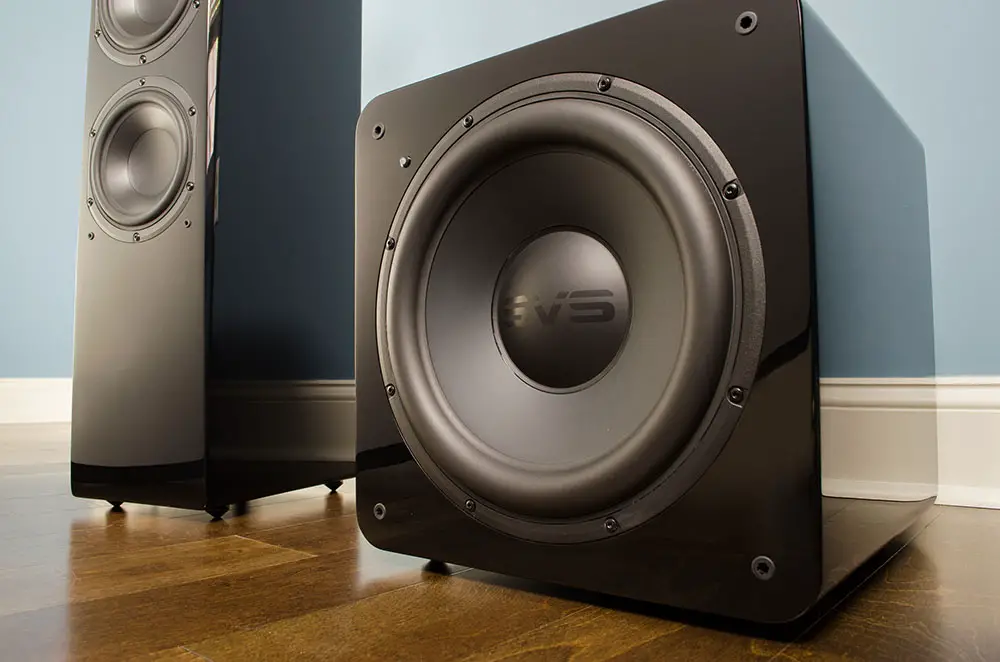 At the core we find a Sledge STA-500D, a Class D amp design rated at 500 watts RMS power that has 1,100 watts of peak power. That's a lot of power so SVS had to do a lot of research and testing in order to manufacture a driver to support this. The driver itself has been created with a computer Finite Element Analysis (FEA)-optimised motor in order to create lower distortion. In the inside of the sub there are a lot more advanced electronics and this shows us how much effort SVS put into creating this marvelous product.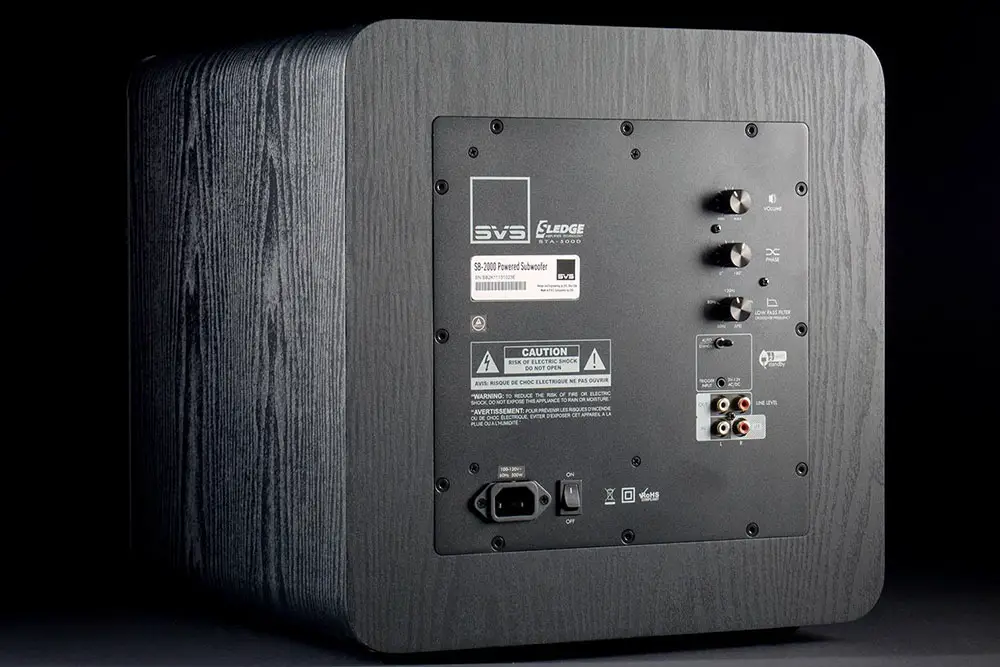 SVS claims the sub can go down as low as 19Hz and the DSP control allows for accurate response no matter what sound is reproducing by shaping the sub's output and at the same time protecting it in order not to get carried away and damage itself. This means that you can push it a lot but it will keep a straight face and give you what you want without leaving you cold feet by destroying itself.
In the back you will find three metal knobs that control volume, phase and the low pass filter (crossover frequency). The low pass filter can be set from 50Hz to 160Hz and it even has an LFE setting in order to bypass the filter and let the receiver do all the management settings. There is also an Auto-On/On switch, a 3-12V trigger input and analogue stereo input and output connections.
Performance
The SB-2000 has no port and due to its small size and not so big weight it is relatively easy to move around and place it anywhere inside your home cinema room. This will definitely give you the opportunity to try different placements and decide where it gives the best performance for your setup. In my situation due to limitations in space I have a specific corner where I place my subwoofers and this is to the left of the front left speaker.
Movies
The reason most of us want to buy a good sub is in order to feel all the bass and rumble of our favorite movies so without any delays I pushed my 4K UHD disk of Transformers into my Panasonic UHD player and tested a few of the most action packed scenes. The Dolby Atmos track gave the sub the chance to really shine and show it's true capabilities. The amount of punch and clarity of the low frequency effects was breathtaking and the room was shaking with each explosion. The familiar low frequency electronic effect of the Autobots transformations was rendered by the sub with such a skill that gave it an almost three dimensional feel.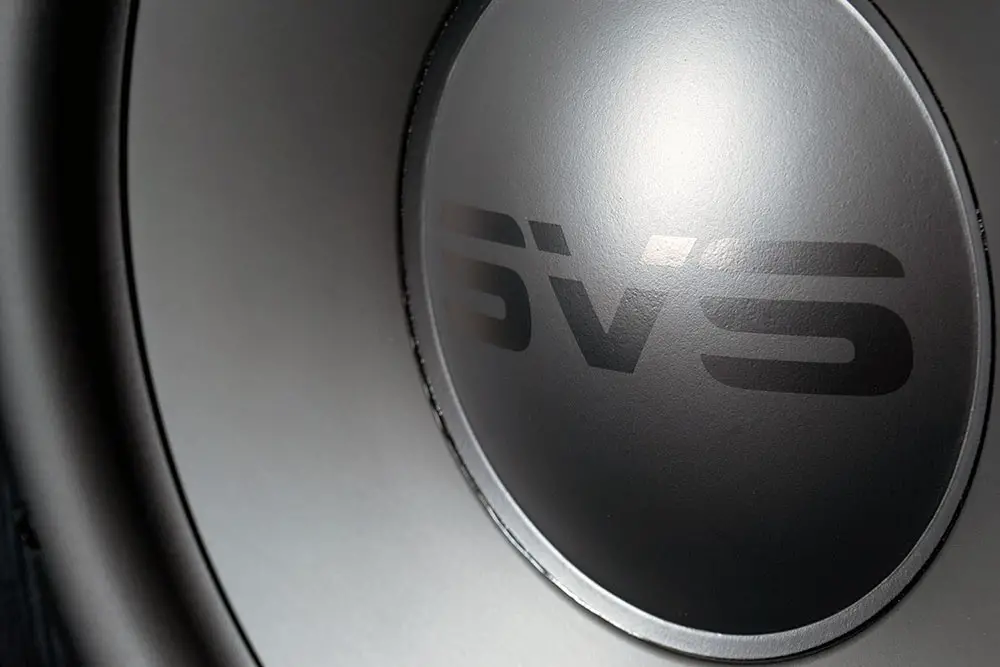 Transformers really made us want more so I decided to try the blu ray disk of Godzilla (2014) next. The movie may not have a next generation soundtrack yet like Dolby Atmos or DTS:X but the accompanying DTS-HD Master Audio soundtrack is more than enough to deliver the necessary mayhem we were looking for. Once again the sub delivered all the bass needed with precision and there was plenty of ultra-low frequency production without breaking a sweat. When Godzilla roars the sub delivers a breathtaking, ear shattering low frequency sound that will definitely make your heart beat faster from excitement.
Music
Although I was never fond of using a sub to hear my favorite music there are a lot of people that enjoy doing so, so I decided to give it a go to see how it fairs in something different that just acoustic mayhem. Did it deliver in this aspect? It sure did. Certain music tracks I tried may not had been loaded with deep bass but the end result was more than surprising with the sub delivering a certain musicality and precision.
The SB-2000 was able to deliver some of the finest deep electronic bass I have ever heard but also bump every beat with mesmerizing excellence without ever bottoming out the woofer cone. No matter what kind of sound reproduction you put the sub go through it will deliver the best acoustic result possible.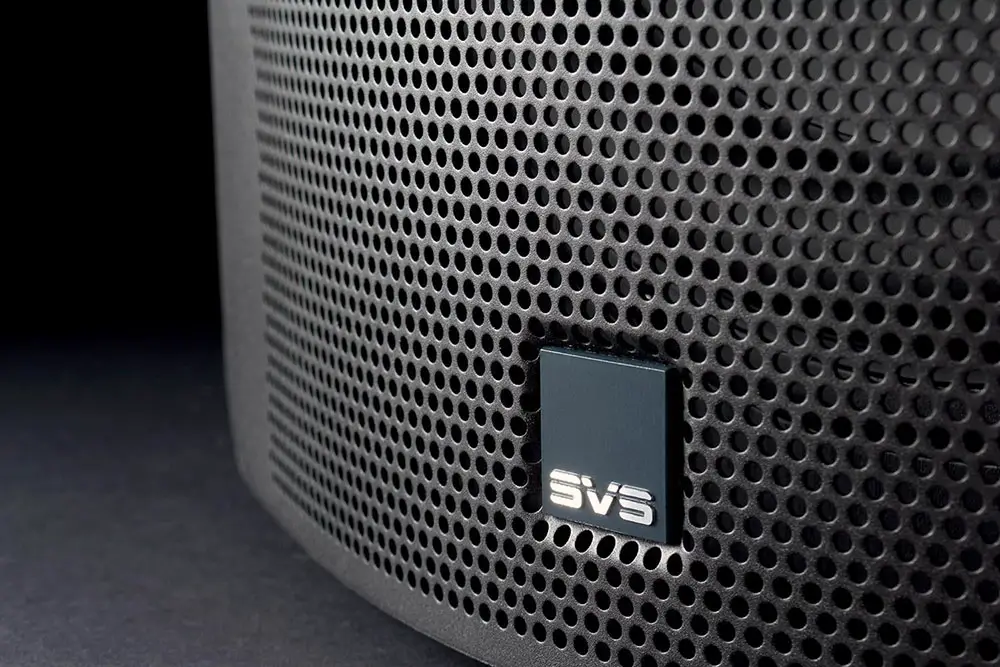 Final Thoughts
The SVS SB-2000 is a great sub with precise and punchy-sounding performance. It's size is not showing it's true capabilities and is bound to surprise everyone who will hear it for the first time. SVS engineers have created a small miracle cause this sub can deliver sound quality and precision that can rival even it's bigger and more expensive brothers.
This sub may not be for everyone like hardcore audiophiles and home theater nuts that want the absolute rumble in their room or for those who have space for bigger subs but is definitely for everyone else that want precision, clarity and enough punch to fill their small to medium home theater rooms with all the low frequency power they will ever need and bring a smile to their face.
For more reviews you can check our dedicated Subwoofer reviews list or even look at our Product Reviews Table where you can find the brand and specific product you are looking for.
Also don't lose the chance to subscribe to our Newsletter and gain exclusive privileges.
---
Cheapest Places to Buy :
---
Specifications
12-inch woofer
500 watts RMS/1.100 watts dynamic peak Class D amplifier
Volume control knob
0-180 degree phase control knob
50 to 160-hertz crossover frequency knob with LFE setting
3-12V 3.5 mm trigger input
Analogue stereo input and output connections
Dimensions 37 x 36 x 43cm
Weight 16 Kg