SVS SB-3000
Movies Performance
9.2/10
Inputs and Features
9.0/10
Pros
Great bass performance
Excellent cabinet quality
Very practical mobile app
Nice rear panel controls
Cons
Not many connections for this price
The mobile app could use some refining
Only two finishes to choose from
Not for the budget sensitive
---
Cheapest Places to Buy :
---
When it comes to dedicated home theater subwoofers there are many good options and brands to consider that can be found in various price categories but one of the most widely respected and popular ones is no other than SVS. For many years they have been at the forefront of subwoofers design and continue to produce some of the best performing speakers in the field. In our SVS SB-3000 review today we will be looking at one of their latest subwoofers that was redesigned from the start in order to bridge the gap that existed between the 2000 and 4000 series.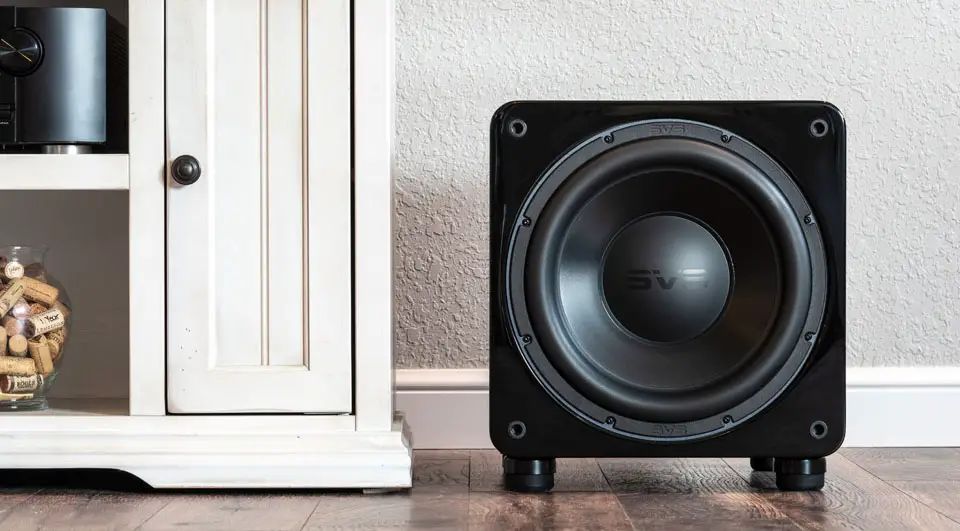 As with every series SVS has been making, the 3000 series consists of two subwoofers. The sealed SB-3000 which we will be testing here today and the ported PB-3000. Now many people wonder which is better for what and while this discussion is a topic for a different article we will just say that the ported subwoofers may be slightly better for movies as they can produce more deep bass due to the included ports while the sealed versions are better suited for music as they can have better and more accurate control over the low end. But this doesn't mean that the SB-3000 that we will be looking here today is not good for movies.
On the contrary, this sealed sub has so much to give that you need to hear it by yourself in order to fully understand its potential. Using a front firing 13″ high excursion driver and featuring a Sledge 800-watt continuous Class D amplifier with a peak of 2,500+ watts there is a lot of power hidden under the nicely finished cabinet. All this hardware can be controlled by either the new rear panel Intelligent Control Interface (ICI) or SVS control application which is an amazing way of adjusting the subwoofer if access to the rear panel is not easy. But all this power and technology does not come cheap and with a price near the $1,000 the SVS SB-3000 faces plenty of competition. So with such a high cost does it manages to impress us? Let's find out.
Design, Inputs and Features
Exterior
The design of the SB-3000 is not deviating much from the standard SVS lines and as with the rest of their SB type of subwoofers has a very cubic design which is relatively compact if you think that it incorporates a 13″ driver. The SB-3000 measures 15.2" x 15.6" x 17.8" (385 x 397 x 451 mm) with the grille fitted and weights 54.5 lbs. (24.7 kg) which is slightly heavier than usual for this size of sub indicating that there is some serious work done in the construction of this thing.
SVS is known for putting extra attention to the quality of their cabinets and the SB-3000 is a clear indication of that. The one used with the SB-3000 uses a heavily braced Medium Density Fiberboard (MDF) construction with a double-thick MDF front baffle in order to provide the necessary support for the front firing driver. The cabinet has rounded corners, a very unique SVS design touch which is used in many of their subs while the front firing driver certainly makes its placement easier compared to some other subwoofer designs with rear ports as it is not limited by rear walls or other obstacles.
The cabinet is very sturdy and stable with the help of four screw-in rubber feet while one thing we definitely liked was that SVS decided to take out the front blue LED light that was very bothering in some of their previous releases and it added more to frustration than anything else.
Now one thing that will certainly divide opinions is the design of the grille that is attached on the front baffle. Instead of going for a more traditional cloth based grille SVS is using a non-resonant steel mesh grille that some may like while others will definitely hate. You see, having such a design has both advantages and disadvantages.

Its advantage is obviously that it offers better protection and cannot be teared as a cloth grille would. On the other hand having a steel mesh grille will certainly take away from its looks as cloth always looks better on such cabinets. But this is based on personal taste and is not affecting the overall outcome by much. The grille is attached to the front baffle with heavy-duty dampening pressure fittings in order to absorb vibrations as much as possible and keep the grille firmly in place.
The back of the cabinet incorporates all the connections along with the newly designed Intelligent Control Interface (ICI) that we will talk about in the appropriate section below.
As for the available colors SVS was always very shy of offering many variations for its speakers and the SB-3000 follows the same principle. Coming in Premium Black Ash or the slightly more expensive Piano Gloss Black finish the choice may not be hard to make but this is one area where SVS should certainly improve. While we do get the reasoning behind this when there are other subwoofers with so many color variations seeing SVS offering only two choices, and with both of them black, will certainly make a few consumers think twice before getting one.
SVS has never stopped to amaze us with their quality products and the SB-3000 with its newly designed cabinet, driver and rear panel has everything it needs to be up to the usual SVS standards. The looks is typical SVS, cabinet quality is top notch as expected and one could only argue about the metal grille and the limiting two colors variation as a slight misfire from SVS.
Internal Hardware
Now let's see what makes this little monster tick. As we already mentioned SVS have used a 13″ front-firing, high-excursion driver that uses a lightweight and rigid aluminium vented cone and a composite fibre dustcap. These along with a proprietary injection molded gasket and SBR extreme-excursion surround allow the SB-3000 incredibly deep bass and higher excursion than what you would typically see.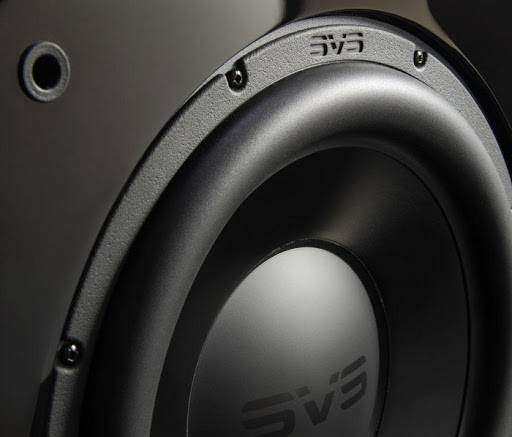 The woofer's motor assembly features SVS first flat edge wound split-wind voice coil along with dedicated toroidal ferrite magnets which allow for better efficiency and more power at a reduced mass. An all-new high density FEA-optimized cast aluminum basket give it the necessary strength and stiffness at the same time.
But the new driver is only one part of the equation as SVS did include an amplifier that would have all the characteristics to push this little monster to its limits. As such the SB-3000 is using a 800-watt continuous Class D design Sledge amplifier with a peak power output of 2,500+ watts. This in combination with high efficiency cool-running Class-D switching topology with massive 25 amp, 600 Volt MOSFET's and high resolution 50Mhz Analog Devices Audio DSP with double precision 56bit filtering, which according to SVS is the most advanced digital processor used in a subwoofer, completes the picture of what SVS has done inside the cabinet in order to give this unit such an amazing performance.
The combination of all the above is what gives the SB-3000 an amazing frequency response of 18 – 270 Hz (± 3 dB). As you understand in theory the SB-3000 means serious business and SVS had made no compromise when choosing the audio parts to include in this one. But how all this really translate we will see shortly in our tests below.
Connectivity
When it comes to connections the SB-3000 is fairly light considering some other, less expensive units we had seen lately. At the top left side of the rear panel there is an analogue stereo input that acts as a single LFE input also while above that we find an analogue stereo output. On top a single USB Type-A can be used for firmware updates but also for powering some USB device like the SVS Sound-Path Wireless Audio Adapter.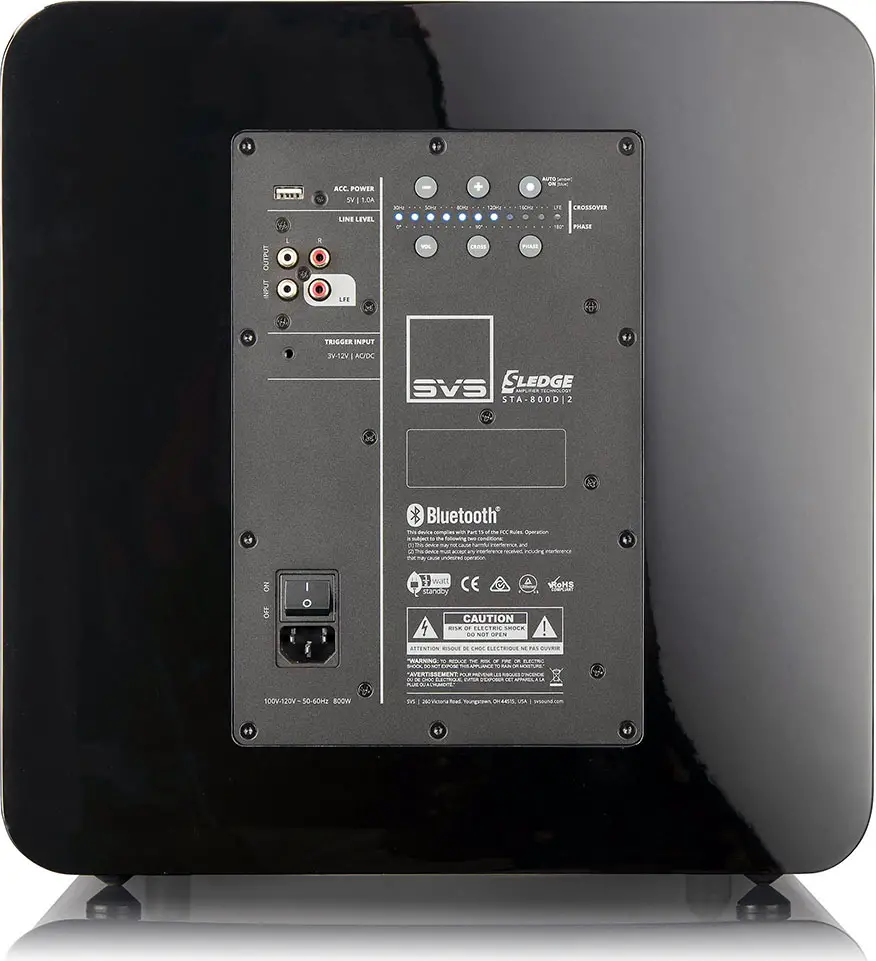 Lastly there is a 12 volt trigger which is not very common but we have seen some manufacturers including one especially in some more advanced subwoofers and can automatically turn the subwoofer on/off when a signal is sent to the trigger input from another component in the system (typically the pre/pro or AV receiver).
Obviously, as the SB-3000 is mainly destined to be use in home theater systems what is included will suffice for most users so no major complaints here.
Controls
Exactly to the right side of the connections we find what SVS calls the Intelligent Control Interface (ICI) which is a rather fancy name for just a few buttons and LED lights. Basically we get four buttons that control the power on/auto on mode, the phase, the volume and the low pass filter along with a duo of buttons for increasing or decreasing the mentioned values. The LED bar lights between these buttons act as a visual indicator for the value you set for each function. And while the overall design of the ICI looks nice and more modern than what we usually see in subwoofers it basically has the same functionality as the rest.
Now one characteristic that sets the SB-3000 apart from the rest is the inclusion of a mobile app that you can use to set various parameters instead of having to use the rear panel ICI all the time. This can be very handy in case you want to place the subwoofer in a specific position where the rear panel is hard to reach. It's like having the rear panel at the palm of your hand and more.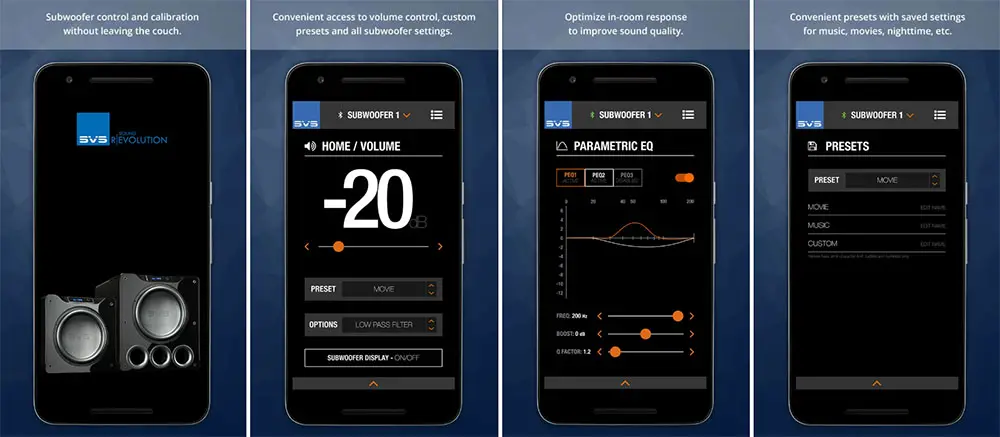 The app connects to the subwoofer through Bluetooth and when you access its main page you get a plethora of functions that you can play with including the volume, Parametric EQ, Presets, Low Pass Filter, Phase, Polarity and System Settings. For each of these settings there is a help page that analyzes how each one affects the performance of the sub but details are a bit on the light side and we would like to see more details being added to make it clear what each one does. There is even the ability to rename your subs in case you are using a dual sub setup in order to be able to distinguish them easier.
The mobile app is an amazing feature and one we would like to see in more subwoofers. It can make things so much easier instead of having to visit the rear panel all the time.
Extra Features
As we mentioned above the subwoofer has an auto function mode which can be activated by pressing the Auto/On button a second time. The first time this button is pressed puts the subwoofer in continuous mode and the button will turn blue while a second push will activate the Auto function while the button will turn to Amber.
While it's not exactly a feature of the SB-3000 it is worth mentioning that in case you are troubled by the wires you have to run through your house and you prefer a more wireless environment SVS has introduced the SoundPath Wireless Audio Adapter which can be connected to the SB-3000 and powered by the included USB port. It's an ingenious design as we have seen wireless speakers becoming a trend lately and it seems that SVS took notice and introduced this small adapter that can really do miracles without the need of wires.
Performance
As a general rule of thumb sealed subwoofers do tend to fare better with music than with movies as their sealed design is capable of more accurate and tight control of bass which can be detrimental with bass intensive songs. On the other hand a ported sub offers more deep and punchy bass which usually have an advantage in movies. But this doesn't mean that a sealed design cannot do great in movies and this is what we are going to determine here with the SB-3000.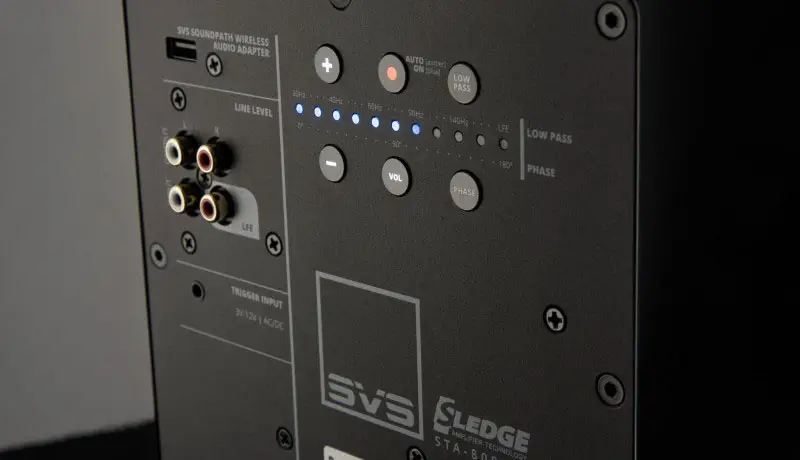 As with all our subwoofer tests we placed the unit in the front left corner and kept around two feet (60cm) around it in order to provide it with some breathing space although the front-firing design of the SB-3000 would not be affected as much as some other subs. Keep in mind that the closer you place it to a wall the more impactful bass you will get but on the other hand it can sound a bit too boomy so it's a trial an error situation really.
Always remember that there is no right or wrong subwoofer placement and each position has it's advantages and disadvantages and all that matters is what sounds best to you. Now for our movie testing we used a standard 5.1.2 channels, Dolby Atmos setup with 2 overhead speakers that were placed at the middle of our listening area and a single subwoofer that was the SB-3000. After going through the initial audio setup with our Onkyo receiver we were ready to begin our tests.
Movies
When testing such a subwoofer clearly we would need something with a lot of low end activity and what better opportunity to put the 4K UHD version of Jurassic World in for a spin in our Panasonic UHD player. The included DTS:X mix is every bit as good as the film itself and while many may believe that it's filled with low end action all the time it actually offers a more controlled and balanced mix using the low end only when it's actually needed.
Now, there are good subs and there are great subs and there is a fine line that distinguishes these two. And from the first scenes that we tried out we could definitely say that the SB-3000 belonged in the later category. It was not only amazing the kind of power such a small sealed cabinet could produce, and it could produce a lot. It was also the kind of control it had over the low end that really gave us the chills.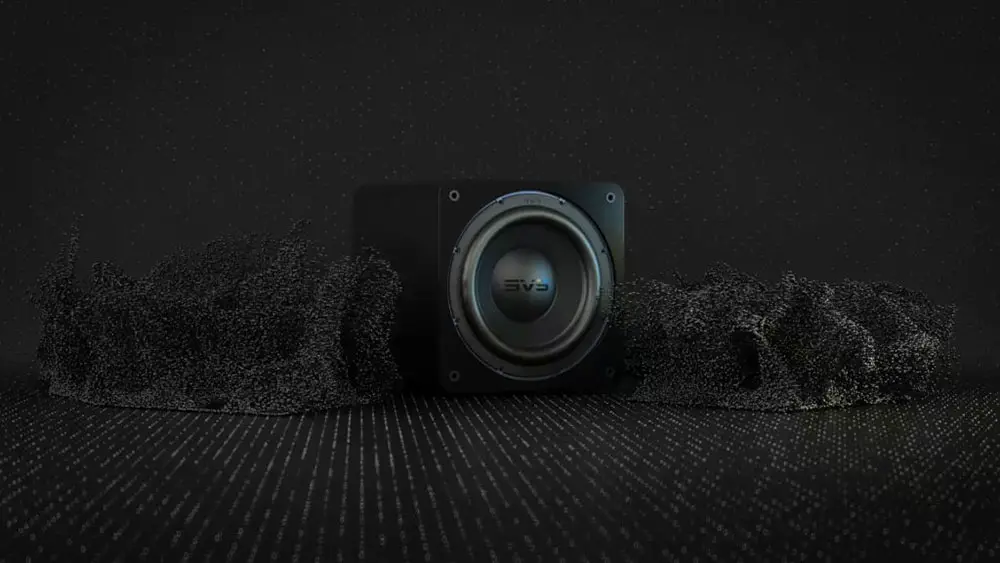 The first and most obvious thing is how loud this thing can go. And it should for a sub that has 800 watts of power. Every dinosaur roar, the indominus rex heavy steps, buildings crumbling, explosions and the like were all being rendered with so much power that you could not only feel the shaking but also the low end waves hitting you again and again.
And if power was one of the SB-3000 characteristics the other is definitely its reach on the low end. The sub can definitely go deep, much deeper than some other offerings we had checked lately and it proves that SVS is king when it comes to providing subs with amazing low end performance. And what was shocking was that even with so much power and low end reach the SB-3000 had amazing control, precision and clarity over its output. The bass never felt overwhelming, boomy or muffled. Everything was distinct and the bass had the kind of detailed information that you usually loose in other cheap subwoofers.
For our second test we wend for Saving Private Ryan that comes with an explosive Dolby Atmos mix in its 4K UHD version. Obviously the first scene we tried out was the Omaha beach landing and from the first moments the subwoofer showed its intentions. As the landing crafts were approaching the beach you can hear the artillery roaring in the background with a menacing tone while the marine engines had a very natural raw texture to them.
When the Allied forces reach the beach they are greeted by a barrage of machine gun and artillery fire and all these 800 watts of power are put into good use. With every artillery shell that fell on the beach our test room would shake and you could feel the blast wave as if it was happening in our room. But as we saw in our Jurassic World test before it is not only power and excessive bass that the SB-3000 can offer. It's how detailed everything would sound and how precise and controlled the low end felt. Every blast had a very natural and powerful tone to it. It felt extremely precise and it just felt real.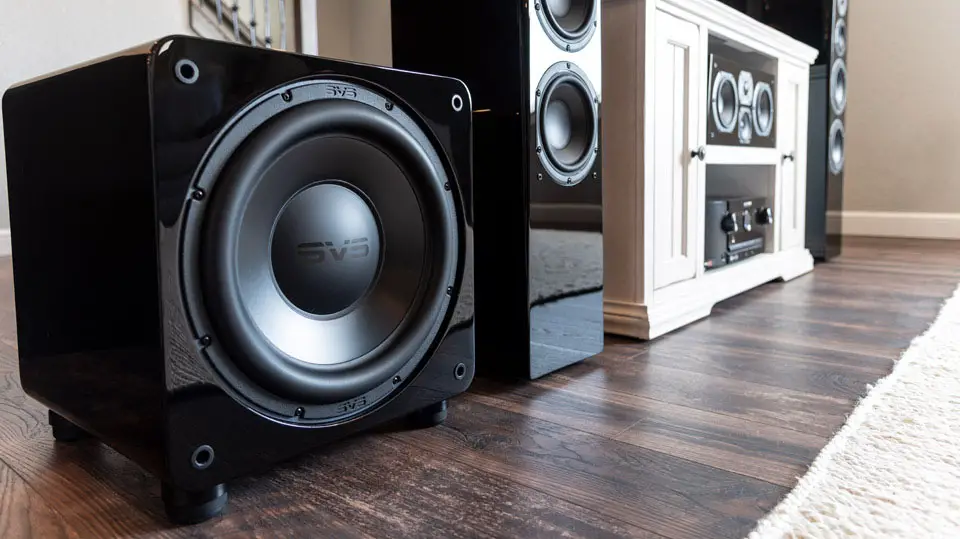 You can throw as much bass as you want in a film but that will not make it better. It also has to do with the quality of the bass and this sub can offer both. For a sealed design it certainly has ample of power and because it is a sealed design its control, precision and detailed sound was more than remarkable. Being a sealed design may favor music more but we didn't feel like that with the movies we tried out. The SB-3000 felt right at home and gave us a totally flouring experience.
Music
Next comes our music testing and for this we switched to a 2.1 channels system with only the front channels and the SB-3000 connected in our Onkyo AV receiver. As we always do in our music tests we have a selection of FLAC music files that we tend to stream through the USB port of the Onkyo receiver for the best audio quality possible.
Because we got so good impressions of this sub in our movies testing we didn't think that it could do any better here but once again the SB-3000 proved us wrong. It's one thing for a subwoofer to provide the necessary bass for each song but entirely different to be able to give the kind of realism and true tone the low end has in each occasion.
The sub once again did excel at providing us with lots and lots of low end power. It never complained no matter how much we pushed it and how demanding the song was. Going loud and low was its bread and butter. But with its sealed design, among it's other technological elements, the SB-3000 could offer all that and never loose cohesion. It's ability to keep tight control even in the most demanding situations was really fascinating.
The low end never overshadowed the rest of the performance and it gracefully gave the soundstage the necessary weight and form it needed to sound realistic while the bass provided had so much information and resolution that would just make you listen in amazement.
We tried different songs and tunes but the SB-3000 never felt like grasping for air. It had a calm and authoritative performance and you could sense that it was asking for more in every single song we were throwing at it either it was heavy metal, jazz, pop, classical or hip hop.
The SVS SB-3000 did amazing in this test and if you are particularly demanding of your music then this one will certainly fit the bill.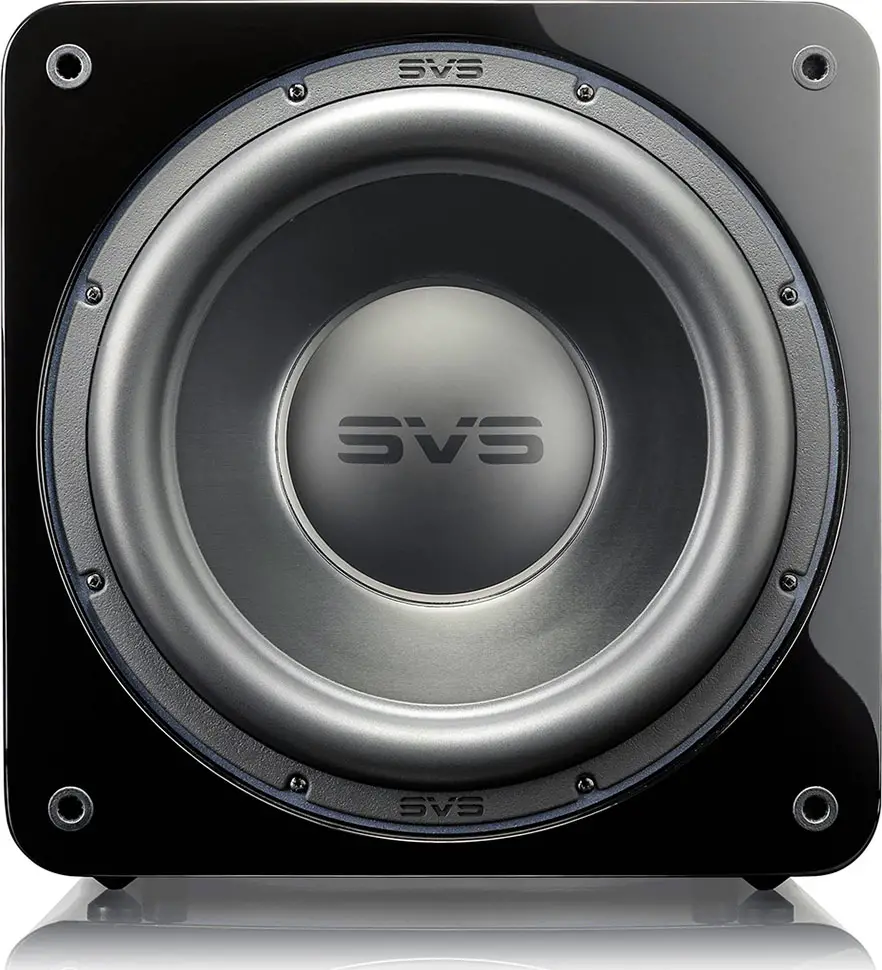 Final Thoughts
When testing an SVS product, and specifically their subwoofers, there are certain expectations to be met as SVS has got us used for only the best from their latest releases. With the 3000 series they succeeded in designing a subwoofer that can successfully bridge the gap between the 2000 and 4000 series and the end result was a sub that has an amazing size to performance ratio as you would never believe that so much power and output can fit in such a small footprint.
On the plus side the SB-3000 can perform admirably in all situations. No matter what we threw at it, it never felt like it was missing anything. Bass and low end extension was totally amazing while the subwoofer kept total control over all its elements. Either it was an all out loud blockbuster film or a demanding bass heavy song the SB-3000 handled each one with the necessary attention giving us one of the best low end performances we had for some time.
And with SVS high standards the SB-300 scored high in almost all other areas also. Its cabinet had the distinct SVS design while quality wise is at all times high while the rear panel that holds the redesigned ICI controls felt modern and more up to todays standards. The mobile app that SVS has created is an amazingly practical feature and although it can be a bit hard to use if you are a casual user it is a big step to the right direction and one that we hope SVS will include in their lower 1000 series also.
Now with a sub costing close to the $1,000 mark you would expect something more when it comes to the included connections but the SB-3000 offers more or less the most basic ones. The mobile app is great but could provide slightly more detailed directions for each of its settings as a casual user will be scratching his head over what some of these do. Lastly with the SB-3000 being offered in only two finishes there is not a lot of flexibility when combining it with other speakers. And lets not forget the price which is not for the faint of heart but this is not a regular, low cost subwoofer either.
Closing our review we had an amazing time with this subwoofer. It is undoubtedly an amazing piece of audio equipment and if you are dead serious at adding some quality low end power to your system, either it be for movies or music, the SVS SB-3000 is the kind of subwoofer that will definitely leave you in awe. Nothing more to say than to applaud SVS for one more time.
For more reviews you can check our dedicated Subwoofer reviews list or even look at our Product Reviews Table where you can find the brand and specific product you are looking for.
Also don't lose the chance to subscribe to our Newsletter and gain exclusive privileges.
---
Cheapest Places to Buy :
---
SVS SB-3000 Specifications