---
Cheapest Places to Buy :
---
A lone janitor working in a top secret government facility in the 1960s, forms a unique relationship with an amphibian creature that is held in captivity in one of the testing labs.
Plot
*Be aware of spoilers*
We are at the early sixties. The world is still at the peak of the space race and Cold War and Elisa Esposito, a night-time janitor at a top secret government facility, has a mundane daily routine. Being a lonely and mute woman she has literally only two people that consider friends.
Giles, an old man that lives on the apartment next to hers and loves to paint and Zelda her co-worker that do all the talking for both of them while at work. But one day the arrival of a mysterious amphibian creature captured in the Amazonian waters by Colonel Strickland changes her whole life.
Kept in a confined water tank and away from any interaction with people, Elisa and the creature start to create an almost mystical bond. But her feelings on wanting to be with the creature against what may be the greater benefit to him of being set free in the wilds of the water are on the balance. Complicating things the Soviets are also aware of the creature and have their own plans by having a secret agent infiltrate the facility. Can there be a future when you are trapped?
Directed by
Guillermo del Toro
Produced by
Guillermo del Toro
J. Miles Dale
Screenplay by
Guillermo del Toro
Vanessa Taylor
Story by
Guillermo del Toro
Production Company
TSG Entertainment
Double Dare You Productions
Distributed by
Fox Searchlight Pictures
Starring
Sally Hawkins
Michael Shannon
Richard Jenkins
Doug Jones
Michael Stuhlbarg
Octavia Spencer
Running time
123 minutes
Author's review
Guillermo del Toro until now has given us some very distinctively visual movies and The Shape Of Water could not be any different. From the moment the movie begins what immediately catches your eye is the visual design of the movie. The film makers tried really hard to capture the 1960s era and it really shows in every frame of the film. The Shape Of Water is basically a romantic love story set during the Cold War, but the setting and the characters is what sets it apart from any other movie that follows the same formula.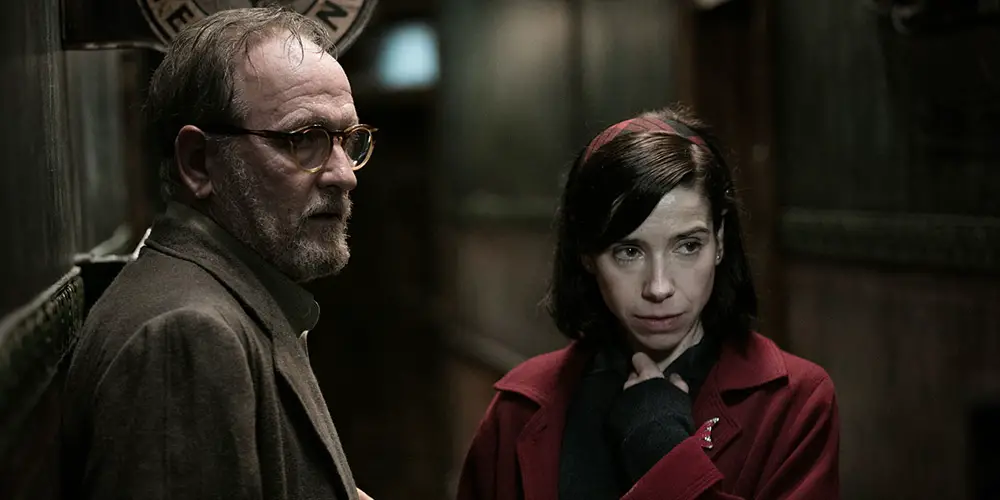 It seems that the characters in the story are written with very distinct characteristics. Elisa, Giles, Zelda, Colonel Strickland as well as the amphibian creature show that a lot of thought went into writing each and every one of them. Elisa is a mute woman and therefore she cannot talk directly. This creates an interesting relation and interaction both with the other people around her as well as with the creature.
Everyone except her two friends, Zelda and Giles, see her as broken, damaged. When she starts to develop this bond with the creature she feels that her disability is actually a uniqueness something that the creature also shares. Finally there was someone that sees her for what she is and not for how she looks (or heard in this matter).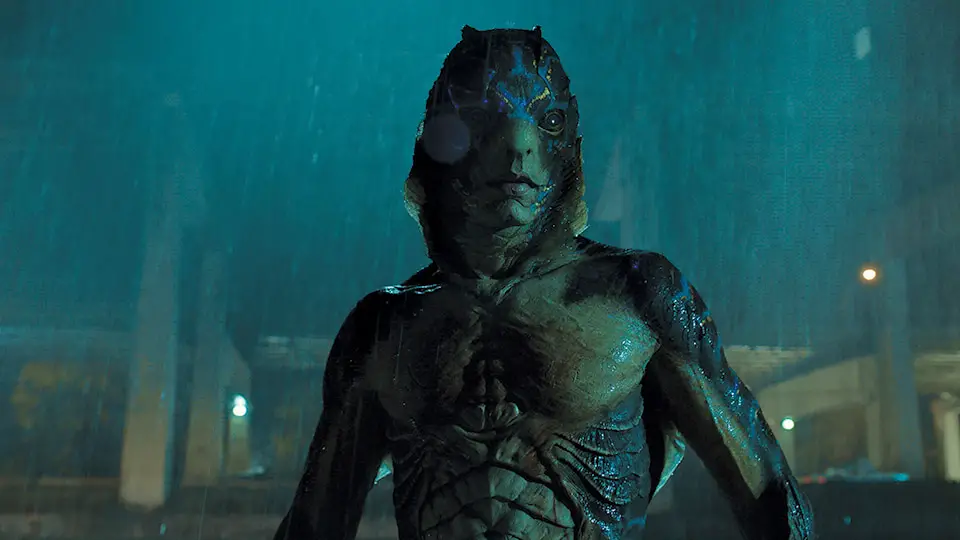 Sally Hawkins gives a great performance and you can really understand how she feels from the way she expresses her emotions. The rest of the casting is also great with Zelda and Giles being the only two persons to be close to Elisa and in the time of need they help her because this is what friends do. You can really see that when things get tough this makes them want to stay away from harm but when they understand that Elisa has found some meaning in her meaningless life they decide to help her.
Colonel Strickland on the other hand is a guy that would stop at nothing to achieve his goal. Merciless and cold like stone he is the type of person that prey on the weak and when he feels that he is loosing control and is at a dead end he goes on a rampage without considering the consequences. It's like seeing two different worlds colliding, one kind and pure the other harsh and cold.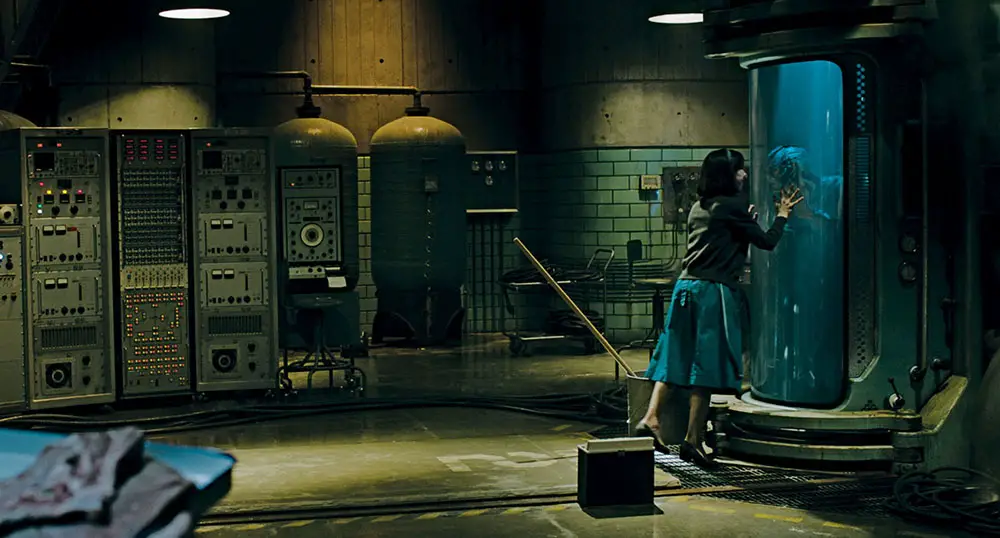 Technically the movie is excellent. The set designs really shine with even the tinniest of details. This is very apparent in the government laboratories where you can see all kind of equipment of that era. I have seen a lot of movies depicting that period of time but none were so visually alive. Even if you don't like the story I would definitely recommend you to see the movie just for the design if you are at least fascinated by that era.
Likewise the clothes and uniforms follow the trends of the period and make the characters come to life. In the sound design I like that they tried to use songs of that era as much as possible and it really helps to engulf you in that period in order to make the story more believable. The film doesn't have a lot of action so don't expect anything spectacular if you own a decent home cinema, for me the picture is what elevates this movie so high.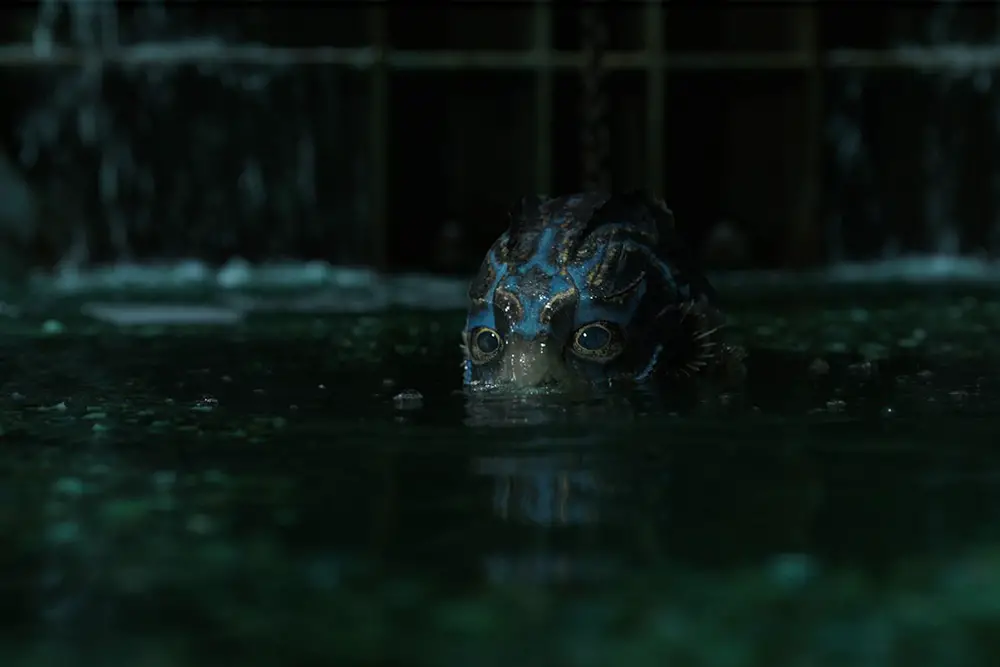 For the actual story I wouldn't say that it offers anything new at it's core as it is a typical romantic story making it interesting only by the uniqueness of it's characters and general setting of the film. If you are more action oriented you may find it difficult to keep focus as the film takes it's time to present and develop the characters and when things start to gear up we are already in the third act of the story. But if you are in the slightest interested in the 1960s era or you would like to watch a film that focuses more on it's story and characters than on it's visual effects and action then this is definitely worth a view.

The shape of Water dives into the 4K UHD format with this fine 2160p resolution, HEVC / H.265 version of the film that comes in a 1.85:1 aspect ratio while it uses the basic HDR10 when it comes to high dynamic range. The film was shot digitally and converted into a 2K DI and as it happens with most 4K shot films we get plenty of detail on the character's skin and on various surfaces. The extra resolution brings out more details which helps a film like this that has a very retro design and coloring.
HDR is helping also to make the film's strong and characteristic color design more vivid with the various green shades having a more natural feel to them. The film is relatively dark but the HDR helps a lot with more refined shadow detail while highlights get the necessary boost from the extra brightness.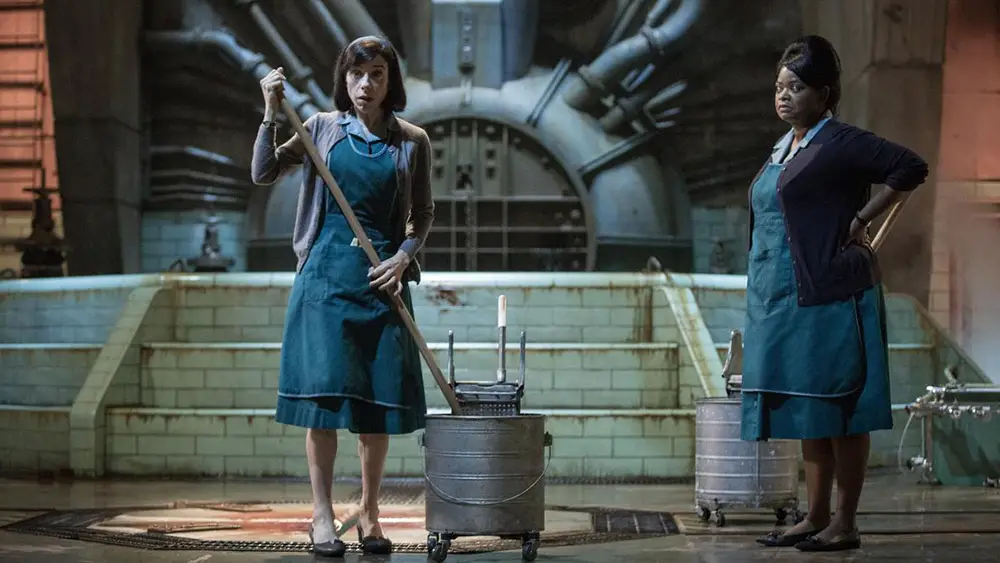 The included DTS-HD Master Audio 5.1 track offers all the engagement you will expect from a film like this. Unfortunately there is no Dolby Atmos or DTS:X available and we would definitely like to see how such a track would behave for let's say the underwater scenes but we have to make do with the one provided here. Ambient sounds play a big role to such a film and here we get plenty of surround background effects that really put you in that world showing that even if there is no object oriented track available, DTS-HD Master Audio can offer an amazing result.
The film may not be for everyone but if you liked it and consider buying the disc then the 4K UHD version is the best yet you can see it in with an excellent picture and a very solid audio track which you will definitely appreciate.
Movie Rating :





4K UHD Rating :





If you liked this review you can check more of our movies reviews in our dedicated section. Also don't lose the chance to subscribe to our Newsletter and gain exclusive privileges.
---
Photos
---
Cheapest Places to Buy :