---
Cheapest Places to Buy :
---
Thor has been imprisoned in the planet of Sakaar and is forced by it's ruler the Grandmaster to fight his fellow ally the Hulk as he runs out of time to stop Ragnarok, the prophecy about the destruction of Asgard and the end of their civilization from the all-powerful Hela.
Plot
*Be aware of spoilers*
It's been 4 years since the defeat of the Dark Elves and 2 years since the events of Sokovia. Odin is missing and Thor with his brother Loki travel to Earth to find him only to learn that when their father dies their sister, Hela will break free from her prison that Odin put her. Trying to return back to Asgard Hela, Thor and Loki fight and as a result the two brothers are thrown on the other side of the universe in a garbage planet called Sakaar ruled by the Grandmaster.
Meanwhile the ruthless Hela, the Godess of Death, takes over Asgard and plans to conquer the universe. Thor is put against Hulk in a gladiator match for the pleasure of the Grandmaster. In the end they decide to work together and with the help of his deceptive brother Loki, Thor returns to Asgard to confront Hela and prevent the coming Ragnarok, the end of his civilization and the destruction of Asgard.
Directed by
Taika Waititi
Produced by
Kevin Feige
Written by
Eric Pearson
Craig Kyle
Christopher L. Yost
Based on Thor by
Stan Lee
Larry Lieber
Jack Kirby
Production Company
Marvel Studios
Distributed by
Walt Disney Studios Motion Pictures
Starring
Chris Hemsworth
Tom Hiddleston
Cate Blanchett
Idris Elba
Jeff Goldblum
Tessa Thompson
Karl Urban
Mark Ruffalo
Anthony Hopkins
Running time
130 minutes
Author's review
And so we get the third movie in the Thor series and what a sequel we got… Typically with these successful movies what you try to do is retain the same formula that made the previous films so successful and try to recreate the same success. From the moment the first Thor Ragnarok official trailer was released it was obvious that what we would get would be a bit different from the previous installments. Although the basic elements are the same it felt that something was not the same. It could be the electronic music, or it could be the more than average amount of jokes and humor but it was really obvious we would get a different take of our favorite God of Thunder.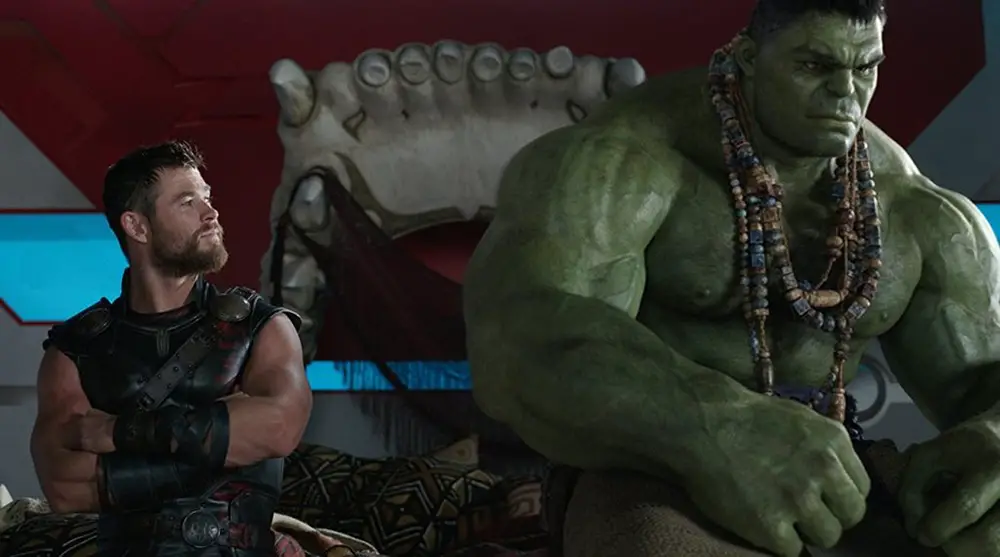 Up until now Marvel had decided to finish each character's story arc by the third movie. It happened with Iron man, we saw this happening with Captain America and it seems like the same will happen with Thor. So it seems the film makers wanted to go out with a bang and decided to go with Ragnarok, the prophecy for the end of Asgard and the Asgardian civilization. A fitting story to close the trilogy.
If you liked the previous Thor movies then there is plenty to like here also. This time Thor teams up with the Hulk and they create a really bombastic duo. When you put together 2 of the most powerful Avengers it cannot be but a rather interesting mix. Of course it couldn't be different when you pit them against such a villain as the all-powerful Hela. In reality Hela is the daughter of Loki but i guess they took this creative freedom to turn her into Thor's sister and Odin's first born to create a more dynamic relation between the two. And of course this would create a more suspenseful interaction when the two of them would reach the final battle.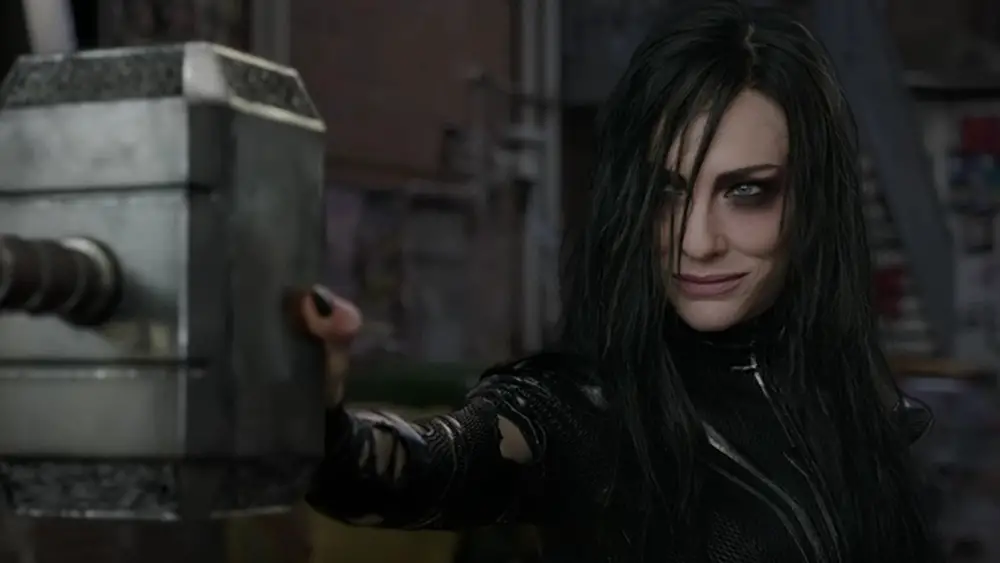 As far as the acting goes Hemsworth gives another solid performance as the almighty Thor although this time he gives a little bit more light tone to his character than in the previous installments. The same goes for Tom Hiddleston as Loki, as we get the same playful and mischievous trickster we knew from the previous films in the Marvel Cinematic Universe. What I liked in particular are two other characters. First Cate Blanchett as Hela and Jeff Goldblum as the Grandmaster. I never though Blanchett you play in a Marvel movie and especially portraying a bad character but what we get here is one of the best bad characters I have seen lately. It could be that her good looks doesn't make her feel dangerous or deadly but when we see her in action she really makes the character justice both in battle but also about how she feels about her fellow Asgardians.
Another high point is the acting of Goldblum as he gives another of his trademark acting. If you have seen any of his other movies you know that he has a very characteristic style that also shows here and for this type of movie and character that he is portraying it fits very well. If you add the amount of jokes they have added it's like this role was made specifically for him. Another character that i would like to talk about is Hulk. For the first time we see him talking so much. I feel that it was unnecessary and for me this was a bit of a low point. We have seen plenty of movies that characters express their feelings and actions through movement and i felt like this would be better than actually having Hulk make conversation with Thor. I guess they made this since the movie is trying to reach a wider audience and make Hulk a bit more friendly to the crowd. Keeping his dialogue down to a minimum worked great in previous movies so i cannot understand why to change this here.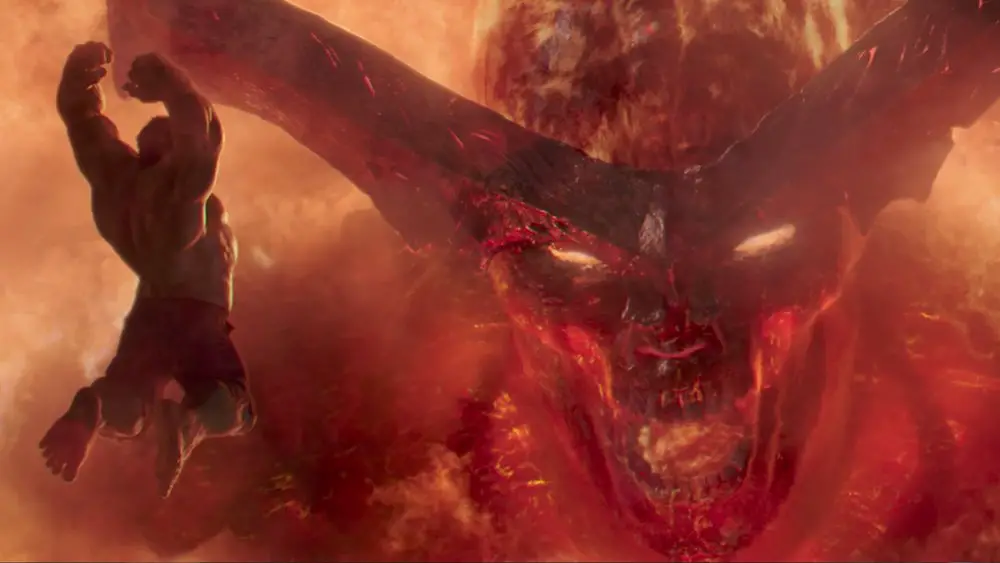 A Thor movie wouldn't be like this if it didn't have good special effects and Marvel here gives us another great result as they have in all their movies so far. From the Asgardian city to the garbage planet of Sakaar each setting is really a visual spectacle. The battle of Thor against Hulk I guess is something a lot of fans were waiting for and we finally see it here and it looks spectacular. Every scene has something new to show you and you will never get tired of all these dystopian settings. As with the special effects the sound design is also excellent with lots of action and battle sequences to try your home entertainment center.
Thor Ragnarok tries a lot to keep the elements that made it such a successful franchise as the characters, marvelous settings and action all the while it tries to offer something new in order not to be more of the same by adding Hulk in the mix and changing to a lighter tone by including more humor. If i had to judge from the box office success and the reviews i would have to say the film makers achieved their goal and we got a sequel that offers something new to keep us interested and in the edge of our seats. The film ended with a blast worthy of such a movie. And although we expect to see Thor in the up coming Avengers film it will be interested to see if this is the last of Thor's solo adventures we will be getting. This is a must for all Marvel fans and highly recommended for everyone else that want a good action movie.

Thor strikes into the 4K UHD format with a very nice HEVC / H.265, 2160p resolution transfer from Disney. This version of the film comes with the basic HDR10 coloring so those hoping for a Dolby Vision encode will be a bit disappointed. That is until you actually sit and watch the film as there is a nice boost across the board that is a direct result of the new format's capabilities. This transfer comes from a 2K DI so we are actually talking about an upscaled version but this doesn't stop the film from having improved quality over the Blu-ray version over every aspect of the image.
The increased resolution helps the film reveal more details with character's skin, clothes, surfaces and fabrics showing more of their imperfections nad textures. Colors get a nice boost also while with the help pf HDR highlights will dazzle you with their brightness. The film has a really colorful tone and HDR helps a lot to make the film more vibrant and alive. Black levels are very solid with nice shadow detail.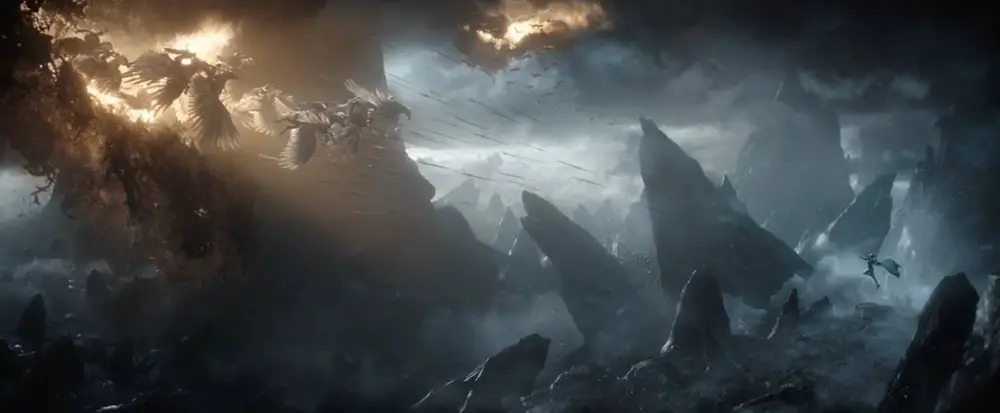 The Dolby Atmos track that comes with the film in this 4K UHD version is a good one but unfortunately never reaches reference quality. There is certainly great clarity and resolution with good surround and overhead activity while dialogue is clear enough and never overlaps with the rest of the effects even during action busy scenes. Overhead activity was good even if not constant but this helped to expand the soundstage over our heads and improve the overall immersion. What we did notice was that the track was missing a bit of punch as the low frequencies, although plenty, didn't have the necessary power to make effects like explosions have the necessary weight. The overall audio track is very solid but the lack of low end depth made us craving for more especially when we are talking about such an action heavy film.
Overall this is a very solid transfer with very good image quality and a solid Atmos track and while it never reaches reference levels it is a clear improvement over the Blu-ray version and the best version you can see the film to date.
Movie Rating :





4K UHD Rating :





If you liked this review you can check more of our movies reviews in our dedicated section. Also don't lose the chance to subscribe to our Newsletter and gain exclusive privileges.
---
Photos
---
Cheapest Places to Buy :