Vizio Elevate (P514a-H6)
Reviewed at $999.00
Design -

92%

Movies Performance -

90%

Music Performance -

88%

Inputs and Features -

90%

Price / Quality -

93%
---
Cheapest Places to Buy :
---
Dolby Atmos soundbars are not something new as it's been a few good years now that all major manufacturers have released some sort of Dolby Atmos capable unit. And as we have seen that in the last couple of years there are some models even go for 5.1.4 channels many will be wondering if there is any innovation left to be made. Well, here comes Vizio which may not be the worldwide behemoth brand of the likes of LG or Samsung but they have created a few interesting and good performing soundbars over the years. And in today's Vizio Elevate review we will be looking at one of their latest releases and if it brings anything new to the table.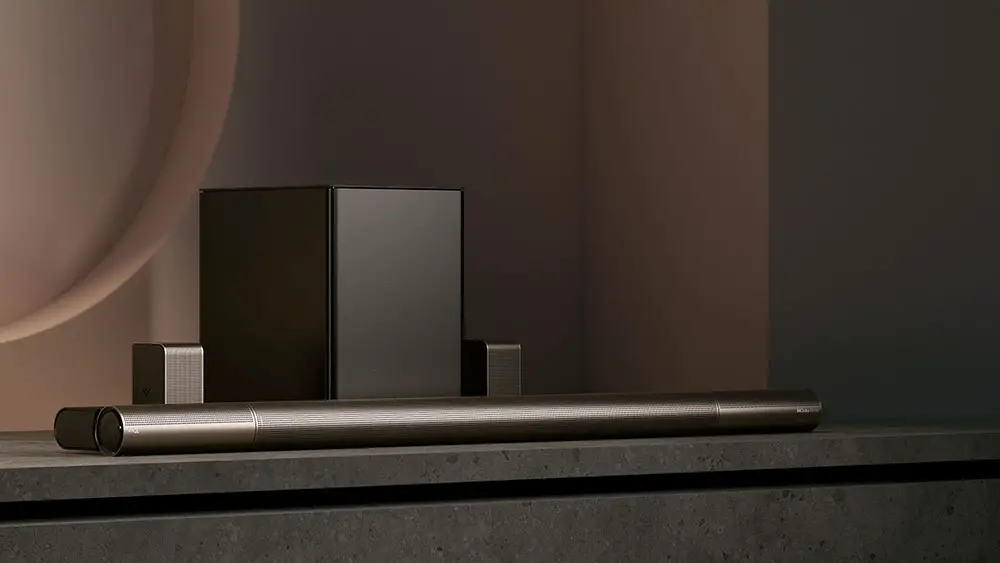 The Vizio Elevate is a 5.1.4 channels soundbar but this is not what makes this one unique. What sets it apart is that the far right and left sides can actually mechanically rotate depending on the content you listen. So when you listen to music for example all drivers point forward but when Atmos content is detected they rotate upwards in order to provide the necessary over the head effects. It's a really interesting concept and one that no other company has thought of making just yet. And to some this may seem more like a gimmick rather than a useful feature but it can really have it's benefits to a certain extent.
But the Elevate soundbar does not sorely focuses on this feature. It's one of the few Atmos capable soundbars that come with up-firing, Atmos enabled surround speakers also, thus the 5.1.4 channels, for the best immersion possible. And if you add to these the built-in Chromecast, USB and Bluetooth streaming and voice assistant ready capabilities we get a soundbar that its main focus is sound performance but without leaving some necessary extras out of the equation that are very important when we talk about such an expensive unit.
This is a big soundbar we are talking about and certainly is meant for those that seek at having a fully fledged surround system but without the fuss of going for separate equipment. But does the Vizio Elevate manages to offer a similar experience or falls short of the usual soundbar limitations? Keep reading to find out…
Design, Inputs and Features
Exterior
Vizio has not been very good at giving marketing friendly names to their soundbars and their model numbers create more confusion than clarity to interested consumers. Thankfully at least in this case Vizio gave a more consumer friendly name as Elevate is a name that people can relate to. Vizio Elevate comes with a model number P514a-H6 so keep this in mind as many retailers use this code instead.
Officially the soundbar is marketed as a 5.1.4 channels, Dolby Atmos enabled soundbar with the main unit housing the three front channels and the side rotating Atmos up-firing drivers, a subwoofer for the low end and two surround speakers that also accommodate up-firing Atmos drivers.
In terms of dimensions the Elevate is a pretty big soundbar but not the biggest one we have seen as LG has managed to take that spot with their flagship SN11RG. But with a size of 48 x 2.64 x 6.5 inches (1219 x 67 x 165mm) and weight of 12.39 lb (5.62 kg) the Vizio Elevate still remains one of the bigger units we have tested and you have to make sure you have the necessary space for it. With such a length the unit will fit nicely under any 65″ TV and above although it will do just fine in any size you want to place it under.
If there is one thing that certainly will turn a few heads that would be its unique design. Vizio went all out with this one and gave the Elevate a look that feels modern and a bit futuristic but at the same time functional and pleasant. Its two parts design features a cylindrical front side that houses all the drivers with the two sides being able to rotate according to the input signal and the back of the unit featuring a nice curvy look.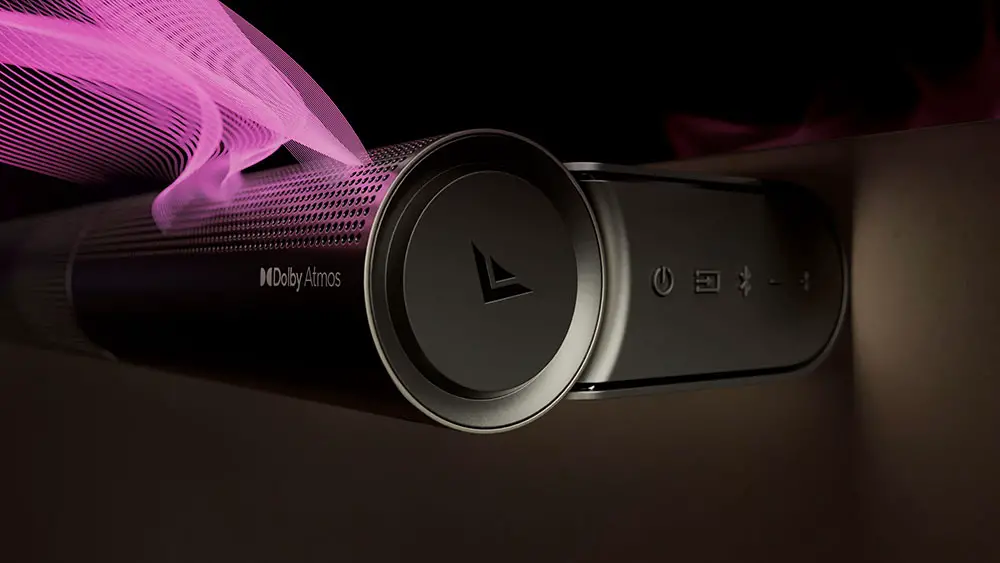 Material used is mostly plastic for the back part while the front aluminum grille is protecting and covering all the drivers along its length. Both sides come with a matte-black surface in order to complete the unique three-colored look of the Elevate.
The soundbar may have a fancy look but in general it uses very simple lines without a lot of details. And while other more simple designs would favor the use of more details the lack of them here work on the Elevate's behalf as it doesn't need anything more to draw the attention and make it look bloated. On the right side we get some built-in buttons that are a bit hard to distinguish as they are the same color as the side face. At least these physical buttons are shape specific and you can figure which is which even without looking at them.
As for its display here we are a bit disappointed as Vizio went for the not so good LED based design. On the left side, just before the rotating part a single column of 10 LED indicators is what we get in order to have a visual input on the soundbar's functions. We never liked this type of display as more often than not you have to look at the manual, or the back of the remote in this case, to see what the unit is doing because frankly who can remember all the light combinations available? A full functions display is always better but with the unique design Vizio went for we get that it wouldn't be so easy to incorporate one.
At the back we find two big insets housing all the connection ports while at the bottom there are special holes for the wall mounting brackets. There is also the option to mount the soundbar on a Vizio OLED TV stand by using the special tabs located at the back. There is nothing else found here and although the unit has a more or less low profile an IR repeater would be nice to cover all bases. But there are very few models featuring one so it's no surprise we don't get one here.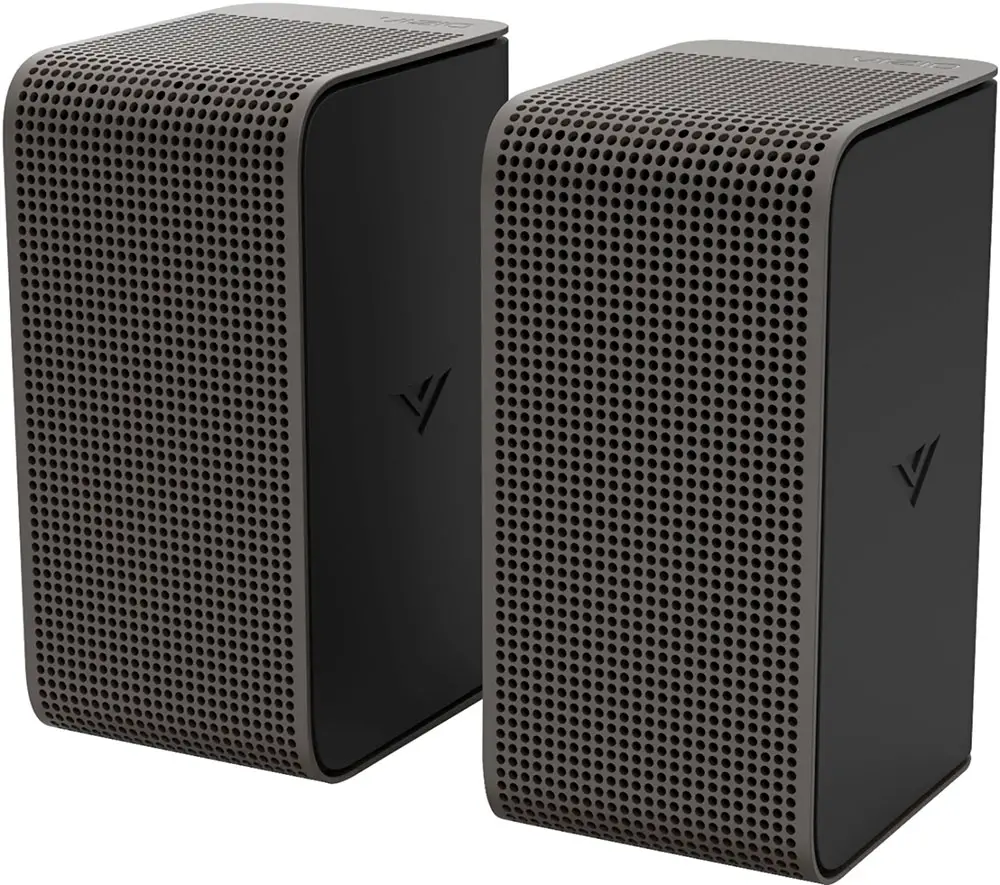 Along with the main unit we get two surround speakers which measure 2.8 x 5.91 x 3.74 inches (71 x 150 x 95 mm) and weight 2.28 lb (1.03 kg). These are made out of plastic while their design fits the nice curvy lines of the main unit. Vizio has used custom made connectors at the back while these also feature special holes for wall mounting. If there is one thing we don't like in them is that they need to be connected to the subwoofer which certainly limits you with the speakers placement.
As for the subwoofer, this features a simple cubic design that may very well be mistaken for a small table instead of a sub. The cabinet is made out of melamine with a plastic top side while the back is as simple as it gets as we find the power port, the two surround speakers connectors and a single pairing button. Above them we find a big air port placed at the middle. With a size of 10.83 x 15.6 x 13.7 inches (275 x 396 x 348mm) this is slightly bigger than the average and is certainly not for those that are extremely tight on space.
Vizio certainly impressed with the Elevate's design. It looks fresh, unique and eye catchy. Build quality is good enough and fits its price range. And while its size may not allow much flexibility as this was meant only for bigger rooms, if you have such one then this one will look extremely nice in it.
Internal Hardware
Let's see now what makes this unique looking soundbar tick. For the main unit Vizio has incorporated a staggering 13 drivers showing how serious they are for its overall performance.

For the two main channels we find two 46 x 60 mm oval drivers along a single 20mm tweeter for each channels. The center channel on the other hand is using slightly different sizes with two 43 x 66 mm oval drivers and a single 20mm tweeter siting between the two. On the other hand each rotating Atmos speakers are using a single 46 x 60 mm woofer with a single 20mm tweeter each.
The subwoofer comes with a single 8″ (127 mm) down-firing driver which is just about the size you would expect for such a big soundbar. Lastly we shouldn't forget to mention about the surround speakers that use a single 54 mm full range driver for the surround channel and a single 50 mm full range driver for the up-firing Atmos channel each.
Unfortunately Vizio has not provided power rating for the Elevate and the only amplifier specifications we get are its maximum SPL which reaches an impressive 107dB and its frequency response which is rated at 30Hz~20kHz.
Connectivity
With soundbars, things are pretty much straightforward when it comes to the kind of ports on offer. And even the most expensive units seem to lack the number of inputs that are necessary to support a modern day home media system that usually consists of more than 2 or 3 input units. But let's see where the Vizio Elevate stands in all of this.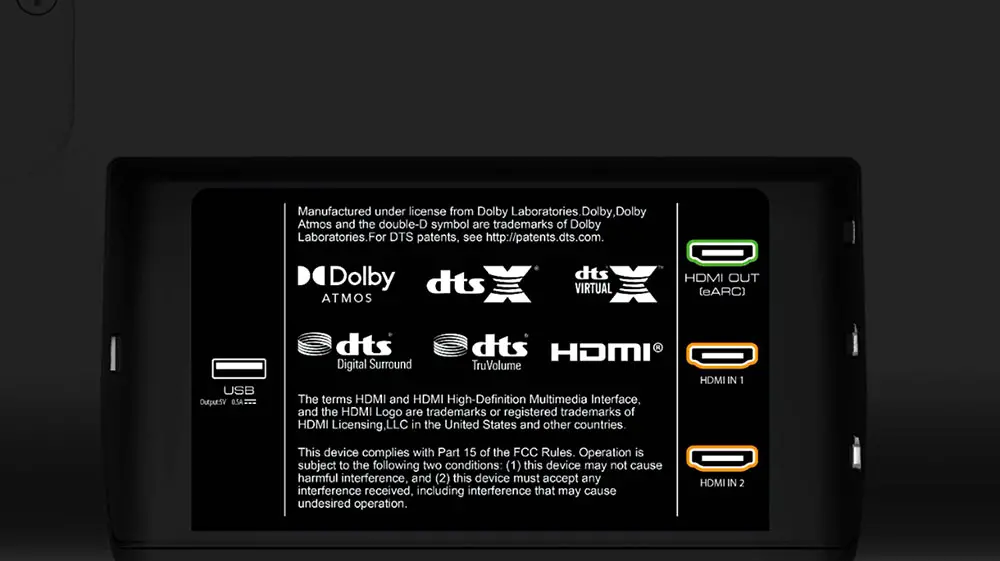 At the back of the unit we find two deep and wide insets specially designed to fit even the biggest of wire plugs. As we look the unit from the back the left inset houses 2 HDMI inputs along with a single HDMI output that has added eARC functionality. On the opposite side of these ports we get a single USB port that can be used to connect external storage and stream music this way.
On the right inset we get the power connector on one side while on the other we find a digital optical input and a 3.5mm analogue stereo audio input. There is another 3.5mm port called AUX VA and this is used to connect a voice assistant device to the soundbar.
As for its wireless capabilities the unit comes with both WiFi and Bluetooth built-in although Vizio does not provide any information on these two and their specs.
In general we could say that the Vizio Elevate sits comfortably above the average. We have seen a few soundbars that offer 3 HDMI inputs but these are very few and the vast majority, even some expensive ones, settle for just one so having two here may not solve all our problems but definitely make them slightly easier. The inclusion of the AUX VA port is an unusual one as the soundbar can connect to a voice assistant device through Bluetooth also but the more options available the better.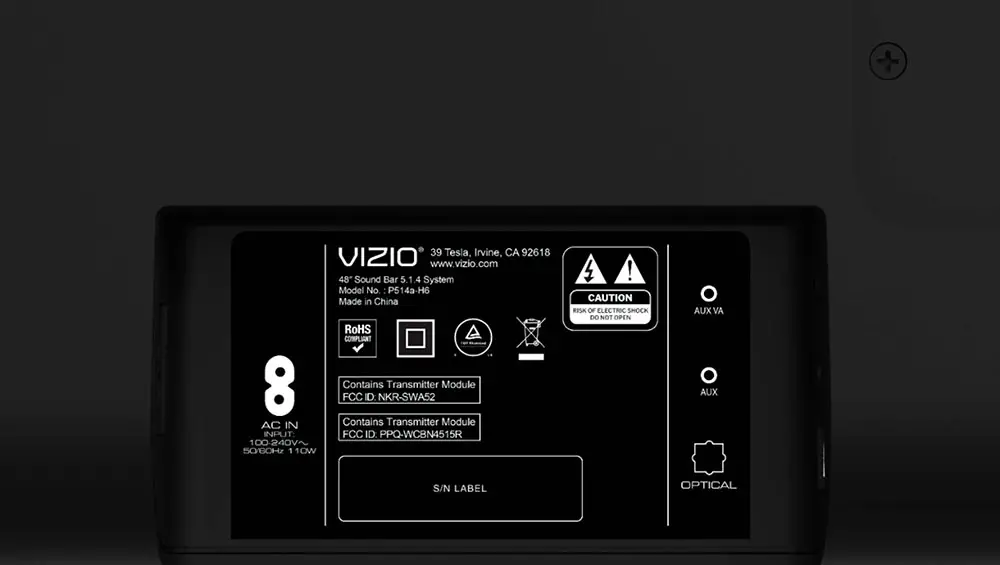 And although Vizio doesn't provide specifics about the Elevate's wireless capabilities during our testing either through WiFi or Bluetooth we didn't experience any connection problems so we cannot complain.
Control Options
Next we will be looking the ways you can control the unit and we will start with the most obvious way which is the included remote.
For a soundbar that costs close to the $1,000 mark you would expect something that would look more premium to be honest as the one that Vizio includes in the package feel a bit underwhelming in terms of looks as it's a simple plastic dongle with a few rubber buttons on it. What is certainly unique is the inclusion of a display screen, something we don't see very often in any kind of remote but is a welcome one nevertheless, especially since the main unit lacks one.
Below this display we find three big circular buttons for input selection, Bluetooth functionality and power, next is the usual circular navigation controls, below that a centered volume control and five buttons around it for EQ ,Level, Setup and Effect settings along with a mute button at the bottom. All these buttons are made out of rubber, are big enough and have good spacing between them. There is no backlight here but at least the small number of buttons available is not overcomplicating things.
We also mentioned above that on the side of the main unit there are a few built-in buttons for you to use and these include power, input selection, Bluetooth functionality and volume controls which is more or less the usual configuration we find in all soundbars.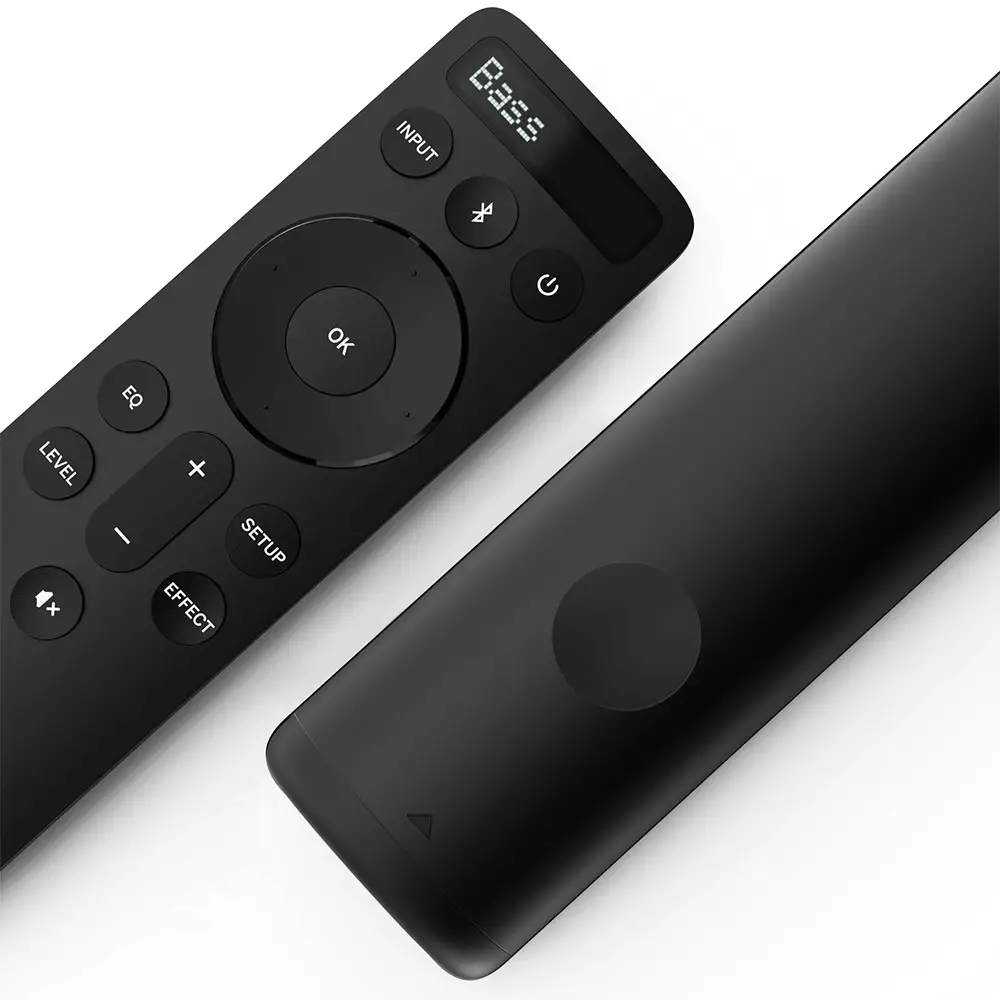 But if you like to control the unit without the remote you will be pleased to know that it's voice assistant ready which means that while the soundbar itself does not include voice control functionality it supports external voice control devices. These can connect either through the Bluetooth connection or alternatively through the included AUX VA port.
Lastly there is support for Vizio's mobile app called Vizio SmartCast. Through it you can control all functions of the soundbar including changing settings, testing speaker levels and checking for updates. If you are a fan of mobile apps then this is a nice one to try out.
It's good to see that Vizio has included all the known control options. The more we get the better the value and Vizio made sure not to leave anything outside.
Extra Features and Services
Next we will be looking at all the supported features and extra functionality that has been included and we will start by the supported audio formats.
The Vizio Elevate is a Dolby Atmos soundbar so obviously the unit supports both Dolby Atmos and DTS:X along with all the older channel based formats like Dolby TrueHD and DTS-HD Master Audio and also the more simple Dolby Digital and DTS formats. Keep in mind that the optical port can support only up to Dolby Digital and DTS so for any of the more advanced formats you will need to use the HDMI ports.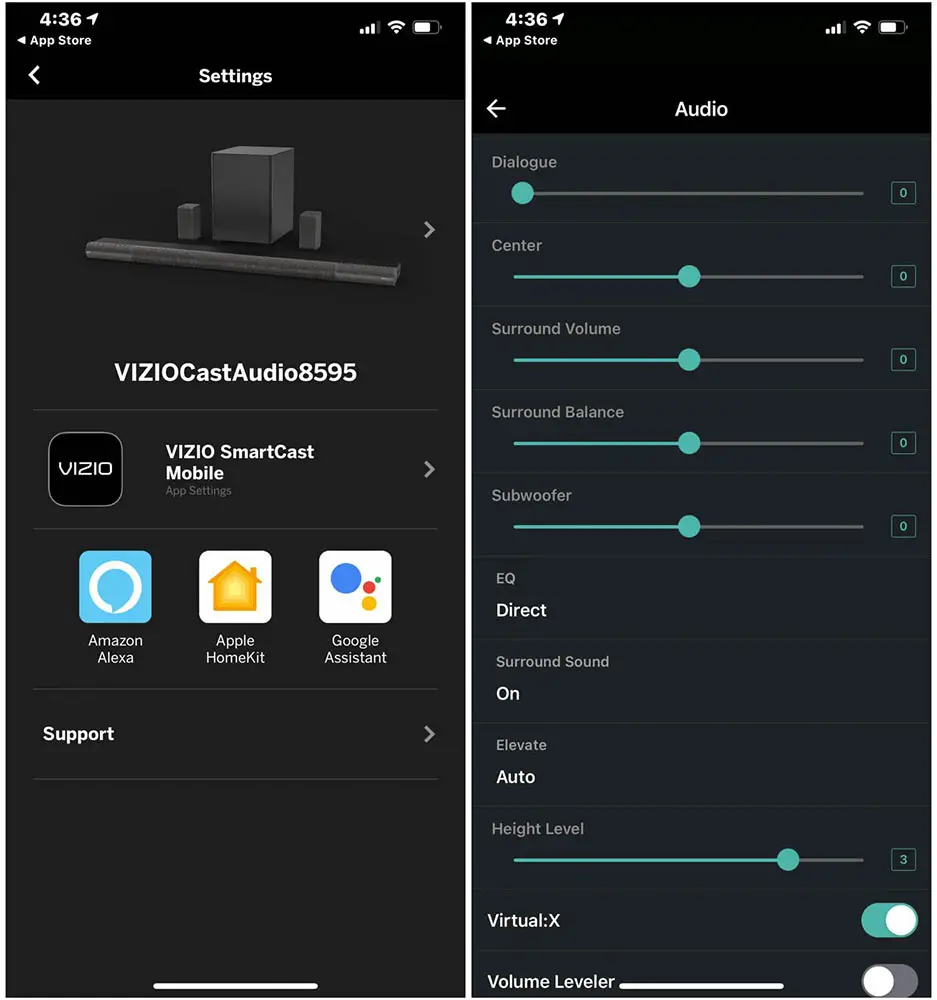 One thing that did surprise us was the inclusion of DTS Virtual:X which is a virtual technology that we usually see being used in cheaper units that lack either surround or Atmos capabilities and is included to help create a more immersive soundstage around the viewer. Now why would Vizio include such a feature to a fully capable 5.1.4 channels soundbar is beyond our comprehension. No person would buy such a soundbar not to use its full potential so having such a virtual tech in this unit feels unnecessary.
In terms of sound modes there are four available with Movie, Music, Direct, and Game being self explanatory of what they do and each is best suited according to the appropriate material displayed. There is also another mode in order to enhance the dialogue in case it's not very clear and distinguishable. And lastly we find a Night mode for those that want to use the soundbar while other people are sleeping in the house.
There are also basic level adjustments for bass and treble along with subwoofer, height and surround calibration. Lastly there is a setting that controls the rotating side drivers. For these you have three options with Wide pointing them forward, UP to keep them in up-firing position and AUTO that will auto-rotate according to the input signal it detects.
One thing that needs mentioning is that the Elevate is missing any kind of auto calibration system so all settings needs to be made manually. Now if this is good or bad depends on how you see it and if you are comfortable making all calibrations by yourself.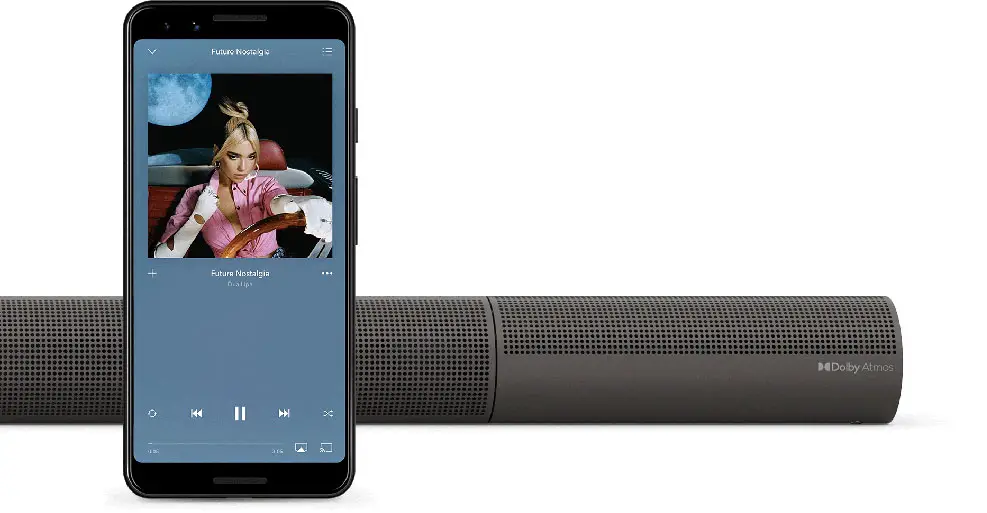 Vizio Elevate comes with the usual streaming capabilities meaning there is Bluetooth support with which you can connect any mobile device to the soundbar and playback audio this way or you can use the built-in USB and connect some external storage or flash drive. Just keep in mind that with USB playback capabilities are rather limited as it seems that only two types of audio files are supported. These are low quality MP3 and high resolution WAV. We don't have more details on these two and if there are certain limitations but from a few files we did try out they played normally without any problems.
But streaming doesn't stop there as there is also Chromecast built-in and with it you can use various streaming services and platforms by downloading a Chromecast enabled app.
Plenty of features to go around and Vizio made sure to include the most important ones. For a soundbar of this price this is very important.
Initial Setup
Vizio has made the whole initial setup as simple as possible and the number of steps you need to make until ready are very few and easy to follow according to the manual.
We first connected our 4K UHD Panasonic player to the HDMI input and from the output to our test TV. We plugged the soundbar to a power outlet and then connected the surround speakers to the subwoofer and powered it. The sub and main unit paired automatically but you can also do this manually if needed.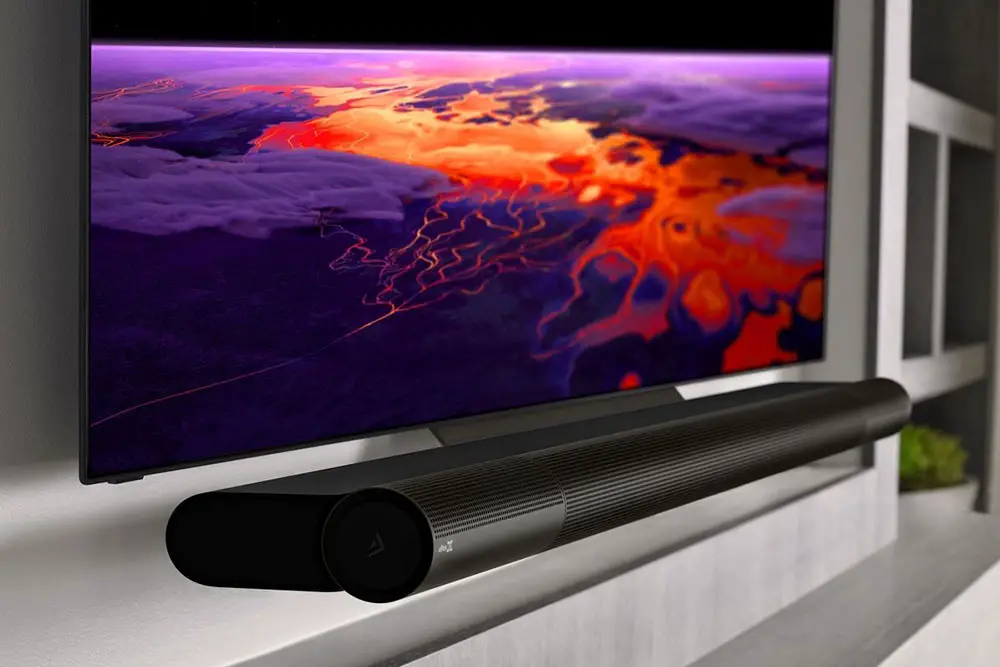 The Elevate immediately detected that our Panasonic 4K UHD player was connected to one of its inputs and switched to the appropriate one. After this step what remained to be done was the manual calibrations and for this you can either use the remote or download the Vizio SmartCast and handle everything from you mobile device.
The basic calibrations you have to do are Level settings where you have to adjust the levels of all available channels and also choose the appropriate EQ setting from one of the available sound modes. There are a few other options you will have to tackle with like the status of the rotating Atmos speakers and if you want to use Virtualization or not. The manual has details for all available settings and it's easy to follow the instructions. It shouldn't take you much time to finish everything as most of these settings you will not have to change them a second time.
To be honest we have seen some soundbars offering easier setups but this was due to them having less EQ settings and calibrations to do. As the Elevate has a bit more to play with it needs some time to adjust everything to your liking. And we prefer this better as it may need a bit more time but the steps are easy enough and the extra freedom you get allows you to adjust the sound much better for the best possible outcome.
Movies
For this testing we wanted a film that has good use of Atmos sound so we decided to test the 4K UHD version of Bumblebee. A transformers film is never short of surround, overhead and low end action and certainly this one had the necessary over the top activity to push our Elevate to its full potential.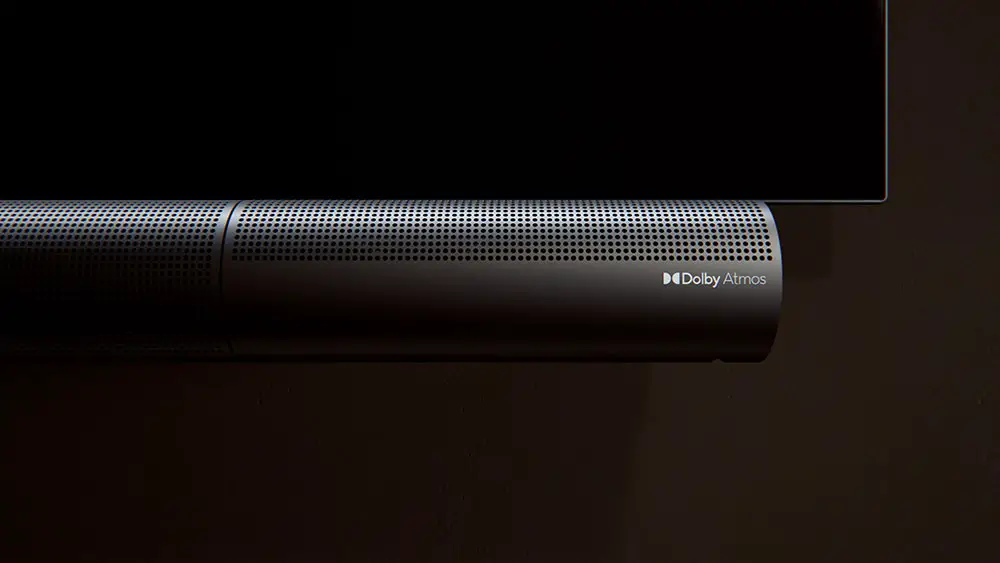 Now as always we will start from the front and the Elevate will certainly take you by surprise by its powerful output. There was good depth and nice extension although sound didn't extend to the sides as much as some other soundbars that use side firing drivers. Separation between the front channels was good and panning effects were audible and gave you that wow effect when laser fire were shot from all sides.
With a dedicated center channel the dialogue was firmly centered and always distinct. Even through all the chaos we never had problem hearing what the actors were saying and the voices never overlapped with the rest of the sound effects.
Now let's talk about the Atmos effects. One thing to keep in mind with all these Atmos soundbars is that all of them rely on the bouncing effect and thus the soundbar's performance depend heavily on the design of your room and specifically your ceiling. The lower it is the more pronounced the Atmos effects will be. In general the maximum height recommended for the Atmos effects is about 9 feet (3 meters) with a completely level ceiling. Anything more or if your ceiling is at an angle and the Atmos effects will not be good enough.
As for the Elevate specifically we got some nice action on the overhead layer as fighter jets were flying over our heads and laser fire made us duck our heads more than once. What is greatly important here is that the Elevate comes with 4 Atmos speakers meaning you get a 360 degrees action field on the top layer which is vastly better than getting it only at the front. This way when a jet flies above us you could actually hear it travel from the front to back.
But the Elevate was not only good with Atmos as the surround speakers provided the necessary over-the-shoulder action to put us right in the middle of the action. Panning effects were great with good precision and very realistic while the surround speakers had good balance and the necessary power needed.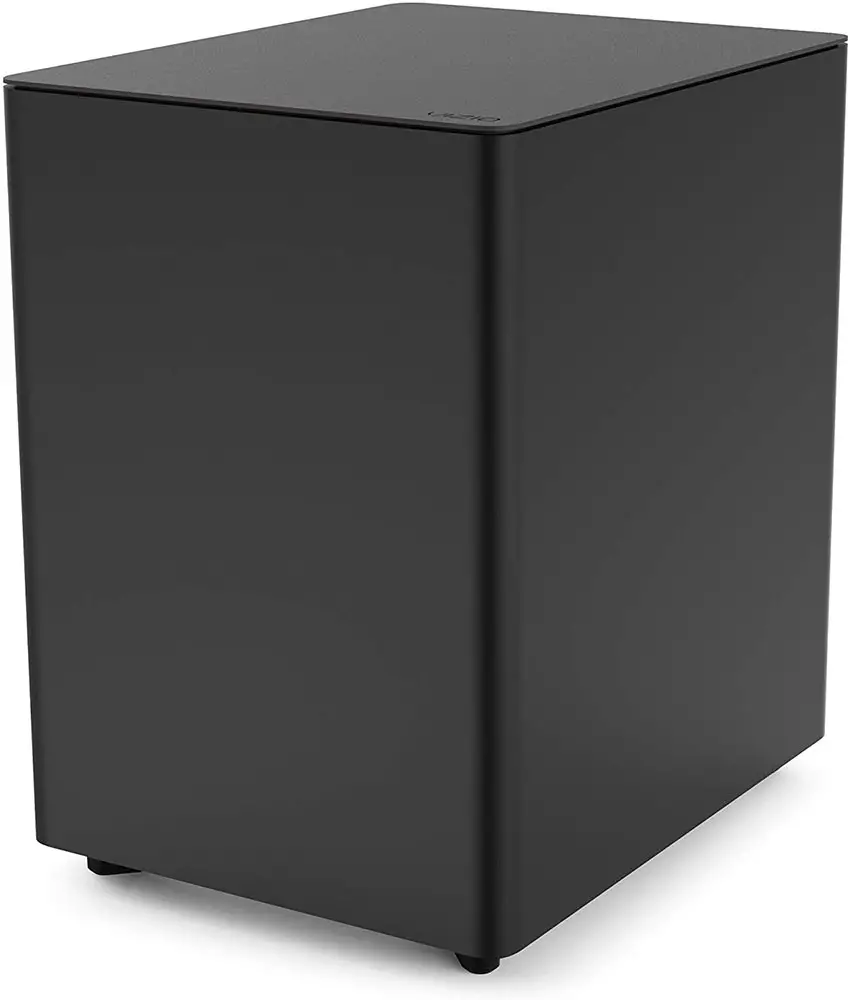 But if the extra speakers were impressive the subwoofer made sure to be the one that was felt the most. Low end was powerful and vigorous. It never felt chocking by the extreme low end action and in fact we had to dial it down a bit because it was set a bit too high for our tastes. Every explosion had nice texture and good weight and in general the subwoofer has all the power you will need to shake a few walls and disturbs many of your neighbors.
In terms of maximum volume the soundbar can go very loud. In fact we never went above 65 percent volume which we found to be a good level for us. But any more than 70 and it will start to shake more than a few furniture. But although the Elevate can go extremely loud in this territory it was bound to loose some of its focus. Most likely you will never need to go so crazy high but it does stumble a bit here and there when all hell breaks loose.
Overall the Vizio Elevate is perfect for movies. It can go loud enough, it offers plenty of immersion, the surround and Atmos speakers add the necessary extension at the top and the back while the subwoofer dives deep and with authority creating the necessary low end shaking you all love and seek for. At normal volume levels the mid-range was great and connected the highs and low end nicely with mastery. It may not be as delicate when going all out loud but this was a small problem when looking at the overall picture. Great work Vizio!
Music
Next in line is our music testing and while the soundbar is not officially supporting High Resolution Audio playback we used the USB port to playback some WAV files for the best quality possible.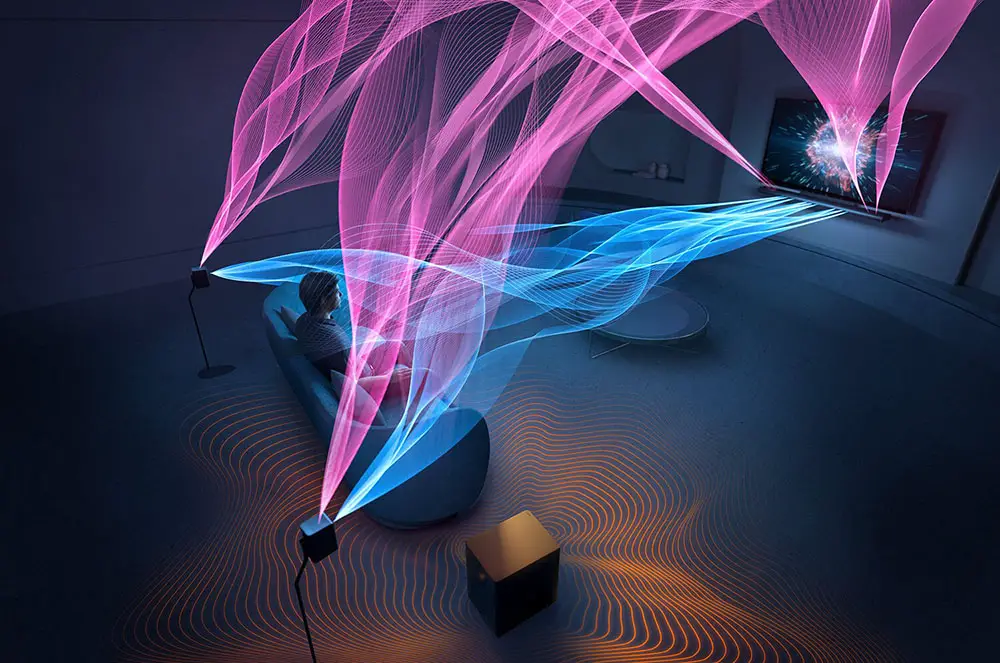 Before we give our analysis here we need to mention that for this part of our tests we used the Music mode as it felt the most acoustically pleasing and also we turned the rotating drivers to the front-firing position.
The Elevate is surprisingly pleasing with music with good definition at the front and enough extension to all axis. Taking advantage of the staggering number of drivers available the unit doesn't hold anything back with a performance that certainly can stir up a few emotions.
The center channel kept all vocals focused in the middle as the rest of the instruments accompanied the performer's energy and vigor. The subwoofer didn't have any problem hitting the lows with might and nice tempo. Stereo imaging was good with enough resolution and satisfying clarity.
The Elevate can really output good quality music. Can it reach the kind of quality you can get for a moderate separate system? No, but it can get pretty close. Just keep in mind that it needs a bit of calibration in order to find the best settings as we saw that out of the box it needed some notable adjustments to improve its overall output. Treble required adjustments and the bass needed to be toned down in order to get a more pleasing output. And this may slightly discourage those that want to simply plug-in the soundbar and get good sound without much trouble.
But when everything was said and done the Elevate can give you an extremely respectable result and for an all-in-one system this means a lot. It's not HiFi material but no soundbar is and you shouldn't expect as such.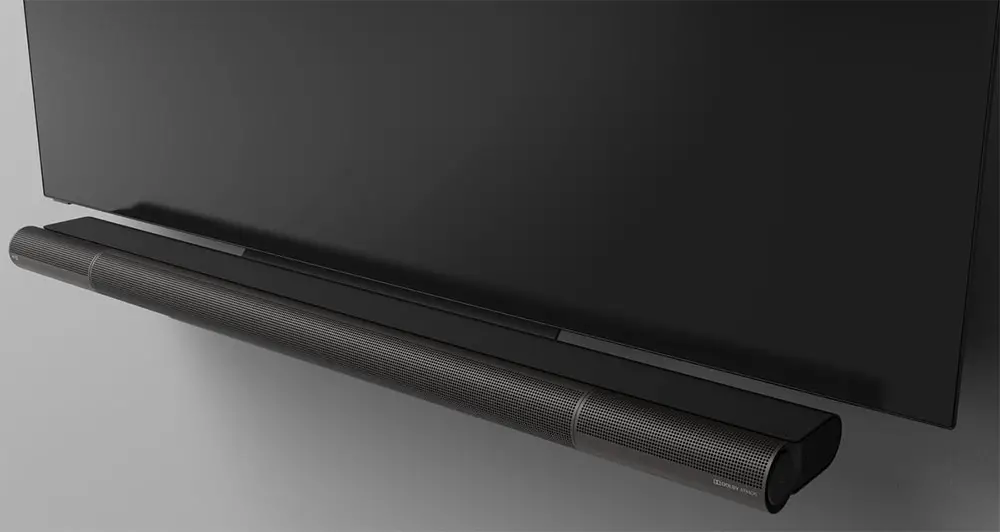 Final Thoughts
Vizio may not have reinvented the wheel with their Elevate soundbar but they have definitely pushed the envelope as far as home theater in a box design is concerned. The Elevate is the kind of soundbar for those that want something more than what the average soundbar can offer but cannot go for a fully fledged surround system. And it seems that Vizio has created the perfect design that will sit comfortably between the two.
With 5.1.4 channels the Elevate holds nothing back and is shockingly good with both music and movies. It can go loud when needed but is also delicate enough when the moments asks for it. The rotating side drivers may seems a gimmick to many but they work particularly well depending on the type of audio you want to hear. Build quality was good enough and with a design that certainly attracts attention Vizio created a looker. And if you add to all these the satisfying amount of extras including USB and Bluetooth streaming, Chromecast, voice control and app control there is some good value here.
On the downsides there is not much to talk about. We did hear some distortion when pushing the volume to the extremes but it was not so much to be overall bothering. Also we would like a full front display but at least there is one on the remote so this somewhat rectifies the problem. The surround speakers have to connect to the subwoofer with wires so this will limit you a bit in terms of placement and lastly with a $1,000 price tag this is definitely not a cheap soundbar and will make a few think twice before pulling the trigger.
Closing our review what we can say is that we are definitely very satisfied with what Vizio came up with. The Elevate is bold, good performing and gives you everything you should expect from a good quality soundbar. Is it perfect? Hell no, but considering the limitations a soundbar has the end result was extraordinary good. And as such the Elevate is the kind of system for those that demand one of the best Dolby Atmos enabled soundbars in the market today but cannot go for a fully fledged surround system either due to space or budget constraints. If you belong in this group of people then give the Vizio Elevate a chance and we are sure it will pleasantly surprise you.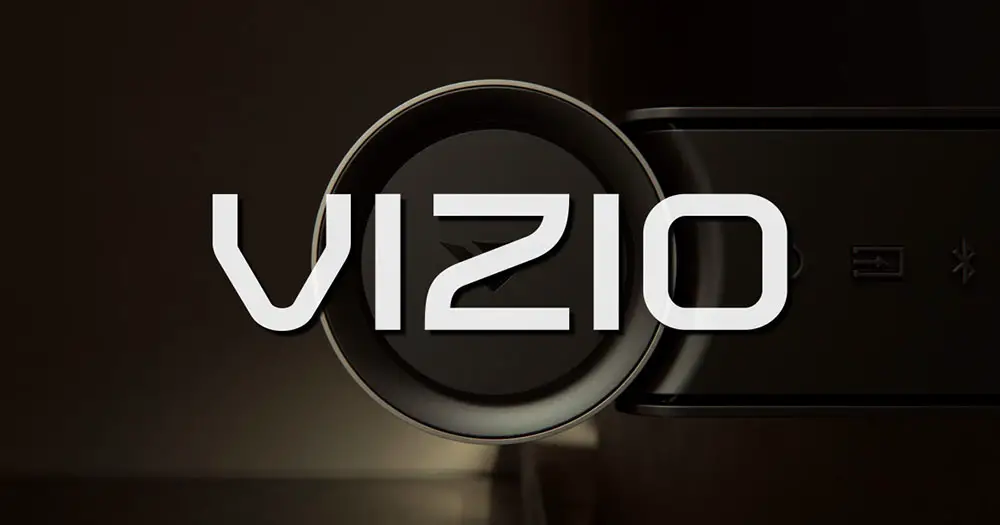 For more reviews you can check our dedicated Full Surround Soundbar reviews list or even look at our Product Reviews Table where you can find the brand and specific product you are looking for.
Also don't lose the chance to subscribe to our Newsletter and gain exclusive privileges.
---
Cheapest Places to Buy :
---
Vizio Elevate Specifications